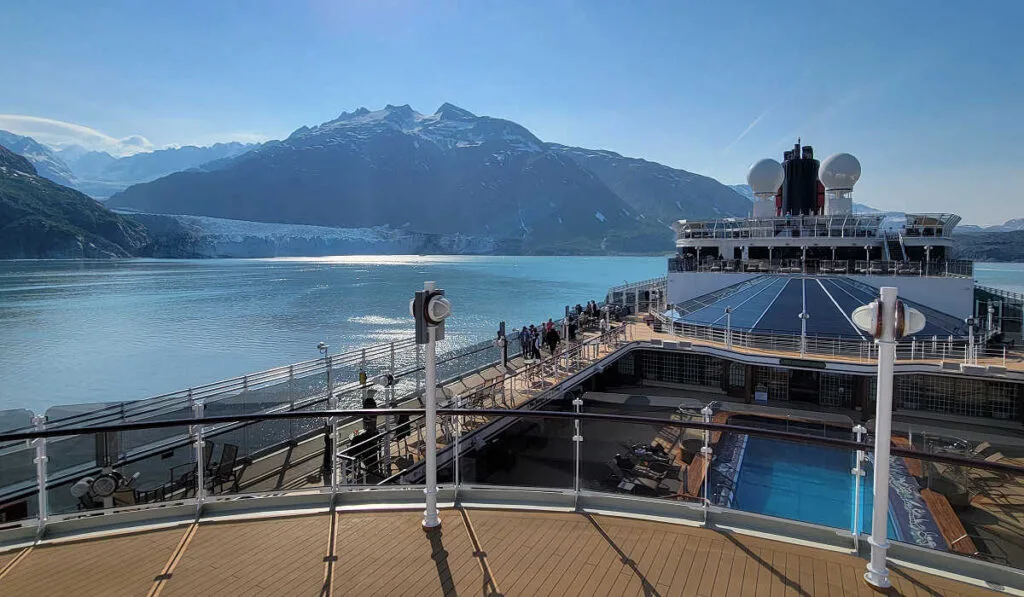 Alaska is quickly becoming the top cruise destination in the world. If you're planning an Alaskan cruise vacation or Alaska has piqued your interest, there's a lot to think about when choosing a cruise line and an Alaska cruise itinerary.
Even when sailing in the middle of summer, forget your flip-flops and ideas of sipping margaritas around the pool deck. Think cozy and warm in your fleece pants and jackets while drinking hot chocolate next to a snow-capped glacier.
In this guide, you'll look at embarkation cities, examine Alaska itineraries, compare ship sizes, and decide when the weather is best for you.
While many seasoned cruisers are loyal to one cruise line, it's best to look at all cruise itineraries when sailing to Alaska. After all, the competition may offer a better route, more desirable ports, and a better price.
🛳️ Ready to book your Alaska cruise?
Find your perfect cruise here. Whether you're looking for a short sampler cruise, a 7-day inside passage itinerary, or a cruise and land tour, there is one for every budget.
Find your cruise here
Plus some cruise lines have onboard naturalists who give talks on the area. Others, provide Alaska-focused experiences such as Princess Cruises' puppies in the Piazza, a huge hit with kids and dog lovers.
Having sailed to Alaska nine times, I can safely say, don't book on price alone. A lower Alaskan cruise price usually means cruising either shoulder season or a less popular Alaska cruise itinerary. So, what's the best cruise line for you? That depends on your priorities.
As the demand for Alaska cruises grows, you can book one or two years ahead to get the cabin you want and the ideal itinerary. You'll need to choose an embarkation cruise port, ship size, ports of call, and which glaciers to visit.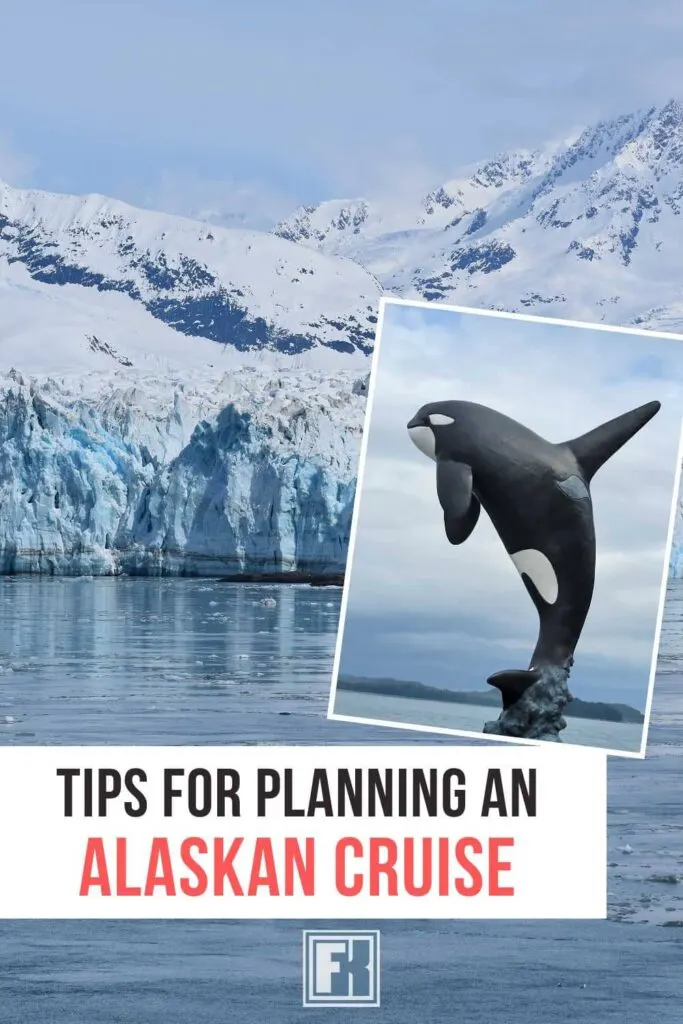 While that might be a lot to consider, most passengers only cruise to Alaska once, so you want to ensure you're booked on the ship that best suits your needs.
Embarkation Cities
There are plenty of tips for cruising to the Last Frontier, but let's first study the embarkation ports. Unlike Florida, where the cruise terminals are reasonably close, Alaska's embarkation ports are spread apart.
While there are a limited number of Alaska cruises from California, the majority of Alaska cruises sail from Seattle or Vancouver, British Columbia. Depending on where you live, one embarkation port may suit you better.
Luckily, I reside in Vancouver, so it makes sense to sail out of my home city, as the Vancouver cruise terminal, Canada Place, is a short distance from home. Consequently, sailing from your home city saves money on flights.
Since cruises from Long Beach or San Diego are furthest from Alaska, these sailings are typically ten days. For the 2023 and 2024 Alaska cruise seasons, the Carnival Miracle and Ruby Princess are the only ships serving Alaska.
Most Alaska cruises from California sail out of San Francisco. However, a couple of cruises also embark from Los Angeles at the end of the season.
Most of the other sailings are 7-day inside passage cruises. That is unless you add on a cruise tour or sail a back-to-back, which I have done with Princess Cruises and Celebrity Cruises.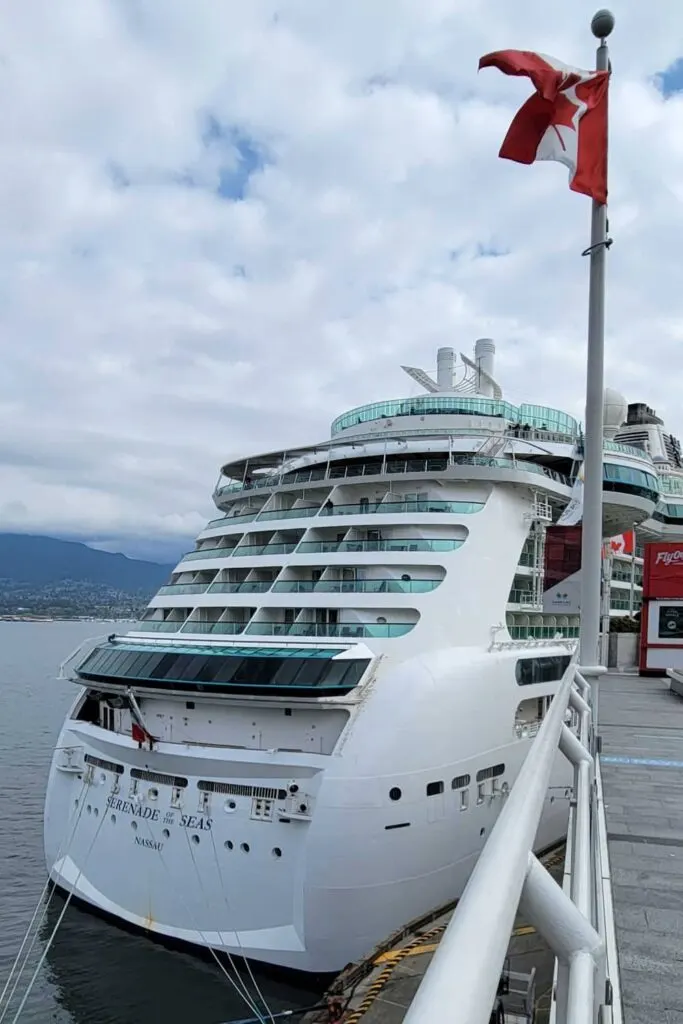 However, newcomer cruise lines to Alaska, like Cunard's Queen Elizabeth, have sailings of up to 12 days on a return cruise out of Vancouver. Additionally, there are some sailings of more than seven days.
While most cruise lines sail out of Vancouver and Seattle, Carnival cruises to Alaska leave from Seattle. Also, if you want a Disney cruise, their only Alaska itinerary is on the Disney Wonder that sails from Vancouver.
Mega Ship Vs Smaller Ship
There are various definitions for 'mega-ship' within the cruising industry. CruiseCritic suggests that any ship with 3,500 or more passengers is a mega-ship.
However, other industry experts propose that only cruise ships with at least 5,000 passengers can be considered a mega-ship. I am somewhere in the middle and consider a ship with 4,000 or more passengers a mega-ship.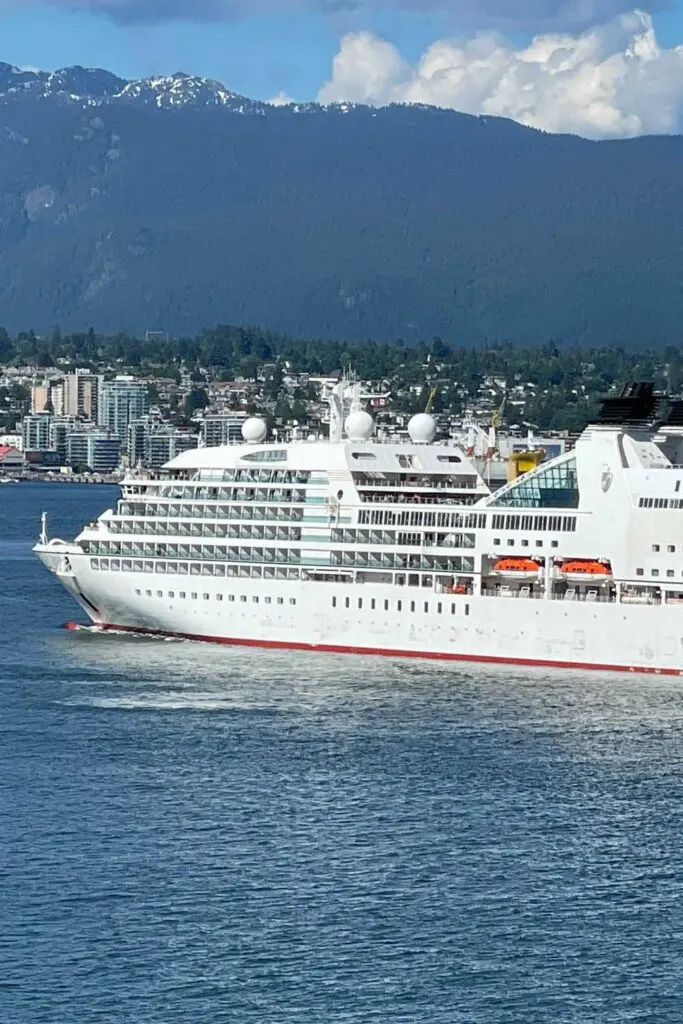 Regardless, mega-ships are those huge ships with massive passenger loads that struggle to sail into small ports. Royal Caribbean, MSC, and Norwegian are the most popular cruise lines with mega-ships.
Mega ships may be the best Alaska cruise options for families. After all, larger ships have more amenities to keep your younger ones entertained.
With racing car tracks, indoor skydiving experience, laser tag, bumper cars and an aqua park, there's never a dull moment on a larger-than-life cruise ship.
For the 2023 and 2024 seasons, only four mega-ships are sailing to Alaska, owned by Norwegian Cruise Lines and Royal Caribbean. These are the Norwegian Bliss, Norwegian Encore, Ovations of the Seas, and Quantum of the Seas, all sailing out of Seattle, Washington.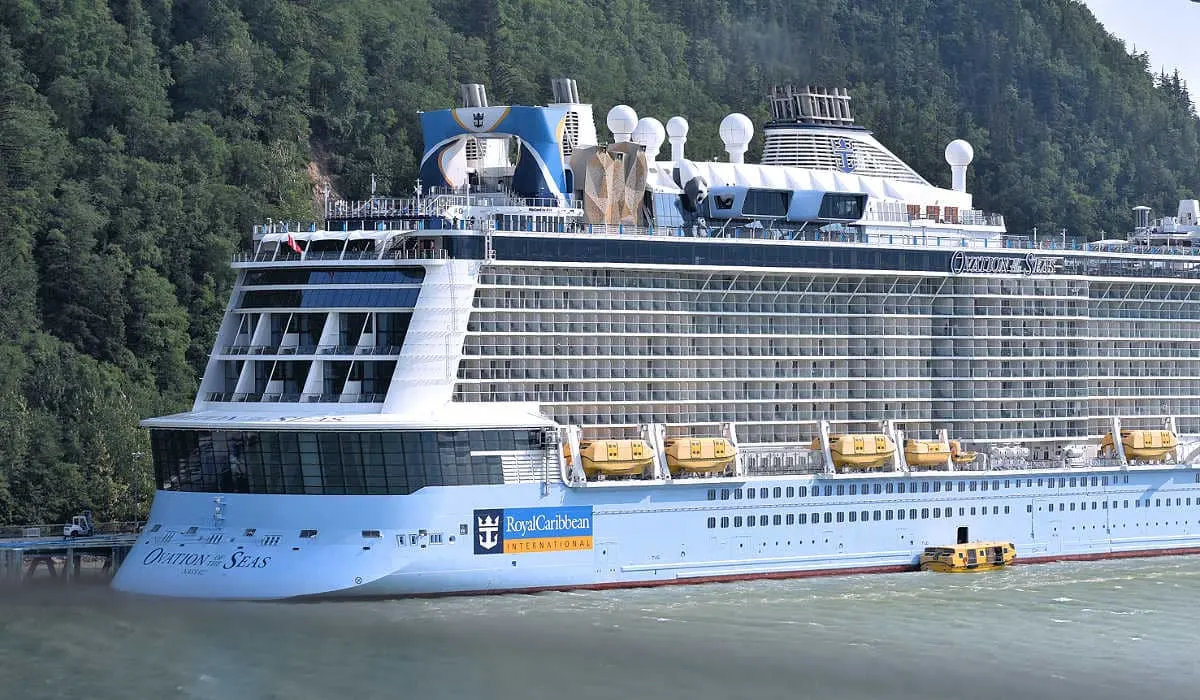 If you book the first sailing on Royal Caribbean's mega-ships, they start in Vancouver and conclude in Seattle. The last sailing of the season Begins in Seattle and ends in Vancouver.
Alternatively, families may sail on the more petite Disney Wonder, with embarkation in Vancouver, Canada. Either way, all ships offer plenty of onboard amenities, so you'll always be energized at sea.
However, if your preference is for small ships (under 100 passengers), the Hurtigruten's MS Roald Amundsen, Seaborn Odyssey, and Windstar Star Breeze all sail from Vancouver. From Seattle, travelers can cruise on the Oceanic Regatta.
I'm not a huge fan of a mega-ship for Alaska because I cruise for the scenery and glaciers, not the amenities on a cruise.
It's important to note that most Alaska ports are tiny towns of one to three thousand people. Whatever vessel you pick, try to choose a cabin with a veranda, because Alaska cruise are very scenic.
In light of this, they can't adequately accommodate the number of passengers on a large cruise ship. The number of shore excursions is limited in smaller towns; unless you book ahead, you may be disappointed.
Round Trip Vs One-Way?
When planning your Alaskan cruise, you need to choose from a round-trip itinerary or a one-way sailing if you select Vancouver as your embarkation port. However, if you're sailing out of California or Seattle, all cruises are round-trip.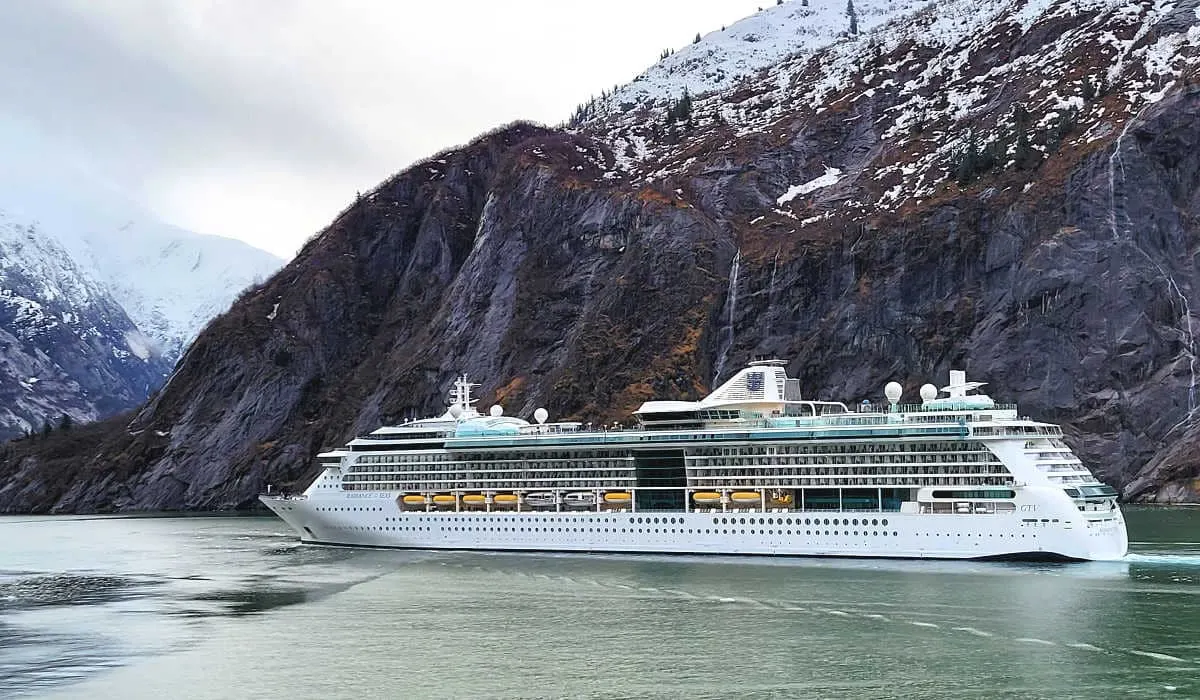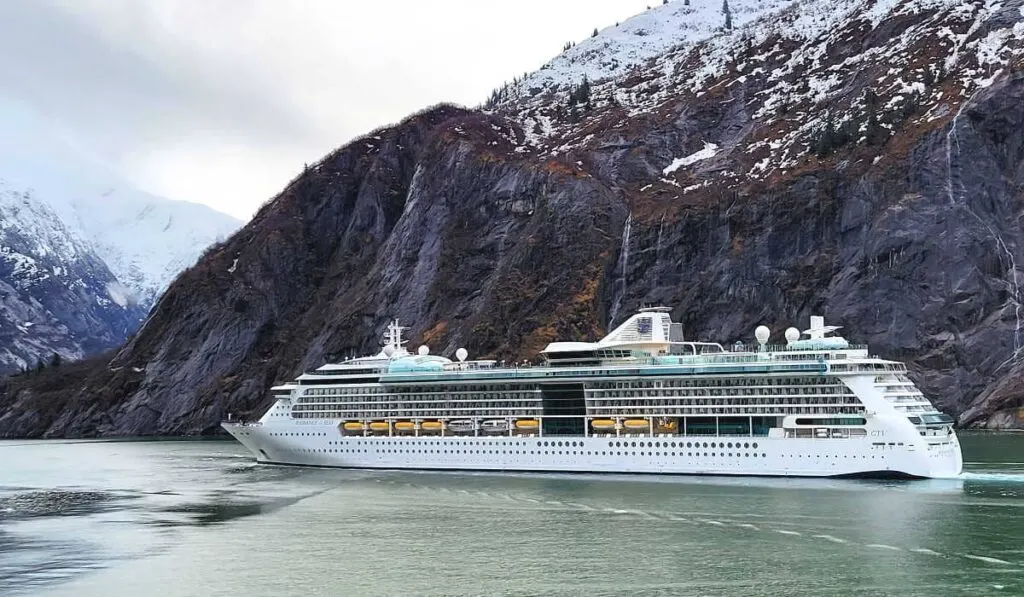 I remember the dilemma of selecting an itinerary on my first cruise to Alaska in 2009. While I reviewed a one-way sailing with my travel agent, the one-way flight from Anchorage to Vancouver was CAD 450.
Combined with the vacation cost, the one-way cruise seemed rather expensive.
Ultimately, I chose a 7-day return Alaskan cruise with Celebrity to save on the airfare.
However, having done almost ten Alaska cruises, I now understand why a one-way itinerary can be more desirable.
Sailing a 7-day return cruise means your cruise ship can only sail so far before it must return to its original debarkation port. As a result, Glacier viewing possibilities include Glacier Bay National Park, Hubbard Glacier, Endicott Arm, or Tracy Arm's Sawyer Glaciers.
Cruisers can see College Fjord and add on a land-based route to Denali National Park when traveling further north on a one-way itinerary. Like Glacier Bay National Park, College Fjord is a series of spectacular glaciers named after famous colleges.
Visitors to Denali may be rewarded with more wildlife viewing. It's not uncommon to see Dall sheep, grizzly bears, moose, and caribou on a Denali group tour.
Although, the biggest reason to travel to the heart of Alaska is to see the impressive Denali, surprisingly the tallest peak in North America. At over 20,000 feet high, the vision of Denali's untamed beauty will be captured in your mind forever.
Should you select a one-way itinerary, the cruises sail from Vancouver to Seward or Whittier, or vice-versa. The airport that services these ports is Anchorage.
Which Glaciers?
There are several reasons why cruisers choose to sail to Alaska, but the biggest reason is the glaciers. Alaska contains a lot of glaciers, and most are rapidly receding.
Imagine cruising in a fjord, witnessing the majestic beauty of a spectacular glacier, and seeing its striking blue hues of ice. Tidewater glaciers, or glaciers that end in an ocean, are forever changing.
During the summer months, these glaciers regularly calve as the warmer water erodes the ice from below.
When planning an Alaskan cruise, many first-time cruisers need help deciding which glacier to visit. It's important to note that most 7-day Alaska inside passage cruises visit one glacier or group of glaciers.
When deciding on an itinerary, most cruisers look at Glacier Bay or Hubbard Glacier. While there are various opinions on which glacier is better, Glacier Bay National Park offers multiple glaciers, while the massive Hubbard Glacier is one glacier, but provides the best calving action.
When viewing the ice mass, glacier calving is a spectacular sight to witness. As the ice breaks off a glacier, it's usually accompanied by cracking and thunderous noise.
If you want to witness some glacier calving, visiting Hubbard Glacier is best. Hubbard Glacier is advancing and, as a result, provides more calving action.
Alternatively, you can see both Hubbard and Glacier Bay on two separate back-to-back cruises or choose an itinerary that sails to both.
If you're considering a cruise that sails to Tracy Arm, I'd recommend NOT sailing in early May. During this time, the narrow channel is often blocked with ice.
During my May sailing, my cruise ship couldn't enter the channel. The only way to see Tracy Arm was to purchase an expensive excursion on a much smaller boat.
Alaska Cruises From Seattle
If you're planning an Alaskan cruise from Seattle, this chart indicates which glaciers are included on selected cruise ships. The Norwegian Bliss does not cruise to any of the following glaciers.
That would be a good reason not to sail that ship because, after all, don't we sail to Alaska to see the glaciers?
| | | | | |
| --- | --- | --- | --- | --- |
| Cruise Ship | Glacier Bay | Hubbard Glacier | Endicott Arm | Tracy Arm |
| Carnival Spirit | | | | X |
| Carnival Luminosa | | | | X |
| Celebrity Edge | | | X | |
| Majestic Princess | | | X | |
| Discovery Princess | X | | | |
| Holland Eurodam | X | | | |
| Holland Westerdam | | | X | |
| Norwegian Bliss | | | X | |
| Norwegian Encore | X | | | |
| Norwegian Sun | X | | X | |
| RC Ovation of the Seas | | | X | |
| RC Quantum of the Seas | | | X | |
Alaska Cruises From Vancouver
If you're planning an Alaskan cruise from Vancouver, this chart indicates which glaciers are included on selected cruise ships.
| | | | | | |
| --- | --- | --- | --- | --- | --- |
| Cruise Ship | Glacier Bay | Hubbard Glacier | Endicott Arm | Tracy Arm | College Fjord |
| Holland Koningsdam | X | | | X | |
| Holland Zaandam | X | | | X | |
| Holland Noordam | X | X | | | X |
| Holland Nieuw Amsterdam | X | X | | | X |
| Grand Princess | X | X | | | X |
| Royal Princess | X | X | | | X |
| Sapphire Princess | X | X | | | X |
| Celebrity Solstice | | | X | | |
| Celebrity Summit | | X | | | |
| Norwegian Jewel | X | | | | |
| Oceanic Regatta | | X | | | |
| Regent Seven Seas Explorer | | X | | | |
| Seabourn Odyssey | | X | | X | |
| Silversea Silver Muse | | X | | | |
| Silversea Silver Nova | | X | | | |
| Viking Orion | | X | | | |
| Disney Wonder | | | | | |
| RC Radiance of the Seas | | X | | | |
| RC Brilliance of the Seas | | | | | |
Which Alaska Cruise Ports?
Alaskan ports of calls can play a significant factor when cruise planning. Of all the Alaska cruise ports, the most common stops are Juneau, the capital, Skagway, and Ketchikan.
Juneau is the only port that feels like a city and offers most of the usual shops, restaurants, and amenities in other US cities. And for the record, it even has a Costco and Walmart.
Juneau also offers the largest selection of port excursions, from seeing humpback whales, visiting the mighty Mendenhall Glacier, or taking the Roberts Tramway for the best views of Juneau. Oh, and let's remember my favorite activity of mushing a dog team around a glacier.
In contrast, Skagway and Ketchikan are tiny towns with cruise docks within walking distance of stores. Skagway is a quaint town borne out of the Klondike gold rush period.
A visit to Skagway whisks you back in time, as the town still resembles a gold rush western community.
During a port day in Skagway, most first-time cruisers take the White Pass and Yukon Route train excursion into the Yukon through the picturesque mountains. This is a must-do experience in Alaska.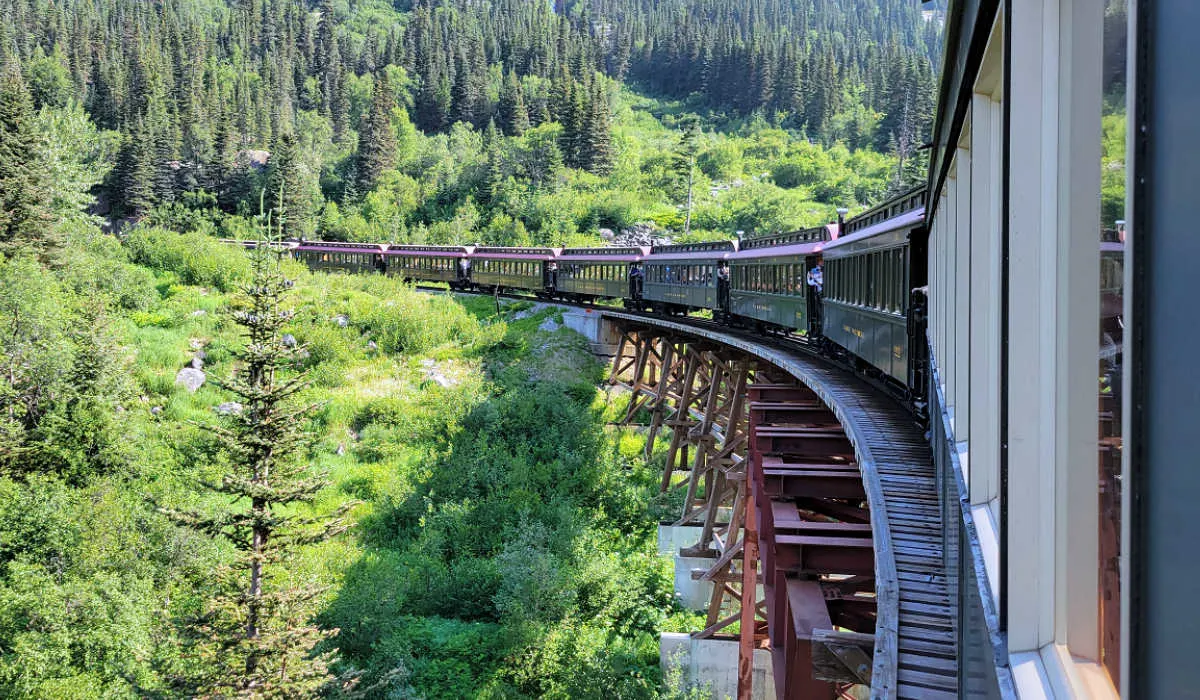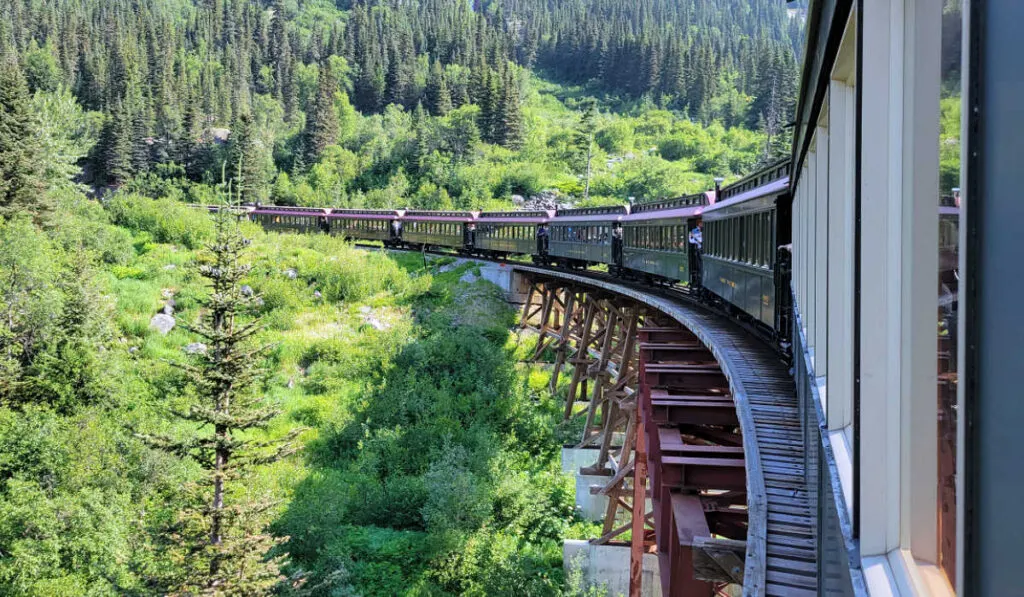 Other popular Alaska cruise ports include the newest port of Icy Strait Point, Haines, and the historic Sitka. However, some cruise ships stop at the least commonly used ports of Homer, Kenai, Wrangell, and Valdez.
Kodiak Island is famous for its massive Kodiak bears. So, if you have your heart set on seeing these elusive bears, you're limited to Hurtigruten or Holland America. Hurtigruten offers six 17 to 18-day sailing on its MS Roald Amundsen in 2023 and 2024.
Holland America has ships that stop in Kodiak Island on 14-day itineraries, embarking on May and September in 2023 and 2024.
If you love the outdoors, Sitka and Icy Strait Point have lots of natural beauty. Icy Strait Point, known for its amazing whale watching, has no real town where the ships dock.
Alaska Cruise Weather
Even if you plan a cruise in the middle of the summer, the weather in Alaska is unlike the temperatures you'll experience on Caribbean cruises. While first-time Alaska cruisers imagine Alaska to be cold, in reality, it's wet.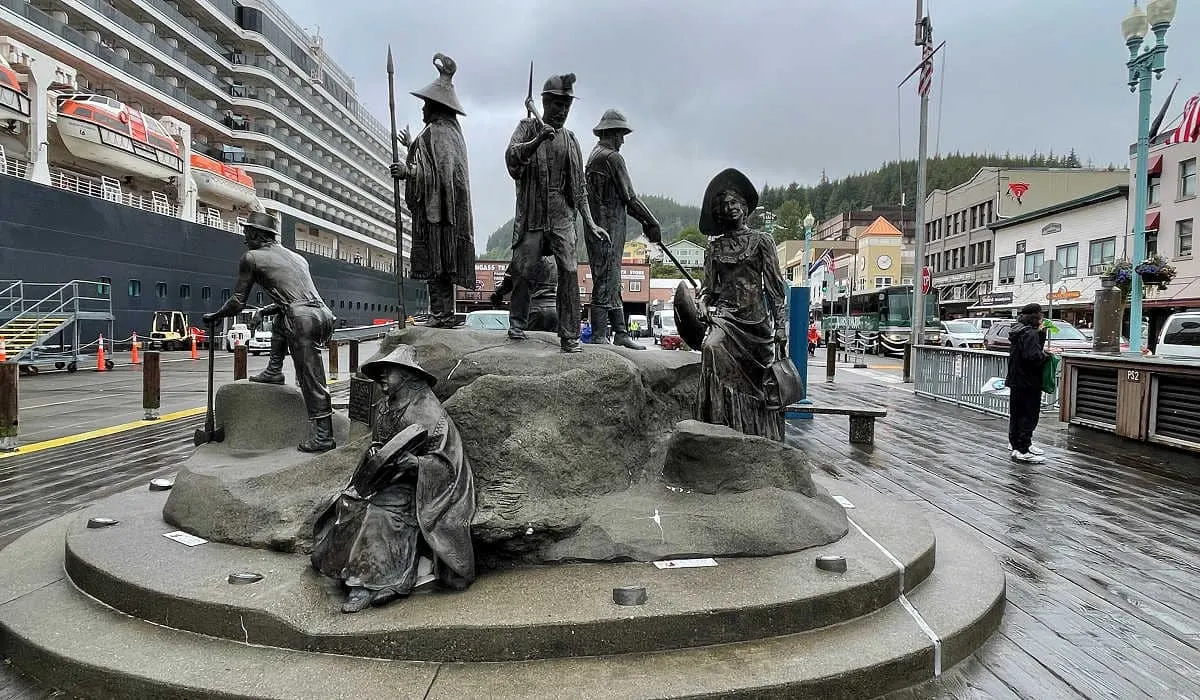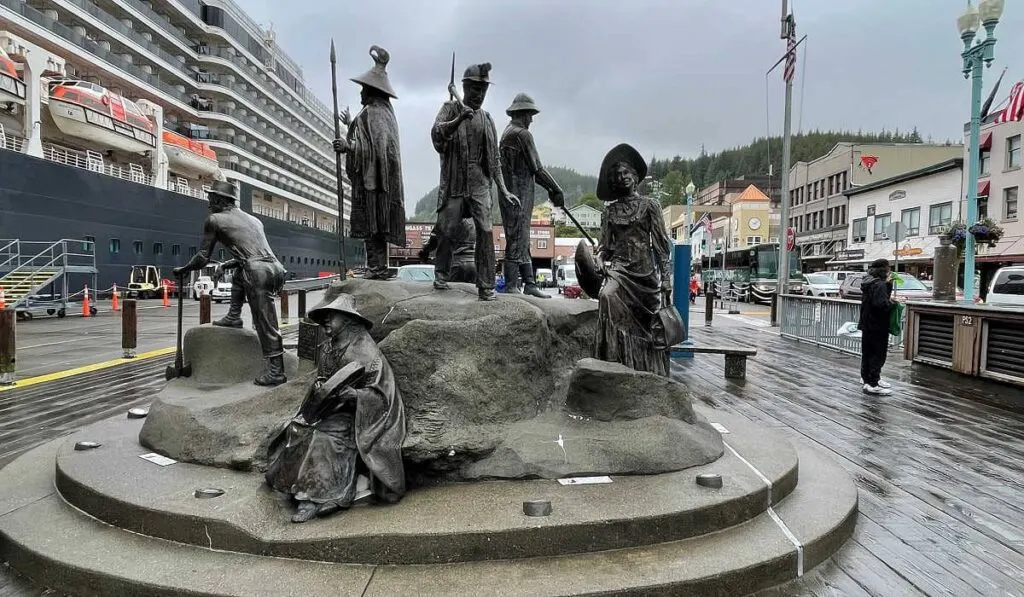 With May being the driest month with a 25% chance of liquid sunshine, the probability of rain rises to 50% by August.
So, when planning an Alaska cruise, pack a compact umbrella, waterproof rain jacket, and waterproof footwear.
Our favorite is Vessi shoes. Not only are they waterproof, but vegan, lightweight, and washable. Most importantly, pack lots of layers because you never know what weather you'll experience.
During my sailings at different times of the year, I've experienced a heatwave to rain every day of a 7-day cruise. Ultimately, it's best to book a cruise in May if you're trying to avoid the rain.
In any event, it's best to be prepared for whatever Alaska throws at you. During my first cruise at the end of July, it rained almost every day.
However, it didn't dampen my enthusiasm. Instead, I embraced the weather and sat in the hot tub next to Hubbard Glacier as it drizzled with freezing rain.
After that inaugural cruise, I created my own packing list to be better prepared the next time.
While Alaska port days can be sunny and warm, cruising next to a glacier will be cold. I've experienced everything from cool but sunny days to bitterly cold winds during my cruises.
Regardless of the weather, pack wisely and select a cruise ship with an indoor pool. Ultimately, it could be raining cats and dogs outside, but you'll enjoy the warm waters of the covered pool and hot tubs.
While you may not experience hot weather and think you won't use the outside space with a balcony room, think again. Having a balcony allows you to enjoy the non-stop views without the crowds of the upper decks.
When Is The Best Time To Cruise Alaska?
If you're cruising on a strict budget, the best cruise deals are offered in late April and early May, and the last sailings are in September. It's important to note; some excursions may not be available in September.
Additionally, some stores close for the winter in the last weeks of August. However, sometimes guests see the northern lights during the late season sailings.
From time to time, sailings are offered at great prices if you can sail a drop-and-go on a one-way itinerary. For the Alaska cruise 2023 season, I have seen cruises for under USD 300.
Since it rains significantly in Alaska, the best months are May and June to avoid the liquid sunshine. I have sailed to Alaska in May three times, and it's my favorite time to go.
Not only was it dry, but the temperatures were much warmer than I anticipated. In addition, the Alaska cruise season has only begun, so cruise ports are less crowded.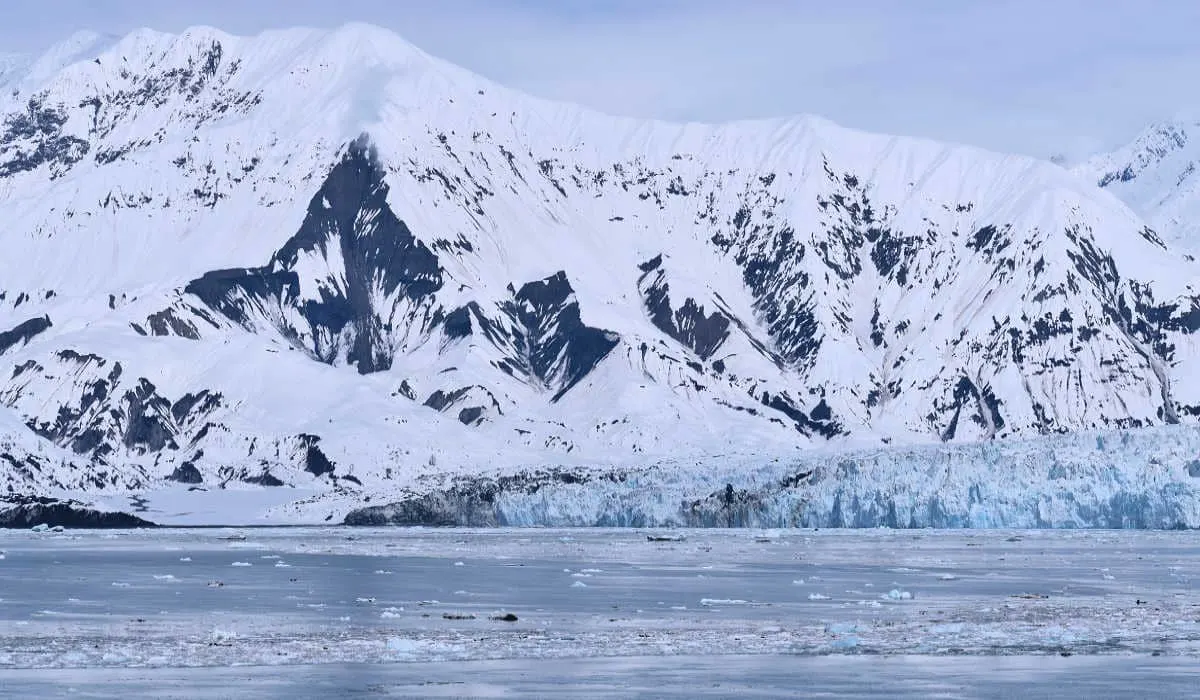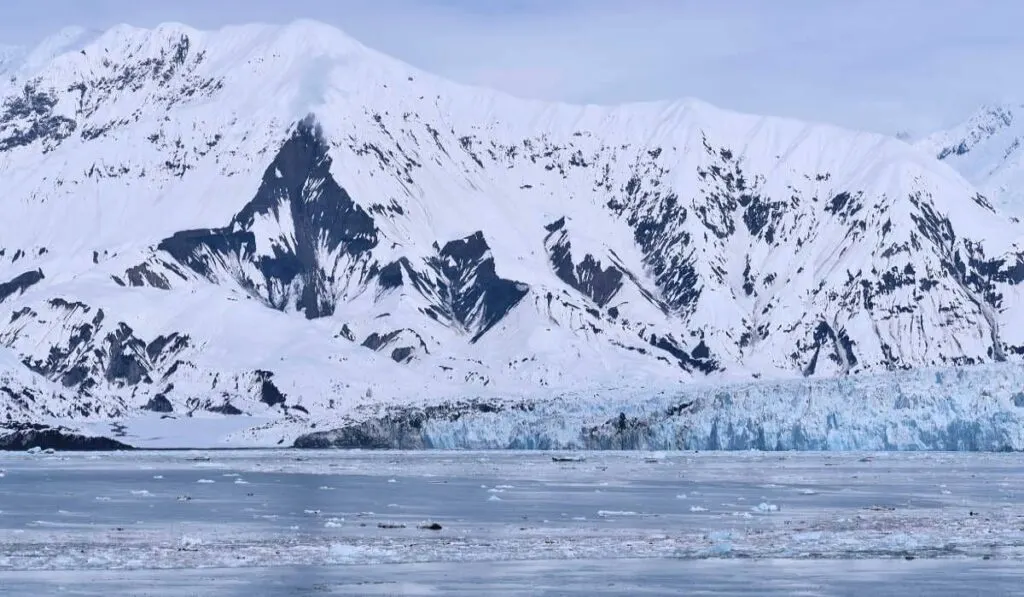 During June, Alaska experiences the maximum number of hours. Consequently, travel in June if you're a night owl like me.
During the summer solstice, much of northern Alaska encounters an incredible 18 hours of sunlight. However, if you need complete darkness to sleep, you might avoid the month of June.
June and July are the best months to view whales on whale-watching excursions and from your cruise ship. Additionally, the warmer months offer the best calving action at the glaciers.
Planning an Alaskan Cruise Conclusion
If visiting Alaska is on your Bucket List, you can choose from Holland America Line, Princess Cruise, Norwegian Cruise Line, Celebrity Cruises, and more. However, many travelers only cruise Alaska once, so it's essential to plan the best you can.
In the final analysis, every month is a great month to cruise the inside passage to Alaska. No matter which month you choose, the memories created will last a lifetime.
Happy travels ~ Karen