One of the best ways to see Alaska and its tidewater glaciers is by cruise ship. After planning and picking a cruise line comes the decision to decide on a stateroom. So, how do you choose a cabin for your Alaska cruise?
Do cabin type and placement make a difference? Choosing the right stateroom for you is more challenging than other cruise destinations. Also, your priorities may be different than others.
So, let's compare the cabins types and why you may lean toward one more than another.
Living in Vancouver, Canada, allows me to sail to Alaska without flying anywhere. I can literally drive to the cruise terminal and be there within the hour.
Having sailed to Alaska nine times, I've become a master packer, know which excursions to book, and understand how to pick the right stateroom.
I have stayed in an inside, outside, and balcony cabin for different reasons in my sailings.
Balcony Vs Non-Balcony?
Some Alaskan-bound adventurers believe not having a balcony stateroom is a mistake. Although, others might view it as silly because the weather isn't warm like the Caribbean.
During a cruise, passengers use balcony rooms to read a book, enjoy the sun without the crowds, have coffee in the morning, or wine at night.
While the Alaska weather might differ from the Caribbean or the Mediterranean, balcony staterooms still have considerable benefits.
Unlike other cruising areas, much of the majestic Alaska scenery is viewable from your cruise ship. If you select an inside passage cruise, your vessel will travel within sight of land for most of the journey.
So, having a balcony means enjoying a private space and avoiding the crowds on the open decks. Also, balconies provide protection from the rain, and since you're in a rainforest, you can expect rain in Alaska.
Balconies allow for wildlife spotting within arms reach of my stateroom, and you won't have to carry around a camera bag to capture those moments. Since humpback whales and bald eagles are prevalent in Alaska, you can see them from your room.
With a balcony, you can set up your camera with a tripod and be ready for those killer shots when they represent themselves. It also allows you to do time-lapse photography of your journey.
When cruising by a glacier, there is no need to worry about which side of the ship is best. In Glacier Bay National Park and Hubbard Glacier, the captain will turn the vessel to give equal viewing to both sides.
Since the decks get very crowded, especially at the bow, you'll enjoy a better view from your private balcony. If you get cold, you can step inside to warm up before resuming your viewing outside.
The spacious cabin size may be one of the biggest bonuses of having a veranda. Inside staterooms may be as small as 140 sq. feet, whereas verandas could be as spacious as 200 sq. feet.
If you're cruising at the tail end of the Alaska cruise season, you'll have a chance to see the northern lights. Having a balcony stateroom lets you check the aurora borealis off your bucket list.
Solo travelers often book an inside room due to the single supplement. However, Royal Caribbean's Ovation and Quantum of the Seas have solo balcony cabins.
While not as large as a regular balcony stateroom, you'll still have the same size bathroom and an outside deck.
Interior Cabins For An Alaska Cruise?
If you're cruising to Alaska on a strict budget or like complete darkness to sleep, choosing an interior room is a good idea. I was on a tight budget on my first cruise to Alaska. While I could afford the veranda stateroom, I chose to take an inside instead.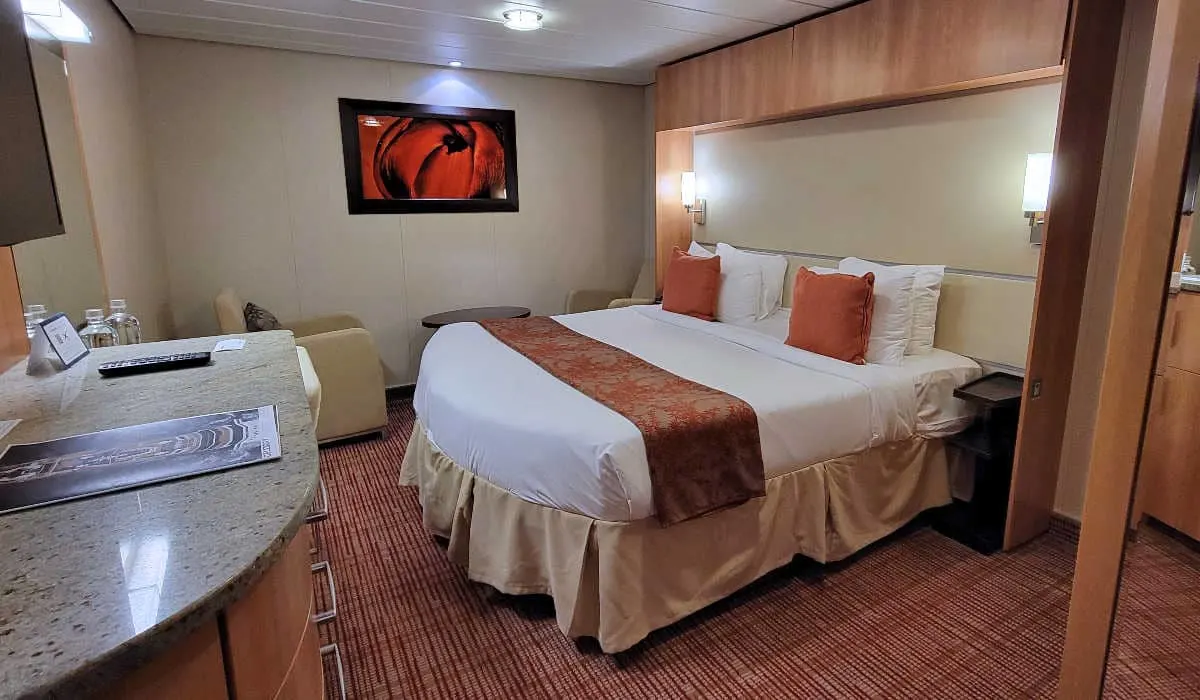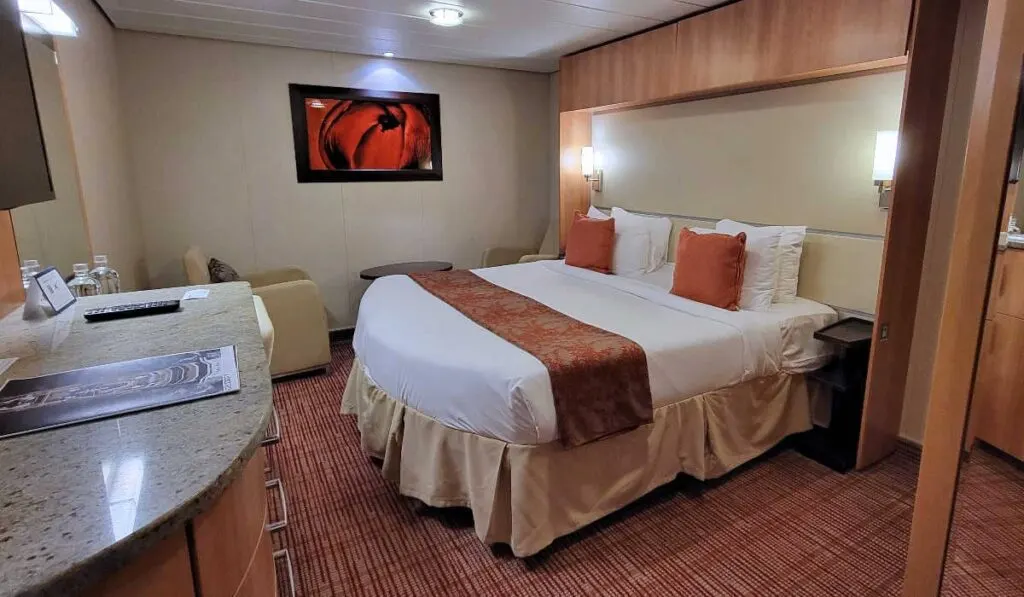 I used the money I saved to splurge on an expensive dog sledding tour on Herbert Glacier. Looking back, was it the right decision? Absolutely, because the dog sledding excursion was a once-in-a-lifetime experience that I will cherish forever.
If you're traveling alone and on a tight budget, deciding on a cruise line for Alaska is a tough decision. You should look for cruise ships with solo cabins.
The Norwegian Bliss and Encore, Royal Caribbean Ovation, and Quantum of the Seas have solo staterooms. Norwegian's solo cabin gives access to a solo lounge and a chance to mingle with other guests.
Choosing a single cabin prevents you from paying the pesky single supplement price. Although, inside cabins are popular with solo cruisers due to the cruise fares being lower even with the single supplement.
Consider an inside with a virtual balcony on RCI's Quantum-class ships if the solo staterooms are sold out. The floor-to-ceiling screen live-streams the views outside, allowing you to feel like you have a balcony without paying the price.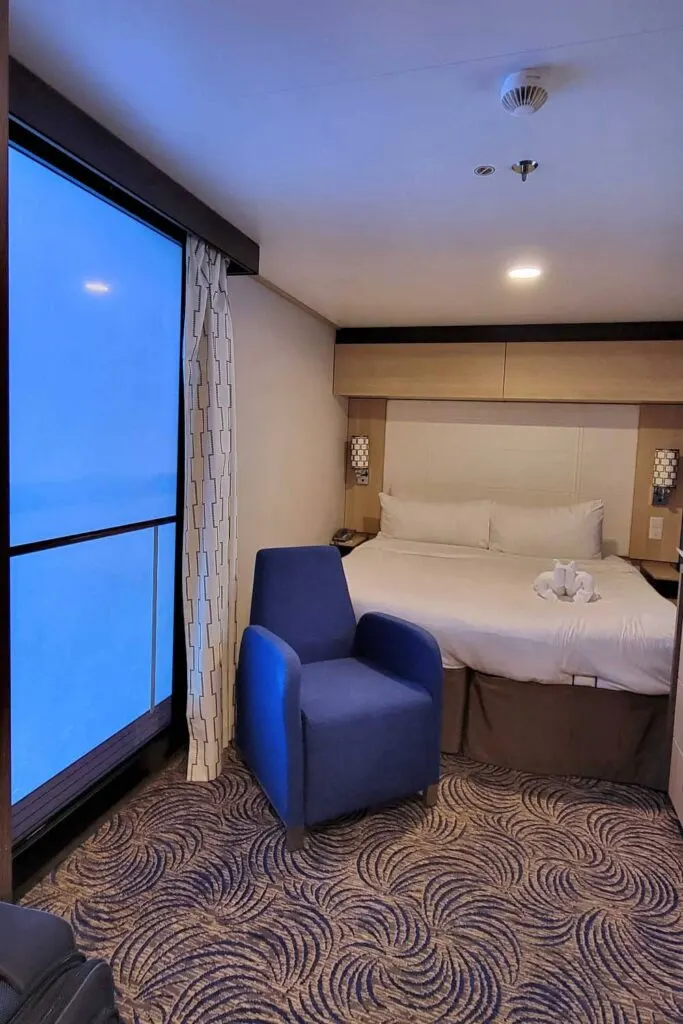 The Alaska season is short, from May to September, and during the summer solstice, the sun sets very late and rises ridiculously early.
Some areas experience 20-plus hours of daylight. If you're sensitive to sunlight, a balcony or outside stateroom might not be suitable.
Should you choose an inside cabin, these are usually the smallest on the ship. Consequently, some cabins don't have room for a couch, maybe just a tiny desk and chair.
Organization and storage are essential. Pack an over-the-door organizer to store small items, strong magnetic hooks to hang things on the walls and utilize packing cubes.
Outside Cabin For An Alaska Cruise?
An ocean view cabin is a good choice if you dislike the complete darkness of an inside room but want to avoid paying for a balcony.
Outside cabins are generally larger than inside staterooms which helps with storage. While you cannot open your window for fresh air, you will benefit from having natural daylight.
Is there a big difference between an outside and an inside cabin? Not really; only the price! If you sail in an interior cabin and prefer to see daylight, leave your television on and set it to the outside cam. That way, you can see if the sun is up in the morning.
When booking an outside cabin, check what's above and below. Since most of these are on the lower levels, they could be below busy areas, such as the casino, bars, and lounges.
Which Side Of Cruise Ship Is Best For Alaska?
Some Alaska cruises sail round-trip from Vancouver and Seattle, while others cruise one way. If you selected a round-trip Alaskan cruise, it doesn't matter which side of the ship your cabin is.
However, what's the best side of the ship on one-way cruises? You want to look at which way you are sailing.
If you are cruising north, selecting a starboard (or right-side) stateroom is best since the land is on that side. When sailing south through the Gulf of Alaska, choose a port side (left side) stateroom.
Being on the land side will often give you the first glimpse of Alaskan towns as your vessel pulls into cruise ports. If you're wanting a cabin with views, select an unobstructed one. However, obstructed cabins can save you money, still provide fresh air, but you can see the lifeboats.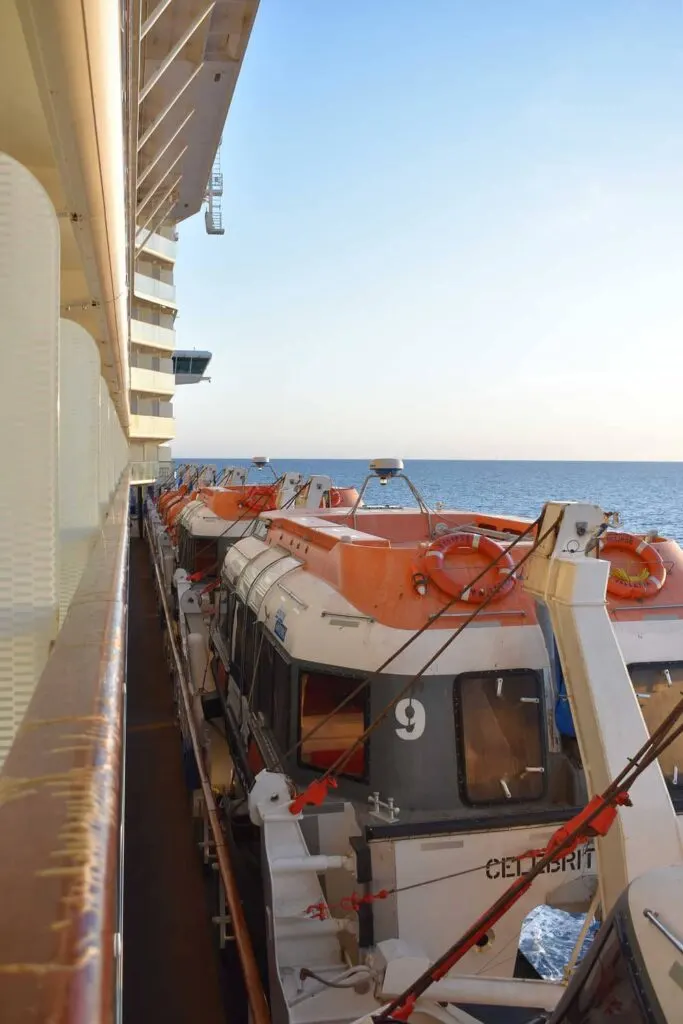 Of course, this only counts for staterooms with windows or balconies. If you book late and don't receive the cabin of your choice, do not worry. Part of your journey sails the inside passage, and there is plenty to see on both sides.
Pool Deck Or Higher
I once sailed back-to-back to Alaska and took a guaranteed stateroom. The cabin given to me was at the front of the cruise ship on the pool deck. While this was great when the sun was shining, it was not a good location during lousy weather.
When leaving my cabin, I had to exit the inside hallway and walk across the open deck to get to the buffet. During bad weather, I'd get soaking wet. Alternatively, I'd have to walk downstairs, through the hallway, and back up again.
Having a door to the outside also made the short hallway cold due to the number of times guests opened the door. This was a good lesson for me that a higher cabin isn't always the best for an Alaska cruise, even though they come at a higher price.
Higher decks aren't ideal for those who suffer from motion sickness. Cabins at the bow or aft of the ship experience the most motion, so you'll want to avoid these areas if you're sensitive to movement.
Forward Vs Aft Stateroom
There are a large number of long-time cruisers who love the aft cruise ship staterooms. Why? Because the aft cruise ship cabins have oversized balconies, some that wrap around the ship's side.
There is something to be said for the calming feeling of watching the wake from the back of a cruise ship. Plus, having an aft balcony on an Alaska cruise provides premium glacier viewing, especially with a wrap-around balcony.
However, if you're sensitive to motion or vibrations, consider choosing something mid-ship instead. Also, passengers can occasionally smell the exhaust from the ship's funnels on their aft balconies.
While this is not true for all cruise ships, some have a sloping aft. As a result, people on the higher decks can see down into the lower deck balconies. If privacy concerns you, reconsider an aft stateroom.
A forward cabin for an Alaska cruise gives the first views of where you are sailing. This is especially nice when leaving or arriving at a port. While both the forward and aft cabins can feel a higher degree of motion in rough seas, the forward provides less movement.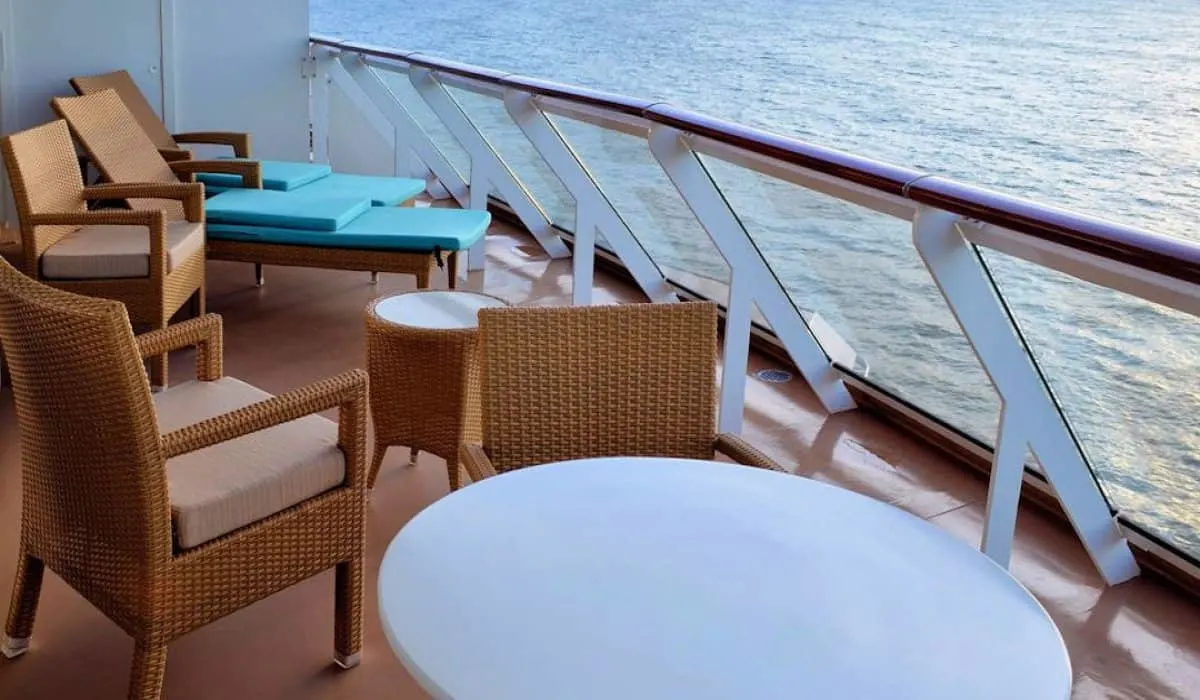 It's important to know that some cruise lines lock off the balconies on forward suites during cruising. Locking the balcony doors prevents injury from high winds and bad weather.
Cruise Ship Suites
For the elite or passengers with non-existing budgets, there are the mini-suites and, of course, the suites. Some of the best cruise ship suites are comparable to condominiums with their own hot tubs.
If you're cruising with luxury lines like Seabourn, Silversea, or Regent, all cabins onboard are in the suite category. While you'll enjoy larger staterooms, some suites offer ship-within-a-ship perks.
On Celebrity Cruises, you'll have access to Blu or Luminae Restaurants and the Retreat. Throughout the cruise, having the Retreat provides space to watch glacial calving and enjoy the refreshing outdoors with fewer guests.
Guests in Norwegian's Haven get access to an exclusive area, including a premium viewing spot in Glacier Bay. Here, you'll enjoy the best views with fewer people.
Guests in the Grill suites on Cunard have an exclusive dining venue, a lounge and several premium outdoor spaces.
If you select an expedition-type vessel operated by Hurtigruten, Lindblad (National Geographic), or Uncruise, you could have fewer choices when it comes to cabins. The National Geographic Sea Lion and Sea Bird only have ocean view cabins.
However, these small ship cruises offer a contrasting experience to traditional cruise lines, and their itineraries are focused on the destiny, not the mode of transport.
While lines like Holland America and Princess Cruises port in Skagway, Sitka, Juneau, and Ketchikan, an expeditionary cruise provides smaller, hidden gems. They may stop in Wrangell, Petersburg, Cordova, Katmai National Park, and Kodiak, to name a few.
Looking for the best Alaska cruise? Find it on Cruise Critic. It features more than 650,000 cruise reviews, advice and information from the team of cruise experts on everything you need to know. The site also offers itinerary and pricing information, deals and money-saving tips.
Final Thoughts
Some guests go with a guaranteed stateroom if they focus on the destination rather than the place they sleep. It allows them to save money, to use on shore excursions instead.
One word of caution; if you're sensitive to noise, the cruise ship cabins to avoid are ones next to the elevators, over or under a nightclub, or anywhere that isn't quiet.
If you opt to play the RoyalUp or other lines bid to upgrade program, you could be assigned a cabin in an undesirable location.
Ultimately, each person has different criteria when choosing a cabin for an Alaska cruise. Sometimes, it comes down to budget, and whatever cruise ship stateroom you choose, it will be a memorable Alaskan adventure.