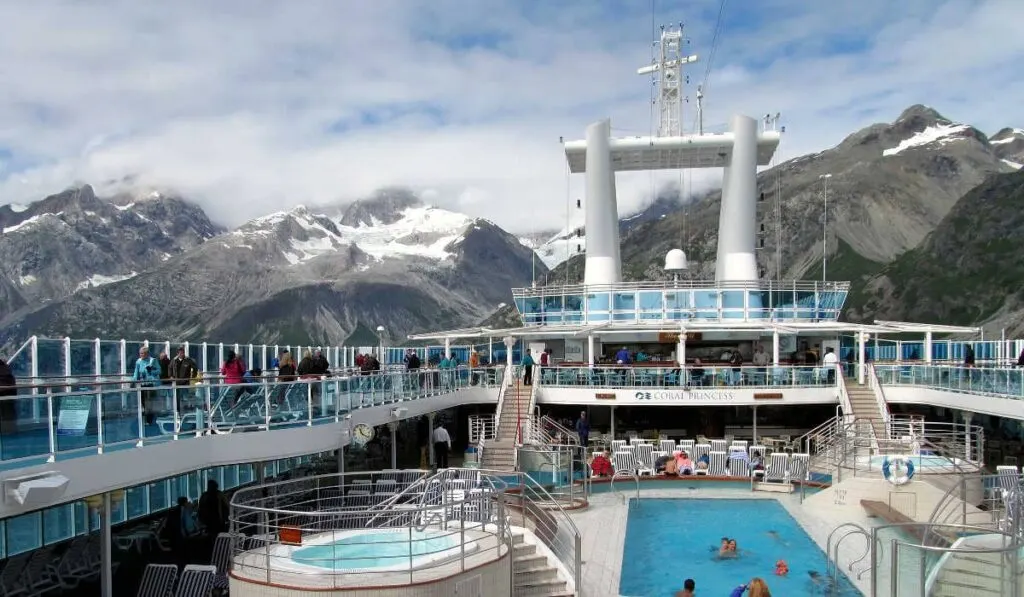 So, you're booked your cruise, and now you want to know what to wear on an Alaskan cruise. Don't fret; you are not alone. In this article, I'll share some great cruise outfit ideas for both men and women.
If you're flying to your embarkation port, your cruise packing list should include a waterproof jacket, rain boots, sweat pants, and a wide range of clothing for every weather condition.
Like many of you reading this, I did not know what to expect on my first Alaskan cruise, so I made some huge packing errors. However, after five trips to Alaska, I know the best things to wear and pack without taking the kitchen sink. If you're looking for ideas on Alaska cruise outfits, read on.
🛳️ Haven't booked your cruise yet?
Find your perfect cruise with Cruise Critic. It features more than 650,000 cruise reviews, advice, information and money-saving tips.
Find your cruise here
It's important to note that Alaska weather can be unpredictable regardless of what month you are sailing. While I have cruised to Alaska in May, July, and August, my first July cruise experienced rain every day. I experienced a heatwave with almost no rain on the other three vacations.
To be prepared, select water-resistant or waterproof items for port days. But remember your bathing suit, a pair of shorts, t-shirts, and sunglasses for warm days.
Casual Clothes To Wear Onboard
Alaska itineraries are more casual than warmer destinations further south. When choosing your Alaska cruise outfits, the essential factor is having layers and lots of them. Just remember, cruise ships are air-conditioned, and if it's chilly outside, it's still going to be cool or even colder inside.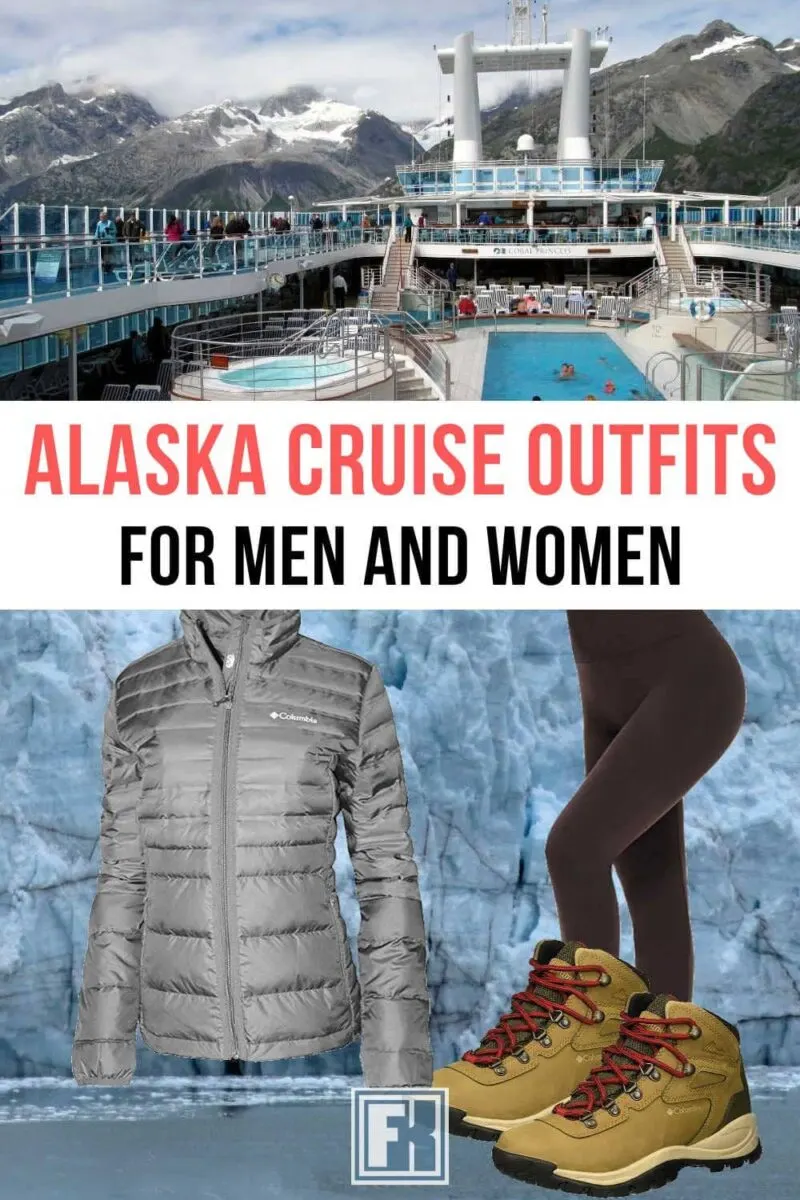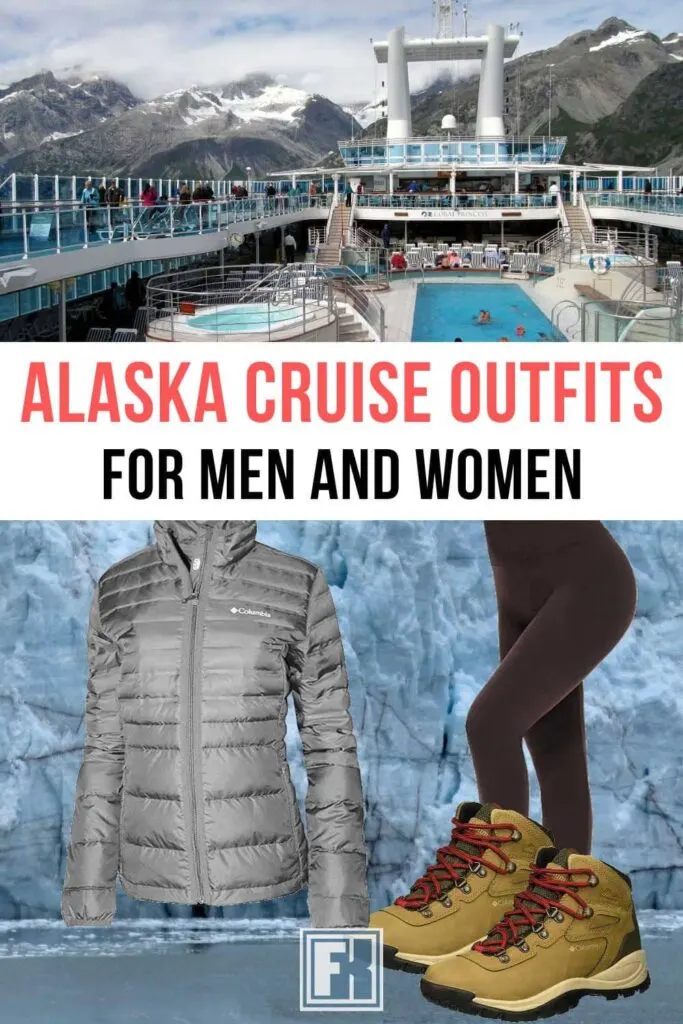 So, forget the flip-flops and sandals in favor of a pair of sneakers. Instead, your cruise wear should include a flannel shirt, fleece jacket, long-sleeve shirts, and long pants to stay warm. If you don't want to break your gym routine, remember your workout clothes too.
Cruise wear for women and men have similarities. For the men, bring a couple of pairs of fleece pants or jeans to keep you warm.
Accessorize with some t-shirts or polo shirts, and layer with cozy sweaters and a hoodie or a zip-up fleece jacket. It's acceptable to wear dark jeans or casual pants and a sweater at dinnertime.
Women can start with a couple of pairs of thicker leggings. Pair them with some t-shirts, and layer with lightweight cardigans and a hoodie or fleece layer.
While most travel with a pair of jeans, I find these to be colder than fleece leggings or fleece pants. However, you can create some cute outfits with black leggings, layered with a casual top and cardigan, accessorized with a trendy scarf.
If you're a frigid person like myself, a thermal top and a puffer jacket or down vest might be a blessing. Down layers roll into a tiny pouch and take virtually no space in your luggage.
I did not pack enough layers to stay warm on my first trip to Alaska. Many other passengers made the same mistake and rushed to the onboard shops to buy Alaska-themed sweats and hoodies to sustain them for the seven-day trip.
Also, remember to pack a bathing suit and cover-up. If it's cold for seven days, you can still use the indoor pool and hot tubs. On glacier viewing days, I quite enjoyed the steam rooms and saunas to warm my achy bones. If Alaska experiences a heatwave, you can use the outdoor pool instead.
Cruise Outfits To Wear In Alaska Port
When walking off your cruise ship, it's crucial to have a good pair of waterproof shoes or boots. After all, you're in a rainforest, and liquid sunshine can shower you at any moment. There's nothing worse than returning to the ship with wet feet and nowhere to dry your shoes.
Most visitors opt for long casual pants, t-shirts, polo shirts, and a waterproof rain jacket unless you're visiting in a heatwave. If you have a 3-in-1 jacket, wear the outer layer to keep you dry and comfortable.
It's best to carry a compact umbrella with you on port days just in case it rains. While all those sweats and fleece layers might seem a tad boring, consider jazzing up your outfit with a colorful scarf or hat.
If you plan any active excursions and need to pack extra layers. A Mendenhall Glacier helicopter excursion or a dog sled tour requires your warmest layers.
While dog sledding tour operators provide snow boots and waterproof pants, you'll need to wear a winter jacket, hat, gloves, and a neck warmer. You may already own those merino wool base layers or wicking shirts if you're a skier or snowboarder.
Even if the sun is out, you'll also want to dress warmly for a whale-watching excursion. The breeze off the water can be chilling, and the boat's floor quite cold.
The best Alaska cruise tip is to pack for three season because you never know what to expect of the weather.
What To Wear Hiking?
If you plan to hike near the cruise ports, that abundance of rain brings the mosquitoes. So, if the sun is out and you prefer shorts and a t-shirt, you might want to forego those in favor of a wicking long-sleeved shirt and long pants instead.
Mosquito repellent and suitable footwear are your must-have items. If you're looking for a low-rise walking shoe for women, these Ecco Aspina hiking shoes are ideal for keeping you dry. I love the Ecco brand because they are well-made and stand the test of time.
If you plan to do some hiking and need some ankle support, these Columbia Newton Ridge hiking shoes are waterproof, breathable, and very comfortable.
For the men, these Keen waterproof shoes will do the trick. Keen are a well known brand that their customers consistently rave about. Alternatively, these Columbia Newton Ridge hiking boots are a high top if you require ankle support.
Partner your shoes with Merino wool blended socks which have a significant amount of warmth and loft even when wet.
Carry a lightweight, water-repellent jacket and bring a water bottle whatever the weather forecast.
Now bear in mind, what to wear on a July Alaskan cruise can differ to one in the shoulder season. April, early May, late September, and Oct will be much colder and require more layer.
Outfits For Glacier Viewing
Whether you have warm weather or colder temperatures in town, one thing is for sure; it's going to be cold next to a glacier. Even if the sun is shining, the winds off the ice can make for a bitterly cold glacier viewing.
While you might be tempted to view the glaciers from inside your cabin, the best place for observation is outside. Why? Because there is nothing more spectacular than hearing the cracking of a glacier as it readies to calve.
The cracking sounds like thunder amidst the almost silent surroundings. You can only get this experience from being outside on the deck. I still remember sailing through Glacier Bay for hours and seeing Margerie Glacier for the first time. Its drop-dead gorgeous scenery left me speechless.
When selecting outfits for your Alaska cruise, be prepared for the cold. Bring a 3-in-1 jacket, hat, scarf, gloves, and hand warmers. You want to be comfortable and warm.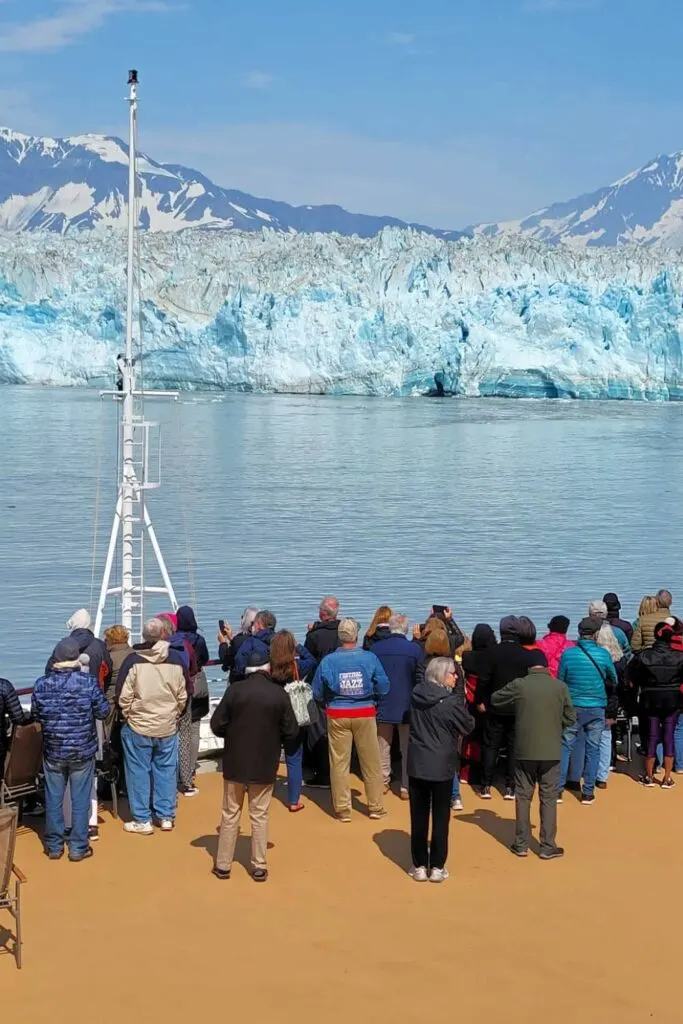 Wear all three pieces of your coat next to the glacier, the outside waterproof shell on port days, and the fleece liner on board to keep you warm.
Also, having a multipurpose jacket helps cut down on the amount you pack for your vacation. The must-have hand warmers are inexpensive, take little room in your luggage, and stay hot for 10 to 12 hours after activation.
Wearing your wool socks will keep your toes warm and cozy. For added warmth, pop a pair of toe warmers into your shoes.
Formal Nights
Alaska cruise formal wear isn't what it used to be. Most cruise lines have moved away from formal nights and call them something else instead. Say hello to "evening chic" on Celebrity, "wear your best" on Royal Caribbean, and "Norwegian Night Out."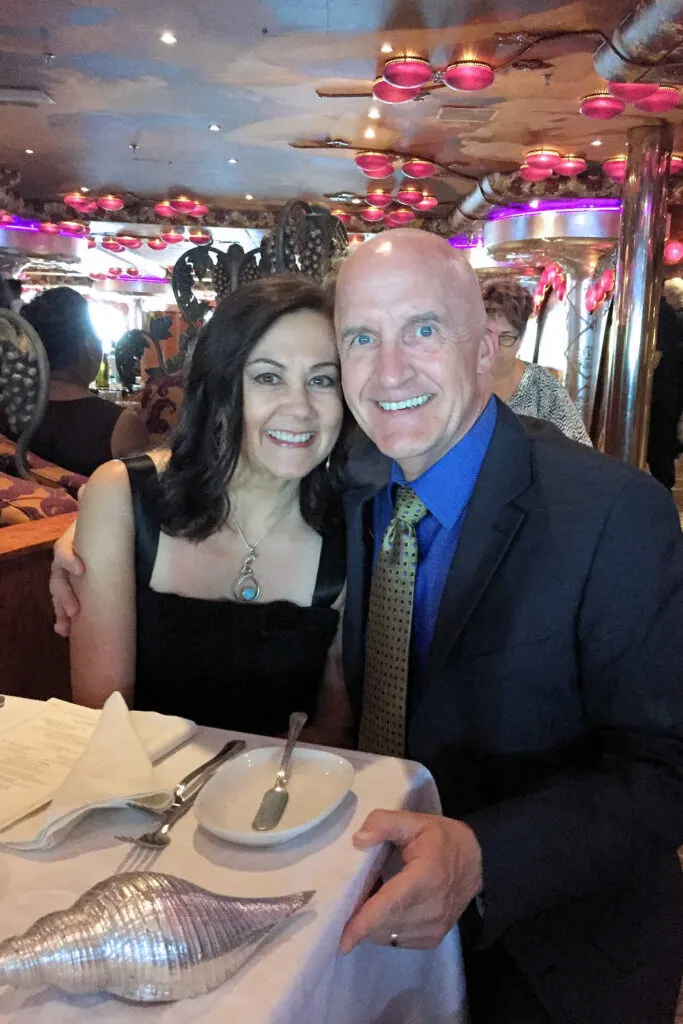 Those opposed to "dressing up" opt to eat in the buffet. However, you'll be missing out on lobster and baked Alaska. As cruise lines have moved to more casual dining, guests can wear dark jeans to dinner as long as they are void of tears and holes.
Men can wear dress pants and a button shirt without a tie and a jacket for a smarter look. If you prefer to go all out in a suit and tie, by all means, do so.
Cruise clothes for women can include elegant pants with a stylish blouse. Remember, it's your vacation. So, if you choose to take cocktail dresses or wear a princess ball gown, do so. Should you be low on luggage space, purchase an infinity dress that you can wear multiple ways.
They are available in long and short versions, in a variety of colors. By styling it differently, fellow cruisers will think you have more than one dress. Alternatively, a reversible dress provides two different looks.
Do I Need Boots For An Alaska Cruise?
The hardest part about packing for any cruise is deciding on footwear. Do I need boots? What about duck shoes? I know many people who take five pairs of shoes on a 7-day cruise.
If you're traveling as a couple, that's ten pairs, enough to fill a suitcase. I like to think if you have the right shoes, you need less selection.
Unless you plan to walk on a glacier, you don't really need boots. A good pair of waterproof shoes will suffice. I recently discovered the Vessi brand, and these have become my everyday shoes at home (I live in rainy Vancouver) and in Alaska.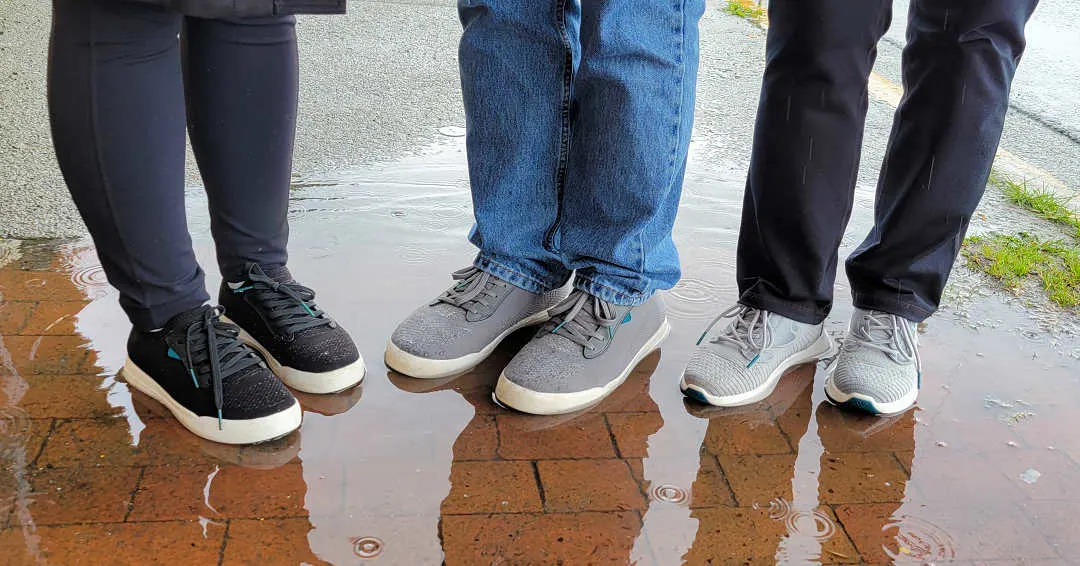 The footwear is waterproof, comfortable, and inexpensive compared to name brands. I've worn them in a downpour in Sitka, and on a 3-1/2 hour outdoor excursion to Mendenhall Glacier and salmon bake barbeque, and came away with dry feet.
So, I pack my Vessi runners, a pair of shoes for "chic" nights, and a pair of flats for casual dinners. My husband brings his Vessi runners, a black pair of shoes for formal nights, and a casual pair for around the ship.
If you feel the need to bring boots, wear them on embarkation and disembarkation day to avoid taking up precious space in the luggage.
Want dry feet in Alaska?
Find your perfect waterproof shoes here. Check out the newest colors, styles and trends for both adults and children.
Find your Vessis HERE
Packing For More Than A 7-Day Cruise
The majority of Alaska cruises sail for seven days. However, California roundtrip cruises and cruise and land tours last 9 to 18 days. Packing for an extended itinerary gets a little more complicated if you want to avoid the pricey onboard laundry fees. So, here are some tips for these longer cruises.
Carnival Cruise, Cunard, and Princess Cruises have self-serve laundromats. So, if you book with one of these lines, you can pack for fewer days and do laundry halfway through your cruise. The Cunard Queen Elizabeth and Discovery Princess offers FREE self-service and they even supply the soap.
I once did a back-to-back 14-days with Princess and did laundry while the ship was in port on the seventh day. Cruise lines without self-serve laundry charge high fees for wash and press.
However, they usually offer a "whole bag" deal on the first or second day. While it doesn't benefit you when boarding, wait until day 8 or 9 of your back-to-back. That day will be the first or second day for those beginning their journey.
Final Thoughts
While cruises to Alaska are more casual, dressing for this itinerary doesn't have to be boring. Women can add color with accessories like scarves and jewelry.
Overall, Alaska sailings require comfortable clothing over something trendy. If you've booked an Alaska in May or September, expect cooler days and colder nights.
Wear your bulkiest items on embarkation and disembarkation days to save on luggage space. And should you forget something, your ship, and shops in Alaska will happily sell you something cozy?
Happy travels ~ Karen