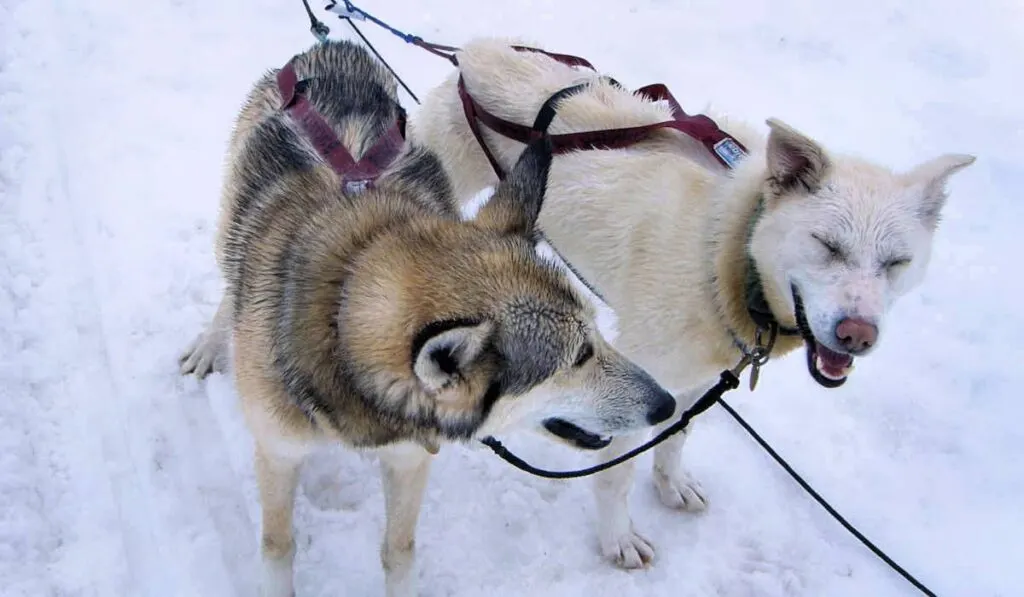 For many, dog sledding on a glacier is a bucket list experience and one you can enjoy in Juneau, Alaska. If you think winter is the only time of year to enjoy Alaska dog sledding, think again.
The mountains in Alaska have snow and ice year-round. So consequently, you can take a tour by way of helicopter. Not only will you be able to eliminate dog mushing from your Alaskan cruise bucket list, but you'll enjoy some flightseeing too.
I took my first cruise to Alaska and instantly fell in love with cruising. My daughter, then 13, was given a choice to pick one shore excursion during one of our stops. She chose a Juneau dog sledding excursion.
In this article, you'll learn how to dress, what to expect on this tour, and whether we thought the excursion was worth the hefty price tag.
Where Can You Go Dog Sledding In Alaska?
If you're considering booking a dogsled glacier excursion and don't know where to start, this article explains everything. I recommend Coastal Helicopters or Temsco Helicopters.
You can choose dog sledding on the Mendenhall Glacier, Herbert Glacier, or Norris Glacier in Juneau. Northstar Helicopters offers a dog sledding tour on Norris Glacier.
Temsco Helicopters offers Skagway dog sledding tours and land on Denver Glacier. The coastal town of Seward offers tour options on Godwin Glacier and flies you to Troublesome Glacier in Anchorage.
This excursion is suitable for young children and older adults, allowing you to experience Alaska's official state sport. Even some tour operators can accommodate those in wheelchairs.
If you've decided on alternative Juneau tours, consider a Seward dog sledding excursion, an Anchorage dog sled tour, or one of the Skagway tours.
If you visit Alaska in the winter season, you can save 65% or more by not needing a helicopter.
Booking The Sledding Tour
Juneau provides the most popular place to take the tour, with multiple glaciers and several helicopter tour operators. However, it's essential to know that summer tours fill up fast.
While helicopter rides are exhilarating, the helicopters are relatively small and can only accommodate a handful of people. On my recent Alaska cruise on the Queen Elizabeth, the cruise line had sold out the dog sledding tours six months earlier.
I did a lot of research and and read many Juneau dog sledding reviews. I also called a few tour operators to ask a few questions before booking a sledding tour in Juneau. Eventually, I chose Coastal Helicopters. Their pilots fly year-round, so they are more experienced in fog or low-lying cloud cover.
Should mother nature not cooperate on the day you booked, your tour operator may cancel your excursion, and you will receive a full refund. Unfortunately, this happens more than you'd think.
Coaster Helicopters recommended I take an earlier one when booking my time slot. If the clouds were too low to fly, they would attempt to reschedule our flight for later afternoon.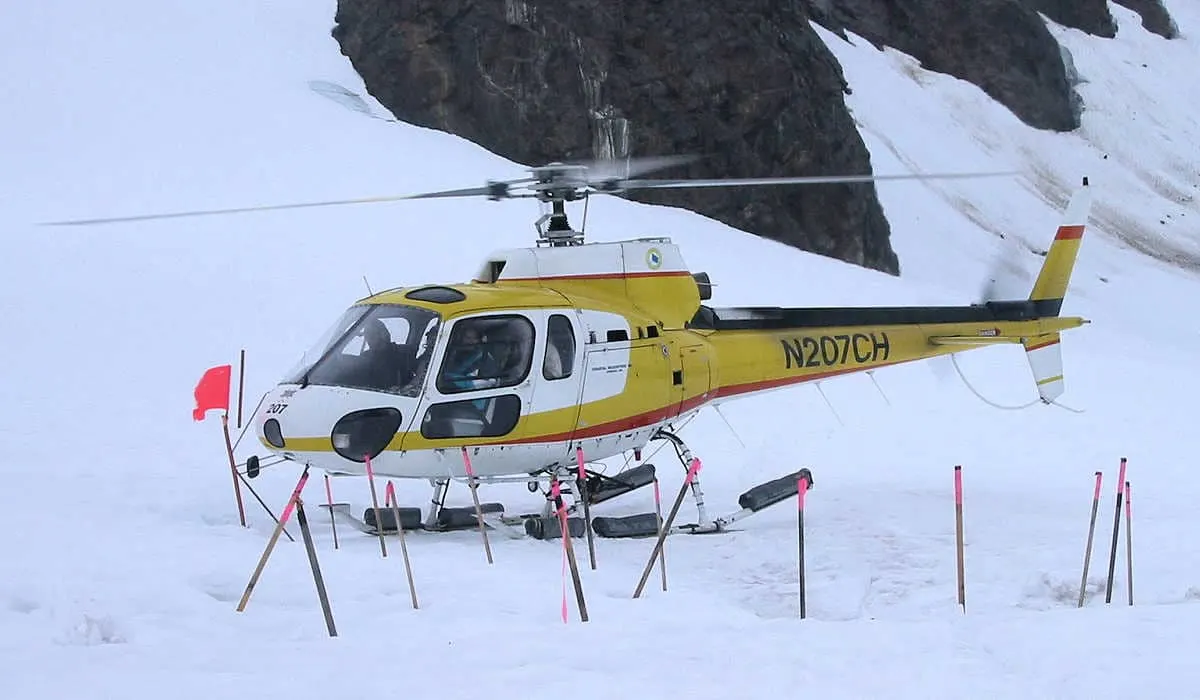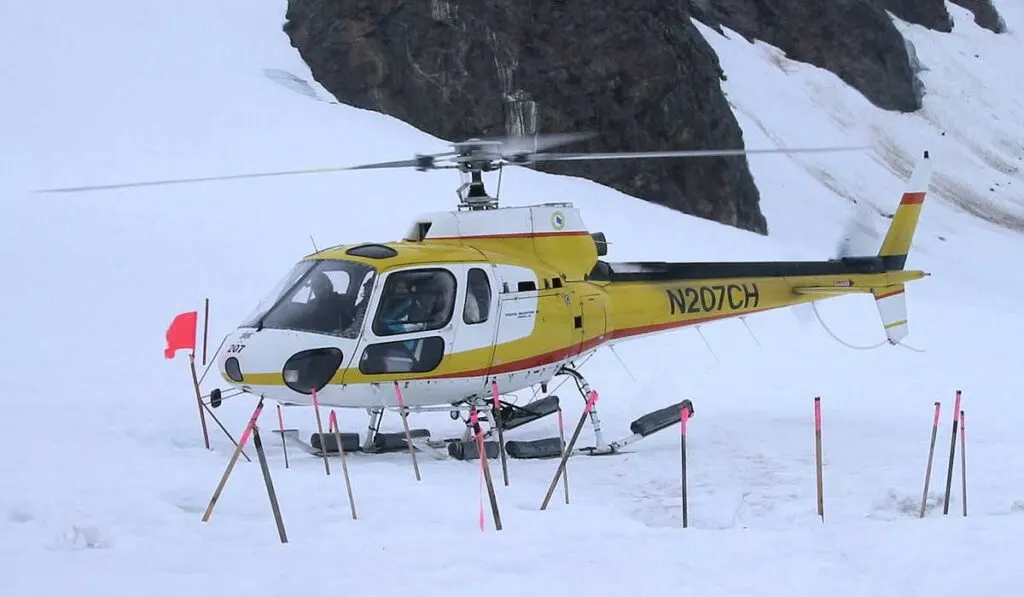 They also offer a selection of sightseeing or dog sled tours combined with a landing on another glacier.
Dog Sledding Cost
Alaska dog sled tour prices do not vary too much from company to company. In fact, there are no deals to be had when booking this tour. So, expect to pay around USD 650 to USD 750 per person, regardless of who you choose.
Although, if you book through your cruise line, some charge as much as USD 899 to USD 999 for the same experience.
These prices might seem expensive for a 2-1/2 to 3-hour trip. However, you are flying in a helicopter to the top of a glacier, and pilots and helicopter rides are costly.
If the helicopter trip is out of your budget, you can take one of the mushers' dog sled tours on the dirt. Although it is not quite the same experience as being on snow and ice, children will enjoy it just as much, and the tour is more affordable for families.
I can still remember the day our Celebrity ship pulled into port, and we were so excited in anticipation of our tour. However, it was incredibly cloudy, and I feared there would be no helicopter rides that day.
I could see the massive disappointment on my daughter's face. As we disembarked, a crowd of tour operators held "canceled" signs, which was not looking good for us.
I could not find Coastal Helicopters when we disembarked, and since our tour was not scheduled for another 90 minutes, we walked into downtown Juneau to browse some local shops.
When we returned 90 minutes later, finding out our excursion was a "go" surprised us. At first, my daughter hesitated about flying in a helicopter, but I felt we were in good hands with Coastal.
What To Wear Dog Sledding In Alaska
Regardless of the weather in downtown Juneau, you want to dress for the cold and rain. Even if the sun is out, it can be bitterly cold on a glacier. You will need a warm waterproof jacket since you'll be setting foot on the ice.
I highly recommend a 3-in-1 coat because you can use the individual layers on port days and around the cruise ship. You'll also need a warm hat, scarf, gloves, and layers to keep you warm on the glacier.
It's also a good idea to have polarizing sunglasses to reduce the glare from the glacier if it's sunny or protect your eyes from the wind if it's chilly.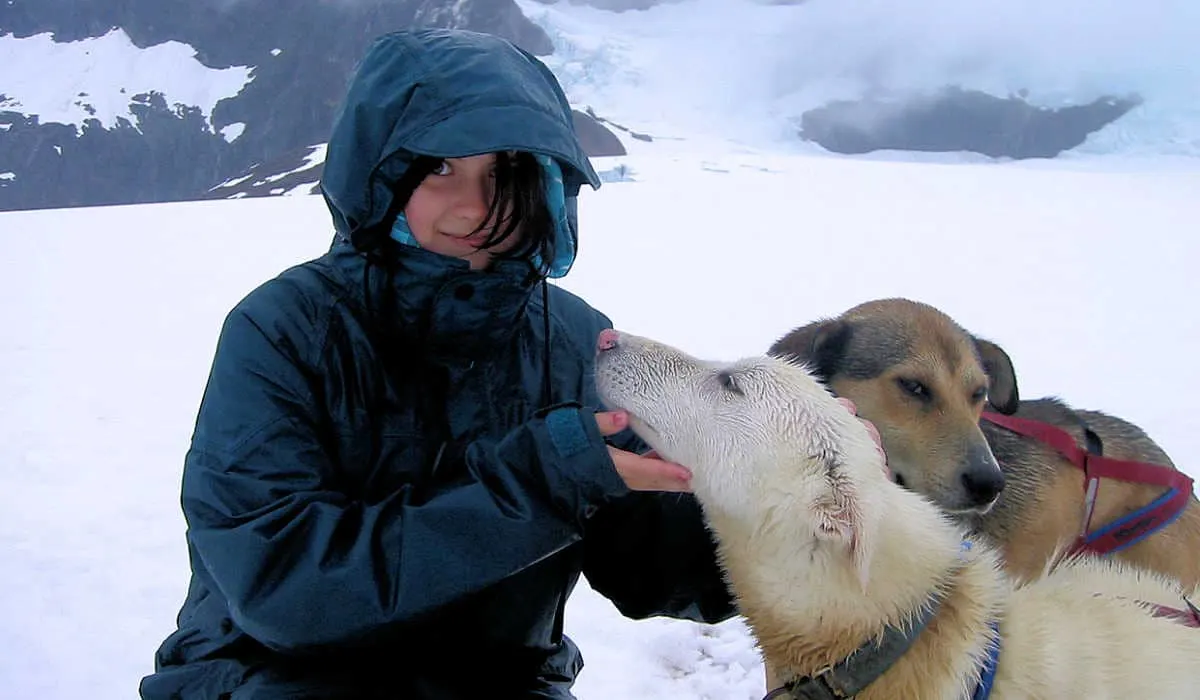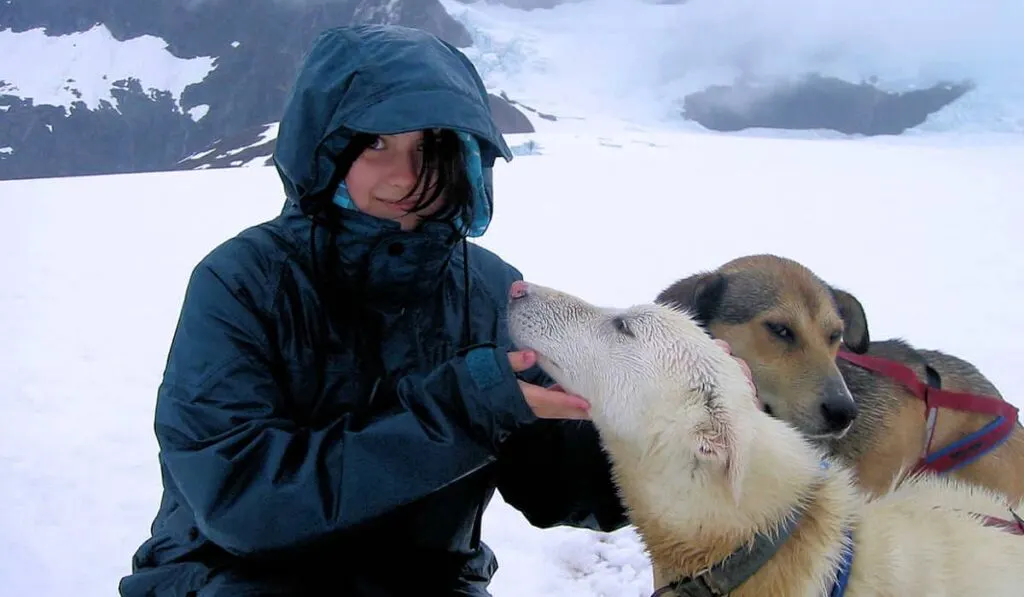 And, most of all, you'll need a camera to capture the exhilarating experience. If you're using your cell phone, I suggest a waterproof pouch to protect your phone. If you have an expensive digital camera, make sure you bring a rain sleeve.
Getting To The Glacier
From the cruise dock, it was a 20-minute ride to the airport. Our tour operator gave us a briefing on what to expect and some helicopter safety tips.
We received waterproof pants to wear over our clothing and glacier boots to put over our shoes. You cannot take bags on the helicopter due to limited space and weight, so the operator gave us a locker to store our items.
It's important to note; you cannot choose your seat location on the helicopter. Each person is weighed and allocated a seat to balance the aircraft. Should you weigh 280 lbs or more, there is an additional USD 100 comfort fee.
Fortunately, My daughter and I received the front seats next to the pilot. A young couple occupied the back seat with three and four-year-old boys. Who was more excited about this Juneau dog sled excursion, the children or the adults?
Even though there were low-lying clouds, our flight was remarkably smooth and uneventful. From the front seat, our glacier flight included views of Mendenhall Glacier, Auke Bay, and Herbert Icefield.
While it drizzled a little, the hues of the glacial ice and the deep crevices within it were fascinating to see.
Sled Dog Camp
In no time, we landed on Herbert Glacier, where a dog handler greeted us. Our team of huskies was already harnessed and barking in anticipation of their run.
The dog sled camp had many Alaskan sled dogs tied to their wooden huts. The huts had their dog sled names on the outside and their feeding schedule.
We learned that the dog handlers stay up on the glacier in tents full-time and fly into town once every three weeks. It takes a unique individual to live on a glacier in a tent and with limited supplies.
With no hot water and central heat, it's out of the question for me!
Amber, my daughter, was excited that we had our own dog team, and the other family had another group of dogs.
Initially, the sled dog's body builds shocked me. I always thought of huskies as dogs with thick coats and different colored eyes. But these were very different. They had thin coats and were slim built.
I learned these were "real" Alaskan huskies that run the Iditarod trail sled dog race, a grueling 1,100+ mile race in sub-zero temperatures. These sled dog tours provide a way to exercise the dogs during the warmer months.
We learned the differences between a Siberian Husky and an Alaskan Malamute. We also discovered the roles of a lead dog and wheel dogs.
I noticed some of the dogs wore booties which help to protect their feet when they develop sores from the ice. While I feared the dogs were cold on the snow and ice, the handler explained they loved the cold weather.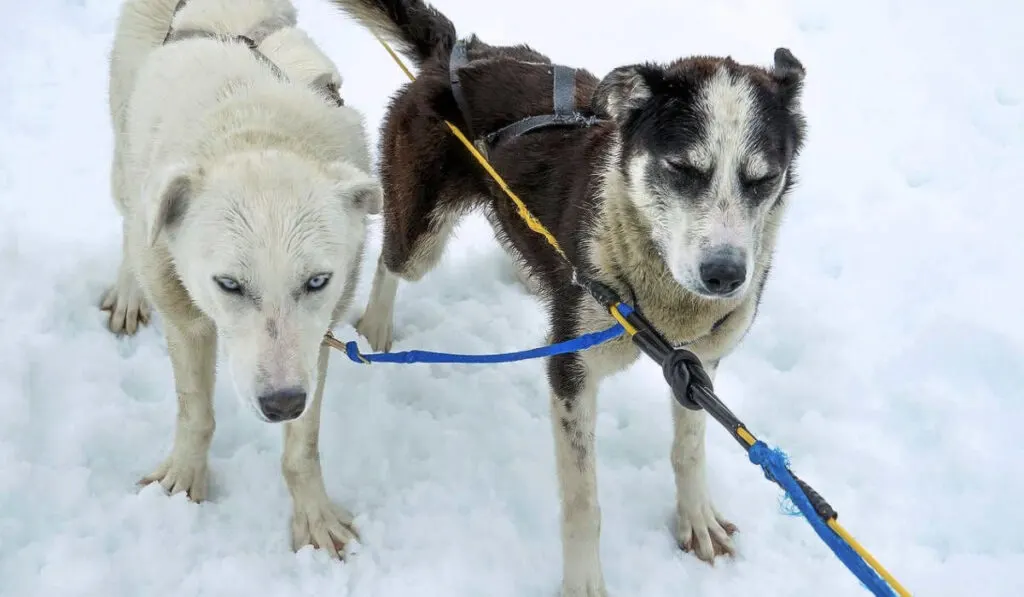 In fact, the dogs chose to lay on the wet snow through the constant rain rather than be dry inside their shelters.
The Best Dog Sledding In Alaska
Although the rain fell during our excursion, it didn't dampen our enthusiasm or spirits. These friendly sled dogs were eager to run, and their excitement grew as we approached.
The wooden sleds had a seat at the front for up to four passengers. Passengers sit upright as if seated on a chair, unlike basket sleds. You don't get a blanket to keep you warm, so dress in layers.
An experienced musher controls the sled, but there's a spot to stand at the back so you can "mush" your dog team. My daughter wanted to go first, so I sat for the sled ride during the first half of the ride.
We took the dogs around the edge of Herbert Glacier and enjoyed the winter wonderland. Halfway around, we stopped for a small break and admired the scenery.
How often do you get to adventure out on a glacier away from the real world?
After our short break and time with the adorable furry athletes, it was my turn to stand on the back of the sled while my daughter rode in front.
To say that dog sledding in Alaska is a thrilling experience is an understatement. It was a perfect adventure and not one I would easily forget.
While this excursion was expensive, it was well worth it. The Cheshire cat grin on my daughter's face is ingrained in my mind forever.
This Alaska dog sled cruise excursion ranks high on the top 10 Alaska excursions list. If you're deciding which Juneau excursions to take, this one is a must!
After The Excursion
Once we returned to the dog sledding camp, we had a chance to mingle with some of the other sled dog teams before our flight back.
We had a chance to snap photos of baby huskies, ask questions about living on the glacier, and enjoy time with the sled dogs. The baby Alaskan huskies are adorable beyond words.
During this excursion, expect to spend about 60 minutes of the three hours on the glacier. Let me tell you; we were the envy of all the other cruise ship passengers who booked with other tour operators and had their excursions canceled.
While it's been quite a few years since I took the dog sledding tour, I still remember the thrill of a dog sled ride around the glacier.
If contemplating this adventure, ask yourself how often you will travel to Alaska. If you answer one, you should add dog sledding in Juneau to your bucket list. Thankfully, I can remove dog mushing from mine.
Other Options For Dog Sledding
If you're traveling as a family of four or five, taking a tour on a glacier might be out of budget. However, there are other options for dog sledding in Alaska. You can enjoy a similar experience at a dog mushing camp.
In Skagway, the Skagway Sled Dog & Musher's Camp offers an excursion on dirt for under USD 200. These musher camp tours allow more time for kennel visits and a chance to cuddle with the dogs.
If you want to experience Alaska's iconic sport, this tour will be the highlight of your Alaska vacation. While my Juneau dog sledding tour set me back over USD 1000 for my daughter and me, we had a blast and felt it was money well spent.
Later, my husband, Brian, and I went dog sledding in Canmore, in the Canadian Rockies. That tour was much more interactive and half the price because it required no helicopter.