As America's 'Last Frontier,' Alaska is a rugged environment immortalized in stories, television, and movies. If you've considered visiting Alaska in winter, you should know that the northern third of Alaska lies within the arctic circle.
As a result of its location and geography, this 49th state is icy in the winter, with frequent sub-zero temperatures across the state.
Low temperatures occur from November to March if you plan to visit Alaska in winter. January is typically the coldest, with the lowest temperatures annually.
By visiting in the off-season, you'll benefit from lower prices and no crowds!
Alaska Weather
The weather conditions vary significantly in Alaska depending on how far north or south you are. No matter what time of year you travel to Alaska, you must prepare for all weather conditions.
In Alaska, winter begins in October, and rain may turn to snow at some altitudes. By November, the landscapes are snow-covered, and the days are getting short.
In December, Alaska experiences the darkest day on the winter solstice. In January, the average temperature in Anchorage is 17F or -8C, and much warmer than most imagine.
Alaska is like most regions in the northern hemisphere, where high temperatures occur in the summer months of June through September. Summer temperatures average in the upper fifties to mid-sixties Fahrenheit.
In addition to the cold temperatures, Alaska weather includes lots of precipitation. Ketchikan is the wettest town in Alaska, with 260% more rainfall than the average U.S. town.
We've traveled to Ketchikan multiple times and know that we always need to pack an umbrella, just in case! However, Ketchikan was sunny and hot on our cruise there last year.
Winter In Alaska
If you are experiencing your first Alaska winter, you will be in shock due to the extreme cold and lack of daylight. If you live in a state that has cold winters, you're probably most accustomed to colder temperatures.
Alaska is cold in the winter because the sun, if visible, is very low on the horizon. Any energy from the sun does little to heat the ground in winter. However, if you've visited Banff National Park in winter, you might find Anchorage in January much warmer.
While Alaska is generally colder than the lower 48 states, there are many sub-climates within Alaska.
Alaska's winter and climate vary according to the location from the coast, how far north, and elevation. Higher elevations naturally have colder temperatures due to thinner air and reduced ability to hold heat.
Fairbanks, being further inland, experiences colder temperatures than Anchorage. In January, Fairbanks receives lows of -15F (-26C), while Anchorage is warmer with lows of 8.5F or -13C. Although Anchorage received 18 more inches of snow.
Southeast Alaska is home to many of the towns visited by cruise ships during the Alaska cruise season of May to September. Southeast Alaska cities include Juneau, Ketchikan, Skagway, and Sitka.
As coastal towns, their weather is moderated by the breezes off the Pacific Ocean. Precipitation is common year-round, with lots of snow in the winter months.
Aleutians Islands
You can find the Aleutians Islands in the southern region of Alaska off Anchorage. Winter conditions include snow, wind, and occasional coastal flooding.
Temperatures are occasionally sub-zero Fahrenheit but generally above zero throughout the winter.
Kenai Peninsula
The Kenai Peninsula is in southcentral Alaska and experiences a coastal climate. The average temperature in January is -4 to -11 degrees Celsius (24 to 12 degrees Fahrenheit).
In the summer months, Kenai supports agriculture and produces hay and a few other crops.
Planning your trip to Alaska?
Alaska's Interior
This region of Alaska includes Fairbanks, Denali, and Yukon-Koyukuk. Daylight is limited in winter, with the lowest temperatures in January.
Far from the coast, there is no temperature moderating effect, and much of the region is sub-zero during the Alaska winter.
Hours of Daylight
Since about one-third of Alaska is within the arctic region, expect minimal daylight during the winter. The North Slope, Northwest Arctic, and Yukon-Koyukuk regions experience a few hours of daily light.
Approaching the winter solstice in late December (on December 21st), nights get longer, with the shortest amount of daylight the farther north you go.
Utqiagvik (Formerly Known As Barrow)
Utqiagvik is the largest town in the North American Arctic Circle and has a population of 4,000. Utqiagvik is a short distance of 1,291 mi (2,078 km) south of the North Pole.
The town is located within the Northern Slope of Alaska. Incredibly, Utqiagvik experienced 67 days of darkness from mid-November to later January, with the latter being the coldest month.
Many of us (including me!) could not tolerate the cold or the complete darkness. Hats off to the residents who live there year-round!
Fortunately, during the summer, the town has constant brightness with daylight 24 hours a day. I would rather have all light than all darkness.
Anchorage
Located in Southcentral Alaska, Anchorage has long daylight periods near the summer solstice. During the period near the winter solstice, Anchorage has only 5 hours of daylight from 10 am-3 pm daily.
However, during the peak of summer, the long days have daylight from about 4 am to almost midnight, making it an opportune time for outdoor activities in Anchorage. The rest of the day is with twilight, so not completely dark in Anchorage.
Ketchikan
Ketchikan is in Southeast Alaska and is close to the British Columbia border of Canada. As the southernmost Alaska town, Ketchikan has the most daylight during the Alaskan winter.
Near the winter solstice, the town has almost seven hours of daylight from about 8 am to 3 pm. Wow, I could tolerate that amount of light like my home in Vancouver.
What To Wear In Alaska In Winter?
Traveling to Alaska in winter requires thoughtful packing to prepare for the extreme cold. Before traveling, search online for a detailed packing list to help you know what to pack.
I was born and raised in Toronto, Canada. I grew up with occasional bitter winters and lots of sub-zero temperatures. Alaska's winter is about common sense and not exposing your skin due to the risk of frostbite.
Knowing what to wear will be more challenging if you've only lived in a warmer climate. However, with some basic knowledge provided here, you will be set up for success!
Here are some guidelines for what to wear in Alaska and how to manage winter temperatures.
Minimize any exposure to your skin. This means always wearing gloves, a hat, and a face covering if you will be outside for an extended period.
Dress in layers. Besides being very practical, layers trap insulating air between the layers to provide additional thermal protection.
Choose mitts instead of gloves. In sub-zero environments, mitts keep your hands warmer for longer. Also, the ability for your fingers to rub against each other causes friction, generating heat.
Keep track of time outside. Cold-weather injuries happen over time.
Your risk is minimal if you plan to walk from one building to another within 15 minutes.
However, would you be prepared if your vehicle broke down if you were driving or snowmobiling? Could you walk outside in winter for an hour or more in an emergency?
As an essential packing list for Alaska in winter, here is some info to get you started:
In addition to these recommended items, you must pack all other items for your desired length of stay.
Things To Do In Alaska In Winter
While most travelers prefer the summer season to do Alaska sightseeing, winter can provide a unique experience. Granted, there are many more activities in the summer, but for the adventurer, the winter is a great way to see Alaska.
If you are brave enough to make the trek north from the lower 48 states, many of Anchorage's activities in summer can be adapted for winter. Here are some excursions you should try.
Visit Denali
Denali National Park and Preserve has over 6 million acres (9,446 sq. mi, 24,464 sq. km) of Alaska wilderness. Its massive size makes it the 3rd largest of the National Parks in Alaska and the United States.
At the center of the park is the majestic Denali (formerly Mt. McKinley) which rises to 20,310 ft. (6,190 m). Denali is the tallest mountain peak in North America.
Glaciers, spruce forests, and tundra make up the Denali Biosphere Reserve. Many wildlife calls the park home, such as moose, wolves, caribou, and grizzly bears.
Winter activities in the park include dog sledding, cross-country skiing, and snowmobiling. However, mountaineering, biking, hiking, and backpacking are popular during summer's warmer temperatures.
There are many glaciers in Denali National Park, with Kahiltna being the longest in all of Alaska at over 44 miles (71 km) long. Other long glaciers include Ruth, Yentna, Tokisitna, and Muldrow.
The Ruth glacier is an incredible 3,800 feet (1,200 m) thick. The park receives about 600,000 visitors annually.
The best way to enjoy Denali in winter is at one of the local ski resorts or through a professional tour.
Chase The Aurora Borealis
The Northern Lights, also known as Aurora Borealis, are a spectacular light show in Alaska. The best time to see them is from late August through to April.
The aurora results from charged particles in the Earth's upper atmosphere that collide with gases. Each collision with a proton or electron produces a tiny flash of light.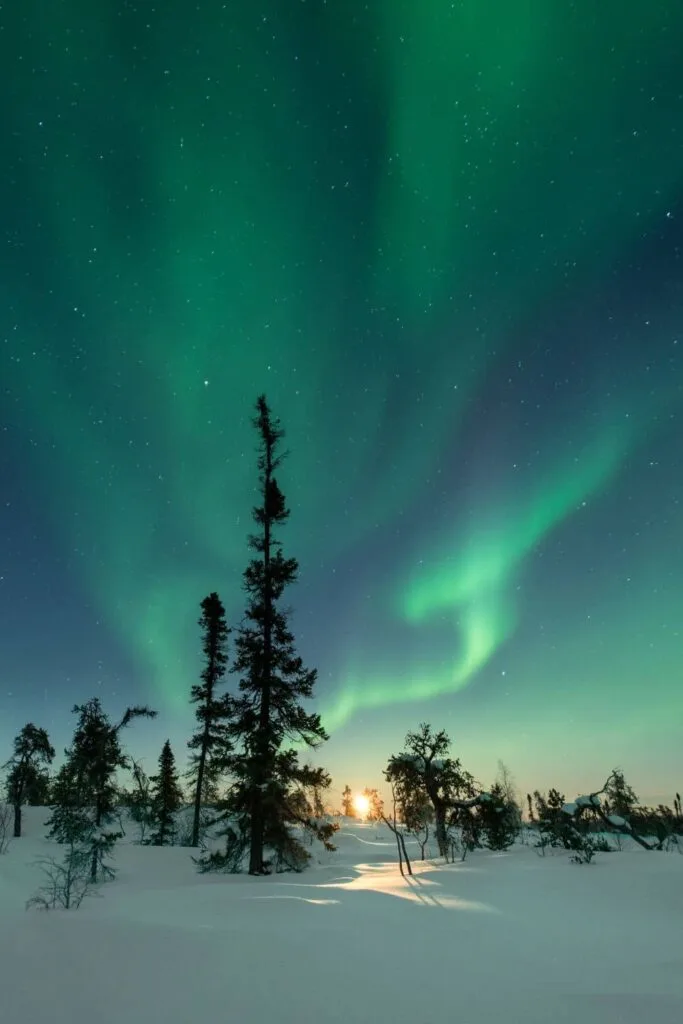 As billions of flashes occur, the sky appears to "dance" with the waves of light that move across the night sky. The light colors include green, dark pink, red, blue, and purple.
The aurora borealis is on many travelers' bucket lists. In Alaska, you can take a northern light tour, which varies from a day to a few days.
Go Dog Sledding
Alaska is legendary for dog sledding, with the famous Iditarod race being held for the past 100 years. Many travelers or cruisers to Juneau that arrive in the summer take the helicopter tour to go dog-sledding on an icefield.
It's a popular excursion but very expensive at USD 600+ per person. In the winter, you can do a similar tour for less than half the price!
In Fairbanks, you can even go night sledding by moonlight. The moonlight tour includes dinner and a chance to see the aurora.
Dog sledding was a bucket list for me when we did it in Banff, Alberta, in the winter. Dog sledding from November to March in Alaska would be the same frigid adventure.
Your face would partially freeze, and you would need to wear at least 3-4 layers to fight the cold. Despite that, it would be a thrilling adventure of a lifetime.
Ride The Winter Train
Trains provide a fun way to travel, both in summer and winter. The Aurora Winter Train travels between Anchorage and Fairbanks, with breathtaking views all the way.
Since the journey takes 12 hours, you can purchase a rail and fly packages, which includes two modes of transportation. Alternatively, you can make a day trip to Talkeetna since the one-way trip takes only three hours.
With landscapes painted in shades of white, you'll have a chance to spot wildlife who are no longer camouflaged.
Attend The Winter Solstice Festival
At Cuddy Family Midtown Park in Anchorage, they celebrate the return of daylight on December 21st, the darkest day of the year.
The annual festival includes ice skating, sleigh rides, and fat bike rides. The free event encourages attendees to come with "lighted" accessories to light up the night.
Winter Sports
For the winter sports enthusiast, there are many available in Alaska to test your skill and stamina. With a long winter season and natural mountains, sports such as downhill skiing, snowshoeing, snowboarding, and cross-country skiing are available.
In addition, snowmobiling across some spectacular terrain is a popular pastime. Snowmobiling in southcentral Alaska lasts from November to the end of April. One activity that sounds exciting is fat tire biking.
As it sounds, you ride a 2-wheeled bicycle with fat tires in the winter snow. The only skill you need is to be able to ride a bike.
Check Out The Aurora Ice Museum
In Fairbanks, the Aurora Ice Museum is the epitome of a winter wonderland, with its ice bar and icy sculptures. Your admission ticket includes the use of a warm parka and an option to purchase an appletini in an ice glass. How cool is that?
Your chilly adventure starts at the Chena Hot Springs. You can take the coolest (bad pun) selfies in the ice museum!
Polar Bears?
While you can see polar bears in Alaska in the summer season, it is not possible in the winter. The simple reason is that polar bears hibernate.
Polar bears are iconic to Alaska, and the best way to observe them is through a local tour company. Note that polar bears are the largest on Earth and can be dangerous to humans.
The best place is to visit the "Polar Bear Capital of the World" in Churchill, Manitoba, Canada. They offer tours that enable you to get up close in special purpose-built vehicles.
Final Thoughts
Visiting Alaska in winter may be far outside the 'Comfort Zone' for most travelers. For those of you that live in the Southern U.S., you may question, "Why would I want to visit Alaska in the winter?"
However, if you approach the trip as an adventure, Alaska travels will be an unforgettable experience. The photos you take will let you relive the memories that will last forever.
Remember that Alaska is an unforgiving environment in the winter months, and mistakes can be deadly. You can manage that risk by traveling with local professional tour guides who know the area and are prepared.
Seize the moment and enjoy life to the fullest. Book a trip to Alaska in the winter and be prepared to have your senses exhilarated!