It had long been on my bucket list to go dog sledding. With a recent winter trip to Banff, Alberta, I finally got to scratch dog sledding off my list! With eager anticipation, we flew to Calgary and booked a fantastic excursion with Howling Dog Tours in Canmore.
My wife, Karen, was already a proud member of the "Dog sledding club" because she had gone dog sledding In Juneau, Alaska, in 2009. We booked an "unleash the musher" sledding tour for our Alberta stay, a two-hour excursion that included interaction with the sled dogs.
Why We Chose Howling Dog Tours?
While we had previously made a road trip from Vancouver to Banff in September, we decided to make a second trip to experience winter in the Canadian Rockies. Karen was in charge of our entire itinerary because she thoroughly researches every destination and tour company.
While looking for dog sled excursions, she found tours in Lake Louise, Banff National Park, and Spray Lakes in Canmore. She chose Howling Dog Tours in Canmore because:
They are an established family-run business that has been offering dog sledding excursions for over 25 years.
No need to share your sled with a stranger (except your personal guide, of course).
Their tours are more interactive and not just a sled ride.
Rich and Dana are passionate about what they do and honestly care about their dogs.
Each sled has a guide, so we aren't left to guide our own sleigh.
Guests can ride on the back (if conditions allow) and help guide the dog team.
Howling Dog Tours provides complimentary shuttle buses to the start of the tours. Should you need it, they also offer pick-up and drop-off at a hotel in Canmore or Banff.
Canmore Dog Sledding Cost
Howling Dog Tours offers two excursions, Unleash the Musher (two hrs.) or Dog Day Afternoon (half-day). You can only go from January through March if you prefer the longer tour. We booked the two-hour tour and were required to show up one hour before our start time.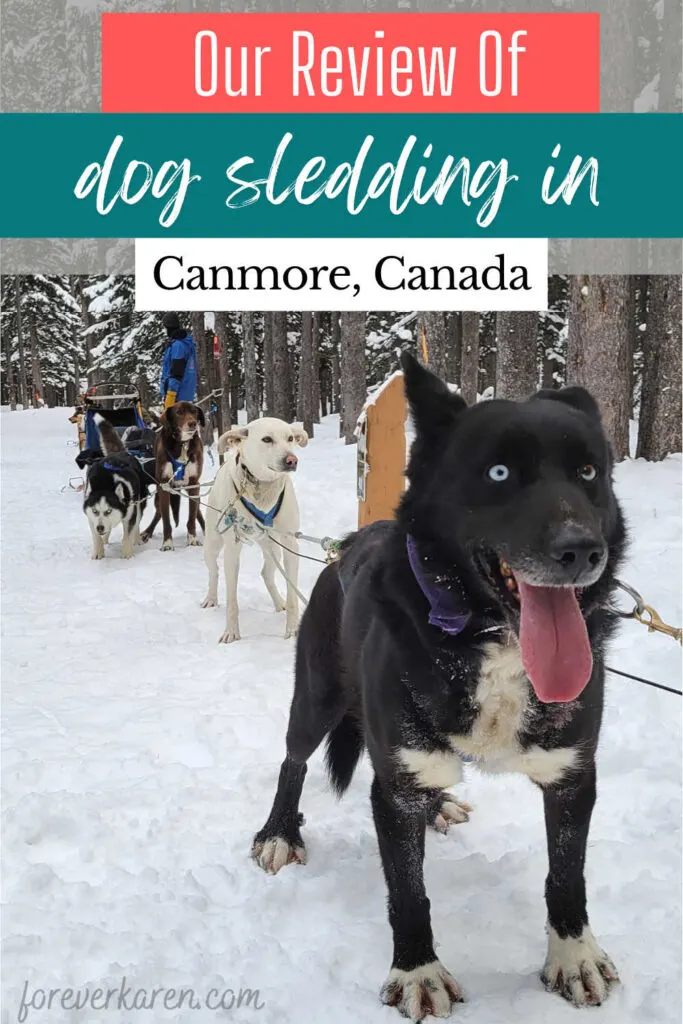 While some might argue dog sledding in the Canadian Rockies is expensive, Karen will tell you otherwise. Alaska Dog sledding is only available on the glaciers and requires a helicopter ride to get there.
Helicopters are a costly way to travel, and as a result, even in 2009, Karen paid USD 1000 to go dog sledding with her daughter. Today, the cost is around USD 600 per person, which puts it out of reach for many people.
By contrast, Karen and I went dog sledding and paid around CAD 250 per person. I thought this was a fantastic deal, especially considering the dollar exchange.
While doing research, there are some cheaper tours, but like everything in life, you get what you pay for. An advertised "Narnia tour" costs CAD 145 per person, but it's a mere 30-minute excursion. Seriously, what can you do in 30 minutes?
Howling Dog Tours – Directions and Hours
Howling Dog Tours operates on campground lands that are open during the summer but closed during the winter. With road closure, dog sledding along Spray Lakes provides a peaceful experience with stunning scenery.
Weather permitting, sled dog tours are available from December until April. Since we took a tour in December, when the dog sled season had just begun, the sleds run on the closed roadway. Once the lakes develop thicker ice, sleds can run across the icy lagoons.
Address: 712 Bow Valley Trail, Unit #105 (in the Purely Pets store), Canmore, Alberta, CANADA.
Take Trans-Canada Highway #1 to Exit 89 (Canmore Town Center) when traveling from either East (Calgary) or West (Banff).
2-Hour tour times: 10 am, noon, 2 pm, and 4 pm. Note 4 pm tours operate partly in the dark.
One of the reasons we booked with Howling Dogs was their shuttle bus service. Their drivers pick up guests from their Bow Valley Trail office to the site where the tours start. Other tour operators don't offer this convenient service, and guests complain of arriving late or not finding the location.
While riding the shuttle, we noticed no signage in the remote location for dog sled tours. In fact, we entered an area that said it had restricted entry. We were thankful we didn't have to find the correct location on our own.
Howling Dog Tours is one of the rare dog sledding companies that offer pickup at your hotel in Banff or Canmore. If you're staying at a local hotel and do not have a rental car, you'll appreciate this handy service.
Booked guests coming from Banff pay a CAD 5 fee. We had a hotel in downtown Banff and opted to drive ourselves since we had a rental SUV. Our 5-day itinerary included one night in Canmore at the Pocaterra Inn and Waterslide. But closer to our trip, Howling Dogs didn't offer a tour on the day we were there.
It meant we switched around our itinerary and fit dog sledding into our busy schedule at the end of our stay.
Harnessing The Dogs
Our group consisted of twelve, with two per sled. When we arrived, there were almost 60 dogs, all barking in anticipation of the run. Now we know where the company name came from, lol!
We were assigned a guide, James, who introduced us to our dog team. What we loved about this tour was being able to interact with the sled dogs.
James showed Karen how to harness the dogs and prepare them for the run. The tours typically run with six to eight dogs per sleigh. After they harnessed the dogs, I sat in the sleigh to provide weight while Karen held the guidelines tightly and James attached the six dogs.
Once snuggled into the sled and covered by a few blankets, we were off on our run. During the sled tour, we were captivated by the incredible scenery. Since Karen has been dog sledding in both Alaska and Alberta, she can tell you that Alaska scenery on a glacier is boring!
There's nothing around but ice and sky, and most of the time, the surrounding mountains are hidden by cloud cover. Compare this to dog sledding in beautiful Canmore surrounded by trees covered in fresh-fallen snow! It's a winter wonderland.
Our Sled Tour Experience
For Alaska dog sledding, you fly to the glacier and complete a large oval circuit on the glacier. In Canmore, we had a picturesque trail through the woods and traveled about 5km (3 miles) along the Spray Lakes. With clear skies and postcard views, its jaw-dropping scenery left us speechless.
Five minutes into our run, a photographer on the trail captured our picture. This photo is available for purchase at the end of the run and costs CAD 25 for the print and digital image. Of course, we purchased ours as a memento of our experience.
During our tour, we learned that "lead dogs" (at the front) steer the team, and "wheel dogs" at the back provide the muscle. The guides pair males and females to prevent fighting, and the pairs usually remain the same.
As the dogs ran, they would snap at the snow to the side. The mouthful of fresh snow helped them stay cool and provided a drink.
We disembarked from the sled at the halfway turnaround point to have a tasty hot beverage (hot chocolate, tea, etc.) and a cookie. We enjoyed the welcomed break because the sleds can get rather uncomfortable after riding for half an hour over the snowy terrain.
At this point, the dogs started their ritual of non-stop barking until they ran again. During the break, we could pet the dogs and get to know them better. I found all the dogs very friendly and really appreciated the attention from humans!
Also, we got to speak to Dana and talk to her about their Canmore dog sledding operation. Karen was curious to know why Howling Dog Tours didn't offer a summer mushing tour.
These are offered with wheeled carts when there is no snow. While the company has the carts, they have no access to summer areas to provide such an excursion.
After our break, we got back in the sleds for the journey back. Shortly after, we stopped, and James allowed me to ride on the back for part of the way. On the way back, we passed a few other dog sled groups who share the trail.
Back at camp, we unharnessed the dogs, gave them chicken water and a dog treat, and enjoyed doggie hugs. Our guide would then harness a fresh set of dogs for the next tour group.
How To Be Safe When Dog Sledding
When sledding in Alberta, your sleigh runs through the forests and among the trees. There are some occasional turns, hills, or curves that can be extra exciting but result in injury if you are not careful.
When the dogs start to run, they get excited, and even a well-trained musher can have the sled occasionally go where they didn't intend it to be!
Our guide, James, reminded us to keep "everything inside the sled" (including our hands and arms), and I'm glad he did! Parts of the trail were lined with tires stacked on their side, and at the first curve, I almost had my hand pinched between the tires and sled.
Holding my iPhone near the ground and trying to get "the perfect shot," you can quickly forget where you are. That's when accidents happen!
Here are a few common-sense tips to ensure you don't end up with extra bruises (or worse) after an exhilarating tour through the woods:
Listen closely to the instructions provided by your guide at the start and during the tour.
ALWAYS keep your hands and arms inside the sled while it is running.
NEVER try to stand up while the sled is moving.
Wear insulated, warm clothing so that you can tolerate the changing weather during the tour.
Sometimes, you get the chance to stand up at the back of the sled beside the musher. If you do, keep both hands on the rear handles and focus on keeping your balance while the sled is moving.
Only enter and exit the sled when your guide says so. The dog team needs to be securely tied down to prevent runaways.
Why Howling Dog Tours?
After meeting Rich and Dana Bittner, the founders of Howling Dog Tours, we could see that they are passionate about the experience they deliver to customers. Also, as true 'animal lovers,' they provide a safe, healthy, and ethical environment for all their dogs.
At the time of our tour, Howling Dogs had 181 canines. They received some dogs from other tour operators or other circumstances where dogs were at risk.
After taking in the additional dogs, Rich and Dana train them to become working sled dogs, or "dogs with jobs." After that, they "retire" from sledding and live out the rest of their lives on the Howling Dog property. How cool is that?
During our tour, we could see the dogs were well treated, and all were friendly. Even though not all of the sled dogs were the traditional Husky (Alaskan or Siberian) or Malamute, they worked well as a team and madly barked until they were harnessed and able to do what they loved… to RUN!
Also, Howling Dog trains their guides well, so they are skilled both as a professional "musher" and at providing excellent customer service. Our guide, James, was a transplant from England but had adopted wintery Alberta as his new home. He shared stories about the dogs and himself during our tour.
What To Wear For Dog Sledding
Obviously, you need to dress appropriately if you want to go dog sledding on snow or ice and with a strong wind cutting across your face. You probably already know what you need to wear if you're a skier.
Weather can vary significantly while dog sledding in Canmore, with temperatures below -20 Celsius. It's important to note that tours operate during heavy snowfall and only cancel if there are dangers of avalanches or the temperature falls below -30 Celsius.
To keep it simple, after Karen and I did our research and found what worked (and what didn't), here's what we would recommend:
Ski pants with either jeans and/or a thermal base layer.
Ski jacket, preferably down or a 3-in-1 winter coat, with a few layers underneath.
Gloves or mitts – mitts preferred for greater warmth.
Handwarmer inserts (these are amazing!).
Ski goggles or, as a minimum – sunglasses.
Snow boots or hiking boots – preferably insulated.
Toe warmer inserts.
Wool or thermal socks and preferably wear two pairs.
Warm toque that covers the ears.
Optional – Balaclava, neck BUFF, or at least a scarf. A neck buff is versatile and can be worn around the neck or pulled up over your nose and mouth for extra protection.
Optional – chapstick.
It's advisable to take tissues for runny noses and watering eyes. Believe me, that wind makes your nose run. There is room on the sleigh between your legs if you want to bring a small bag, snack, and camera.
While Howling Dog Tours provided hot chocolate, tea, and cookies, Karen couldn't have either. Being celiac and lactose-intolerant, she brought her own snacks and drink.
Getting Tickets For Howling Dog Tours
While I loved dog sledding with Howling Dogs, the one thing that needs improvement is their online ticket booking system. You go to the Howling Dog Tours website to request a tour by filling out a form. Note that you are not actually booking an excursion when you initially complete the web form.
After choosing a date and time, the Howling Dog team sends you an email requesting you complete another form with your credit card information to confirm the booking. Unfortunately, we thought we had made a booking, and the email ended up in our SPAM folder.
When we realized the error, Karen called to get a confirmed booking. Initially, our itinerary had us going dog sledding on the day we arrived in Calgary, but due to availability, we adjusted our schedule to go two days later.
My suggestion would be to have a LIVE online booking system where you can see what tours are available, book it, and pay at the same time. Maybe Rich and Dana will consider this in the future? Lol.
What I Loved Most About Dog Sledding
I found the overall dog sled tour exciting, informative, and a tremendous amount of FUN! As a result, it's impossible to describe just one or two things that were the best.
Here are a few things that I loved about the dog sledding experience:
I was learning something new and doing it in a place like the Canadian Rockies, which offers spectacular beauty in the wintertime.
Seeing almost 60 stationary dogs barking so loud, we could barely hear the host explain the rules for us to follow. Then just minutes later, the dogs were silent as they worked at peak performance, pulling Karen and I in the sled across the glistening snow.
We got to participate in the harnessing, the mushing, and as a privileged passenger, taking everything in like a kid in a candy store.
We got to support a family-run Canadian business.
Final Thoughts
Dog sledding was on my bucket list for years, and I'm so glad I finally experienced the thrill of racing across the snow and through the woods with a well-seasoned dog sled team. While not a cheap activity – CAD 500 for Karen and I; it was well worth the cost, even if it's just a "Once in a Lifetime" experience.
It's crucial to pick a quality tour operator who is passionate about what they do. In the end, we found Howling Dog Tours to be professional, providing excellent customer service, and most importantly… they treated their dogs well!
In a few years, we will likely go back to Banff and Jasper and do an "encore tour" so that we can practice our mushing again! There's nothing like having a winter's wind cut across your face while watching the dogs ahead race among the trees across a blanket of fresh snow.
If you're open to a "frosty winter vacation," then I would strongly recommend you make the trip to Banff. During our short five-day visit, I completed a bucket list skate on Lake Louise, took a horse-drawn sleigh ride, and experienced a fantastic visit to the Yamnuska Wolfdog Sanctuary in Cochrane, Alberta.
Happy travels ~ Brian