Located in the Canadian Rockies, Banff National Park attracts visitors to hike its trails and see its beautiful scenery. While the park is open year-round, most tourists visit in summer when they can camp.
So, if you're looking for where to stay in Banff, accommodation in the national park is plentiful and ranges from the luxury Fairmont Banff Springs and Chateau Lake Louise to budget-friendly hostels.
If you're visiting Banff in June through to September, the best places fill up fast. Don't be surprised to find the luxury hotels owned by the Fairmont booked a year in advance.
The town of Banff offers the widest choices of hotels, but the Lake Louise area has a few selections too. Hotel amenities can include hot tubs and fireplaces, perfect after those winter activities.
Look for Banff lodgings with kitchenettes or full kitchens if you're budget-conscious or traveling with a family. So, depending on the time of visit, here are the best hotels for every budget.
Luxury Accommodation In Banff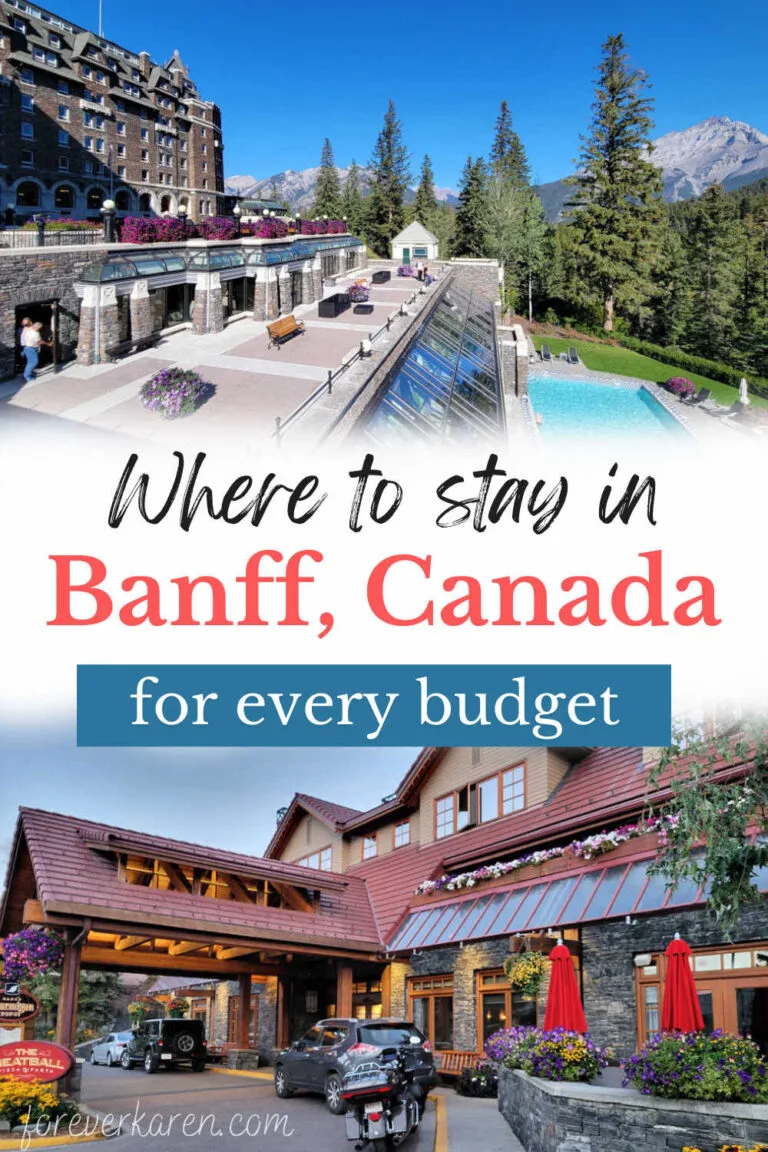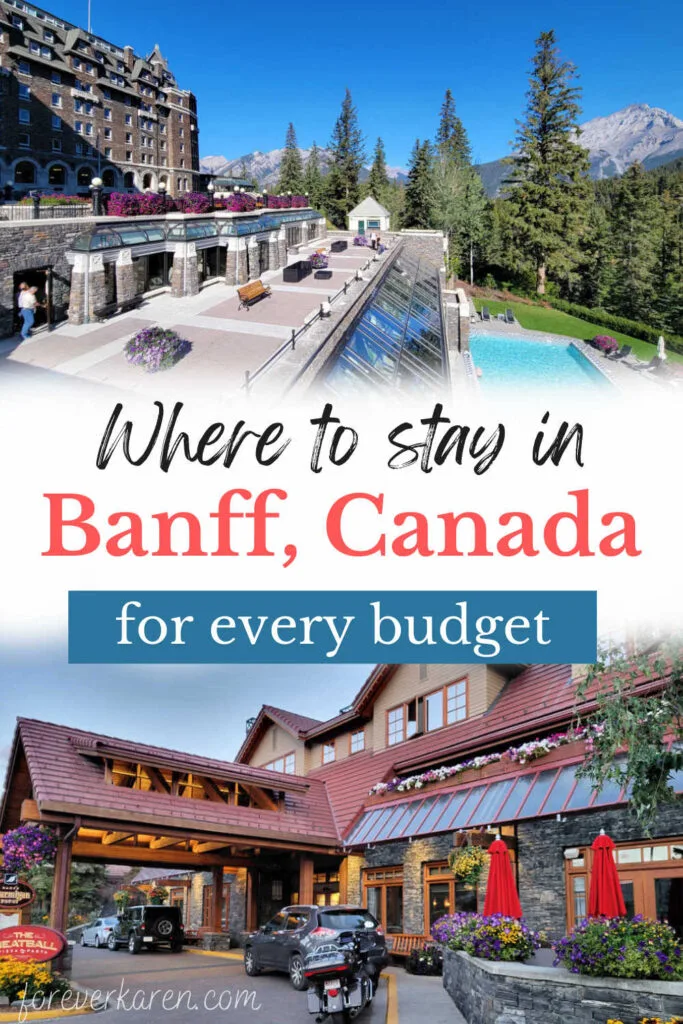 Visitors can choose from three luxury hotels if they're seeking a deluxe stay with attentive staff, fine dining, and first-class amenities. Travelers can choose from two luxury resorts in Banff and one in Lake Louise.
Fairmont Banff Springs Hotel
Location: 405 Spray Ave, Banff | Cost: rooms start at CAD 600 to 1200+ (depending on the season)
One of the advantages of staying at the Fairmont Banff Springs Hotel is the bragging rights. The impressive architecture resembles a Scottish Castle, with the exterior and interior exuding opulence.
However, since the structure was built in the 1800s, the lowest-cost rooms aren't spacious rooms and have scanty closets and tiny bathrooms. During my September Banff visit, I stayed at the Banff Springs and received an upgraded Bow Valley view room.
The view definitely made a significant impact on our review of the hotel. All rooms include robes and slippers, upgraded bath toiletries, a coffee maker, and a kettle.
Compared to other Banff hotels, the rooms are smaller, starting at 230 sq. feet, but remember, this hotel was built over one hundred years ago. Those driving incur a parking fee of CAD 29 a day.
However, the private rooms come with a comfortable bed, lovely linens, and access to the hotel's amenities. You could even receive a room with a magnificent view of Bow Valley and Bow River.
Travelers may choose this hotel for its peaceful location away from town or its luxury spa. It's also close to the Sulphur Mountain Gondola and Upper Hot Springs. If you're a golfer, it's a great place for its proximity to the Banff Golf Course.
The Banff Springs Hotel has two swimming pools, one inside and the outdoor pool is a guest favorite in the winter months. Imagine relaxing in a heated pool as the snowflakes fall around you.
During the summer, guests can enjoy one-hour complimentary bike rentals to enjoy the area along Bow River.
The Banff Springs welcomes up to two pets but charges a CAD 50 cleaning per day, up to a maximum of CAD 100.
The Rimrock Resort Hotel
Location: 300 Mountain Ave, Banff | Cost: rooms start at CAD 350 to 700+ (depending on the season)
Located further from town, the Rimrock Resort Hotel was built on the side of a cliff for the views. The lowest-priced rooms are significantly larger than the Fairmont brand at 344 sq. feet.
Its largest accommodation, the Suite Infinity, boasts 800 sq. feet of luxury living but commands a price tag of over CAD 3200 a night during peak times. All rooms include cozy bathrooms, designer toiletries, a coffee maker, and a mini-fridge.
Travelers might choose the Rimrock Resort Hotel for its solitude locale. In the winter months, it's the perfect place for those wanting to snowshoe or hike the nearby trails.
Nearby, the Sulphur Mountain Gondola and Upper Hot Springs provide day outings both in summer and winter.
Do note that the hotel location away from town is outside most restaurants' delivery circle. However, the hotel offers two restaurants, one coffee shop, and room service for a reasonable fee. Visitors pay an additional CAD 22 for self-parking privileges.
The Rim Rock also welcomes dogs, which are restricted to level 7 of the hotel. The fee for bringing a dog is CAD 40 per day for the first one and CAD 20 a day for the second one.
Fairmont Chateau Lake Louise
Location: 111 Lake Louise Drive, Lake Louise | Cost: rooms start at CAD 600 to 1200+ (depending on the season)
If watching the sunrise at either Lake Louise or Moraine Lake is on your bucket list, consider staying at Fairmont Chateau Lake Louise. Overlooking Lake Louise, Fairmont guests don't need to worry about parking during peak times.
With sunrise as early as 5.25 am in summer and a 45-minute drive to Lake Louise, those in Banff need to rise before the birds to access paid parking and an ideal photography spot. I chose to stay at the Chateau for its easy access to Lake Louise activities.
Like the Banff Springs Hotel, all rooms include slippers and robes, upgraded bedding, and luxury toiletries.
Their 'Fairmont Gold' rooms allow guests to enjoy a hotel within a hotel experience. Gold room guests enjoy evening canapes, complimentary breakfast, inclusive parking, and a private lounge.
Even though we had a mountain view room, we could enjoy one of Banff's spectacular lakes from the Fairview Lounge and Adirondack chairs outside. The hotel has an indoor pool, ideal if you're visiting in the off-season.
Should you visit in winter, Lake Louise offers ice skating (from mid-December until the lake thaws), horse-drawn sleigh rides, and snowshoeing. If you ski, the Lake Louise Ski Resort is just across the valley. A rental shop in the hotel's basement supplies all the winter gear you'll need.
Guests get priority reservations on canoe rentals and exclusive sunrise canoe rentals in the summer months.
The Chateau welcomes guests with pets. You can bring a dog but will be charged a CAD 85 (+taxes) fee per day (to a maximum of CAD 450). The hotel can supply dog beds, treats, and pet bowls. And they offer pet-sitting services.
The Fairmont Chateau Lake Louise is all about location. While it may lack proximity to first-class restaurants in Banff, the nearby village offers some homestyle eateries and great prices.
Located in a hostel, I enjoyed inexpensive and great-tasting food at Bill Peyto's Café. This Banff restaurant offers great gluten-free selections without breaking the bank.
Mid-Range Accommodation In Banff
During the busiest summer months, mid-range and budget-friendly hotels fill up fast. Plan ahead to score the best deals or get a room at all. During the winter months, hotel rates can drop by 50% or more depending on when you book.
Tunnel Mountain Resort
Location: 502 Tunnel Mountain Road, Banff Cost: rooms start at CAD 165 to 550+ (depending on the season)
While most visitors want a hotel on Banff Avenue or walking access to restaurants, some prefer a quieter locale. Tunnel Mountain Resort offers just that and gives guests free bus passes to access the town. Its guest rooms are spacious at 350 to 650 sq. feet.
The smallest room has a kitchenette, while the others have full kitchens, perfect for families or those trying to save money. The kitchens are recently renovated and have everything you need to cook or make snacks.
Visitors traveling with pets can request a pet-friendly room for an additional fee of CAD 25 a night. The studio condo, deluxe condo, and mountain cabin suites come with wood-burning fireplaces and firewood, ideal for winter stays.
Whichever room you choose, all have access to the sauna, steam room, spa, indoor pool, and fitness center. In the summer, guests can enjoy easy access to the Tunnel Mountain hike, Bow Falls viewpoint, or Hoodoos lookout. You may be lucky enough to spot some local elk.
The Tunnel Mountain Resort has a two-night minimum stay.
Moose Hotel And Suites
Location: 345 Banff Ave, Banff | Cost: rooms start at CAD 250 to 610+ (depending on the season)
The Moose Hotel and Suites reminded me of Whistler in British Columbia. Its elegant log cabin architecture looks warm and inviting, and I chose to stay there in December after visiting Banff three months earlier.
The architect designed the hotel around a heritage home in the lot's center. We had a superior one-bedroom suite with a king-sized bed. To access our room, we had to walk along an outside walkway.
While not an issue in summer, we had to bundle up just to go for breakfast downstairs in winter. Our suite had a balcony with a lovely mountain view.
The living room featured a sofa bed and cozy fireplace, which we enjoyed after a cold day hiking Johnston Canyon. The bedroom was huge but contained no closet, and the bathroom was recently updated and had a massive walk-in shower.
Our stay included cotton robes, free parking, and access to an indoor swimming pool and two rooftop hot tubs. It's an idyllic setting in winter as the steam rises from the hot pool surrounded by snow.
I noted the underground parking stalls were very narrow, even for small vehicles, so if you have a large truck, getting a parking spot during busy months could be problematic.
The room also had a small kitchenette with a mini-fridge, microwave, kettle, toaster, coffee maker, dishes, and cutlery. The bathroom was huge and recently updated.
We loved the Moose Hotel and preferred it over the more expensive Fairmont Banff Springs Hotel. In fact, when looking to stay in Banff in the future, this hotel would be our first choice.
We liked that the room had floors instead of carpets, probably because guests visit ski resorts in the off months.
Located on Banff Ave with a 5-minute walk to shops and restaurants, we could access everything we needed without driving anywhere. The Pacini Restaurant adjacent to the lobby offered good food at reasonable prices, which we tried for breakfast and lunch.
Pets (dogs and cats) are allowed at Moose Hotel and Suites for an additional charge of CAD 25 per night.
Canalta Lodge
Location: 545 Banff Ave, Banff | Cost: rooms start at CAD 220 to 510+ (depending on the season)
Located a little further out of town, guests staying at the Canalta Lodge have a 15-minute walk to town. While you may not mind the walk in summer, most guests would prefer a closer walking distance in winter.
All rooms in this Banff hotel have queen or king-sized beds, and some have sofa beds.
Stays include a complimentary breakfast of scrambled eggs, sausages, toast, cereal, yogurt, pancakes, banana bread, and savory potatoes.
Self-service parking costs an additional CAD 9 a day. Outside, the grounds feature two hot tubs, a sauna, and a fire pit. Also, the lodge has a small fitness room, coffee shop, bar, and restaurant. During the winter months, snow bunnies can utilize their free ski shuttle.
Budget-Friendly Accommodation In Banff
While the following group of hotels is in the budget-friendly category, they may not be budget-friendly enough for some. If these hotels are still too expensive in summer, consider choosing a place in Canmore.
It takes 20 minutes to drive from Canmore to Banff, but your hotel could save you CAD 100 a day or more.
Banff Ptarmigan Inn
Location: 337 Banff Ave, Banff | Cost: rooms start at CAD 135 to 400+ (depending on the season)
In an ideal location on Banff Ave, the Banff Ptarmigan Inn offers guests a terrific stay at a fantastic price. The hotel has a two-story underground parkade, but elevator access only reaches the top level.
We could only get parking on the lower level, accessed by stairs. A bit of a pain during check-in and check-out when you're hauling luggage.
One of the best things about staying here is its complimentary breakfast. The breakfast consists of pastries, scrambled eggs, sausages, waffles, muffins, fresh fruit, cereal, yogurt, pancakes, and made-to-order omelets.
Being Celiac, I appreciated the non-wheat options. The included breakfast meant we could eat and hit the road on busy days, without having to find a restaurant somewhere else.
I found the room extremely spacious, with a mini-fridge, coffee maker, and kettle. The hotel is built around an interior courtyard, with some rooms having a balcony overlooking the inner space.
The rooms lack air conditioning, but the hotel supplies portable fans instead. While I stayed in September when the weather was cooler, I could imagine these inner rooms might be a little hot in summer.
The hotel amenities include two hot tubs, an indoor pool, and a steam room. Room service is available, as well as a bar and restaurant. For those seeking cheap accommodation in Banff, it's an excellent choice for CAD 135 a night in winter, considering they include a hot breakfast.
Fox Hotel And Suites
Location: 461 Banff Ave, Banff | Cost: rooms start at CAD 165 to 400+ (depending on the season)
Located a short walk from restaurants and shops, guests staying at the Fox Hotel have eight types of rooms to choose from, and all include free wi-fi.
Select from a small 230 sq. foot queen room to a 750 sq. foot two-bedroom suite that sleeps up to six people. Some rooms have balconies, lofts, and kitchenettes.
The Fox Hotel and Suites provides guests with a simple continental breakfast of fruit, waffles, boiled eggs, and pastries. For additional food and drink, the hotel has a bar and restaurant.
Other amenities include a hot tub, indoor pool, and fitness center. The hotel allows dogs (up to 50 lbs) and charges an extra CAD 25 per night.
Lake Louise Inn
Location: 210 Village Road, Lake Louise | Cost: rooms start at CAD 110 to 340+ (depending on the season)
When planning to do activities in Lake Louise, it makes sense to stay there instead of Banff. For a budget-friendly hotel in Lake Louise, the Lake Louise Inn fits the bill.
I was surprised the hotel left earplugs in the room and wondered if the location was noisy. While the walls are paper-thin, the Inn is away from the railway tracks, and the accommodation was quiet.
While the rooms are outdated and need a refresh, this hotel fills up fast during peak summer months and ski season. The Lake Louise Inn has an indoor swimming pool, hot tub, gym, restaurants, and complimentary uncovered parking.
With its lodging near Lake Louise, visitors can enjoy easy access to great hiking in summer. In winter, this is one of the best cheap hotels close to the slopes in Lake Louise.
Guests can easily access the powder slopes in the winter months by taking a shuttle outside the hotel. Across the street, Bill's Peyto Cafe offers budget-friendly homestyle meals that are tasty and filling.
If you're planning to make the drive up the Icefields Parkway to visit the Columbia Icefields, getting accommodation in Lake Louise gets you a little closer.
Paradise Lodge And Bungalows
Location: 105 Lake Louise Drive, Lake Louise | Cost: rooms start at CAD 370 to 420+ (open end of May to the beginning of October)
While no Banff accommodation is super cheap in summer, the Paradise Bungalows offer a rustic stay that helps you connect with nature in the national park. The selection of cabins and suites ooze with charm in their log cabin structures.
The two-person cabins range in size from 300 to 380 sq. feet. Suites are part of the lodge and measure 450 to 500 sq. feet and can accommodate up to four guests. All rooms have either a kitchenette or a kitchen, and most have cozy fireplaces.
Unlike other hotels, this one only opens from late May to the beginning of October. Paradise Bungalows requires a minimum two-night stay, and their cabins fill up fast due to their proximity to Lake Louise.
If you're sensitive to noise, request a cottage facing the forest instead of the ones next to the road.
Accommodations For Their Location
Sometimes, it makes sense to stay somewhere because of its prime location. We stayed at the Fairmont Chateau Lake Louise to be next to the lake, and to watch the sunrise.
Moraine Lake Lodge
Location: 1 Moraine Lake Rd, Lake Louise | Cost: rooms start at CAD 850 to 1300+ (open June 1st to September 1st)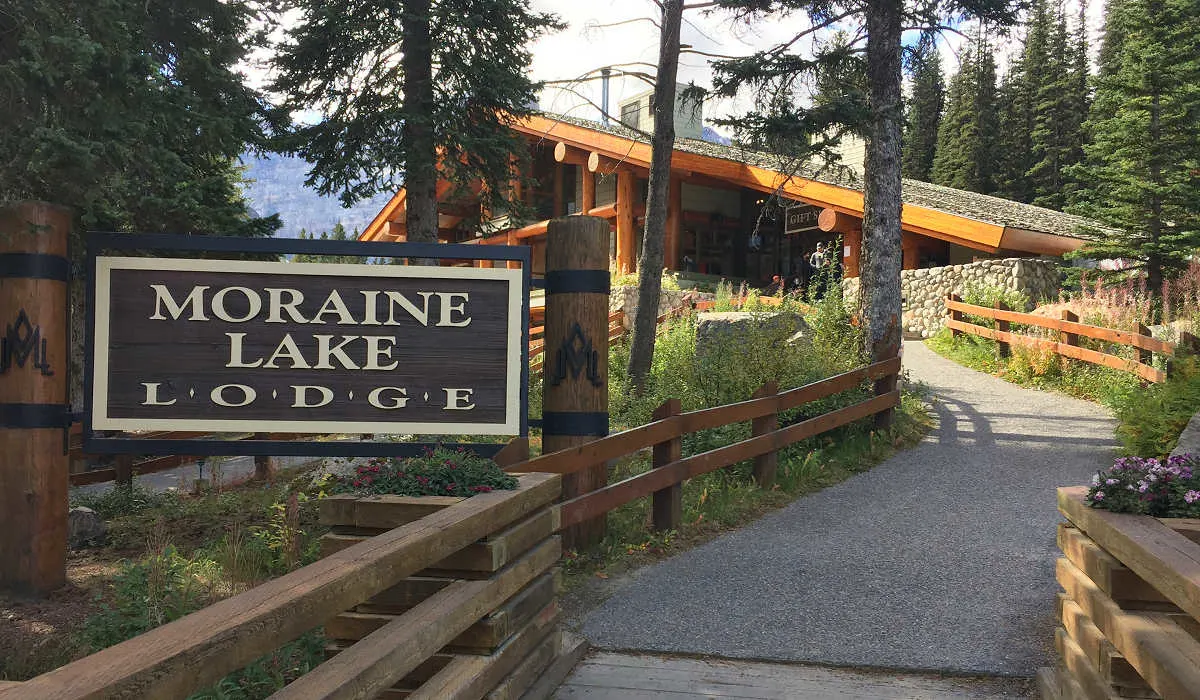 If you're seeking a rustic escape in a prime location, the Moraine Lake Lodge fits the bill. You won't need to worry about parking because it's inclusive. Being a seasonal property, Moraine Lake Lodge opens from June 1st to September 1st.
Staying at the lodge puts you footsteps away from iconic Banff hikes, like the ones to Consolation lakes and Larch Valley. You'll also be able to watch the iconic sunrise without the hassle of needing a shuttle bus.
Guests enjoy nature-inspired interiors, some with stone fireplaces and handmade wooden furniture. They'll enjoy L'Occitane bath amenities and cozy bedding inspired by the scenery.
The lodge offers naturalist talks three evenings a week, complimentary canoe rentals, guided hikes, complimentary breakfast, and daily afternoon tea. The Walter Wilcox Dining Room serves dinner (from 5:30 pm to 9 pm) made with the freshest local ingredients.
Castle Mountain Chalets
Location: Banff-Windermere Hwy | Cost: CAD 200 to 800+
Located on the corner of Castle Junction and Hwy 93, the Castle Mountain Chalets can accommodate up to six in their deluxe 680 sq. foot two-bedroom accommodations. They are also pet-friendly.
The chalets include a full kitchen, a bathroom with a separate shower and bathtub, designer toiletries, satellite TV, and complimentary Wi-Fi.
This area is ideal for those who like to bike ride. The Bow Valley Parkway is a popular route for biking. To the east, you can easily access Johnston Cayon, one of Banff's best trails.
The hotel has a grocery store, swimming pool, business center with a computer station, and nearby bike rentals.
You can also make a day trip to Kootenay National Park by following Hwy 93 southwest.
The Lodge At Bow Lake
Location: Highway 93 North Icefields Parkway | Cost: unknown (reopening in 2023)
Formerly known as Num-Ti-Jah-Lodge, the rustic building with its iconic red roof has welcomed visitors to Bow Lake since 1922. If you're looking to take a road trip up the Icefields Parkway or hike around Bow Lake, staying at the lake cuts out your travel time.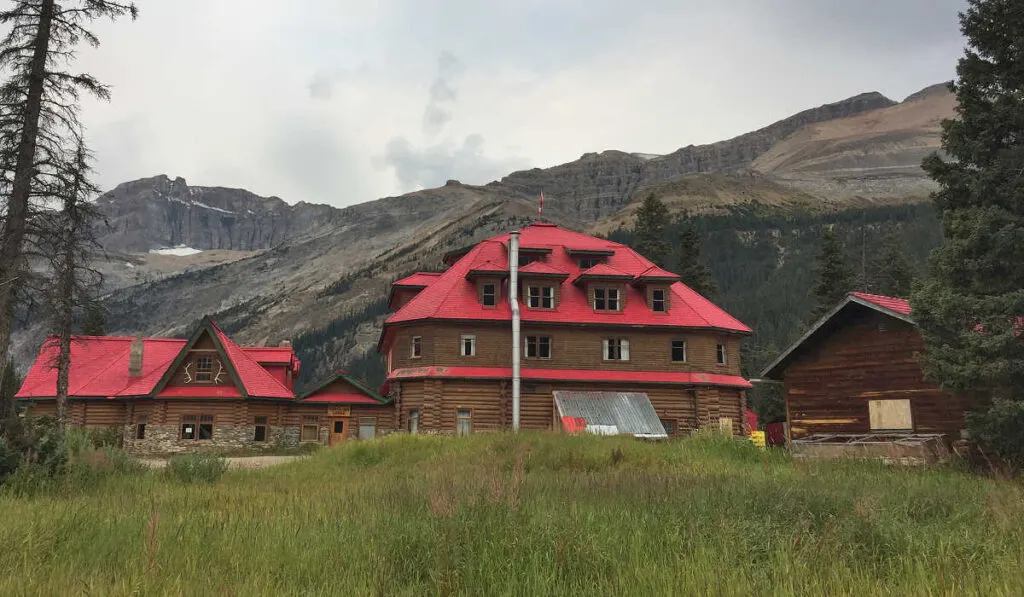 The hotel was closed for two years due to COVID. Under new ownership, the hotel is undergoing a renovation and plans to reopen in 2023.
The 5.5-mile or 8.9 km return hike to Bow Falls might be one of the most popular treks in the area. Most who do the hike, head out onto the trail early in the morning.
By staying at the lodge, you'll have early access before the parking lot fills with hikers from other areas. Further north, you can also reach trails like Parker's Ridge and Wilcox Pass without driving too far.
Like Lake Louise and Moraine Lake, you can enjoy iconic sunrises in the area. Bow Lake and nearby Peyto Lake offer magnificent destinations for sunrise or just to hang out during the day.
With close access to Bow Summit, you can savor the fantastic views of Peyto Lake early in the day, before the parking lot becomes full.
Final Thoughts
I recently took my first winter escape to Banff, and even though the outside temperatures sometimes dipped below -20C, I thoroughly enjoyed it. Not only were the Banff hotels cheaper, but the popular tourist spots were void of crowds.
In summer, staying in Banff commands incredibly high prices. Bear in mind, that all rates are subject to an additional 11% tax (5% goods and services, 4% hotel tax, and 2% tourism improvement fee).
While that may not seem like a big deal, some hotels like the Fairmont brand also charge a resort fee, pushing the taxes and fees to over 16%.
For those wanting a more intimate stay, consider an Airbnb, although these may cost more money. Budget-conscious travelers may prefer a Canmore stay to save money. It's a 20-minute drive from Canmore to Banff and an hour to Lake Louise.
Those who prefer a more outdoorsy stay can choose from various campgrounds. Make note, only Tunnel Mtn. Village II opens year-round.