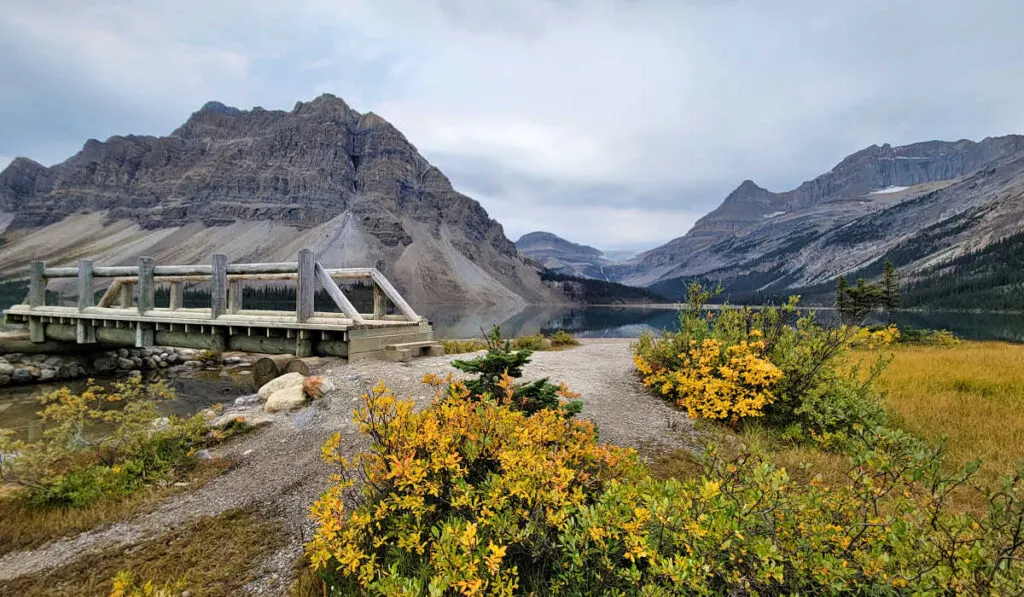 Located in the Canadian Rockies, Banff National Park attracts visitors worldwide to see its unparalleled vistas, snow-capped mountains, and incredible wildlife. I recently visited Banff in September, and it may now be my favorite month for visitation.
A Canadian Rockies adventure requires some research and planning to create the ideal Banff itinerary. The biggest decision is deciding whether to camp or stay in hotels. The deciding factor may come down to cost.
A basic campsite starts at CAD 16, and an additional fee of CAD 8.80 for a fire permit. Sites with electrical hookups charge CAD 33 to 39 per night.
However, hotel rooms range from CAD 250 to over CAD 1400 for a luxury suite at the Fairmont Banff Springs and Fairmont Lake Louise Chateau.
While Banff hotels are dated and most lack air-conditioning, rooms are more readily available in the fall season. Since Banff now closes two blocks of Banff Ave to traffic, ideally, you should choose a hotel within walking distance of downtown.
In September, traveling to the Rockies allowed me to avoid the peak season crowds, score better rates in hotels, and enjoy sceneries with fall colors. As a transitional month, it's the perfect time for nature lovers.
Although the fall brings changeable weather, I lucked out with sunny skies every day of my Rockies vacation. Although we experience clouds and light rain on some early mornings, the moody skies create outstanding photos.
Where To Stay In Banff
We traveled to the Rockies on a Vancouver to Banff road trip. If you're flying, it's a 1-1/2 hour drive from Calgary International Airport to the town of Banff.
While I had always camped during my July trips, I chose to stay in hotels this time around. This selection of hotels includes ones close to town and two Fairmont hotels (considered some of Canada's best castles).
If accommodation in Banff is out of your budget, consider staying in Canmore, 20 minutes outside the park, for half the cost.
For our four days in Banff, we selected three hotels. We stayed at the Banff Ptarmigan Inn for two nights, at Fairmont Banff Springs one night, and the last night at the Fairmont Lake Louise Chateau.
While the Fairmont hotels had comfortable beds and lovely views, they came at a premium price. I preferred the Banff Ptarmigan Inn in Banff for its free parking, location, size of rooms, and excellent complimentary breakfast with an omelet station.
Also, the two nights cost less than one night at the Fairmont.
Banff Ptarmigan Inn (3 stars) – has two-story parking, free bus passes, complimentary hot breakfast with an omelet station, and is one block from downtown. No AC, so not ideal for the hot weather, although they provide portable fans.
Moose Hotel & Suites (4 stars) – rooftop hot tub with mountain views, free bus passes, and a great location.
Banff Park Lodge Resort Hotel (3 stars) – 5-minute walk to downtown, underground parking, and large rooms. The hotel has no AC.
Peaks Hotel & Suites (4 stars) – has AC, is newly renovated, limited underground parking, and is close to everything.
Fairmont Banff Springs (4 stars) – a luxury hotel with fantastic service. Some rooms have views of the Bow Valley and Bow Falls. Comfortable beds and rooms come with slippers and cotton robes. Not within walking distance of downtown.
Fairmont Chateau Lake Louise (5 stars) – the ultimate luxury, some rooms have magnificent views of Lake Louise. Great location near Moraine Lake.
For these and other hotel choices, we use Booking.com for the best prices.
Camping In Banff
Alternatively, those on a budget can camp at these Banff campsites. Do note that if you're camping in September, some Banff campgrounds close early in the month, while others remain open year-round.
Prepare by packing fleece pajamas and warm bedding because it's mighty cold at night.
Tunnel Mountain (on Tunnel Mountain Road) offers several campgrounds for tents, trailers, and large RVs. Fire pits, showers, and incredible mountain views.
Two Jack Lake offers two campgrounds, with one next to the lake. Fire pits, hot showers. (Closes 2nd week of September).
Johnston Canyon (on the Bow Valley Pkwy) – an ideal location for hiking Johnston Canyon and visiting Lake Louise and Moraine Lake. No showers.
Castle Mountain (on the Bow Valley Pkwy) – No showers but offers an ideal location for trails and Banff's best lakes.
Lake Louise offers a great location, close to Lake Louise and Moraine Lake. Fire pits, showers, and wheelchair accessible.
Mosquito Creek has 32 sites with no showers.
Rampart Creek has 35 sites and can accommodate RVs up to 35 ft. The campsite has no showers.
Waterfowl Lakes has 116 sites right off the Icefields Parkway.
Silverhorn Creek offers 45 rustic sites with no running water. Its location is close to Bow Lake and Peyto Lake. (Closes middle of September).
Parks Canada offers oTENTiks, an A-frame cabin, and a tent combo built on a raised floor. Cheaper than a hotel at CAD 122.64, it offers an elevated camping experience instead of towing a trailer or setting up a tent. The oTENTiks sleep six and come with a heater. oTENTik rentals are available at Tunnel Mountain and Two Jack Lake.
Hiking In Banff In September
The Rockies have an endless trail system, and Banff's best hikes have varying degrees of difficulty. In September, the cooler weather makes for ideal hiking conditions without the blistering heat of the summer sun.
However, September comes with unpredictable weather, but don't let it rain on your parade. Instead, dress in layers, and don't let the raindrops stop you from heading out on an adventure.
For my trip to Banff, I bought new hiking boots. I selected Skechers hiking boots with memory foam. I paired these with a Woods Explorer hiking sock, and they were amazingly comfortable.
My Columbia Bugaboo Interchangeable Jacket was a coat of choice. At the Icefields, I wore both layers, but most days, I wore just the inside layer. Be prepared by packing the following for your Banff vacation:
A waterproof jacket, preferably a 3-in-1
Bear spray
Hiking boots with good ankle support
A bear bell
A waterproof backpack
Moisture-wicking shirts
Wool hiking socks
And a camera, of course!
Before heading out on a hike, remember to carry plenty of water, protein bars, or high-protein snacks.
Around town, I selected Vessi Soho runners for their lightweight comfort and waterproofing.
Banff's Changing Colors
For those who want to experience Banff's fall colors, the Larch Valley hike is a must. The Larch Valley Trail is a moderate hike named for its abundance of larch trees.
In September, this Banff valley glows with autumn colors as the trees change from green to yellow. The trail has a 535 meter (1755 feet) elevation gain and is 4.3 km or 2.7 miles one way.
The trailhead starts near the Moraine Lake canoe rental boathouse. To prepare for this trail, remember to dress in layers, as the weather can change quickly in this area.
Due to grizzly bear activity, Parks Canada recommends hikers travel in groups of four or more. Expect the hike to take up to four hours to complete.
If you're not a hiker, travelers can enjoy the changing colors of vegetation on roadside drives. During my September visit, the Bow Lake area was reminiscent of a Claude Monet painting in canary, lime, and tangerine shades.
With no wind, I enjoyed pristine mirror reflections on Bow Lake in the calmest surroundings.
In Banff, the Cave & Basin's Marsh Trail offers a simple stroll along the marsh. Here, you'll enjoy jaw-dropping vistas of Bow Valley against the backdrop of Mount Cory and Mount Norquay. The grasslands changing hues add a warm glow to the already picturesque panorama.
While other areas may lack the larch trees that radiate in yellow tones, the deciduous underbrush's eye-catching reds, yellows and oranges create picture-perfect moments.
Places To See In Banff In September
Sulphur Mountain Gondola provides breathtaking 360-degree views of Bow Valley, Tunnel Mountain, and six mountain ranges. In September, visitors may enjoy views of Mount Rundle with freshly fallen snow.
Pick a day with cloudless skies and minimal winds so you can walk the 1 km boardwalk from the interpretation center to the old Cosmic Ray weather station.
While the Sulphur Mountain gondola commands a higher fee than Lake Louise or Mount Norquay gondolas, I feel it's money well spent.
The ski mountains offer a nice view, but Sulphur Mountain requires a good three hours to enjoy the entire experience. With a sizeable informational center, boardwalk, café, and plenty of viewing platforms, the hours will fly by before your descent.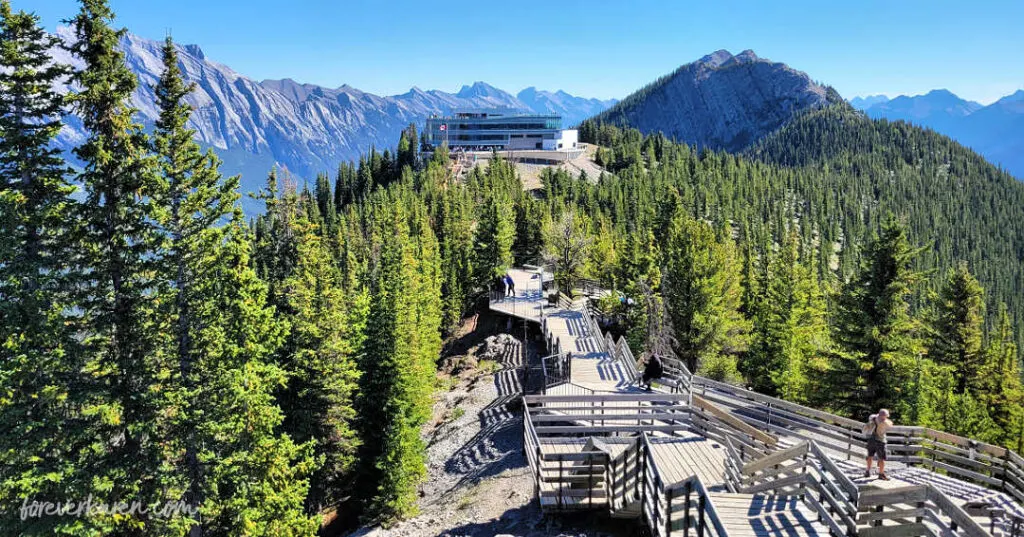 Banff's most famous mountain is Mount Rundle, a wedged-shaped range to the south of Banff. It's best viewed at sunset when the peak glows in warm tones and provides the perfect backdrop for photos.
In the evening, drive or ride a bike to Vermilion Lakes. Close to Banff town, the adjoining marshland lakes are a haven for birds, elk, and moose.
A bucket list item, the sunrise at Lake Louise or Moraine Lake is majestic and breathtaking. So, the lakes attract crowds in the wee hours to watch the golden glow appear on the peaks.
While staying at the Fairmont Lake Louise Chateau, I arose one morning at 5:30 am to watch the anticipated event on the Lake Louise shoreline.
I noted that sunrise that day was 7.09 am, but I wanted to arrive early to snag a good photography spot. Thankfully, the days are getting shorter in September, so a 7 am sunrise was doable compared to a 5:30 am sunrise in June and July.
September Is Rutting Season
September brings the start of rutting season when male or bull elk try to exercise their dominance to attract females, called cows.
While I visited early in the month and the season wasn't in full swing, I still enjoyed listening to the elk bugles and watching young bulls challenging older bulls. If you want to experience the rutting season, it may be better to plan a visit in late September.
Bulls can weigh as much as 900 kg (2,000 lbs), and they require breathing space. While wonderful to watch, do not get between a bull elk and its females and remain at least 30 meters from an aggressive bull.
As rutting season progresses, the level of aggression escalates, with bulls sometimes charging and locking horns.
Older bulls find rutting season stressful as they concentrate their energy on keeping their females together. As young bulls continue challenging their place, the older males lose weight as they forget to eat.
As they tire, they will continue to bugle, even lying down. During my September vacation, I listened to many elk calls and witnessed a large bull feverishly rub its antlers on the brush to impress his females.
Places To Visit Before They Close
While much of the Canadian Rockies National Parks remain open year-round, some areas close in early October and remain closed until the following June.
Closures are due to snow, unpassable roads, and accessibility. The following places are worth visiting at the end of the summer season.
For decades, the Lake Agnes Tea House and the Plain of Six Glaciers Tea House have been serving hikers specialty teas and baked goods.
Located high in the mountains near Lake Louise, it's a rewarding surprise for those doing the moderate hiking trails. In September, hikers can still enjoy a hot cuppa before the establishments close in early October.
Lake Louise and Moraine Lake are must-see lakes in Banff National Park. While still busy in September, the children are back in school, and much of the summer crowds have gone.
In my opinion, Moraine Lake is the Canadian Rockies' most picturesque lake, and despite the challenges of seeing it, don't miss out on the opportunity to witness its magnificent aquamarine hues. The 14 km road to the Moraine Lake parking lot closes on October 1st.
A day trip to Yoho National Park allows for some additional hiking and more impressive scenery. Consider a drive to Takakkaw Falls, one of Yoho's best hikes.
Its switchback road can only accommodate cars and small RVs. From mid-October, the road becomes impassible due to snow and the risk of hazardous avalanches.
Another day trip north to the Columbia Icefields Centre allows visitors to walk on a glacier. Without a rental car, travelers can take an excursion that includes transportation and a tour of Athabasca Glacier on Pursuit's big-wheeled bus.
Prepare for your trip by dressing in layers, as weather conditions can be much colder on the ice.
Enjoy Banff's Fall Weather
The weather in the Canadian Rockies can change rapidly, quickly ending the larch season. In September, expect an average temperature of 17C or 63F during the day and lows of 2C or 36F.
Fall is my favorite time of year because the trees are turning, and I love the crisp mornings when you see your breath in the air. In most areas, the fall season brings lots of rain, but in the Rockies, the wettest month is June.
Should you visit Banff in the fall, you may experience a dusting of snow on the ski hills and a light frosting on the highest peaks, signaling that winter is coming.
That period between the end of the summer season and the shoulder season is a magical time. The roads are still passable, and the onset of winter weather hasn't arrived yet.
If you plan to visit after labor day, you'll miss the busiest times of the year but still enjoy warm weather.
Where To Eat In Banff
September still allows visitors to enjoy meals on the patio, and let me tell you, the culinary scene in Banff is impressive. While researching restaurants that would cater to my food allergies (gluten, lactose, and nuts), I was pleasantly surprised by what I found.
During my time in Banff, I discovered gems that served unique foods and experienced flavors beyond my expectations. Here are some Banff restaurants with great food.
Block Kitchen + Bar (5 Banff Ave #201). Don't be put off by the small funky space. The food was the best we had in Banff. The Kara Age Chicken Skewers were so amazing I ordered a second serving. The Stoplight Thai Curry was delicious too. Five stars for the staff who were knowledgeable about food allergies.
The Grizzly House (207 Banff Ave). A crowd favorite, it's advisable to book ahead to prevent a long wait. Famous for its fondues and hot rock meals, diners can experience unique flavors such as rattlesnake, ostrich, shark, alligator, and buffalo.
Sky Bistro (on Sulphur Mountain). For jaw-dropping views, the Sky Bistro offers a romantic setting, delicious food, and superb service. Many of their selections are gluten-free, dairy-free, or vegan.
El Toro (429 Banff Ave). El Torro offers lots of gluten-free choices that are well-presented. My Braised Lamb Shoulder was tasty, and they substituted the mashed potatoes with roasted potatoes to make it lactose-free. The prices are reasonable too.
The Bison Restaurant (211 Bear Street). A great choice to try is bison or even elk. The Bison Ribeye is a favorite, and there are many gluten-free options. The upstairs seating offers amazing Banff views.
Although still busy in early September, I waited 30 minutes to get a table on average. Others, I walked right in, as long as I was willing to eat at the bar.
Final Thoughts
With rutting season beginning its annual rituals, I watched bull elk exercising their testosterone as they gathered their harem of females. Their classic bugles, elk grunts, and signs of aggression were fascinating to watch from a distance.
With the summer season winding down, stores offered good discounts on merchandise as they readied for the upcoming winter wonderland. It's a great time to get gifts for family and friends.
While I love to travel to the Rockies, I'm not fond of crowds, dislike struggling with parking, and have to wait in line-ups. By avoiding the prime time and going in September, I could enjoy the scenery with fewer people.
With fall fast approaching, instead of the usual greens and browns, I enjoyed kaleidoscope vistas of golden and apricot tones. Will Banff in September become your favorite month for visitation too?
Happy travels ~ Karen