Although lacking the bells and whistles of the Oasis-class vessels, the Serenade of the Seas offers a comfortable voyage on a light-filled ship. Having sailed her sister ship, the Radiance of the Seas, I couldn't wait to enjoy my Alaska cruise on the Serenade of the Seas.
The Radiance-class ship operated by Royal Caribbean International offers intimacy and an easy-to-follow floor plan. I prefer a mid-sized vessel because I don't feel I'm walking a marathon to navigate from one area to another.
Since we chose an itinerary in the first week of May, we scored a great 7-day cruise price, which allowed us to bring my daughter and her partner too.
This article is my ship's review of our experience aboard the Serenade of the Seas on a 7-day cruise to Alaska.
Serenade Of The Seas Embarkation
We cruised on the fourth sailing out of British Columbia after the Vancouver cruise port had just reopened. I made sure all four of us had completed the ArriveCan, done the health questionnaire the night before, and made printed copies of our vaccines along with our negative antigen test results.
We booked the earlier embarkation at 11:30 am because we like to tour the cruise ship with fewer people onboard. Since many guests had not completed the ArriveCan and health questionnaire, we breezed past the crowd and boarded quickly.
We got access to our cabins at 1:30 pm, but luggage delivery was very slow. The staff was leaving luggage outside random doors, and we had to walk the hallway looking for our suitcases. It took until almost 5 pm to find both pieces.
Our First Impressions
Although built in 2003, the Serenade of the Seas was designed in a timeless classic style. While the dining rooms and bars screamed traditionalist, other areas of the vessel, like the Vintages, had a whimsical sitting area.
The atrium, or Centrum, spanned nine decks and was a great place to hang out. Live music or mellow piano tunes often echoed up the decks, or we watched guests learning to dance the samba.
Sometimes it's the little things that make a ship memorable. On the Serenade or Radiance-class vessels, it's the "day" mats in the elevators! I generally lose track of time and what day it is on vacation. However, when I use the elevator, it tells me it's "Sunday" today.
When Royal Caribbean launched the Serenade, passengers cherished its design for its expanse of windows. Daylight streams in the area with large glass windows by the Centrum's portside elevators.
Specialty restaurants like Chops Grille, Giovanni's Table, and Izumi offer intimate seating with sunset views.
Although our cruise sailed with 1800 guests (73%) of the 2476 capacity, it never felt crowded. The only space that consistently filled up was the Tropical Theater. I found the deck plan easy to remember, and there are plenty of public areas, so it never felt crowded.
We booked two guaranteed balcony cabins for this cruise. My husband and I were assigned stateroom 9026 on deck nine about a month before embarkation. My daughter was a few doors down in cabin 9012.
Royal Caribbean invited us to bid for an upgrade about three weeks before our cruise. After careful deliberation, we chose not to bid because we wanted to keep our cabins close together.
Serenade Of The Seas Cabin Review
When selecting a cabin for an Alaska cruise, try to book a balcony stateroom if your budget allows. While we cruised the first week of May, when the average daylight temperatures were 37 F or 3 C, we still used our balcony a lot.
When cruising in Tracy Arm Fjord and to Hubbard Glacier, a balcony allowed us to enjoy the views without the crowds. I could pop back into the cabin when I got too cold and still enjoy the scenery through the sliding glass doors.
While Royal Caribbean invited us to bid on an upgrade, we chose not to bid. Since we had two balcony cabins with our family, we wanted to stay on the same deck and close together.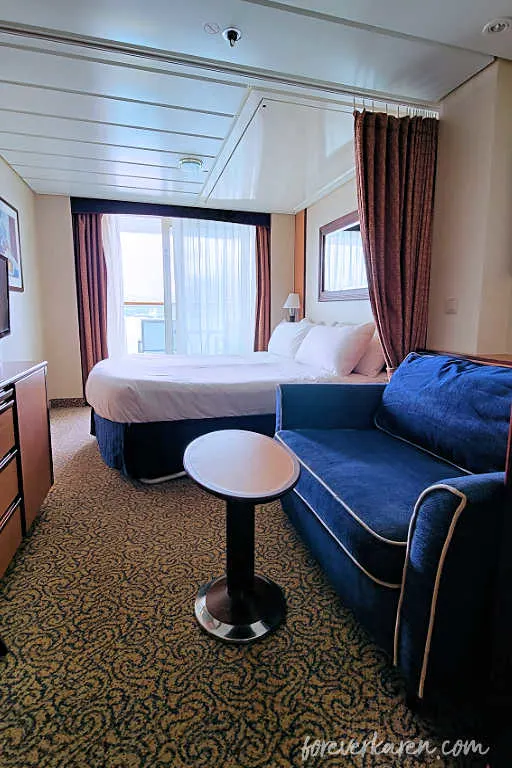 Our balcony cabin was 179 sq. feet, pretty standard. It had a lovely loveseat (not a sofa bed), an amazingly comfortable bed, and the best pillows we've ever had at sea. There was a Pullman above the bed if you were cruising with three.
There was plenty of storage for two or more. The closet had seven shelves, two hanging areas, and 19 hangers. At the desk, we could store more things in six more drawers.
Our cabin only had one plug to charge our electronics. So, it's essential to pack a non-surge power bar to charge your smartphone, cameras, and tablets.
Our cabin safe was small, big enough for passports, wallets, and jewelry, but couldn't accommodate a laptop. Instead of a mini-fridge, our cabins had mini coolers, which neither worked.
The cabin was quiet, and we never heard our neighbors. Even though we experienced some rough days at sea, the ship handled the movement quite well. Although I don't usually suffer from seasickness, I found myself using motion sickness patches for the duration of the cruise.
We found the bathroom tiny. But we appreciated the glass sliding shower doors instead of the shower curtain. The water pressure was great when showering, and we never lacked hot water.
Our balcony was a nice size compared to others we have experienced. We could sit and still have plenty of legroom.
The largest stateroom on the Serenade is the Royal Suite at 1001 sq. feet. Solo cruisers will be happy the vessel has three studio rooms on deck four. There are 17 accessible staterooms from interiors to Junior suites.
The Pool Deck
Even though deck 11 contained an indoor and outdoor pool with large screen TV, we never used the outside space. While May Alaska cruises experience cooler temperatures, it offers less rain.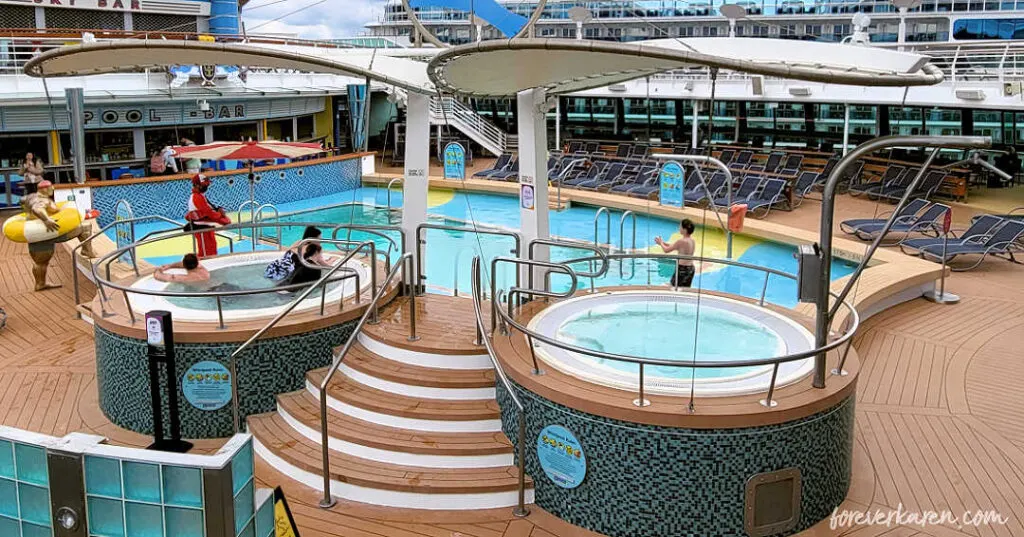 However, choosing a vessel with a solarium pool means you can swim and use a hot tub, regardless of the weather outside. In fact, on sea days, the loungers around the solarium pool filled up fast.
After a frigid day by a glacier or a cold day in port, I enjoyed the complimentary sauna and steam room in the nearby spa. They were empty most of the time, and I could also enjoy the larger showers. Remember to ask your cabin steward for your complimentary cozy bathrobes to use at the spa.
My husband used the complementary men's spaces too. However, the men's sauna worked during our cruise, but the steam room was broken.
The Vitality Spa
Adjacent to the solarium, the Vitality Spa is open daily from 8 am to 9 pm. It offered all the usual, from facials and massages to acupuncture and manicures. A full barbershop offered express shaves, beard trims, and collagen grooming treatments for men.
Couples wanting some romance at sea can book a couples treatment. A 50-minute intense cleansing salt scrub costs USD 329, while a 75-minute Swedish massage will set you back USD 399 per couple.
The Thermal Spa was quite nice. It had the usual hot tiled beds with aromatic saunas and therapeutic steam rooms. Guests could purchase daily or weekly passes. A day pass was USD 29.99, USD 109.99 a week for one person, and USD 179.99 a week for a couple.
We found these prices very reasonable compared to the Majestic Princess, which wanted USD 49.99 for a day pass and USD 299.99 for a week (for a couple).
The Fitness Center
Adjacent to the spa, the fitness center was the second most popular place after the Tropical Theater. It attracts a crowd in the mornings, so it's best to plan for an afternoon visit if you don't want to wait for equipment.
The ship's gym offered personal training sessions and group fitness classes. Pilates, yoga, boot camp, and spinning classes incurred an upcharge of USD 20. However, guests could purchase 3-to-7-day multi-passes for discounted rates.
The Climbing Wall
The climbing wall attracted a diverse crowd, from the young 20-year-olds to my husband in his sixties. Although the climbing wall isn't large, it does offer varying degrees of difficulty.
An easy section in the middle allows the children in the kids' program to scramble up the wall using animal-shaped grips.
The climbing wall opened numerous times as scheduled on a cruise compass and made for a great sea day activity during our cruise. However, on wet and windy days, the wall remained closed.
Guests don't need to book a time to use it. They can show up, get harnessed in safety gear, and tackle the wall. I was impressed my husband tried several degrees of difficulty, ringing the victory bell numerous times.
Passengers can find the climbing wall on deck 13, between the mini-golf and Viking Crown Lounge. The wall allows three guests to climb at the same time. One deck down, the sports deck has a jogging track and basketball court.
Serenade Of The Seas Kids Program Review
As we were cruising when the children were in school, our sailing had very few little people. There were about 90 children, from ages six months to 17 years old. Royal Caribbean International has fantastic children's programming for children of different age groups.
Most of the children enrolled in Royal Caribbean Adventure Ocean during our cruise were in the 6-11 group, known as the Explorers and Voyagers. Since few teens signed up for the teen program, the teen area was sometimes used for younger children.
The kids' program is complimentary except for the Royal Nursery (ages 6 to 36 months). Services charges for this age group are USD 6 an hour before 6 pm and USD 8 an hour afterward.
Adventure Ocean offers a late-night party zone if parents need a night out. From 10 pm to midnight, parents pay a fee of USD 7 per hour. Outside on deck 12, teens might enjoy the video arcade for some late-night fun.
While the Serenade of the Seas has an Adventure Beach and kids' pool, it was closed for renovation during our cruise.
Indoor Cinema
While larger vessels have only outdoor large-screen TVs, it was nice to see an indoor movie theater still exists. Located on deck 6, near the Crown & Castle Pub, it's easy to miss the doorway to the theater.
While not big, Royal Caribbean has tiered theater seating, so every person has excellent views. Movies played several times a day, so guests could choose a time that worked with their schedule.
During our cruise, they played Encanto, The 355, Marry Me, My Son, House of Gucci, Spider-Man No Way Home, and The Matrix Resurrections.
The only thing lacking at the movie theater was the popcorn stand!
Other Venues
For the night owls, the Vortex Nightclub on deck 13 offers late-night dancing. There are plenty of bar choices if you have drinks included. These include the Sky Bar, Pool Bar, Crown and Castle Pub, Zanzibar Lounge, Congo Bar, Vintages, Centrum bar, and Schooner Bar.
On deck six, the Safari Club has two pool tables. Now, a pool table might seem like a strange thing to have on a cruise ship. However, these "Gyro Tables" uses state-of-the-art technology and ball bearings to level the tables in rough seas.
Cafe Latte-tude on deck five, adjacent to the Next Cruise desk. The cafe sells specialty coffees and teas. Consider purchasing a coffee card if you can't go without your daily latte.
At USD 31 for 15 coffees, it's a great deal. Passengers can also get complimentary pastries and sandwiches from Cafe Latte-tude.
At Next Cruise, passengers can check out the exclusive offers on future cruises. Royal Caribbean offers a world cruise on the Serenade of the Seas if you love long journeys.
Entertainment On The Serenade
For a mid-sized ship, the entertainment flowed throughout the decks. Guests could listen to piano melodies, dance music, or live rock music.
Every evening, the Safari Club hosted karaoke at 10 pm. Families could play a friendly round of Family Feud or participate in a mini-golf tournament.
The evening shows were good but not exceptional. The first evening featured a comedian, Aaron Edwards Hall, who was a miss for us. While we tend to avoid magic shows, we decided to give Bill Cook a try. We were pleasantly surprised that his performance was outstanding, and we were glad we didn't miss it.
The Serenade of the Seas production shows were typical of cruise shows, with lavish costumes and a mix of music to suit most.
Both Vibeology and Stage to Screen Production Showtime were well attended. Since we had late port days in Juneau and Ketchikan, there were no theater shows on those evenings.
We often enjoyed evenings in the Safari club listening to rock 'n' roll tunes. With a seat by the window, the wake views were made more perfect by the sounds of the classics.
Dining Options
Food is a big part of cruising for me, which is usually reflected in my overall review of the ship. The Serenade of the Seas food selection was great, and their specialty restaurants were fantastic.
On embarkation day, the staff in the buffet were overly pushy when it came to promoting specialty restaurants, to the point of being annoying. While trying to eat our lunch, the restaurant staff asked us at least ten times if we wanted to book a specialty restaurant.
Since my daughter loves Japanese food, she booked the Izumi for the first night because they had a buy one, get one free special. A fantastic deal if you want sushi.
Brian and I wanted to try the Chops Grille, but we wanted to avoid the formal nights. After we were pestered by the staff for a booking so many times, we agreed to book ONLY if we got a discount.
After consultation with a manager, we got 20% off our specialty restaurant booking if we agreed to go on the first evening. So, it never hurts to ask for a discount if you're undecided about booking a specialty restaurant.
We ate most of our meals in the main dining room during the early seating of 5:30 pm. The dishes were always well presented, well portioned, and very flavorful. Our waiters gave us excellent service.
The desserts were delicious, with our group voting the apple blossom a la mode and the lemon curd tartlet taking the top marks. The most popular appetizers were baked French onion soup and escargots a la bourguignonne.
Like typical cruise ship menus, some of the choices changed each day. However, the menu featured six appetizers, four entrees, and six desserts that were classics.
Chops Grille Review
Since Brian always enjoys a good ribeye, we dined in the Chops Grille the first evening. The specialty restaurant charges USD 52.99 per person and is open from 5:30 to 9 pm each evening.
Guests could also eat there for lunch (for a reduced price) on sea days, but the menu is limited. Our waitress was extremely attentive and made great recommendations to accommodate my gluten-free and lactose-free diet.
Brian and I both chose the Colossal Shrimp Cocktail, and I had the Goat Cheese Salad. The shrimp cocktails contained four jumbo shrimp, and the salad was incredibly fresh.
Brian received a plate of fresh bread buns. While they looked amazing, he said one of them was too hard to eat.
Sticking to tradition, Brian ordered the 16 oz Bone-in Ribeye, and I chose my favorite, Rack of Lamb. He accompanied his steak with a baked potato and all the trimmings.
We also shared Grilled Asparagus and Sauteed Mushrooms. My Rack of Lamb was so tender and packed with flavor. Brian said his steak was one of the best he'd ever eaten.
I was so full after our entrees that I couldn't eat a bite more. However, Brian enjoyed the New York Cheesecake with Glazed Strawberries.
We left Chops Grille feeling terribly uncomfortable because we had consumed too much. But it was a great feeling because it meant the food was A+!
While we've eaten at many specialty restaurants across many cruise lines, we agreed that the Chops Grille was one of the best. A few months later, we later tried the Chops Grille on the Ovation of the Seas.
While the Ovation of the Seas had more dining options, the steakhouse came in at a higher price of USD 64.99 for the same menu. In the end, Serenade's steakhouse was much better.
Izumi Review
Izumi is located on deck twelve and requires a walk outside to get there. The restaurant is small with simple décor, but all diners can enjoy outside views.
Izumi is reasonably priced at USD 34.99 per person for those who love Japanese. Alternatively, guests can order a la carte.
Diners can choose one small plate item, two large plate portions, and one of four desserts. My daughter and boyfriend ate at Izumi, and these were their choices.
They favored the Chicken Karage, which was very tender and juicy, of the small plate choices. The Crispy Rice Spicy Tuna was tasty but overly oily and heavy.
They selected Tonkatsu Ramen, Snow Crab and Salmon, Poke Bowl, and Champagne Roll for their large plates. The ramen and Champagne Roll were decent and straightforward. The big hits for them were the Poke Bowl and Snow Crab.
The Snow Crab and Salmon were beautifully presented and had a rich flavor. The Poke Bowl had quality meat and a large portion of fish.
No meal is complete without the crowning glory dessert! Dessert preferences consisted of Mocha Ice Cream and Sesame Balls. The Sesame Balls had the perfect amount of sweetness, with a soft and chewy bean taste.
But the top marks go to the Mango Mochi Ice Cream, which was refreshing and flavorful!
While we didn't eat at Izumi on this voyage, we later tried it on the Quantum of the Seas. The Quantum's specialty restaurants exceeded our expectations on presentation and taste.
Final Thoughts
While I thoroughly enjoyed my time on Royal Caribbean's Serenade, my vacation took a sharp detour when I got COVID. Getting COVID on a cruise was no fun.
However, guest services and other staff were excellent at taking care of my family and me while in isolation. After two years of being COVID-free, we couldn't believe we got sick in Alaska.
At the end of the cruise, we were thankful we had booked another cruise to Alaska eight weeks later and returned from that one COVID-free.
Happy travels ~ Karen