If you are considering your first cruise, you may be curious about the overall cost of a 7-day cruise. For a basic cruise in an interior cabin, the total cost is a minimum of USD 150 – 200 per person per day.
As a result, you can expect to pay a minimum of USD 1,050 per person, but this assumes two passengers are in the room. That's the price you could pay but, in my experience, you will pay more due to the extra costs of a 7-day cruise.
If the departure port is not local, you will need to travel there and possibly stay overnight in a hotel room before your cruise. The travel cost (flight, bus, etc.) would be additional.
However, cruise lines offer more 7-day itineraries than shorter or longer ones. So, you have many choices to save money.
Many factors influence your final cost. Let's consider why your ticket for a 7-night cruise could be double or triple the price I suggested above.
Port Fees And Taxes
Most advertised cruise prices do not include port fees or taxes. They are calculated before you pay and determined by several factors.
Port fees are added to each cruise fare and vary according to which ports your cruise stops at. Towns in Alaska tend to have higher port fees than ports you find during a Caribbean cruise.
For a 7-day cruise, the port fees and taxes are approximately USD 120 – 150. If your vessel stops at more than three ports or visits a port with high port fees, the taxes and fees could be around USD 250.
A longer cruise of 10-14 days would have higher port fees due to having more ports of call.
What Type of Cabin Do You Want?
Advertised prices for a cheap cruise almost always refer to an inside cabin. You will need to pay a higher price if you want a large window or a balcony cabin.
Cruise lines offer the lowest prices for guaranteed rooms. If you want to select your stateroom, expect to pay a higher price.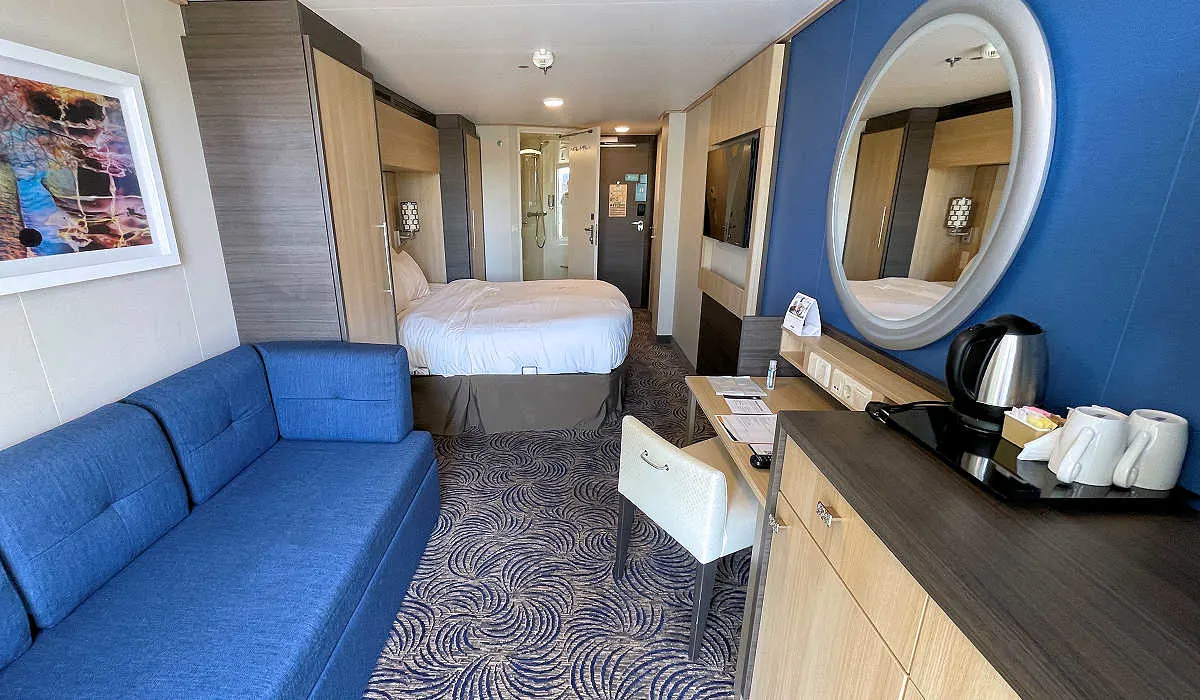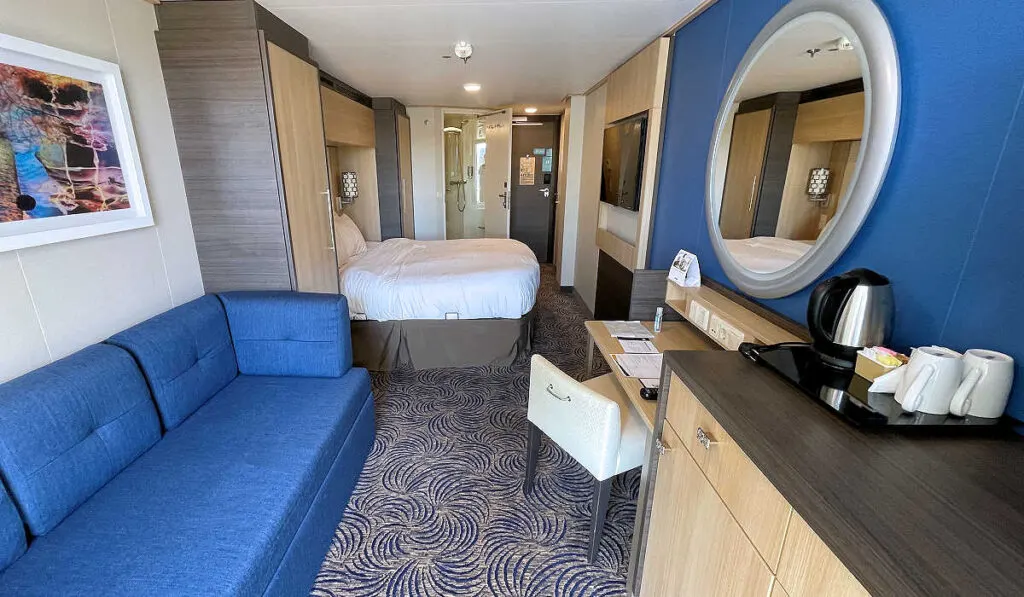 There are four cabin types on cruise ships. Inside cabins, Ocean views cabins, Balcony cabins, and Suites. Cabin prices increase substantially depending on the type.
Interior cabins are tiny and have no windows. Most cruisers prefer not to have an inside room unless a low price is your #1 criteria.
On our recent cruise on Princess Cruises, the cabin across the hall from us was an interior cabin. There were four teenage girls all sharing the small stateroom.
My wife Karen and I would never cruise with more than two people in an inside room. You can do it when you're young, but you want a bit more comfort and space as you get older!
If you want a suite, the cost for just the cabin will often be triple the price, or more, compared to the interior cabins. My first cruise vacation was with Princess Cruises on the Crown Princess in a Mini-suite for a 7-day itinerary.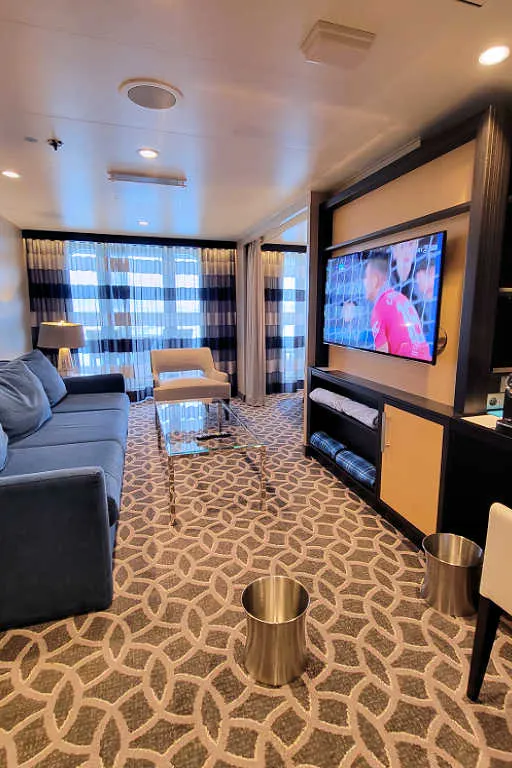 The cost for the room was USD 1300 per person. In total, we paid about USD 3500 for the cruise, not counting the flight to Florida.
Budget-saving tip: Book an inside or guaranteed cabin to save money.
Booking Through A Travel Agent?
The average price for your 7-day cruise is also influenced by how you book it. If you book through a travel agent or the cruise line, you will typically pay a higher price.
This makes sense because you are likely getting better service than booking yourself through a website. Also, travel agents can easily book your transfers, flights, hotels, etc., as part of your cruise vacation.
If it's your first time cruising, you can get peace of mind by having a professional travel agent manage your vacation details. If you want the best price, check out the many discount cruise websites.
We like to book through VacationsToGo.com because of their low prices. It's a great site to check for deals, but then you have to call and speak with one of their agents.
Other sites popular for low cruise prices are Expedia, iCruise, Cruise Critic, and many more. Cruise booking sites often offer extra discounts, such as free onboard credit (OBC), that the cruise line may not provide.
Budget-saving tip: Book during Black Friday and Boxing Day sales.
What Type Of Cruise Line Are You Booking?
Cruising is like most industries that offer different prices due to different categories of customers. What level of cruise do you want for your 7-day cruise?
Similar to choosing your type of cabin, the category of cruise line you pick will significantly impact the price you pay.
Cruise lines are categorized as budget, mainstream, premium, and luxury.
Budget Cruise Line
This cruise line category tends to have the lowest average price for a cruise. However, all cruise lines can have sales, last-minute deals, or other promotions that provide lower prices.
Budget lines also tend to have more modest accommodation, food, and services. They may also have frequent up-sell once you are on board.
The upsell could be in their promotion of specialty restaurants, beverage packages, or spa treatments. Fortunately, if you really want the best value, you can decline all the upsells!
Here are some of the cruise lines considered in the budget class:
Costa Cruise Line
MSC Cruises
Carnival Cruise Line
Mainstream Cruise Lines
These major cruise lines are a step up from budget with better food, accommodation, and services. Most of the top-rated cruise lines are in this category.
Note that mainstream cruise lines can have different sub-classes depending on the size of the ship and the onboard amenities.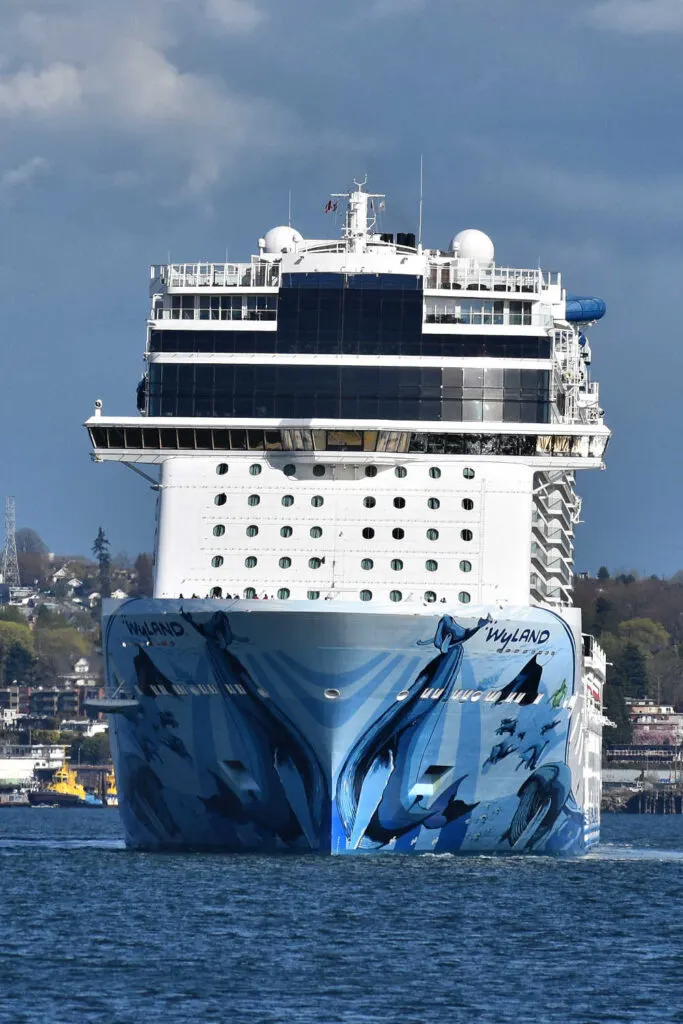 This category includes the following:
Royal Caribbean International
Holland America Line
Norwegian Cruise Line
Princess Cruises
Premium Cruise Lines
Premium lines are more likely to be all-inclusive in their cruise pricing. Your cruise ship ticket often includes drink packages, Wi-Fi, gratuities, and sometimes specialty restaurants.
The main dining room is often closer to specialty dining when compared to the budget-friendly lines. On our recent Cunard Queen Elizabeth cruise, the main dining had exceptional food almost every night of our 10-day cruise.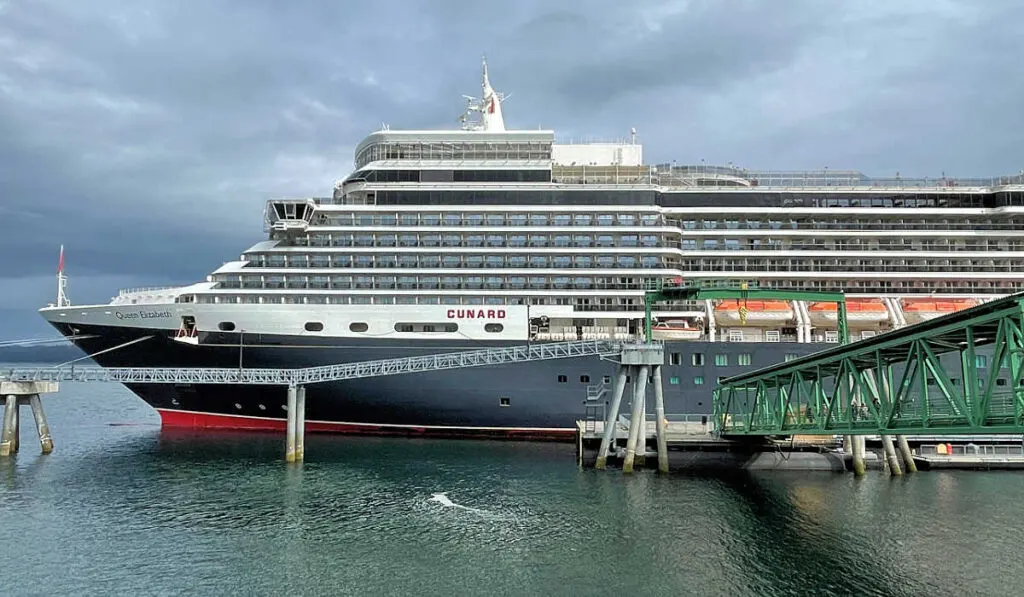 Cruise lines considered premium include:
Virgin
Disney Cruise Line
Cunard Line
Celebrity Cruises
Viking Cruises
Luxury Cruise Lines
Luxury lines are at the top end of the range for base cruise fare. However, with this higher price range, you will find that often everything is included.
There are no charges for specialty restaurants, drinks packages, gratuities, or room service. Since the fare is several times higher than budget or mainstream, all these are included.
Most luxury lines have all-suite cabins. In addition, some lines include private butlers or other personal attendants throughout the cruise.
As the saying goes, "You get what you pay for," and you get a lot when cruising on these lines. They provide the ultimate cruise experience.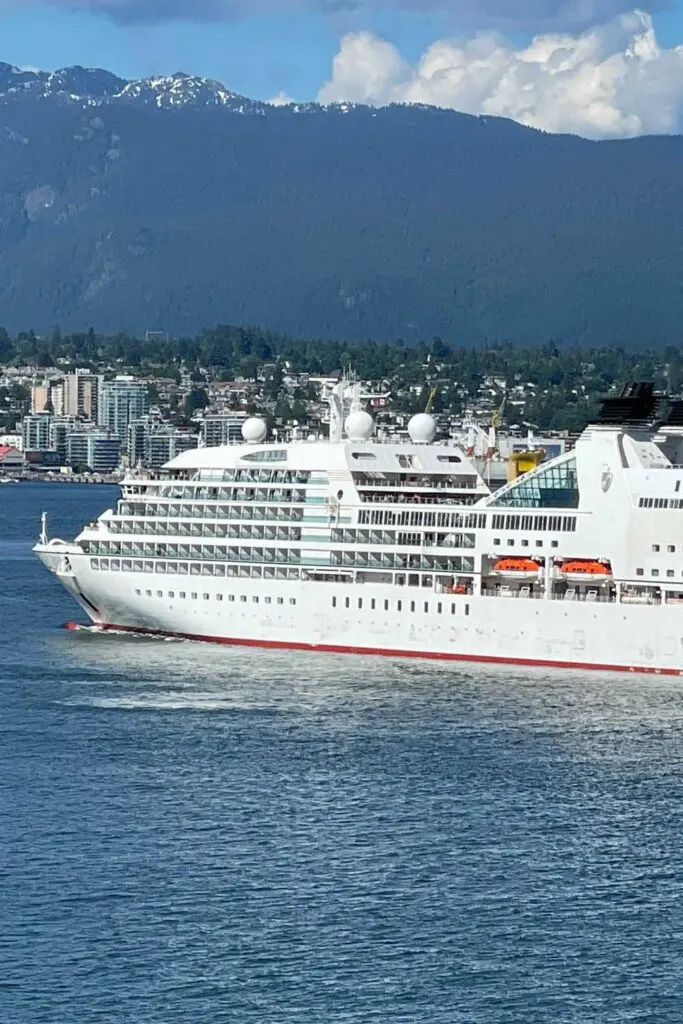 You should expect to pay at least USD 5,000 per person for a 7-day cruise.
Luxury cruise lines include:
Oceania
Crystal Cruises
Seabourn
Viking
Scenic Cruises
Silversea
Regent Seven Seas Cruises
Budget-saving tip: Book with budget lines or an older vessel. If you want to sail a premium line, book a mini or sampler cruise, which won't break the bank.
High Season Or Low Season?
Most cruise regions have high seasons and shoulder seasons. For example, Alaska's peak cruise season is from early June to late August.
High season is usually impacted by when most passengers decide to book their cruise. Of course, children being out of school is a popular time for high season.
If you cruise Alaska in May or late September, you can often find cheaper cruise rates than you would for the same cruise in June or July. For your 7-day cruise, research to find the best cruise deal.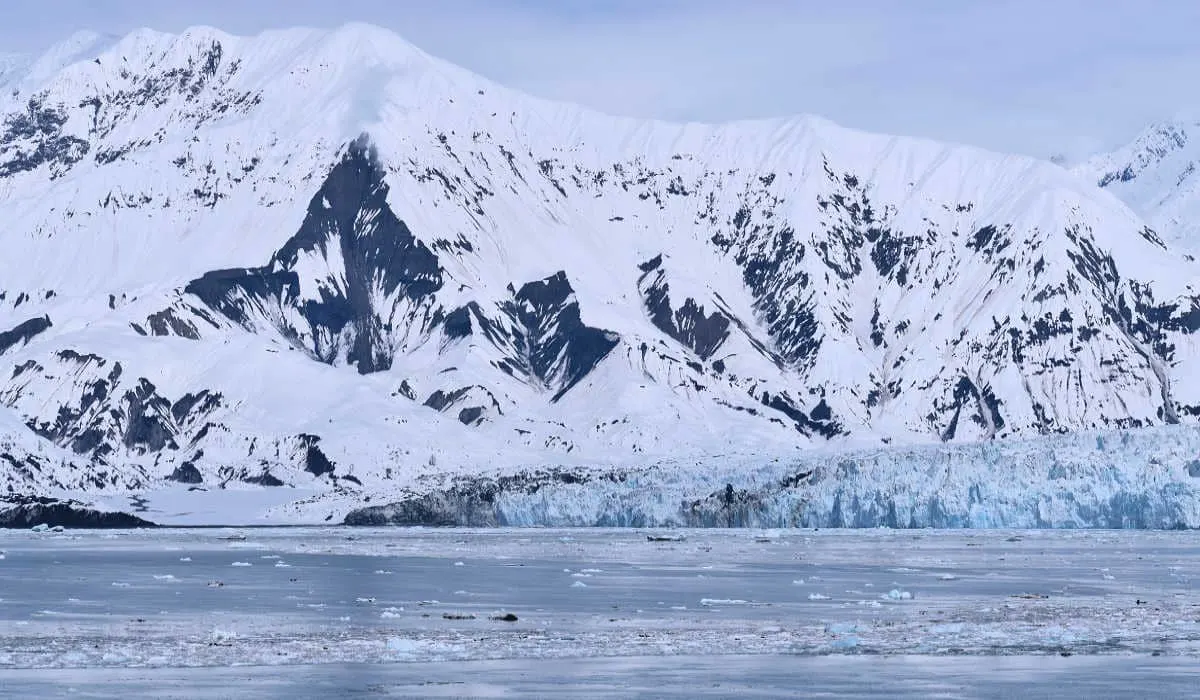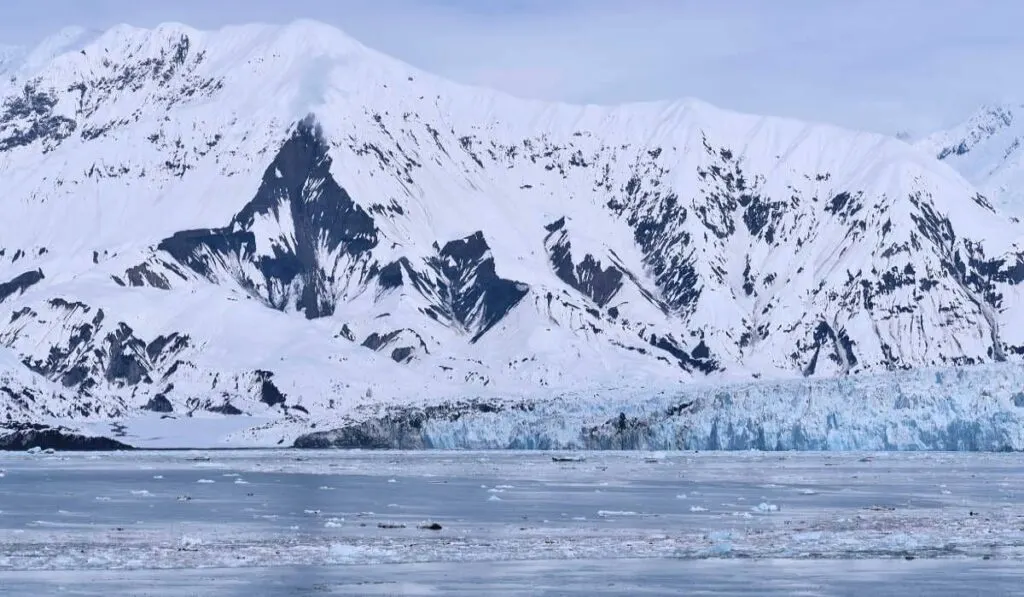 Also, certain weeks such as Christmas and New Year, can command extremely high prices. You may find a 10-30% lower price by booking two weeks earlier or later.
Budget-saving tip: Cruise in the shoulder season for the biggest savings.
How Many In Your Cabin?
All published cruise fares are based on double occupancy. As a result, it is a challenge for solo travelers.
If you are cruising solo, you will usually have to pay for two people in a cabin but pay single gratuities and port fees. A few cruise lines offer solo or studio cabins that are higher priced but not double.
However, if you are on a family cruise with 3 or 4 in a cabin, there can be cost savings for an additional family member. Many staterooms have fold-out sofa beds or Pullman beds, which are great for kids.
Also, when traveling with more than two people in the room, the 3rd and 4th usually pay a reduced rate. I have often seen reduced rates of 50% off.
The good news is that the cost per passenger is typically lower when traveling with 3 or 4 in a cabin. If there's no discount for the 3rd or 4th person, you are better off getting two cabins.
Budget-saving tip: When sailing with more than two in a cabin, wait for the sale that allows the 3rd and 4th person to cruise at 50% off or free.
Cruise Upgrades?
Like cabin upgrades (inside to ocean view or balcony to suite), you can upgrade your 7-day cruise. You can purchase premium onboard activities.
Many mainstream or budget lines will offer upgrades such as wine tastings, specialty coffees, or alcoholic beverages. All of these come with an additional fee.
Generally, Karen and I don't upgrade our cruise other than specialty dining. Although, even simple add-ons such as drink packages or Wi-Fi can add $100's to your final bill at the end of the cruise.
If you are cruising on a strict budget, determine how much each upgrade costs before you sign-up. On our Royal Caribbean Ovation of the Seas cruise, a deluxe drink package was USD 90 + tax per person per day.
When purchasing a drink package, both passengers in a cabin must buy it if one person wants it. Therefore, the total cost would be almost USD 1,500, with tax, for a seven-day cruise.
Budget-saving tip: Evaluate the drink package. It may be cheaper to pay as you go. Ask for a discount on a specialty restaurant. This often works on the first night.
Older Ships Vs. Newer Ships
Like most things, we pay a premium price when something is newer. It's no different when it comes to cruising.
Most cruise lines launch new ships every year. Each new vessel introduces new technology, new venues, more attractions at sea, and updated designs.
This is similar to how automobile companies develop new models each year. If the ship you cruise on had its inaugural sailing in the past 12 months, you would pay more for your cruise.
Most cruise lines charge a premium for ships within the first few years. If you are okay with sailing on an older ship, you can find some fantastic deals!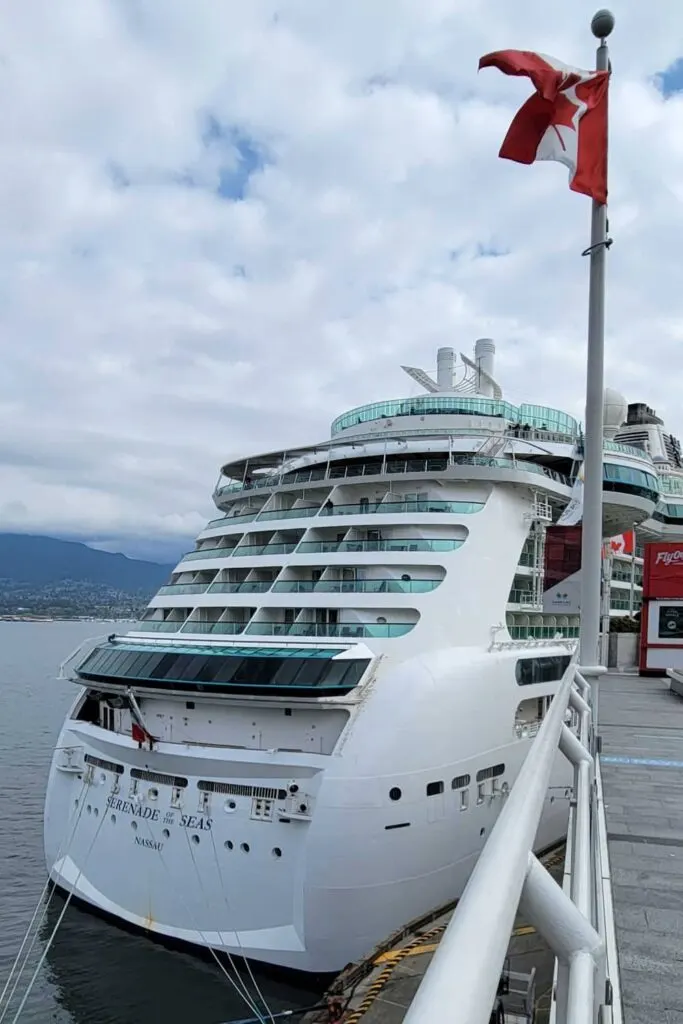 We sailed on the Carnival Miracle, an older vessel, in 2017. The ship had initially been launched in 2003, and its age showed!
However, we sailed the Mexican Riviera in September and had a fantastic 7-day cruise vacation. The base cruise fare was USD 349 per person in a balcony stateroom!
Budget-saving tip: Try an older vessel. You might like the intimacy of the smaller ship.
Shore Excursions?
Cruising is terrific, but the highlights are the ports of call for most passengers. Your port days can include trying things you have never done before. Excursions can include ziplining, whale watching, luaus, and more.
These shore excursions all add to the total cost of your 7-day cruise. On one cruise we took, Karen and I spent USD 2000 for shore excursions, slightly more than our cruise!
Port tours may be things you can scratch off your bucket list, so I encourage you to try them. However, add these to your cost when budgeting for a 7-day cruise.
Cruise port activities vary in cost depending on where you are cruising. Alaska tends to be one of the most expensive areas.
Dog sledding is very popular in Alaska, but the cost is over USD 600 per person. A family of just two parents and one child would be almost USD 2000 (taxes included).
Whale watching is another popular cruise shore excursion. We paid USD 79 each for an excellent whale-watching tour in Mexico, but the cost would be at least USD 140 in most of Alaska.
Budget-saving tip: Pick up tours in ports. You can negotiate the price with most vendors.
Sample Budget For A 7-Day Cruise
When calculating the total cost of your cruise, here's a 'Cheat Sheet' to help with your budget:
| | | |
| --- | --- | --- |
| TYPE OF EXPENSE | AMOUNT | SUB-TOTAL |
| Mandatory Expenses | | |
| Base cruise fare for 2 (inside cabin) | USD 1400 | |
| Port fees and taxes | USD 300 | |
| Gratuities (USD 14 – 18 per day) | USD 224 | USD 1924 |
| Cruise upgrades | | |
| Alcoholic drinks package (USD 60 – 90 per day) | USD 840 | |
| Specialty restaurants (USD 45 – 60 per meal) | USD 200 | |
| Wi-Fi (USD 20 – 40 per day) | USD 280 | USD 1320 |
| Experience Upgrades | | |
| Shore excursions | | |
| – Port 1 excursion | USD 150 | |
| – Port 2 excursion | USD 250 | |
| – Port 3 excursion | USD 200 | |
| Photo package | USD 100 | USD 700 |
| SAMPLE TOTAL CRUISE COST | | USD 3944 |
As you can see, a drinks package is the next costliest item after the cruise ticket. You could purchase drinks as you drink them instead of a package. You can also try one specialty restaurant instead of two.
Ultimately, it's up to you what type of 7-day cruise you want and how much you can afford.
Budget-saving tip: If you skip the drink package and Wi-Fi and save over USD 1100!
Final Thoughts
As you can see, many factors impact the cost of your seven-day cruise. Even though you may get by paying just USD 1,050 per person, it will likely be more.
A recommendation for your first 7-day cruise is to set yourself a budget. Plan on up to USD 3,000 for yourself and your partner before you travel.
Then you can plan a couple of low-cost excursions. Maybe you can even try a specialty restaurant or two?
I hope this information helped and that you will love cruising as much as we do!