Mini cruises or cruises under seven days offer a chance to test the waters at a cost-effective price. Three- or four-day escapes provide a long weekend getaway without cashing in your vacation time. But are these sampler cruises worth it? And where do they sail?
Obviously, short cruises can't sail as far as longer seven-day itineraries. However, they're perfect for a celebratory event. So, whether it's a birthday, anniversary, or engagement, consider booking a mini cruise to create enduring memories.
Short itineraries aren't offered everywhere in the world. So, if you've never cruised before, a short cruise allows you to sample life on a cruise ship. During your cruise, you can tour the ship, stay in a stateroom and see what's available on board.
What's A Mini Cruise?
Sampler cruises are typically two to four days, although a few are available for just a one-nighter. Short cruises are sometimes the result of ships repositioning from one area to another.
Consequently, these cruises aren't scheduled frequently. These shorter itineraries are suited to those who live near the cruise port. After all, no one wants to pay for an expensive flight to take a one, two, or three-day cruise.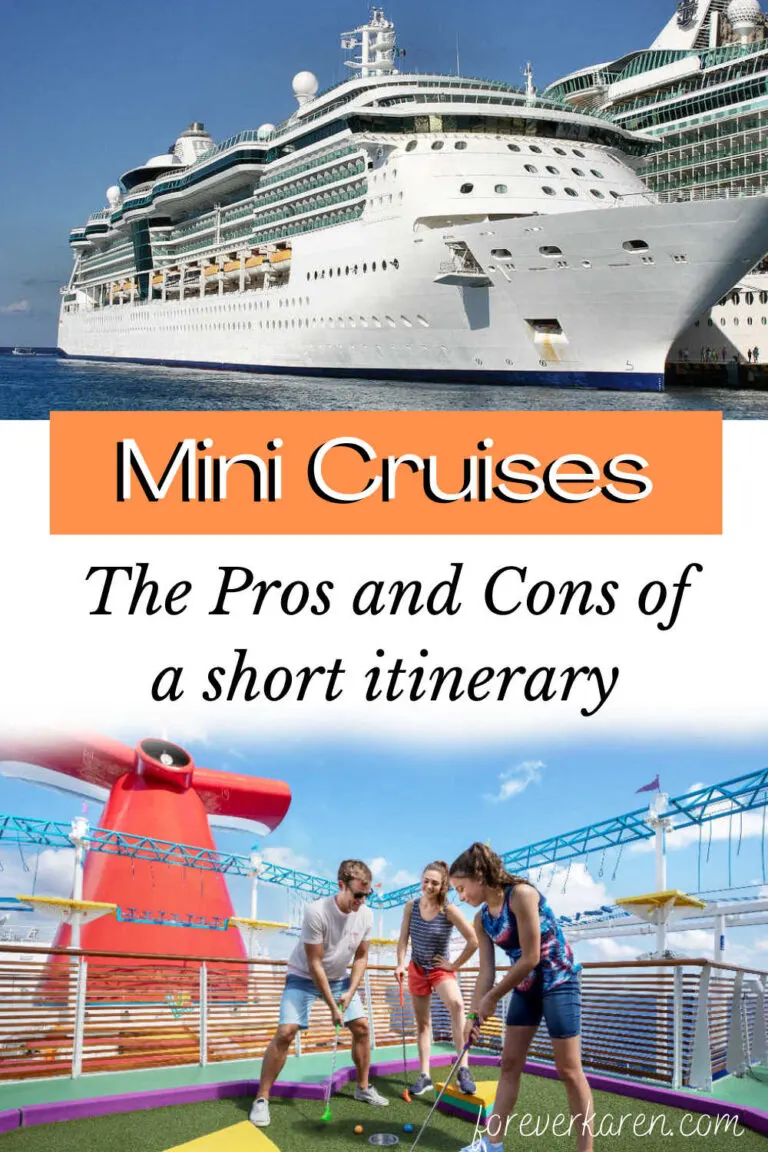 Because of the pandemic, some short cruises sail to nowhere or just around the harbor and back. While you won't have the opportunity to visit an unforeseen port, you can still enjoy a break from everyday life. I have taken a 5-day Pacific Northwest cruise in a balcony stateroom for USD 149.
Sampler cruises are perfect for families on a budget. If you can't afford that 7-day itinerary in the Caribbean, a shorter vacation comes at a more affordable price. Also, cruise vacations include kids' clubs and babysitting so that parents can enjoy some free time.
One of the advantages of shorter cruises is less planning. You don't need to research every port of call, but there's usually only one or two ports. So, if you're game for a short getaway, here are some sampler cruises worth considering.
One Day Cruises
While many might not consider a one-day cruise, it's a chance to experience the amenities of a cruise ship. You'll have restaurant choices, entertainment, swimming pools, saunas, and much more. One-day itineraries usually require passengers to embark at one port and disembark at another.
Cruise passengers can sometimes find these cruises between Vancouver, Canada, and Seattle, Washington. As ships jockey for Alaska season, they sometimes switch their departure port by moving from one port to another.
For under USD 100, you can enjoy a night on a cruise ship for less than a hotel stay. Bear in mind, that your cruise also includes food and entertainment. So, it's a fantastic deal!
Additionally, you can select a Mediterranean one-day cruise, which sails from Athens to Kusadasi. With only one night onboard, past passengers may want to try out a suite or more expensive stateroom. It's a chance to savor the luxury at a price you can afford.
Two Night Mini Cruises
For one extra night, cruisers can sail to one port and back again. Although, some two-day cruises sail to nowhere. Currently, Singapore and Hong Kong offer two-day cruises to nowhere.
The following sampler cruises include a full day in a port except for Europe. Europe cruises sail from Hamburg to Southampton or vice versa. CocoCay or other cruise lines' private islands are excellent choices for children. Also, with plenty of amenities on board, there's no time for boredom.
CRUISE TYPE

CRUISE PORTS

Australia

Sydney, Brisbane, Sydney
Melbourne, Sidney, Melbourne
Adelaide, Melbourne

Bahamas

Miami, cruise line's private island, Miami
Orlando, cruise line's private island, Orlando

Bahamas

Miami, Nassau, Miami
Palm Beach, Freeport, Palm Beach

Cyprus

Tel Aviv, Limassol, Tel Aviv

Europe

Hamburg (Germany), Southampton (England)

Keelung Cruise

Taipei (Keelung), Hualien, Taipei (Keelung)

Mediterranean

Genoa, Marseille, Genoa
Barcelona, Marseille, Genoa
Rome, Marseille, Genoa

Mexico Riviera

San Diego, Ensenada, San Diego

Pacific Coast

Vancouver, Seattle, Vancouver
Long-time cruisers sometimes use these mini cruises to attain loyal points faster. Some cruise lines give points on the number of cruises sailed instead of the number of days cruised.
For instance, passengers sailing with Princess can attain Platinum after six cruises. If you only booked 3-day cruises, you would gain Platinum status (third level) in 18 days.
Alternatively, Celebrity cruise passengers need to sail 100 days in a balcony stateroom to attain Elite status (third level).
Long-time cruisers use a shorter cruise to experience a ship-within-a-ship suite. With a short itinerary, that suite you couldn't normally afford becomes cost-effective.
Three Night Mini Cruises
Three-day cruises are perfect for that long weekend, providing the cruise falls on the correct days. Cruises that start at one port and end at another usually come with rock bottom pricing. However, if you prefer to return to the same embarkation port, there are many choices.
CRUISE TYPE

CRUISE PORTS

Australia

Brisbane, at sea, Brisbane

Bahamas

Floria, Nassau, cruise line's private island, Florida

Dubai

Dubai, Sir Bani Ys Island, Abu Dhabi, Dubai

Europe

Can include: Barcelona, Savona, Marseille, Venice, Split (Croatia), Bari (Italy), Palma de Mallorca (Spain), Naples

Greek Islands

Athens, Ephesus/Kusadasi (Turkey), Haifa (Isreal)

Italy

Venice, Split, Bari, Venice

Mexican Riviera

California, Ensenada, California

Northern Europe

Hamburg, Cherbourg (France), Southampton
Southampton, Zeebrugge, Southampton
Kiel (Germany), Skagen (Denmark), Southampton

Pacific Coastal

Vancouver, Seattle, Victoria, Vancouver

South America

Rio de Janeiro, Ilhabela, Ilha Grande, Rio de Janeiro
When you consider that the first and last days are embarkation and debarkation, three-day cruises are more desirable. A three-day itinerary could include two ports if the ports are close together.
The shorter vacation is ideal for those who practice minimalist packing and don't want the headache of planning.
Four Day Getaway Cruises
Four-day cruises give an excellent snippet of an area without the commitment of a 7-day itinerary. However, the prices vary greatly. I have seen 4-day cruises advertised as low as USD 120 in a balcony stateroom. Others sell for over USD 800, depending on the itinerary, cruise line, and cruise ship.
CRUISE TYPE

CRUISE PORTS

Asia

Beijing, Fukuoka (Japan), Beijing

Australia

Brisbane, Airlie Beach, Brisbane

.

Bahamas

From Florida to any of the following: Key West,
Nassau, Great Stirrup Cay, Grand Bahama Island,
Castaway Cay, Princess Cays, Ocean Cay Marine
Reserve, CocoCay, Freeport, Half Moon Cay

Bahamas

Charleston, Nassau, Charleston

Caribbean

New Orleans, Cozumel, New Orleans
Florida, Cozumel, Florida
Mobile, Cozumel, Mobile
Galveston, Cozumel, Galveston

Dubai

Abu Dhabi, Doha, Dubai

Mediterranean

Marseille, Genoa, Valencia, Marseille
Savona, Marseille, Barcelona, Savona
Madeira, Valencia, Marseille, Genoa
Venice, Brindisi, Mykonos, Athens

Northern Europe

Southampton, Amsterdam, Southampton
Southampton, Rotterdam, Southampton

Pacific Coastal

Vancouver, Victoria, Astoria, California
California, Astoria, Seattle, Vancouver
Los Angeles, Catalina Island, Ensenada, Los Angeles

South America

Sao Paulo, Porto Belo, Camboriu, Sao Paulo
When shopping for a short cruise, lines like Disney, Hurtigruten, and Silversea command higher prices. Also, expect to pay more during peak times such as Christmas, New Year, and summer months.
Five Day Mini Cruises
For me, a five-day cruise is a sweet spot. It's not so short that you feel like you haven't been anywhere. And it's not a full seven-day sail. Most 5-day itineraries are roundtrip cruises, returning to the same port. Most cruise passengers prefer a roundtrip itinerary. Should you live within driving distance of the port, there is no need for an airline ticket.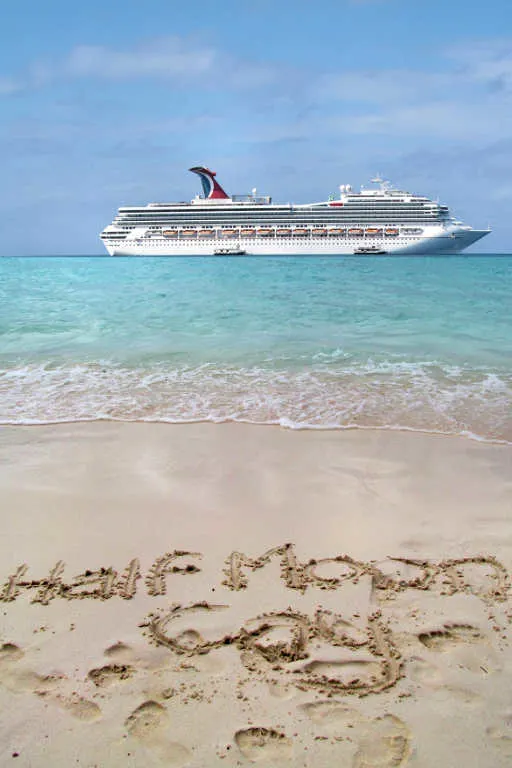 The following are some return 5-day cruises offered by Norwegian, Hurtigruten, Royal Caribbean, Princess, Silversea, Carnival, Disney, Azamara, Cunard, and Celebrity Cruises.
| | |
| --- | --- |
| CRUISE TYPE | TO AND FROM: |
| Alaska | Seattle |
| Artic | Bergen or Norway |
| Asia | Tokyo |
| Bahamas | Florida, South Carolina, or Virginia |
| Bermuda | Bayonne, Baltimore, or New York |
| Canada/New England | Bayonne |
| Caribbean | Florida, Galveston, New Orleans, or Mobile |
| China | Beijing or Shanghai |
| Europe | Savona, Marseille, Barcelona, Nice, or Venice |
| Mexico | Florida, Galveston, New Orleans, Mobile, San Diego, or Los Angeles |
Alternatively, these one-way cruises sail from one port and debark in another. Remember to factor in the cost of an airline ticket when selecting one of these cruises.
CRUISE TYPE

ONE WAY ITINERARY FROM:

Asia

Tokyo, Kobe, and Hong Kong

Europe/Mediterranean

Hamburg, Amsterdam, Barcelona, Genoa
Valencia, Bari, Rome, Malaga, and Savona

Northern Europe

Southampton and Hamburg (Germany)

Norway

Kirkenes and Bergen

Pacific Coastal

Vancouver and California
The Pros and Cons Of Sampler Cruises
If you're looking to sail a mini cruise, there are some things to consider.
Pros Of A Short Itinerary
They are suited to those who live close to the embarkation port. Without an airline ticket purchase, passengers can take a short escape for bargain pricing.
Cruises under six days come with low prices. However, if want a longer itinerary, consider booking back-to-back mini-cruises.
It's a great way to "test the waters" if you're new to cruising.
Without the commitment of a longer itinerary, you can enjoy a shorter cruise on a long weekend.
It's a great way to try a different cruise line.
Suites and higher-level staterooms are more affordable.
You can pack light.
They are great for racking up cruise line loyalty points.
Cons Of A Shorter Cruise
Some itineraries cruise to nowhere. Although, if you love sea days, you may consider this a plus.
Cruise ships can't travel too far from the embarkation port.
Weekend cruises can attract a "party" crowd, so your escape may not be a quiet one.
The selection of itineraries is limited.
Cruise lines don't usually offer shortened itineraries on their newest or grandest ships.
You might not have a formal or "chic" night. Some may consider this a pro, though.
You may require a visa to some countries.
You may not feel like you've had a vacation.
If you don't live near the embarkation port, the cost of the airline ticket can exceed the savings of the cruise.
Which Mini Cruises Are Preferable?
When reviewing shortened itineraries, you may select a cruise based on price and where you live. However, you might want to avoid some cruises for the following reasons.
Pacific Coastal cruises are popular for those who live in the Pacific Northwest. In fact, many first-time cruises choose one as a way to test out a cruise vacation.
However, the Pacific Coastal cruises often experience rough water, causing seasickness. Avoid a cruise up and down the Pacific Coast if you can't handle the choppy seas.
Unless you hold a Chinese passport, you may want to pass on a cruise that stops in China. Chinese visas cost USD 140 per person, which may turn your inexpensive cruise into a costly one.
Alaska cruises that sail for less than five days don't generally visit a fjord or glacier. If the purpose of your Alaska itinerary is to see ice, choose a 7-day itinerary instead.
If you have children, you might choose a private island itinerary due to its amenities. With waterslides, pools, and endless sun-drenched activities, you'll never run out of things to do. It's like a Disneyland vacation cruise-style.
Australian itineraries are perfect for locals because it allows for a break without needing a visa. Equally as enticing are the Mexico cruises if you live near an embarkation port. In winter, you can escape to warmer waters on a long weekend.
Final Thoughts
All things considered, mini cruises aren't for everyone. While I'm willing to take shorter itineraries, I live near the Vancouver cruise terminal, which doesn't offer many of these shorter cruises. However, if I lived in Florida, I'd welcome these bargain getaways whenever I could travel.
Since we're still in a pandemic, the need for a PCR test or antigen test before your cruise, may deter you from going. Have you taken a sampler cruise, and what are your thoughts?
Happy travels ~ Karen