Many long-time cruisers will tell you that once you've experienced a suite, there's no going back. The ship-within-a-ship concept has grown in popularity with dedicated dining facilities, priority boarding, personal butlers, and suite amenities.
But what exactly is a ship-within-a-ship, and is it worth the extra money? Select cruise lines offer luxury accommodations with areas of the cruise ship reserved for passengers booked in these staterooms.
So, if you're looking to escape the crowded pool deck or prefer "upgraded" dining, maybe it's time to learn about these optional suites.
While cruise itineraries cater to the mass market, the exclusive resort concept allows passengers to enjoy expedition-type sailing. You'll have access to a separate pool, lounge, bar, and restaurants.
Some cruise lines will even customize your stateroom on request. No problem if you want a treadmill or Peloton bike in your room. Want more loungers on your balcony? Just ask.
If sailing in a suite intrigues you, consider choosing one from these cruise lines. However, if the suite cost gives you sticker shock, consider a mini cruise, as the higher category staterooms are more budget-friendly.
Cunard's Grill Suites
Cunard takes cruising to the next level with their Princess Grill and Queen's Grill Suites. Guests are welcomed on board with complimentary champagne, chocolate, and fresh fruit. Suite passengers indulge in luxury accommodations, up to 2,249 sq. feet, positioned in prime locations.
Their Grill Suites are available on all three vessels; Queen Elizabeth, Queen Mary 2, and Queen Victoria. They enjoy spacious balconies, deluxe linens, and a pillow menu with seven choices. All suites on Cunard ships have one bedroom.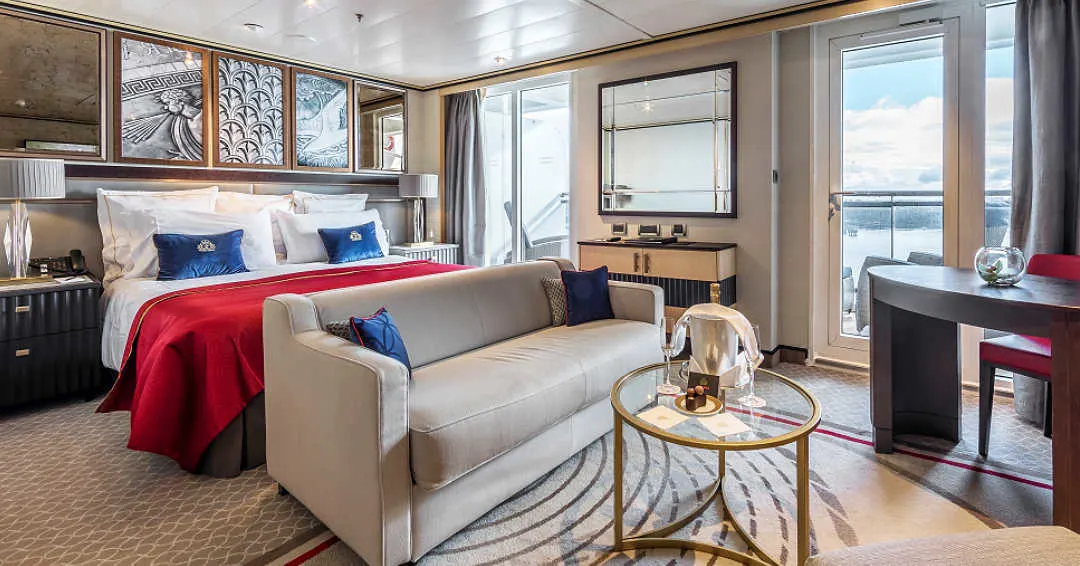 Those in the Queen's Grill Suites enjoy pre-dinner canapes and a complimentary stocked bar with two bottles of wine, spirits, and soft drinks of your choosing.
But the best part of Cunard's Grill Suites is the exclusive dining choices. Princess Grill and Queen's Grill Restaurants offer intimate dining, great for adding romance to your cruise vacation.
However, nothing beats the culinary experience you'll savor in the Queen's Grill Restaurant. With choices like Lobster Thermidor and Wild Mushroom Agnolotti, you'll enjoy sensory overload that's second to none. Plus, the tables are dressed with beautiful linens, Wedgewood china, and fine cutlery.
Having recently cruised on Queen Elizabeth, I can say that Cunard restaurant's food choices are the best. Each serving is beautifully presented, tastes great, and the service is second to none.
While you'll pay a hefty price to stay in a Grill Suite, guests have a less inclusive experience than other lines.
Celebrity Suite Class
Staying in an upgraded Celebrity Suite gives you access to The Retreat. Celebrity markets The Retreat as more than an amenity, place, and service. It's like staying in a luxury resort with the best of everything.
Retreat guests enjoy dining at Luminae, which serves extraordinary food created by culinary restaurateur Daniel Boulud. Other benefits of Suit Class include The Retreat deck, with a private pool with premium loungers, available on the Edge class, and revolutionized ships.
Celebrity Cruises recently changed their pricing to have "always included." So, guests in The Retreat have complimentary Wi-Fi, a premium drinks package, prepaid gratuities, and free onboard credit.
Celebrity's largest suite, the Iconic Suite, can accommodate a family nicely, with two bedrooms and two bathrooms. At 1,892 sq. feet with a massive 689 sq. foot terrace space, you can entertain your cruising friends or family members.
A step down from The Retreat, guests staying in Aqua Class cabins get to eat in Blu, another exclusive restaurant. Also, they enjoy staterooms equipped with spa-like amenities. During their cruise, they have complimentary access to the Thermal Suite or Parisian Garden.
If you're loyal to Celebrity Cruises, staying in a suite can earn you loyalty points fast. Cruise passengers can find The Retreat on the Celebrity Beyond, Edge, Apex, Silhouette, Summit, Millennium, and Summit.
Norwegian's The Haven
Norwegian Cruise Line offers the largest suites, which can sleep up to eight guests. Their massive 3-bedroom villa has over 2,000 sq. feet of indoor space and over 4,000 sq. feet of deck area. With your own hot tub, outdoor dining area, and plenty of loungers, it's the perfect spot to enjoy some serenity at sea.
Your key card also accesses The Haven, Norwegian's version of a ship-within-a-ship. With a concierge area, private pool, hot tubs, bar, and sun deck, suite guests can escape to a more secluded oasis. However, suites on select ships, usually the older vessels, don't have access to a private restaurant.
Norwegian has built The Haven on the top decks, usually forward position on the ship. It's the ideal location to enjoy the sun and watch the vessel's arrival on port days. The Haven's footprint takes up a large amount of real estate, and on some ships, spans three decks.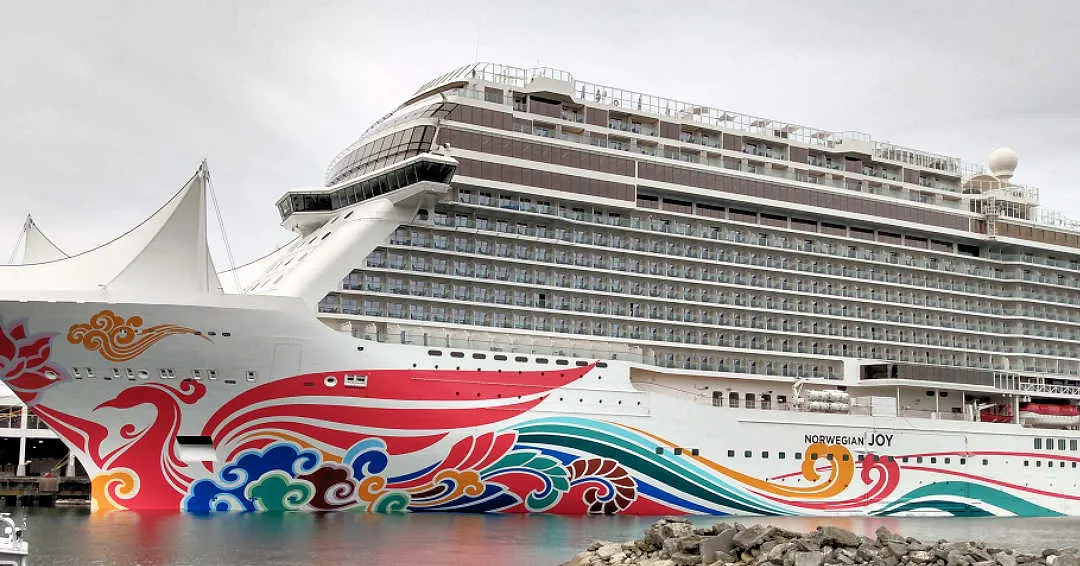 Norwegian offers the most all-inclusive perks with their ongoing "Free at sea" promotion. Anyone booked in The Haven will enjoy complimentary Wi-Fi, a beverage package, free meals in specialty restaurants, shore excursion credit, and 3rd and 4th guests sailing free (in the same cabin).
For those traveling with children or a larger group, the savings on the 3rd and 4th person can be significant.
If Norwegian's suite concept entices you, you can find it on the Norwegian Breakaway, Escape, Epic, Joy, Bliss, Getaway, Encore, and upcoming vessel, the Prima. Some of their Jewel ships have suites but not the same amenities as The Haven.
MSC Yacht Club
MSC's Yacht Club might offer some of the most affordable cruise line suites. As the name suggests, Yacht Club guests feel like part of an exclusive yacht or country club. Unlike other cruise lines where you're paying for the grandest suites, MSC Yacht Club has an interior Yacht Club cabin.
Available on the MSC Grandiosa, MSC Virtuosa, MSC Meraviglia, MSC Seaview, MSC Bellissima, and MSC Seaside, you'll still enjoy the perks of the larger suites.
While MSC's ships tend to be mega-sized, Yacht Club guests enjoy a quieter experience in their secluded oasis. However, you will still have access to the entertainment and amenities through the vessel.
The Yacht Club's biggest suites measure over 1,000 sq. feet. The Royal Suite and Owner Suite guests enjoy private hot tubs on their balconies on select vessels. Like other cruise lines, suite guests enjoy complimentary Wi-Fi, complimentary soda and drinks, a personal butler, and an exclusive suite restaurant.
Cabins included Egyptian cotton linens, upgraded toiletries, a pillow menu, and one free session in the thermal suite. Should you port in Ocean Cay Marine Reserve, Yacht Club passengers have access to private areas on MSC's private island.
MSC's newest vessel, the MSC World Europa will include a Yacht Club. Guest can also enjoy the amenities on the MSC Seaview, Seaside, Splendida, Virtuosa, Grandiosa, Bellissima, Meraviglia, Seashore, Fantasia, Divina, and Preziosa.
Carnival's Havana Staterooms
While Carnival Cruises has been slow to jump on the ship-within-a-ship bandwagon, it has introduced Havana Cabanas and Havana Interior cabins. They are unique to their Vista-class ships (Panorama, Vista, and Horizon) and Madi Gras. However, their staterooms are not the largest or on higher decks.
Carnival has turned some outside cabins into rooms that can access outdoor space. With sliding glass doors, you'll enjoy a large outdoor patio, complete with loungers and a chair swing.
Located on deck five on the Vista vessels and deck eight on the Mardi Gras, Havana guests enjoy a private sundeck area, Havana pool, and bar. During the day and evening, the sanctuary provides a quiet hideaway from the rest of the ship.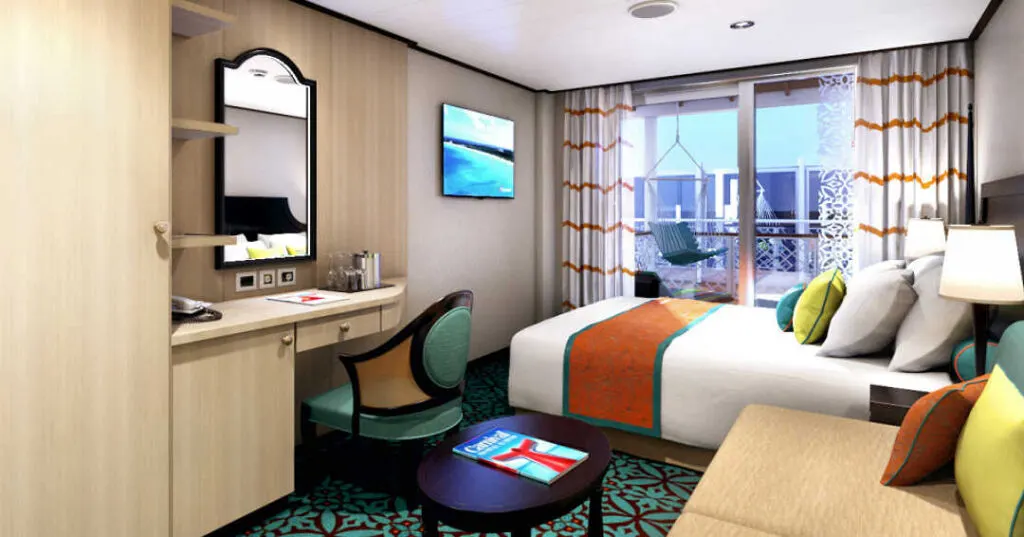 However, unlike regular balcony cabins, Havana Cabanas lack privacy as other guests can walk by your room. While Carnival's Havana staterooms don't offer a complete exclusive concept, they are probably testing the waters to monitor the popularity of these rooms.
Carnival markets its vessels as the "fun ships." They tend to veer to the party crowd and families on a budget. If you're looking to escape the boisterous activity, the Havana cabins provide that bit of serenity.
Since Havana cabins are not available for those with children under 12, you'll enjoy the Havana pool area with adults or teenagers.
Royal Caribbean's Royal Suites
If staying in a two-level loft suite is on your bucket list, Royal Caribbean has you covered. RCL's Royal Suite class offers three levels in their suite class; Sea, Sky, and Star Suites. Each level offers different perks, with their Star Class commanding the most perks.
So, some of the benefits of a suite category (depending on the category) can include:
Priority boarding and debarkation
A Royal Genie (or personal butler) who can do your unpacking, customize your activities, and arrange dinner in your suite
Exclusive dining
Complimentary Wi-Fi
Drinks package (deluxe with Star Class)
Priority tenders
Gratuities included
Specialty restaurants
Complimentary stocked mini-bar
Royal Suites are available on the Ovation of the Seas, Quantum of the Seas, Allure of the Seas, Harmony of the Seas, Oasis of the Seas, Symphony of the Seas, Spectrum of the Seas, Odyssey of the Seas, Anthem of the Seas, and Wonder of the Seas.
Earning Loyalty Points
Staying in a cruise line's suite can earn loyalty points faster. These vary significantly by cruise line and type of cabin booked. MSC awards points based on the number of days sailed and not per night.
CRUISE LINE
POINTS EARNED IN A SUITE
Cunard
No extra points
Celebrity Cruises
Up to 18 points a day, compared to
3 points in a balcony stateroom
Norwegian Cruise Line
1 extra point a day, compared to 1
point a day in other staterooms
MSC
1500 points for a 7-day itinerary, compared
to 500 points in a regular cabin
Carnival Cruises
No extra points
Royal Caribbean
Double points (2 points a day as opposed to 1)
Ship-Within-A-Ship Vs. Luxury Cruise Lines
Some might argue why pay for a suite when you can cruise with a luxury line instead. While luxury lines tend to be all-inclusive and on smaller ships, they don't offer the attractions of the other vessels.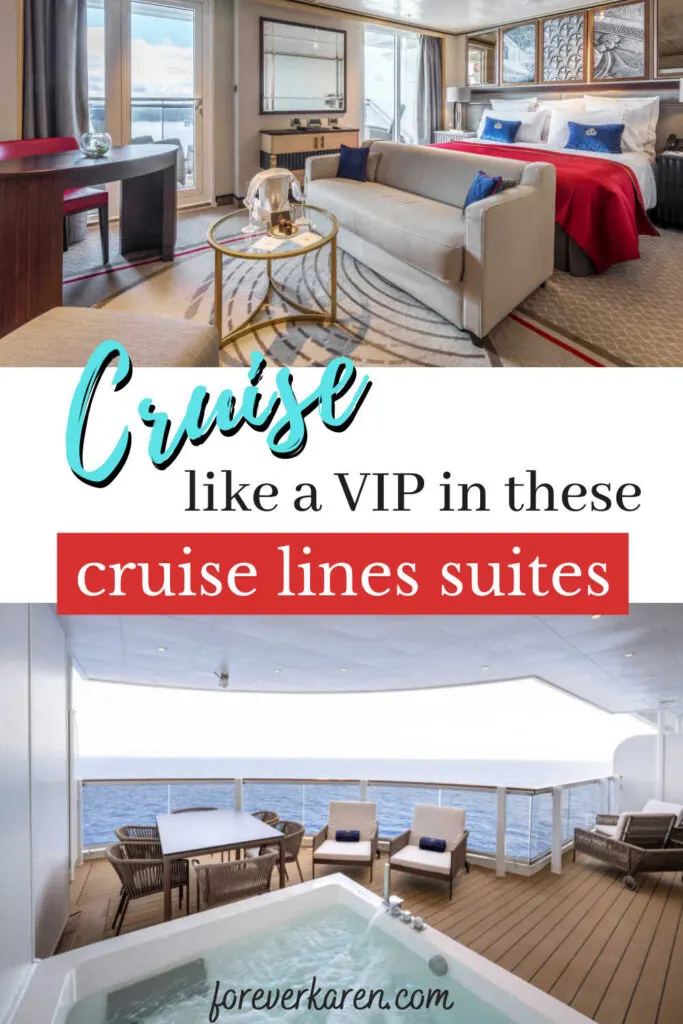 If you prefer a quiet afternoon by the pool but like to gamble or enjoy the comedy club at night, you will not get that experience with Oceania, Silversea, or Viking. The cruise lines that cater to the masses also provide kids clubs and activities catering to families. In contrast, some luxury lines don't allow children.
Pricing between lines varies too greatly to compare, depending on the suite. Overall, choosing an upgraded cabin on a regular cruise line saves money over a luxury line.
In most cases, it doesn't come down to money but lifestyle. If you're undecided about what suite to book, you can often tour one or two on a cruise cabin crawl. After your crawl, you'll know which suite suits you for the next booking.
Just because you choose to stay in a suite doesn't mean you have to stay in exclusive areas. You have the option to select where you roam. As the demand for suite class grows, cruise lines will add more ship-within-a-ship cabins to their vessels.
Happy travels ~ Karen