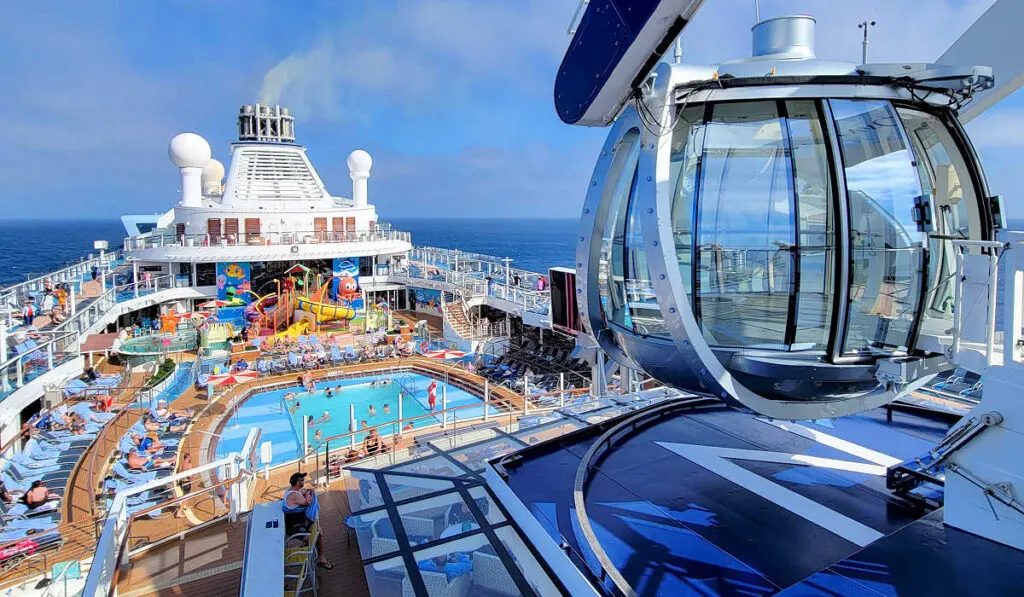 My wife, Karen, and I are always looking to try new cruise ships and experiences. We wanted to try one of Royal Caribbean's 'mega-ships' in either the Quantum or Oasis class. We found a fantastic deal on a repositioning cruise from Vancouver to Hawaii on the Ovation of the Seas and couldn't wait to try it and review its amenities.
Repositioning cruises are not for everyone because they don't return to the same port. Even though we got off in Oahu, the ship continued onto New Zealand and Australia.
Later in the spring, she moves back to Seattle to offer family-friendly Alaska cruises from May to September.
We like repositioning cruises because they often have lower prices than regular itineraries. Since they're a tough sell by cruise lines, the cruises usually sail at a lower capacity of guests.
However, it was ideal because we sailed out of our home port in Vancouver. The return flight home was a direct, non-stop flight on WestJet Airlines that cost us under CAD 100 because we could use our WestJet Rewards dollars.
Usually, we select a repositioning cruise for its itinerary. Since our 9-day cruise had five sea days, we chose this one for its price and ship.
So, would the Quantum class ship have enough activities to keep us entertained for five days on the Pacific Ocean? Is the Ovation of the Seas a good ship for you?
Ovation Of The Seas Details
They say the best things come in smaller packages, but Royal Caribbean International debunks that myth. The Ovation is a mega-ship with a maiden voyage on April 17, 2016. Her godmother is Fan Bingbing. There are typically 1,500 crew servicing guests in 2,091 staterooms.
The vessel was the first at sea to offer Ripcord by iFly, North Star, and the Bionic Bar. Sixteen guest elevators service 18 decks.
Previously, the largest ship we sailed on was the Majestic Princess, with a capacity of 3,600. Royal Caribbean Ovation has a passenger capacity of 4,905 passengers, so it was MUCH larger!
According to Guest Services, the ship sailed with only 3,007 guests from the following countries: 1,159 from Canada, 1,146 Americans, 190 from Australia, 181 Germans, and the remaining 331 from other nations.
Interestingly, the Ovation had completed an Alaska cruise the week before and sailed at full capacity with 4,000+ passengers.
First Impressions
We embarked in Vancouver, and the boarding process was not fun. Two other ships were boarding, which caused long waits for security and U.S. Customs.
Our boarding time was 11:30, but it took us an hour and a half to get on the ship! I'm an impatient guy, and I'm not too fond of long waits.
However, the Royal Caribbean team was fast and efficient once we got through security and customs.
I liked that our cruise cards were already in our cabin, which was accessible at 2 pm. There's no waiting during Royal Caribbean embarkation to get your cards. Our luggage was also at our stateroom at 2 pm.
As we walked up the gangway to board, the first thing I noticed was the massive size of the ship. Quantum-class ships are enormous but not even the largest ships in the RCI fleet.
With 18 decks, our ship was the highest in the Vancouver harbor. Mega ships don't usually visit Vancouver because they can only fit under the Lionsgate Bridge at low tide. In fact, Royal Caribbean moved up our sail away time by one hour to coincide with low tide.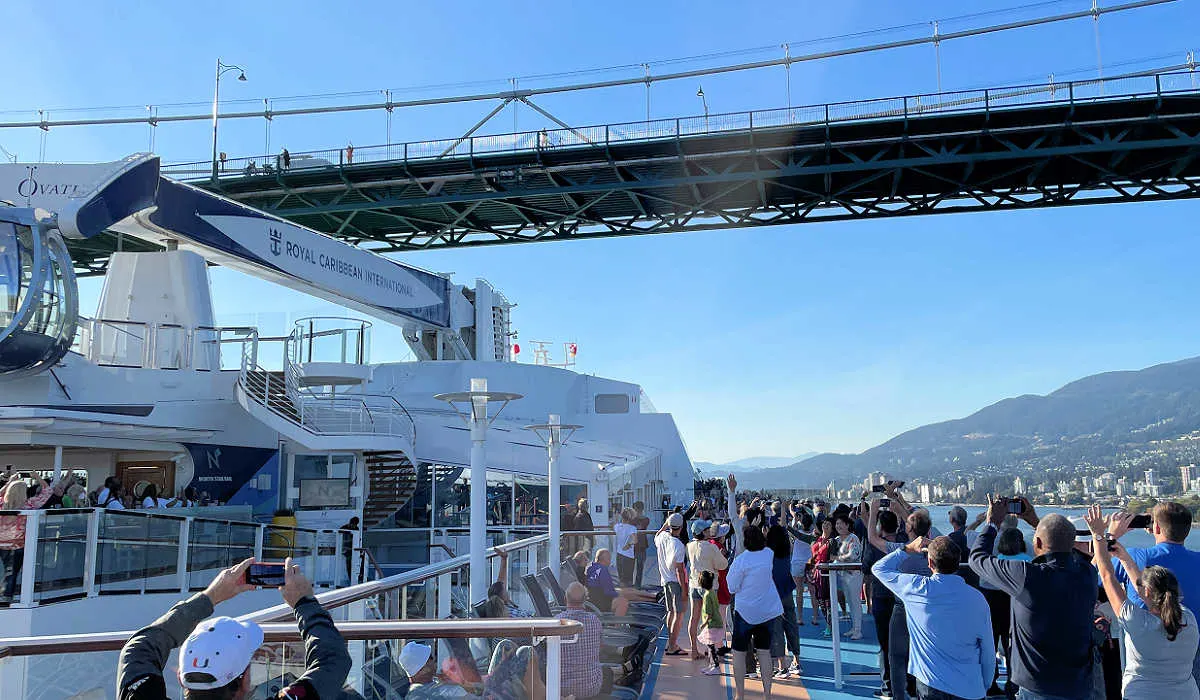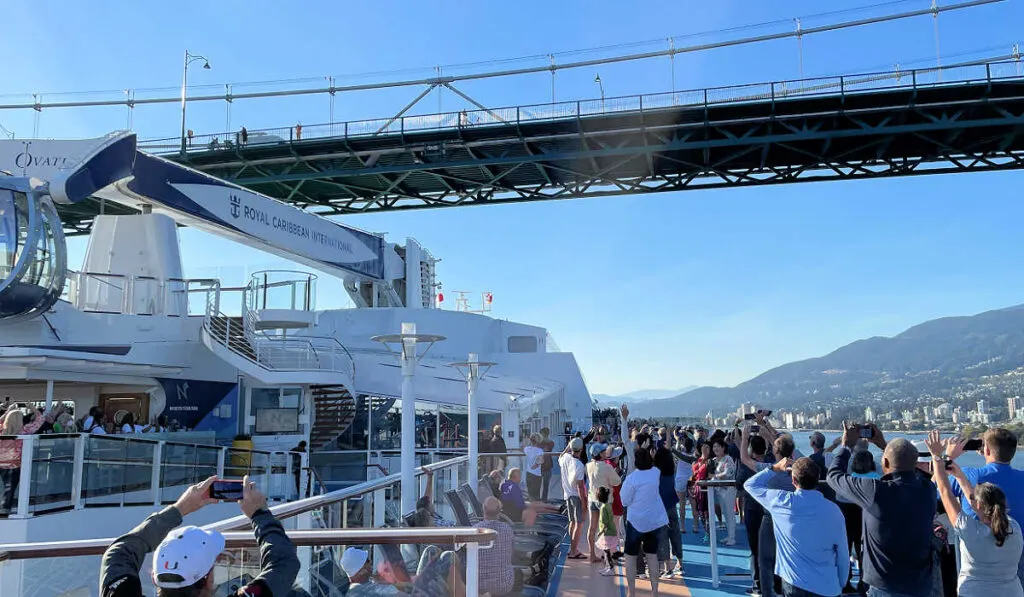 The even larger Oasis-class ships are the largest in the fleet. The Wonder of the Seas is the largest cruise ship in the world, with a capacity of 6,988 passengers. Once on board, we noticed the ship was clean and well laid out. The staff and crew were friendly and welcoming.
What Is A Quantum-class Ship?
For RCI, there are five ships in the Quantum class. The Quantum (2014), Anthem (2015), and Ovation (2016) of the Seas are the original Quantum class. In 2019, RCI launched the Quantum Ultra Class, which includes the Spectrum (2019) and Odyssey (2021) of the Seas.
The Quantum-class ships are larger than the other ships in the lower classes. Lower classes include Freedom class, Voyager class, Radiance class, and Vision class. The top line of ships for Royal Caribbean is the Oasis class.
Quantum ships are known for their unique activities, such as North Star, RipCord by iFly, SeaPlex, and Flowrider Surf Simulator. We tried all of these on our cruise to Hawaii!
Other features of the Quantum-class ships include Music Hall, Broadway musicals, outdoor movie screen, and Two70.
Unique Activities
Royal Caribbean has tried to distinguish itself from the other cruise lines in the competitive cruise industry. By having onboard activities that you can only find on specific RCI ships, customers must return if they want them.
Since we were writing a review of Royal Caribbean Ovation of the Seas, we made sure to try every activity even if it was out of our comfort zone.
The Ovation of the Seas deck plan is thoughtfully designed and we found it easy to reach venues and remember where they were. I had tried skydiving in my 20s but never had the experience since then. How cool was it for Karen and I to experience skydiving on a cruise ship in the middle of the Pacific Ocean?
Feeling a 150-mile-per-hour wind in our faces, suspended safely in the air, is an experience we won't soon forget.
FlowRider
The FlowRider is another unique Royal Caribbean activity that allows guests to surf on the ship. This amazing device lets you test your surfing and boogie-boarding skills on the vessel's aft.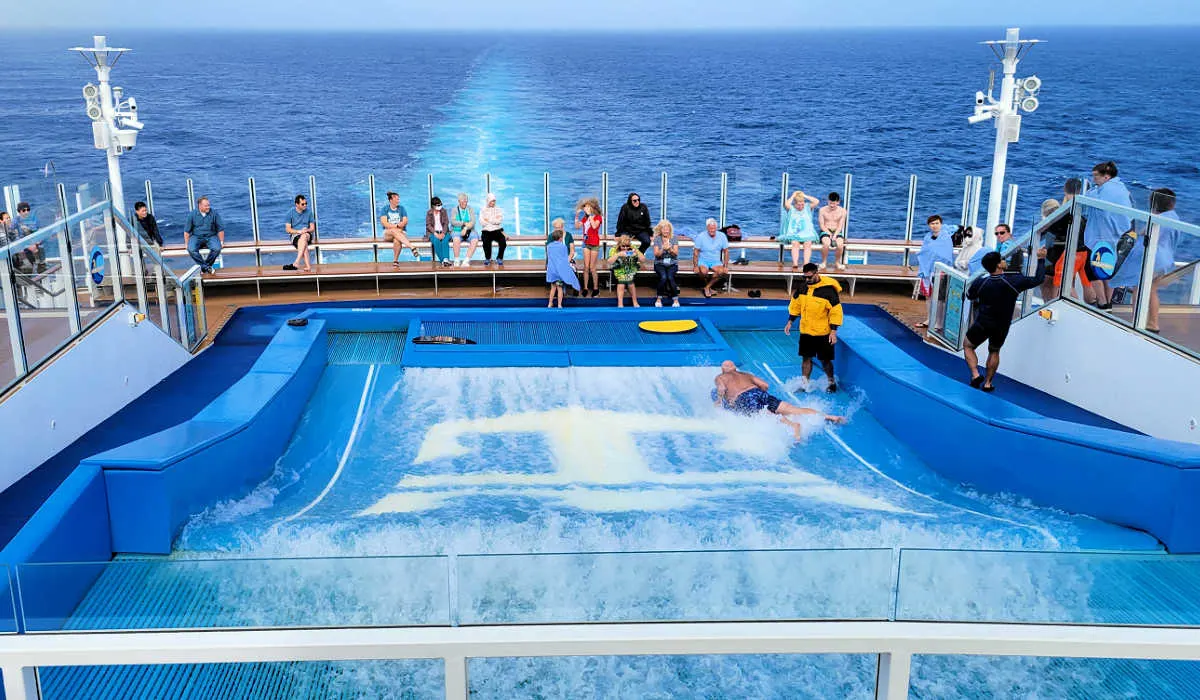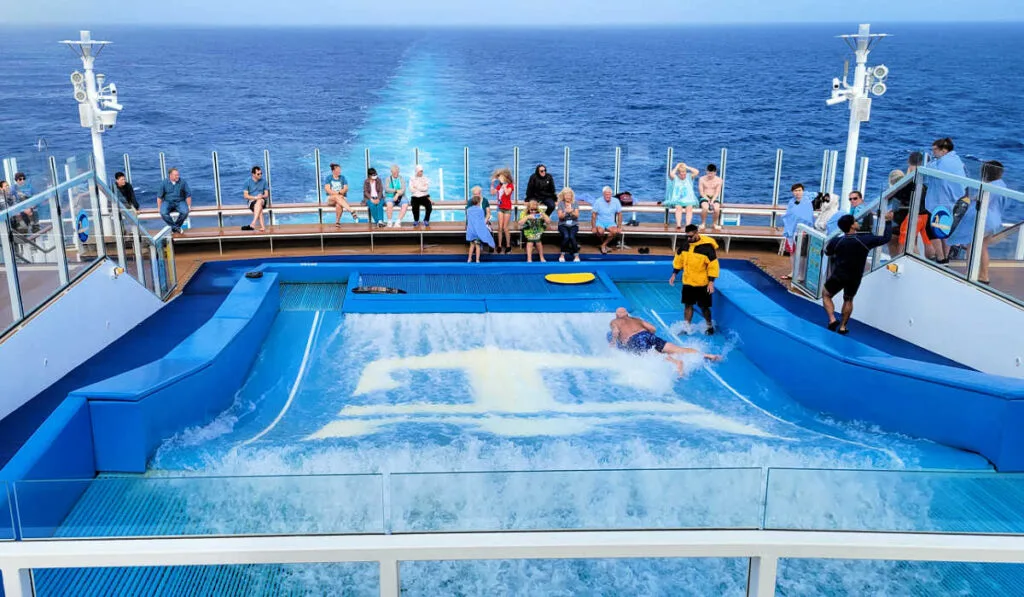 Thousands of gallons of water flow under your feet at 40 mph (64 kph). So, you really feel you are surfing in the ocean or behind a boat. The best part is no surfing experience is required.
On Day 6 of our cruise, I finally lined up to try my skills at boogie boarding. They ask you to watch a brief safety video first. I told the friendly instructor I was a "Newbie" and they gave me the essential tips. I started off laying on my belly and was up on my knees shortly after.
After a few wipeouts and getting my ego checked, I lined up again. All the while, my wife Karen was shooting video from the viewing seats. It's always good to have something to post on your social media. In the end, it was such fun.
While you can get injured during the wipeouts, surfers of all ages participated. The only restriction would be if you have any prior injuries or health conditions.
Throughout the cruise, they opened the FlowRider for different skill groups. The boogie board I did was the easiest. They also do stand-up surfing, mixed wave, and advanced surfing.
Since we were cruising to Hawaii, it was the perfect activity during those sunny sea days!
Get your towels down by the pool deck before waiting in line. Also, if you wear contacts (like I do), I recommend taking them out before getting on FlowRider. You'll likely get a face full of water which would wash out your contacts – just a tip.
If you're surfing in hot locations, a Rashguard shirt provides protection from the sun. We were quite surprised by how many surfers wore them on our Hawaiian cruise.
North Star
The North Star experience was inspired by the London Eye Ferris wheel that opened at the start of the millennium. We rode this both at sea and while in port. It's one of several 'Must-Do' activities when sailing on a Quantum-class ship, such as the Ovation of the Seas.
The ride rises to 300 ft. (92 m.) above sea level and provides spectacular views of the ship and the surroundings. The air-conditioned pod holds up to 12 passengers and is wheelchair accessible.
During Alaska cruises, the North Star is USD 70 per person while at premium locations such as the glaciers or sailing through the fiords. While at sea, it is USD 15 per person. In ports, there is no cost to ride the North Star.
During our repositioning cruise from Vancouver to Hawaii, the North Star was FREE every day it operated. We assumed they made it complimentary throughout the cruise because we mainly had sea days. It closed during high winds of 35 knots or rough seas.
Guests can make reservations through the Royal app. Initially, they allowed us to book during the first few days. On the fourth day of our cruise, they opened up time slots in Maui to enable all passengers could get a turn.
We enjoyed an extended ride of 16 minutes when we crossed the Pacific Ocean. This ride takes you up 300 feet and then rotates the arm over each side of the vessel.
In Maui, the basic ride lasted less than 10 minutes, so you may want to ensure you'll have a longer ride when booking. It's interesting to note that both the North Star and RipCord by iFly charge guests a USD 25 fee for no-shows.
RipCord By iFly
For those of you that are thrill seekers, you must try RipCord by iFly. This is another experience that is unique to the Quantum-class ships.
Karen and I tested our skydiving skills in a wind tunnel overlooking the FlowRider. After orientation and a safety briefing, instructors take teams of 12 to the wind tunnel.
Each person flies for only one minute, but it is enough time to get the thrill of skydiving. The total time for the activity is about 50 minutes per group.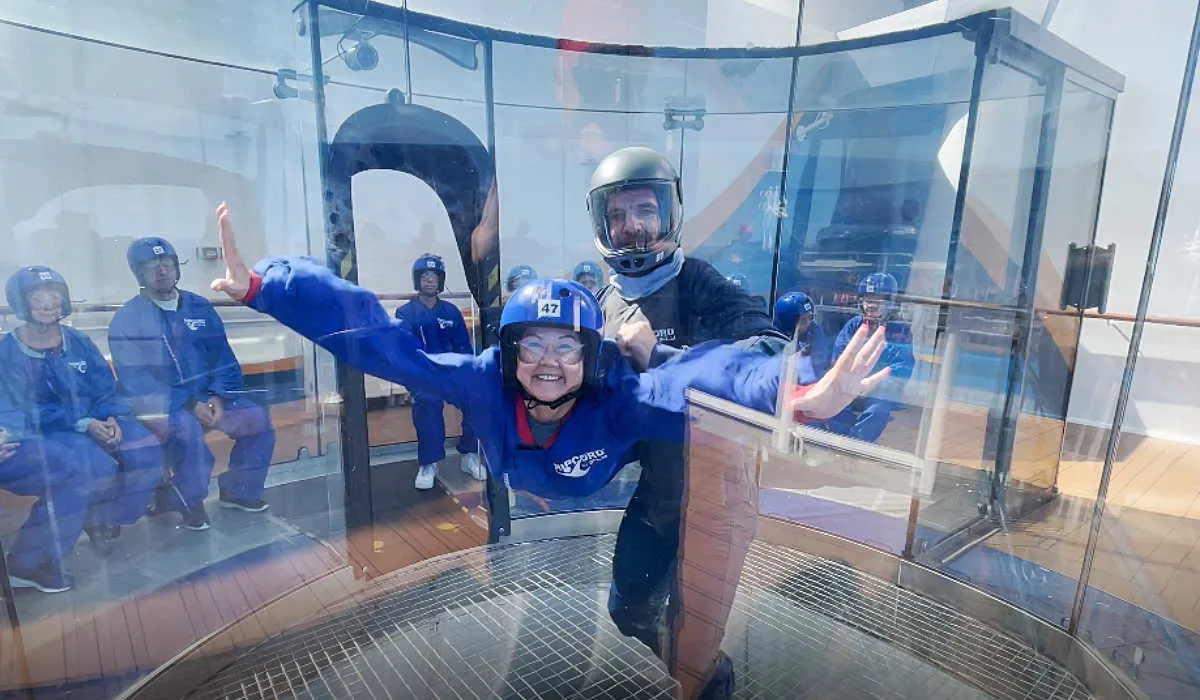 This includes watching a video, getting dressed, flying, and returning your gear. During each flight, the instructor is in the chamber with you to ensure it is a safe experience for all ages.
Before ascending the stairs to the outer area, you must remove all jewelry (including wedding rings), hats, glasses, and empty pockets. You cannot take a cell phone to capture photos.
During some of the flights, a ship's photographer is outside the chamber to capture you in flight. These photos are available for purchase during the cruise.
Many couples were frustrated because they were both scheduled at the same time, and neither could bring a camera or cell phone. They figured they would book a second session, but we learned guests could only do iFly once during a cruise.
If you are traveling with your spouse, I suggest booking different flight times so one of you can take pictures while the other is flying. Karen and I booked on different days and got great photos and videos of our flying experiences.
I found the design of the wind chamber to be incredible and being able to fly at sea was unique. There are no restrictions, but if you have previous back or neck injuries or are pregnant, you cannot fly. In my group, a family of four flew, including kids aged 4 and 7.
The staff adjusts the windspeed according to the person flying's size, weight, and skill. The children flew around 130-140 mph. Women typically flew at 140-150 mph, and men were at 160-170 mph.
At the end of the session, an instructor demonstrated their skills with a ramped-up speed of up to 225 mph. The instructor flew up to the chamber's top and did spins and flips. It was amazing to watch. However, these instructors have had 5,000 hours of flying time.
The iFly is complimentary and guests need to reserve using the app. While you can only fly once, the counter staff told us they might allow additional bookings if most passengers have experienced flying.
Since there is a USD 25 charge if you fail to show up for your reservation, be sure to cancel if your plans change!
Rock Climbing
I had tried rock climbing on the Serenade of the Seas when we sailed to Alaska earlier in the year. I loved it because it had been over ten years since I last tried indoor rock climbing.
The venue is outdoors on Deck 15 of the ship. As a result, it may be closed if the winds are too strong. They use a safety pulley system to catch you if you slip and no spotter is needed.
The helpful crew gives you instructions to get you started. Even if it's your first time, don't be afraid and climb only as high as you're comfortable with.
Three climbing tracks on the Ovation of the Seas offer varying heights and difficulty. I'm still very much a beginner so I took the easy route.
If you haven't tried rock climbing before and are an older person, expect to feel it in your muscles the next day! All good, and I always like to try rock climbing when sailing on Royal Caribbean ships.
Sea Plex
The Sea Plex is a multi-use space on deck 15 aft. During the cruise, guests used it for activities such as bumper cars, basketball, roller skating, volleyball, and pickleball. Most of the activities are open to all ages, but occasionally the space is reserved for teenagers.
On deck 16 above the Sea Plex, there are more activities for families and passengers of all ages. This space included no-charge X-Box games and table tennis. Other activities include table air hockey and foosball, but they are USD 2.50 per game.
I had the feeling of 'reliving my youth' because it had been years or decades since I had done some of the activities.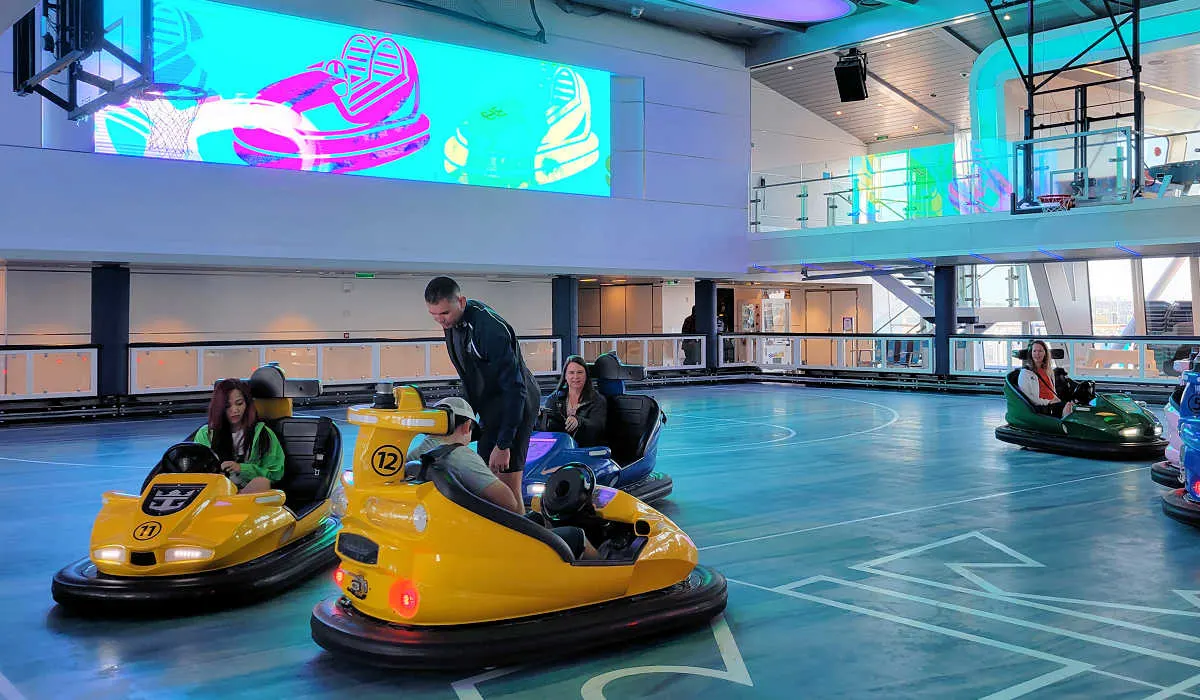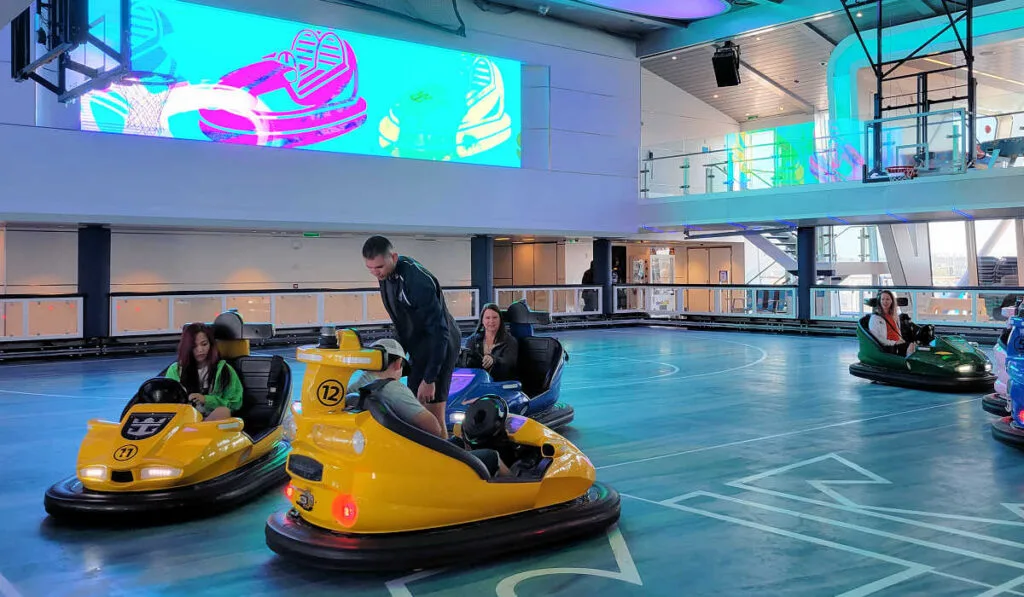 On embarkation day, we tried the bumper cars, and the lineup was only five minutes. However, later in the cruise, a couple of hundred people queued up around the entire Sea Plex, waiting to drive their bumper car.
Karen was the driver as we navigated toward the other innocent victims on the floor. Such fun to bump into strangers you knew you would never see again after the cruise! Ha ha ha. Be prepared to line up on sea days because it's a great family activity.
Before this cruise on the Ovation, I hadn't roller skated for over twenty years. My legs and calves kept telling me so! It was great fun to avoid falling and get some exercise at the same time.
The skates are the old 4-wheel style and not the modern inline style used. Helmets are mandatory, and elbow pads are available if you want.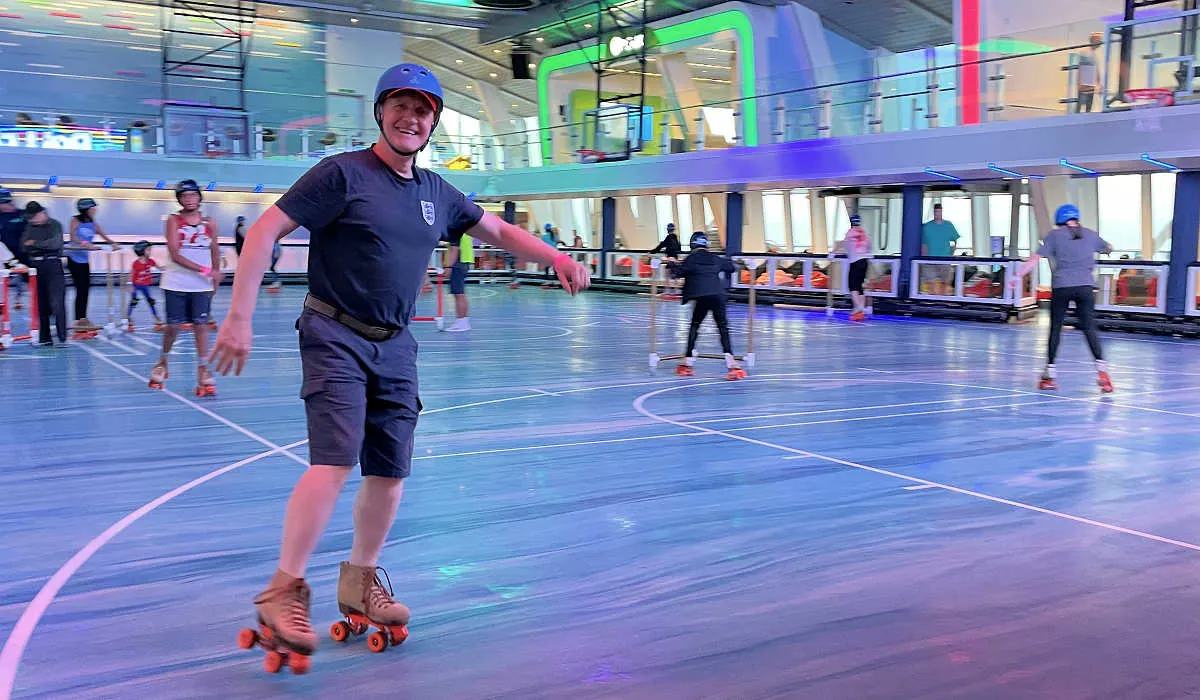 Trainer frames were available if you're new to skating or want to prevent falls. You need to add roller skating to your calendar on the Royal app before arriving to skate.
Near the Sea Plex, a small arcade has a selection of video games and pay-per-use machines.
Two70
The Two70 is a multi-purpose area in the rear (aft) of the ship. The expansive room has multiple levels with different seating and offers a 270-degree view of the ocean.
I found this to be an ideal space for several events. During the day, the venue is open for Bingo and other activities. At night, we watched Pixel Cabaret, a unique show only on Royal Caribbean ships.
The venue includes state-of-the-art sound and video. When the blinds are up, you get a continuous view of the wake at the back of the ship. However, when the blinds are down, they become giant screens.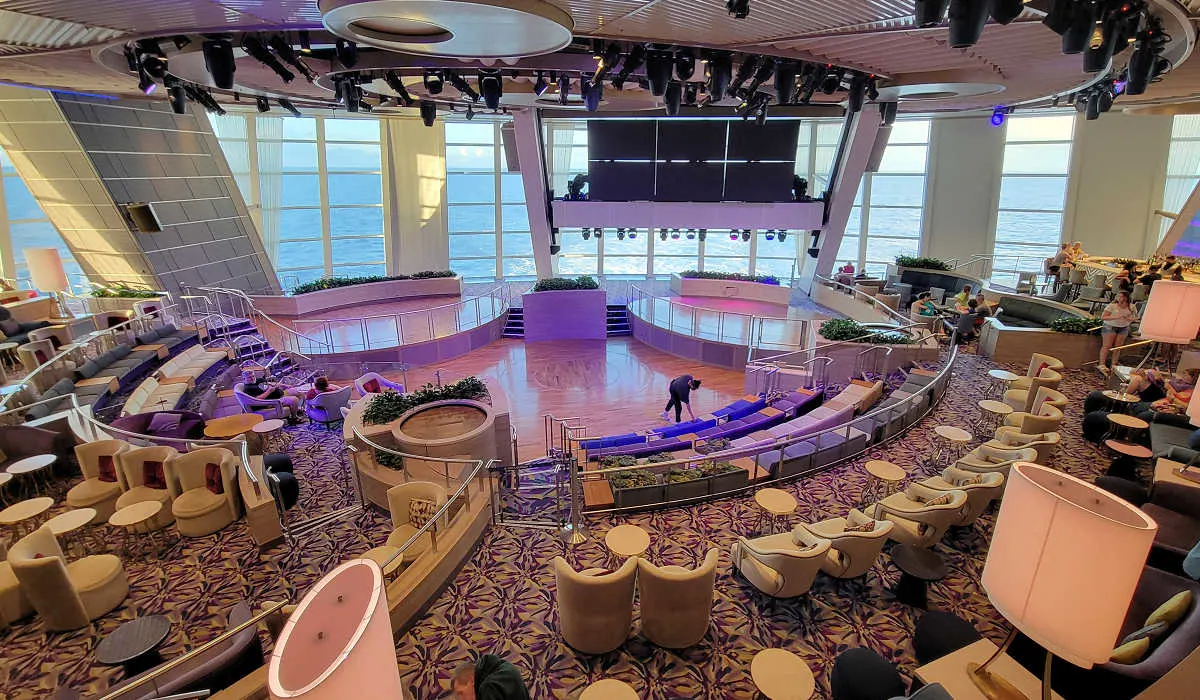 In addition, there are six extra-large monitors (which cost USD 1 million each) that are mounted on robot arms. The screens move throughout the show and create some amazing visuals.
When there were no events, we enjoyed working on a laptop, sipping a cup of tea, and escaping the crowds of the Lido deck. If you love to read, the Two70 provides a quiet spot when there are no events.
The Royal Esplanade
Most cruise ships have a multi-deck space in the middle of the vessel (often called the atrium) to showcase their design. However, the Ovation has the Royal Esplanade spanning decks 4 and 5 midship.
We found this space a great place to hang out and people-watch. The Esplanade felt like I was at a shopping mall.
Royal Caribbean appeals to the masses and is very popular with North American passengers. It makes sense that they would have a 'shopping mall' design central to the ship. At first, I didn't like the Royal Esplanade space, but I soon grew to love it!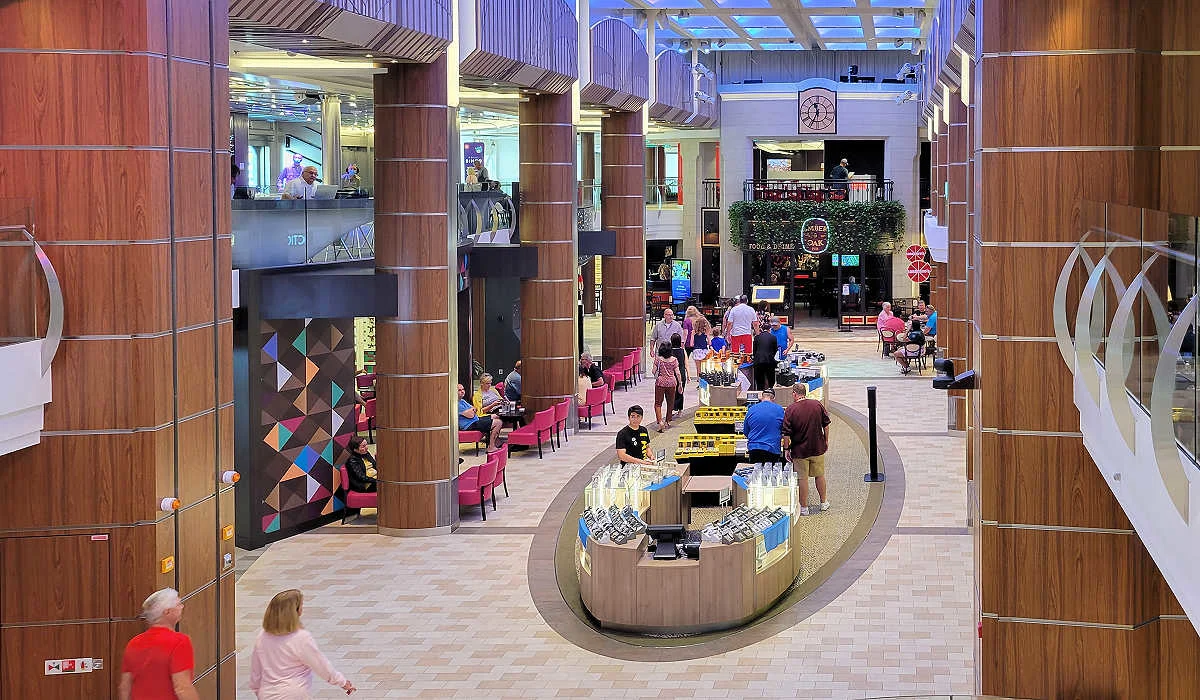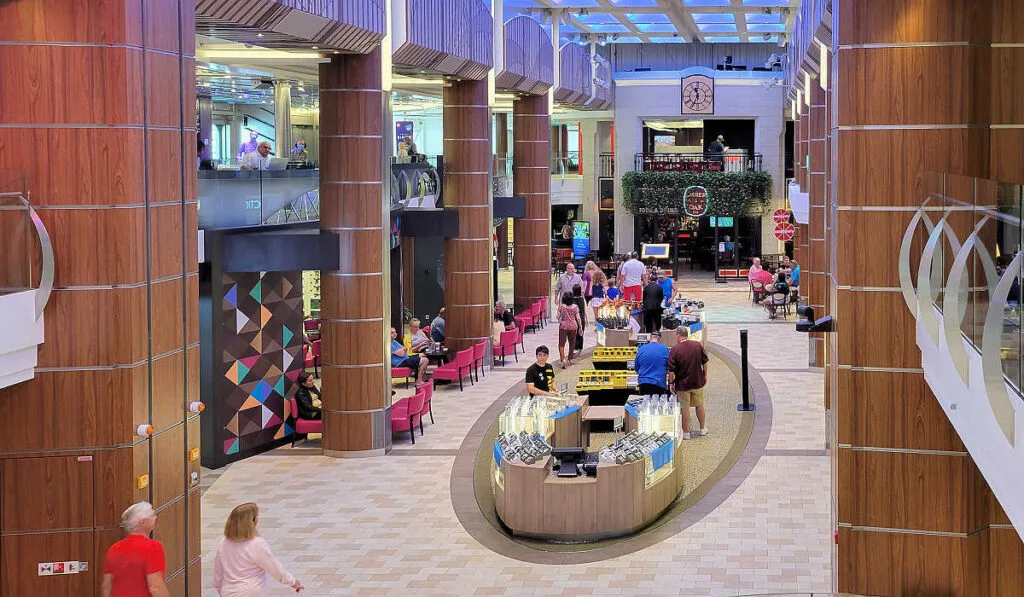 Many of the premium retail stores were in the Esplanade. On one of the sea days, they even had a 'sidewalk sale' with crazy crowds. Passengers were picking through "Everything $10," just like sales in the mall. How fun.
In addition to the usual Guest Services, there were many places to eat, shop, and enjoy yourself. They even had CCTV so you could check on your cabin TV and see how busy it was before heading there.
However, the Royal Esplanade took away the main elevators in the central atrium. While we are agile and can walk long distances, those with limited mobility might not like the fact that this mega ship has elevators in only two areas of the vessel.
The Stowaway Piano Player
One of the highlights of our cruise was finding a piano player with a full-sized upright piano in the elevator. Balixs (I hope I spelled your name correctly) was so impressive that we rode up and down for 15 minutes singing along to his tunes.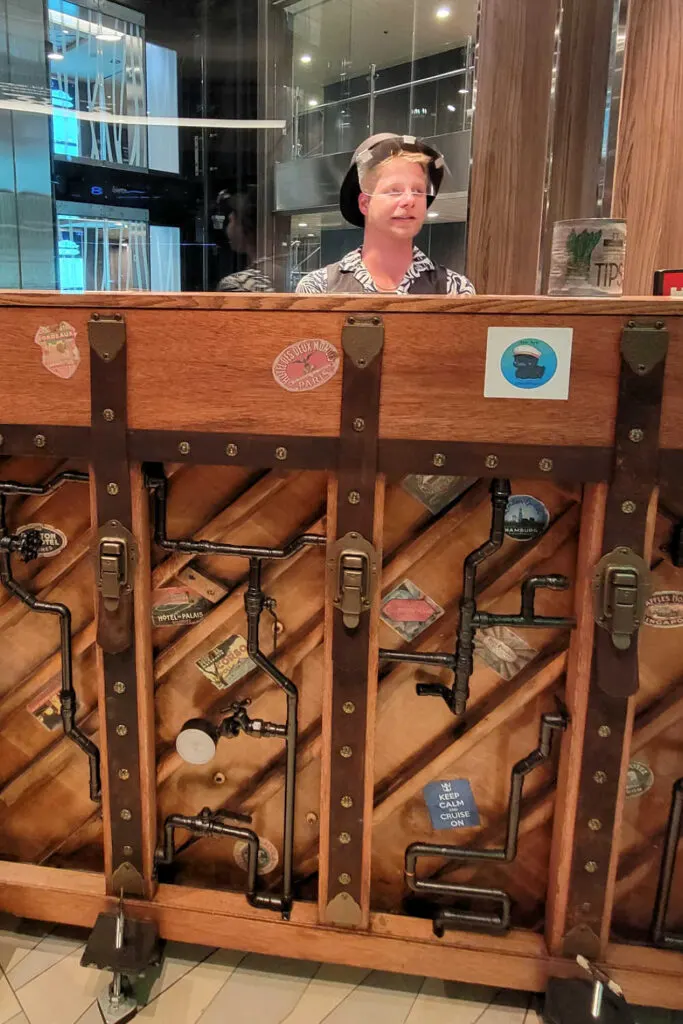 He played for 45-minute intervals before taking a break and returning to another elevator. Watching people's faces when the doors opened on random floors was funny.
Some were horrified and opted to wait for another elevator, while others jumped in and joined the singalong.
Our Balcony Cabin
We booked a guaranteed balcony and were given cabin 6696 on deck 6 near the aft. It was an obstructed balcony stateroom, and we could see the arm of one lifeboat and the top of the lifeboat below us.
Since we wanted the fresh air and not the view, we were happy with our allocated stateroom. Since the vessel was only six years old when we sailed, the room had a contemporary décor and color scheme.
While we only had two in our cabin, it had plenty of storage and space if you chose to cruise with more than two.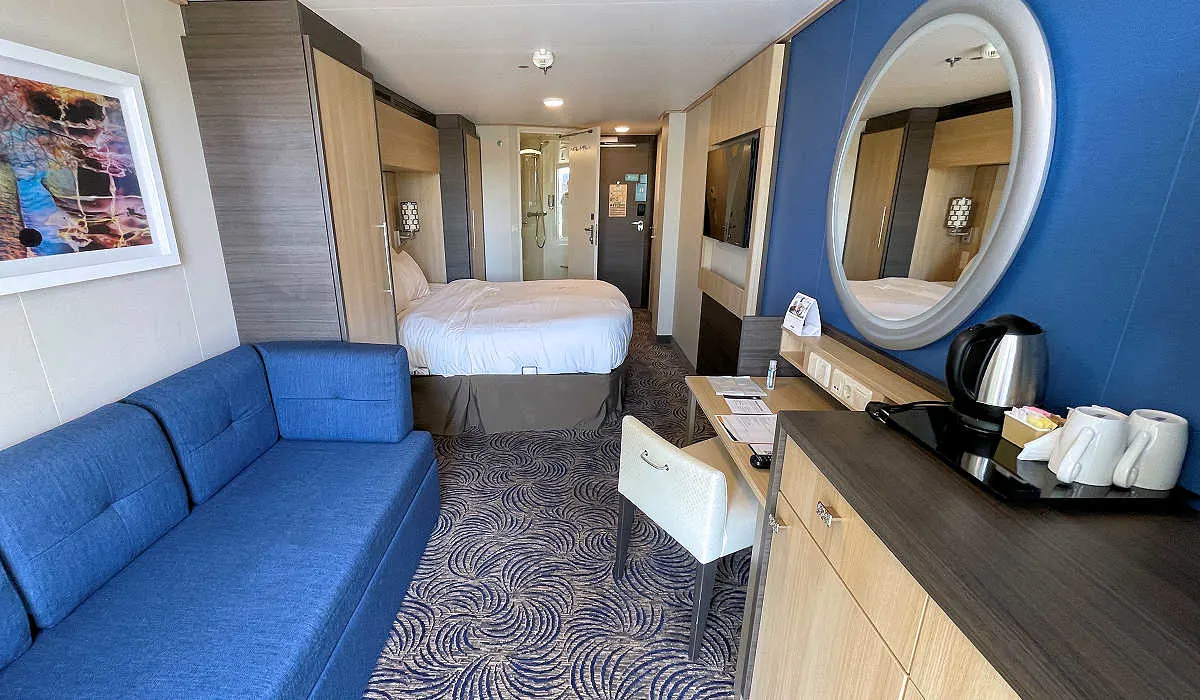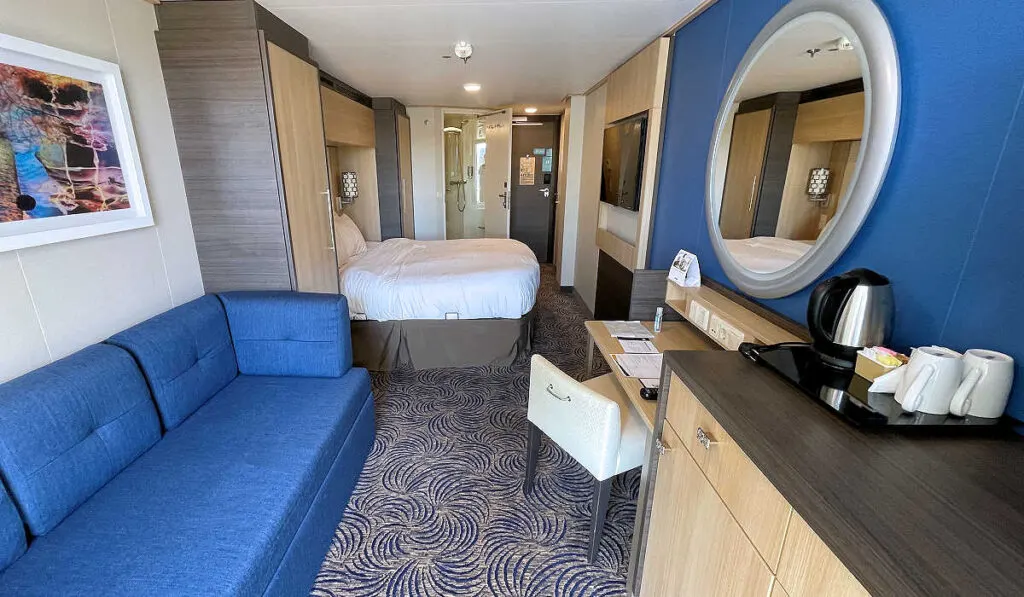 Interestingly, all the stateroom doors opened outwards into the hallway, and it took a while to get used to. You can read our detailed review of our Ovation cabin and others staterooms here.
The Royal App
Before you leave home, download the Royal app to your phone. It's available for both IOS and Android. I found the app to be one of the better ones compared to other cruise lines. However, all cruising apps are sometimes glitchy.
The My Calendar function was very convenient in helping me know what I had planned next. The only drawback is more than ever; you need to always have your mobile device with you.
As more cruise lines move to paperless operations, it isn't easy to cruise without having a mobile device. This may be a challenge for older travelers that sometimes struggle with technology.
If you prefer the "Cruise Compass" paper version, you can request one from your cabin steward.
Some of the activities required a reservation using the app. These included iFly, Northstar, roller skating, and watching Pixel's Cabaret.
For kids or adults that like games, the app featured a game called "Expedition Two70." The game challenged players to find four masked plaques around the Two70 venue, scan them, and complete a task. The tasks were complex, and I finished three of the four.
Dining Options
The Ovation of the Seas has 20 different places for dining throughout the day. There are main dining, signature restaurants, and laid-back options. This is typical of most cruise ships, but the Ovation has more choices due to its mega-ship size.
If you are a "Foodie" consider purchasing one of the upgraded dining packages to give you more options. Overall, we found the food on the Ovation to be very good and able to accommodate Karen's food allergies.
The Ovation of the Seas has four main dining rooms – Chic, Silk, The Grande, and American Icon Grill. Royal Caribbean assigned us the Silk dining room for our primary dining.
Even though the dining rooms have different décor, they have the same menu each night. Having consistent food choices makes it easier for the kitchens to prepare food.
For a more detailed review of all the dining and food options on the Ovation, this post has a detailed review of the Ovation food and specialty restaurants (including menus).
Bars And Lounges
If you've cruised before, you'll know that all cruise ships have many bars. Cruise lines make a lot of money on passengers who buy the drink packages. At the time of this writing, drink packages were available for USD 14 – USD 90 per day for the duration of your cruise.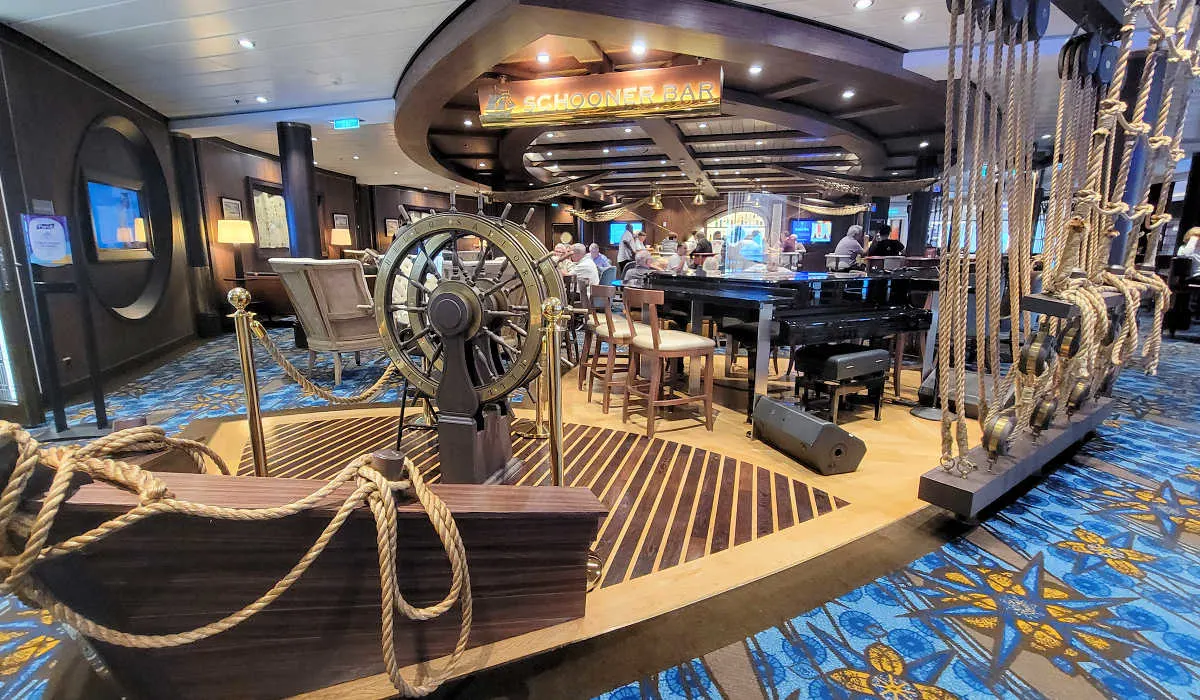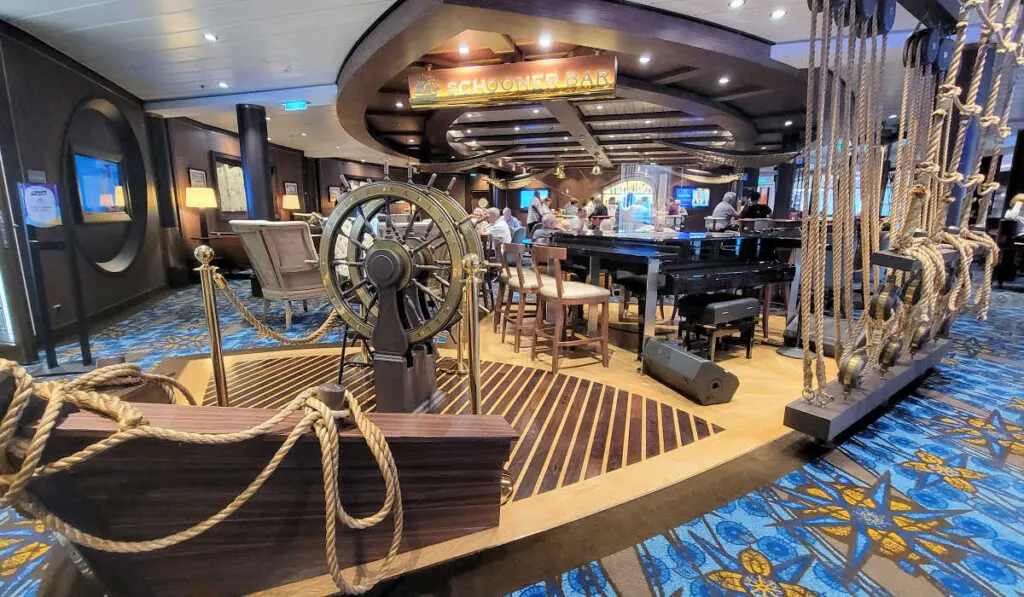 However, both persons sharing a cabin must purchase the package if they want it. Cruise lines require this to prevent one person from getting drinks and giving them to their partner.
Karen and I are not drinkers and have never purchased the drink package. You need to drink a lot for the package to pay for itself.
Like other RCI Quantum-Class ships, the Quantum class ship has many bars and lounges spread throughout the decks. Here are some you may enjoy:
Amber and Oak
Boleros
Casino Royale Bar
Diamond Club
Music Hall
North Star Bar
Schooner Bar
Two70 Bar
Vintages Wine & Tapas Bar
Bionic Bar
The Bionic Bar is unique to Royal Caribbean and is really a "Million $ Bartender." You order your drink through one of the ship iPads, and the robotic arm magically does the rest. Interesting that the two bionic bartenders were miniature versions of the movable monitors in the Two70.
Guests can choose from hundreds of pre-programmed drinks. In addition, you can select your own ingredients and make a custom drink. The iPad will confirm the cost before you finalize your order.
I ordered a Bionic Bahama Mama and the Bionic "bartender" made it perfectly. My drink was five parts Grenadine, three parts pineapple, three parts orange, one part Malibu, and two parts Captain Morgan.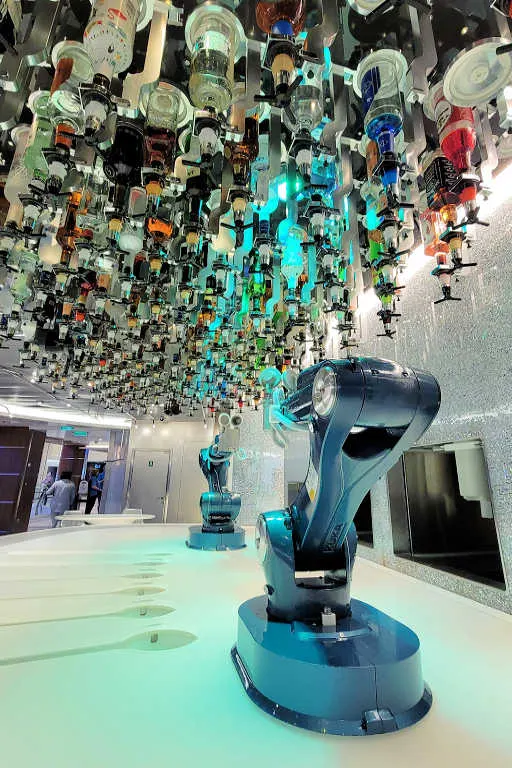 A large monitor showed the wait time, ingredients of my drink and had silly jokes. Watching the robot stir or shake drinks according to the recipe was fascinating. There are hundreds of bottles of alcohol above the robots, and it selects from whatever bottle it needs.
Once finished making the drink, the robot pours the contents into a plastic glass. You get your drink by swiping your cruise card against the bar, and the machine pushes the drink toward you.
Some might call this gimmicky, but I loved the idea. The best part is the drinks are all the same price you would pay at any of the bars on the ship. My drink was USD 12 plus gratuity. If you ordered a non-alcoholic drink, the cost would be USD 6 plus gratuities.
Although the Bionic Bar doesn't require a bartender, it wasn't open 24 hrs. Hours were generally noon to midnight, as an attendant was on hand to help with ordering a drink.
Ovation Of The Seas Smoking Areas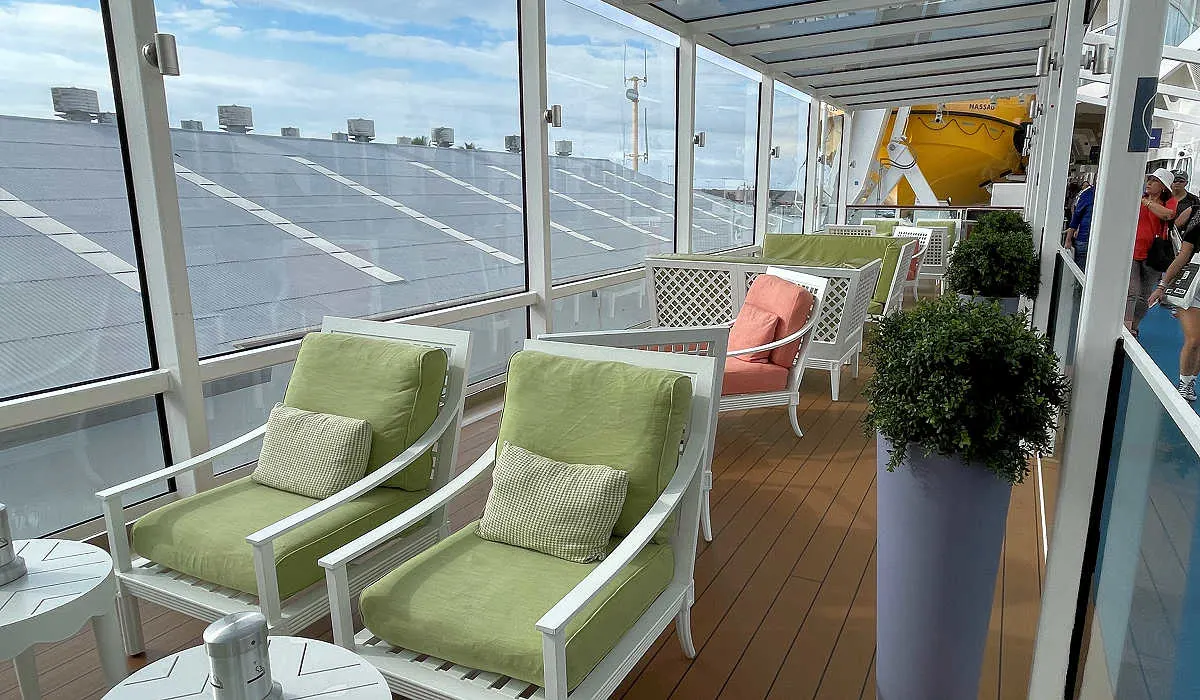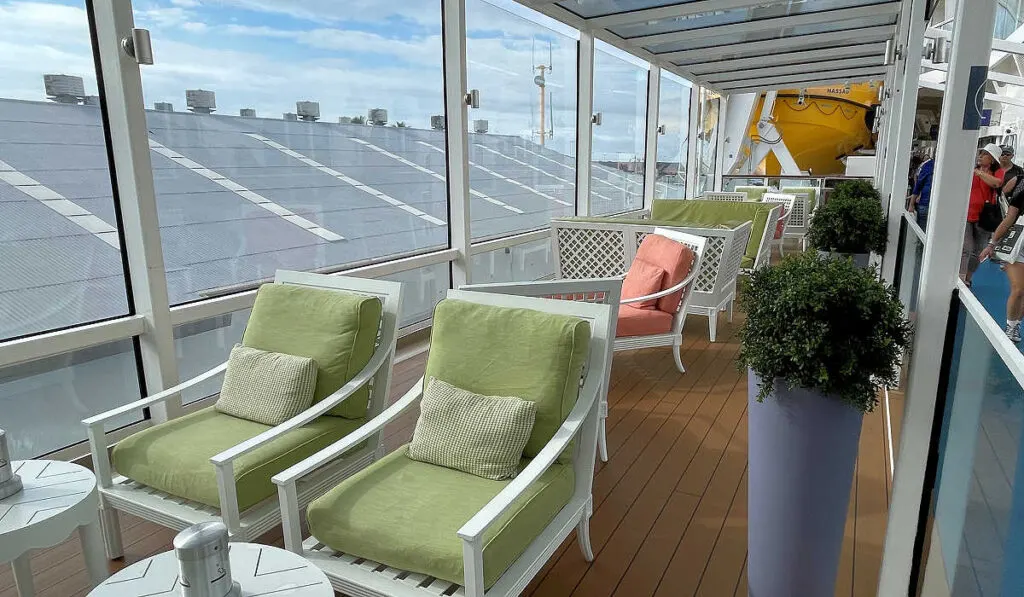 For those who smoke, the Ovation has an enclosed area on the starboard side of deck 5 near the aft. It's a large outdoor space between two lifeboats.
There was also another smoking area on deck 14 port side. Inside the vessel, smoking was permitted in designated areas of the casino as long as they were actively playing.
Pools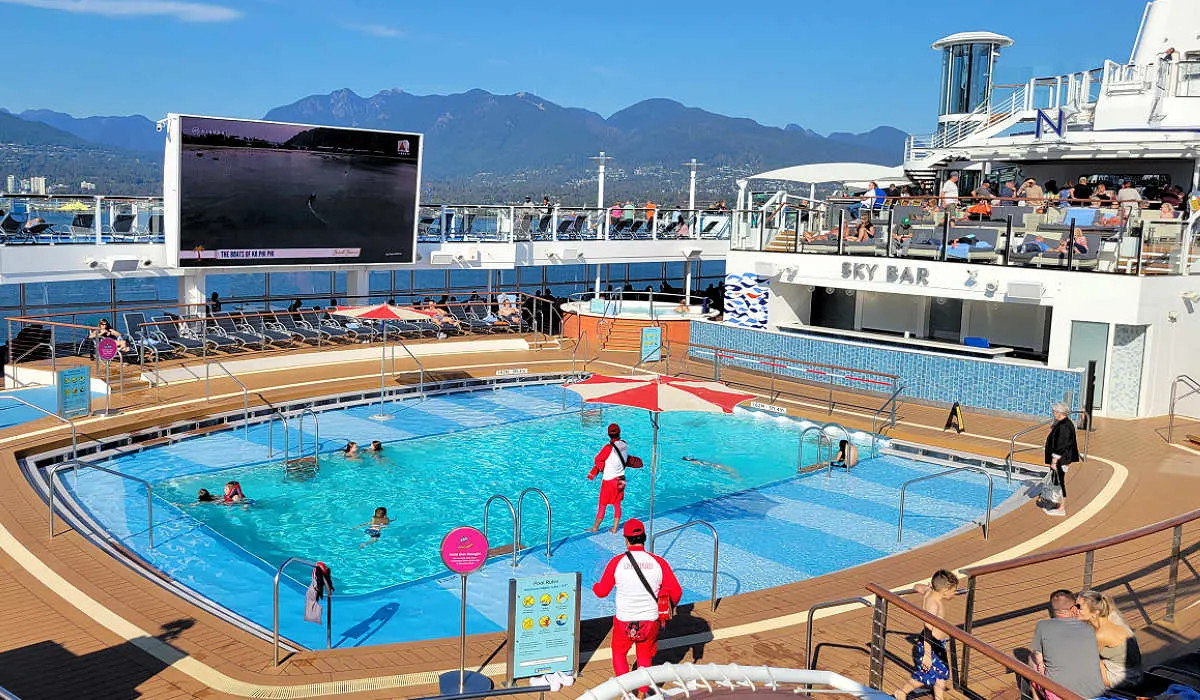 The Ovation of the Seas has four pools and eight whirlpools. Two of the pools are indoors, making it the perfect vessel for colder destinations like Alaska. As we approached Hawaii, the outside pool was packed with guests eager to soak up the sun.
The Splashaway Bay is for kids only and features a lazy river. Even though our cruise didn't have a lot of kids, this was a popular area. On most days, it opened from 10 am to 5 pm.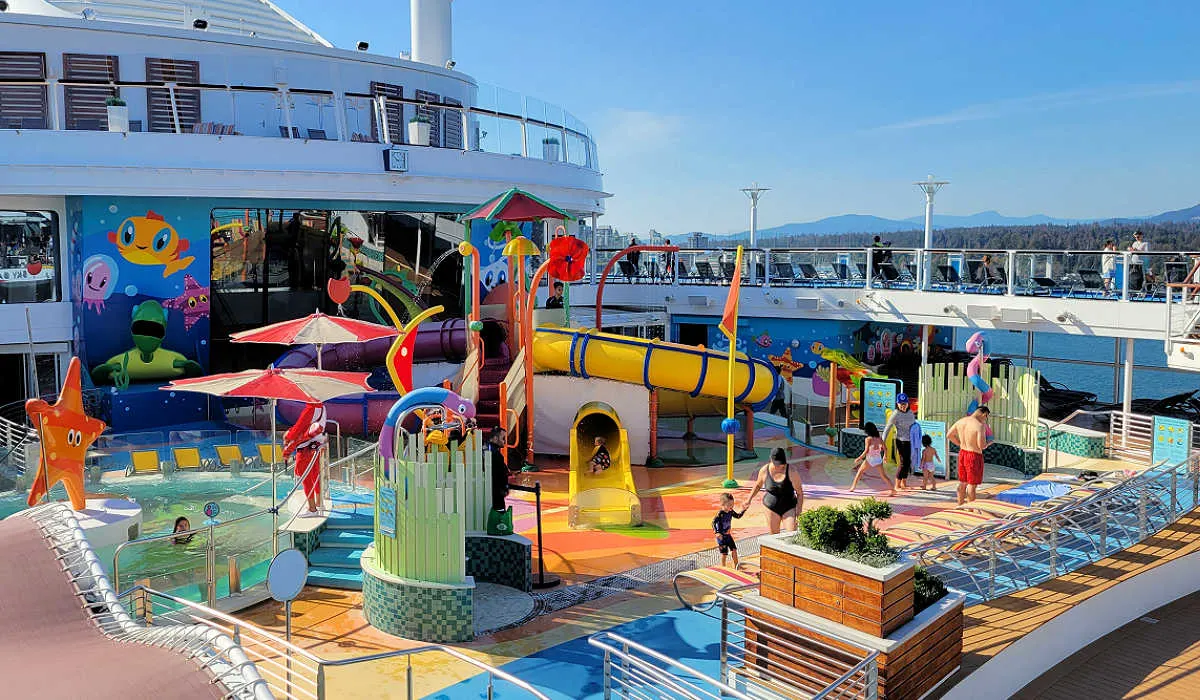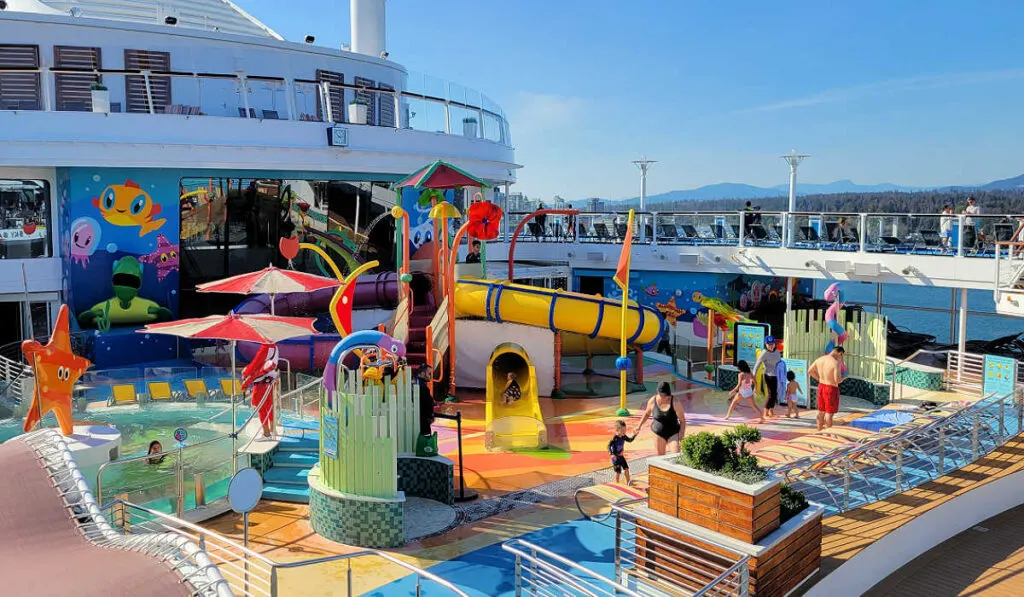 The indoor family pool was the least crowded of the pool areas. It featured a deeper pool of 5 feet+ and a shallower one for kids. However, many children played in deeper waters since Royal Caribbean provided kids life vests.
One of the innovative pool areas is in the Solarium. It has five levels of small pools and hot tubs and is adult-only. However, on our cruise, finding a lounge chair on seas days was often tricky due to popularity.
The hours varied at the Solarium. Some days it opened at 7 am, and other days at 9 am. The pools were generally open until 9 pm, and the hot tubs an additional hour.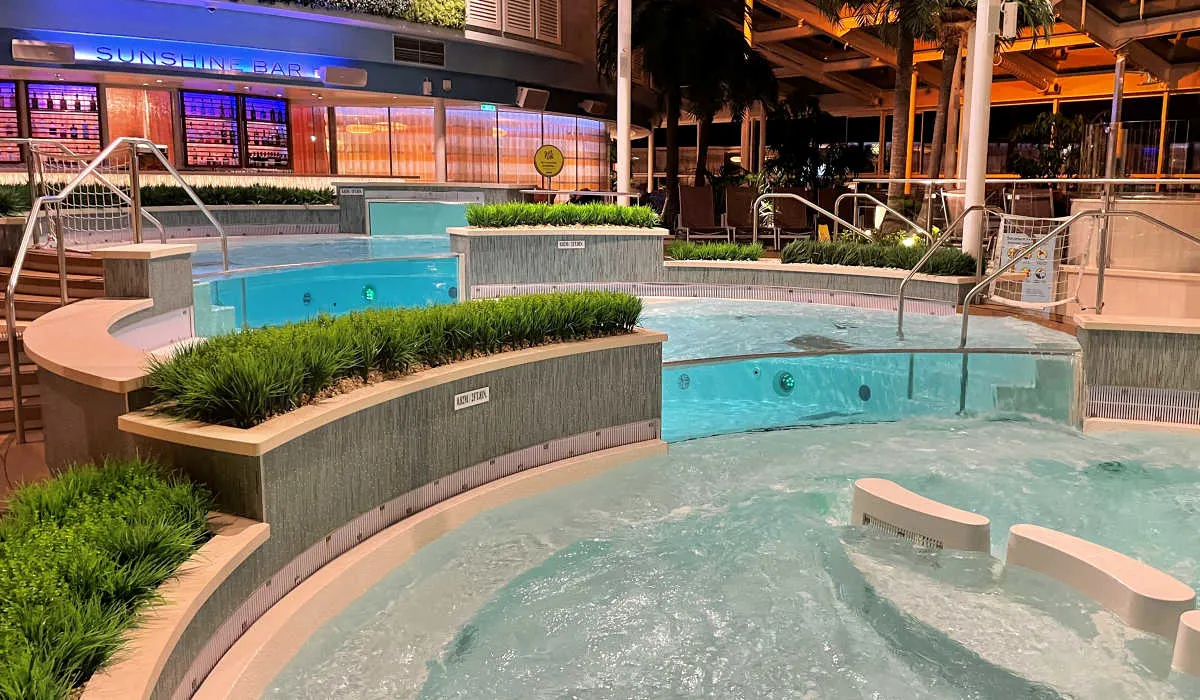 Since the Solarium had the Sunshine Bar and Bistro, it was a great place to enjoy a light breakfast, snack, or drink after a busy port day.
Health And Fitness
The Ovation of the Seas has a fully equipped gym and spa. I was impressed with how much equipment was in the gym. Although this was the largest ship I had ever cruised on, I was not surprised.
Small cruise ships tend to have fewer treadmills, bikes, rowing machines, etc., because they have fewer passengers. The gym is open daily from 5 am to 10 pm.
Guests can opt for a personal fitness class at USD 99 for 60 minutes. Pilates, yoga, spin bike, and body sculpt boot camp group classes were available at USD 20 per class.
Vitality Spa
The spa is open daily from 8 am to 8 pm. If you've ever cruised before, you know there are lots of spa options on most cruises. The Ovation of the Seas is no different.
You can pamper yourself with services such as:
Anti-aging facials – USD 200
Couple seaweed massages – USD 450 – 600
Detox wraps – USD 230 – 300
Swedish massages – USD 150 – 300
Acupuncture – USD 20 – 180
Fire and Ice manicure – USD 129
Teeth whitening – USD 150 – 260
Unfortunately, there are no complimentary saunas or steam rooms.
Kids And Youth Area – Adventure Ocean
Royal Caribbean is a family-friendly cruise line. As a result, it's no surprise they have an excellent area for your kids. The activities are organized according to their age group. Teens are aged 12-17. Youth are 7-11 and kids 3-6.
The Sea Plex is one of the best areas I have seen on a cruise ship for kids. Activities include scavenger hunts, roller skating, dodgeball, boogie boarding, pickleboarding, and much more.
Your children must be three years and above. However, a babysitting service for children under three is available for USD 6 per hour.
Shows And Entertainment
Royal Caribbean prides itself on the high-quality shows they offer on its Ovation and Quantum-class ships. The pandemic had impacted cruising and the availability of shows. As we put COVID behind us, high-quality productions are returning to cruising.
Most cruise lines offer a mix of comedians, variety shows, and other family-friendly entertainment. For us, the entertainment was good and something we looked forward to after dinner.
Royal Caribbean has commissioned several shows available only on their ships. They also fly in performers for various cruises, which always keeps it interesting.
One of my favorite shows from a touring group was 'Oh, What a Night.' This group of four guys paid tribute to Frankie Vali and the Four Seasons. Classic cruising entertainment!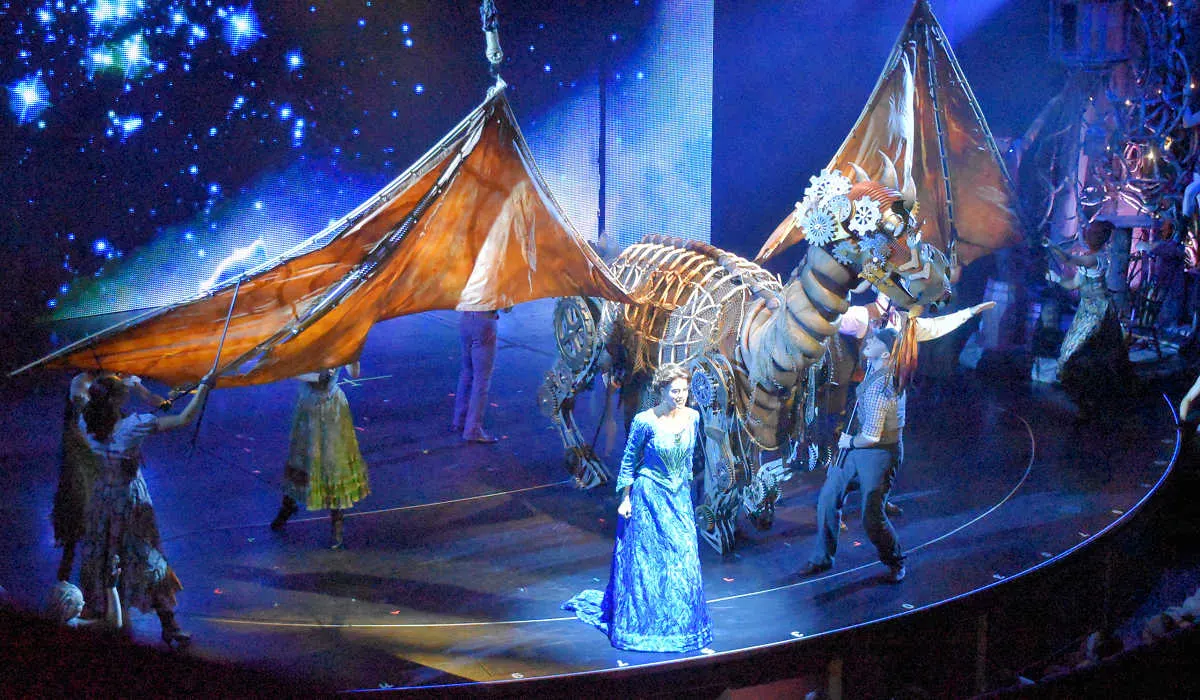 Other big hits for us were the 'Live, Love, Legs' show and 'The Beautiful Dream,' which showed in the Royal Theatre.
Available Upgrades And Services
VOOM Internet
Royal Caribbean offered two internet packages – Surf and Surf+Stream. At the time of our sailing, the Surf package was USD 22 USD/day, and the Surf+Stream was USD 27 USD/day. Note that these are full-voyage prices over the 9-days of our cruise.
Alternatively, guests can purchase 24-hour Wifi, but the cost is substantially higher. Single-day rates are USD 26 for Surf and USD 33 for Surf+Stream.
We did not purchase the internet packages and prefer to buy roaming packages from our cell coverage provider. As Canadians, we purchase U.S. Roaming packages giving us full access in Seattle and Hawaii (our ports) for CAD 35.
Laundry
Royal Caribbean does not offer self-serve laundry on any of its ships. We missed this feature and enjoyed it on Princess and Cunard when we sailed with them.
Alternatively, you can fill one of their paper laundry bags and have your clothes washed and folded. This cost USD 35 USD during their promotion, and they will return your clothes within 24 hours.
However, the bag could only include pajamas, socks, shorts, underwear, swimwear, and t-shirts. All other items are billed at regular prices.
Medical Services
All cruise ships offer medical services. On RCI ships, medical services are free for treating COVID, gastroenteritis, seasickness, and accidents. However, for all other treatments, the company will charge fees.
It's your decision if you want to purchase medical insurance before your cruise. On another cruise line, we met one fellow passenger who took a nasty fall on the slippery floor in the spa.
She ended up with a medical bill of USD 800 for one night of treatment. Fortunately, she had purchased medical insurance and was reimbursed after her cruise.
The Amazing Art And Decor
All cruise lines use art to enhance the design of the ships. I always appreciate the art I see on board each vessel we travel on. However, I was extra impressed with the statues, wall art, and even the cool furniture on the Ovation of the Seas.
On top of the Sea Plex and hanging onto the deck, a giant mom and baby panda bears are the ship's mascots. The Quantum of the Seas and Anthem of the Seas have similar giant animal sculptures.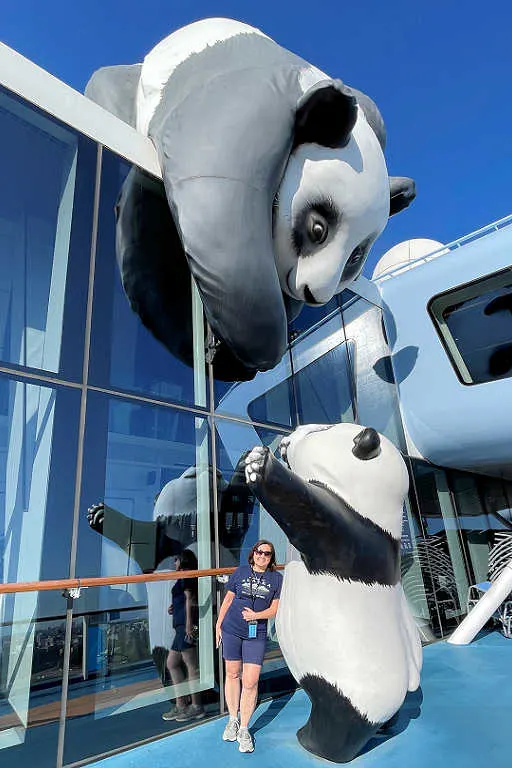 Other Spaces On The Ovation Of The Seas
The ship's library wasn't confined to a room on the Ovation. Instead, it took up an area above the Two70 at the aft (rear) of the ship on Deck six. The library is modest, with a limited selection of books and games, and we saw one jigsaw puzzle.
Most cruise ships have libraries, but I have seen better libraries on other cruise lines. Each day, passengers could pick up Sudoku and word search puzzles from this area.
On the opposite side of the Two70, guests can find The Workshop. This is a quiet space that has simple tables and chairs. It's an area you can read, work on your laptop, or just enjoy the views outside.
Fun Food Facts
You may not realize how much food a ship like the Ovation prepares and uses in a week. Here are some fun facts that may surprise you.
| | | | |
| --- | --- | --- | --- |
| Meals prepared | 154,000 | Ice cream | 8,000 gallons |
| Desserts prepared | 230,000 | Milk | 8,000 gallons |
| Appetizers prepared | 200,000 | Cheese and butter | 5,800 lbs |
| Steaks | 23,000 | Beer | 10,200 bottles |
| Beef | 15,600 lbs | Beer | 8,500 cans |
| Chicken | 16,000 lbs | Wines | 2,225 bottles |
| Pork | 10,517 lbs | Vodka | 550 bottles |
| Lobster | 1,800 lbs | Whiskey | 175 bottles |
| Seafood | 11,000 lbs | Potatoes | 18,000 lbs |
| Fresh fruit | 45,000 lbs | Fresh vegetables | 62,000 lbs |
| Fresh eggs | 84,000 | Slices of pizza | 18,000 |
Final Thoughts
In a word, the Ovation of the Seas is an AMAZING cruise ship. I loved all the activities and fun things to do. We enjoyed our cruise so much, we sailed her sister ship, Quantum of the Seas seven months later.
On other cruise lines, Karen and I would spend more time doing relaxing things like puzzles or games. Those things seemed too dull when there were so many other things to do.
The Ovation is a massive ship with a capacity of nearly 5,000 passengers. Smaller ships simply do not have the space for things such as FlowRider, iFly, or the North Star. Karen and I love to live life to the max, and the Quantum-class ships provide many unique things.
I especially liked the Two70 space because of the incredible views and innovative layout. It was a good venue for simple things like Bingo during the day. At night, it would transform as we watched great shows.
Sailing on the Ovation of the Seas was only my second cruise on Royal Caribbean. The Ovation was a significant upgrade from my first RCI cruise on the Serenade on the Seas. I have become a Fanboy for Royal Caribbean and can't wait to sail on an Oasis-class ship.
I hope this review of our experience has been helpful and you will consider the Ovation of the Seas for your future cruises. You won't be disappointed!