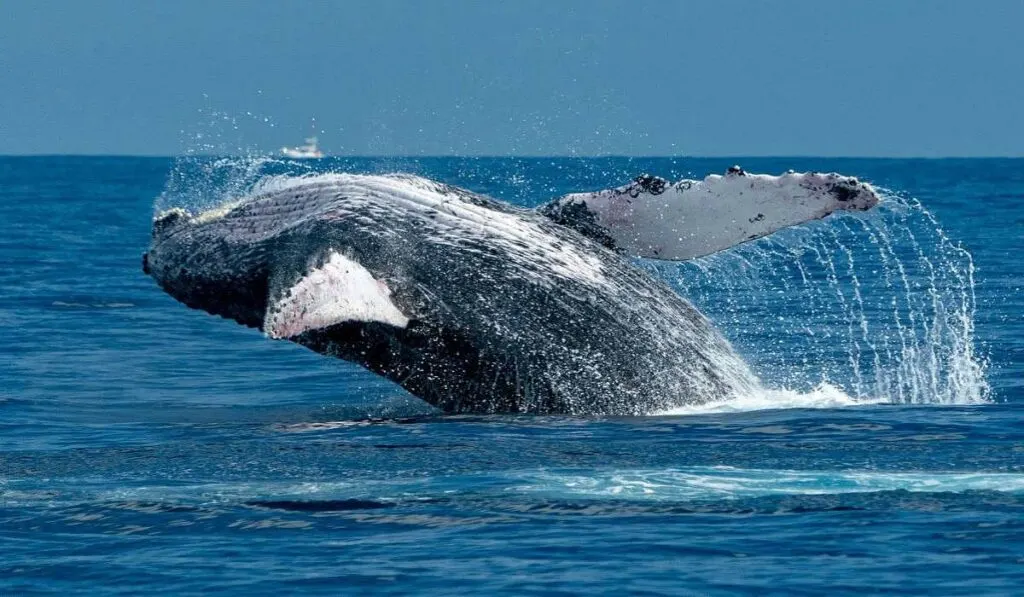 Cabo San Lucas (commonly called "Cabo") is one of the best Mexican Riviera ports to go whale watching. During the winter months (between December and April), visitors can see humpback whales, gray whales, dolphins, and sea lions in the Sea of Cortez and the Pacific Ocean.
Since whale watching has long been on my bucket list, I couldn't wait to sign up for this excursion in Cabo San Lucas on our recent cruise to Mexico.
We boarded a large catamaran operated by Caborey Tours, along with other cruisers from the Majestic Princess, for this tour.
Whale Watching Tour Cost
Costs of tours can vary, but you can expect to pay about USD 80 per person. These tours last 2 to 2-1/2 hours at the time of this writing.
In comparison, whale watching tours in Alaska cost double the price for a similar experience.
Whale Watching Season In Mexico
Whales are migratory mammals. They have a long history of spending time in warmer equatorial waters to breed. Afterward, they migrate north or south to polar regions to feed during summer.
They have one of the longest migrations, with a journey of 3,000 miles. The trip can take four to eight weeks.
For example, the whales that feed in Alaska from May to September will migrate to Hawaii or Mexican waters, where they mate and give birth. So, there are many great places to enjoy whale watching on the west coast.
As a result, the Los Cabos whale watching season runs from mid-December to mid-March along the Mexican Riviera.
In fact, whale-watching tour operators only offer tours during those months, and most will guarantee whale sightings.
During our cruise in early March, humpback whales were plentiful to see less than a mile off the coast of Cabo San Lucas. On a later cruise, we took a tour to Marietas Islands where we saw multiple whales.
Although our whale-watching excursion booked through Princess Cruises, was only two hours, we saw Land's End up close and watched whales almost the entire time we were sailing.
Choosing The Best Whale Watching Tour Operator
When cruising, you need to decide where to book your shore excursions. Do I go with one of the excursions recommended by the cruise ship operator, or do I choose one through the local businesses?
If you're traveling to Cabo by cruise ship, the cruise line-recommended excursions are typically more expensive.
After all, they profit from each of the trips they sell. For example, during our last cruise in 2017, we decided to go tandem parasailing in Cabo, off the back of a boat.
The parasailing excursions sold by Carnival were about USD 79 per person. Once on shore, we met one of the local business operators who offered parasailing tours and, after some haggling, negotiated a price that was about USD 80 for both of us!
However, as long-time cruisers know, you must book through the cruise line if you want to guarantee your cruise ship will not leave without you if you are late returning from your excursion.
We've heard stories about excursion operators returning to the dock to unload their guests, only to find the cruise ship had left at the scheduled time.
On our last cruise, the Captain came on the loudspeaker when the ship was supposed to leave port to announce that "we were waiting a few more minutes to get our last guests back on the ship."
This likely would not have happened if they had booked through the cruise line. Another significant advantage of booking through the cruise line is that you often (although not guaranteed) get a higher quality experience.
Cruise line-recommended excursions have been pre-vetted for their quality and service. If an operator receives many complaints, the cruise line removes them from the "recommended excursions" list.
The cruise line wants to preserve its brand for quality, reliability, safety, etc.
Selecting A Whale Watching Vessel
Different tour operators offer different types of watercraft when going whale watching. When cruising with Princess, they offered two types of excursions in Cabo.
The first is a Zodiac-styled boat (seating a max of 12 people), and the other is a much larger catamaran-style vessel.
Picking the right boat depends on if you want to capture great photos and videos during your whale-watching experience.
If you suffer from seasickness, you may want to forego the Zodiac since I read reviews of some people getting very sick. Princess Cruises offered these tours at the same price.
Zodiac-Style Boat
The Zodiac-style boat is much smaller. It can maneuver quickly, arrive at the whales first, and generally get much closer.
However, in most regions of the world, for the protection of large sea life such as whales, whale sharks, dolphins, etc., operators must maintain a minimum distance of 60-100 meters.
While the Zodiacs may follow the movement of the pod of whales, they are still bound by the same restrictions as all boats in the area – large or small.
Also, when riding in a Zodiac, their small size makes them very susceptible to choppy water, waves, wake from other boats, etc. For us, since we wanted great photos and videos, a Zodiac would not be any good because of the constant movement of the boat.
Even though modern phones and cameras often have some 'image stabilization,' I prefer to use a DJI OM5 gimbal. Although, had we been on the Zodiac, it would have been impossible to get great video due to ocean swells.
Also, because your seating is minimal, you may be facing the wrong way when trying to take pictures of whales surfacing. For safety reasons, passengers cannot stand up to take photos.
But, if you want to be close to the water level, a Zodiac will give you a better experience because you can literally touch the water!
There are instances where whales have breached near small boats and done significant damage. In 2015, a whale breached and fell onto a small boat, killing one and injuring two more.
Larger Catamaran-Style Boat
Initially, we chose to take the excursion on a zodiac vessel. However, our cruise itinerary was changed a week before embarkation day. Our new schedule gave us a short day in Cabo, from 7 am to 1 pm.
Cruise passengers booked on the zodiac tour needed to gather at 6:15 am. Since Karen is not an early bird, getting a shower and having breakfast before 6:15 am was a deal-breaker.
In the end, we decided to book with Princess Cruises and their 2-hour Catamaran tour, scheduled for 9 am. The slightly later excursion gave us a meeting time of 8:15 am.
With such a short day in port, catching an early tender and taking a tour with someone else would have been difficult.
At USD 80 per person, Karen thought the excursion was a bargain compared to similar tours in Alaska. They usually charge a USD 170 fee.
Cabo is a tender port, so we waited on the cruise ship to board the tender carrying all the whale-watching tour-goers.
Once on land, we quickly walked the short distance to the queue for Caborey's large catamaran. It was docked less than 100 feet (30 meters) from where we disembarked our tender. Very convenient!
Our Whale Watching Experience With Caborey Tours
The Caborey tour boat is large and impressive with its glistening white paint in the Cabo sunshine. As we were still under limited COVID restrictions, every passenger had to sanitize their hands before boarding the ship.
We quickly raced upstairs to the top deck to get a seat and the best views.
During our excursion, the much larger catamaran vessel had about 50-75 people. I would estimate the boat could have carried up to 200 people.
There was a large open-air upper deck, a fully enclosed lower deck, complete with bathrooms and a kitchen, and another deck below that.
During our cruise in Cabo, the weather was sunny and warm. With a temperature of 80 degrees F. (27 degrees Celsius), it was slightly cooler than our days in Mazatlan and Puerto Vallarta.
Immediately I had the sense this was a "party boat" with lots of music playing, and all the crew had big smiles.
Within minutes we were offered bottles of water and rum punch. Karen and I ordered a juice and sat near the back of the boat.
Sailing out of the Cabo harbor is exciting, anticipating a new adventure. We were surrounded by many boats and yachts of all sizes. Soon, the shore faded away, and we found ourselves taking pictures of the rocky Land's End.
Basking on the rocks, sea lions could be seen enjoying the sun.
Let The Party Begin!
As a Baby Boomer, I couldn't help but notice all my favorite songs of the '60s, '70s, and '80s were blasting away over the sound system. There were frequent announcements from the MC, Jose, who kept the party-like atmosphere going.
Corn chips and salsa were always available to provide an excellent snack as we enjoyed the sun and warm breezes. There was bottled water, juices, and unlimited alcoholic drinks too.
Having traveled from Canada, the warm, beating sun was a welcomed change from the wet and cold weather we left in Vancouver.
Within just a few minutes, people were gathering at the boat's bow taking pictures of the coastline and rugged rocks of El Arco. Then the catamaran headed out to the area where whales frequent.
Finding Whales
The catamaran provided a smooth, stable ride, and it was easy to shoot great photos. Also, on the upper deck, you could see much farther and scan the horizon, searching for whale sightings. It was only about 5 minutes until we spotted whales.
"Captain Sergio" maneuvered the boat closer to the whales. Because of the distance restrictions in viewing whales, a circle of approximately a dozen boats, large and small, gathered.
During those early moments, Karen and I quickly shot photos and videos of the whales breaching. My heartbeat quickened because this was the first time I had been so close to the gentle giants.
I've seen many photos and watched countless YouTube videos of whales, but these were REAL and not far from me!
While all boats maintained at least a 100 meters distance, some broke off to view larger whales nearby. We had the best view as the Captain held the boat's position.
Then, we spent the next hour just watching a mother and her baby play in the warm waters of the Gulf of California. Watching passengers move to one location and jostle for the next breaching whale viewing spot was funny!
The MC joked that we shouldn't all gather to one side, as we might tip the boat.
In the end, we were so glad we took the larger vessel because we had a much more comfortable ride, enjoyed complimentary food and drinks, and the onboard bathrooms were convenient!
Those Amazing Whales
There appeared to be a mother and her baby diving, breaching, and slapping the surface with their fins. On occasion, they created a small fountain as a seawater flume shot into the air from their blowhole.
At times I would jockey to get a better position at the railing to have unobstructed views of the whales. I was amazed that these giant mammals could easily propel themselves out of the water.
Then, they created a massive splash as they contacted the ocean.
The waters got quite choppy as we got further into the Pacific Ocean. We could see the little Zodiacs bobbing roughly in the swells. We were thankful to be watching the whales from a stable larger vessel.
The humpback's performance went on for over an hour before we decided to take advantage of the free drinks. They certainly weren't getting drinks on the Zodiac!
I was in tropical Mexico, so I couldn't resist adding to the fun, and I ordered a giant Pina Colada for Karen and I to share.
Another great part of the excursion is the chance to meet other cruisers. We shared a table with a Mom, Dad, and older son, from Sacramento, California.
Almost immediately, we shared stories about how many cruises we had taken. We discussed our Majestic Princess cruise and other shore excursions.
After an hour or so, Jose announced, "the whales are still here," so we watched them a while longer. We were amazed that they were almost performing for our enjoyment.
While Karen has taken many whale-watching tours in Juneau, Alaska, she only saw humpback whale backs and tails. Since whales spend their time feeding, she never witnessed a breaching or a bubble net feeding.
Whale watching in Mexico was much more exciting, and we enjoyed constant breaching for over an hour.
Heading Back To Shore
Sometime after 90 minutes, and after taking many photos and videos of the whales, there was an announcement that we were heading back to shore. We passed El Arco one more time before heading into port.
The music continued, and at times I found myself singing along to the old classic songs.
As we gently sailed into the port, we saw the packed restaurants, the yachts, and the hundreds of people onshore.
As if trying to advertise that Caborey Tours was the "Party Boat" for whale watching, the host encouraged us to sing along to Neil Diamond's Sweet Caroline song.
Imagine 50 people on the boat's top deck as we neared the dock, singing at the top of our lungs.
I can still remember the faces of the people sitting in one of the waterfront restaurants looking at our boat and seeing what fun we were having! Life should always be this much fun.
Final Thoughts
You can do whale watching in many parts of the world. But sailing out of the Cabo San Lucas harbor in the warm Mexican sun from December to April is one of the best ways to enjoy it.
Also, be sure to pick an excellent tour operator like Caborey Tours. While the whales were the stars of the show, the "party" crew, complimentary drinks, and music made this one of the best excursions I had ever taken while cruising.
It certainly was the highlight of our Mexican Riviera cruise. Thankfully, I can scratch 'Whale Watching' off my Bucket List and will go again when we cruise through Cabo in winter.
You can decide whether you want to go via a large boat like we had or on a much smaller Zodiac. The Zodiac provides more of an 'Expedition-type adventure' closer to the water, but you need to tolerate the rough seas.
Whales are magnificent giants, and seeing them up close on a whale watching tour is the best way to enjoy them.
Happy travels ~ Brian