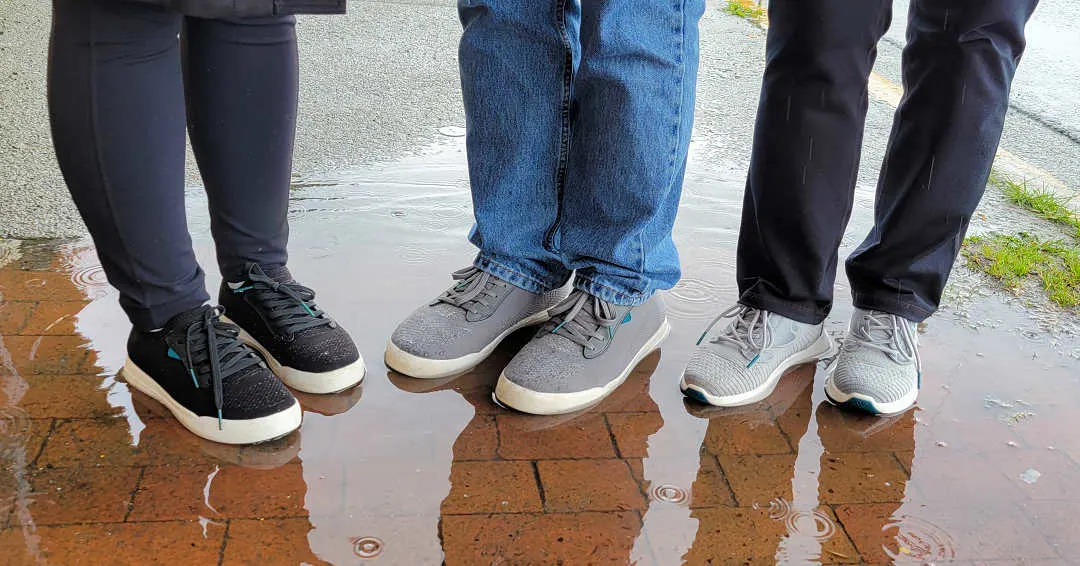 In this review, you'll discover why Vessi shoes are the best one-stop shoe for travel in every season.
When my New Balance running shoes outlived their lifespan, I searched for comfortable, waterproof sneakers. I live in Vancouver, Canada, where it rains a lot.
I also take multiple cruise vacations to Alaska, where it rains even more. Plenty of rain. Wet feet. You get the picture. Then I discovered Vessi shoes, and I no longer have wet feet, even in a downpour.
Vessi claims their footwear is waterproof, and they make their everyday sneakers without animal products. Their shoes are stylish with clean lines and come in multiple styles for men, women, and children.
Their waterproofing properties make them the ideal footwear to take on an Alaskan cruise instead of rubber boots that aren't so fashionable (or comfortable). You can travel to summer places too.
My hardest decision was deciding which pair to purchase.
Want to join the Dry Socks Club?
Find your perfect waterproof shoes here. Check out the newest colors, styles and trends to become a puddle jumper.
Find your Vessis HERE
Finding A Waterproof Shoe
Over the decades, shoe manufacturers have moved away from solid fabric and leather runners to mesh tops. It cuts down the cost, gives them more breathability, and makes them lighter in weight.
However, water penetrates those tiny holes even in a light shower, creating wet socks and feet. So, I went on a conquest to find the perfect casual shoe that was waterproof.
It was hard to find 100% waterproof shoes when researching the web. Most brands in North America advertise their runners as waterproof, but customers rated them only water repellent.
The brands that were placed the highest also came with a sticker shock of over USD 200. Most companies use a Gortex liner, but customers said they were waterproof with small amounts of water.
When they dipped their shoes into a puddle, their feet got wet. Then I came across Vessi, and their buyers raved about their runners.
I was thrilled to learn they are based in Vancouver, Canada, my home city. I later learned my sister and son's girlfriend already owned Vessi sneakers. So, it made sense to join the Vessi footwear family.
Vessi footwear differs from other brands because they don't use a waterproof coating or liner.
They construct their footwear from a patented Dyma-tex material. The result is a breathable, environmentally friendly, and utterly waterproof shoe.
Vessi designed their waterproof materials to last the life of the shoe, unlike the competition whose waterproofing properties wear off. Their knit fabric isn't treated with a waterproof spray.
Vegans will be happy to know that the Vessi line does not use any animal products in the manufacturing process.
Three Vancouver entrepreneurs, Andy Wang, Tony Yu, and Mikaella Go invented Vessi waterproof shoes. They used Kickstarter to raise the capital to begin manufacturing, and they launched in 2018. The rest is history.
Vessi Shoe Fit
Vessi shoes come in different styles and are available in full sizes, no half sizes. So, if you take a half size, they suggest purchasing the smaller size. Women's shoes are available in sizes 5 to 11, men's 6 to 14, and kids C11 to J4 (US equivalent 11 to 4).
I was immediately drawn to their Weekender Sneakers, but having tiny feet proved problematic. The story of my life! Since Vessi didn't have a retail store at the time of my purchase, I couldn't try them for size. NOTE: Vessi now has a pilot store at Metrotown.
My shoe size is barely a five, and their shoes start at five. However, the Vessi Weekend shoes fit larger. After some back-and-forth emails to a Vessi customer service representative (who was fabulous), I quickly learned that the Weekenders wouldn't work for me.
Instead, I opted to get the Vessi Everyday Move in a classic color, pale grey. Funny enough, my son ordered his first pair of Vessi shoes (the Everyday Move) the same weekend.
Since I live in Canada, Vessi shipped my shoes for free. They offer a generous exchange and return policy for 90 days after delivery.
Their footwear also comes with a 365-day warranty against manufacturing defects. That's unheard of in the fashion industry.
The Weekender style fits a little bit broader and larger and has a wider opening. The size five women's shoes fit more like a size six.
Disclosure: This is a sponsored post containing affiliate links. So, if you make a purchase from Vessi, we may receive a small commission at no additional cost to you. We received compensation in exchange for our honest review. All opinions expressed here are our own.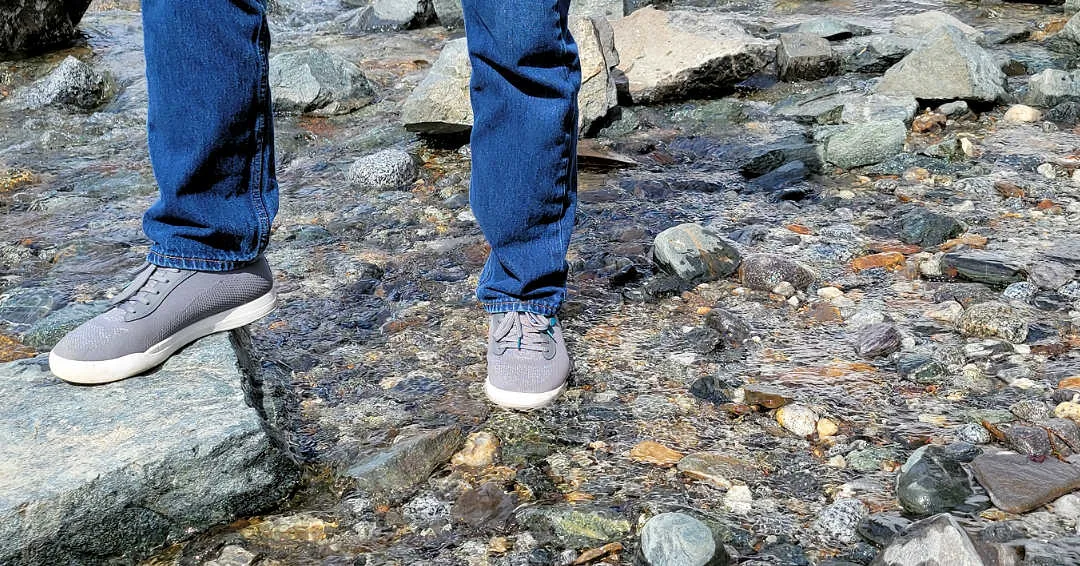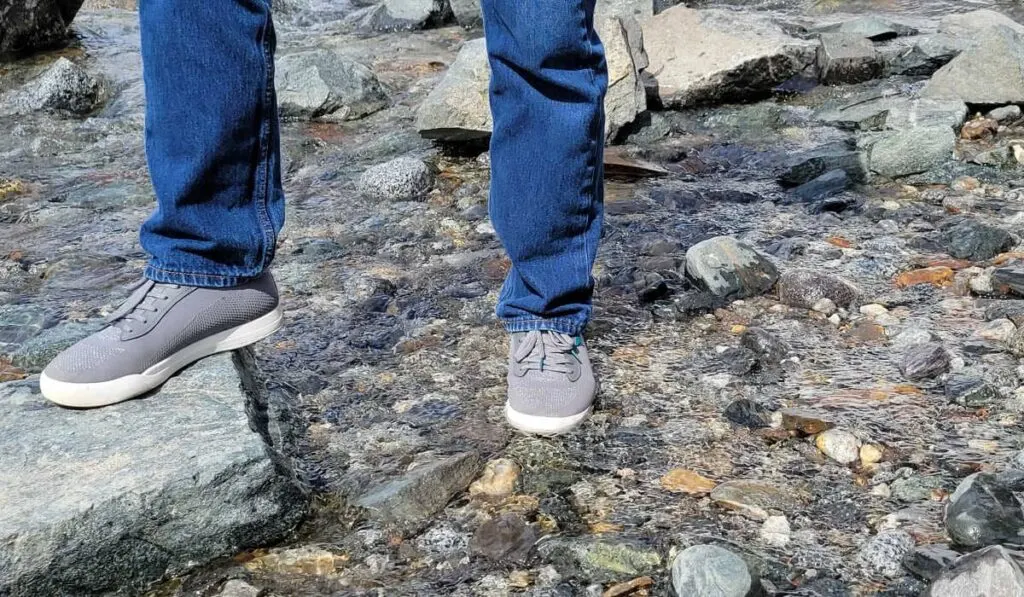 After I got my Vessis, my husband, Brian, bought the Weekender in his usual size. Since he has a wider foot, the fit was perfect for him.
Comparing the two styles, I feel the Everyday Move has more arch support. Now, we are part of the Vessi family, or "Vessians," as we like to call it if that's even a word?
Later, my husband added the Weekend Chelsea ankle boot to his shoe collection but found they fit large. So, he had to exchange these rain boots for one size smaller. This chart shows how we felt their styles fit.
| | |
| --- | --- |
| VESSI STYLE | VESSI FIT |
| Everyday Move | True to size |
| Everyday Move Slip-on | True to size |
| Weekender Sneaker | Fits larger and wider |
| Everyday Sneaker | True to size |
| Cityscape Sneaker | True to size |
| Weekender Chelsea | Fits one size larger |
| Sunday Slipper | Fits true to size |
Why I Love Vessi's Everyday Move Shoes
Even though the Everyday Move shoes were a little big in length for my tiny feet, the elastic collar at the ankle gave me a snug fit. It took me a while to get used to the tight-fitting pull-on style, but I love how they look and feel.
The Everyday Move has a narrow fit, and I found I can't wear them with my usual bulkier performance socks. Instead, I have to use a lightweight sock or go sockless.
One of the things I love about the Everyday Move is the loop tab on the back of the shoe. While it's a simple feature, it helps to pull the shoes on.
An alternative to these is the Everyday Move Slip-Ons which offer cushioning soles in a laceless stylish shoe design. I added the Everyday Move Slip-Ons to my collection in a soft pink. These I wear without socks, and they're the most comfortable shoes.
Another bonus is their climate control properties that keep your feet cool in summer and warm in winter. I tended to wear thicker socks because my feet were always cold. I don't have this problem with my Vessi shoes.
Since my Vessis have become my everyday and go-to travel shoes, it made sense to become a #VessiAmbassador.
Are They Really Waterproof?
No Vessi shoes review would be complete without testing out their waterproofing properties. In fact, I started to enjoy rainy outdoor activities in Vancouver for the first time.
Instead of dodging puddles, I found myself walking through them. Water can't leak through the shoe opening without the conventional tongue and laces. While Vessi shoes have laces, they are simply for looks.
After one week, I was in love with these waterproof shoes. Not only are they waterproof, but they resist staining. So, more than a year later, my pale grey shoes still look brand new.
While I can't wear the Weekenders, I love the styling of the Everyday Move. They have a great unisex design, making them perfect for men and women, and their waterproof feature means I can enjoy rainy weather.
I wasn't content with just wearing my shoes in Vancouver. I wanted them to be my go-to travel shoes. Vessi claims their shoes are sand, slush, and snow- proof too. So, I aimed to test them in all weather conditions.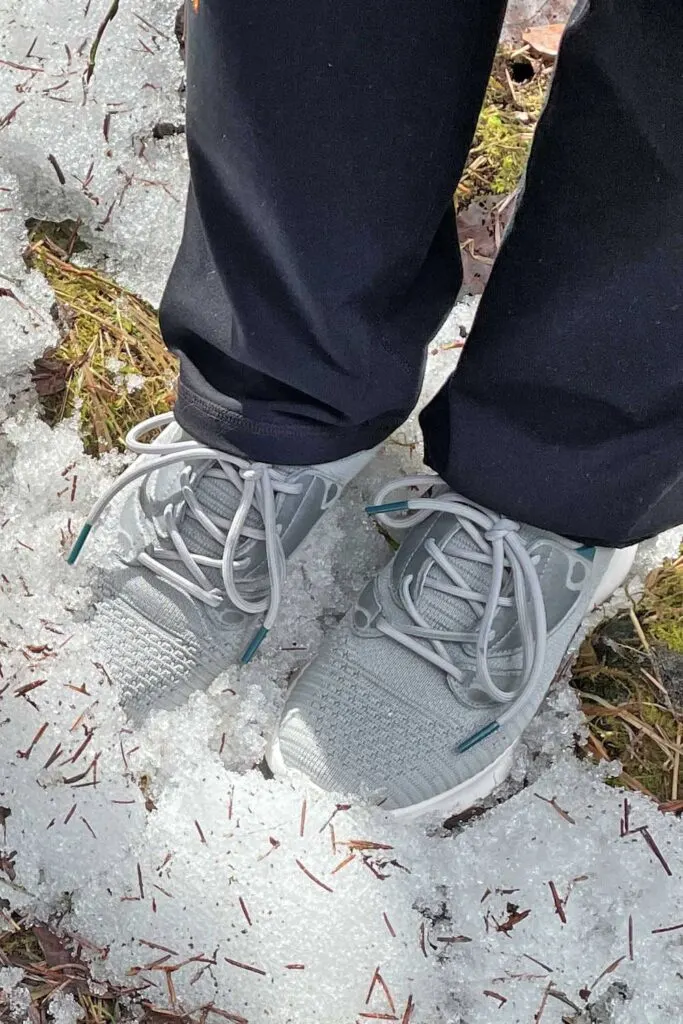 So, I took my Vessi sneakers to the Canadian Rockies in winter and on an Alaska cruise in May. Even in deep snow (and I'm talking four feet), my Vessi footwear lived up to its promise of keeping my feet dry.
Now, the sneakers aren't meant to be completely submerged in water. They're shoes, not submarines! But in Alaska, three of us stood in the gushing water of Nugget Falls at Mendenhall Glacier, and we came away with completely dry feet.
On another trip, we booked a 3-1/2 excursion to the glacier again, followed by a salmon barbeque at Gold Creek. It rained for the whole day ad our tour was all outdoors, yet we returned to our ship with dry feet.
In Sitka, our port day consisted of frigid temperatures, rain, a downpour, and more rain. Did I mention it rains a lot in Alaska? Yet, after eight hours of sloshing around in the puddles, we returned to our cruise ship without wet socks and feet.
The Vessi Styles And Colors
All Vessi styles are pull-on to make them waterproof. The Everyday Move and Everyday Slip-on are made for activity. Now, they won't replace your supportive runners if you run marathons.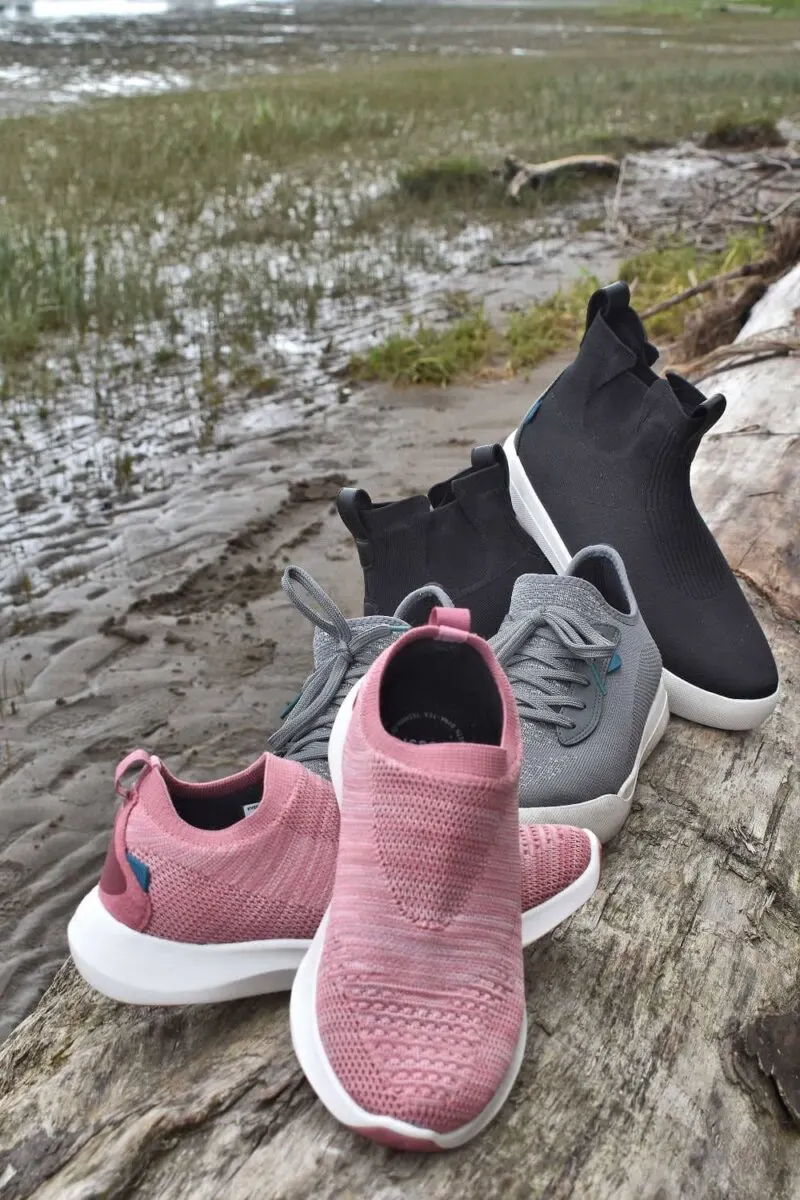 However, they're great for walking the dog, hiking easy trails, and doing ordinary things in soggy cities.
The Weekenders remind me of a classic canvas shoe with laces. The soles are flat and don't give much arch support. While my husband likes his Weekenders, he was elated that he could replace the Vessi removable insoles with his custom orthotics to give him the extra arch support he needs.
Now he's got the best of both worlds….. a perfect fit in a cool-looking shoe that he can wear everywhere!
The Everyday Sneaker is a sleeker look on the Everyday Move. It has a simpler design, and although it comes in both women's and men's sizes, I feel they look more masculine. For a lightweight sneaker, the Cityscape sneakers fit the bill.
The Sunday Slippers, as the name suggests, are designed for lounging. While they look like slippers, they're meant to be worn inside AND outside because of their waterproofing properties.
So, you can go from the couch to walking the dog without changing your footwear.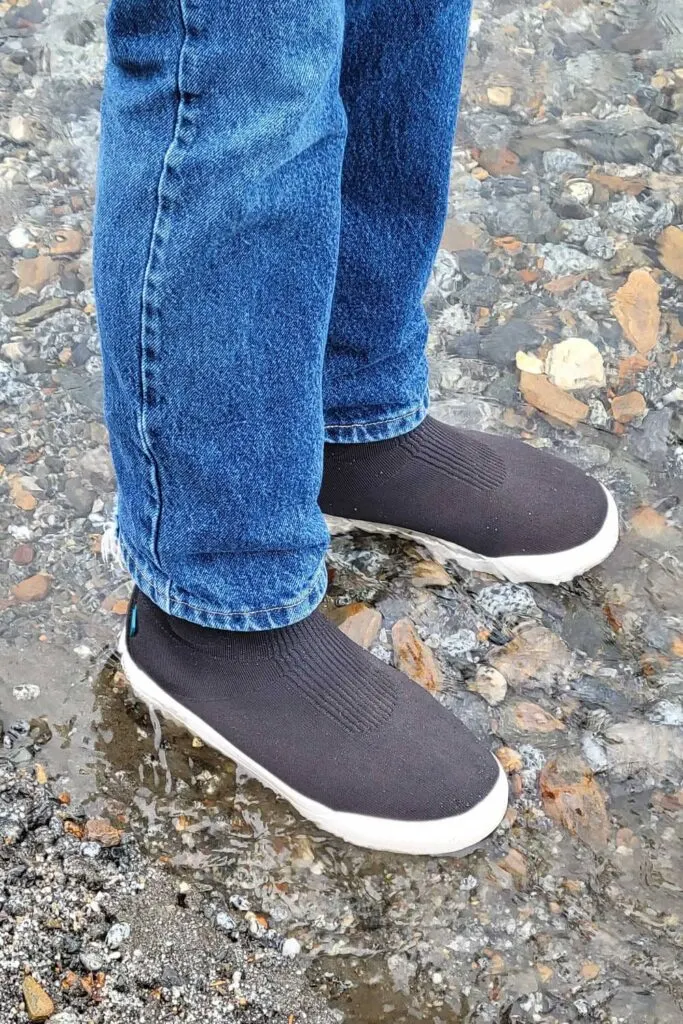 Vessi recently added a new addition, the Weekend Chelsea. With a knit fabric and high-sided design, these replace rubber boots. If you have children who love to jump in puddles or you're a puddle jumper yourself, this design was made for you.
All Vessi shoes come in basic colors like black, linen beige, white, and various shades of grey. While that might sound boring to some, the colors are timeless.
From time to time, Vessi offers limited edition colors. So, if you prefer something other than the whites and blacks, choose from baby blue, pinks, coral, purple and green.
While most Vessi shoes come with white soles, the Weekenders, Weekender Chelsea, and Everyday shoes offer a black-on-black option.
Vessi recently added a new design called the Vessi Soho. It's made of vegan leather and has the sae waterproofing properties.
Caring For Your Vessi Shoes
After 18 months of wearing my shoes, I've only sponge washed them, and my comfy shoes still look as good as new. Vessi says their Weekenders are machine washable and recommend cleaning their other styles in the sink using a toothbrush and sponge.
Since these runners are easy to care for and resist staining, don't be fearful of purchasing the all white shoes.
Over 500,000 global puddle hunters have discovered Vessi shoes. Now, you have too. If you're looking for that one shoe to walk the dog on rainy days, stroll in the snow, or enjoy the rainforests of Alaska as I do, invest in a pair of Vessi shoes and your dry feet will thank you.
Are these the perfect travel shoes to take you from the beaches of the Caribbean to the rainforests of Central America? I think so! Now, don't take my word for it, read the rave reviews from Vessi owners.
If you're ready to become a "certified puddle-hunter," welcome to the dry socks club!
Happy puddle hunting ~ Karen