The process can be overwhelming if you're planning your first Alaska cruise. However, in this article, you'll discover essential tips for booking an Alaska cruise.
While it may be hot down south, what can you expect of the weather further north? What do you need to pack? Will you see whales? Keeping on reading to find the answers to these questions and many more.
Many travelers go to Alaska once due to cost. However, after your first trip, you will likely want to make the journey again if you live in North America.
So, before booking your Alaska cruise, here are some essential tips.
1. Excursions Are Expensive
Top Alaska cruise excursions come at premium prices, and some sell out more than six months in advance. So, if it's on your bucket list to dog sled on a glacier, take a Jeep tour, or do a helicopter and hike tour, bite the bullet, and book it.
Helicopters can only seat up to six guests, so spaces are limited. Rarely do companies offer these tours at discounted prices because they fill up fast. Expect to pay over USD 600 per person for some of these tours.
Cruise passengers can enjoy an adrenaline zip line activity in Icy Strait Point. It runs from the top of Hoonah Mountain to sea level. At USD 155 for a 90-second ride, the ticket price may outweigh the need to go.
Be prepared to spend more for excursions than you did for your cruise. Consider a cheaper stateroom if your bucket list excursion is a bit out of your price range.
You'll still enjoy the same amenities, food, and scenery from the deck. However, the money saved can pay for the experiences you want.
Also, in some cases, you can book directly with the tour operator than through the cruise line. You could save on the cost of the excursion ticket. Remember, the best excursions sell out fast, so avoid this mistake on your Alaska cruise.
🛳️ Haven't booked your cruise yet?
Find your perfect cruise with Cruise Critic. It features more than 650,000 cruise reviews, advice, information and money-saving tips.
Find your cruise here
2. You Don't Need A Balcony Cabin
Most past guests will tell you that a balcony room is a must when cruising to Alaska. After all, a cruise through the Last Frontier provides scenic views you won't find in other destinations.
If you're going to spend your entire budget on your cruise fare, you won't be able to take any excursions. So, book what you can afford and consider foregoing that balcony cabin for an interior room or ocean view instead.
Royal Caribbean's Ovation of the Seas and Quantum of the Seas offer an inside cabin with a virtual balcony. These come with floor-to-ceiling high-definition screens that show real-time views of the scenery outside.
While you won't have the benefit of fresh air or being able to step outside, you can see the scenery and know when the ship is pulling into port.
By selecting a different stateroom, you can still enjoy the same food and entertainment onboard and use the extra money to take a shore excursion or two.
3. Not All Cruise Lines Go To Glacier Bay
If it's on your bucket list to visit Glacier Bay National Park, not all major cruise lines go there. So, if you're loyal to one cruise line, such as Royal Caribbean or Celebrity Cruises, you'll need to settle for another itinerary or opt for a different company.
The UNESCO World Heritage Site only allows two large cruise ships to sail in the park a day. A park ranger will board your vessel and narrate the journey.
Holland America Line and Princess Cruises, who have been cruising to Alaska the longest, take the lion's share of sailings. All other lines must win slots by way of a lottery.
Currently, Norwegian Cruise Line, Seabourn, and Britain's Cunard Queen Elizabeth hold the other rights to cruise in Glacier Bay.
If you book a one-way cruise between Vancouver and Whittier or Seward on Holland America or Princess Cruise Line, you'll enjoy two scenic cruising days to glaciers. You'll spend one day in Glacier Bay and the other day at Hubbard Glacier or College Fjord.
Alternatively, smaller ships like Uncruise offer expedition-type cruises to Glacier Bay.
4. Don't Overpack
It can be very challenging packing for Alaska compared to a Caribbean cruise. Even if the forecast calls for warm weather, you could experience cold and wet.
Expect cooler temperatures if you're booked on an Alaska cruise in May or September. With visits to glaciers and ports, you could go from winter wear one day to shorts and a t-shirt the next day.
Instead of packing for four seasons, take a little bit of everything and add layers as you need them.
All ships have laundry: some provide a fee for service, while Princess, Cunard, and Carnival have self-serve launderettes. In fact, the Cunard Queen Elizabeth and Discovery Princess have complimentary laundry facilities (including soap and fleecy).
So, don't overpack for your cruise. If you're cold, you can always purchase Alaska-themed clothing from the ship's shop or do some impromptu Alaska souvenir shopping at a cruise port.
5. Bring Binoculars
You need binoculars to see bald eagles, humpback whales, and other wildlife on your Alaskan cruise! While premium cruise lines may provide them, traditional cruise lines don't.
Your binoculars don't need to be expensive, but having a pair is necessary for Alaska. We use this compact pair which we carry in our port day backpack. They are lightweight and don't take up much space.
Alternatively, you can use a more powerful model like these. They include a small tripod, and you can attach your cellphone to take photos through the binoculars.
Humpback whales swim through the inside passage as you sail. With your binoculars, look for the plumes of mist near the shoreline. You could also spot a bear foraging for food.
If your itinerary includes a trip to Tracy Arm or Endicott Arm, the cliffs around the glaciers are prime areas to see mountain goats. Around Sitka, you could spot sea otters.
Check for dark spots on the icebergs when cruising near Hubbard Glacier, Johns Hopkins Glacier, or Sawyer Glacier. These are often harbor seals enjoying the midday sun.
6. It Can Be Cold, Even In Summer
When packing for Alaska, bring layers regardless of the weather forecast. A trip to Alaska might shock the system if you're from Florida, Texas, or a warm-weather destination.
It could reach the low 80s on port days in the summer months. However, expect temperatures in the low 40s (or lower) on glacier viewing days. Having the right outfits for Alaska is essential.
The wind off the glaciers can chill you to the bone. So, wear a base layer as you'd wear for skiing, and add clothing on top.
If you're taking a helicopter excursion to a glacier, you'll need a warm jacket, gloves, and a hat. While you could luck out and experience warm weather, it's best to expect something colder.
If you luck out, you could use the Lido deck pools. Otherwise, choose a vessel with an indoor pool or enjoy the hot tubs instead.
7. You Could Get Seasick
If you suffer from seasickness, you may not want to book an Alaskan cruise from California. The sailings up and down the Pacific Coast are notoriously rough.
Select one that sails the inside passage when choosing an itinerary from Seattle or Vancouver. Sailings from the Vancouver port provide the calmest seas, and you're less likely to get motion sickness.
Although the Queen Charlotte Sound and Gulf of Alaska (if you're cruising one way) could have choppy waters. To be safe, carry motion sickness patches or get Bonine chewables that prevents queasiness without making you sleepy.
Another tip to avoid rough waters is to avoid an itinerary that stops in Sitka. Located on the west coast of Baranof Island, cruise ships must sail the open waters of the Pacific to access Sitka Sound. These waters can be pretty choppy, with no islands to shield the swells.
Lastly, if you tend to get motion sickness, book a mid-ship cabin on the lower decks.
8. Wi-Fi Can Be Spotty In Alaska
If you decide to purchase the cruise line's Wi-Fi, don't expect the lightning speeds you enjoy at home. While there have been considerable advances in recent years regarding internet speed, Wi-Fi in Alaska can be very slow or non-existent.
Spotty service is a common complaint no matter whom you sail with, but lines like Cunard and Disney can be worse than others.
Cruise ships get their signals from satellites positioned over the Equator. So, the further north you travel, the less reliable the signal.
If you sail from or to Vancouver, the first and last day will have service for part of the way. Cruise ships sail between the mainland and Vancouver Island, close enough that you can receive cell coverage.
9. Alaska Cruises Are More Casual
Contrasting warmer destinations, Alaskan cruises are pretty casual. Unless you're cruising on a line with a strict dress code, such as Cunard, expect guests to wear comfy cruise attire.
Since it can be cold in Alaska, plan to take fleece, sweats, and base layers. Going to dinner in dark jeans and a shirt or top is perfectly fine.
Unless you're cruising during a heat wave, you'll want to dress for warmth onboard and on glacier cruising days.
Even your formal night could be optional, depending on the cruise line.
If you haven't packed enough warm items, the stores onboard have area-specific themed clothing. So, if you need a waterproof jacket, fleece top, or sweatshirt, you can buy it all onboard.
10. You Won't Always See Wildlife
Alaska cruises are all about the scenery, glacier, and wildlife. For many guests, it's their first time seeing a glacier, whale, or bear. If you hope to see moose, bears, or even whales, you could be out of luck.
If you cruise to Alaska in April or early May, you'll unlikely see whales. Humpback whales migrate from Hawaii, and only the males arrive in May. The females, with their young, come later, being slower swimmers.
Bears come out of hibernation in May and stay higher in the mountains. In later months (July and August), the bears move to lower areas to feast when the salmon run.
Moose and mountain goats are rarely seen. You'll only have a slightly better chance of seeing moose if you're traveling to Denali National Park.
To increase your chances of seeing wildlife, keep your binoculars handy. Check the shoreline for bears, the waters for whales and porpoises, the icebergs for seals, and the trees for bald eagles.
11. It Can Rain Anytime
Much of Alaska's scenery is comprised of the Tongass National Forest, North America's largest rainforest. Rainforests aren't the result of dry weather. April, May, and June offer the driest months.
As the summer arrives, the chances of rain increase, so by August, an Alaska cruise has a 50% chance of showers. Ketchikan is one of the United States rainiest cities, averaging over 140 inches of annual rainfall.
Since you're visiting a rainforest, prepare for your trip by bringing waterproof gear. Waterproof jackets such as a Columbia or Helly Hansen are essential. Since it can downpour on port days, waterproof footwear such as Vessi footwear are vital too.
Want dry feet in Alaska?
Find your perfect waterproof shoes here. Check out the newest colors, styles and trends for both adults and children.
Find your Vessis HERE
The weather in Alaska can be unpredictable. It can be hot and dry one week and cold and rainy the next. While you hope for a warm and dry week, preparing for the alternative is best.
12. Mosquitoes Can Be Rampant
When cruising to Alaska, chances are you'll have to contend with mosquitoes somewhere on your journey. After all, you're visiting a rainforest.
While they don't exist everywhere across the state, areas that experience higher amounts of rainfall tend to be home to larger populations of these pesky bugs.
Northern Alaska is particularly prone to mosquito swarms during the summer. So, if you're doing a land tour, remember the bug repellent when adventuring into Denali National Park.
Wooded areas, streams, lakes, and other wetlands will likely house large numbers of mosquitoes. In Skagway, mosquitoes are bad on the Chilkoot Trail and along Pullen Creek near the cruise dock.
Guests in Juneau can expect mosquitoes and biting flies when hiking Mount Roberts and trails in Mendenhall Glacier Park.
13. Spring Can Be Drier Than Summer
In most destinations, spring brings rain, and summer provides sunshine with little precipitation. Not so in Alaska. Cruising in the springs generally provides for drier days.
As the weeks and months go by, the chances of rain increase. However, you will benefit from warm temperatures. So cooler and drier vs. warmer and wetter, take your pick.
Unpredictable is the best word to describe Alaskan weather. Juneau, the capital averages 4.75″ of rain in May, 8.5″ in August, and 13.3″ a month later.
Further north, Anchorage sees less fluctuation in precipitation. It averages less than an inch in May and around 3″ in August and September.
Ketchikan, the rainfall capital of Alaska, features a liquid sunshine next to the visitor center. May brings just over 5 inches of rain, which climbs to almost 11″ by September. No matter when you visit Ketchikan, you have a 50% chance of seeing rain.
14. Weather Can Change Your Itinerary
Most passengers travel to Alaska to see the tidewater glaciers. However, the weather could affect your cruise itinerary if you sail in the first four weeks of the season.
Tracy Arm and Endicott Arm are notorious for having ice flow block a ship's passage in April and May. Ships will sail up the arm but turn around once they spot ice.
Sometimes, vessels skip the fjords due to thick fog. Since the fjords are narrow, captains need good visibility to cruise the small channel.
Large amounts of ice can prevent vessels from getting close to glaciers. In 2022, the Norwegian Sun hit an iceberg at Hubbard Glacier. The July cruise was cut short since the ship needed some repairs.
15. Tour Operators May Cancel Excursions Due To Weather
Shore excursions that use a plane or helicopter only fly in good weather. So, if it's stormy or there's low cloud cover, port tours sometimes get canceled. However, don't worry; you will receive a full refund.
Since cancellations happen more than you think, have a backup plan on what to do on your port day. Most cancellations take place in Juneau.
Here, guests book helicopter tours for dog sledding or hiking on a glacier. Instead, pick up an impromptu whale-watching tour or catch a shuttle to Mendenhall Glacier.
If your floatplane excursion to the Misty Fjords National Monument gets canceled in Ketchikan, plan to explore the colorful history of Creek Street. Known as the globally salmon capital, Ketchikan provides a great place to try seafood.
16. Seafood Isn't Necessarily From Alaska
Cruise passengers expect a selection of Alaskan seafood during their cruise. Some cruise lines even have a "taste of Alaska" night when they feature seafood dishes.
However, most of the seafood comes from somewhere other than Alaska. Cruise lines have signed contracts with food wholesalers who supply their fleets worldwide. Cruises from Seattle receive their supplies in Seattle.
Alaska cruises from and to Vancouver get their supplies in Vancouver, not in Seward or Whittier. During a galley tour on a Princess, I learned their seafood supply comes from New Zealand.
With the decline in the crab population in Alaska, the Alaska's Fish and Game Department has stopped crab fishing for the 2022 to 2023 season.
So, if you're hoping to taste king crab in port, chances are, it comes from another destination. Not only will you eat crab from another country, but you may need to pay a higher price due to the shortage in Alaska.
17. You May Not See The Northern Lights
If you're hoping to get a glimpse of the spectacular Aurora Borealis, an Alaska cruise provides you with that perfect opportunity!
The winter months provide the best chances for clear skies, away from light pollution and city lights. But Alaska cruises don't run in winter.
While the chance of seeing the northern lights is small, if you're lucky enough, you could spot them on a shoulder season cruise. The Aurora, like the Alaska weather, is unpredictable.
No matter when you choose to embark on your Alaska cruise, check the Aurora forecast to access your chance of catching the light show.
To see the Aurora, it needs to be dark. Alaska experiences long days in summer, and it's sometimes light until 11 pm. With only a few hours of darkness, it diminishes your chances of seeing the light show.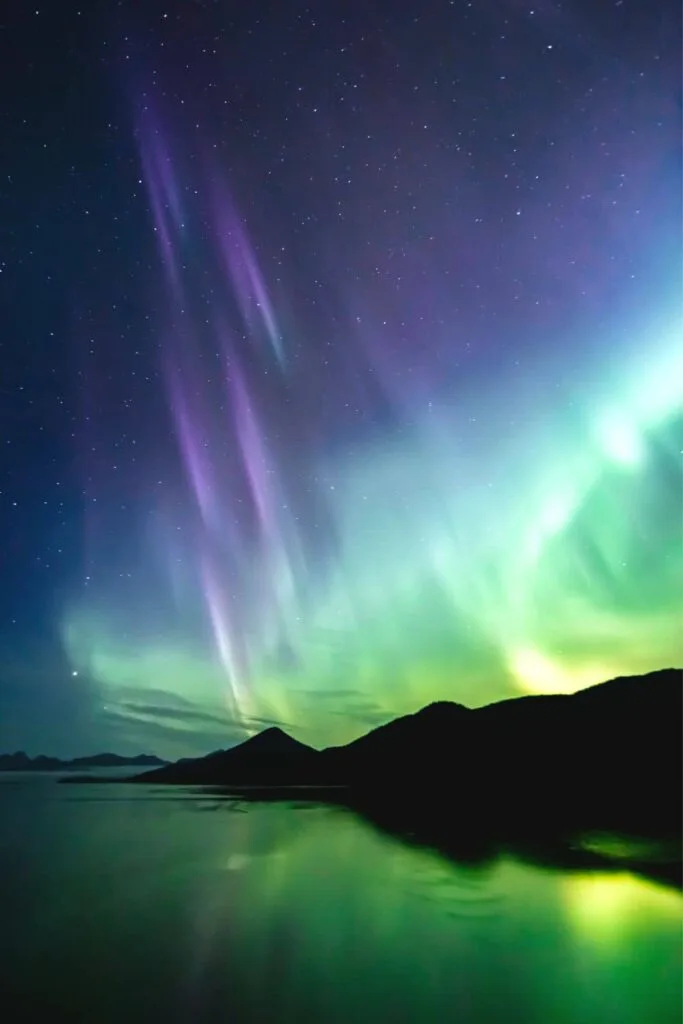 Denali, Alaska, is a great spot to witness the spectacle of the northern lights. Located at a far northern latitude and having almost no light pollution, it's the perfect place for nighttime viewing. The prime viewing period for the Aurora is between late August and September.
18. Some Ships Dock At Ward Cove
If you book with Norwegian, and your cruise itinerary includes Ketchikan, you'll dock in Ward Cove. Norwegian Cruise Lines developed Ward Cove as a stand-alone alternative to docking downtown.
Located seven miles north of Ketchikan, cruise passengers need to catch a shuttle to access tours, shopping, and attractions in town.
If you want to walk off your vessel and explore the downtown area, think twice about booking with Norwegian. However, Ward Cove might be the perfect dock if you love the wilderness and prefer a remote location.
Ward Cove was opened in 2021. While still relatively new, the cruise line will develop the area, add more amenities and offer more stand-alone tours as time passes. You could say it's Alaska's version of a CocoCay or Great Stirrup Cay.
Cruise guests have mixed opinions on docking in Ward Cove. If you want to avoid the added burden of taking a shuttle bus to and from town, you'll need to pick a different itinerary or another cruise line.
19. Prepare To Go Over Budget
You may need to double your budget for an Alaskan cruise. Even if you find a cheap deal, the expensive excursions will blow your initial allowance.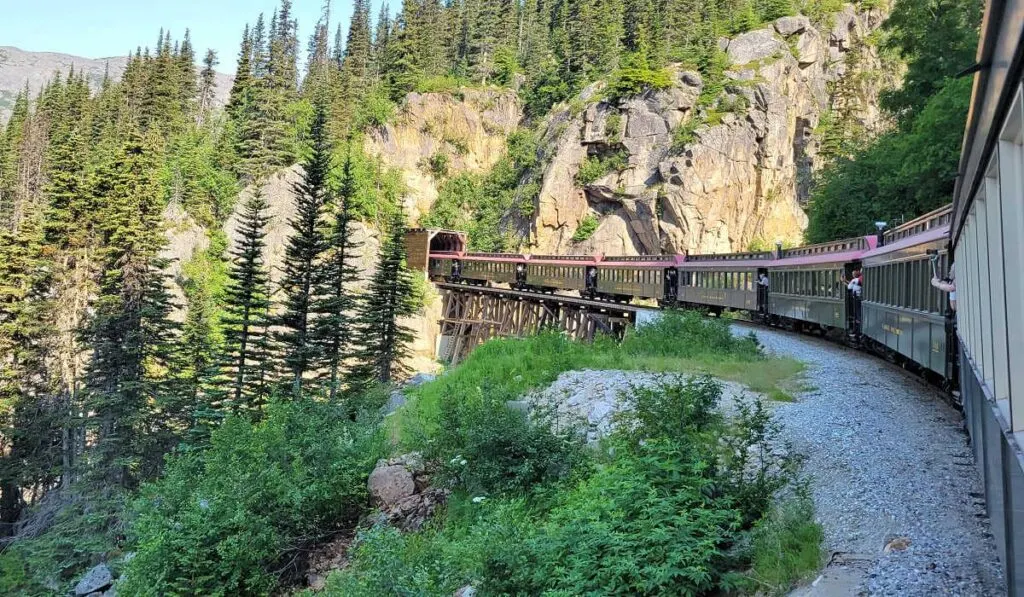 If you're flying from Australia, Asia, or Eastern European, chances are, you're making this trip once. So, if it's on your bucket list to ride the White Pass train, spend a day halibut fishing, take a helicopter ride, or go whale watching, do so.
Alaska cruises are notoriously expensive when you factor in all the costs, such as flights, hotels, tours, and cruise extras. Sailing in the peak months (July and August) will cost you significantly more than the shoulder season (April/May and September/October).
If you're on a budget, you can save money by selecting an older vessel such as the Norwegian Jewel or the Grand Princess.
20. Not All Itineraries Are Created Equal
While many ships sail to Alaska with options for different embarkation ports, not all itineraries are created equal. Heck, some don't even visit a glacier!
Before booking your vacation, do your research and decide which ports and glaciers you want to visit. You may prefer a wilderness-based cruise, while others may choose ports with a rich history. No one cruise will suit everyone.
Only some lines go to Glacier Bay, and College Fjord is only included on a one-way itinerary from or to Vancouver.
If you want to add on a land tour or do a self-guided trip to Denali National Park, you'll need to sail to or from Seward or Whittier.
During the Alaska cruise season, you can find a cruise that includes more than one glacier sighting. Since all vessels have yet to reposition for the Alaska season, you could find a cruise that goes to two glaciers in April or early May. A 2-for-1 deal, that's something worth booking!