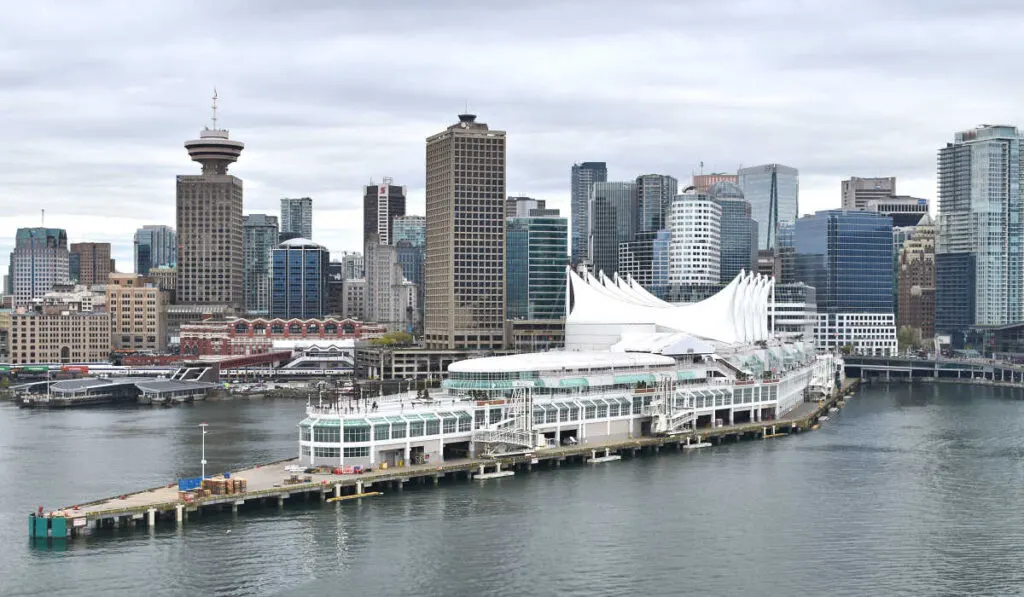 Vancouver is the largest city on the west coast of Canada in the province of British Columbia. Additionally, its cruise terminal at Canada Place, in the heart of Vancouver, ferries passengers to Alaska, Hawaii, Japan, and California.
Most cruise passengers going to Alaska sail from Vancouver or Seattle. If you are sailing in or out of the Vancouver cruise port, it's best to add a few extra days. Consequently, you can enjoy all this fantastic city has to offer.
Generally speaking, the Canada Place cruise terminal operates for a short season. The cruise ship season usually runs from April to September or early October.
Alaskan cruises operate during the summer months, from May to September. Should you take a cruise in May, the security and immigration process can be slow as the port often has new staff.
California, Japan, and Hawaii repositioning cruises are scheduled when cruise ships are coming to and from Vancouver for the Alaska season. Two ships can dock on its west side and one on the eastern side.
The Vancouver cruise port struggles to dock mega-ships since they must pass under the Lionsgate Bridge. Its bridge has a 200-foot clearance which means some ships have to lower their mast to clear the road deck.
The Norwegian Bliss made history by being the largest cruise ship to dock in Vancouver. The port of Vancouver orchestrated its arrival and departure with low tides. Sometimes those arrival and departures happen in the wee hours of the night.
I may be biased because I live in Vancouver, but the Vancouver sail away is by far one of the most picturesque beginnings of a cruise vacation. Having cruised from Vancouver to Hawaii and other locations six times, you need to savor the sail away on an upper deck.
Where Do Cruise Ships Dock In Vancouver?
The Vancouver cruise port is part of Canada Place in downtown Vancouver. Its unique architecture can be seen from Burrard Inlet, which serves as a commercial port.
Canada Place pier is a recognizable landmark with its five white sails that have topped the building since 1986. It was constructed for Expo 86, which showcased the Canadian city to the world.
Each night from dusk to dawn, the Sails of Light illuminate with seasonal, vibrant colors, displays, and animation.
Canada Place was designed to be multifunctional since the cruise ship season is abridged (May to September). Not only does it have a cruise ship terminal but also a hotel, convention centre, movie theatres, shops, and cafes.
At the end of the pier FlyOver Canada operates a multi-dimensional simulated flight over prominent areas of the country. It makes a great rainy-day activity and a must before embarkation.
Cruise passengers can take an Alaska cruise from Vancouver, BC, or Seattle. Americans may choose Seattle because the flights are less expensive, and you do not need a passport. However, cruises from Vancouver offer a spectacular sail-away.
The Vancouver Cruise Port welcomes approximately 1,000,000 passengers a year. While Canada closed its ports for the 2020 and 2021 seasons, 2022 saw a huge increase in passengers as the Alaska season reopened.
The Vancouver cruise terminal reopened on April 10, 2022, welcoming Holland America's Koningsdam. The port also sees mainstream lines, such as Celebrity, Disney, Cunard, Seabourn, and Princess Cruises.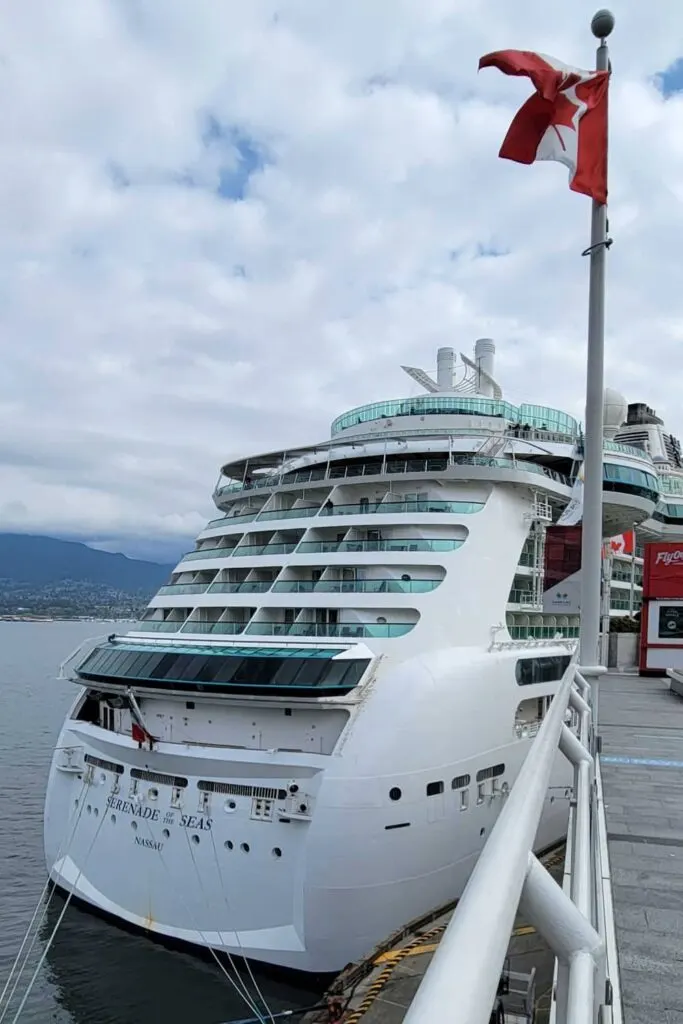 As Alaska cruises gain in popularity, new cruise lines are adding ships to the Vancouver port for Alaska sailings. These include Cunard, Azamara Cruises, and Viking Ocean Cruises.
The Vancouver cruise terminal can accommodate up to four ships a day. However, if there are three to four vessels, expect a slow embarkation as all guests must go through the same immigration and customs line.
The process of boarding can also be slow when the terminal reopens. Exercise patience, as the port could be training new staff or familiarizing themselves with processes they haven't done in a while.
Getting To The Vancouver Cruise Port
When flying into Vancouver, planes land at Vancouver International Airport (YVR) on Sea Island in Richmond. A taxi ride to the cruise terminal will take approximately half an hour, contingent on traffic.
The cost is CAD 38, as designated by the zone fare. If you're traveling to a hotel south of Pender Street, you'll have a slightly lower fare of CAD 34.
My preference for accessing the port is by using "Skytrain". The rapid transit system has a direct line to downtown Vancouver. The trains are quick, inexpensive, and hassle-free. Furthermore, you never have to worry about rush hour traffic.
Leaving the airport, walk across the road and take the escalator to the right. This escalator ascends to the Skytrain's departure platform. Here, tickets are purchasable at the self-service machines for a direct route to the Vancouver Waterfront station.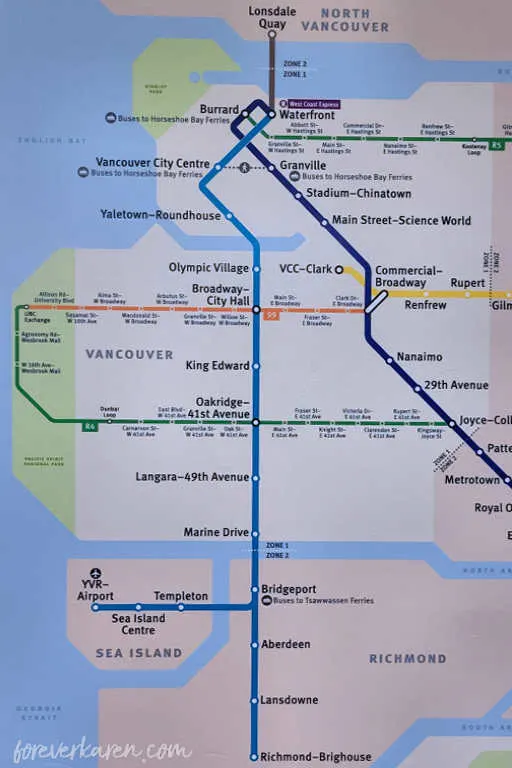 It costs CAD 7.75 to CAD 9 per person (depending on the day and time). The Canada Line provides a direct route from the airport to the Waterfront. It takes 25 minutes, and trains leave approximately every six to seven minutes.
At the Waterfront Station, go up the escalators, exit the building, and turn right. Then, walk about one block to Howe Street and turn right. Canada Place and the Vancouver Cruise Terminal are straight ahead.
The following map shows the directions from Canada Place to the Waterfront Station. However, you can follow it from the Skytrain station to the cruise port.
Additionally, you may even see your cruise ship docked in front of you. To access the cruise terminal, you need to follow the ramp's sidewalk into the parking area.
Signage clearly marks the route for cruise ship passengers, and there are plenty of people to assist you.
Baggage Storage
Westcoast Sightseeing offers baggage storage for passengers booked on a cruise. It's conveniently located at Canada Place. Whether needed before or after a cruise, luggage storage is available for day use from 8 am to 5 pm.
Additionally, PorterGenie offers 24/7 luggage storage at many locations throughout the city. Service is fast, zippers are safety-sealed, and their prices are competitive.
Vancouver Cruise Port Parking
If you're driving to the cruise port, the parking garage offers long-term parking, catering to those on a cruise. Be prepared for sticker shock, as the lot charges CAD 32 a day or CAD 224 for 7 days.
Since this is an expensive option and adds to the total cost of your cruise, you'll want to avoid Vancouver cruise parking downtown.
The value long-term parking at Vancouver International Airport offers long-term parking for a fraction of the cost. For a 7-day stay, expect to pay CAD 120, plus under CAD 10, for the Skytrain trip to reach downtown.
Prices vary with supply and demand. You'll get the cheapest price booking far in advance. If you want to know the actual cost, you can get an online quote.
Where To Stay In Vancouver
It's important to note that Vancouver is the most expensive city in Canada. Downtown hotels are as expensive as vacationing in Miami Beach or New York City.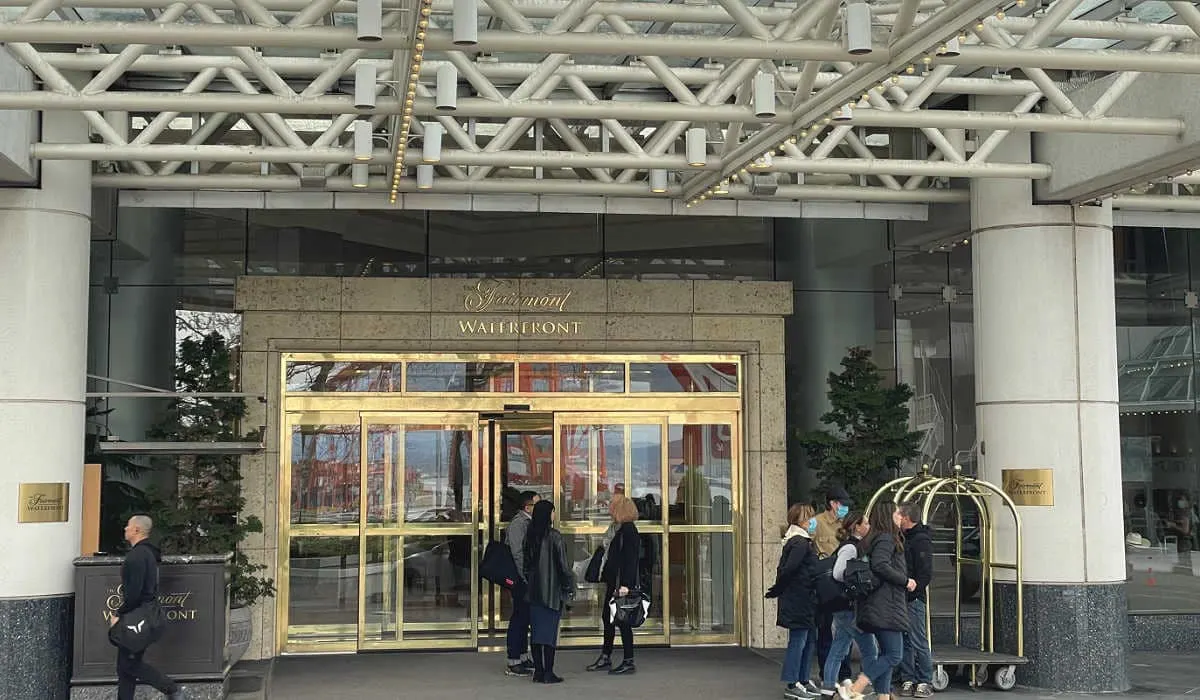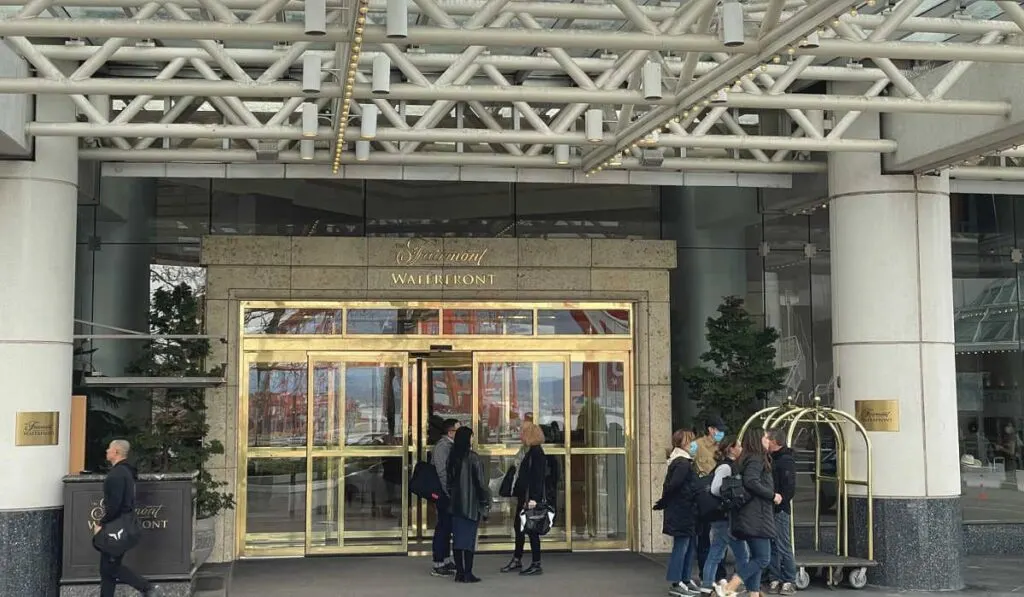 Making a reservation a year in advance can get you the cheapest price and the most selection. Those coming from the US will benefit from the exchange rate.
Should you try to book a hotel within a few months of your cruise, you may be paying premium rates due to limited availability.
If you are seeking a hotel close to the cruise terminal, the Hotel Fairmont Pacific Rim, Pan Pacific Hotel, and Hotel Fairmont Waterfront are within steps. However these hotels come with the convenience of being within walking distance of the cruise terminal, but they come with a hefty price tag.
If you are mobility challenged or money is of no concern, the Pan Pacific Hotel is literally at the cruise ship terminal. When you check out, they will porter your luggage to the cruise terminal.
Staying there allows you to sleep in on embarkation day, check out of your hotel and check in to your cruise ship without leaving the building. Can it be any more convenient?
Sutton Place Hotel, and the Sheraton Vancouver Wall Centre, are more economical options. However, they are a cab ride away.
For a budget-friendly stay, the Vancouver YMCA Hotel offers nice rooms at reasonable prices. Although, it's not within walking distance of Canada Place.
However, if you are flying in the night before and need immediate sleep, stay in Richmond at Fairmont Vancouver Airport. It's literally in the terminal and offers a luxury stay.
What To Do In Vancouver
Vancouver is a diverse city on the coast, surrounded by picturesque mountains. Its downtown core offers thriving art, music, and theater scenes. Also, Vancouver has become a foodie heaven with its vast selection of worldly cuisine.
The city has great public transportation, so you do not need a rental car. Furthermore, if you get a rental, you'll be paying for parking downtown, including at your hotel.
Vancouver's Stanley Park is renowned for being one of the best urban parks in the world. Why not rent a bike and explore the park by pedal power? You can also explore the park on a trolley, horse carriage, or hop-on hop-off bus.
Stanley Park has a fantastic aquarium, multiple beaches, a sea wall, and totem poles.
The downtown area is easy to explore on foot, by public transit, or by rental bikes. There are plenty of taxis, and the Aquabus provides transportation across False Creek to Granville Island.
From the waterfront, you can walk to Gastown, Vancouver's oldest neighborhood. Here, the Gastown steam clock delights visitors with its whistling clock, which spouts steam every 15 minutes.
In North Vancouver, the Capilano Suspension Bridge is a tourist favorite. You can access the park by a complimentary shuttle bus from downtown. You can also use the shuttle to reach Grouse Mountain further up Capilano Road.
Grouse Mountain provides fun for the whole family. Once you've taken a gondola to the top, you can see two grizzly bears (named Grinder and Coola), watch a lumberjack show, a bird of prey demonstration, and enjoy great views of the city.
While you can use US dollars at most establishments, you may not get a good exchange rate. So, exchange your cash and use Canadian dollars instead.
Where To Eat In Vancouver
Vancouver is known for its multiculturalism. So, whatever your taste buds, you can find it in the downtown area. Dim sum, sushi, Thai, Lebanese, Italian, Chinese, and West Coast Seafood are all readily available.
To kickstart your Alaska cruise, why not enjoy seafood at a patio restaurant on Granville Island? The Sandbar Seafood Restaurant has all your favorites, with fantastic views of False Creek.
The Cactus Club Coal Harbour offers a mix of west coast dining with seafood. Its oceanfront location downtown makes it a great choice. However, expect a long wait during busy times.
For that caffeine kick in the mornings, there's no better place than Tin Hortons. "Timmy's," as the locals call it, makes donuts, fresh sandwiches, soups, and wraps, for those eating on the run.
Embarkation
Every cruise ship embarking from Vancouver stops at a U.S. port, so every passenger needs to go through screening and U.S. Customs and Border Protection. Even if you don't intend to get off in port, you must still clear customs and immigration.
If you are not traveling with a Canadian or United States passport, you must get an ESTA or Electronic System for Travel Authorization.
ESTA is an automated system that determines visitors' eligibility to travel to the United States under the Visa Waiver Program (VWP).
The application to get an ESTA is made online. The form is rather lengthy, and you do not need to print out the application once completed.
If you are flying into Canada, Canada has introduced a new entry requirement, known as eTA or Electronic Travel Authorization, for visa-exempt foreign nationals. Exceptions include U.S. citizens and travelers with valid visas. Like the American ESTA, applications are made online.
Debarkation
When debarking in Vancouver, the process may be slow when there are three vessels in port. Allow 30 minutes or longer to get to the airport. If you're flying internationally, you DO need to arrive three hours before your flight due to long lines at security, customs, and immigration.
If you disembark within the first 30 minutes, you can usually get a taxi or rideshare quite quickly. Alternatively, you can use the Skytrain again.
However, if you're in one of the last groups to leave the ship, you could be waiting a while for a taxi or rideshare due to availability. So, if you have an early flight, opt for early debarkation or do self-debarkation instead.
Final Thoughts
I sailed my first cruise to Alaska in 2009 out of Ballantyne Pier. While the commercial pier is closed to cruise vessels, Canada Place cruise ship terminal remains the sole port for those going to Alaska, Hawaii, and beyond.
It's no secret Vancouver needs a new cruise terminal, one that can accommodate large and meg-ships. Until then, Alaska-bound ships will continue to sail out of Canada Place.