After my first vacation to the Canadian Rockies in the early 1980s, I was instantly captivated by its jaw-dropping scenery and striking Fairmont hotels. Perched high above the treetops, the magnificent Banff Springs Hotel oozes with romance and reminds me of a Scottish Highland Castle.
Its cousin, the Fairmont Chateau Lake Louise, offers rooms with picture-perfect lake views. It was always my dream to stay in these hotels, so I finally got to stay in both Fairmont resorts after half a dozen trips. So, Banff Springs vs. Chateau Lake Louise, which one is better?
While neither the Banff Springs nor Chateau Lake Louise is budget-friendly, some opt to stay there for special occasions or splurge for a night or two.
Quick tips for traveling to Banff National Park
Plan ahead and book your Fairmont Hotel here:
Banff Springs Hotel – Enjoy the experience of staying in a Scottish Castle, close to amenities and Banff town.
Chateau Lake Louise – A fairytale location, steps from Lake Louise. Select a room with a lake view.
Usually, both are booked years in advance for the summer season. However, I could book rooms in both hotels six weeks before my visit during the pandemic.
Both hotels are part of the popular Fairmont chain, and each has a rich history dating back over 100 years. While they aren't the fairytale castles you see in Europe, they are two impressive Canadian castles worth seeing, even if you can't afford a stay.
When examining your Banff and Jasper itinerary, activities close to Lake Louise or Banff may factor into your choice. The price of a room and the following comparisons may also sway you to one hotel over the other.
Banff Springs Vs. Chateau Lake Louise: Accommodation
Whether you choose the Chateau Lake Louise or Banff Springs Hotel for your stay, you'll feel at home in a comfortable environment.
The Banff Springs offers 757 guest rooms of various sizes, while the Chateau has approximately 220 fewer rooms.
As expected from luxury brands, we received a warm welcome at both resorts, exceptional service, and attentive staff.
Banff Springs
Individuals or couples on a budget will enjoy the Fairmont guest rooms, which start at 220 sq. feet (20 sq. m). While smaller in size than the suites, they don't sacrifice comfort.
We found the queen-sized bed incredibly comfortable, although the pillows were slightly soft. Prices vary from rooms with views of the hotel grounds to spectacular outlooks of the mountains and Bow Valley.
We had a room on the 8th floor of a 9th-floor tower, overlooking Bow River, Bow Valley, and the Banff Golf Course.
Being on the 8th floor and near the roofline, our outside wall was slightly gabled with three windows, one of which opened for fresh air.
The room had a small safe, coffee maker, kettle, bar fridge, and desk. The closet had slippers and cozy cotton robes.
Our bathroom had a tub/shower combo and a single sink with a good-sized vanity. The hotel supplies guests with a good assortment of La Labo Rose 31 bath products.
For the ultimate luxury stay, hotel suites range in size from 375 sq. feet (35 sq. m) to the incredible Royal Suite of 1500 sq. feet (139 sq. m). Some suites have two bedrooms, perfect for families or those who like to entertain.
The Fairmont Banff Springs features a hotel within a hotel experience with its 'Fairmont Gold' rooms. On the 4th and 5th floors, Gold room guests have access to a private reception, evening canapes, continental breakfast, concierge, and more.
Chateau Lake Louise
Like the Banff Springs rooms, the 539 guest accommodations start at 215 sq. feet (20 sq. m). The Fairview Suite, the largest in the hotel, measures 870 sq. feet (81 sq. m) over two floors and features an L-shaped balcony. However, the suite faces the Bow Valley and has only partial lake views.
Guest rooms include one or more of the following bed configurations: two twins, one queen, one king, two queens, and a sofa bed. Like Banff Springs, guests can choose a Fairmont Gold experience with the same extras.
Again, we stayed on the 8th floor, but overlooking Bow Valley and the mountains. Our 230 sq. foot room had a king bed which made the room seem smaller.
It included all the same amenities, a desk, and a single armchair. We used the provided slippers and cotton robes during our stay when using the hotel spa area.
The bathroom was small, with a tub/shower combo and tiny vanity. It also came with La Labo Rose 31 bath products.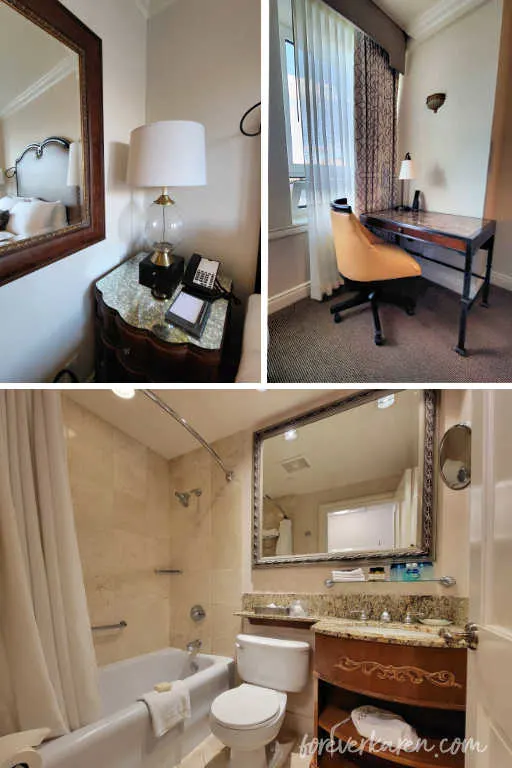 Overall, the Fairmont Chateau Lake Louise costs slightly more, with lake-view rooms commanding the highest prices. The Chateau Lake Louise cost CAD 80 more than the Banff Springs, but I was shocked to see taxes and fees cost an extra CAD 100+ more per day at both hotels.
Banff Vs. Lake Louise: Location
As the name suggests, travelers can find the Banff Springs in the town of Banff, on 405 Spray Avenue. Alternatively, the Chateau is located 45 minutes away, at Lake Louise. From Calgary Airport, it's a 1-hour 40-minute drive to the Banff Hotel.
Those staying at Lake Louise have a longer journey of 2 hours and 15 minutes. Should you only have a few days and don't want to hotel-hop, staying in Banff might be a better choice.
Banff Springs
Banff, being the largest town in Banff National Park, has over 8,000 people. As a town focused on tourism, it features impressive culinary dining and a quaint shopping district, all compacted into a small valley area.
Guests staying at the Banff Springs must drive through town and cross the Bow River. This area becomes gridlocked during the peak summer season, and traffic moves at a crawl.
Alternatively, the hotel provides free transfers on the Roam Public Transit.
Should you choose to walk to town, it's a 1.6 km hike and takes 20 minutes. Paid parking is challenging to find if you drive, as the spots fill up fast in summer.
Nearby attractions include the Banff Springs Gold Course, Bow Falls, Banff Upper Hot Springs, and the ever-popular Sulphur Mountain Gondola.
Chateau Lake Louise
Perched on the edge of Lake Louise, the Chateau's builder could not have picked a more perfect locale. The Chateau is all about the views of Lake Louise, one of Banff National Park's best lakes.
Those looking to capture the incredible sunrise flock here in the summer months to see the spectacular event. Whether you choose to see the sunrise at Lake Louise or neighboring Moraine Lake, staying at the Chateau puts you closer to the anticipated event.
During our stay, we got up at 5:30 am to watch the golden glow on Victoria Glacier. We appreciated that we could walk outside the hotel's back door and not have to worry about parking.
However, if eating at fine dining restaurants is top of your list, but you don't want to pay high prices, staying at Lake Louise may not be for you.
While the hotel has several restaurants, the town of Lake Louise has less than 1000 residents and offers little in the way of dining choices. For the best culinary experiences, guests must drive 45 minutes to Banff each evening.
Staying at Lake Louise allows guests to access Banff's best hikes before the crowds arrive. The Lake Agnes tea house, Plain of the Six Glaciers, Fairview Lookout, and Lakeshore trail are all heavily trafficked in summer. Also, just ten minutes away, travelers can enjoy more hikes in Yoho National Park.
Banff Springs Vs. Chateau Lake Louise: Amenities
Both hotels have modern decor and timeless elegance. Inside and out, the Banff Springs felt like a magical castle, with its abundance of stonework, magnificent staircase, and plaid carpeting.
It had the best outdoor space, with plenty of comfortable places to lounge, enjoy a fire pit, and take in the views.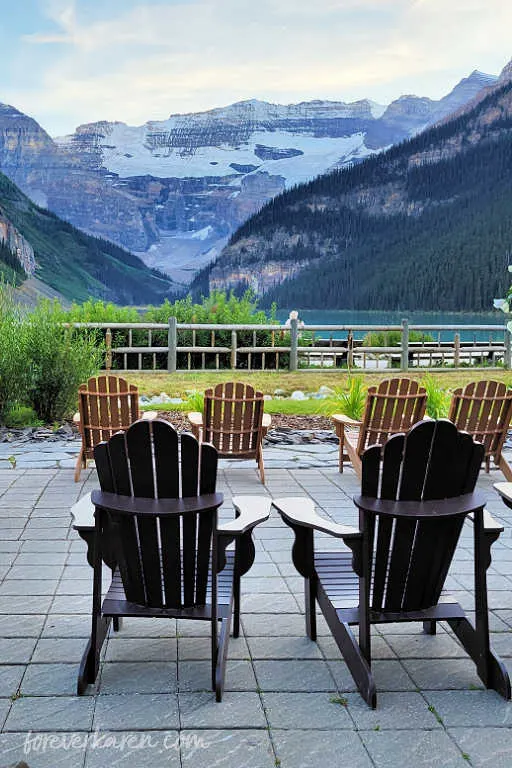 The Chateau Lake Louise was built for views of the world-renowned lake. Its Lakeview Lounge and swanky Fairview Restaurant offer dining with spectacular lakeside vistas, exclusive for guests. Being away from a town and highway meant I could enjoy a peaceful night's sleep.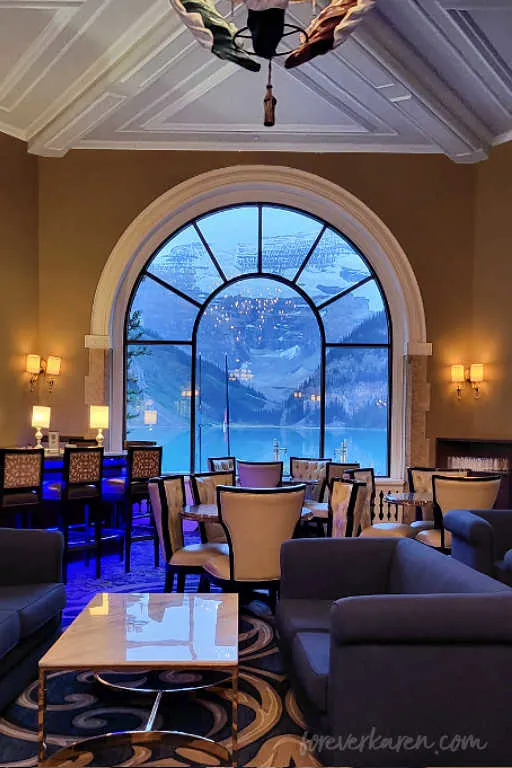 Since both hotels are part of the Fairmont brand, expect similar amenities in guest rooms. However, we found some differences between the hotels.
Parking
Unless you have a special rate that includes parking, most guest rooms do not include free parking. We paid an additional CAD 29 at the Banff Springs Hotel and CAD 30 at the Chateau Lake Louise.
The rate was for self-service parking, with in and out privileges. Alternatively, guests can opt for valet parking for CAD 45.
We preferred the parkade at Lake Louise because it was attached to the hotel. During bad weather, guests wouldn't need to worry about going outside. So, if you visit Lake Louise in winter, you don't near to walk outside to transport your luggage.
Swimming Pools
The Banff hotel has both a large inside and outdoor pool. Its outdoor pool is heated and remains open year-round. So, guests can lounge by the pool in summer or enjoy the steamy water in winter, surrounded by crisp snow.
With a large lounging area, the outer pool provides the perfect spot to relax and take in the fantastic views. The indoor lap pool is good-sized for those who prefer a workout and rarely gets crowded.
The Chateau Lake Louise demolished its outer pool to construct a spa. Now, guests can enjoy an indoor pool with a large hot tub. The pool has dim lighting, giving it an unwelcome feel.
360 Dome Dining
Positioned on the upper garden terrace, Banff Springs guests have the option to dine in a 360-dome surrounded by the picturesque Rocky Mountains. Guests can choose from brunch, afternoon wine, charcuterie, or a five-course dinner.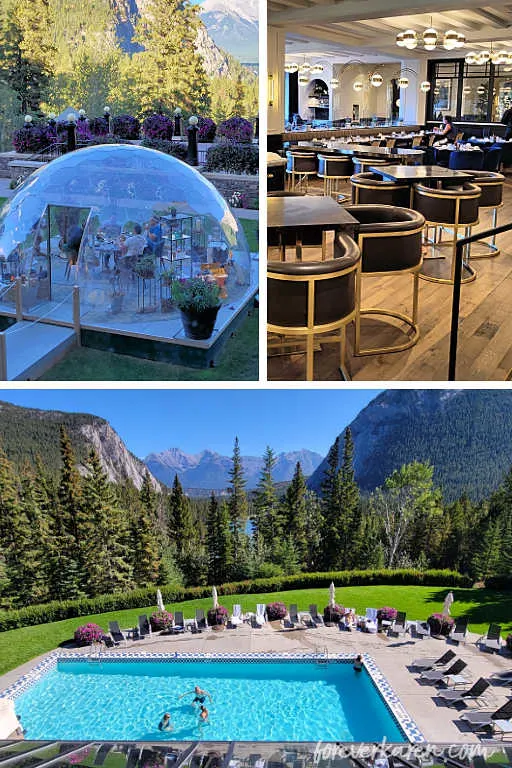 The cozy venue can seat up to six diners, who will enjoy air-conditioning in summer and a heated space in winter.
Canoeing
Being next to Lake Louise, visitors have the option to canoe on its pristine turquoise waters. Those visiting from other areas rent canoes on a first-come, first-serve basis.
However, guests at Chateau Lake Louise get priority rentals and the option to book a sunrise rental. This exclusive guest-only option includes a certificate to get snacks at the hotel's Guide's Pantry.
Golfing
Located adjacent to the Banff Spring Hotel, the Banff Springs Golf Course allows avid golfers to book a golf and stay package.
The package includes tee time for one or two, luxury accommodation, complimentary parking, and golf club storage.
Biking
With one-hour complimentary bike rentals, guests at Banff Springs can explore the surrounding area using two wheels instead of four. If you prefer a longer ride, it costs CAD 25 to rent a bike for half a day or four hours.
Alternatively, if you prefer to see the area on foot, download the rungo app, which recommends walking, running, and hiking trails nearby. The app gives voice-guided navigation.
Winter Activities
Staying in Banff gives good access to skiing at Mount Norquay and Sunshine Village. Those that don't ski or snowboard might prefer a leisurely way down the mountain on a tube instead.
Mount Norquay offers tubing, an excellent recreation for families with children of all ages. Also, with a short 20-minute drive, you can enjoy dog sledding in Canmore.
The Chateau provides a winter wonderland for skiers and non-skiers. Located close to Lake Louise Ski Resort, travelers can have their fill of fresh powder on the nearby slopes. Lake Louise freezes in winter, and the Chateau clears the lake daily, allowing for ice skating.
Other winter activities include sleigh rides, snowshoeing, and cross-country skiing. If you don't have the equipment, don't worry. The Chateau offers high-quality rentals for all your winter activities.
Lake Louise hosts the Ice Magic International Ice Carving Competition in late January. Earlier in the month, visitors can enjoy admiring the snow sculptures during SnowDays in Lake Louise and Banff.
Banff Vs. Lake Louise: The Pros And Cons
We stayed at both hotels in early September, during the same trip. Here's what we liked about the Banff Springs Hotel:
It offers free one-hour bike rentals.
The guest rooms are slightly cheaper than the Chateau.
The outdoor heated pool area is spectacular.
Our bed was amazingly comfortable, and we slept like babies.
The hotel is in a quiet location.
It's in Banff, close to most major attractions and restaurants.
The hotel's décor is magnificent.
Here are the misses for the Banff hotel:
It's a 20-minute walk to town.
The drive to and from the hotel was always congested at the Bow River bridge.
Parking incurred an additional fee.
The parkade is separated from the hotel and requires a walk outside.
We stayed at the Chateau after the Banff Springs. Both were similar rooms with much of the same amenities. Here's what we liked about staying at Lake Louise:
We could watch the sunrise without a 45-minute drive and the hassle of parking.
The parkade was accessible from the hotel.
The hotel is close to Lake Louise hikes, which we could walk without taking a car.
Being away from the Icefields Parkway ensured a peaceful night.
Discounts on canoe rentals.
The bed was fantastic.
The abundance of Adirondacks chairs allowed us to relax on the lawn in the evening.
Here are the things you should also consider:
The guest rooms are more expensive than Banff Springs, especially if you want a lake view room.
Other than the hotel restaurants, there are no fine dining places nearby.
Parking incurs an additional fee of CAD 30 to 45.
Final Thoughts
When it comes to real estate, three words come to mind: location, location, location! For me, being next to Lake Louise filled my desire to hike, and watch a spectacular sunrise without getting in my car.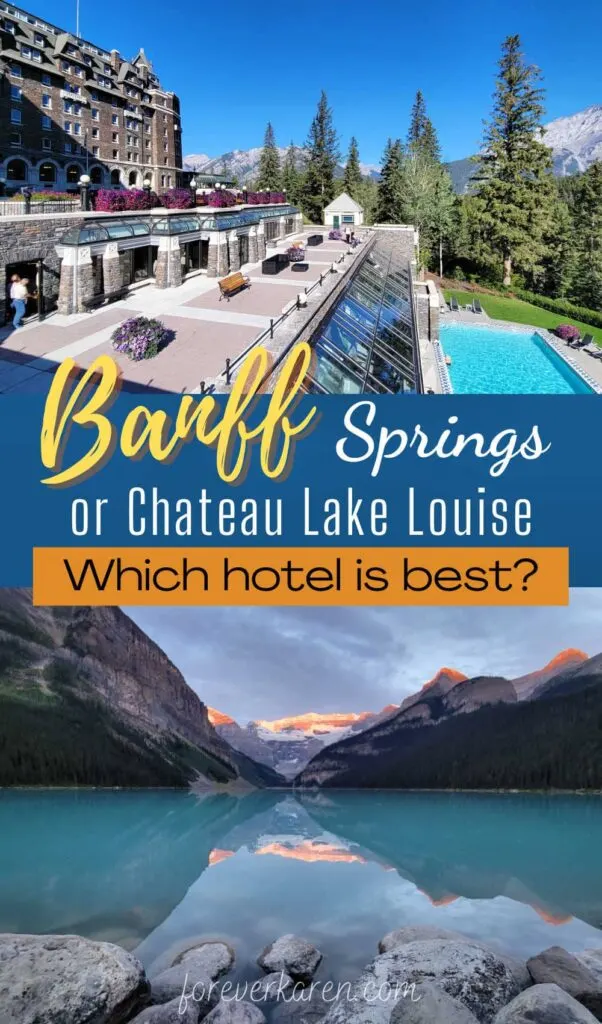 While I sacrificed having access to Banff's diverse and fantastic food scene, I chose to stay in both locations to enjoy the best of two worlds.
Would I stay at either of the Fairmont Hotels again? Yes! In fact, we are planning a winter escape which will include a few days at the Fairmont Chateau Lake Louise. For us, you can't beat those fantastic lake views, footsteps from the hotel.
In Banff, we prefer to pass on the Fairmont Banff Springs and prefer the chalet-style Moose Hotel, within a block of the best restaurants. Their spacious suites include a kitchenette and fireplace.
If you're a fan of the Fairmont Hotel brand, here is a review of the Fairmont Vancouver Airport hotel in British Columbia. Like the hotels in Alberta, you'll enjoy the same luxuries but much larger and more modern rooms.
Have you stayed at either Fairmont Hotel? Do you have a favorite? Leave your comments below.
Happy travels ~ Karen