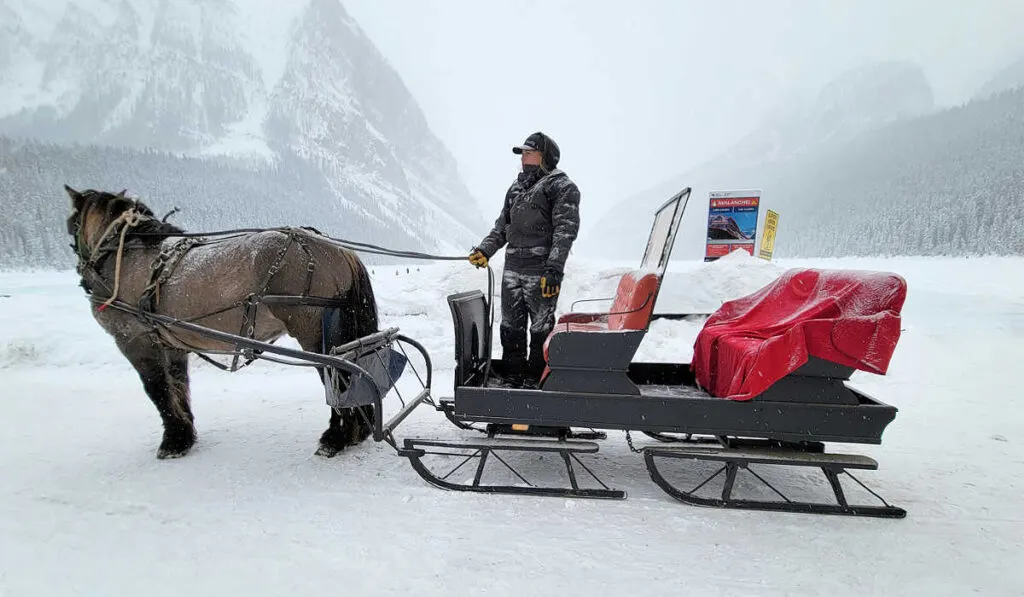 With a fairy tale castle and breathtaking landscape, Lake Louise in Alberta attracts global visitors to see its turquoise hues in the summer. In the winter, Lake Louise turns into a frozen tundra with spectacular scenery painted in shades of white. If you're looking to spend Christmas in Canada, Lake Louise makes a great destination contender.
With temperatures well below zero, it's a great place to partake in winter activities, from skiing and snowshoeing to ice climbing and ice skating.
Its iconic lake begins to freeze in November, but the ice isn't thick enough for skating until mid-December. Once frozen, it remains that way until mid-June. Winters are harsh in the Rockies and last longer than summers.
Tips For Visiting The Canadian Rockies In Winter
If you're flying to your winter getaway, Calgary International Airport provides the closest access to Banff National Park. It's 125 miles or 202 km to reach Lake Louise.
The journey by vehicle takes approximately 2-1/2 hours, dependent upon weather and road conditions. Without a car, you can travel by bus using Brewster Express.
With unpredictable weather, you'll want to reserve an SUV over a small vehicle. While winter tires aren't mandatory in Alberta, paying a little more for the extra security is wise.
Should you plan to drive north on Highway 93 Alberta/Icefields Parkway, snow tires are required for this route.
Visitors staying overnight in any of the Canadian national parks require a Discovery Pass. They can be ordered online before your visit.
Alternatively, you can purchase one at the park from the Parks Canada Visitor Center or Banff & Lake Louise Tourism.
December is the coldest month, with average daylight highs of 16F or -9C and nights of 1F -17C.
However, during my visit, a week before Christmas, the daylight highs only reached -6F or -21C. And those were the warm days. January and February experience slightly warmer temperatures.
You'll need clothing built for the cold to combat the frigid conditions. Down jackets rated for sub-zero temperatures are preferred.
Pair these with snow pants, winter boots, insulated gloves, hats, wool socks, and thermal base layers. You will already have the correct gear if you're a skier or snowboarder.
Hand warmers and toe warmers are essential if you intend to be outside for hours. We like the Hot Hands Super Warmers because they provide the most warmth in a larger size and last all day.
Even in winter, you can get dehydrated but since water freezes, carry an insulated mug with a hot drink instead.
Visit Lake Louise in Winter Vs. Summer
With frigid temperatures, you might wonder why anyone would consider visiting the Canadian Rockies in winter.
While the winter has pros and cons, once you lay eyes on the wintery landscape, you'll realize that visiting Lake Louise in the off-season was the right decision.
So, here are the benefits:
You can stay at luxury hotels like the Fairmont Banff Springs Hotel or Fairmont Chateau Lake Louise and score a reduced rate.
You CAN get parking at Lake Louise and don't need to pay for it.
There are no crowds in winter anywhere. So, you won't need to wait long to be seated for dinner or deal with crowds when shopping.
Banff doesn't close Banff Avenue to traffic in winter. Plus, you can get parking.
You can get a rental car for less money (due to supply and demand).
Since hotels are only partially booked, you can often get complimentary upgrades.
Here are the negatives:
You need to dress for extreme weather conditions. It can get tiring putting on the layers and repeatedly removing them throughout the day.
Roads could be icy with packed snow and challenging to drive.
With late sunrises and early sunsets, you'll have fewer daylight hours for activities.
Certain attractions like Moraine Lake and Lake Agnes Teahouse are closed for the winter.
Staying At Fairmont Chateau Lake Louise
Banff National Park has two Fairmont fairy tale castles, Banff Springs and Chateau Lake Louise.
However, if you want to be next to the natural skating rink and close to the best winter activities, the Fairmont Chateau Lake Louise provides that.
During the busy summer months, the rooms are fully booked months (or years pre-pandemic) in advance. However, there are plenty of available spaces in winter, and the best part is you'll pay a lower price.
When comparing Banff Springs to Lake Louise, it's hard not to fall in love with Chateau Lake Louise's location. With steps to the frozen lake, a parkade connecting the hotel, fantastic restaurants, and a fabulous spa, it makes your winter vacation that much more wonderful.
The Chateau's Fairmont rooms offer the ultimate luxury, from premium toiletries and rich linens to plush robes and slippers.
A step up, the Fairmont Gold rooms include complimentary breakfast and access to a private lounge with evening canapes.
Guests can choose from rooms and suites overlooking the Bow Valley, Lake Louise Ski Resort, or Victoria Glacier. The highest-priced ones look onto Lake Louise and Victoria Glacier.
Lake Louise Village offers less expensive options if the Chateau is out of your budget. When visiting the lake in winter, you don't need to pay for parking; and chances are, you can choose the parking lot closest to the lake.
Should you visit before Christmas or into the New Year, the Chateau decorates its hotel with festive lights and décor. It's the perfect place to get into the joyous spirit.
Highlights Of The Lake Louise Area
The winter wonderland around Lake Louise makes you forget about the cold. When the lake is frozen, you can ice skate, go cross-country skiing, or enjoy a wintery hike.
The trail along the lake's edge provides a beautiful winter hike to enjoy the landscape and mountain peaks if visibility allows. At the lake's headwaters, a frozen waterfall attracts ice climbers to test their skills.
Alternatively, the Fairview Lookout provides magnificent views of the lake and Chateau if the trail is open. Check the avalanche risk before planning this trek.
However, the best way to enjoy Lake Louise in the snow is to take a horse-drawn sleigh ride. Operated by Brewster Stables, you can choose from a romantic sleigh ride for two or enjoy the trip on a larger sleigh.
The ride through a snow-capped trail is the perfect winter activity for the whole family.
Take a hot chocolate and a warm blanket if the temperatures are frigid. The one-hour journey travels to the end of the lake and back.
If the area has deep powder, don't try walking; use the hiking trails with snowshoes instead. When you collect your rentals from the shop in the Chateau, ask for a trail map, suggestions on where to go, and trail conditions.
In mid to late December, the Chateau builds an ice castle on the lake which serves drinks. So, after a cold day of activities, grab a rewarding drink at the Lake Louise ice bar.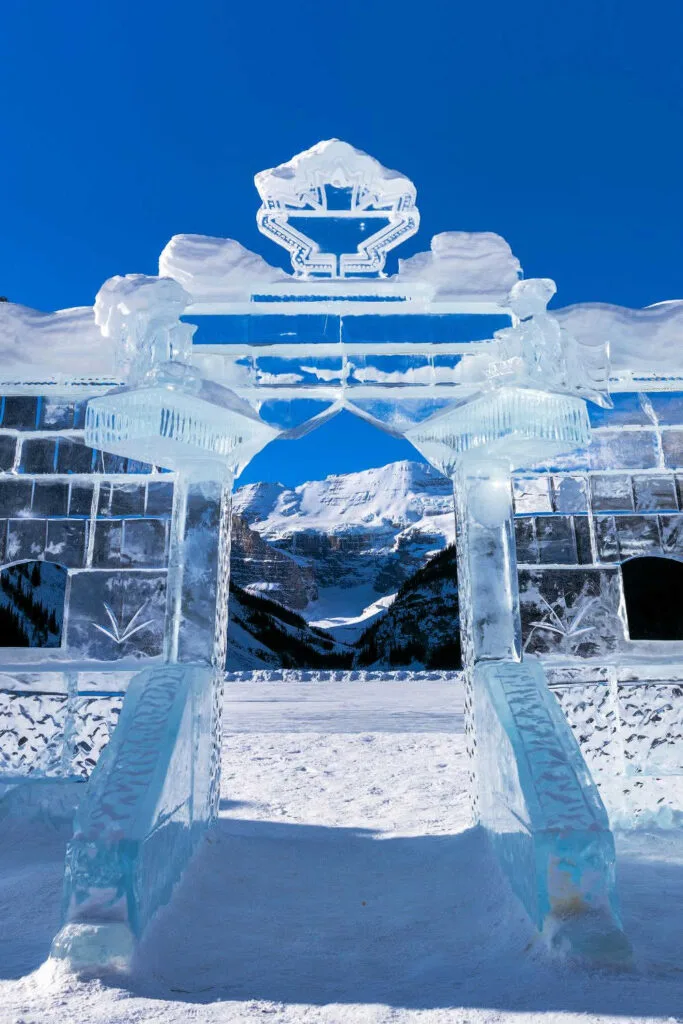 Lake Louise Ski Resort
For snow bunnies, the Lake Louise Ski Resort offers snowboarding, skiing, snowshoeing, and tubing. It is located across the Bow Valley from Lake Louise and offers 4,200 acres of accessible terrain, perfect for winter sports.
While you won't spot any bears beneath the Lake Louise gondola in winter, you'll enjoy stunning views of the wintery landscape. Visitors can purchase a sightseeing gondola ticket if they don't intend to hit the slopes.
The resort provides lessons and gear rentals if you're new to skiing or snowboarding. So, only invest in the entire snowboarding kit once you know you'll continue the sport.
The resort offers a snowshoe tour for those who want to explore the best vistas of the Canadian Rockies. This guided tour takes you to scenic vantage points to capture the best views.
Alternatively, you can join a wildlife tour, snowshoe at night, or take an all-day adventure. The all-day and night excursions are rated moderate for those with snowshoeing experience.
Tubing is less expensive than skiing and provides a different kind of thrill for the whole family.
While the Lake Louise Ski Resort is the closest ski hill to the Chateau, you can go skiing and snowboarding at Sunshine Village Ski Resort or Mount Norquay near Banff town.
Lake Louise Ice Skating
If you enjoy a casual ice skate or love to play hockey, there's nothing more iconic than doing it on a frozen lake. Since the Rockies have long winters, you can often enjoy ice skating for at least five months of the year.
Lake Louise provides the best place because its ice is closely monitored, and staff regularly flood the surface to thicken it. With floodlights, skaters can use the natural ice rink late at night.
Inside the Chateau, a rental shop in the basement offers skate rentals and the appropriate gear for other winter activities. You can choose from figure skates or hockey skates.
If you bring your own skates and a hockey stick, you can have an impromptu game of hockey with family, friends, or complete strangers.
Another option for gear rental is Wilson Mountain Sports at 101 Lake Louise Drive in the village. It has skate rentals and hockey sticks too.
Other options for ice skating include Lake Minnewanka, Vermillion Lakes, and Two Jack Lake. Bear in mind these areas aren't maintained, and the ice needs to be a minimum of 4″ thick to support a person.
Also, ice thickness can vary around a lake, so while it may be 4″ thick in one place, it may be thinner somewhere else.
Where To Go Cross Country Skiing?
Cross-country skiing is a Nordic sport suitable for all ages. With a very long winter, Banff National Park provides the ideal winter landscape for cross-country skiing. You'll enjoy the savings without the need for an expensive lift ticket.
There are lots of scenic trails, ranging from easy to moderate. Around Banff, the Spray River East, Tunnel Mountain Winter, Healy Creek, and Castle Junction are ideal for beginners.
Around Lake Louise, the Campground Loop, Bow River Loop, Great Divide, Tramline, and Moraine Lake Road provide easy routes.
Crossing Lake Louise in winter is another option once the ice surface is thick enough. While the cross-country trail goes into the trees at the back of the lake, you have the option to go as far as you want.
The Rockies also have moderate and challenging routes if you're an avid cross-country skier with lots of experience. Alternatively, those new to the sport can book a lesson.
Ice Magic Festival
In mid-January, Lake Louise hosts the Ice Magic Festival. The exciting event showcases the talented skills of global ice carvers who go head-to-head in a competition.
The anticipated event draws thousands of people who come to admire the artistry. There's something extraordinary about seeing giant blocks of ice carved into a mythical creature, towering structure, or fantasy artwork.
With sub-zero weather, the ice sculptures remain until mother nature melts them.
While you can see the ice carvings after the event, fresh snow often shields their beauty. So, try to view before a snowfall to admire the freshness of the clear ice.
If you love the idea of these wintery carvings, the town of Banff has an event too. Instead of ice blocks, artists create sculptures from snow.
The giant snow sculptures transform downtown Banff into a snow playground during the SnowDays Festival in January. So, fill your insulated mug with hot chocolate and enjoy the open-air snow gallery.
Things To Do Near Lake Louise In Winter
If you're not a skier or snowboarder and aren't enthusiastic to try them, there are unique winter activities worth trying.
The snowy winter brings an opportunity to go dog sledding. If it's on your bucket list to go mushing, the Canadian Rockies allows you to do it at a price you can afford.
You can opt to go dog sledding in Canmore or Banff. Several operators provide tours that last from 30 minutes to several hours. Some excursions, like the one we took with Howling Dogs, allow you to harness your dog sled team.
Also, in Canmore, the Yamnuska Wolfdog Sanctuary rescues wolfdogs and educates the public on their breed. A cross between a domestic dog and a wolf, most wolfdogs, have many traits of a wolf and don't make good pets.
The sanctuary offers three tours that allow you to observe and interact with the wolfdogs. During winter, you'll enjoy seeing them in their thick coats that protect them from the elements.
By visiting the refuge, entrance fees and money collected from merchandise sales goes towards feeding the wolfdogs and expanding the shelter to accommodate more animals.
If you're up for a snowy hike, consider the Johnston Canyon ice walk. Located off the Bow Valley Parkway, the canyon attracts a massive crowd in summer.
However, you'll enjoy the hike with fewer people in winter. Due to regular use, the trail is quite packed and easy to walk. We thought Johnston Canyon was more scenic in winter.
Ice cleats or shoe spikes, and hiking poles make the trek a little easier and lessen your chances of taking a fall.
Driving The Icefields Parkway
If you venture further from Lake Louise, you'll want to check the weather forecast and road conditions first.
With slippery roads and packed snow, be realistic when planning your day trips. Things that may seem close on the map may take much longer to reach. Plus, allow yourself enough hours to return during daylight.
It's important to remember that while you might enjoy 16 hours of daylight in the summer months, that might be compacted to just 7 hours in December.
While you won't need to rise with the birds to start your day, you'll be limited to what you can achieve in those hours.
Along the Icefields Parkway, parking areas for viewpoints may not be plowed, summer trails may not be accessible, and signage may be buried in snow. Once you leave the Lake Louise area, you won't have cellular coverage.
If you intend to divide your time between Banff and Jasper National Parks, check the highway conditions before making the scenic drive.
North of Lake Louise, Peyto Lake makes a fantastic day trip. In summer, Peyto Lake exudes hues of turquoise that often look photoshopped. However, snow covers Peyto Lake in winter, but the lake's unique shape and picturesque landscape make it a must-visit in the off-season.
Since the viewpoint is located at Bow Summit, the highest point on the Icefields Parkway, you can expect deep snow to reach the lookout. With fresh snow, it can be challenging to find the right path, but the reward for making the trek is incredible views.
Conclusion
Winter offers the most magical time to enjoy Lake Louise. With the rush of summer tourists gone, it's a mellow time to enjoy the wintery surroundings at a slower pace. Isn't that how all vacations should be?
As the mountains transform from green to white, you'll have access to multiple bucket list adventures such as dog sledding, sleigh rides, and ice climbing.
After a cold day of adventures, head to the Chateau Lake Louise pool to use the much-needed hot tub. Afterward, the Chateau Fairmont Lounge provides the perfect setting to enjoy the snowy views and savor your newly created memories.