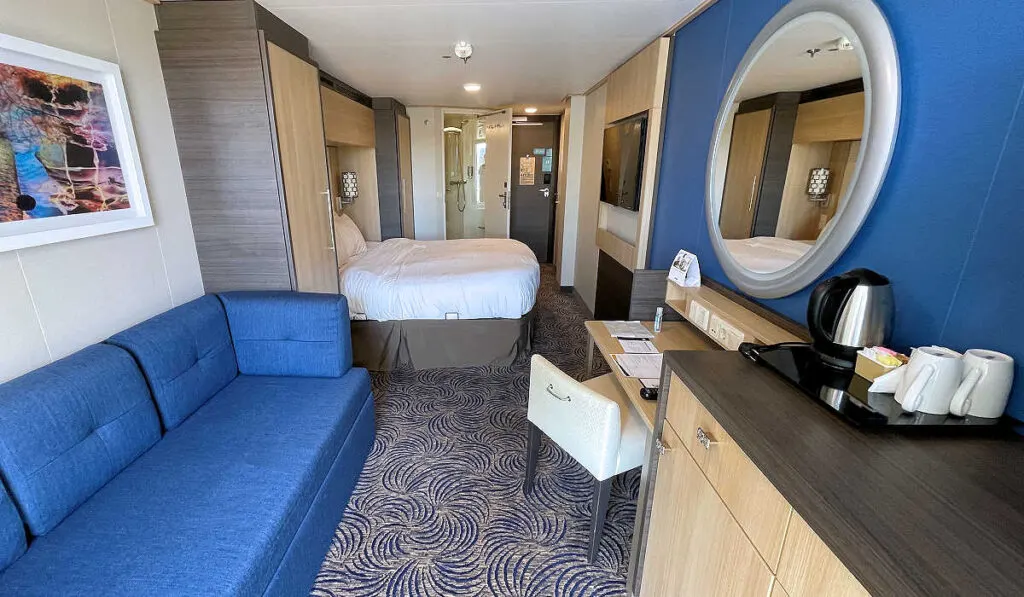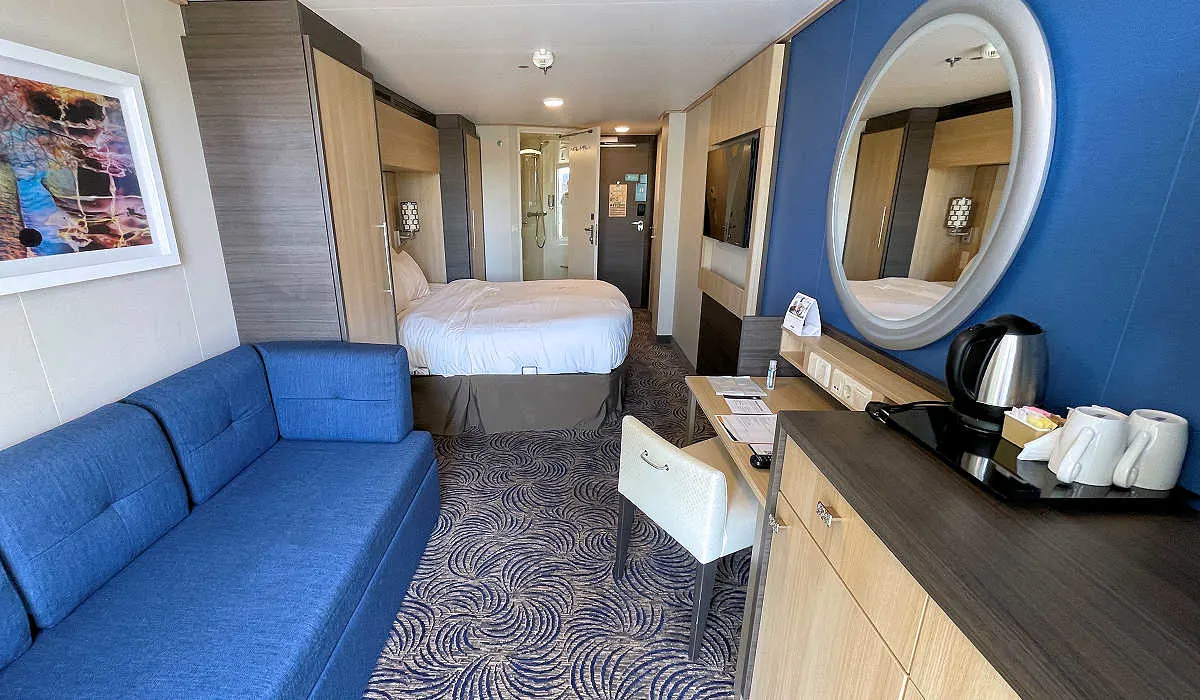 Royal Caribbean's Ovation of the Seas offers 2,091 staterooms, and there's one for every budget. Whether traveling solo or wanting the ultimate luxury, this Quantum-class ship has a large selection of cabins across nine of its decks.
We took a cruise to Hawaii from Vancouver on the Ovation in a balcony stateroom. Since the vessel sailed at 61% capacity, we had the opportunity to view some of the empty staterooms to compare their space and amenities.
There was a limited supply of selected cabins. These included 34 accessible staterooms, 28 studio cabins, and 16 family-connected rooms. Should you need an accessible or solo cabin, it's advisable to book early.
Ovation Of The Seas Balcony Staterooms
We booked a guaranteed ocean view balcony stateroom and knew we would receive one with an obstructed view, but we were okay with that. Royal Caribbean assigned us cabin 6696 on deck 6 aft.
The room was clean with a contemporary color scheme. It had a Royal king bed (or guests could have the bed separated into two twin beds), a desk area, and a convertible sofa bed.
We found the bed extremely comfortable during our cruise and the pillows almost perfect.
The sofa would open to accommodate up to 2 more guests. A 40″ flat-screen TV was positioned opposite the bed and wasn't watchable from the couch.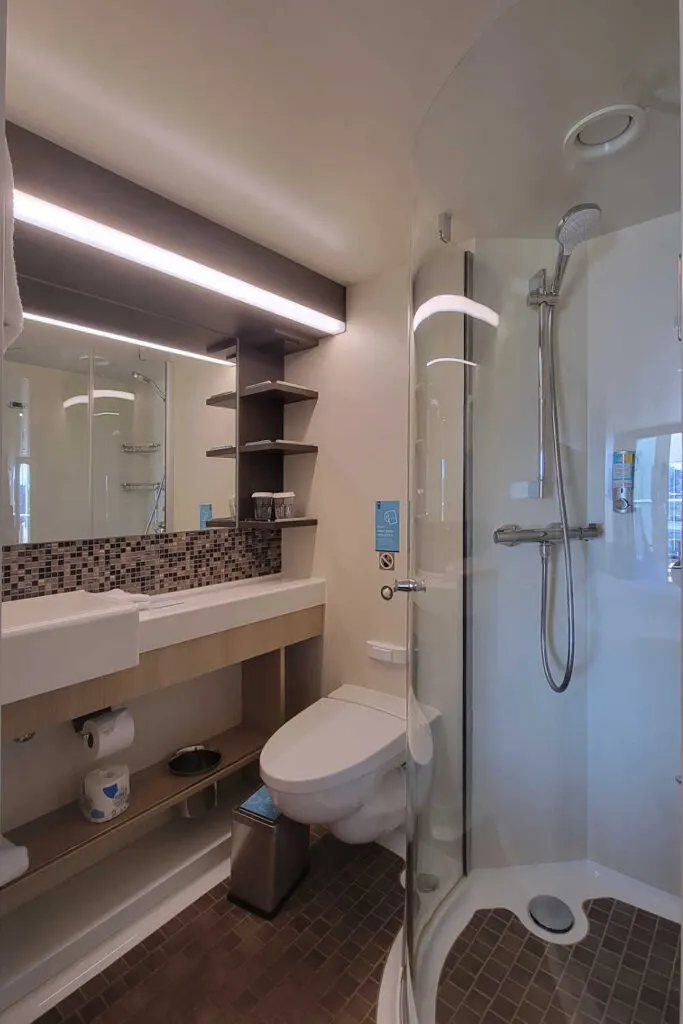 I found the bathroom tight but typical to other balcony cabins we stayed in. There was only a shower, but we preferred this and appreciated the shower door over a curtain.
While some families prefer to have a bathtub when traveling with kids, they would need to upgrade to a suite to have that added feature.
The shower had no clothesline to hang wet bathing suits, but it contained two hooks we utilized instead. Royal Caribbean provided a basic all-in-one shampoo/body wash. Women with long hair might want to pack a hair conditioner.
One of the features we really liked was the nightlight in the bathroom. At night, the light naturally dimmed, so you wouldn't need to turn on the bright light when using the restroom.
The room measured 198 sq. feet with a 55 sq. foot balcony. We had cabins above us and the "next cruise desk" below us. We could not hear our neighbors during the cruise, although the room made many strange creaking noises.
Initially, we thought there wasn't a lot of storage. However, once we unpacked, we had plenty of storage for all our clothes. Granted, there was just my husband, Brian, and I, and we are efficient packers.
The balcony cabins feature two closets on either side of the bed. One had all hanging space (with two rods), while the other had a tiny clothes rod, a small safe (not big enough for a laptop), and four shelves. There were two large drawers beneath this closet.
There were two tiny shelves on the night tables, but we didn't use this space (maybe because it was too small).
Next to the desk, another four drawers provided space for folded items. Above the bed, there was additional storage, but we didn't utilize this area. We were able to fit our suitcases under the bed.
At the desk, there was one European socket, two USBs, and two North American plugs. On one side of the bed, you can find an additional plug. The large round mirror could double as a vanity area with its additional lighting.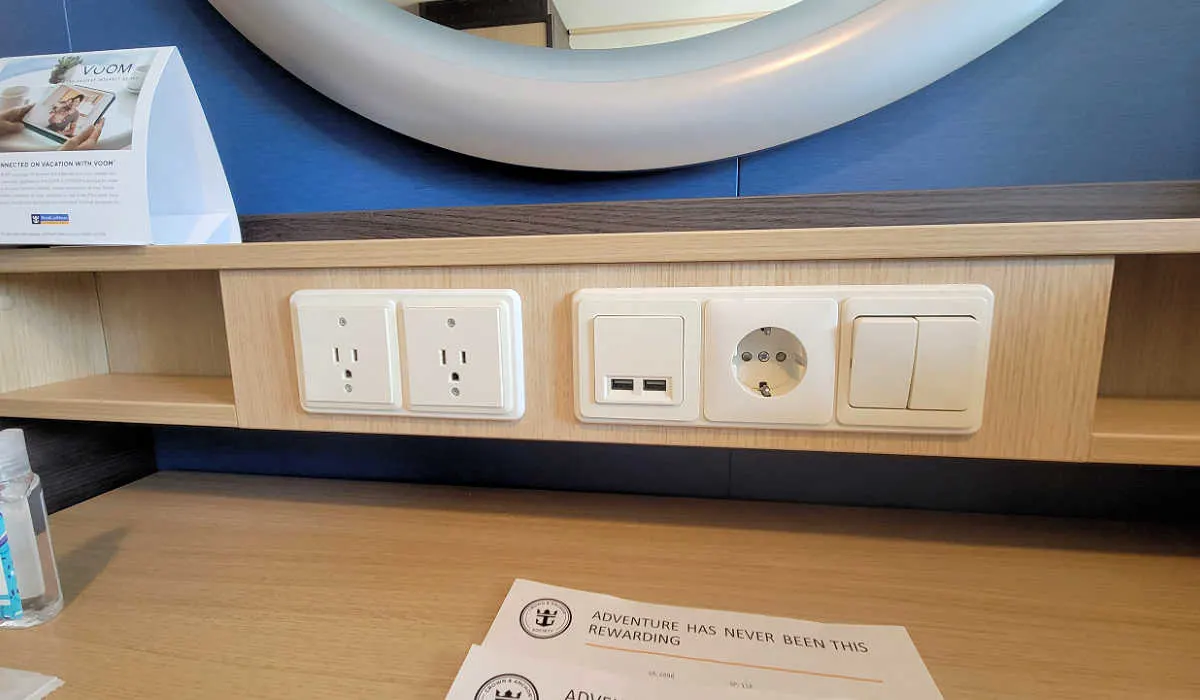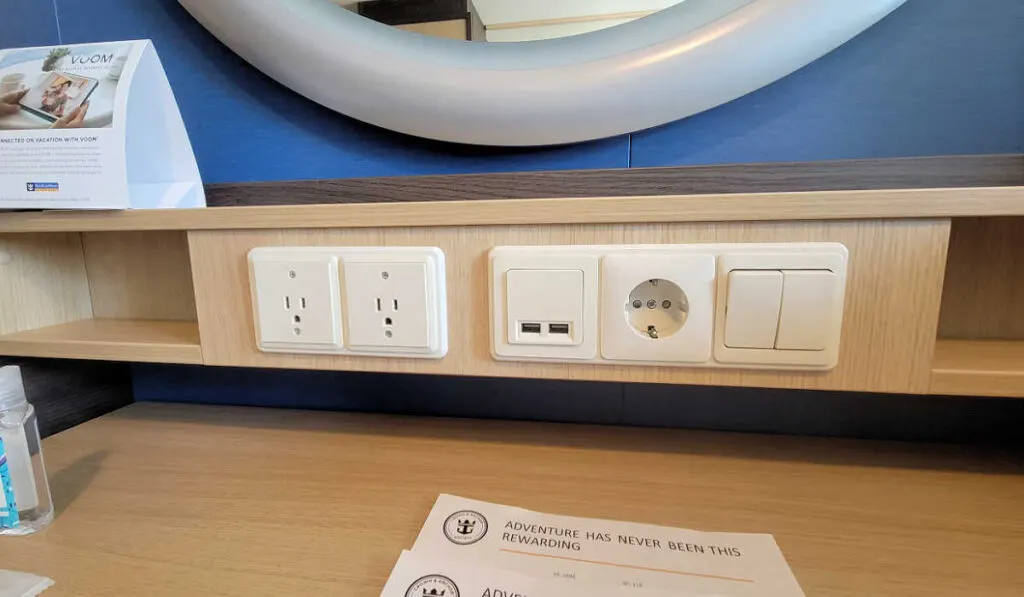 Another feature we appreciated was the stateroom tea station. Since we enjoy morning tea in bed, we could continue the routine on our Pacific Ocean cruise. Oddly enough, Royal Caribbean provided a small selection of tea bags but no instant coffee for the coffee drinkers.
Our cabin had the standard mini-cooler, but this one was very shallow. While we could use it for drinks and bottles, it wasn't deep enough for a small plate of food.
The large balcony was spacious compared to other balconies on competitive cruise lines. It was deep enough to have a lounger with a separate footstool which we enjoyed on sea days.
Our obstructed ocean view balcony didn't provide clear vistas of the ocean. We could see the top of the lifeboat and one of the lifeboat arms, but we could still enjoy relaxing sunsets in the evening.
During the cruise, we appreciated our cabin location. We could walk down one flight of stairs to the Two70, two flights to the restaurants (both at the aft), and take the elevator to the buffet.
One of the things removed from the stateroom was the small table. On most cruises, we found the table a nuisance, so I was happy to see it gone. On the mornings we ordered room service, we utilized the desk chair as a table.
We loved our stateroom so much, we cruised in the same category of cabin on the Quantum of the Seas, seven months later.
Ocean View With Large Balcony
Before our cruise, Royal Caribbean International invited us to upgrade with their RoyalUp program. Initially, we wanted to bid on a junior suite but soon learned all the suites were booked.
Our only option was to bid on an ocean view cabin with a larger balcony. The minimum bid to upgrade was USD 200 per person.
However, when we looked at the specs of the stateroom, the balcony was only ten sq. feet larger. The biggest downside was the interior space shrunk from 198 sq. feet to 177 sq. feet.
Since I couldn't understand why someone would bid USD 200 or more for less space, we chose to keep our assigned cabin.
Ovation Of The Seas Virtual Balcony
There are 375 inside rooms, but each has a large monitor that creates the effect of a virtual balcony. The monitors show actual views from outside the ship. Virtual balconies are a unique feature on selected Royal Caribbean ships.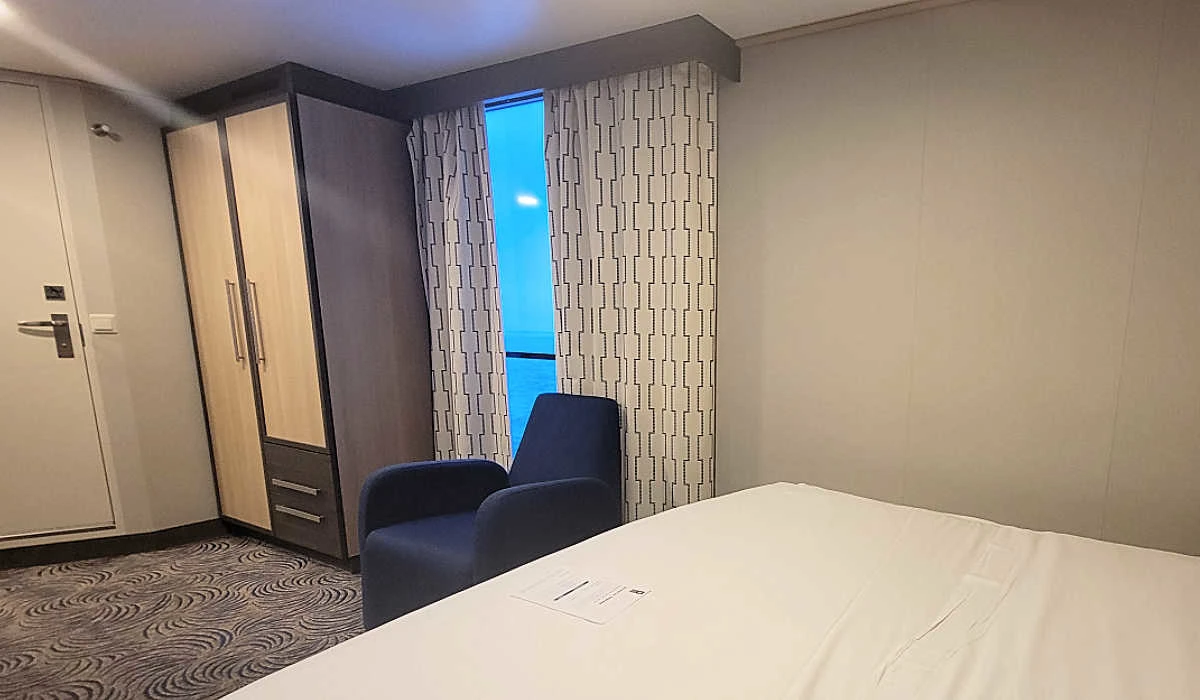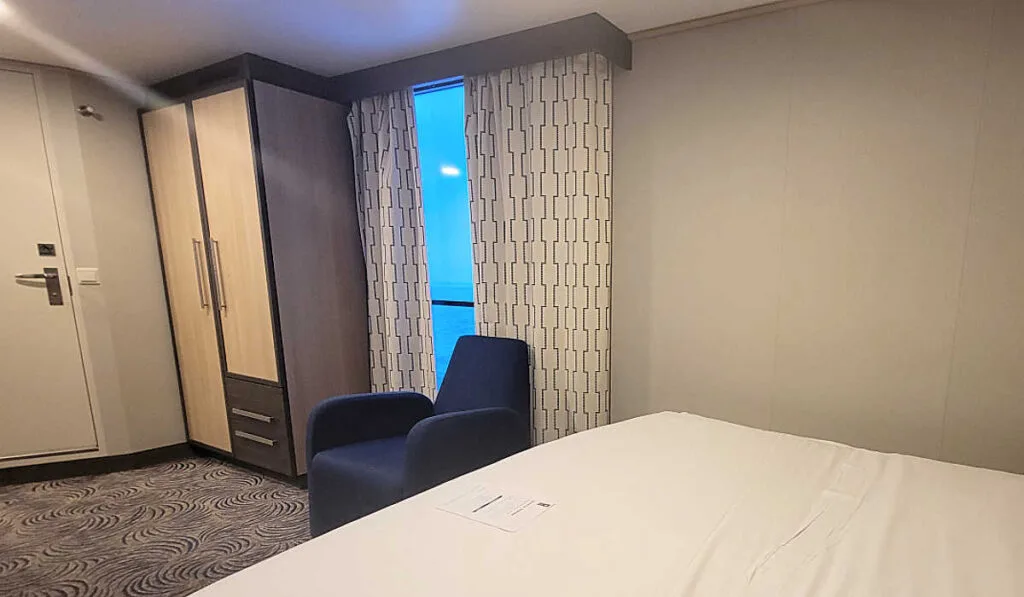 We had heard some passengers suggest the monitors weren't that good because of the resolution. In other words, it didn't look like a real outside view.
However, when we toured an inside cabin, I thought the monitors were great. The inside rooms were much better than a standard inside room with no windows.
While the interior space was smaller at 166 sq. feet, the monitor made the area airy. I have stayed in interior cabins of 140 sq. feet, so these were much larger.
With curtains on each side of the monitor, guests could shut out the light from the monitor when needed.
The room we viewed had a bed on the narrow wall with two tiny nightstands. It still featured the same desk, chest of drawers, and double closets as the balcony stateroom. However, a single chair replaced the large sofa.
The bathroom was the same size, with all the same amenities as our balcony cabin.
We met a few passengers who had initially booked an interior but upgraded to a balcony using Royal Caribbean's RoyalUp.
The bid for an upgrade meant all the suites were booked during our cruise, and the unoccupied cabins were in the inside, outside, and balcony categories.
Ovation Of The Seas Studio Staterooms
It was nice to see the addition of solo rooms on the Ovation. This Quantum-class vessel had 28 studio cabins; 16 were in the interior category, and 12 had balconies.
If you're a solo cruiser and used to a studio interior stateroom, having a balcony is definitely a significant upgrade.
While the solo space measured 101 sq. feet for an interior and 119 sq. feet for a balcony, guests didn't need to pay a single supplement. These rooms had a smaller double bed, the same bathroom, and no sofa.
There are six studio ocean view balconies on deck 6 and an additional six one deck higher. Decks 6 to 13 housed two studio interior staterooms per floor.
So, if you're sailing to Alaska, you can book a solo cabin on both Royal Caribbean and Norwegian mega-ships, which cruise out of Seattle, Washington.
Ocean View Staterooms
The ocean view rooms were similar in size to our balcony room. The large windows provide ample light but no fresh air. If you feel you can't afford a balcony cabin, an ocean view stateroom offers an excellent alternative at a lower price.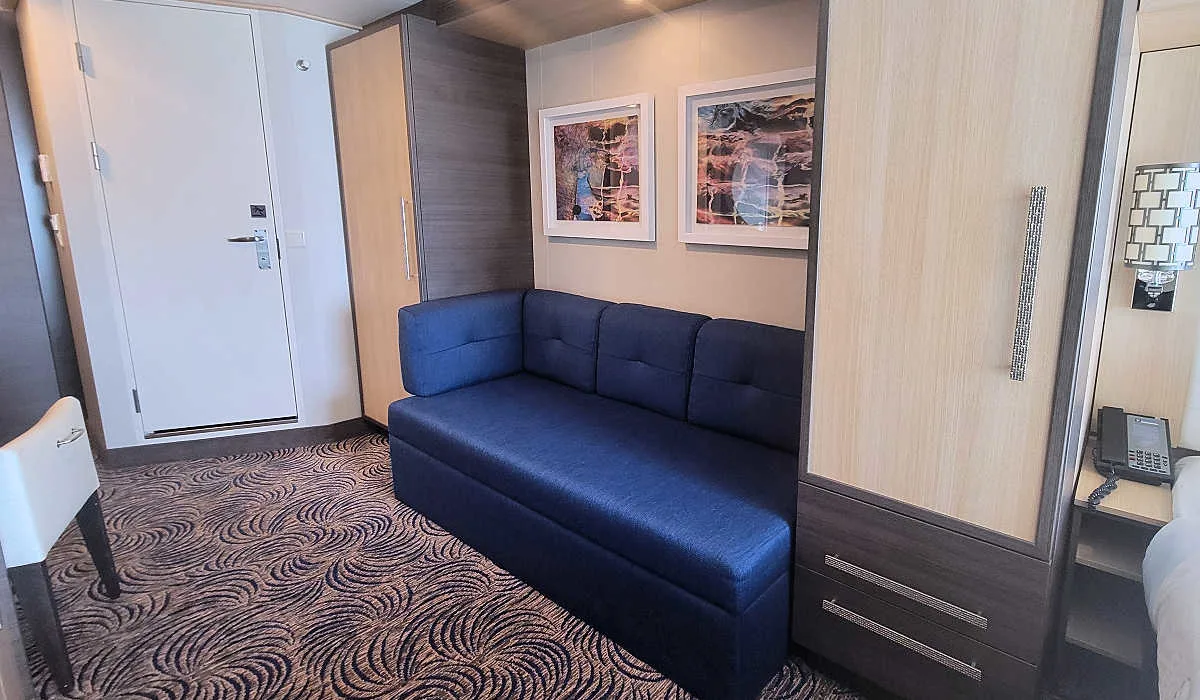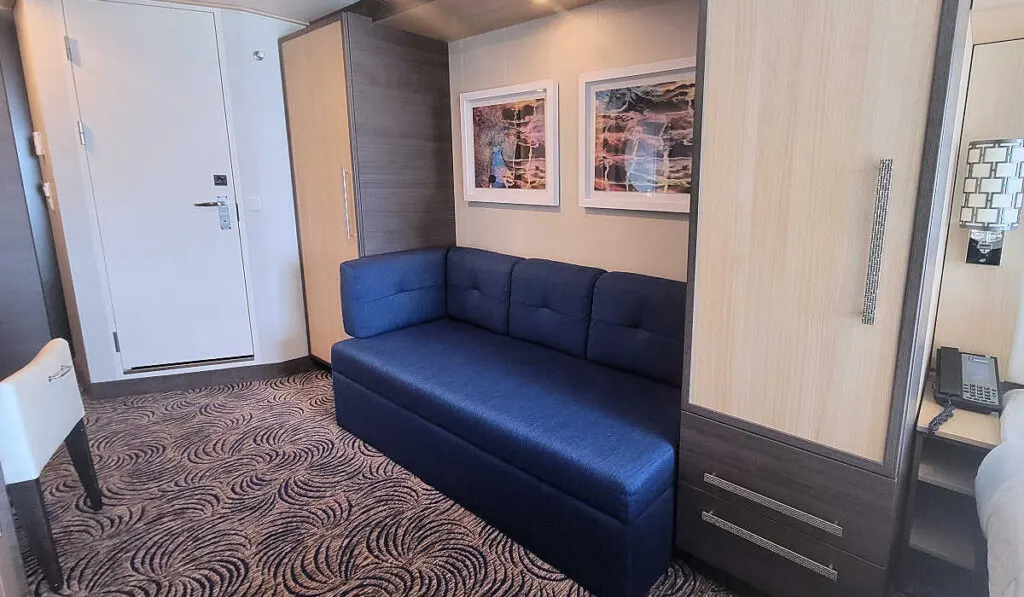 The standard-sized ocean views were slightly smaller at 182 sq feet. We toured one on the ship's bow, called a spacious ocean view. It was bigger than our balcony cabin at 214 sq. feet due to the sloping alcove wall.
While it had all the same features as a balcony stateroom, the extra space allowed for two chairs in addition to the couch.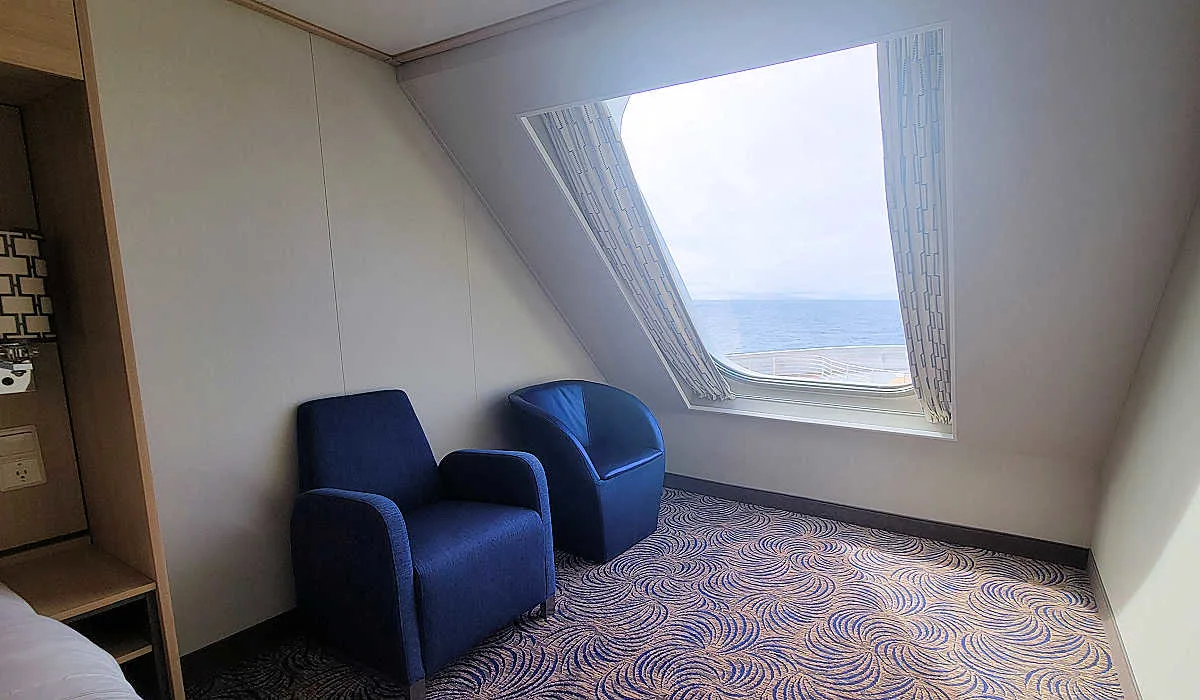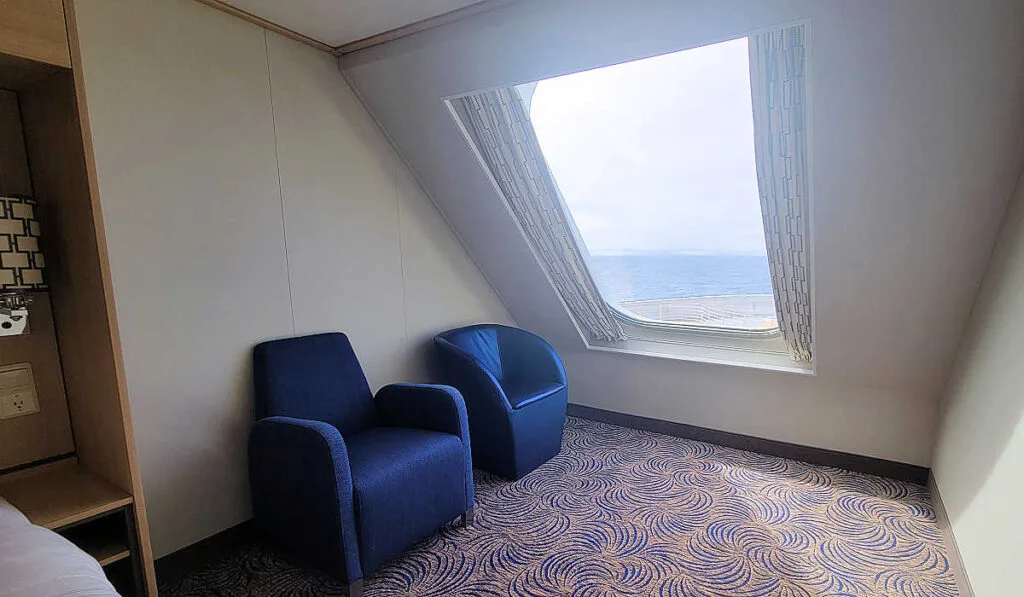 I felt this type of cabin would be perfect for a family. The extra space below the window would provide a nice play area for children.
Ovation Of The Seas Suites
The Ovation of the Seas suites vary in size from the 267 sq. foot junior suite to the 1,640 sq. foot royal loft suite. However, there is only one royal loft suite on deck 8 aft, which can sleep up to six guests.
The two-level suite features three balconies, a bed with a Duxiana Mattress, a soaker tub, and a separate dining and living room. Guests booked in a royal loft suite have access to a royal genie.
A royal genie handles all your special requests, plans events, expedites luggage, and arranges priority seating at prime venues.
Staying in a suite has added perks. These included priority boarding with a dedicated check-in line, luxury bathroom amenities, Lavazza Espresso Coffee Maker, and dining at the Coastal Kitchen Restaurant.
However, the higher suites have additional perks, as shown here.
Sky loft suite, Grand suite,
and Owner's suite
Royal loft suite, Grand loft suite,
and Owner's loft suite
VOOM WiFi
X
X
Concierge Service
X
X
Priority departure
X
X
Suite Lounge access
X
X
Exclusive signature activities
X
X
Royal Genie
X
Gratuities included
X
Complimentary specialty dining
X
Complimentary deluxe beverage package
X
We had the opportunity to see a junior suite and a grand suite. However, we couldn't view the Sky loft suite, grand loft suite, owner's loft suite, or royal suite.
The junior suite is a larger version of a balcony stateroom. It's wider and provides an additional 70 sq. feet of interior space and 26 sq. feet of exterior balcony.
Unlike the higher category suites, it doesn't have separate living and bedroom areas.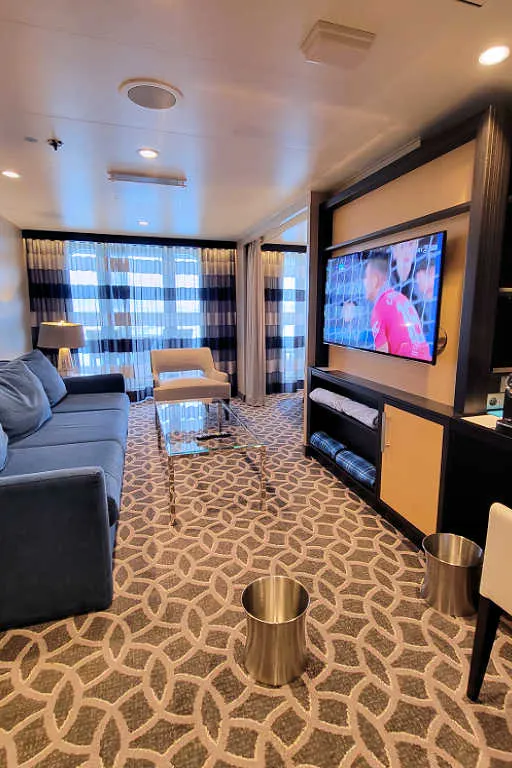 One step up, the grand suite offers designated sleeping and living areas. Additionally, the grand suite can accommodate up to four in the one bedroom and the sofa bed in the living room.
This class of cabin also has a full bathroom and half bath. The private balcony is spacious at 259 sq. feet and features both a sitting and outdoor dining area.
A grand suite is an excellent option if you like to dine in your cabin and invite guests.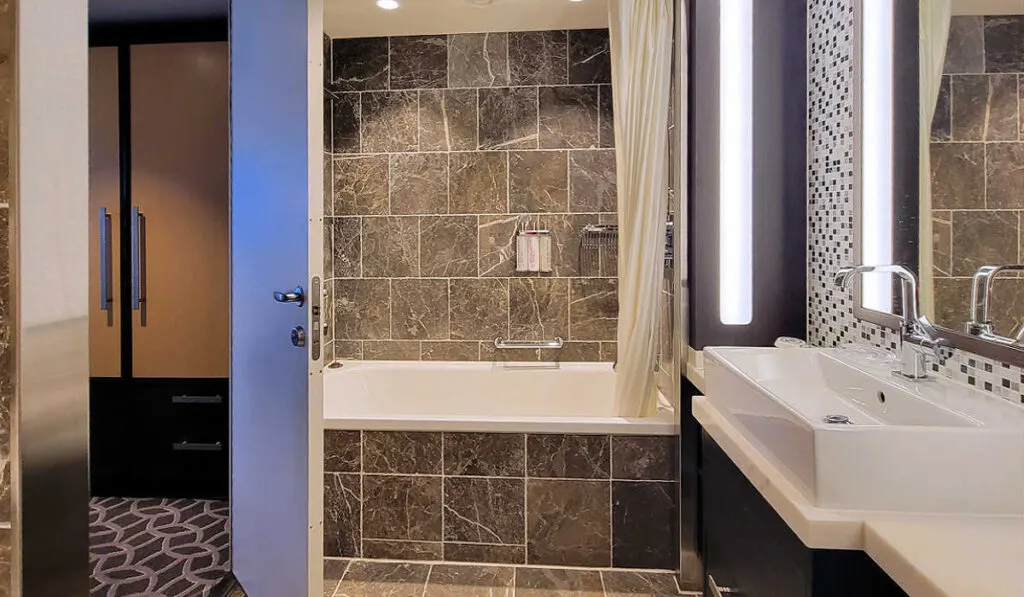 Sailing in a suite helps you climb the loyalty ladder faster. Suite guests receive two points per night compared to one in an interior, outside, or balcony stateroom.
Ovation Of The Seas Cabins To Avoid
Selecting the right cabin on a cruise ship can be pretty challenging, especially if you're a light sleeper or like to retire early. Here are some staterooms that could be problematic for some guests.
Staterooms 6668 to 6682 are directly above the smoking area, one deck below.
3170 to 3184 and 3568 to 3588 are next to the Music Hall. This venue has headbanging music from groups like Aeromyth, who pay tribute to Aerosmith. If you want to avoid a headache, give these rooms a miss.
3200 to 3224 are next to the casino. Since the casino is open late, you might want another location if you're a light sleeper.
Be wary of cabins on deck 13. While the higher decks command higher prices, they aren't always the best. Staterooms midship and at the bow are under the pool areas. Since staff moves loungers in the early morning and evening, there's potential for noise.