With cinematic jungles, colored sandy beaches, and volcanic landscapes, why settle for one Hawaiian island when I could see several? And so began my love affair with paradise, a 12-day cruise from Vancouver to Hawaii.
If you've never been to Hawaii, a cruise offers a chance to see more than one island. But if you've researched a cruise around the Hawaiian Islands, you'll know that Norwegian's 'Pride of America' is the only ship that has exclusive sailings.
While it offers 7-day roundtrip and 10-day cruise and land itineraries, the cost of this cruise is exceptionally high due to lack of competition. By cruising from the downtown Port of Vancouver, I got the same Hawaiian experience at a fraction of the cost. Plus, I enjoyed a lengthier vacation.
My first cruise to Hawaii allowed me to enjoy four different islands, giving me a teasing snippet of each island's vibe. A taste taster, so to speak, of the landscape, culture, activities, and overall ambiance of each isle.
Should I choose to take a land vacation in the future, I'd better understand which island to choose. Since I live in Vancouver and chose a repositioning cruise, I only needed a one-way flight home.
If staying on one of the islands, island hopping is possible but comes at a high cost. So, a Hawaiian cruise not only makes a budget-friendly adventure viable, but I can appease my desire to see several places in one trip. (And being a Sagittarius woman, being mobile is a must!)
Cruise Lines Who Offer Cruises From Vancouver To Hawaii
Princess Cruises and Holland America offer roundtrip (15 to 18-day itineraries) cruises from Vancouver to Hawaii for those who live on the west coast and prefer not to fly. These cruises do not sail regularly but at certain times of the year, so plan ahead and check to see what months they offer these.
If you want to experience Hawaii and don't mind the one-way flight, other cruise lines offer one-way cruises from Vancouver to Hawaii and vice versa.
Bear in mind that these are only available in April or May and in September or October when vessels are repositioning for the start and end of the Alaska season.
These repositioning cruises are available through Celebrity Cruises, Carnival Cruises, Royal Caribbean, Disney, Norwegian, and Holland America.
Length Of Cruises From Vancouver To Hawaii
Repositioning cruises from Vancouver to Hawaii generally sail 9 to 13 days. When selecting an itinerary and cruise line, it's important to note that it takes a full five sea days to cross the Pacific Ocean. So, if you choose a shorter cruise, you will have fewer port days.
In my four sailings to Hawaii, I sailed on Royal Caribbean's Radiance of the Seas for nine days, Carnival Cruises for 12 days, the Celebrity Eclipse for 12 days, and the Ovation of the Seas for nine days.
Living in Vancouver, I prefer Hawaii to Vancouver itinerary because it means the sea days are at the end of the cruise. With busy port days at the start of the vacation, I relax during the return ocean crossing.
I always combine my cruise with a few days on land. That way, I get to explore more of Oahu and immerse myself in the Aloha spirit.
Which Hawaiian Islands?
One-way cruises from Vancouver to Hawaii always end in Honolulu on the island of Oahu. Honolulu is the main port and main airport that serves Hawaii.
Other port days can include Kona on Hawaii (Big Island), Hilo on Hawaii (Big Island), and one of the cruise ports in Maui. Maui has two harbors to accommodate ships; Kahului, a commercial port, and Lahaina, a tender port.
Take note that the Big Island of Hawaii is so big that cruise ships stop on both sides of the island at Kona and Hilo. Some cruise lines (not many) also stop at Nawiliwili on Kauai.
Should you book a 12- or 13-day cruise to Hawaii, some itineraries include a port day in Victoria, BC, Canada.
If you have never visited Hawaii before, cruising offers you snippets of three or four islands. Although the islands were born from volcanoes, I was amazed to see the differences between them.
By exploring a group of islands on one trip, there is no need to choose between Kauai or Maui, or Maui and Oahu because you get to experience each island. After a cruise, you'll have a better idea of which island to visit if you choose to fly another time.
Is It Rough On Open Ocean?
When considering a cruise on the open ocean, one of the biggest concerns is seasickness. I've crossed the Pacific Ocean three times and was blessed with calm seas every time. However, not all cruisers are fortunate enough to experience a smooth crossing.
In fact, on one of my cruises from Vancouver to Hawaii, the Pacific Ocean looked like a sheet of glass. In the five sea days, I only saw one other ocean vessel, a sea tanker far off in the distance. It made me realize my cruise ship was just a pin-head in a massive ocean of water.
If seasickness is of great concern to you, remember to pack motion sickness patches, sea bands, ginger pills, or motion sickness medication to be on the safe side. Stateroom location can also help to minimize the ship's motion.
Vancouver To Hawaii Cruise Pricing
While Norwegian is the only cruise line that sells a 7-day roundtrip itinerary from Honolulu, its price tag may startle you. From USD 1500 to USD 2000 per person for an interior stateroom, the sticker shock may make you rethink your plans to cruise Hawaii.
Since repositioning cruises require at least a one-way airfare, cruise lines offer them at lower prices. I have cruised to Hawaii three times from Vancouver for a fraction of the cost.
I sailed a nine-day cruise with Royal Caribbean for a mere USD 560 in a balcony cabin on a Quantum-class ship. While that was a meager price, my other two were great deals too, at around USD 1000 for 12 days.
The downside of this type of cruise is the number of sea days. It takes a full five days to sail between North America and Hawaii, with the consecutive sea days occurring at the beginning or end of the cruise.
Hawaii Weather
When sailing one way, ships are repositioned from changing climates. So, the sea days closer to Vancouver will experience cooler temperatures.
Be prepared by packing layers for the cooler days at sea. You may not want to use the outside pool during the chilly days, so choosing a ship with an indoor solarium might serve you well.
Outdoor amenities may not be available on those days either. During my cruises to Hawaii, the water slides and the climbing wall did not open for use until the ship had almost reached Hawaii. The same is true of the reverse journey from Hawaii to Vancouver.
The weather in Hawaii can't be any more perfect given its proximity to the equator. For example, average temperatures range from 75 to 90 degrees, but with trade wind speeds of 10-20 mph, the temperatures feel cooler. However, don't be misled by these cooling breezes.
The sun's rays are still harsh so protect yourself with sunscreen and Rashguard clothing. Being half Asian, I rarely burn, but I have received burns in Hawaii snorkeling for a short time.
Depending on the island or location, the weather can vary greatly. For instance, if you plan to drive to the top of Haleakala Volcano in Maui, the temperature can drop 30 to 40 degrees.
Named the "Rainbow State" for a good reason, Hawaii can experience rain showers at any given time. These rain showers are short-lived though, and often end with a spectacular rainbow to give you the "oohs and the aahs." It's interesting to note, that most of Hawaii's precipitation falls at night.
On occasion, Hawaii experiences hurricanes, with hurricane season running from June to September. I do say "on occasion" because hurricanes and tropical storms are not a common occurrence as they are around Florida. It is best, however, to purchase travel insurance.
In general, the windward side or the northeast side of the islands is cooler and wetter, while the leeward or southwest side is hotter and dryer.
Temperature Chart
| | | | | | | | | | | | | |
| --- | --- | --- | --- | --- | --- | --- | --- | --- | --- | --- | --- | --- |
| | J | F | M | A | M | J | J | A | S | O | N | D |
| Oahu | 81 | 81 | 82 | 83 | 85 | 87 | 88 | 88 | 88 | 87 | 84 | 82 |
| | 65 | 65 | 67 | 68 | 70 | 72 | 73 | 74 | 73 | 72 | 70 | 67 |
| Maui | 81 | 81 | 81 | 82 | 84 | 86 | 87 | 88 | 88 | 87 | 84 | 82 |
| | 63 | 63 | 64 | 66 | 67 | 70 | 71 | 72 | 70 | 70 | 68 | 65 |
| Kona | 82 | 82 | 83 | 83 | 85 | 86 | 87 | 87 | 88 | 87 | 85 | 83 |
| | 67 | 66 | 68 | 69 | 71 | 72 | 73 | 73 | 73 | 72 | 71 | 68 |
| Hilo | 79 | 79 | 79 | 79 | 81 | 82 | 83 | 83 | 83 | 83 | 81 | 79 |
| | 64 | 64 | 65 | 65 | 67 | 68 | 69 | 70 | 69 | 69 | 67 | 65 |
| Kauai | 78 | 78 | 78 | 79 | 81 | 83 | 84 | 85 | 85 | 83 | 81 | 79 |
| | 65 | 66 | 67 | 69 | 70 | 73 | 74 | 75 | 74 | 73 | 71 | 68 |
Cruise Attire
Whether roundtrip or one-way, Cruises to Hawaii are typical to Aloha style, which is more casual and far less formal. On one formal night, we had the option to dine in colorful Hawaiian clothing.
Men showed up in Hawaiian shirts, and women wore bright floral dresses. Yes, Hawaiian shirts are a must and available at most shops, including the inexpensive ABC Stores and Walmart.
When packing, it's best to take loose clothing made from breathable, natural fabrics and plenty of pieces to wear in the heat of the day. With warm daily temperatures, most Hawaii port excursions are beach or water-based.
Ideally, it's best to have two bathing suits, a cover-up, a sun hat, and my favorite item, a Rashguard t-shirt to wear over my swimsuit when snorkeling. Rashguard's soft, comfy fabrics are comfortable for long periods, offer UPF 50+ protection, and dry quickly.
A dry bag is helpful, especially if excursions are water-related. My water shoes came in handy on many port excursions, and I liked that they took up so little space in my luggage.
Sunscreen is essential, and it's important to know, that Hawaii has banned the use of sunscreen containing oxybenzone or octinoxate. These ingredients are toxic to marine life and harm the coral larvae. So, instead, use coral-safe sunscreens such as Sun Bum and Banana Boat.
Ports Of Hawaii
There are eight primary islands in Hawaii, all formed from significant volcanic activity as the Pacific Plate shifts slowly northwesterly. Cruising from Vancouver, your ship will stop at three to four Hawaiian Islands, depending on your itinerary.
The most commonly visited islands are Oahu, Maui, Big Island (Hawaii), and sometimes Kauai. Honolulu on Oahu is the major cruise port and services both one-way cruises and roundtrip itineraries on Norwegian's Pride of America.
Hawaii or the Big Island is the most prominent and youngest island. Due to its size, cruise ships visit two ports, Kona and Hilo, and sail past the impressive Kilauea volcano. Cruises around Hawaii can also stop at Lahaina or Kahului, on Maui, and Nawiliwili on Kauai.
Of the Hawaiian cruise ports, passengers must tender at Lahaina and Kona. Should you choose a cruise or 12 or 13 days, your itinerary may include two days in one port.
Kona
Island: Hawaii Island or Big Island | Population: 15,000+
While cruise ships stop at Kona, this is actually a region and not a city. Kona is located on the western side of the Big Island. When arriving in Kona, ships anchor in Kailua Bay, and passengers tender to the Kailua Pier as there is no cruise terminal.
The tender boats take you to the heart of Kailua Village, so there is no need for ground transportation should you choose to wander the area instead of booking an excursion.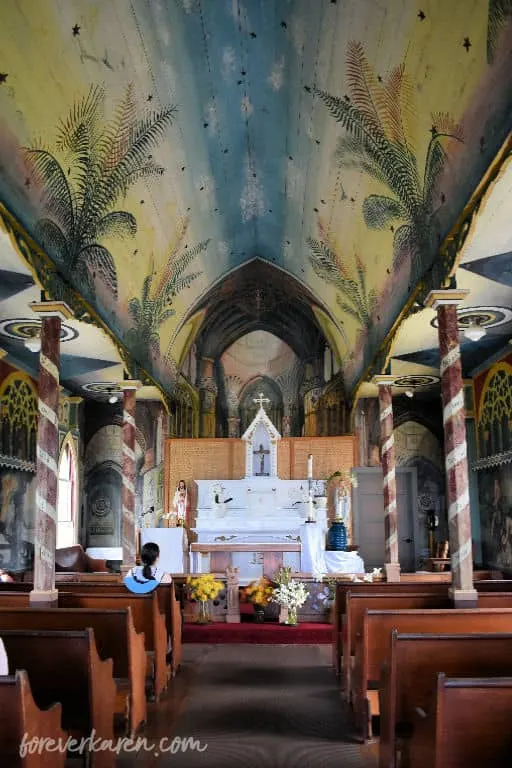 The western side of the Big Island is blessed with lots of sunshine and warmer temperatures. Remember to carry sunscreen and wear a hat. It seldom rains in Kona, so this region is perfect for surfing, snorkeling, or a lazy day at the beach.
Kona is fertile with the rich volcanic soil nourishing the best coffee, vanilla beans, and cocoa (chocolate). Who doesn't love coffee and chocolate?
Its delicious and addictive coffee makes an awesome Hawaiian souvenir for family and friends. If you love coffee, be sure to stop by a coffee and macadamia nut farm to enjoy some free samples.
Throw away the traditional dark roast because Kona Coffee comes in flavors like vanilla macadamia, toasted coconut, chocolate macadamia, and hazelnut. If you love a good premium roast, the peaberry coffee is the champagne of all coffees.
The macadamia nuts are equally flavorful with variations such as honey coconut, frosted, wasabi, Maui onion, and hot & spicy.
Kona's Best Excursions
A port day in Kona is all about being outside, and the selection of outdoor activities is almost overwhelming. The snorkeling and watersports are top-notch, with chances to see spinner dolphins in Kealakekua Bay (and also the Captain Cook monument).
For the fearless, a night snorkel or dive with the huge manta rays in Manta Village is a must. I was thrilled that after three Hawaiian cruises, I got to scratch that off my bucket list.
Nothing is more enchanting than standing atop the world's tallest volcano, Mauna Kea. At over 33,000 feet, the mesmerizing views from this volcano are heavenly. Dress warmly as the ascent travels through a wide range of climate zones with drastic temperature changes.
If being above the clouds isn't your thing, consider visiting Pu'uhonua o Honaunau National Historical Park. At the park, visitors can relive the history of the Hawaiian culture.
Extend your day with a stop at Hulihe'e Palace. The Royal Palace is a beautifully restored museum once used by Hawaii's royal family as a summer home. Located on Ali'i Drive, it's an easy walk from the tender pier.
I found Kona to be more upscale than Hilo, with a great selection of high-priced restaurants, local breweries, and trendy boutiques. If you've not booked a port excursion but want to explore the landscape, a vehicle is necessary to get the most out of your day.
With a rental car, visitors can explore the colored sand beaches. Being a volcanic island, the tiny fragments of lava make up the black sand found at Punalu'u Beach. Black sand retains its heat, and because of this, sea turtles choose this sand to bask in the midday sunshine.
Papakolea Beach glistens in a beautiful shade of green. Its color comes from the thousands of Olivine crystals formed from an eroded volcanic crater. Due to its remote location, Papakolea Beach sees fewer tourists.
Hilo
Island: Hawaii Island or Big Island | Population: 46,000+
Nestled on the windward or eastern side of the island, Hilo is the polar opposite of Kona, with old lava fields, few beaches, and lots of rainfall. Interestingly, it is the wettest city in the United States with over 120 inches of annual rain.
Due to the frequent showers, it's lush with foliage, has plenty of waterfalls, and overflowing with natural beauty. The vibe in Hilo is slower-paced than in Kona, but its small-town feel is charming.
Walking distance from the cruise terminal, some of the best views of Hilo Bay are from the meticulously kept Liliuokalani Park and Gardens. This stunning Japanese garden is eye-candy with picturesque pagodas, stone bridges, and meandering pathways through swaying palm trees.
A short distance away is Banyan Drive, an incredible canopy of banyan trees named after famous people.
Your day in Hilo is a good starting point to visit its many attractions. With daily rainfall in Hilo and the constant runoff from Mauna Kea, the island's eastern side is graced with numerous breathtaking waterfalls.
Hilo's Top Port Excursions
Close to the cruise terminal, Rainbow Falls is an 80-foot-tall attraction on the Wailuku River. It's a favorite stop amongst cruise passengers since it charges no fee and is wheelchair accessible.
Fifteen miles north of Hilo, I visited the more spectacular Akaka Falls. There's a small fee to access the park for waterfall viewing. Inside the park, it's a bit of a hike, but the falls are a must when in Hilo.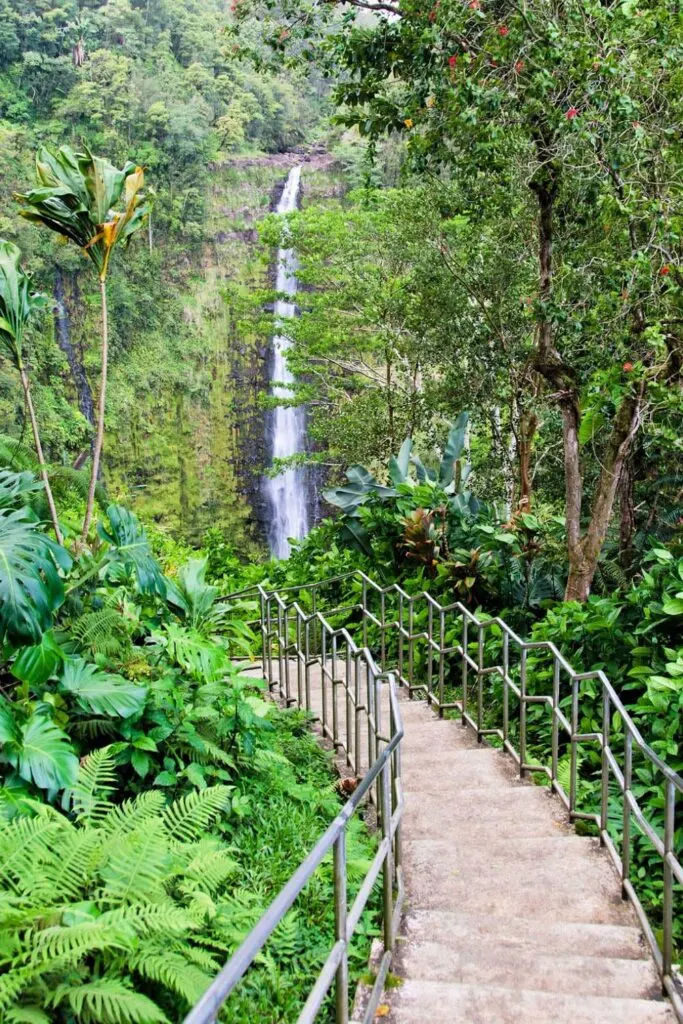 Without a doubt, the most popular port excursion includes a trip to Hawaii Volcanoes National Park. While some port tours include Rainbow Falls, Banyan Drive, Liliuokalani Gardens, and an Orchid Farm, the day's pinnacle is seeing the mighty Kilauea Volcano.
I have visited Kilauea three times and have been amazed at the caldera changes and its level of activity. If you plan to visit Kilauea, be sure to check if the park is open before you plan a visit.
I rented a car during one of my visits and took a humbling drive to the Puna district and Pahoa. Here, the black lava engulfs an entire fishing village. It's an eerie feeling standing on an old lava field with no trees, birds, or signs of life.
Kilauea demonstrated its fury during that visit as molten lava flowed through Pahoa's town, swallowing everything in its path. It takes a unique individual to live in a place that a natural disaster can consume at any given moment. Certainly not a place I wanted to put down roots.
Without a doubt, the Mauna Loa Macadamia Nut Farm and Factory is a crowd-pleaser. Driving up to the factory, travelers can view avocado trees and thousands of nut trees planted in manicured rows.
The factory provides free samples, and visitors can watch the sorting and packaging process in their plant.
Nawiliwili
Island: Kauai | Population (Lihue): 7,000+
Of the cruises from Vancouver to Hawaii, not many include Kauai in their itineraries. Out of my three Hawaiian cruises, only one, a 12-day cruise, ported in Kauai.
Located on the southeast coast of Kauai, Nawiliwili Harbor is the gateway to a beautiful Garden Isle that made me yearn for more. While Nawiliwili is not a town itself, it's located a short distance from Lihue. I remember my first visit to Kauai and thinking it didn't have much to offer, judging from the commercial port.
Kauai is sometimes called the "green" island, and after my initial visit, I understood why. The Napali coastline consists of emerald green ragged mountains that reach for the sky from the aquamarine waters. With 50″ of annual rain, the deep crevices in the landscape are home to the most spectacular waterfalls.
In fact, the cinematic landscape scenes from Jurassic Park were filmed here. So, in Kauai, you can re-live moments of the movie minus the dinosaurs, of course.
Most of Kauai's landscape is inaccessible by land, so take to the skies on a helicopter tour for a once-in-a-lifetime experience like none other. Alternatively, boat excursions are also available to view the magnificent cathedral peaks.
Kauai's Top Tours
One of Kauai's most popular tours is a trip to the "Grand Canyon of the Pacific." Waimea Canyon's jaw-dropping peaks and valleys left me mesmerized. Its beautiful green vegetation and rust-colored rock are genuinely a baby Grand Canyon, painted in different hues.
Words cannot accurately describe this piece of paradise, and photos don't show the magnitude of its incredible beauty. But what's with that red dirt? Kauai is Hawaii's oldest cousin and is often forgotten by travelers.
With millions of years of weathering, the soil no longer contains rich minerals and nutrients. As a result, the remaining ground is rusty-colored or red dirt. Be warned, the earth is stubborn and will forever stain your shoes and clothes.
The Kauai people like to think of it as a free souvenir of your adventures on the Garden Isle. One company has capitalized on that red dirt by making "Red Dirt Shirts'. Colored from the fertile red soils of Hawaii, their shirts are truly unique.
One of Kauai's most accessible waterfalls is Kailua Falls. Made famous by the show "Fantasy Island," the dramatic falls tumbles an incredible 80 feet into a 30-foot-deep pool. The double falls don't require a hike as the viewpoint is next to the parking lot.
For the adventurous, take to the mountains on a tubing excursion. Once home to numerous sugar plantations, the Hanamaula ditches brought water to the sugar cane.
With the farms gone, the waterways allow visitors to float on innertubes through a tropical rainforest.
If you decide not to book a shore excursion in Nawiliwili, renting a vehicle is best. There isn't much to see and do within a short walk of the commercial port.
Lahaina
Island: Maui | Population: 13,000+
Like Kona, Lahaina on the tropical island of Maui is a tender port. Disembarking the tender boats, a spectacular banyan tree welcomes visitors. Planted in 1873, it's currently the largest banyan tree in Hawaii, spanning almost two acres.
Banyan trees hail from India and thrive in a tropical climate. As the tree grows, it sends out roots from its branches, draping towards the ground, creating new trunks. The remarkable example in Lahaina has sixteen trunks and is home to various birds, including the noisy mynah species.
Sometimes, the Lahaina Banyan Court hosts local craft fairs with vendors selling handmade soaps, locally carved wood sculptures, Hawaiian quilted bags, and an array of Hawaiian crafts.
The downtown area is a Maui hotspot featuring thriving restaurants with outdoor patios, fascinating boutiques, and local art galleries. Let's not forget the delicious shave ice, which is a must. I'd highly recommend Ululani's Hawaiian Shave Ice which catered to my intolerance for lactose.
There is no better place than Lahaina for the sun worshippers and the adventurous. With endless sandy beaches and warm waters, it's the perfect place to book a water excursion while catching some rays.
During the winter months, whale watching tours are popular, with plenty of humpback sightings as the tropical ocean's giants give birth.
Lahaina's Popular Excursions
My favorite port excursion was a snorkel excursion to Molokini Crater, a bird sanctuary. Here, the crystal-clear waters are teeming with numerous varieties of tropical fish.
At Molokini Crater, I saw an octopus, a turtle, and a massive moral eel. A large pod of dolphins accompanied the zodiac on the ride back, jumping in the boat's wake.
If you can't get enough of the stunning Hawaiian landscape, I'd recommend driving to Iao Valley State Park. The valley is not only home to an incredible vista of a lush rain forest, but the star attraction is the dramatic Iao Needle.
This natural landmark juts out of the valley like a "needle in a haystack." A short trail through a shaded, breezy pathway to a small lookout offers the best views.
When cruising from Vancouver to Hawaii, I had to attend at least one luau. The highest-rated luau is Old Lahaina Luau, which welcomed me with their traditional lei greeting. The luau features authentic Hawaiian cuisine, native dance, and local demonstrations.
Don't let the price scare you away because the experience, food, and entertainment while watching a perfect sunset is a must when in Hawaii. Other luaus worth seeing are the Drums of the Pacific and the Royal Lahaina Luau.
Port excursions are plentiful in Lahaina. Let's not forget the surfing, kayaking, and snorkeling, which are top-notch in this region.
Kahului
Island: Maui | Population: 32,000+
Kahului is on the northern side of Maui and is not considered a tourist destination. Cruise ships dock here because it has a commercial port, and there's no need to tender. The commercial port is located close to the airport, so car rentals are easily accessible, and I'd recommend one to access Maui's top attractions.
It's no secret that Maui is drop-dead gorgeous. So, take to the skies in a helicopter and get a bird's eye view of the incredible landscape. Try the "doors off" excursion for unobstructed views of Maui's lush rainforest, scenic waterfalls, and unforgettable coastline.
While Kahului may not be a bustling tourist destination like Lahaina, it offers plenty of shopping, from the big box stores to the more intimate boutiques. Weekly swap meets and local markets allow for sampling the fresh local produce and buying Hawaiian souvenirs.
Port Excursions In Kahului
My pick for the shore excursions is a visit to Haleakala National Park and the highway to the little town of Hana. If you suffer from motion sickness, you may want to give the Road to Hana a miss or use a motion sickness patch as I did.
The trip is not about the destination but the journey itself. The road is narrow and has 620 curves and 59 bridges, most of which are one car wide. While the roller-coaster road put my wits to the test, it did offer amazing views.
The lush rain forest, spectacular waterfalls, a lava tube, and the best banana bread are not experiences I'll forget.
In distance, it's 52 miles from Kahului to Hana but takes 2-1/2 hours or longer, depending on the number of stops. My Road to Hana drive took over four hours because I wanted to savor every waterfall and sample smoothies along the way.
I've visited Haleakala several times, and the drive is as incredible as the views above the clouds. Driving through different climate zones allowed me to examine a variety of flora. These ranged from the lush rain forest to the barren desert cactus at the peak.
I just about froze the first time I made the journey, as the temperature dropped 40 F. I soon learned it's best to take a lightweight jacket as I never considered the weather change from sea level to 10,000 feet above the clouds.
Should you have the time and enthusiasm, I highly recommend the downhill bike excursion from the summit. What better way to enjoy Maui's panoramic views than on the longest downhill bike tour in the world?
Where else can you coast on a bicycle from the top of a volcano to the ocean? This is a Hawaiian adventure like none other; just do it!
Honolulu
Island: Oahu | Population: 375,000+
Honolulu is the capital and largest city in Hawaii. It's located on the island of Oahu. When cruising from Vancouver to Hawaii, your cruise will end in Honolulu or begin here should you be sailing the reverse itinerary.
On debarkation day, the airport is just 5-miles away from the cruise ship terminal, and easy to get there by taxi or airport shuttle. Should you be embarking in Oahu, Honolulu has two cruise terminals.
The first is at the Aloha Tower and the second at the Port of Honolulu located at 521 Ala Moana Blvd, although most cruise ships sail out of the latter. It's about a 20-minute drive to the terminal by shuttle, taxi, or Uber from the international airport.
Of all the ports in Hawaii, Honolulu is the only one that resembles a metropolitan city because it is. Also, it holds the title of being the remotest city in the world.
But even though it offers the comforts of large chain franchises and big-name restaurants, it still emits a touch of intimacy with its torch-lit streets and abundance of beachside patios to watch the glowing sunsets.
Should you extend your stay in the downtown Waikiki area, a taxi ride will cost you approximately USD 25. While it's only 3.1 miles or 4.9 km from the Honolulu cruise terminal to Waikiki, the slow traffic makes it seem longer.
Staying at Waikiki Beach can be expensive, with hotels charging resort fees and additional amounts to park a rental car. However, there are plenty of cheap Waikiki activities, and with the recent addition of the Biki-bike program, getting around without a rental vehicle is doable.
The Waikiki area is a hub of activity with fantastic dining venues, shopping, and a good starting point for other excursions. If you have a rental vehicle, the activities are just as plentiful outside of Honolulu.
What To Do In Oahu
The Waikiki area is, without a doubt, one of the most famous tropical playgrounds in the world. With endless sports like stand-up paddleboarding, snorkeling, kayaking, and bodyboarding, who would want to leave the beach?
One of the best places for snorkeling is Hanauma Bay which is close to Waikiki. While the region around Waikiki remains a tourist hotspot, it isn't for everyone.
Traveling around Oahu, there are awe-inspiring trails to hike like Diamond Head, Lanikai Pillbox, Koko Crater, or Stairway to Heaven, also known as the Haiku Stairs.
If hiking isn't adventurous enough, try surfing the big surf on the north shore or getting some GoPro action in a shark cage (something I intend to do on my next trip!)
No trip to Hawaii is complete without learning its incredible history. At Iolani Palace, digest the sad story of Hawaii's last royal family and their decline in power. Continue the history lesson at the Bishop Museum to absorb yourself in the exciting artifacts, people's culture, and volcanic land that makes up the islands.
Also, a day at the Polynesian Cultural Center is necessary to discover the regions that make up Polynesia.
Without a doubt, the most popular port excursion is a humbling tour of Pearl Harbor. Here, I learned about the events that led to the sorrowful attack on Pearl Harbor and those that gave their lives for their country.
While it takes a day to see the Arizona Memorial, battleship, submarine, and museum, you can see parts of the exhibit if you have a plane to catch.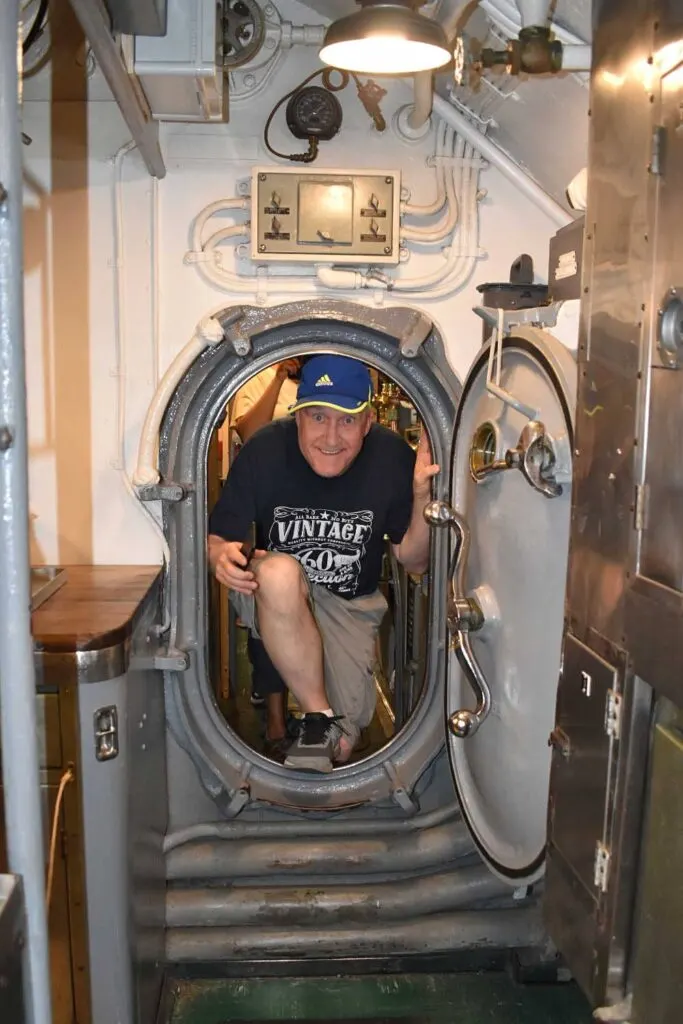 As an army brat, my visit to Pearl Harbor was not complete without a solemn visit to the National Memorial Cemetery of the Pacific. This stunning cemetery at Punchbowl Crater memorializes all men and women who perished while serving in the United States Military.
Volcano Cruising
One of the highlights for everyone cruising from Hawaii to Vancouver (or vice versa) is seeing the mighty Kilauea in action. Cruising by Kilauea usually happens between the Kona and Hilo port days.
It's important to note that while the cruise lines list "cruising by Kilauea" on the itinerary, it's not the spectacular event I imagined. Cruise ships circle the Big Island far from the coastline, so even if Kilauea is exercising its fury, the red lava is a speck of a glow in the far distance.
During the sail by, the captain will announce the red glow (should there be any). However, no matter how expensive your camera is, passengers cannot capture it digitally due to distance. Also, cruising past the volcano happens around midnight, when most have retired for the night.
The Pros And Cons Of A One-way Cruise
With any cruise itinerary, there are pros of cons, and Hawaii is no different. Here are the highs and lows of Hawaii island sailing.
Pros
The one-way cruises to Hawaii are budget-friendly.
Ships visit up to four islands.
The weather is always perfect.
A cruise is typically less expensive than a land vacation.
You may only need a one-way flight.
Food is included, so you avoid the expense of costly restaurants.
It saves on the cost of island hopping.
Ease of planning.
It's suitable for all ages.
Cons
One-way Hawaiian cruises have lots of sea days.
You cannot gamble around the Hawaiian Islands.
It takes a long flight to get to or from Hawaii,
Not enough time to enjoy each island.
They don't stop at every Hawaiian island.
Since ships don't usually stay overnight, evening excursions are not possible.
Less flexibility.
Final Thoughts
For those that have the time and the money, a back-to-back cruise extends the fun in the sun by continuing to Australia. The extended cruise stops in Tahiti, the Society Islands, and New Zealand and includes a few sea days.
While cruising to Hawaii from Vancouver, Canada makes for a fabulous vacation, it isn't for everyone. First of all, you have to like cruising and not mind the five consecutive sea days. If you don't feel like you see enough of Hawaii, extend your vacation with some days in a hotel.
Have you cruised to Hawaii? What was your overall experience? I'd love to hear from you.
Happy travels ~ Karen