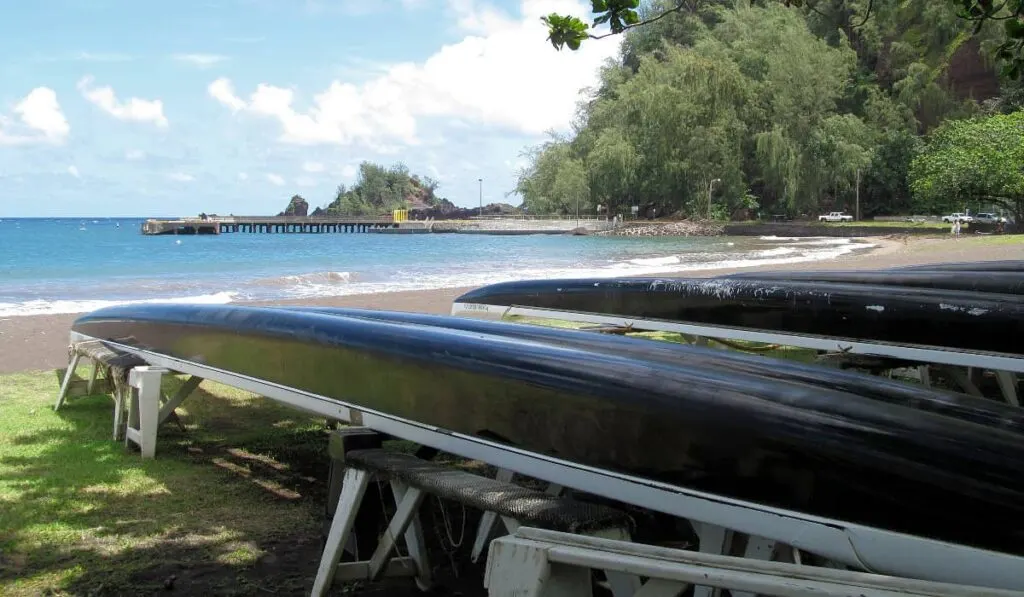 Welcome to our Road to Hana guide! This famous drive in Maui offers breathtaking views on this bucket list route. You'll pass scenic lookouts, a bamboo forest, and countless waterfalls.
In this guide, you'll discover the options to get there, the best places to stop, and a mile marker for each attraction. Depending on your time, you can extend your day by visiting the Pipiwai Trail and the Seven Sacred Pools.
Remember the saying, "It's the journey, not the destination, that matters?" The Road to Hana symbolizes this famous quote and makes a lovely couples' outing.
Most who drive this winding highway make a quick trip to Hana and back to say they've done it.
However, those who want the ultimate experience of a beautiful drive with cascading waterfalls, black and red sand beaches, and uninterrupted Pacific Ocean views make the journey in baby steps.
My Journey To Hana
As I reminisce about my first Hawaiian Islands cruise, I remember spending hours and days researching the Hawaiian ports of call. I talked to friends who had visited the different Hawaiian Islands and asked for suggestions on things to do.
Surprisingly, everyone said if I was going to Maui, I "had to do the Road to Hana." When I queried, "Why?" they all said, "Trust me, you just need to go."
Curious, I scoured the internet to read reviews on the Road to Hana, and this is what I discovered. The highway to Hana is not for the faint of heart.
However, if you love to drive, the United States offers some bucket list road trips, and this is one of them. While the road from Kahului to Hana's little town is a mere 52 miles, it can take 2-1/2 hours to make such a journey.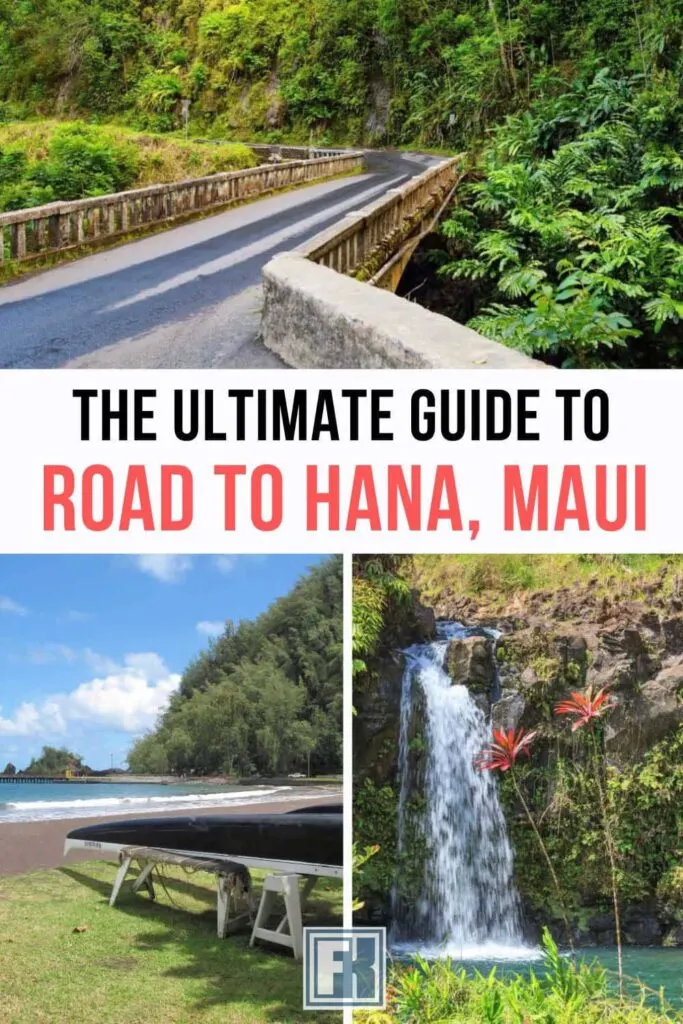 The extended trip results from the 620 curves and the 59 bridges, most of which are only one lane wide.
Getting To Hana, Ways To Travel
There are only two ways of experiencing Maui's Road to Hana. Firstly, by tour bus and, secondly, by driving a rental car.
Be warned that taking a van tour is definitely out of the question if you suffer from motion sickness (as I do). With 620 curves in the road, no amount of Gravol would prevent me from losing my breakfast on the route, had I chosen a bus tour.
If you're arriving in Maui by cruise ship as I was, Maui's Kahului cruise port puts you closer to the Road to Hana. Lahaina Harbor (closed indefinitely due to fire) on the west coast adds another 35 minutes to the drive one-way.
If you're a nervous driver or prefer to leave the driving to someone else, book one of the Road to Hana guided tours.
The group tours are offered on small private buses or vans (due to the narrow road), and there are many companies to choose from.
The buses stop at various places along the way, giving you plenty of opportunities to enjoy the undeveloped area's tropical scenery and snap some photos.
If you have little ones that don't tolerate a long drive, this isn't the journey for you or them! Not unless you like hearing, "Are we there yet?" a hundred times.
A DIY Hana Highway Tour
If you are staying in Maui, the best place to rent a car is at Kahului Airport. Alternatively, rental cars are available in Lahaina, Wailea, and Kihei for daily rental.
When traveling by cruise ship and docking in Kahului (as I did), rental cars are a short distance away at Kahului Airport.
The most commonly requested vehicles are the Mustang convertible and the Jeep Cherokee. During my Road to Hana adventure, I had a red Mustang convertible. It was a big mistake on my part, as you'll later discover.
Choosing A Day To Travel
With two days in Maui during my Hawaiian cruise, I opted to navigate Maui's infamous road on the first day. I soon came to realize this was a huge mistake.
With thousands of passengers disembarking a cruise ship, hundreds of cruisers choose to experience the highway to Hana, and they all do it on the first day.
Trust me on this one! Long line-ups soon appeared at the car rental lot as everyone tried to attain the keys for their touring vehicles.
I quickly realized this would not be a quiet jaunt in the country. Instead, we all headed out like camels, moving one by one as if slowly transitioning across desert terrain.
Take my advice; if you plan to make this incredible journey and not traveling by cruise ship, pick a day when the cruise ships are NOT in port. Going without the crowds will make your drive ten times more enjoyable, and you'll enjoy the drive with few tourists.
Also, hitting the highway early is advisable before the road gets busy. The early start allows for more time to stop and enjoy the sites along the way.
Fuel up before you start, as there are few places to purchase gas on the highway.
The Road To Hana Route
Maui's popular drive gathers an entourage of a whopping half a million travelers each year. With such large numbers, it surprised me that the roadway was still, in my eyes, a "country bumpkin" road.
In certain areas, it has no shoulders and, in some cases, no barriers on the steep embankments. After completing the highway, I now understand the difficulty of maintaining a narrow roadway that's overly used.
During the scenic drive, I was thankful to be the passenger, not the driver. On narrow sections, my knuckles were white from gripping my seat.
Driving the Road to Hana reminds me of being on a roller coaster but for hours on end. If the narrow road and cliffs aren't scary enough, add to that the blind corners, wide enough for only one vehicle.
Hawaii is known as the rainbow state for a good reason. During the drive, the rainfall came and went several times, but these were not the showers I was used to.
The sky would turn black briefly; the showers would fall and disappear as quickly as they arrived, sometimes creating a rainbow.
All that rain creates a lush green rainforest and beautiful waterfalls for which the Road to Hana is famous. I quickly learned that those heavy rains cause flash floods that damage the highway.
As the rain came and went, I had to make several stops to put up the canvas top of the convertible, then put it down again. After a while, I almost wished I hadn't rented a convertible—a lesson learned for next time.
When the showers finally stopped, I continued the rest of my Hana highway drive, enjoying Hawaii's trade winds with the roof down and the wind in my hair.
While there are many places to stop, please only pull over at a designated parking lot or pull-off. Some areas are private property, so don't hike or wander off the beaten path.
The Waterfalls On The Hana Highway
Although it rained several times during my trip, the waterfalls were not running as fast as I had seen in pictures. In fact, the first waterfall was barely a trickle.
These incredible sites are what I came to see, and with hundreds of people driving that day, the winding road became a bottleneck.
While the highway to Hana is just 52 miles, with hundreds of cars, I felt like I was the tortoise in the "Tortoise and the Hare."
With each approaching waterfall, and there are over 15, the traffic would come to a halt as each person wanted to snap their Instagram picture.
It's important to note that most waterfall viewpoints do not have pull-outs, parking lots, or places to pull over for a photo, and those that do have only room for one to three cars.
As a result, drivers would stop, creating a long train of traffic going nowhere.
The man behind me lost his patience with the non-moving traffic at the fastest-running waterfall. He pulled out of the line and raced by me at an unreasonable speed, even though passing was not allowed.
As he passed, he hit a puddle of mud (did I mention it rains a lot in Hawaii?) with a bit of car oil. I watched as if reviewing a movie in slow motion as this wave of muddy water and oil flew over my convertible.
When the tsunami hit, I realized I had picked a bad day to wear all white!
Not only was the inside of the car covered in oily mud, but my white capris and cotton blouse were beyond saving. By the way, I spent my second port day cleaning the inside of the car to prevent a cleaning fee.
Stops On The Road To Hana
While this Road to Hana guide has plenty of exciting stops, it's impossible to see them all on one trip and make it back the same day. Instead, pick one or two that speak to you, and add more on the return drive if the time allows.
If you're staying in Hawaii, spending a few days exploring the road would be much more enjoyable. If you plan to travel beyond Hana to Haleakala National Park, it's advisable not to stop along the way.
Ho'okipa Lookout – Mile 9
The Ho'okipa Lookout is 9 miles into the drive on the left-hand side. The windy beach and massive waves provide the perfect environment for windsurfers and kite surfers.
However, due to the giant waves and strong currents, swimming here is not advisable. If you hit this beach on the return trip from Hana, it's an ideal place to watch a magical Hawaiian sunset.
If you're lucky, you may even see some Hawaiian green turtles basking in the sunshine on the sandy beach. The best time to spot Hawaiian sea turtles is late afternoon when they often lay on the beach.
Honomanu Bay – Mile 14
Honomanu Bay is a hidden gem known for its black sand beach and a popular stopping point along Maui's famous road. It is less crowded than other spots and offers a tranquil setting for enjoying Hawaii's natural beauty.
It is ideal for picnics and photos, but swimming can be tricky due to strong currents. There are a couple of viewpoints from the road down to see the beach.
However, you must hike down a rough, unpaved road to the bay to get to the beach. The way is unmarked, and driving down the pebbled path is inadvisable.
It's also important to note that rental car companies do not allow drivers to take their vehicles "off-road." If you have never seen black sand beaches, the better stop is at Wa'anapanapa State Park at Mile 32.
Ke'anae Arboretum – Mile 16
If you need a break from the road or want to experience a lush rainforest and botanical garden, Ke'anae Arboretum provides the perfect stopping point. While there are few parking spots, this roadside attraction is free.
While the Arboretum has an excellent variety of flora, the ultimate treasure is the captivating rainbow eucalyptus trees everyone comes to see.
If you're up for a short hike, a half-mile trail provides views of taro, fruit, and ornamental trees. However, the highlight of this stop is the rainbow eucalyptus trees.
Halfway To Hana Stand – Mile 17
The halfway to Hana stand offers good banana bread. You can also purchase fantastic pineapple smoothies, delicious shave ice, ice cream, and fresh fruit. They have sandwiches and hot dogs if you have a bigger appetite.
While it's a bit pricey, this is, after all, Hawaii. Make sure you have cash, as most fruit stands can't take credit. You'll find a few food trucks and fruit stands along this highway, so if you miss one, there will always be another.
Keanae Landing, Aunt Sandy's Banana Bread – Mile 17
While some drive this stretch of highway for the experience and the waterfall sightings, others take the journey for the world-famous banana bread!
Banana bread is to Maui as goulash is to Hungary. Plenty of vendors sell banana bread during the drive, but none are as superb as Aunt Sandy's.
If it's your first time visiting Hawaii, trust me when I say you must stop here. Located on the Ke'anae Peninsula, Aunt Sandy's banana bread will tease your palette as it's made from real butter and the best-tasting bananas, which are grown locally.
A family-run business for 30 years, it's advisable to get there early as the stand closes at 3 pm or earlier if they run out of banana bread. I've known many travelers who bought a single loaf on the way to Hana and another five loaves on the return trip.
Even renowned chef Gordon Ramsay raved about it, and his visit was featured on the TV show "Gordon Ramsay: Uncharted."
What better way to learn about the Hana region than munching on warm, tasty banana bread? Also, it makes a great Aloha souvenir for family and friends who will beg you for more.
Did you know February 23rd is National Banana Bread Day?
While Aunt Sandy sells a banana bread mix to replicate the recipe at home, it is quite different. The Maui favorite quick bread needs the local sweet bananas to give it that melt-in-your-mouth flavor.
Upper Waikani Falls – Mile 19
While this day tour has plenty of waterfalls for viewing, Upper Waikani Falls, also known as Three Bears Falls, is one of the better ones.
Most visitors take photos from the road and don't realize there's a route down to the trio of waterfalls.
Like most of the stops, parking is minimal. It's best to drive by the waterfall and find a place to pull over further up and walk back. The trail down to the bottom of the waterfall is slippery and steep, so exercise caution and wear suitable footwear.
The short hike will reward you with amazing cascading water surrounded by the beautiful green hues of a lush rainforest.
Hana Lava Tube – Mile 31
A trip to Hawaii isn't complete without walking through at least one lava tube, and this one is 960 years old! Lava tubes are the result of lava flowing underground, hardening, and causing a crust.
The molten lava flows out to the ocean, eventually leaving the tunnel empty. The lava tubes are scattered all over the Hawaiian Islands and vary in size and length.
The specimen on the Road to Hana is one of the largest lava tubes in Hawaii. A self-guided tour takes you through this natural wonder. Inside, you'll find unique geological features. Stalactites and stalagmites add to the tube's beauty. It's well-lit and safe for visitors of all ages.
The entrance fee is USD 11.95, and with the aid of a flashlight, you can explore the deeper sections. Expect to spend 40 minutes on your self-guided tour.
The Hana Lava Tube offers a unique experience of Hawaii's underground landscape, the 18th largest lava tube in the world. Remember to wear comfortable shoes!
Wa'anapanapa State Park – Mile 32
With a black sandy beach, a blowhole, freshwater caves, and sea arches, what's not to love about this popular stop on the Hana highway? This stop now requires a reservation for stopping and parking.
With stunning panoramic views of the rugged Maui coastline, this was a place where I could experience the inner beauty of Maui's landscape. While it's off the beaten path, isn't that what makes it so desirable?
Please take my advice and wear some water shoes. Since the sun is blistering in Hawaii, the black sand absorbs the heat and makes it unbearable to stand on. The use of water shoes will prevent burns to your feet.
While some stop for a quick photo shoot, this stop demands a more extended stay. Here, you can see caves and arches and enjoy fantastic hiking.
Hana Town
The Road to Hana is not about "heavenly Hana" or the destination itself; it's about the journey. After all, Hana is a tiny rural town with no "larger-than-life" features or attractions.
In fact, driving the route reminded me of a travel quote by Martin Buber, 'All journeys have secret destinations of which the traveler is unaware.'
Beyond Hana, the road continues into the Kipahulu District, which is part of Haleakala National Park.
Should you have a rental car, most rental agencies do not permit driving past the Kipahulu region. This part of the road is unpaved.
Seven Sacred Pools
The Seven Sacred Pools are a must-see if you start your day early enough and travel beyond Hana. They're part of the Haleakalā National Park, and this spot is famous for its natural beauty.
Cascading waterfalls feed the pools, and after heavy rainfall, you may see more than seven pools. These pools are also known by their Hawaiian name, 'Ohe'o Gulch. They're not actually sacred; the name is a tourist label.
It's a popular site, so arrive early to avoid crowds. There's an entrance fee, as it's part of a national park, and parking in the area can be limited.
Photographers love the area for its stunning vistas. Visitors often go hiking in the surrounding forest, with the Pipiwai Trail being a popular choice above the Seven Sacred Pools.
Expect to spend a few hours on this 4-mile trail to view a few cascades before reaching Waimoku Falls.
Trails offer views of both the pools and the ocean. Since visiting this section of Haleakala National Park requires several hours, continuing here is best if you haven't stopped at every attraction along the way.
Camping in Hana provides another option to stay longer and explore the area beyond Hana.
Preparing For The Road To Hana
Should you decide to conquer the highway to Hana, follow these tips to prepare for the long drive.
Make sure the gas tank is full, as there are few gas stations along the way.
Bring water shoes if you plan to take a dip in one of the waterfalls and good hiking shoes should you plan to hike.
Bring cash for banana bread, smoothies, fresh coconut, and snacks, as most vendors can't process credit cards. Make sure to have small bills.
Pack a towel, a bathing suit, and a Rashguard t-shirt if you plan to swim.
Bring

reef-safe sunscreen

because it's always HOT in Hawaii.
Pack some snacks or picnic lunch just in case parking spots are full, and you can't stop at vendors.
Take motion sickness remedies or use a patch if needed.
Bring bottled water or energy drinks.
Use mosquito repellant, especially if you plan to hike or explore the rainforest.
Mentally prepare yourself for a full day because the Road to Hana is not a quick drive.
Let's not forget a GoPro, camera, and waterproof pouch.
Concluding the Road To Hana Guide
A self-guided drive on Hana's Highway allows you to enjoy the best stops and journey at your own pace. With many one-lane bridges and blind corners, it's a route to be traveled slowly.
Whether you visit Oahu, Kauai, or Maui, each Hawaiian Island has its own scenic drives worth exploring.
However, few drives in the world allow you to see forests of guava trees, lava tubes, rainbow eucalyptus giants, and black sandy beaches. And few places in the world serve banana bread as good as Aunt Sandy's.