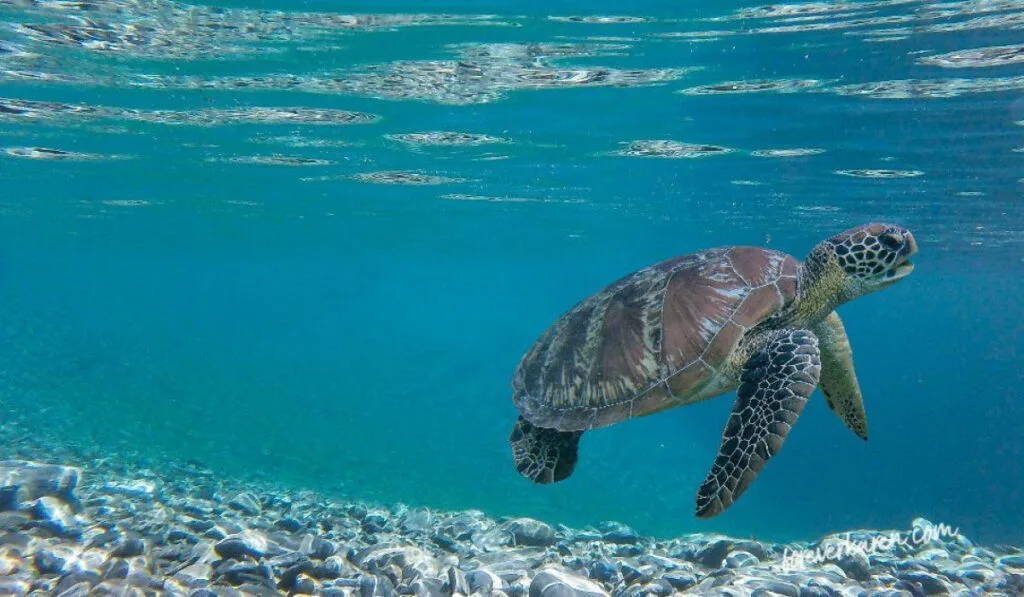 Maui has beautiful sandy beaches in different colors, epic landscapes that often get featured in movies, and sea turtles. If you're looking for the best places to see turtles in Maui, this article has you covered.
All the Hawaiian Islands have abundant marine life, such as spinner dolphins, manta rays, humpback whales, and several turtle species. While Maui turtles are more often seen swimming in the warm waters offshore, you could spot them on land.
It's important to note; federal and state law protects all sea turtles as these gentle giants are in danger of extinction. So, it's illegal to touch, harm, or harass such creatures, and recommends a buffer distance of six to ten feet at all times.
Turtles are magnificent creatures. Like the giant manta rays in Kona, the turtles glide through the water with effortless ease, almost performing subaquatic ballet. But unlike the manta rays, they are solitary and shy creatures.
Types Of Turtles In Maui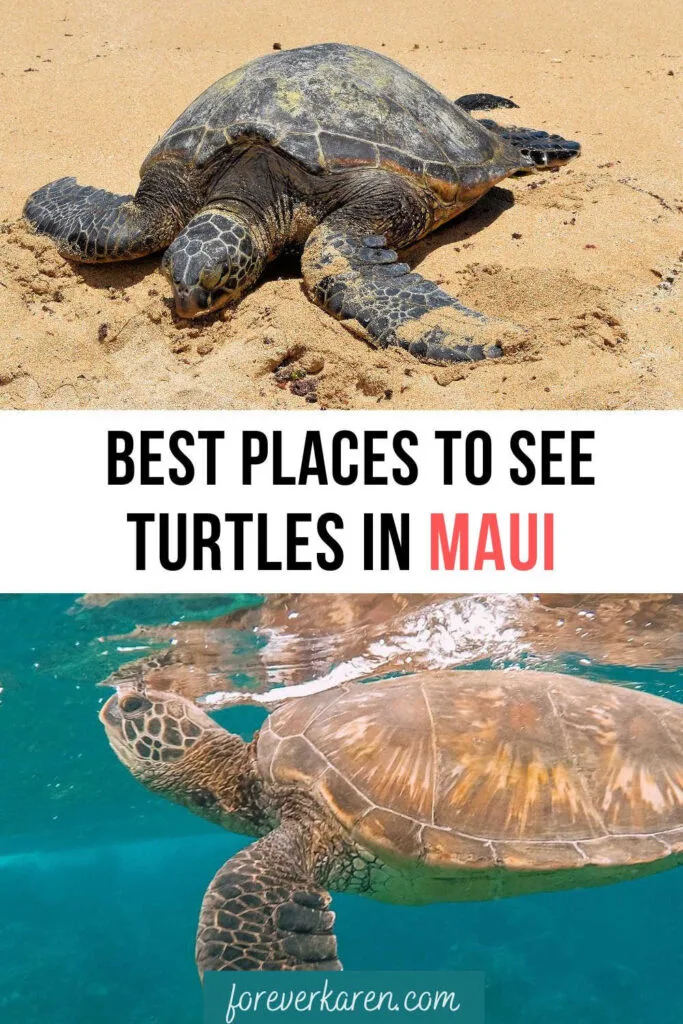 Five species call Maui their home. These are the commonly sighted Green Sea Turtles, Hawksbill Turtles, Loggerheads, Leatherbacks, and Olive Ridleys.
Green Sea Turtle
Maui's Green Sea Turtles (honu) are not actually green. Their shells are brown or olive, and their name comes from the hue of their body fat.
Their bodies are green due to their vegetation diet. They are the only turtle species that live off plants.
They are the most prevalent turtle in Hawaii, with the average adult measuring four feet and weighing 300 to 450 lbs. When sighting a turtle sunning itself on a sandy beach, it's likely to be a green sea turtle.
Hawksbill Sea Turtle
The Hawksbill (honu'ea) is Maui's second most common sea turtle. However, Hawksbill Turtles are at critical levels of becoming extinct. Easily identifiable by the hook of its beak, the Hawksbill rarely comes on land.
Its diet differs from the Green Sea Turtles. Instead of plants, it consumes crabs, fish, snails, and sponges.
During my travels to the Hawaiian Islands, I have only sighted one Hawksbill swimming in the tropical waters between Kihei and Molokini Crater.
The Loggerheads, Leatherbacks, and Olive Ridleys feed in the deeper waters, so it's unlikely to see these types on the beach or in the shallower snorkeling waters.
Best Place To See Turtles In Maui, By Location
With any frequented viewing location on Maui, volunteers are heavily present to prevent visitors from disturbing the turtles and getting too close.
The volunteers were highly knowledgeable and answered all my questions about the species, even their names. Yes, the turtles have names, and often the volunteers erect information boards about each one.
Often visitors ask, is there a best time of day to see turtles in Maui? The answer depends on whether the sighting is on land or in water. In the morning, Maui sea turtles generally spend their time in the water, eating their breakfast of algae on the ocean floor.
Later in the day, they beach themselves to enjoy the afternoon sunshine. So, morning viewings are best by snorkeling, and afternoon sightings are more likely, on the beaches.
If you plan to snorkel, it's important to note that Hawaii has banned sunscreens containing oxybenzone and octinoxate. Instead, plan to snorkel with a reef-safe sunscreen to protect marine wildlife.
Ho'okipa Beach Park – Northshore
Location: 179 Hana Hwy, Paia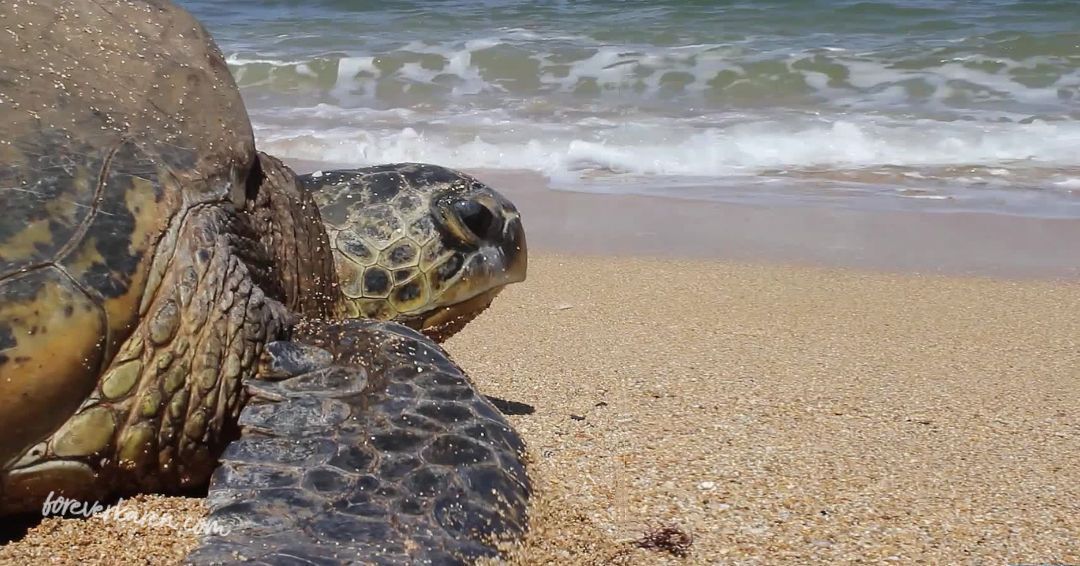 Most travelers stumble upon Ho'okipa Beach Park via the Road to Hana. A stop at this picturesque beach provides a break from the winding highway drive and, best of all, could score you the opportunity to see a large group of green sea turtles.
Huddled together, these turtles dispelled my ideas of turtles being solitary creatures. And watching them spread across the sand, basking in the late afternoon sun, brought joy to my eyes.
Arriving at the beach, look to the east end at the pile of black rocks. What looks like stones are sometimes turtles, highly camouflaged in their surroundings.
This popular surfers' beach is the best place to see turtles in Maui, especially in high numbers, and all without getting wet. Here, I watched them coming out of the big surf onto the beach.
While sea turtles look incredibly graceful in the ocean, they appear rather clumsy, waddling onto land, some even climbing over each other.
While Ho'okipa Beach is one of the better places to view sea turtles, visitors are often treated to monk seal sightings.
Turtle Town – SW Maui
Location: Coastal area between Nahuna Point and Makena
Turtle Town Maui is a turtle-viewing hot spot located on Maui's south side. When staying in the Kihei area, "Turtle Town" offers one of the better places to view turtles.
Now, if you ask the locals for directions to Turtle Town, you might get conflicting answers. To arrive at this turtle hot spot, drive south on Makena Alanui Road just south of Wailea and turn right on Makena Road.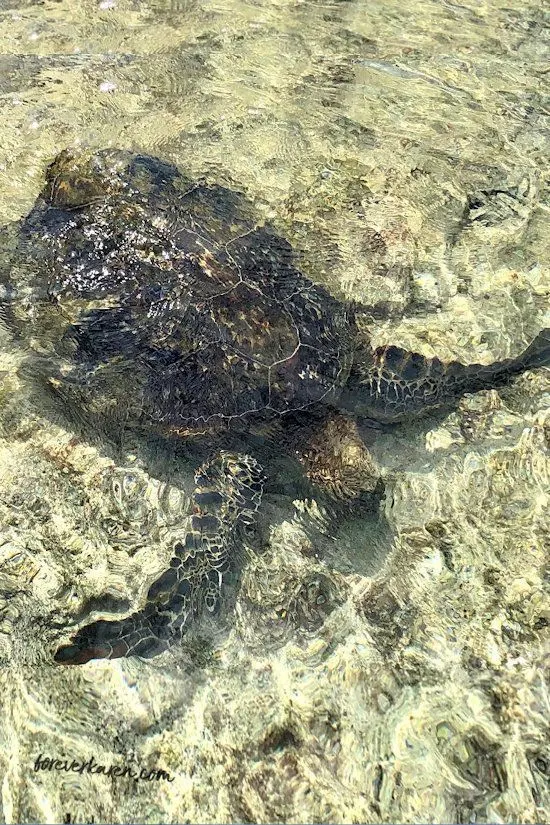 Follow the road to Makena Landing Park, which offers excellent views of Molokini crater, a hot spot for Maui snorkeling tours. Turtle Town is not an actual town but a region off the coast, almost a Hawaiian Atlantis.
The actual area to view sea turtles extends from Makena Landing Park down past Maluaka Beach to Oneuli Black Sand Beach. This entire zone is the area known as "Maui turtle town."
There are no signs to guide you to the right area, so it's easy to miss. Due to the lack of signage, the beaches are generally void of crowds, making them all the more attractive.
However, once you find the correct locale, you'll discover the waters from the coast to Molokini Island are crystal clear and teaming with marine life. Nearby at Makena Landing Park, Maui sea turtles come ashore to lay on the rocky beach.
This area is an excellent spot for swimming, so bring a bathing suit and snorkel gear. Makena Beach isn't the prettiest beach, but it does provide good snorkeling due to the coral reefs in shallow water.
The best time to hit the water is the early hours of the morning. During this time, the seas are calm, and the tourists haven't started their "turtle town" boat excursions.
Later in the day, the currents get more powerful, so make sure you're a confident swimmer. If snorkeling isn't your thing, try renting a glass-bottom kayak for a unique underwater viewing experience.
Alternatively, book an excursion with a local guide to "turtle town," which will take you by boat along the coast for turtle viewing. However, due to its vast area for viewing, I still believe Ho'okipa Beach Park is the best place to see Maui turtles.
Black Rock Beach – NW Maui
Location: 2606 Kaanapali Pkwy, Lahaina
Located at the northernmost end of Ka'anapali Beach is Black Rock Beach. Due to its rocky outcrop, it's a favorite for cliff jumping and snorkeling too.
While there is no natural reef, the rocks beneath the waterline do have some coral that attracts tropical fish.
Here, snorkeling is suitable for all levels of swimmers. However, do not venture beyond the cove as the waters are deep and the current strong. Tropical species include Needlefish, Parrotfish, Yellow Tangs, as well as sea turtles.
On our last visit to Hawaii, we rented e-bikes in Lahaina and rode to Black Rock Beach. The beach was crowded that day, but we saw no turtles.
Napili Bay – NW Maui
Location: Off Lower Honoapiilani Rd in Lahaina
The Napili Bay area is less frequented than Maui's more popular tourist areas. The older low-rise condos and moderate hotels attract more families than younger adults.
However, don't discount Napili Bay because it offers a beautiful sandy beach with great snorkeling due to the reefs offshore. Parking can be tricky if you're not lodging in the area.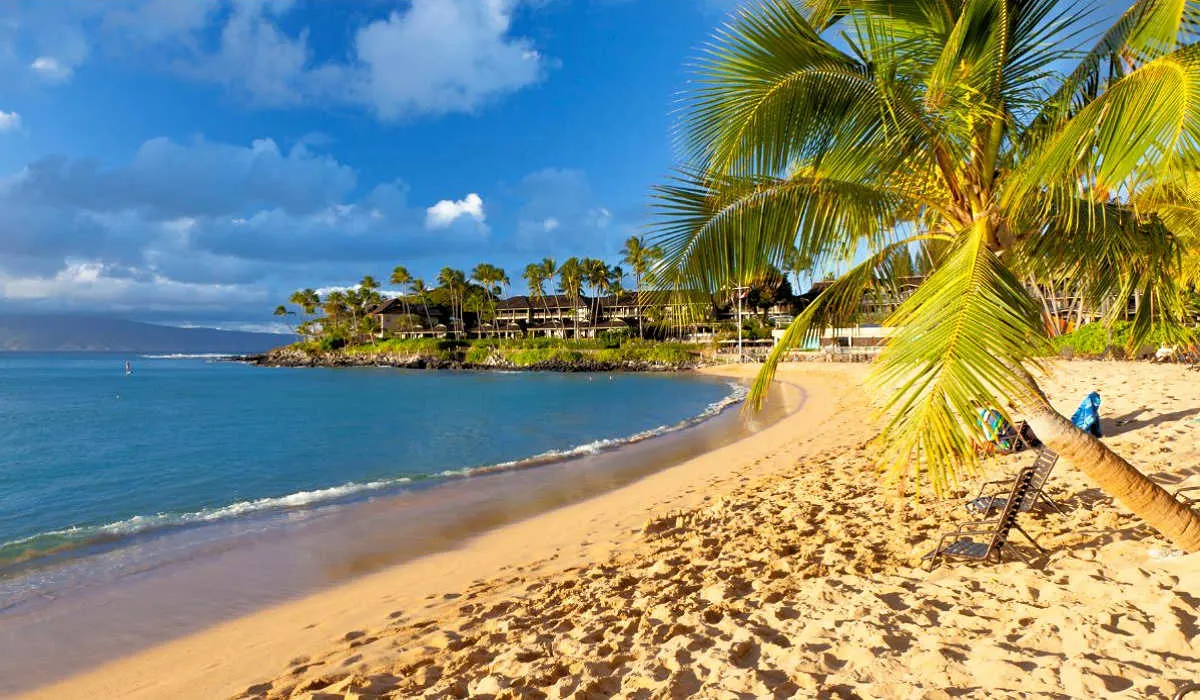 When the waters are calm, Napili Bay provides fantastic snorkeling and the opportunity to see Hawaiian Green Sea Turtles. Although, if the surf is up, the churning waters stir up the sandy bottom, limiting visibility.
The left side, towards the rocks, is the best area for snorkeling and viewing reef fish, sea turtles, eels, and brain coral. Stay within the bay for the calmest water.
During the winter, it's also possible to catch a glimpse of humpback whales in the distance.
Honokeana Bay – NW Maui
Location: Off Lower Honoapiilani Rd in Lahaina (south of Napili Bay)
While Honokeana Bay is a fabulous cove to view Maui sea turtles, it is not suitable for beginning snorkelers or those with weak swimming skills.
In this secluded cove, snorkeling requires swimming in deep waters where it's impossible to touch the bottom.
Getting to Honokeana Bay is challenging as it has no trail to access the bay. From Napili Bay, it requires a challenging walk over sharp lava rocks (on the left-hand side) around the point to the next bay.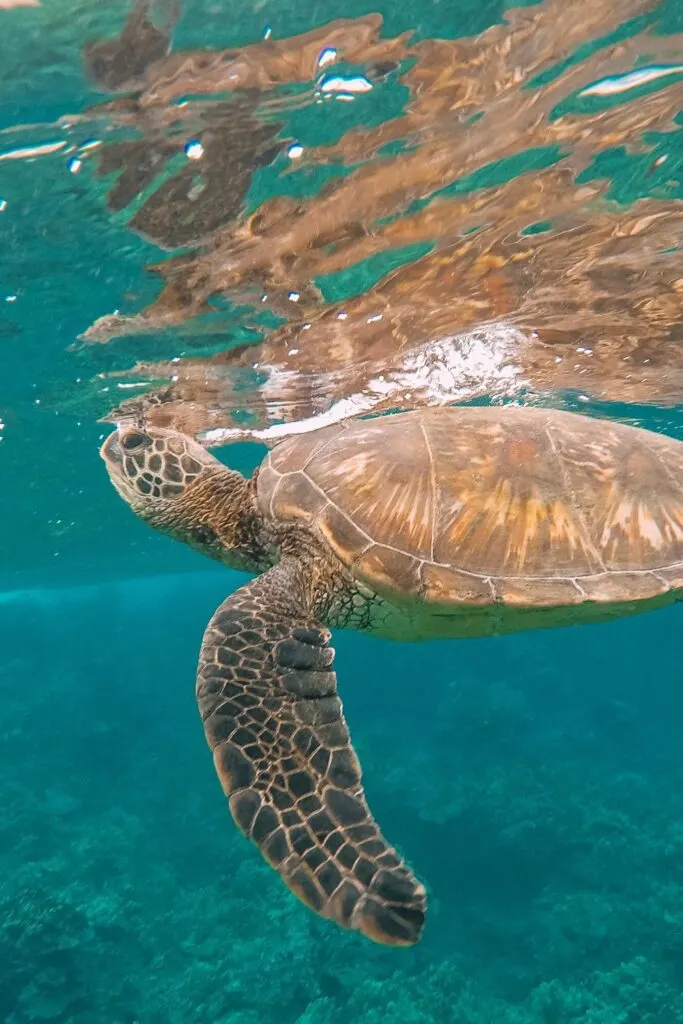 This next bay, Honokeana Bay, holds a treasure trove of Hawaiian sea turtles. The beach has no sand, and access to the water is over a pile of lava rocks.
It's advisable to wear water shoes and attempt a snorkel at a lower tide and when the seas are calm. Once in the ocean, the water is deep, and the cove provides a substantial feeding ground for marine life.
Don't be surprised if you suddenly become face-to-face with a turtle feasting on a smorgasbord of algae. Oh, and remember to bring your GoPro for those fantastic underwater shots.
Should you stay at Napili Point Resort or Honokeana Cove Resort, both have direct access to Turtle Cove without challenging climbing over lava rocks.
Makaluapuna Point – NW Maui
Location: Near the Ritz Carlton Kapalua
Visitors hike to Makaluapuna Point to see unique lava formations known as "Dragon's Teeth." However, if you look out into the white water surf, you may find sea turtles too.
Since the surf is often rough here, it churns up the kelp and algae on the ocean floor, which turtles eat. While Hawaiian Green Sea Turtles are present year-round, in winter, you may also see humpback whales off the coast.
Turtle Lagoon, Maui Ocean Center – West Maui
Location: 192 Maalaea Rd, Wailuku
If you're looking for a great spot to see turtles without obstacles, check out Turtle Lagoon. At Maui Ocean Center, the Hawaiian Green Sea Turtle Educational Loan Program serves as a learning program while conserving and enhancing its natural habitat.
Turtle Lagoon is home to many Maui sea turtles, some of which are breeding pairs. Each year, the Maui Ocean Center releases juvenile turtles into the ocean to repopulate their numbers.
At Turtle Lagoon, viewing options are from above and below the water. If you're not a swimmer, you'll still get the same experience with those underwater visuals.
Everyone who vacations on one of the Hawaiian Islands hopes to find sea turtles. No matter which Hawaiian island you choose and with the correct information, you're bound to discover some sea turtles basking in the sunshine or swimming in the warm waters.