Molokini Crater provides the ideal environment to take a snorkeling tour, with crystal clear water and coral reefs teeming with marine life. So, whatever you've planned on your Maui itinerary, save some time for this adventure tour.
Located off the coast of Maui, the partially submerged volcanic crater is the best spot to enjoy deep-water snorkeling with a chance to see Hawaiian green sea turtles.
While I have been to Maui multiple times, I vary my activities to experience all that Maui has to offer. Since I had been to Haleakala National Park's summit, a few times, I went snorkeling at Molokini Crater during one of my visits.
How To Get To Molokini Crater
Molokini Crater is a federally owned bird sanctuary, and as a result, there is no access to the land itself. This partially sunken crescent-shaped islet is located two miles off the South Maui coast between Maui and Kaho'olawe.
To visit Molokini Crater, I had to arrange a boat ride. My tour operator left from the Kihei boat ramp, but you can take excursions from other harbors.
The incredible crystal-clear blue water offers an unparalleled snorkeling experience regardless of the weather conditions. So, if you're looking for your next adventure in Maui, consider booking one of the Molokini Crater excursions.
Booking A Molokini Crater Tour
During my stay in Maui, Molokini snorkel tours were plentiful and easy to find. It's important to note that most excursions happen ridiculously early in the morning.
You can select from catamaran vessels that carry large groups or zodiac boats which accommodate small groups. Four Winds II offers a five-hour tour from Ma'alaea Harbor, and their catamaran has a glass floor viewing room.
While some of you might like to get up with the birds, I'm not a morning person, so the idea of being at the dock at 6:15 am didn't appeal to me.
I was staying on a cruise ship, sailing from Vancouver to Hawaii, with the vessel docked on the other side of the island. Really, who wants to rise and shine before sunrise while on vacation?
Certainly not me! Holidays are supposed to be relaxing and stress-free, and everything should happen at half-speed, haha!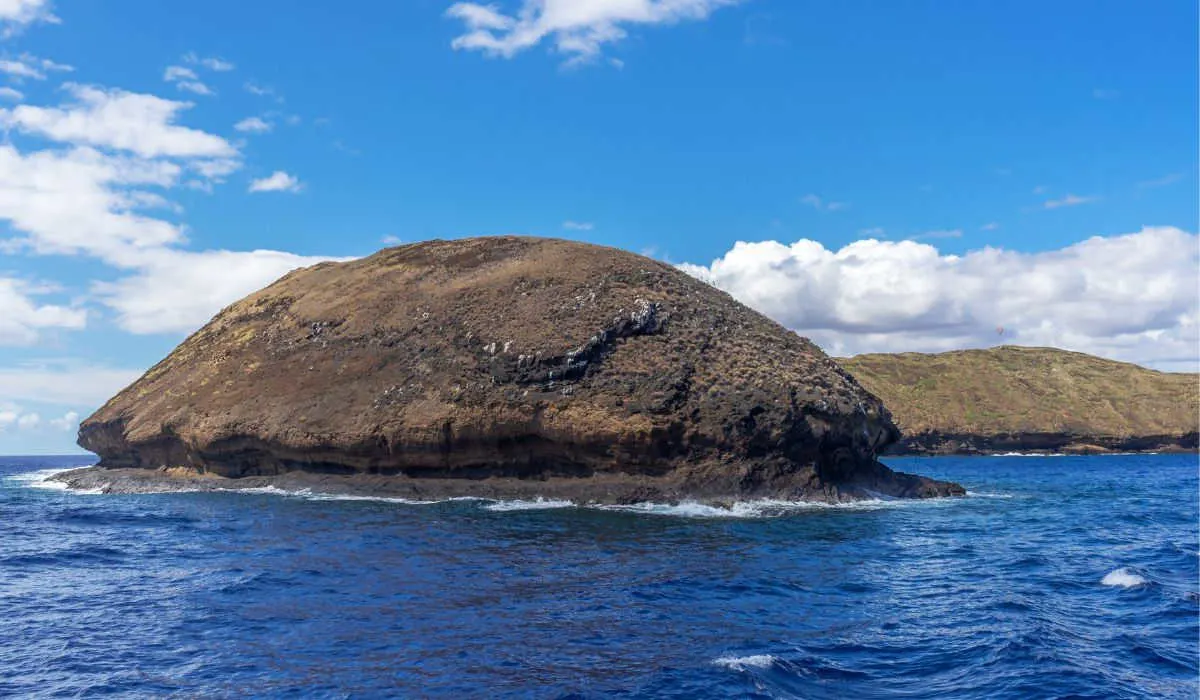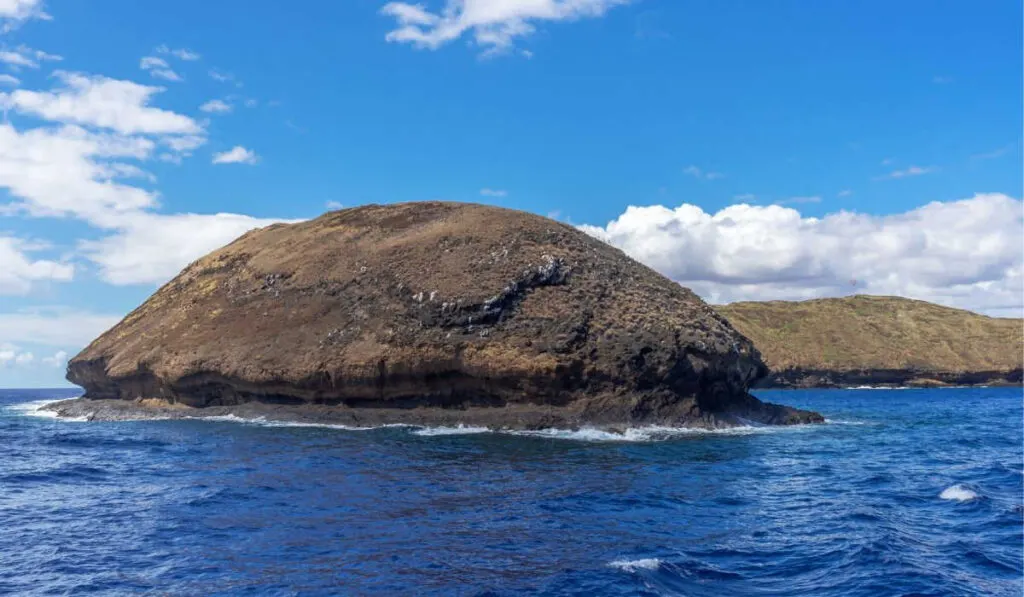 If you're visiting by cruise ship, you can take a Molokiki snorkeling tour from either Maui cruise port. However, Kahului Harbor is closer with a 24-min drive. From Lahaina, it takes 40 minutes to reach Kihei Harbor.
While shopping at the local Walmart (of all places), I found someone selling many different excursions. To my surprise, they offered a Molokini snorkel trip at 11 am for the bargain price of USD 45.
How could I resist this excursion at a time I could live with? And so began my adventure of discovering Molokini.
Should you be cruising around the Hawaiian Islands as I was, Molokini tours are only possible during the late morning if you have one day in Maui. However, if your cruise ship docks for two days, an early snorkel trip is possible on your second port day.
Molokini Crater History
While many visitors view Molokini, Maui, as a crescent-shaped moon, the islet is, in fact, a circular, volcanic caldera. Recent studies have suggested that eruptions at Haleakala created the Molokini Crater more than 200,000 years ago.
During the bombing of Pearl Harbor in World War II, Molokini was used for target practice. Since the islet mimicked the shape of a battleship, it became the perfect place for explosive destruction. Even today, scuba divers at Molokini often find bullet casings in the water.
In later years, Molokini suffered greatly from an overharvest of black coral from its coral gardens. When the Navy detonated unexploded bombs in the surrounding waters, it destroyed large areas of coral.
As a result, a public outcry led to the Crater becoming a Marine Conservation Area in the late 1970s. Today, the conservation area is continually monitored, and only a set number of vessels are issued permits to visit.
By limiting access to the area, it has allowed the marine preserve to recover and the fish species to repopulate.
Preparing For Your Excursion
While we all vacation in Hawaii for the sun, sand, and warm ocean breezes, it's important to remember the sun's rays are harsh. Spending a significant amount of time in the water increases your chances of sunburn.
So, I prepared for my Maui Molokini snorkel by bringing reef-safe sunscreen and wearing Rashguard clothing. I love my Rashguard t-shirt, which I wear over my bathing suit.
It protects my shoulders and back, which are exposed to the sun while snorkeling. The one I use has a UPF 50, which blocks 98% of the sun's rays (both UVA and UVB) from reaching my skin.
Rashguard is a must-have cruise essential when traveling anywhere hot. It's equally important to remember Hawaii has banned the use of sunscreens containing oxybenzone or octinoxate, which are harmful to coral larvae.
So, purchase brands like All Good lotion, Alba Botanica, Sun Bum, and Banana Boat. By doing so, you help protect the delicate reefs and marine life for future enjoyment.
Also, it's best to arrive at the dock with bottled water, a snack, a towel, and a GoPro camera if you intend to capture your adventure digitally.
Getting to Molokini Crater
If you've booked a Molokini Crater snorkeling excursion, you'll have to catch a boat from either Makena, Kihei, or Ma'alaea Harbor. My scheduled Molokini Crater tour left from a small boat launch in Kihei.
There's also the option to take a tour from Lahaina Harbor, which lasts about five hours. This tour offers one of the best ways to snorkel the bird sanctuary if you don't have a rental car to reach the other harbors.
Kihei is the closest boat launch to Molokini Crater and will get you there in 15 minutes if your excursion uses an express marine vessel.
On the morning of my excursion, I arrived 30 minutes early, as instructed. I noted the parking lot had lots of signage warning visitors not to leave valuables in their vehicles.
Theft from cars is a massive problem in the Hawaiian Islands, so it's best only to take what you need and leave NOTHING in your vehicle. In fact, my guide pointed out there had been break-ins during the previous day's excursion.
There was a safety briefing and, of course, the all-important liability waiver form. After waiting for the rest of the booked passengers to arrive, I was thrilled to learn only two other people (a young couple on their honeymoon) were coming along.
Having just four adventurers on this excursion made for a great experience and a perfect day on the water.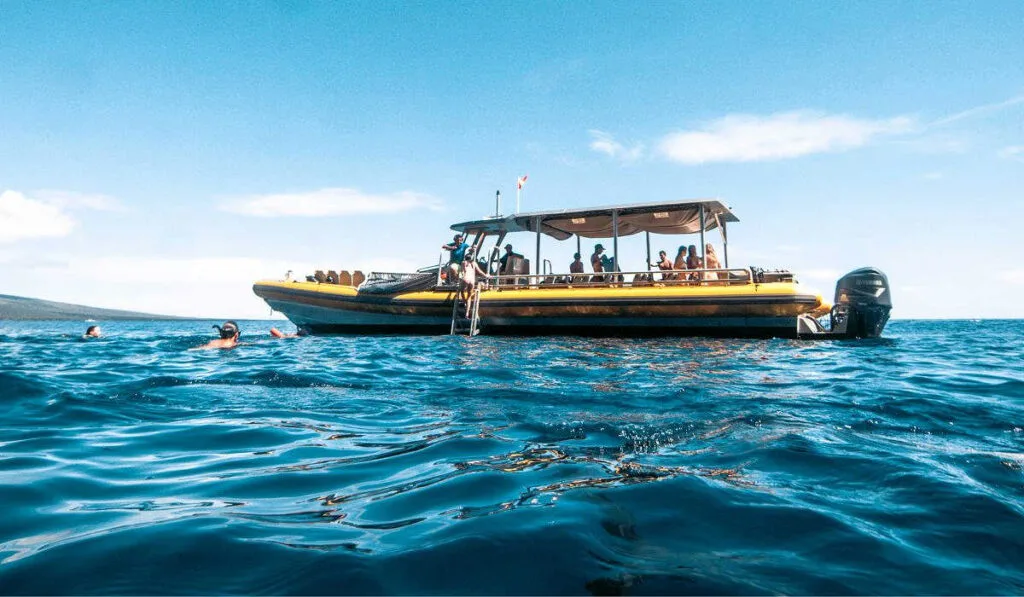 Depending on who you book with, the trip to Molokini may be on a catamaran, powered raft, or larger boat. Also, your excursion could include breakfast or lunch, depending on what you paid.
At USD 45, my trip only included the Molokini sail and snorkel adventure, and I was ok with that. I'd sooner pay USD 45 for my Molokini snorkel tour than USD 130 for snorkeling, continental breakfast, and a drink.
Snorkeling At Molokini Crater
Being on a fast boat, the ride to Molokini was speedy but a bit choppy. Keep that in mind if you suffer from motion sickness.
If you don't tolerate rough waters, it's best to sit at the back of the boat. During the short ride, I enjoyed viewing the elite Maui waterfront real estate owned by famous movie stars.
Occasionally, the trade winds are strong in Maui, which creates powerful wave action around Molokini Crater. If the weather cooperates, your excursion may take you to the inner crater.
During my tour, the winds prevented us from snorkeling on the inside. So, we were limited to the backside of Molokini.
Although the waters remained rough, we were somewhat sheltered from the strong current. Tour operators provide snorkel gear and flotation devices if you're not a strong swimmer.
Bear in mind Molokini island snorkeling is weather-dependent. Excursions may be diverted to alternate snorkel sites if it's incredibly rough. During my trip, I quickly understood why so many tours departed in the early hours of the morning.
The morning tours provide calm waters because the trade winds are usually much lighter. However, the early morning attracts more participants. So, expect to snorkel with large crowds of people and amongst multiple snorkel boats.
If the waters around Molokini are crowded, it's advisable to buddy up with a partner to prevent water-related accidents and keep sight of your boat. During my late morning excursion, there were no other vessels at Molokini Crater.
What You May See Snorkeling At Molokini Crater
Maui's volcanic calderas offer some of the clearest water for snorkeling worldwide. As a result, the ocean floor view is incredible, no matter how deep the water is. If the conditions are ideal and you swim inside the crater, visibility can be 150 feet deep.
Although the coral isn't as magnificent as those in the Caribbean or the fish as colorful, snorkeling Molokini was still delightful.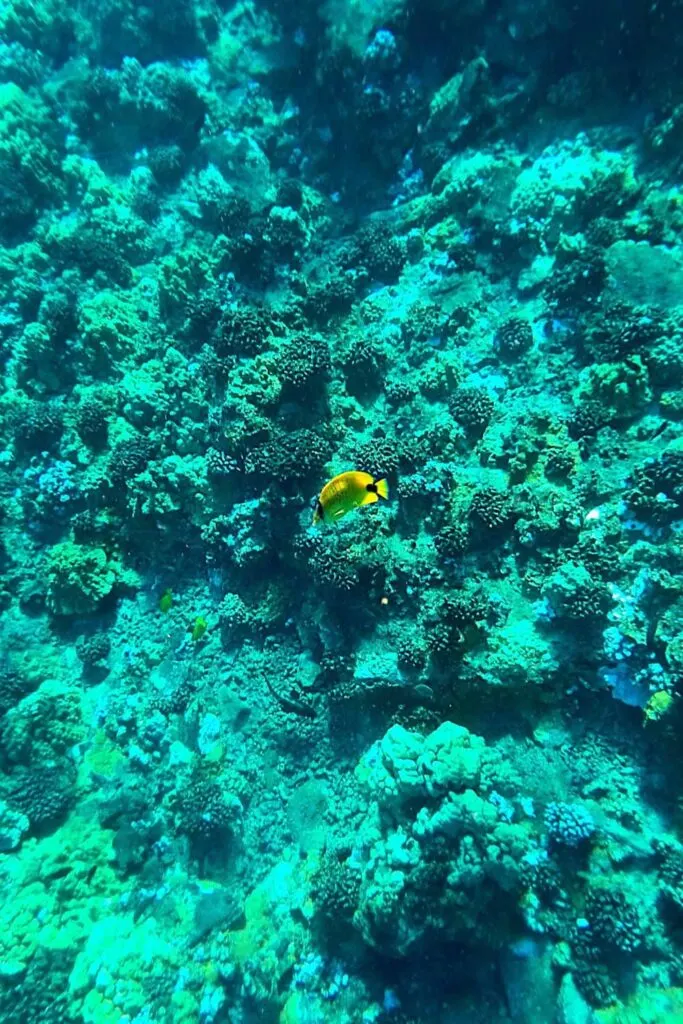 While I spent over an hour in the water, my snorkeling adventure was exhausting due to the rough current that kept sweeping me away. Even with float belts, I got tired quickly.
During my swim, I spotted an octopus, numerous species of tropical fish, one small reef shark, and a couple of moray eels.
You may also see humpback whales if you take this excursion during the winter months. Also, some tours combine snorkeling at Molokini Crater with a trip to turtle town to view Hawaiian green turtles.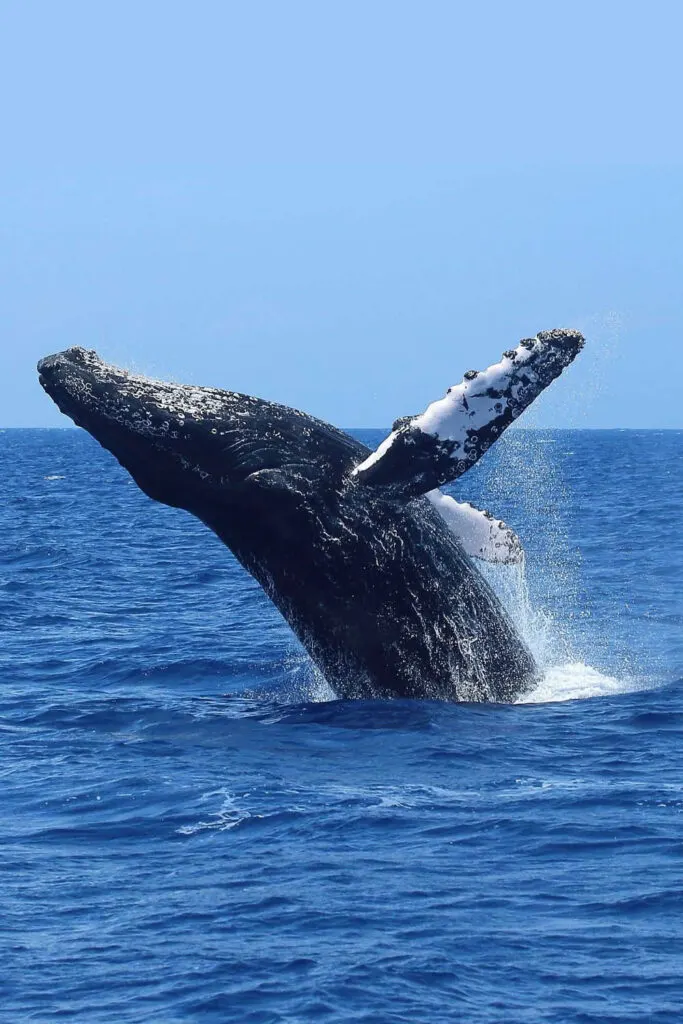 What I liked About The Afternoon Snorkeling
During the afternoon, there were fewer people, so I enjoyed the waters around Molokini Crater to myself.
I didn't have to get up at some ungodly hour for this excursion.
The price of the afternoon excursion is more reasonable than a similar one in the morning.
The tour wasn't long and allowed me time to enjoy other Maui delights on the same day.
The fast boat meant there was minimal travel to and from Molokini Crater.
Snuba Dive
Some Molokini snorkeling tours offer a chance to ramp up your adventure using "Snuba" equipment. While snuba diving incurs an additional fee, it takes your underwater experience to a whole new level.
During a dive, scuba divers wear heavy tanks on their backs. However, snuba offers you the same dive experience without the bulky tanks.
Instead, the compressed air comes from floats on the water's surface, while a hose provides the much-needed air to the person underwater.
The Ride Back
After spending approximately 75 minutes in the water, we headed back to shore. I chose to sit in the back of the boat because I wasn't fond of the vessel flying up and slapping the waves so hard, which you felt in the front.
During the fast ride back, I spotted something jumping in the waves and immediately alerted my crew members. The guide slowed the boat a little, and we noticed a massive pod of dolphins swimming in the wake of our craft.
I watched, captivated, as they danced in the waves and leaped out of the water like an orchestrated ballet. My guide said he had never witnessed such a phenomenon in all the years he had operated tours.
While the snorkeling was excellent, the dolphin encounter made my Molokini snorkeling adventure the best experience of my Hawaii cruise vacation.
Whether vacationing in Oahu, Kauai, or Maui, each offers excellent snorkeling options. In Maui, consider a snorkel excursion to Kealakekua Bay. But in Maui, Molokini Crater is a must.
Happy travels ~ Karen