Of all the Hawaiian Islands, many people consider Maui their favorite. It's a great place to visit for a day trip, a few days, or an entire week. So, if you're looking for the ultimate Maui itinerary, this article has you covered.
Even if it's your first visit to this beautiful island, I'm sure you'll find it easy to navigate.
I'll help you see some of the best places that Maui has to offer. From sea turtles to whale watching, or a mini road trip to surf lessons, I'm sure you'll have a great time.
We have cruised to Hawaii a few times, and Maui has always been part of our cruise itinerary. On our last Hawaiian cruise, we spent a few days at the cruise port in Maui; it was magical!
Getting To Maui
As an island in the Pacific Ocean, Maui is only reachable by boat or by aircraft. As an avid cruiser, I prefer to sail to Maui to enjoy multiple Hawaiian Islands on the same vacation.
One of the best things about flying in is that it's easier to stay as long as you want and take as much time as you wish in Maui. Kahului airport is the main airport in Maui and receives local and international flights.
If you fly from the continental United States, you will land in Kahului, located on the northern coast of central Maui. Other airports in Maui, such as Kapalua or Hana, are typically used for island-hopping or local tour companies.
Kahului has a large commercial port, and many of Maui's residents live there. If you arrive in Maui by cruise ship, your vessel will either dock in Kahului or anchor in Lahaina Harbor.
Things To Know When You Visit Maui
While Maui is one of the most beautiful Polynesian islands in the world, there are a few things to know before you go.
The pace in Maui and Hawaii can best be described as "Laid Back." I've always found Maui a relaxing place to visit, and the locals exude the "aloha" spirit.
The people in Maui, and the Hawaiian Islands, are friendly and amazing. They know how to live in paradise, which shows in their culture!
Hawaii is expensive, and so is Maui. Expect to pay premium prices for food and accommodation, especially post-COVID.
Maui is one of the smaller islands in the archipelago. Although it measures 700 sq. miles (1800 sq. km), some areas aren't accessible due to volcanoes, and poor infrastructure creates traffic congestion in some areas.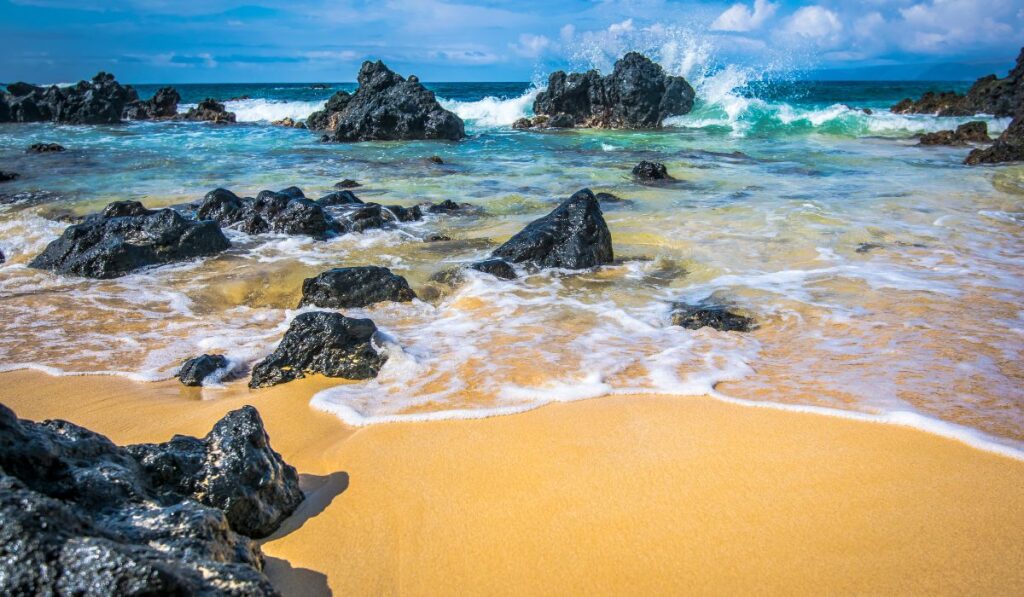 You can often take much longer driving from A to B due to narrow roads with too many cars. Consider this when planning how much you can take in each day.
Much of the island is not habitable due to mountains, volcanoes, and rugged landscapes. As a result, most towns are located on the coast, taking advantage of the beautiful beaches.
Hawaii long ago passed state laws that make it illegal to own beaches privately. Even though a hotel may be on the beach, the public always has legal access to the oceanfront.
This is very important to remember whenever you are exploring the island and feel you might be 'trespassing.' Remember, it's different from other parts of the U.S., where beaches can be privately-owned.
Parking is always a challenge in Maui because of the lack of flat land and the popularity of many coastal areas. Parking at the best beaches is always full, and there's nothing worse than driving there with no place to park!
Alternate transportation, such as bicycles or electric bikes on Maui, are incredibly convenient as a workaround for the parking challenge. However, be sure you have a lock to secure them when you're not using them.
I was impressed that we could find many areas we visited simply by asking my smartphone for directions. One of the tour companies let me know this, and I found it to be true.
Google Maps is your friend when navigating this spectacular but modest island.
Lastly, for various reasons that are economical and social, crime can be high in Hawaii in general – including Maui. Try to only rent a vehicle with a solid top.
Jeeps and convertibles are popular rentals in Hawaii, and most locals know the drivers of these vehicles are tourists. During our earlier stay, we had our Jeep rental slashed on the 2nd day.
Not only was this a costly experience, but also a nuisance.
The Weather
Maui is a tropical island in the northern region of Polynesia. It never gets cold, but it can be scorching for much of the year, even with constant ocean breezes.
The rainy season is primarily from November through March. However, the rainfall can vary tremendously depending on which side of the island you are on.
| | | | |
| --- | --- | --- | --- |
| MONTH | HIGH | LOW | RAINFALL |
| January | 81 F/27 C | 63 F/17 C | 24.3 mm |
| February | 81 F/27 C | 63 f/17 C | 18.9 mm |
| March | 81 F/27 C | 64 F/18 C | 27 mm |
| April | 82 F/28 C | 66 F/19 C | 13.8 mm |
| May | 84 F/29 C | 68 F/20 C | 7.4 mm |
| June | 86 F/30 C | 70 F/21 C | 4.3 mm |
| July | 88 F/31 C | 72 F/22 C | 7.7 mm |
| August | 88 F/31 C | 72 F/22 C | 6.4 mm |
| September | 88 F/31 C | 72 F/22 C | 3.7 mm |
| October | 88 F/31 C | 70 F/21 C | 5.3 mm |
| November | 84 F/29 C | 68 F/20 C | 18.3 mm |
| December | 82 F/28 C | 64 F/18 C | 24.6 mm |
The summer months are the hottest and can be the busiest because kids are out of school. I recommend traveling in the off-season to avoid the crowded beaches.
During our stay in October, the daily temperature was about 93 Fahrenheit (34 Celsius), and scorching HOT in the baking sun. We had rented e-bikes in Maui and needed the breeze at 20 mph, or else we were burning up!
When Is The Best Time To Visit Maui
Many travelers agree that April-May and September-October are the best months to visit. The consensus is reached after factoring in the weather, rainfall, peak crowds, etc.
Our last cruise there was in early October, and we thought it was incredible. It wasn't crowded, and we enjoyed the sunshine every day.
If you are traveling with kids and must go in the summer months of July and August, you can still have an incredible vacation. However, it will likely be very busy and HOT, definitely HOT!
Where To Stay In Maui
There are many hotels in Maui located in towns along the coast. West and South Maui from Kihei to Kapalua offer the most choices.
Unfortunately, there is NO cheap accommodation unless you want to go very rough, such as camping or hostels. However, getting a place with a kitchenette can offset the cost of eating out.
Decent hotels start at USD 400 per night and can be as high as USD 2,000+ for luxury accommodations next to the beach. Here are some available bookings to help you get started.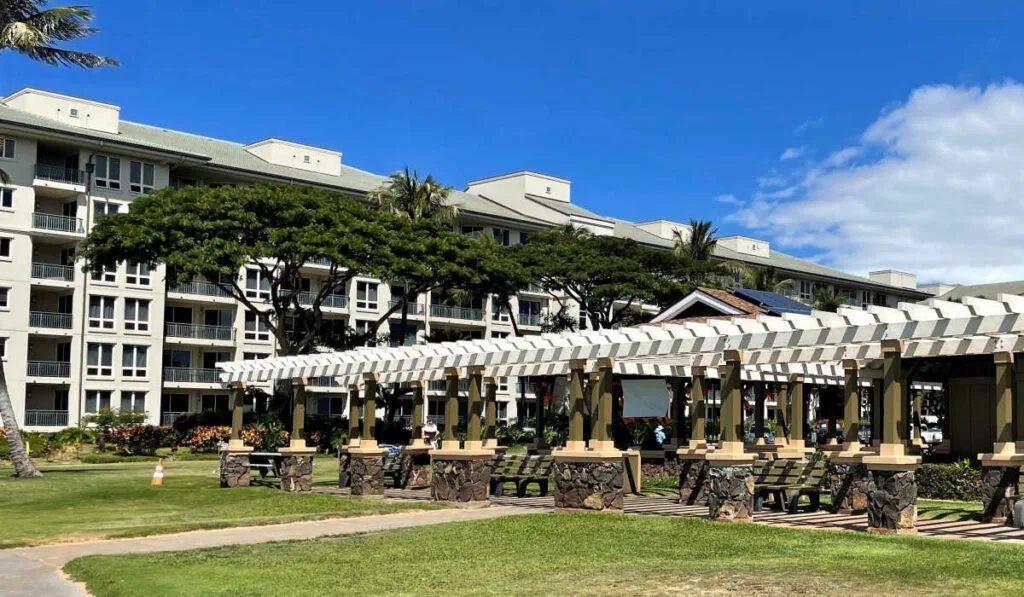 Due to high hotel prices, we find it cheaper to cruise. Our 12-day cruise included six days sailing to Maui and six days visiting different islands.
We had a balcony room with beautiful views and included all meals and evening shows. The cost for the two was about USD 3,000. We had multiple days on the Big Island, Maui, and Oahu.
Airbnb can provide a more affordable alternative to some of the high-priced hotels. However, some Airbnb reservations require a minimum length of stay that must fit your itinerary.
In my experience with Airbnb, longer stays are more affordable due to cleaning fees and other surcharges. Be sure to shop around and do your research online.
How To Use These Itineraries
Rather than repeat the schedules for different days, the 1, 3, and 7-day itineraries build on each other. Obviously, the 1-day is if you have just a short time in Maui.
The 3-Day itinerary is perfect for an extended weekend stay or if you're island hopping. The 7-day is ideal if you are lucky enough to have a whole week!
If you are cruising to Hawaii or extending your business trip by a day, the 1-day will pack in a lot of fun.
The 3-Day Itinerary builds on the 1-Day itinerary and adds another couple of days of sightseeing and adventure. However, feel free to mix and match according to your interests and what appeals to you.
1 Day Maui Itinerary
Hopefully, you're not flying in from the east coast of the U.S. because the 5-hour time difference could result in jet lag on your first day.
Since you only have a little time, a guided tour such as whale watching or snorkeling may be best. Alternatively, you can rent inexpensive snorkel gear from Boss Frogs.
Bear in mind that humpback whales winter in Maui from December to May. They migrate to the Hawaiian Islands from Alaska to mate and give birth. The peak season for whales is January and February.
Tour operators offer whale-watching tours in the winter and snorkeling tours in the summer.
Tours
Here's some help with Maui tours for you to consider. Having a whole day into the late evening gives you more ways to maximize your day. A luau or a dinner boat ride is one of the best ways to end the day.
If you feel up for it, an early start makes the most of your day. Choose tours that fit your interests, budget, and lifestyle.
For adventurous travelers, snorkeling or diving can be the perfect excursion off the coast of Maui. If you're older and want a more leisurely afternoon, consider the farm tours with more sightseeing. You can visit a coffee, lavender, pineapple, and dragon fruit farm.
One tour on my Bucket List is the Maui Atlantis Submarine tour. It's a real submarine that takes you down in an air-conditioned sub to a depth of 100 ft. (30 m) off the coast of Lahaina.
You'll see a shipwreck that gathers various sea life, including reef sharks. How exciting would that be?
Lahaina Town
If you arrive in Lahaina Town on the east side, it's an ideal place to explore on foot. Many tours originate in Lahaina, as it has a large harbor and many water-based excursions.
There are many great patio restaurants offering seafood dishes and traditional Hawaiian food. Save some room for shave ice from Ululanis because it's a Hawaiian treat you can't miss.
Ululanis offers many flavor combinations with your choice of ice cream in the middle. Even better than Hawaiian shave ice is Dole Whip.
The perfect cooling treat originated in Oahu's Dole Pineapple Plantation. The best part, it's non-dairy and suitable for anyone (like my wife Karen) who is lactose-intolerant.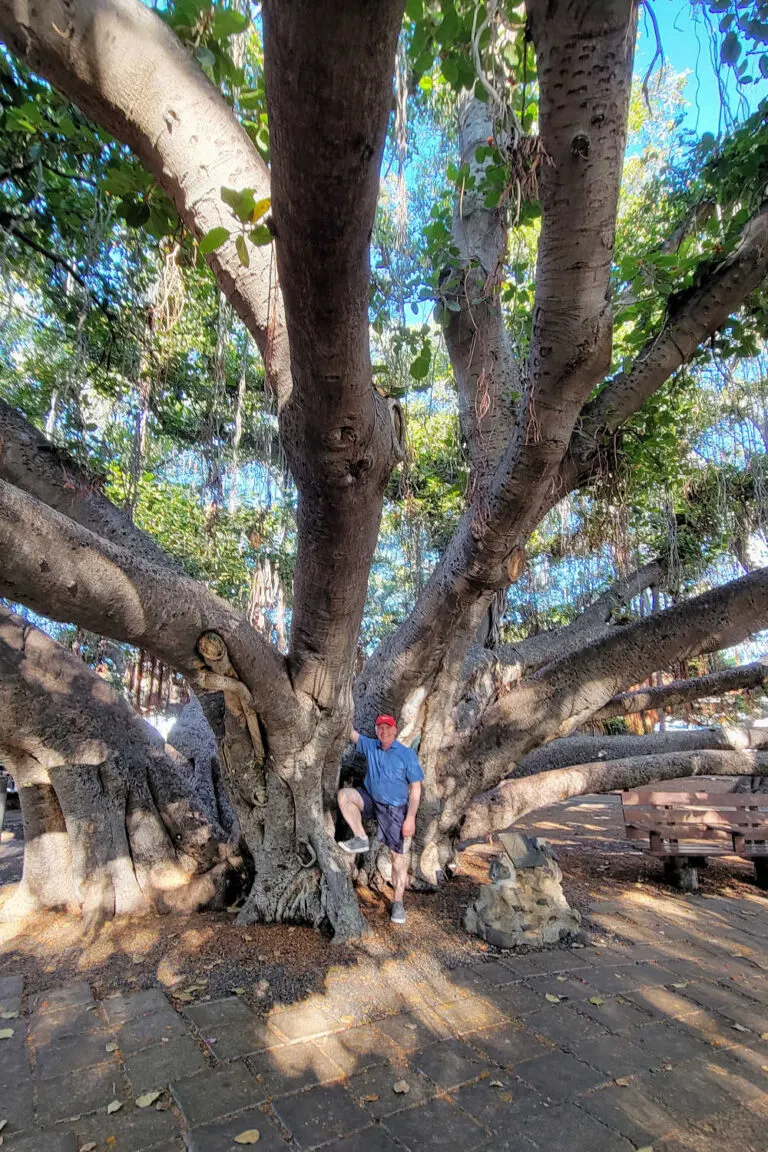 Another must-see in Lahaina is Lahaina Banyan Court Park. The highlight is the giant Banyan Tree located on the corner of Front St. and Canal St. It is one of the biggest in the U.S. and Hawaii's largest banyan tree.
3 Day Maui Itinerary
This 3-day itinerary starts with the activities mentioned earlier as part of the 1-day itinerary. However, you can mix and match these activities according to your schedule, energy, and weather!
For days 2 and 3, here are some things to help you discover the Maui culture and spectacular scenery. Having a rental car will save time traveling from one area to another, and you'll be able to manage your itinerary better.
Car rentals are inexpensive and readily available at Kahului airport. Alternatively, you can use an Uber or Lyft instead. I used Uber several times on our last trip and found the service very good, except for the occasional driver.
Eat At Food Trucks
Throughout the day, you must check out the incredible food offered on roadside trucks and fruit at roadside stands. Hawaii is known for its legendary food trucks, and Maui is no different.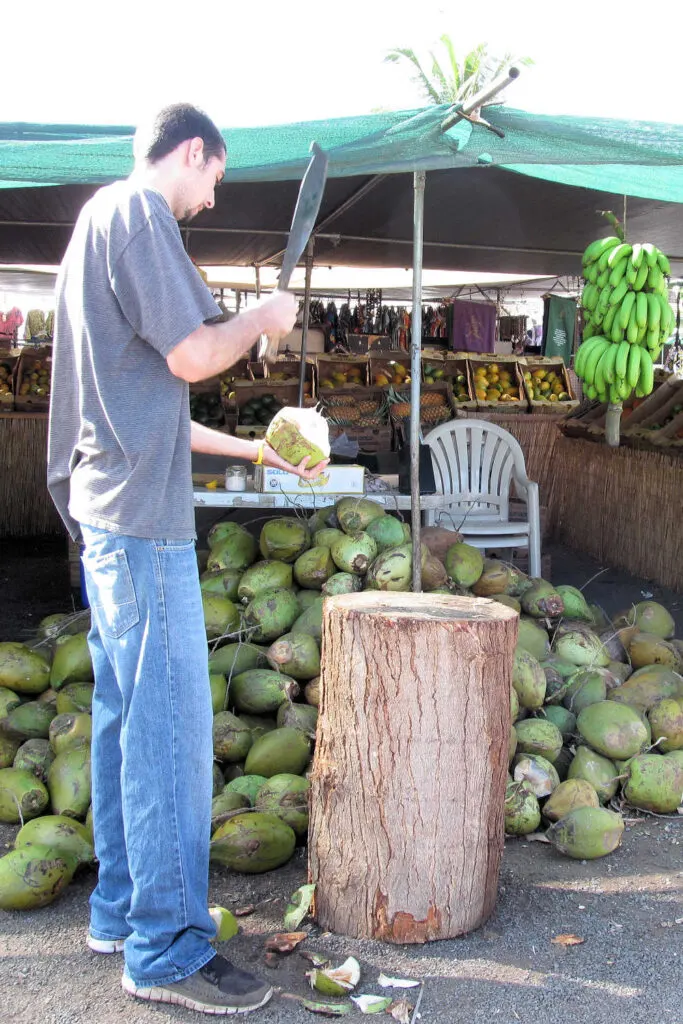 You can find lunch trucks throughout Maui's towns, but Kihei is a coastal town with many food trucks worth trying. Cost varies but is always reasonable for the delicious food you'll receive.
Check with the locals to get a better idea of their location. Many food vendors have favorite spots, which can change depending on the season.
Snorkel At Molokini Crater
You'll find Molokini Crater between the islands of Maui and Kaho'olawe. It's a giant crescent-shaped rock formation rising in the Pacific Ocean off the west coast of Maui.
You cannot step onto the crater because it is a protected bird sanctuary. However, snorkeling at Molokini crater provides some of the best viewings of tropical fish and marine life anywhere.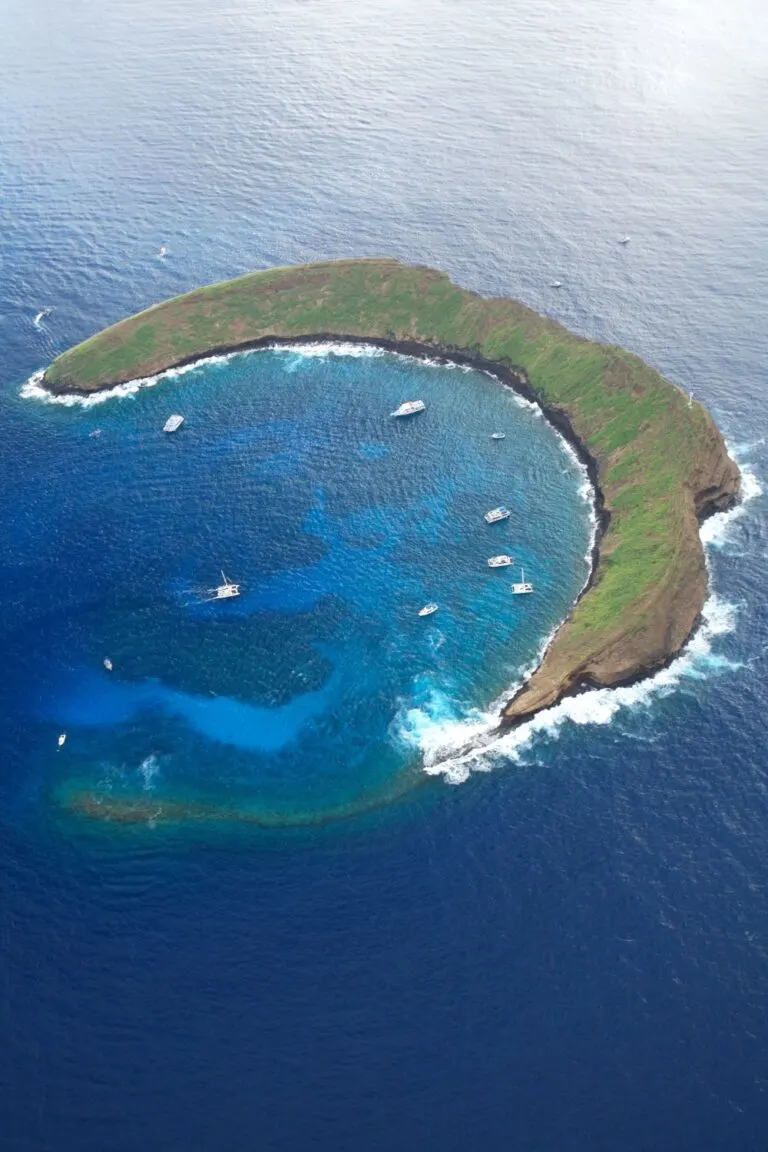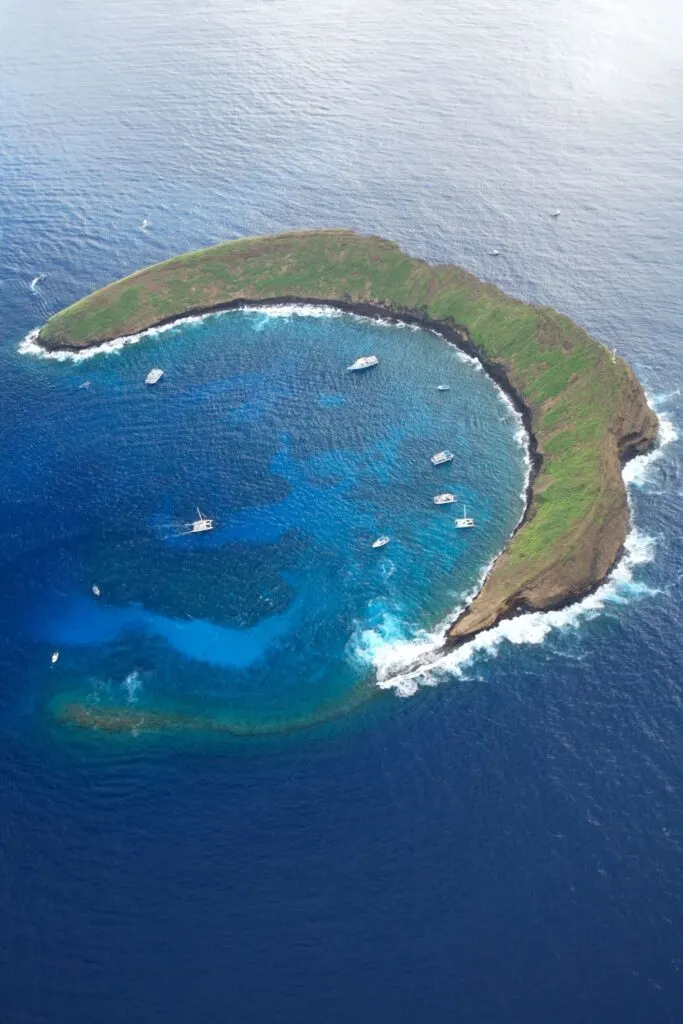 Many operators offer snorkeling tours either in the morning or early afternoon. However, it's best to go in the early morning when the water is calmer. Although, the crater can get crowded with boats all jockeying for the best spots.
Visit Haleakalā National Park
Haleakala Crater is within Haleakala National Park and features a dormant volcano. The volcano comprises a large part of the island of Maui. At 10,023 (3,055m) feet, it is an impressive giant in south Maui, with many different climatic zones.
There are several ways to get to the top, renowned for its spectacular sunrises and sunsets. On our first trip, we drove a rental car and enjoyed the freedom to make stops along the way.
The summit drive can be 1.5 – 2.5 hours, depending on where you start on the island. As a National Park, you must purchase a park pass to reach the summit.
You can purchase the pass online at Recreation.gov or at the entrance to the park. Cost varies according to the length of stay and the type of vehicle.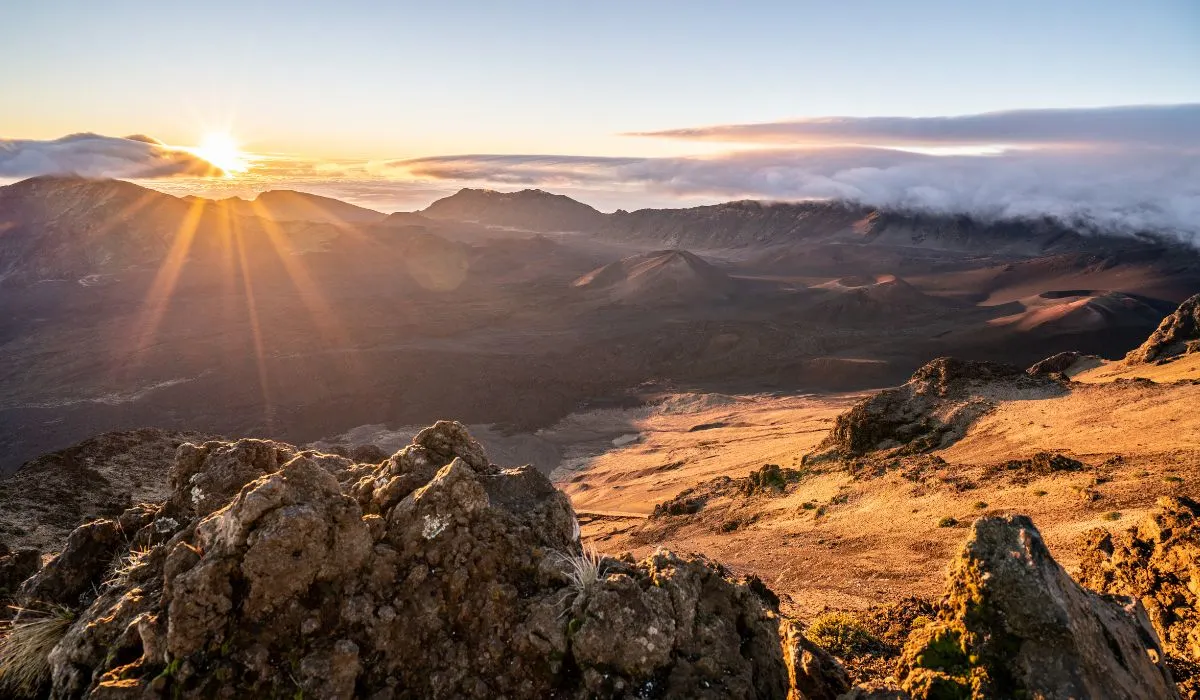 Many bus excursions take different groups at different times of the day. While there is a parking lot at the top, if you are doing the Haleakala Sunrise Summit, you will need a parking pass.
You can book in sunrise parking pass in advance online. The parking pass was introduced recently due to the extreme popularity of the summit during sunrise.
Alternatively, you could do the summit sunset, which does not require a parking pass. Keep in mind that the summit is in a different temperate zone at over 10,000 ft (over 3,000m).
I've heard many travelers make the long drive up the volcano only to be surrounded by fog and mist! Terrible views and little chance for that perfect photo!
Depending on the time of day you reach the summit, there are some incredible hikes that you can do. You almost feel you're on another planet, such as Mars.
Distance is deceiving, and on a clear day, you can walk for a long time but still have your starting point in sight. Pace yourself accordingly and turn around whenever needed.
There is virtually no vegetation at the top which adds to the stark ambiance and provides an out-of-this-world photo opportunity! A cloudy day is perfect for photos as long as they're above the summit!
The park is home to 19 different hiking trails at many elevations. Regardless of your hiking skills, you will find a route to suit you in Haleakala.
A 7-Day Itinerary For Maui
For this 7-Day itinerary, consider spending the first few days doing the fun, and exciting excursions discussed in the 3-Day itinerary discussed earlier. Then you can try some of the suggested adventures here.
Like the other itineraries, I recommend a rental car so that you can choose the schedule that works best for you and your fellow travelers.
Feel free to mix up the itinerary according to your interests and budget.
Drive The Famous (Or Infamous) Road To Hana
The highway to Hana is an iconic 64-mile road along the coast of Maui. The epic drive is known for its almost 60 bridges and over 600 curves.
Along the way, there are numerous cascading waterfalls, a lava tube, eucalyptus tree forest, and Sandy's world-famous banana bread.
For many Maui visitors, this is a must-do drive that literally 10,000's visitors have completed. However, I am NOT one of them!
I love driving, and I love Hawaii, but for me, the Hana highway is not worth my time. I may sound like a grouch but listen to my rationale before you judge.
Having heard horror stories from my family who made the drive, it put me off doing the drive myself. Over 40 of the 60 bridges are single lanes!
What should be an hour's drive with an extra half-hour for some photos and tourist stops is actually a 3-hour long drive with traffic! Also, since it's an out-and-back drive, you spend another 2-hours of boredom returning the way you came.
Imagine a couple of cruise ships docking in Maui in the morning, and maybe 10% of the passengers want to do the infamous Road to Hana drive. That would be about 500 people, all driving a long narrow road simultaneously.
Sorry for being a downer. I would rather spend my 5-hours in Maui doing something other than being stuck in traffic. Also, when you finally get to Hana, I've heard there's a little there!
If it's on your Hawaii bucket list, then all I can say is, "Go For It!"
Visit Upcountry Maui
This region of Maui includes the towns of Kula, Ulupalakua, Makawao, and Pukalani. It is located on the slopes of Mount Haleakala and is worth the visit if you have more time.
It's not "country" in the way you may think of the western regions of the continental U.S. The elevation above sea level is why it's described as upcountry.
It's still lush Maui but does include some interesting farms and markets that are classic Hawaiian. One of the popular destinations is the Ali'i Kula Lavender Farm. The farm is at 4000 ft. (1219 m) elevation and just 13.5 acres.
Home to over 50,000 lavender plants, the fragrance and visuals is a treat for the senses. Open daily from 9 am-4 pm, I suggest booking ahead to get the tour that fits you best.
If you're a wine fancier, Ulupalakua Vineyards is another destination within Upcountry Maui. The property has a history back to 1841, but wine operations have only been there for the past half-century.
Its first wine, Maui Blanc, was a sparkling pineapple wine and is still a huge hit today.
There are many other farms worth visiting, such as Kula Country Farms, Maui Gold, Kula Beans Coffee Farm, and more. Many offer free sampling, and all have gift shops to pick up some of the harvests and delight your taste buds.
Attend A Maui Luau
You cannot visit Hawaii without participating in a luau. Our first luau was on Oahu and was the perfect mix of delicious Hawaiian food, entertainment, and Polynesian culture.
The Old Lahaina Luau is one of the most popular and is rich in tradition and delicious dining. Maui has many luaus to choose from depending on your budget and schedule.
Once you've decided to take in a luau, I have one suggestion. Go with an open mind and be willing to step outside your comfort zone!
The Hawaiian culture is incredible and filled with song, music, and dancing. Don't be afraid to get on stage, if invited along with others, because it would create memories you'll never forget.
Some of the best luaus feature fire dancing and knife throwing. The jaw-dropping show will have you on the edge of your seat.
Be prepared to spend at least USD 200 per person, but it will probably be the highlight of your Maui adventure. Check these luau listings for one that may interest you.
Dinner cruises can include a luau affair if you want to combine two experiences into one. I have enjoyed dinner cruises but prefer to have the luau on land.
Authentic pig roast in the ground is a Hawaiian tradition that loses some charm when you're on a boat. Regardless, you're on vacation, so make your own adventures!
Explore Black Rock
Black Rock Beach is at the north end of Kaanapali beach and is another example of Maui's incredible oceanfront. We were there for a short time on our last trip to Maui.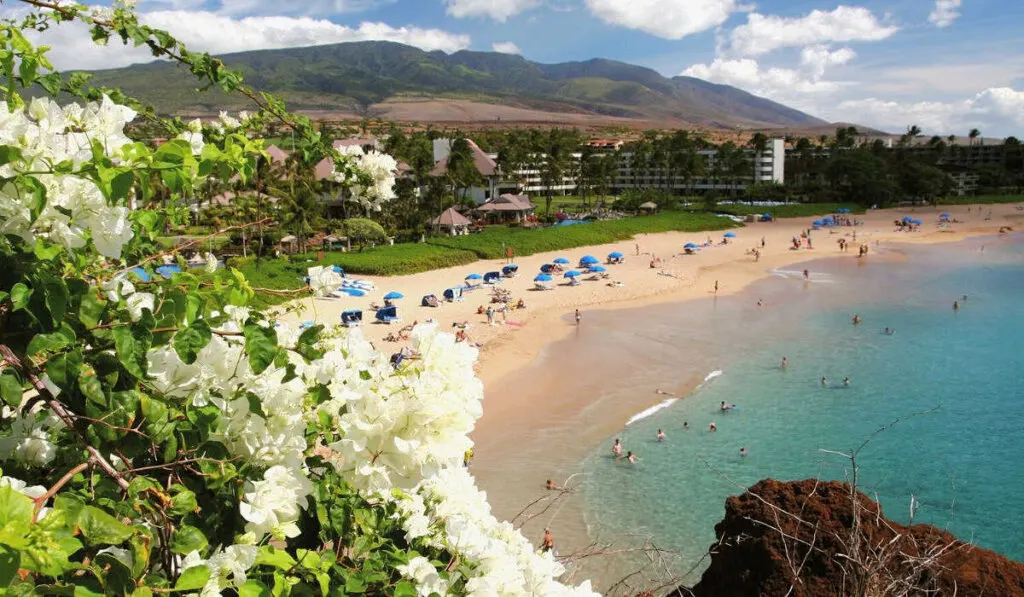 We arrived there on e-bikes and knew the area was extremely expensive based on the world-class golf courses and luxury hotels. Expect to pay USD 1,200+ a night to stay there.
The beach is named after the lava flows that happened thousands of years ago. It is a popular spot to snorkel, so if you bring your gear, don't expect to be snorkeling alone!
The water is clear, and one of the favorite things visitors do is jump off the black rock. It looked dangerous as people would tread water below the jump spot waiting for the next jumper.
I was too afraid to jump, but my excuse was, "We didn't have enough time and had to get the bikes back!"
See Dragon's Teeth At Makaluapuna Point
One of the spectacular characteristics of Hawaii is the impact the volcanos and lava have had on the landscape's geology. Dragon's Teeth is one of those impressive areas, located at 4946 Lower Honoapiilani Rd in Maui.
It is located in North Maui, and once you drive there, you will walk less than a kilometer (a half mile) along a golf course. Waves constantly thrash in against the rock, demonstrating the power of Mother Nature.
Appropriately named because the jagged rock formations rise out of the foundational rock and resemble Dragon's Teeth. Their color is a light grey which is different from much of the blackish rock formations in other parts of Hawaii.
Apparently, the "teeth" formed when the lava flowed into the Pacific Ocean and met the extreme waves. The result was peaks of grey rock resembling teeth frozen for eternity.
Hike On Maui
The island of Maui has some hikes that are both beautiful and strenuous. Haleakala National Park has some trails, such as Sliding Sands, to test your endurance.
However, there are many hikes available around the coast of Maui that let you enjoy the stunning landscape. Whether you are north, south, east, or west, some treks are not far from you.
For your 7-Day Itinerary, choose one or two of the hikes below according to location and hiking difficulty.
Kapalua Coastal Trail is an easy hike not far from Lahaina. It's approximately 2.5 miles (4 km) out and back.
The terrain is relatively level, so an easy hike for most travelers and takes about an hour. However, since you hike along the coast, it offers no shade from the sun.
Waihee Ridge Trail is located in the West Maui Forest Reserve and is an intermediate difficulty. It's about 4.2 miles (6.8 km) and will take most hikers about 3 hours.
During the hike, there's a gain of about 1600 ft (500 m), so be prepared for a workout depending on your fitness level!
The reward is lush terrain and stunning vistas along the ridge.
Sliding Sands (Keonehe'ehe'e) is a challenging hiking trail near Kula, Maui. If you are an experienced hiker, you can complete this one.
It's about 11 miles (18 km) long, but the challenge is the elevation gain of over 3,000 ft. (931 m)! Plan to take over 7 hours to complete the trail, and you'll need to carry lots of water.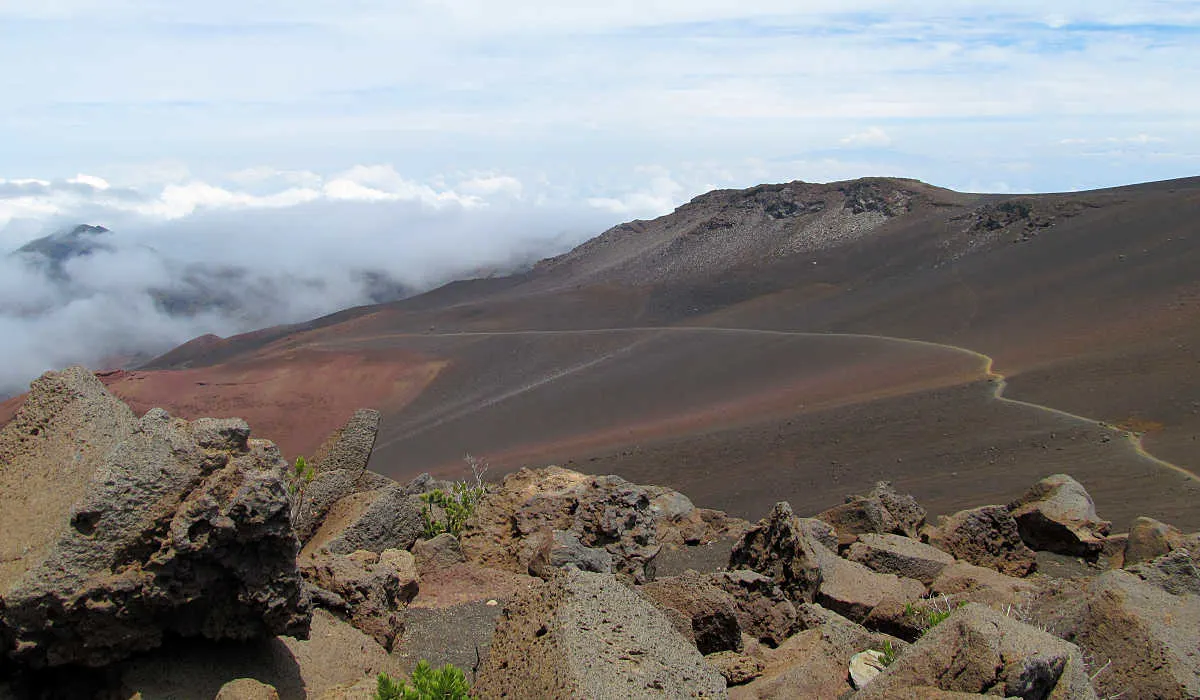 The trail is not suitable for dogs. However, you will likely see other people because the route is popular for anyone wanting to backpack or camp.
Since the trail is within Haleakala National Park, you'll need to purchase a park pass.
Sea Caves And Black Sand Beach Trail is another out-and-back trail that is just .6 mile (1 km) in length. It's a quick and easy hike that should take less than 20 minutes.
The trail is within Waianapanapa State Park, and you must reserve a time slot. You can make your reservation online.
Due to the rugged terrain, it is considered moderately challenging. Note that dogs are not allowed on the trail.
Twin Falls Trail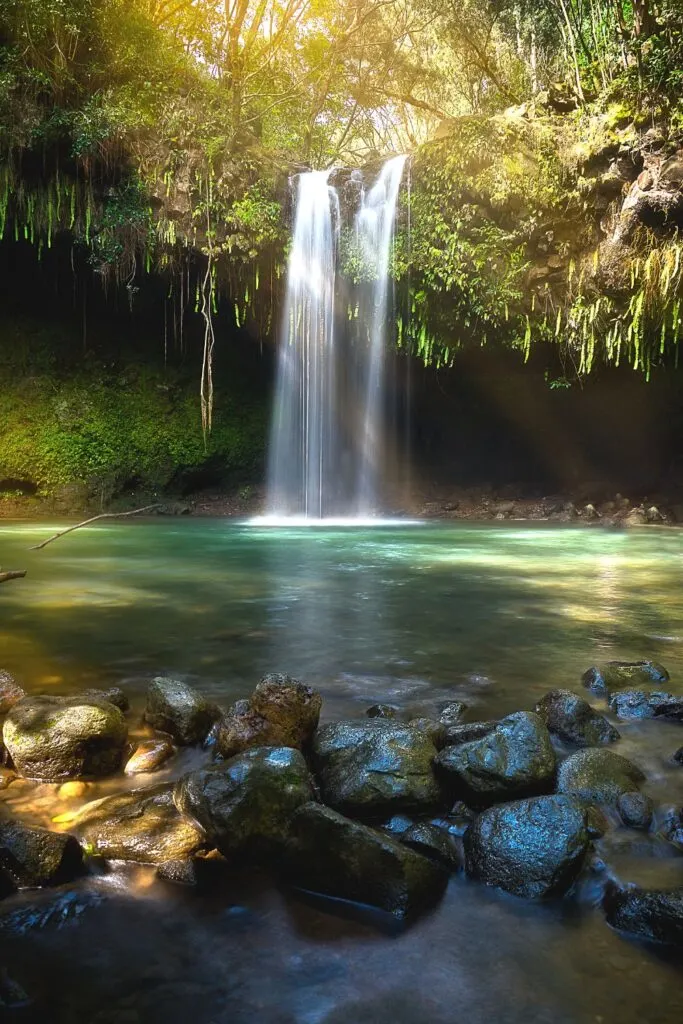 This moderate trail is just 1.8 miles (2.9 km) and a simple out-and-back trek. It is located near Haiku, Maui, and most hikers will complete the hike in less than an hour.
Dogs are okay and can even be off-leash in some areas. It's a very popular trail, so expect to see many people on it.
Pipiwai Trail
Located on the backside of Haleakala National Park, you'll need to drive the Hana Hwy to reach this one. The 4-mile (6.4 km) roundtrip trail can be challenging if it's rained due to slippery uphill sections.
However, you'll enjoy some stunning waterfalls and a walk through a lush bamboo forest.
Hiking Safely
Regardless of which hike you choose, be sure to hike safely. This is especially true if you are an inexperienced hiker.
Here are some tips that all hikers should follow in Maui or wherever they hike.
Always wear bright clothes and be prepared for weather changes. Rain showers can happen at any time, making the trails more challenging. Some areas can experience flash flooding during the rainy season.
Never venture out alone; the more in your travel group, the better.
Be sure to pack extra food and water in case of an emergency.
Always take a cell phone but realize that some (or many) areas of the trail may not have cell coverage.
Be aware of daylight hours and start your hike as early as possible.
I always like to take a USB battery pack to charge my phone or any of my devices.
Never venture outside of trail markers or onto private property.
Let a family, friend, or even your hotel, know where you are hiking for the day.
Wear the appropriate footwear for the hike you are doing – never wear flip-flops!
Here are some helpful phone #'s when you're hiking Maui:
808-986-1200 ext.1 (automated info for flash flood warnings and other advisories).
1-866-944-5025 (weather check before you start your hike).
Helicopter Tours
Seeing Maui from the air is always an incredible option if the budget allows it. You pay per person and for the length of time, you are in the air.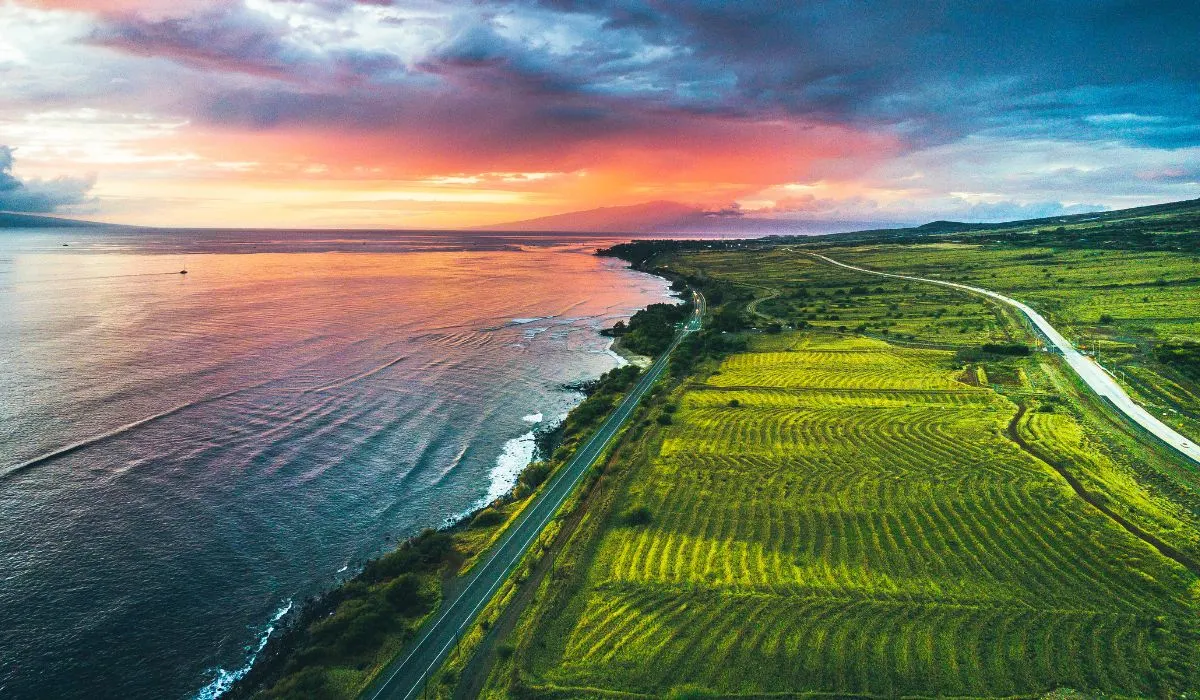 There are multiple airports in Maui, so you can choose a local airport close to your hotel. Tours range from 45 min and up to over an hour. Prices vary but expect to pay from USD 350 – 650 per person.
One of my bucket list tours is flying the entire Maui island. My wife, Karen, would love to do the "doors off" helicopter excursion.
There are many tour companies, so see if a helicopter tour can be part of your Maui itinerary.
Final Thoughts
As you can see, there is so much to see and do in Maui. Depending on the length of your stay, you can do as much or as little as you want.
Maui is an excellent place for couples. It provides the ideal romantic getaway for a honeymoon or if you are celebrating an anniversary. Consider Maui as a surprise for your next memorable getaway.
One of the things I absolutely LOVE about Hawaii is that ALL beaches are accessible to the public. The only downside of this is that all beaches can be very busy!