Electric bikes (or e-bikes) have become very popular recently. On our recent cruise to Hawaii, we added an e-bike rental excursion while docked in Maui.
We had two days in Maui, so we took a tour of the Dragon Fruit Farm near Lahaina with zip-lining and aquaball on the first day. Then rented bikes the following day.
E-bikes are easy to ride regardless of your level of fitness. In addition, they let you have an 'up-close look' at the local towns and surroundings.
E-bikes are becoming one of my favorite activities because of the modest cost, flexibility, and fun. Before our cruise, we found Kimo's Electric Bike Rentals in downtown Lahaina.
While most cruise passengers were driving the Road to Hana, we liked doing something different. As Karen and I are now in our 60s, electric bikes provide the perfect way to explore the local ports. Although, it's not just older folks renting electric bikes.
We had rented electric bikes in Skagway during our cruise to Alaska earlier. For the 2-hour rental, we saw parts of the Alaska town that were further than walking distance.
When looking for an electric bike rental, it's essential to find a convenient business that meets your needs. Kimo's Electric Bike Rentals did that for us.
Read ahead for everything you need to know about e-bike rentals in Maui.
About Kimo's Electric Bike Rentals
If you're looking for electric bikes in Maui, Kimo's has two locations to serve you. You have a choice of just a bike rental or a bike + snorkel tour.
West Maui Electric Bike Tours
We rented from the West Maui shop at 156 Lahainaluna Road, Lahaina, Hawaii. Since we were tendering from a cruise ship in Lahaina Harbor, this was more convenient.
We had to walk a short 10 minutes from the dock to Kimo's Electric Bike Rentals. It's behind Ululani's Hawaiian Shave Ice store.
South Maui Electric Bike Tours
Kimo's bike shop is located at 1770 South Kihei Road, Kihei, Hawaii. The bikes and tours are like the West Maui location, offering the same rental options. However, the tour stops are different because of their location.
What's Included
Rather than renting just the bike, we took the bike + snorkel tour for 6 hours. The cost is USD 69.95 per person. You pick up everything at 9 am and must have it returned by 3 pm.
Here's what you get for your self-guided tour:
RadPower electric bike – "Radcity" model.
Helmet and bike lock.
Saddlebag.
Detailed self-guided tour directions.
Snorkel gear and carry bag.
Backpack (upon request).
Alternatively, you can just rent an e-bike by the hour or day for up to a 2-week period. Standard e-bike rentals include a helmet, bike lock, and charger (if renting for 24 hrs or more).
Here are the restrictions to be considered for your rental:
You must know how to ride a bike.
A helmet is not optional.
The rider must be at least 18 years old.
Riders must be 4'10" or taller.
The bikes have a max weight capacity of 275 lbs.
Closed-toed shoes are recommended.
Not recommended for travelers who are pregnant, have back problems, heart problems, or other serious medical conditions.
Booking Your E-Bike Rental In Maui
If you want to explore Maui by e-bike, you can book the bike and snorkel tour here. Alternatively, you can rent by the hour or day on their website. Kimo's is part of Boss Frogs, which is next door.
Also, you can call them at 808-661-1345 if you have any questions.
E-Bikes – A Great Cruise Port Excursion
As a follow-up to our Skagway, Alaska, e-bike rentals on an earlier cruise, we knew e-bikes were on our list when visiting Maui. Since I have rarely tried snorkeling, the added snorkel gear was also a must.
Since we knew Honokeana Bay and Black Rock Beach were great spots for turtle viewing, we brought along a GoPro.
However, we didn't snorkel once after almost 6 hours of riding! Read further under "E-Bike Tours" for more details on why snorkeling was a challenge.
Since the COVID pandemic, the popularity of e-bikes has increased substantially. While non-powered bike rentals have been available for years, many businesses now include electric bikes as part of their offerings.
The range of a typical electric bike is up to 40 miles per charge with a top speed of 20 miles per hour (32 kph) during electric assist. After 20 mph, the motors are no longer helping you.
Another reason I recommend e-bikes is their ease of use. If you know how to ride a bike, you can learn all you need with just 10 minutes (or less) of instruction. The power assist allows you to explore Maui beyond where you can walk.
Electric bikes still have a shifting system, but the battery allows for an extra boost on hills or when you get tired. A display shows your battery life, speed, and level of power assist (from 1 to 5).
If it's your first time riding, all rental companies will give you detailed instructions before you leave. They want you to feel confident, reducing their liability in case anything happens.
Although, be prepared to sign a Liability Waiver as part of your rental agreement. After about 10 minutes of riding away from the rental office, you will understand the basics of e-bikes.
Our E-Bike Tour
Kimo's provided a paper copy of everything we needed for our self-guided tour. The business operator talked us through the five recommended stops and what to see there.
Having been to Maui just once before, I felt 'information overload' but knew we would figure it out. We sized up for swim fins and snorkel masks. With everything in the carry bags, we loaded them into the saddlebags on the rear of the bikes.
It was great the bike store had two different sizes of saddlebags. If you bring towels and other gear, you can request a larger bag.
I made a quick adjustment to my seat height for comfort. In addition, I had a backpack for our camera and hiking gear, so we were now ready to roll out!
Karen took the initial lead as we headed along the Lahaina coastline, out to the highway.
Playing with the throttle is always fun, and feeling the power assist. By just peddling gently, you feel that you are almost an Olympic-class athlete. It's cool to feel a 20-mph wind in your face, and you are not even breaking a sweat!
The best part is that if your legs are tired, you can stop pedaling and let the motor do the work! For Karen, who has had several leg surgeries, e-bikes are perfect. The bikes let us both zip along without destroying our legs.
Throughout our electric bike rental, we carried the snorkeling gear everywhere. The surf was too rough at our first destination and had a red flag warning. While you can still swim, it's only advisable to do so if you're a strong swimmer.
The Pros And Cons Of Snorkel Gear
It was disappointing not being able to snorkel, but we knew we had to respect the local surf conditions. That day, the surf was rough in most places along the coast. Even though I had hoped to snorkel, the environment didn't permit it.
Another challenge was that whenever we locked the bikes, there was no way to secure the snorkel gear with the bikes. As a result, we had no choice but to carry the two snorkel bags with us when we left the bikes.
At first, it didn't seem like much of a problem. However, after four hours of "lugging the snorkel gear around," it became a huge nuisance, and the gear felt heavier by the hour.
So, one of us stayed with the bikes at several stops. This made it easier than always finding a secure place to lock the bikes and carry the snorkel bags. Lesson learned for next time – skip the snorkel gear rental.
If you're not a strong swimmer and considering the snorkel option, you might want to ask about the surf conditions the day you pick up an e-bike rental.
One interesting fact; ALL beaches in Hawaii are accessible to the public. In other words, even if luxury hotels are in front of a beach, you are allowed to access it.
There are NO private beaches in Hawaii. This makes navigating your way on a bike to a beach easier.
Knowing we had the Maui bike rental for six hours; would we survive in the heat? In Skagway, our rental was just 2-hours, but it was our first time on electric bikes. At the end of 2 hours, we were done and glad the time was up.
In Maui, we rode mainly in the bike lanes or on the shoulder as we traveled on the Coastal Highway. When riding any bike, I always look for bike paths because they increase the ride's safety.
Kapalua Coastal Trail
After leaving Kimo's Bike Rental office, Kapalua Coastal Trail was the first destination. We followed the directions to Highway 30, Maui's coastal highway.
Once on the highway, we rode for a long time to get to the start of the beautiful Kapalua Coastal Trail. This is the farthest destination from the rental office, so we decided to do this route first.
After asking for directions, we rode down the hill past an ancient Honokahua burial site. From here, we could enjoy amazing panoramic views of the ocean.
Then, we proceeded through the Ritz Carlton Hotel grounds to Honokahua Bay. There was a clubhouse, and a groundskeeper politely asked us to dismount from our bikes.
The beach was beautiful and pristine against the Pacific Ocean. There were a lot of hotel guests who made the trek down to the beach. We quickly locked up our bikes and walked along the shore.
This was the beachhead to the Kapalua Coastal Trail. Since we were already over an hour into our ride, we decided to skip the hike. After talking to a few of the locals, we collected our bikes.
While the walk down to the beach was easy, we now had to walk back up the hill! The sun was scorching as we pushed our 60 lbs bike up the steep hill. No chance of feeling the wind on your face here!
Dragon's Teeth
The Dagon's Teeth was the 2nd recommended stop. The site is a lava rock peninsula likely formed a million years ago when Maui Island was created.
The site is named because the sharps rocks protrude from the ground like teeth.
To get to the rocky outcrop, we had to park and lock our bikes about 1,000 feet (300 m) away from the peninsula. There was a long stroll along a boardwalk built to protect the sand dunes.
As we got nearer to the lava rock, we could see and hear a small inlet of white ocean foam that raged below. It would be a hazardous area if you were trying to surf.
The area was spectacular and a fantastic example of Hawaii's history. Of all our stops, this was the most picturesque.
Pohaku Park "S-Turns"
Pohaku Park is the third destination recommended by Kimo's. However, since we had taken the wrong directions several times, we skipped this stop on our tour.
While it is technically possible to see all five destinations, you may be pressed for time also and skip one or two stops.
Also, it would be impossible to see all the recommended stops if we had done any snorkeling. Regardless, we were still delighted with what we saw at our stops.
Since it wasn't getting unbearable hot, we stopped at Napili Plaza to get some refreshments and fresh fruit.
Kahekili Beach Park
Kahekili Beach Park is one of the easily accessible beaches and the 4th stop on the recommended tour. There is an open parking lot, and the beach appeared to be a favorite with the locals.
Like our other stops, we decided to have one of us stay with the bikes and snorkel gear. I find all Hawaiian beaches to be beautiful, and this was no exception.
We liked that there were public restrooms and places to change if you wanted to. Many other tour stops had limited facilities, or you would need to use a nearby hotel.
Black Rock
Black Rock was the last destination recommended by Kimo's. The given directions made it a challenge to find, so don't be surprised if you get a bit lost.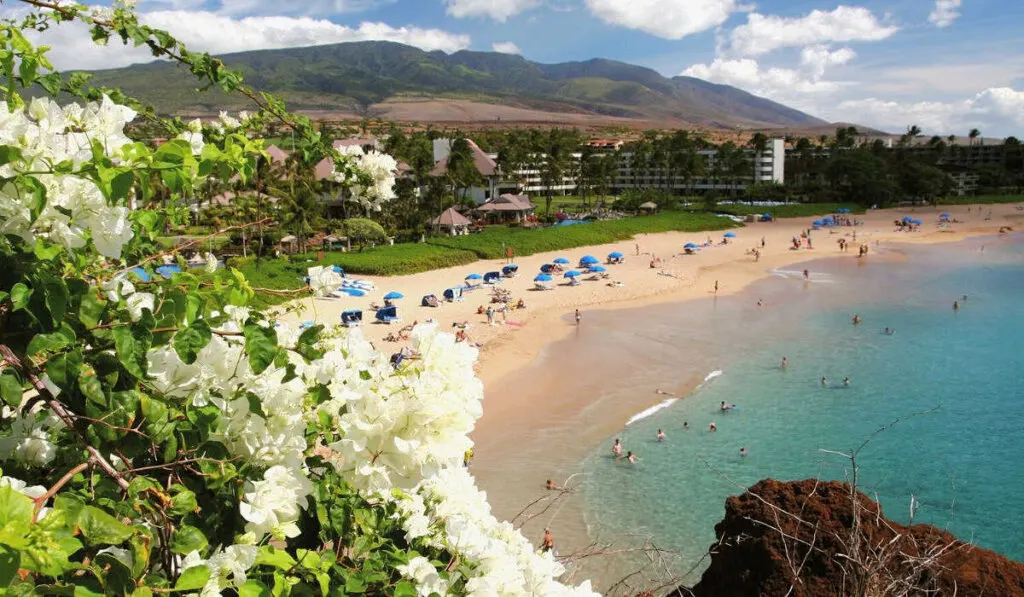 After checking at the Sheraton Hotel, we got some local directions. We locked our bikes and made our way to the beach. Since it was already around five hours into our 6-hour rental, we didn't stay long.
The black rock is a lava formation jutting out, popular for public diving. When there, we noticed a group of young people taking turns jumping off the top.
It was only about 20 feet high, so a popular attraction. There's a warning that you must stay on the calm side of the cliff. The other side is dangerous due to frequent rip tides.
On the path to the beach, we came across some beautiful seed pods that looked like flowers. We later learned these are from the Clusia Rosea tree (autograph tree).
The Sprint Back to Kimo's!
After checking our phones, we were shocked to find we had only 45 minutes to ride back to Kimo's! Early in the day, we thought there was no chance we would survive SIX HOURS on e-bikes in 34C Maui weather.
However, here we needed to RUSH back before the 3 pm deadline. I quickly talked to my phone. "Hey Siri, take me to 156 Lahainaluna Road, Lahaina". We were off in a blast and made the sprint home to Kimo's.
Like any new trip, it's always faster going home than the drive out. We stayed on the wide bike path on Coastal Highway #30 and followed the directions. We didn't break any speed records, but we didn't waste time!
With time to spare, we arrived at about 2:45 pm, much to our relief. We quickly dropped the bikes, snorkel rentals, and helmets.
After a short walk, we rewarded ourselves with Maui's world-famous shave ice! Overall, we had a fantastic day and found the bike rental was a great couples' activity in Maui.
How To Have A Good Bike Ride
Here are some tips to ensure you have a good electric bike rental. Of course, most of these are for more than just e-bikes.
Adjust The Bike For YOU!
Since you are getting on a bike you have never ridden before, adjust it for your size, legs, etc. Granted, since it's a rental, you cannot change much other than the seat height.
Since neither Karen nor I are tall, we sometimes go with lower bikes. However, it's not good if your knees are almost touching your chest while you ride!
Use A Smartphone For GPS Navigation And Safety
We used my phone's GPS to get directions to our next stop on our ride. We were in an area we didn't know well, which really helped. Also, the phone is essential when calling for help if you get into trouble.
Always Use A Lock
Your bike rental company will always provide locks. During our tour, we sometimes needed to 'double-up' the locks one after another. This was handy if all we had was a tree to secure the electric rental bikes.
I recommend taking a photo of the lock combinations, so you don't have to remember them.
Carry Water And Sunscreen
When cycling in an area like Hawaii, the temperature can easily reach 95 Fahrenheit (35 Celsius). We had left in the morning, but it was much hotter by midday. While the wind at 20 mph kept it bearable, it was a blast furnace when we stopped!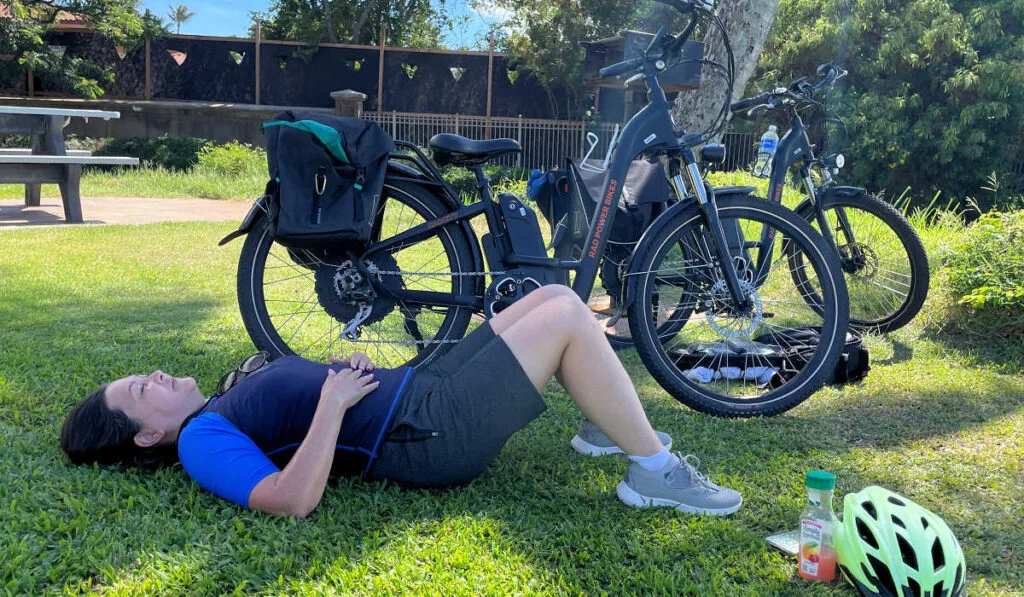 We put 50 SPF sunscreen on at the start and re-applied it midday. The last thing you want is to be feeling heat-stroke while you are 10 miles away from the bike rental shop or the nearest hospital. Take a break when needed.
We wore Rashguard UPF 50 shirts which helped to protect us from the sun. I'd recommend them because they are lightweight, breathable, and have SPF 50 protection.
Ride As A Group
Riding as a group provides strength in numbers. However, if either rider has an accident, the other person can help. It's only a fun and successful ride when you return safely to where you started.
Pull Over To For Navigation
Unfortunately, the rental bike did not have a handlebar mount for a cell phone. When I ride at home in Canada, I always mount my phone, so I can use the GPS without using my hands.
While riding in Maui, I would stupidly hold my cell phone in one hand sometimes. My other hand would be on the handlebars and steering the bike. Fortunately, no accidents happened, but this was a recipe for disaster!
The intelligent thing to do would be to pull over as needed and check my phone for directions. After a while, I kept the phone in my pocket and cranked the volume to maximum.
The high volume allowed me to hear Google's directions and navigate accordingly.
Stay In Your Bike Lane
I learned long ago that a bicycle is a vehicle that must share the road. While not as fast as a car, electric bikes can still reach 30 mph easily on a downhill.
For new riders of e-bikes, you may not realize how fast you are traveling. Always know your environment – including other vehicles, pedestrians, etc. If it's safer to dismount at major intersections and use the crosswalk, do so.
By staying on official 'bike lane' paths, you will reduce the risk of collision and injury. Fortunately, the highway bike lanes were wide in most places.
Final Thoughts
I continue to love trying electric bikes when we cruise. As Karen and I age, it's great to feel the wind in our faces without paying the price of sore legs the next day.
The e-bikes at Kimo's Electric Bike Rentals were much more comfortable than the bikes we rented in Alaska. Karen enjoyed the "comfort seat" much more than the harder one in Skagway.
However, adjusting the bike before you start for your body dimensions is essential. When getting an electric bike rental, select the model that matches your size.
We also tried Segways during our past cruise to Mexico. They were fun, but it's impossible to cover as much distance as you can with an electric bike.
When we cruised to Maui before, we rented a car. However, the lack of parking in many areas made it often impossible to stop and enjoy the destination. E-bikes never have that problem; all you need is a secure pole or tree to lock your bikes.
In the future, we will not do the snorkeling option and will simply rent electric bikes. Afraid the snorkeling gear would be stolen, we could never leave it behind with our locked bikes.
As we walked about our stop, we carried a backpack and two snorkel bags wherever we went. As the hours ticked by, they began to feel like anchors.
I hope this article has provided some helpful info for renting e-bikes in Maui. Electric bikes are an environmentally friendly mode of transportation. They let you tour your surroundings without being exhausted at the end of the day.
Happy Cycling!
Brian