Maui is a beautiful island in the Hawaiian archipelago, often chosen for honeymoons. It's the perfect place to crank up the romance. With so many things to do, couples can find ways to rekindle their love in Maui.
The tropical island provides a romantic vacation for newlyweds, couples celebrating their anniversary, or rekindling their love.
The beauty of Hawaii is its weather, which is ideal year-round. So, if you're looking to escape the winter or want a change of scenery in the summer, this destination delivers.
Staying In Maui
Expect to pay a premium for any accommodation in Maui. You can choose from budget-friendly Airbnb condos to luxury resorts with ocean views and a slew of amenities. You can even rent a camping package for those on a tight budget.
Most vacationers stay on the west side of Maui. The towns of Wailea, Kihei, Lahaina, Ka'anapali, and Kapalua offer plenty of choices. A little less developed, further south, Wailea and Kihei suit those who prefer fewer crowds.
Be prepared for sticker shock if you want to stay on Maui's best beaches with ocean views. One of the best ways to save money is to pick a hotel a few blocks from the beach.
The budget-friendly Kamaole Sands offers a location near the beach, restaurants, and shopping.
For a luxury stay, the Four Seasons Resort Maui at Wailea delivers. Its exceptional service, location on Wailea Beach, and first-class amenities make a must-stay.
Further north, Lahaina puts you closer to its harbor for boat trips. The town has lots of choices for dining, shopping, and nightlife. While there aren't any large chain hotels, you'll benefit from lower prices.
Couples staying at the Plantation Inn will enjoy the bed and breakfast option at the adult-only hotel.
Alternatively, the elegant and chic Old Lahaina House puts you 2-minutes from the beach. Some of their rooms have lanais (patios) to enjoy the tropical trade winds.
You'll find the most luxurious resorts centered around the Ka'anapali Golf Course. The Aston at The Whaler on Kaanapali Beach provides a less pricy option close to Whaler's Village. The shopping mall has all your favorite stores and Hawaiian brands, sometimes at excellent prices.
Alternatively, Maui Kai Condos puts you on the beach with kitchens and kitchenettes.
Now that you have a place to stay let's discover the best things to do as a couple while vacationing in Maui.
1. Watch The Sunrise At Haleakala
Towering over the eastern part of Maui, Haleakala Park attracts visitors to see its moonlike crater. At the summit, you'll see the volcanoes on neighboring islands if the weather permits.
However, its iconic sunrise attracts couples to enjoy a romantic moment 10,023 feet above sea level. The event has become so popular it now requires a reservation.
But don't let that stop you from making the dive up the switchback road to watch the sunrise with your loved one. If you don't have a rental car, you can take a guided tour.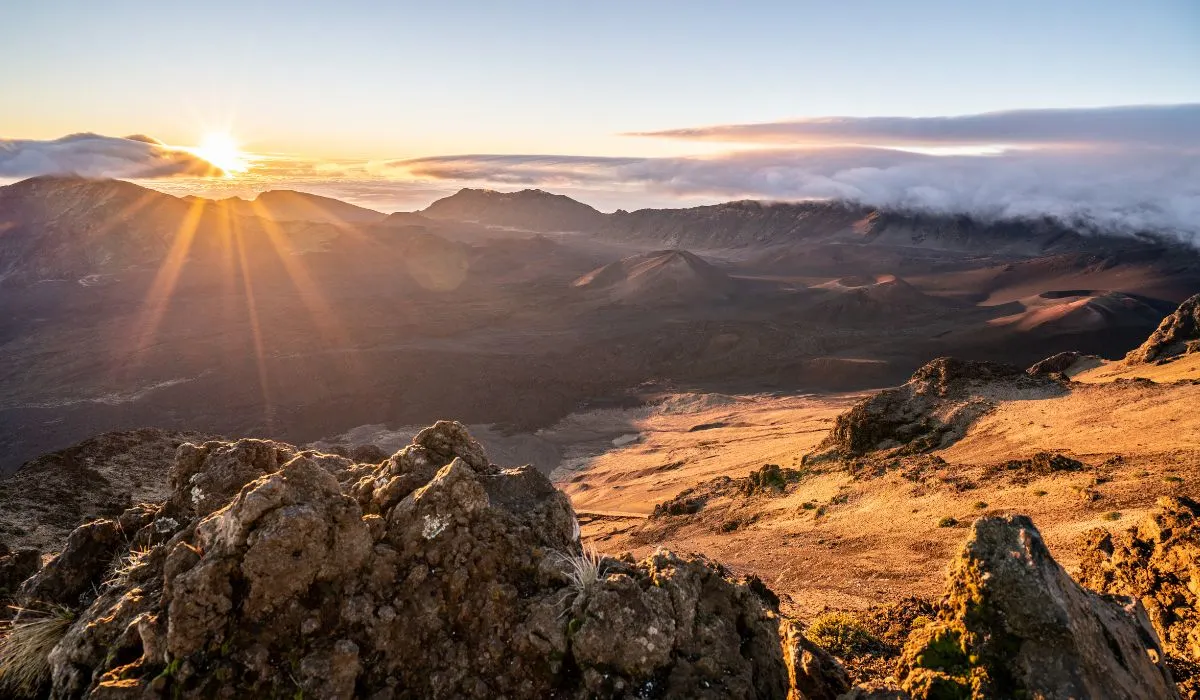 On the longest day of the year, sunrise occurs at around 5:30 am. Since it takes 1.5 to 2 hours to reach the summit, you'll want to begin your drive by 3 am.
Remember to take a jacket and some extra layers. While it may be in the 80s (Fahrenheit) at sea level, at the peak, sunrise temperatures will be in the low 40s.
If you take a blanket, you can snuggle together as you watch the anticipated moment when the orange glow rises slowly above the clouds.
Not an early bird? Don't worry; plan to make the sunset instead. With a more leisurely drive and no reservation required, it's still a fun couples' activity.
2. Go Whale Watching
In November, humpback whales arrive in Hawaii after a long migration from Alaskan waters. While they feed in the marine-rich waters of Alaska in the summer, they winter in Hawaii's warmer waters to mate and give birth.
Peak whale watching season runs from January to March, when you can witness the miracle of life. However, if you're in Maui a little before or after these dates, you still have a high chance of spotting them.
A whale's gestation period is 11 to 12 months, so they mate one year and return to Hawaiian water's the following year to birth. While whales are prolific around all the Hawaiian Islands, Maui provides the best place to view them.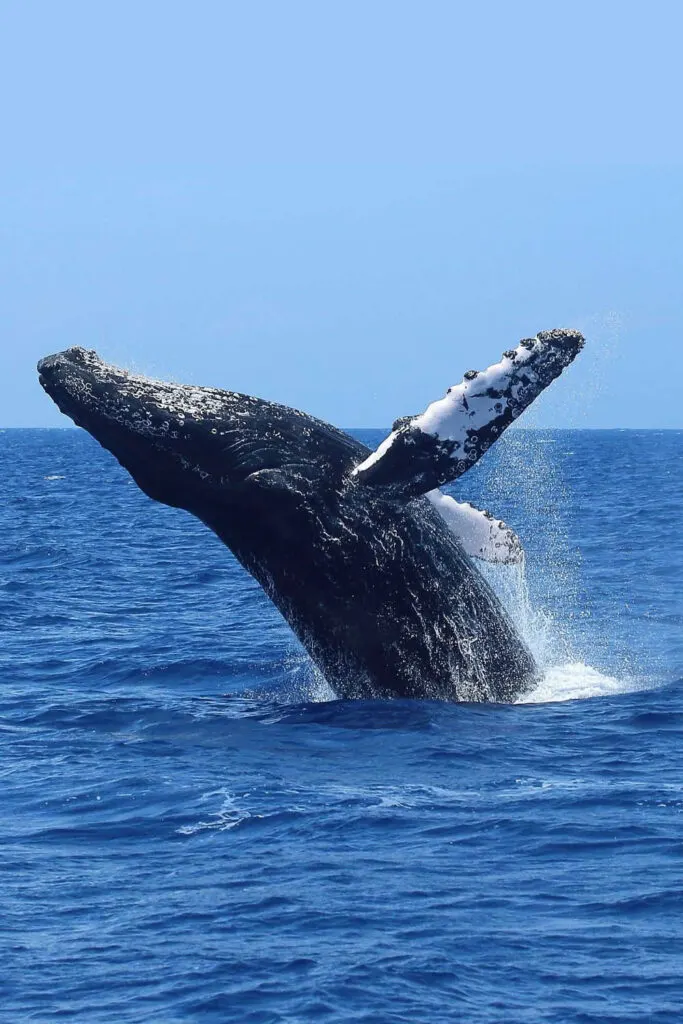 Lahaina Harbor offers the majority of tours, but there are options from Ma'alaea Harbor too. Excursions vary from two to four hours, and you can choose a vessel.
Sailboats provide luxury amenities and cost the most. However, they may include drinks and food. Catamaran excursions offer stability, which is ideal if you suffer from seasickness. A catamaran may be the best option if you want to take photos or videos.
Small boat tours or zodiacs take fewer passengers, but you'll experience the roughest ride. However, once you've sighted a whale, the zodiac can get there faster than the larger vessels.
3. Learn Stand Up Paddle Boarding
Stand-up paddle boarding engages your muscles but reduces your stress level. What better way to learn than with your partner?
Maui provides the perfect weather to learn without the need to wear a wet suit as in colder climate locations.
The low-impact workout builds upper body strength and improves your overall balance. You can rent stand-up paddle (SUP) boards from multiple locations, regardless of where you stay.
Alternatively, you can rent from Island Surfboard Rentals, and they will deliver your SUP to your hotel anywhere in Maui except Hana. You can choose from an all-around recreational board or a flat racing board.
Check the weather forecast and pick a day with calmer water. Early mornings are preferable or choose a location with a sheltered cove. Kapalua Bay, Napili Bay, and Kaanapali Beach are great choices.
When you're learning, stay in the shallows until you gain balance and confidence on your board. If the wind and swells pick up, continue the activity on another day.
4. Snorkel At Molokini Crater
Created by a sunken volcanic cone, snorkeling the deeper waters of Molokini provides a fun morning activity. Since the crater lies two miles off Maui's south coast, you'll need to book an excursion to get there.
You can choose from the very early tour or one in the late morning. Operators only offer excursions in the morning due to calmer seas. Some tours leave from the Kihei boat ramp. Alternatively, you can book an excursion from Ma'alaea Harbor.
Tour operators will allow you to snorkel inside the carter when the seas are calm. During rougher water, you'll snorkel around the outer rim.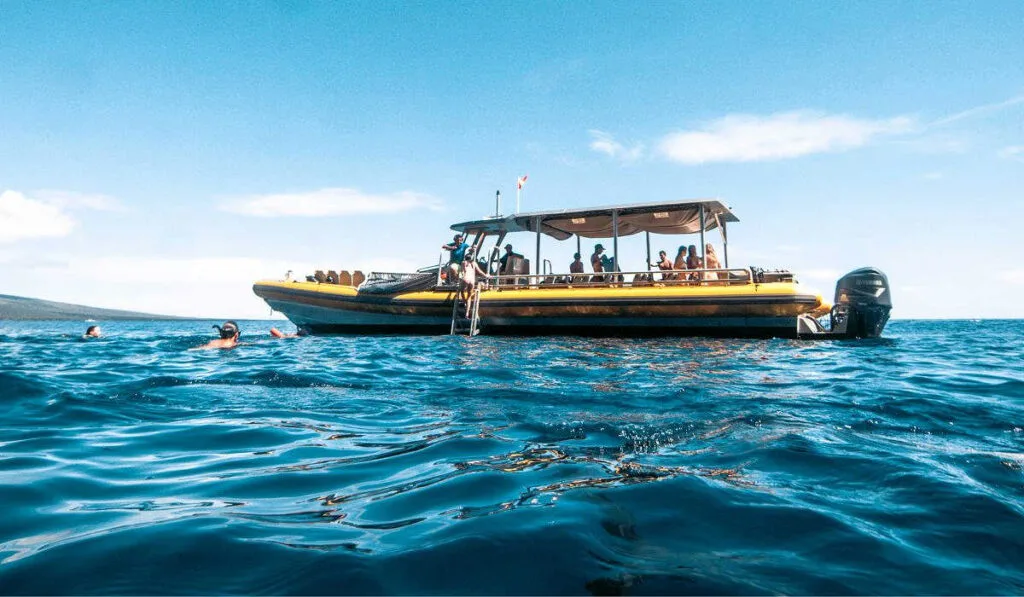 Most snorkeling adventures last a couple of hours, and the operator will provide a floatation device if needed. Since there's no shade, you'll want to wear a Rashguard UPF 50 t-shirt and use reef-safe sunscreen.
Like whale watching tours, you'll have a choice of vessel. The zodiacs maneuver faster and get you to the crater quickly. The catamarans provide a smoother voyage and often come with breakfast or snacks.
At the crater, the crystal-clear water allows you to see tropical fish, moray eels, octopi, and reef sharks. Hawaiian sea turtles and spinner dolphins may also make a surprise visit. Sometimes in the winter months, snorkelers can see humpback whales.
5. Have A Romantic Patio Lunch
Wherever you are, different regions of Maui have numerous patio options for lunch. Around Wailea and Lahaina, the ocean views add to the ambiance of dining outdoors.
Whale's Tale and Tommy Bahamas are excellent choices in Wailea. Located on the waterfront, the Whale's Tale exudes the Aloha spirit with a roaring outdoor firepit and stunning ocean views.
They make their smoothies from freshly squeezed fruit. For lunch options, their pizzas and paninis are delicious. If you visit in the winter, you might be treated to humpback whale sightings from the shore.
In Lahaina, Fleetwoods has live entertainment on its rooftop restaurant. Its fish tacos with mango-jicama Pico de Gallo are incredibly good.
Further down the street, Kimo's Maui has been a local favorite for 40 years. Their macadamia nut calamari and Kalua pork lettuce wraps use locally sourced ingredients. Another favorite is their fish and chips, made with Maui lager batter.
Afterward, walk along Front Street and stop by Ululani's for a classic Hawaiian treat, shave ice. Don't be surprised if there's a lineup, but the wait is worthwhile.
6. Drive The Road To Hana
The Hana Highway is almost 65 miles and may not seem that far in distance. However, with over 600 curves and 59 bridges, many of which are one-lane, the drive may take longer than you think.
The road trip to Hana is not about the destination but the journey. The road trip makes a great couple's outing, whether you spend a day or half a day exploring.
Along its route, cascading waterfalls, beaches with colored sand, lava tubes, a bamboo forest, and fruit stands beg for stops. With so many picturesque pullouts, your 65-mile journey could turn into an all-day jaunt.
Take a bathing suit because you may be tempted to stand under a cascade or take a dip in a river. If you stop at Ho'okipa Beach Park, it's one of Maui's best spots to see turtles.
Be sure to stop at Keanae peninsula for a chance to sample the best banana bread EVER! Aunty Sandy has been making banana bread for almost 40 years.
The secret to her bread is the butter and sweet bananas, which you can only get in Hawaii.
While there are many exciting stops along the Hana Highway, make this a priority if you want to sample the bread. If you don't make it by 2:30 pm, you'll probably be out of luck.
7. Hike The Pipiwai Trail
The Pipiwai Trail might be one of Maui's best hikes. However, it doesn't offer much solitude. The 3.8-mile roundtrip trail is a popular one and offers plenty of rewards.
To access the trail, you'll need to drive to Haleakala National Park, past the town of Hana. You will need to pay a small fee to enter the park.
Expect to spend a couple of hours exploring the scenery along the way. The first mile of the hike travels through several colossal bamboo forests, and you'll feel like you're in a storybook.
You'll walk across wooden boardwalks over the marshy grounds before hitting the sections with waterfalls and a giant banyan tree.
While Pipiwai Trail has a 650-foot elevation gain. But you can do the trek in stages dues to the many scenic cascades and stopping points.
Waimoku Falls will captivate you with its 400-foot drop, and its refreshing spray gives a welcoming feel on a hot day. If you're visiting in the rainy season, many off-shooting waterfalls may be nearby.
Since you need to drive the road to Hana to access the trail, you need to plan an early start or enjoy the stops on the Hana Highway another day.
If you prefer to hike close to towns, the Kapalua Coastal Trail provides scenic ocean views. You can also walk a small section or the whole trail.
8. Rent Electric Bikes
Electric bikes provide an eco-friendly way to see Maui sites without the hassle of finding a parking spot. Maui e-bike rental shops offer hourly, daily, and weekly rentals. If you rent a bike for more than a day, you'll receive a charger too.
Maui Electric Bike Rental, RideSmart Maui, Maui Sun Riders, and Kimo's Electric Bikes offer rentals from several locations in Lahaina, Kihei, Paia, Kapalua, and Makawao.
Electric bikes are easy to ride, and you can typically travel up to 40 miles on a single charge. With a power assist, you can easily tackle hills and trails and ride much further than you can walk.
The controls on the bike show the battery level, so you'll never need to worry about battery juice.
Rental companies will provide you with helmets, locks, and maps with suggestions on where to ride. With no set schedule, you can lock the bike and hike, swim, shop, or stop for lunch whenever you want.
Maui has wide bike paths on its major highways, providing an extra level of safety.
Kimo's Electric Bikes (part of Boss Frogs) offers an e-bike and snorkel package if you want to snorkel during your ride. Your rental will include snorkel gear and saddlebags on the e-bike to carry it. They have two rental locations in Maui. You can read about our e-bike experience.
9. Have A Couples Massage
Maui has no shortage of pampering spas to melt away tension and stress. So, why not reserve a morning or afternoon to enjoy a couples massage or spa treatment?
At the Hyatt Resort, couples can enjoy a customized spa treatment in the Awili Spa and Salon. Choose from a 60-minute session to a 120-minute massage which you can enjoy side by side in the private ocean treatment suite.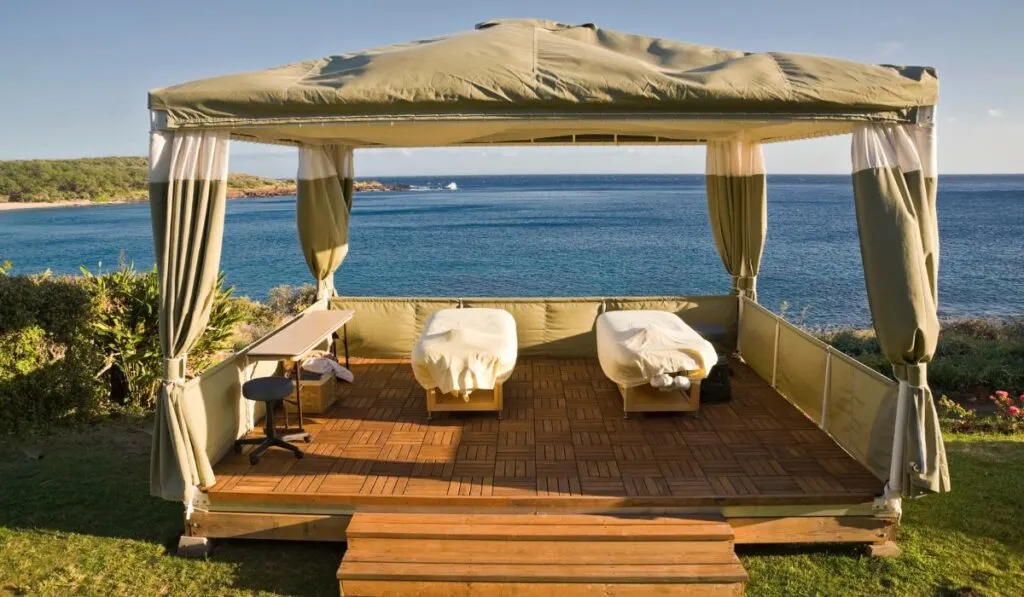 Choose from a Swedish, deep tissue, or Hawaiian Lomilomi massage. Lomilomi comes from the Polynesian culture and combines kneading with oils and dance meant to heal physically, mentally, and emotionally.
At the Grand Wailea Resort, the Spa Grande encompasses 50,000 square feet of relaxation space. You'll feel pampered from head to toe with tranquil waterfalls, relaxing saunas, and a Roman bath.
For the ultimate couple treatment, try the duo honey macadamia nut indulgence. This therapeutic experience combines a macadamia nut oil massage with a foot and scalp treatment. You'll leave feeling soft and hydrated skin.
10. Visit Iao Valley State Park
Located in central Maui, the Iao Valley State Park has 4,000 acres of beautiful landscape. Visiting the park allows you to escape the crowds of beachside resorts and learn some ancient history.
The park's star attraction is the Iao Needle, also known by its traditional name Kuka'emoku. Standing at 2,250 feet high, it was used as a lookout during a battle in ancient times.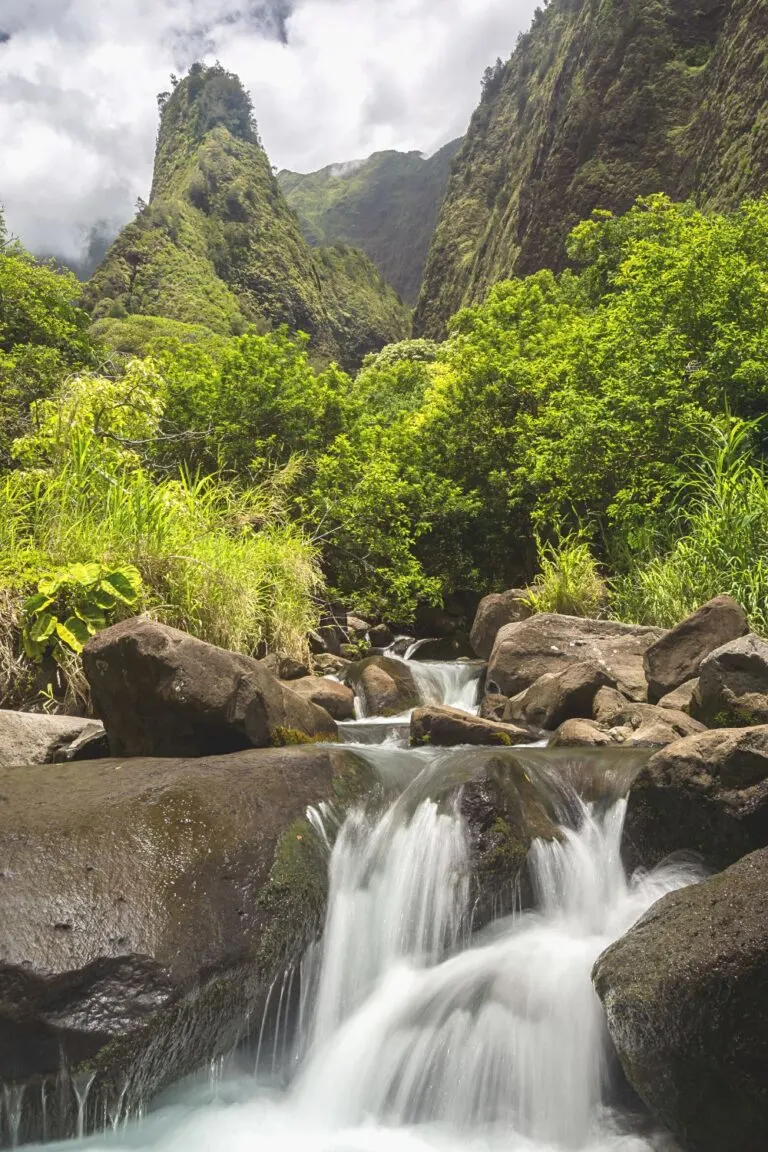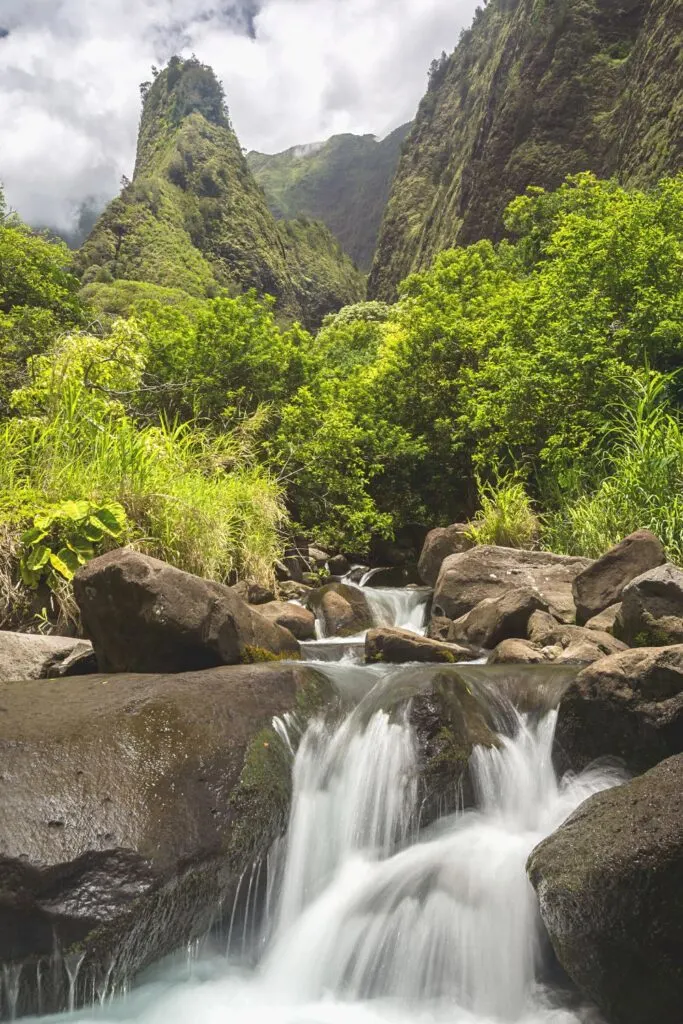 From the parking lot, take the short hike to the viewing point. On the trail are pathways to the river, where you'll learn the area's history.
In 1790, this land saw the battle of Kepaniwai. King Kamehameha I from Hawaii created conflict with the islands in order to unite them under his rule. After he defeated forces in Maui and Oahu, he became the first king of the Hawaiian Islands.
From the viewing platform, you can enjoy beautiful views of Iao Valley as well as the Iao Needle. On the walk back to the parking lot, you can see tropical flowers and fruit trees.
11. Take A Helicopter Tour
While Maui's landscape looks heavenly from the ground, it looks more spectacular from the skies. From Kahului Airport, you'll soar over Maui and maybe Molokai too.
Blue Hawaiian Helicopters and Air Maui offer one-of-a-kind experiences and tours to suit every budget. From the air, you'll savor stunning views of Honokohau Falls and the towering Haleakala in a way you can't see from the ground.
Be sure to bring a camera to capture those fantastic images of lush jungles, towering waterfalls, and deep forest valleys. Starter tours last 45 minutes, and you can choose Haleakala and Hana or Molokai and West Maui.
The one-hour flights cover the entire island, with flightseeing over Haleakala, deep valleys, rainforest canopies, and rugged coastlines. On the 75-minute tour, you'll enjoy an oceanfront landing.
For thrill-seekers, the "doors off" excursion lets you feel the wind in your hair and allows you to take photos without the annoying window glare.
Without doors, you're one step closer to nature if you can open your eyes to savor the scenic vistas.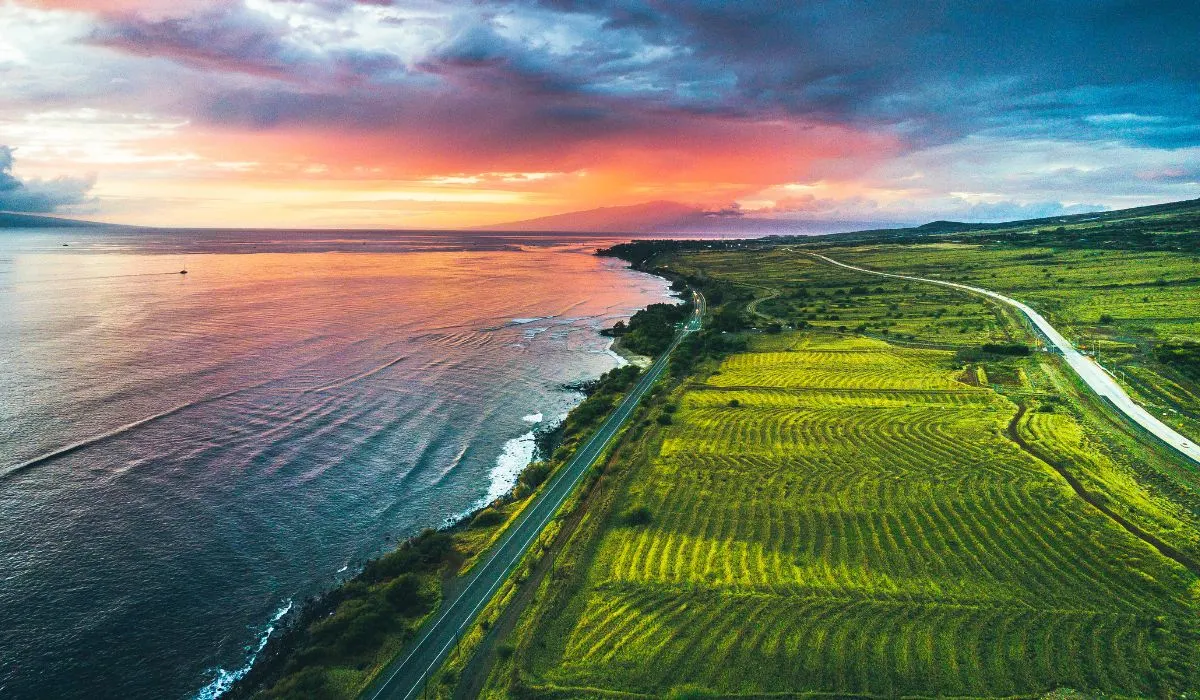 12. Spend An Afternoon Wine Tasting
Spending an afternoon sipping wine might be more to your taste if you prefer to keep your feet on the ground. The Hawaiian Islands are blessed with the perfect climate to grow many things. Pineapples, sugar cane, coffee beans, and cocoa come to mind.
Growing grapes on Maui proved to be problematic until C. Pardee Erdman, owner of Ulupalakua Ranch, experimented with grape varieties.
Over forty years of experimentation, he found he could grow certain types in the rich soils of Haleakala.
Erdman produced his first wine in 1977, called Maui Blanc, a sparkling pineapple wine. After successfully growing grapes, he added favorites like Chenin Blanc, Syrah, Malbec, and Rose.
You can sample flights or wine by the glass during the wine tasting. To accompany your wine, you can choose from Brie and crackers, an Artisan board (salami, cheese, olives, and focaccia bread), or goat cheese, pineapple syrup, and crackers.
The King's Cottage Tasting Room provides a historical setting to sample the wines. Book the tasting session under the Camphor Tree to add romance to wine tasting.
The 150-year-old tree creates a romantic setting where you can sip wine for two hours while hearing the historic ranch stories.
If you like any of the samplings, you have the option to purchase the Maui wine.
13. Enjoy A Road Trip
While the Road to Hana attracts drivers wanting to make a Maui road trip, there's another lesser-known option. The route along the Kahekili Hwy from Waihee-Waiehu northwest provides an equally beautiful drive (and just as hair-raising).
The route to Kapalua is only 27 miles, but expect the drive to take 75 minutes without stops. Of course, you'll want to stop because each turn provides views of the Pacific Ocean, rugged coastline, and landscape that begs for exploration.
Almost 3 miles beyond Waihee-Waiehu, the highway turns into a challenging drive. The narrow road hugs the cliffs and has long stretches that accommodate only one vehicle. It's a drive you'll want to do in a small car and not an RV.
If you meet a sizeable oncoming vehicle, be prepared to reverse a long distance to the next pull-out. However, with patience and a slow speed, you'll enjoy the picturesque views of the West Maui Natural Area Reserve on one side and ocean vistas on the other.
Pu'u Koa'e, Olivine Pools, and Nakalele Blowhole are great stops along the drive. The north shore is full of natural beauty and has small towns to explore.
If you're a nervous driver, this isn't the road trip for you. However, if you enjoy a challenge and like to explore hidden gems, the Kahekili Hwy is calling your name.
14. Go Zip Lining
Maui offers several zip-lining options for couples who prefer an adrenaline rush to get their heart pumping. With the wind in your face, you can enjoy Maui's breathtaking landscapes high in the air.
If you're new to zip lining and want to test the waters or the wires, the Maui Dragon Fruit Farm offers one of the better options. While it has one zip line, you can do four runs, and the line runs over the crops close to the ground.
With every run, you'll gain the confidence to try the more thrilling runs offered in Maui and other islands.
If you want to zip line side-by-side, Kapalua Zipline has you covered. It features eight all-duo lines, as well as a suspension bridge that hangs 1,600 feet above the forest.
Should you want to try the granddaddy of all zip lines, look no further than Flyin' Hawaiian Zipline. They offer eight lines, but their fastest and longest measure 3,600 feet.
15. Tour A Farm
While travelers know Maui for its sandy beaches and idyllic weather, its land produces fruit, vegetables, and plants year-round. So, if you fancy a farm tour, you'll have plenty of options.
Located on the slopes of Haleakala, the Ali'i Kula Lavender farm grows 20 varieties of lavender plants. Who knew there were so many variations?
Its 55,000 lavender plants are used for soaps, lip balms, shampoo, lotion, sachets, and in food products.
Lavender has been shown to improve mood, calm nerves, promote sleep, and help in many other ways. You can enjoy a self-guided tour of the farm and purchase lavender-infused products.
Near Lahaina, the Maui Dragon Fruit Farm grows more than dragon fruit. On a one-hour farm tour, you'll see mango, papaya, pineapple, banana, and cocoa trees and plants. Upon completing the excursion, you'll feast on a yummy fruit plate and a dragon fruit drink.
No trip to Maui is complete without a pineapple farm tour. At the Maui Gold Plantation, you'll discover the passion of growing the sweetest pineapples, which take two years to harvest.
You'll also receive a boxed Maui Gold pineapple to take home with you.
Other options include coffee, tropical fruits, and dairy goat farm tours.
16. Attend The Old Lahaina Luau
Attending a Hawaiian luau is a must, and there's none better than the Old Lahaina Luau. A luau event features a traditional Polynesian feast and a show combining cultural music and dance for an extraordinary experience.
Each guest receives a fresh flower lei and a Polynesian welcome. The buffet features all the Hawaiian favorites from the Imu Roasted Pork and Lomilomi Salmon to Maui Style Fish and Mango Barbeque Chicken.
Together, the feast and entertainment satisfy all five senses in an unforgettable evening, which may be the highlight of your adventure in Maui.
Several venues offer luaus, many of which are part of hotel chains. This one, however, gives the most authentic luau experience and showcases the Hawaiian culture well.
Unlike other luaus, you don't have to share a table. You'll get a table for two. Another bonus: every table has excellent viewing.
17. Bike Down Haleakala
Maui offers one of the most memorable bike rides in the world if you're up for the challenge. Starting at the Haleakala National Park entrance (6,500 feet high), you'll cycle down a switchback road and descend over 6,000 feet.
Tour companies offer either a self-guided ride where you can travel at your own pace or a group excursion. If you're nervous about biking on your own, take a group tour because they provide safety in numbers.
You can choose a sunset and downhill guided bike tour. After watching the sunrise at the Haleakala Crater, you'll start the descent. Since they sell out fast, you'll want to book one way in advance.
Since Haleakala National Park attracts a crowd during the day, most excursions start very early to avoid vehicle traffic making the descent. In distance, you'll be cycling 23 – 26 miles on a mountain bike with heavy-duty disc brakes.
Tours include bikes, helmets, backpacks, rain gear, and a map. You'll want to bring snacks, water, sunscreen, sunglasses, a jacket, a camera or smartphone, and wear layers.
Expect your adventure to take up to eight hours to complete the bike ride if you make many stops.
18. Go Horseback Riding
If you're an equine lover, you'll want to reserve some time to take a horseback tour in Maui. You'll find ropers and 'paniolos,' the real Hawaiian cowboys who make their living herding cattle amongst the many farms.
When ranching declined as a way to make a living, ranches adapted by offering horseback excursions. The tours vary by rider skill, length or tour, and destination.
Located in upcountry Maui, Piiholo Ranch offers 1-, 2-, and 3-hour tours, with the longest one including lunch. Their "cowboy for a day" teaches you how to move cattle and become a novice paniolo.
For a less commercialized experience, head to the Thompson Ranch. The working cattle ranch allows guests to be part of the daily activities. Some of the rides venture up the side of Haleakala for stunning views of Lanai, Kahoolawe, and south Maui.
If you want photographic memories of your horseback tour, take to the saddle at Mendes Ranch. Their guides are the best and will capture images of you riding near the Pacific Ocean.
To add a little romance to your ride, consider booking a sunset ride where you get to watch the sun go down. Maui sunsets are spectacular, and witnessing them on horseback provides a unique experience.
To add a little romance to your ride, consider booking a sunset ride where you get to watch the sun go down. Maui sunsets are spectacular, and witnessing them on horseback provides a unique experience.
19. Enjoy A Sunset Dinner Cruise
What better way to experience the beauty of Maui than on a sunset dinner cruise with your special someone? Most dinner cruises leave from Lahaina Harbor, although some sail from Ma'alaea Harbor.
You'll enjoy uninterrupted views of the watercolor skyline from a catamaran while sipping on Mai Tais or Pina Coladas. The two-hour sail includes alcoholic drinks (some companies have a limit), refreshing appetizers, and a delicious choice of entrees.
As you sail along the Pali coast of Maui, the romantic sounds of island music add to the romantic ambiance. Finish your sunset cruise with a cup of Hawaiian coffee and views of Moloka'i and Lana'i.
Pride of Maui might be the island's best-known catamaran vessel. It offers sunset cruises near Molokini Crater. Its unique cruise includes a hula show while enjoying a buffet dinner and complimentary craft beer and island cocktails.
20. Go On A Couple Photoshoot
A couples photoshoot provides the perfect way to capture the memories of your Maui vacation. Photoshoots can be short, informal, and inexpensive. If you're celebrating a special occasion or no occasion at all, the photo session provides a bit of spontaneous fun to your day.
Some photographers offer fun, short sessions in picturesque Maui locations. So, whether you choose Kapalua Bay, Lahaina, or Wailea, they'll capture those fun memories with stunning backdrops.
While beach locations are popular, finding a spot without people can be problematic. So, remember the rainforests like Iao Valley; they make fantastic backdrops too.
Sunrise and sunset offer the ideal light for those dramatic shots. Most packages include photos with the option to purchase more.
Wrap It Up
Maui provides a dreamy destination for a warm getaway. Whether you're on a Maui honeymoon or spending time with your long-time partner, there are plenty of activities for couples.
Even with a 7-day itinerary, you'll find more things to do than you have time. Some couples find it better to plan their days, while others prefer to "wing it."
Whatever you do, remember to reserve some time for the beach and snorkel at different locations. After your time in Maui, you're guaranteed to fall in love with its people and become addicted to its coffee and food.