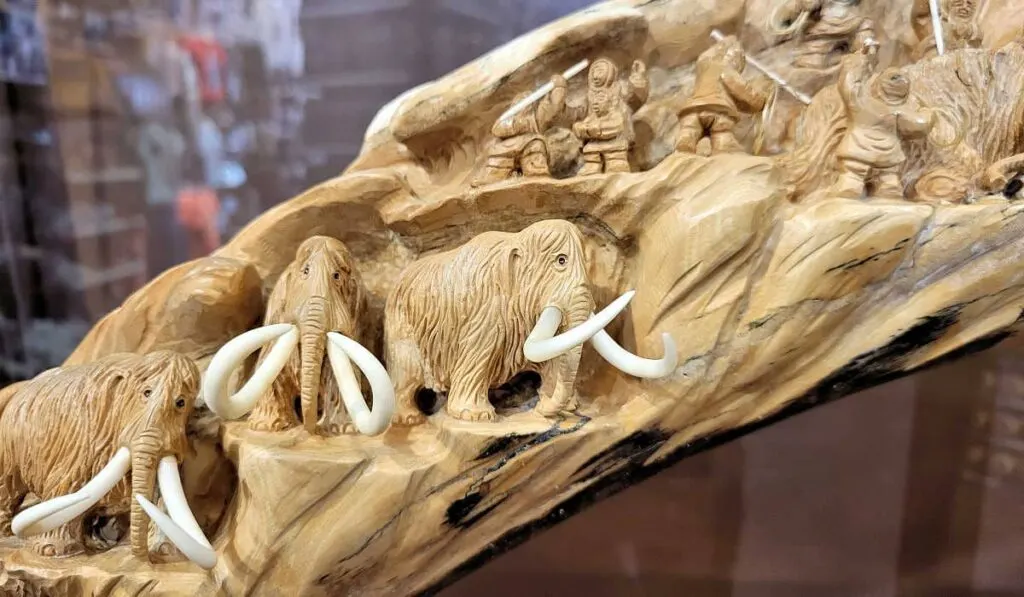 For many, Alaska is a bucket list destination that offers many unique experiences. While I believe photographs are your best gifts from Alaska, sometimes you must bring home gifts for family and friends.
In this article, I cover the best souvenirs and items to buy in Alaskan gift shops.
Alaska has so much to offer when it comes to unique products, from totem poles to ivory carvings. Most people visit Alaska on cruise ships, and the season is short.
Gifts from Alaska come in different categories. Food items are ideal for the hard to buy for, Alaska printed clothing is popular when you have many gifts to get, and artwork provides a great memory for your living room.
However, unique items from the culture-rich area make a great choice, and Alaskan artists appreciate your purchase. So, consider these great souvenirs if you're looking for something special to take home.
Alaska shopping tip: To support the locals, purchase products made in Alaska and ones crafted by Alaska natives, not mass items produced offshore.
1. Ulu Knife
The indigenous Alaskan people have used Ulu knives for thousands of years. The classic ulu knife has a curved blade. Centuries ago, natives used ulu knives to clean animal skins, prepare meat, and even cut hair.
In the Inuit language, Ulu means woman's knife. Today, the slicing knife comes in different sizes with a variety of handles. The inexpensive versions come with simple wooden handles and sometimes come with a curved wooden board.
However, local artists have crafted one-of-a-kind ulu knives with hand-forged Damascus steel blades. The top-end varieties come with bone, ivory, or antler handles.
If you're stopping in Icy Strait Point, the shops at the Cannery have fantastic one-of-a-kind knives.
Ulu knives are probably one of the most popular Alaska souvenirs, next to a souvenir t-shirt and salmon. You can purchase them in many stores, and there is one for every budget.
2. Totem Poles
Throughout history, totem poles were carved with human, animal, and mythical creatures to tell stories. Carvers sculpted traditional poles by hand without the use of power tools.
In Ketchikan and Hoonah, you can sometimes catch a glimpse of a carver, hard at work. During a cruise port day in Icy Strait Point, I watched Gordon Greenwald carving a giant cedar.
The smell of the wood filled the air. He shared his techniques, designs, and length of time to complete a totem pole.
While you can't take a full-sized totem pole home in your suitcase, stores sell smaller versions.
While most are massed products offshore, Julie's in Ketchikan sells locally made totem poles carved from cedar harvested from Ketchikan's beaches. It's a great gift shop selling unique Alaskan gifts.
You can also purchase totem poles at the Saxman Village in Ketchikan, along with other Alaska native art.
By visiting the village or other centers which feature totem poles, you'll learn the tradition of carving, how a design is chosen, and how long it takes to complete a full-sized pole.
3. Salmon
Ketchikan is the "Salmon capital of the world," or so their street sign says. Walking around Ketchikan, you may catch a glimpse of anglers trying to catch the "big one" on Stedman Bridge.
Whether you stop in Ketchikan or not, travelers can find plentiful salmon products in all Alaska towns. If you take a fishing excursion, some places will package your fresh-caught wild salmon and ship it home for you.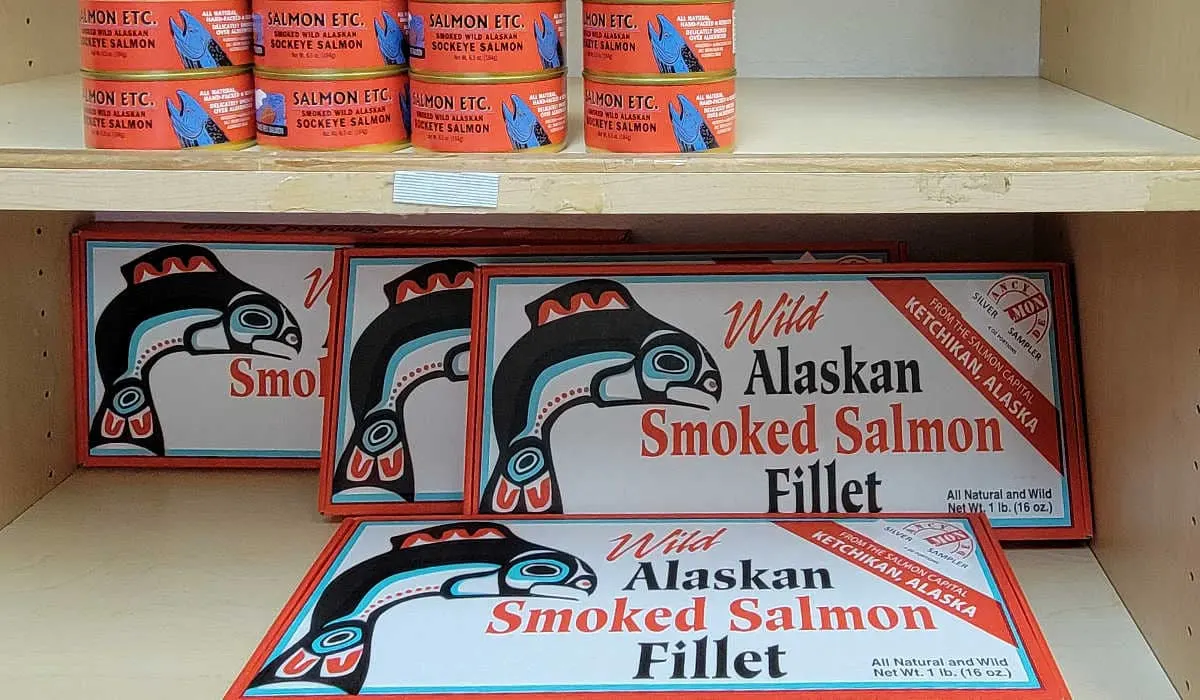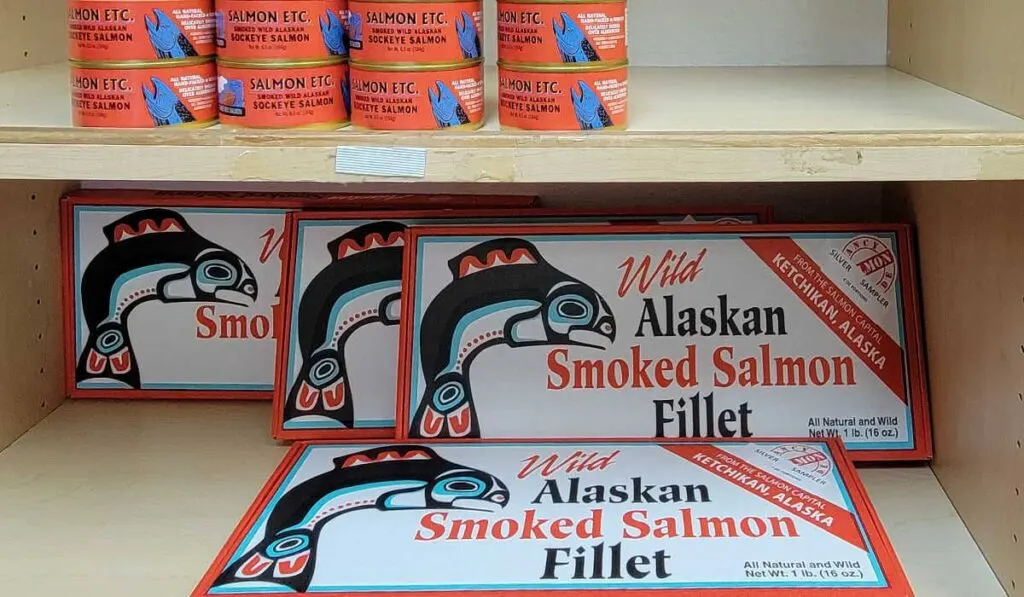 If canned salmon is too heavy to bring home, consider buying smoked salmon instead. It's factory sealed in pouches and doesn't require refrigeration. Most products are packaged for gift giving and make the perfect gift for everyone.
When it comes to salmon, my favorite is salmon jerky and salmon candy. The jerky is wonderfully chewy, and the candy satisfies my sweet tooth.
4. Alaska Devil Club Products
Devil's Club is native to Alaska and part of the ginseng plant family. It is a medicinal plant that Alaskan natives have used for centuries to treat specific ailments. In Alaska, you can buy Devil's Club products in soap, salve, oil, and lotion form.
The products claim to relieve arthritis, psoriasis, fibromyalgia, eczema, and other skin conditions. Some buyers use it for sore muscles. It's readily available over the counter, and many stores in Alaska ports carry the products.
5. Alaskan Sea Salts
If your cruise ship stops in Sitka, visit the Alaska Sea Salt Company at 388 Lincoln Street. The business stocks unique gifts, but its specialty is Flake Sea Salt.
If you're seeking premium seasonings for all your dishes, Alaskan Sea Salts delivers.
Inside their boutique store, you can sample the salt flavors. If you need a gift for that discerning cook, nothing can be more Alaskan than the Sitka Spruce Tip blend.
Other varieties include spicy hot pepper, rosemary, and coffee bean. The most popular blend, and my favorite too, was the alder smoked. If you're undecided, they carry a 6-flavor sea salt tasting set, packaged with a bow and gift tag, ideal for giving.
By supporting small businesses like the Alaska Sea Salt Company, you ensure their survival for future travelers to the area.
6. Matryoshkas Dolls
Russia once owned Alaska before it sold the land to the United States in 1867. However, some Russian heritage, buildings, and artifacts remain. Matryoshkas dolls, or nesting dolls, are iconic symbols from Russia and are still sold in Alaska.
The earliest nesting dolls were carved from wood and painted with a Russian female figure. While most dolls have traditional Russian costumes, the variations in design are endless.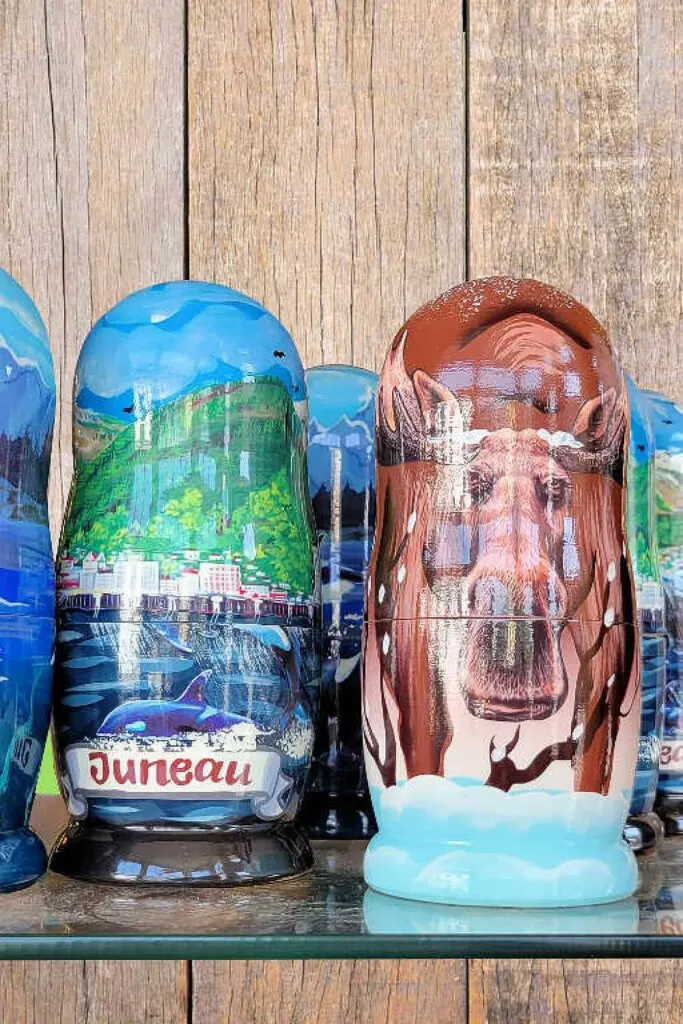 So, if you're seeking a unique gift, how about a set of Matryoshkas dolls that look like Alaskan wildlife or or Orca? The sets vary in price, with a set of five or six being the most economical.
However, the collection of 10 figures can command high prices, depending on the painted design. A few specialty shops sell the unique nesting dolls.
If your cruise ship ports in Sitka, one of Alaska's top ports, the Russian America Company gift shop has the largest selection of nesting dolls.
This shop also has wonderful Alaska finds, such as walrus and whalebone carvings, baleen baskets, jawbone masks, and Fimo sculptures.
7. Mammoth Ivory
In the United States, sellers are forbidden to sell elephant ivory. However, they can sell merchandise made from mammoth ivory. The woolly mammoths became extinct about 4,000 years ago.
While they populated the Yukon centuries ago, their ivory tusks are found in Alaska and the Yukon of British Columbia. Locals make a living by excavating the tusks.
The ivory is carved into sculptures, used for knife handles, and featured in jewelry. The ivory pendants are unique and make wonderful gifts.
They don't just use the tusks, but the teeth too. Mammoth ivory products are unique and make a special gift.
Some shops feature a display carving of an entire tusk. The artwork is intricate and extremely detailed.
8. Kelp Pickles
If you love dill pickles, you'll enjoy kelp pickles too. While kelp seems like an unusual item to pickle, they're quite delicious, although quite salty. The pickles are made from bull kelp.
Matt and Lisa, the founders of Barnacles Foods, produce kelp pickles and other products from natural ingredients in Alaska. With plenty of kelp in Alaska, they also make salsa, seasoning, BBQ, and hot sauce.
Kelp is very nutritious and packed with vitamins, iodine, and minerals. The salty and savory kelp pickles come in flavors like dill, spicy dill, and sweet and tangy.
If you need a souvenir gift and don't know their tastes, you can never go wrong with a food product. Barnacles Food products are readily available in many gift shops in Alaska.
9. Spruce Tip Jelly
Spruce tip jelly might not sound so appetizing since it's made from spruce tip needles. However, you'll experience the authentic taste of Alaska with this sweet, citrusy-tasting spread.
Use it on toast, add it to cookies, or compliment your cheese and cracker, charcuterie board. Barnacle Foods makes this product, along with the kelp pickles. If you have a foodie friend, surprise them with a food sampler of Barnacles Foods' top products.
10. Denali Dreams Soaps
Denali Dreams Soap Company creates quality products infused with a piece of Alaska. Their soaps have cool names like Kodiak Brown, Klondike Kate, Glacier Glow, and Alaska Manlyman soap.
However, they don't just make soap. They have a whole line of salves, balms, bath bombs, soap lifts, and items for your dog. Their ingredients are often sourced locally, and the handmade soaps are cured to make them last longer.
While they are made in Anchorage, travelers can purchase their products in Fairbanks, Girdwood, Haines, Ketchikan, Hoonah, Sitka, Skagway, Juneau, and many other locations.
As well as Alaska wild berry products, they produce manly gifts too. From the manlyman beard oil and fisherman soap to the Alaska soap gift pack, there's a gift for every man on your list.
11. Reindeer Sausage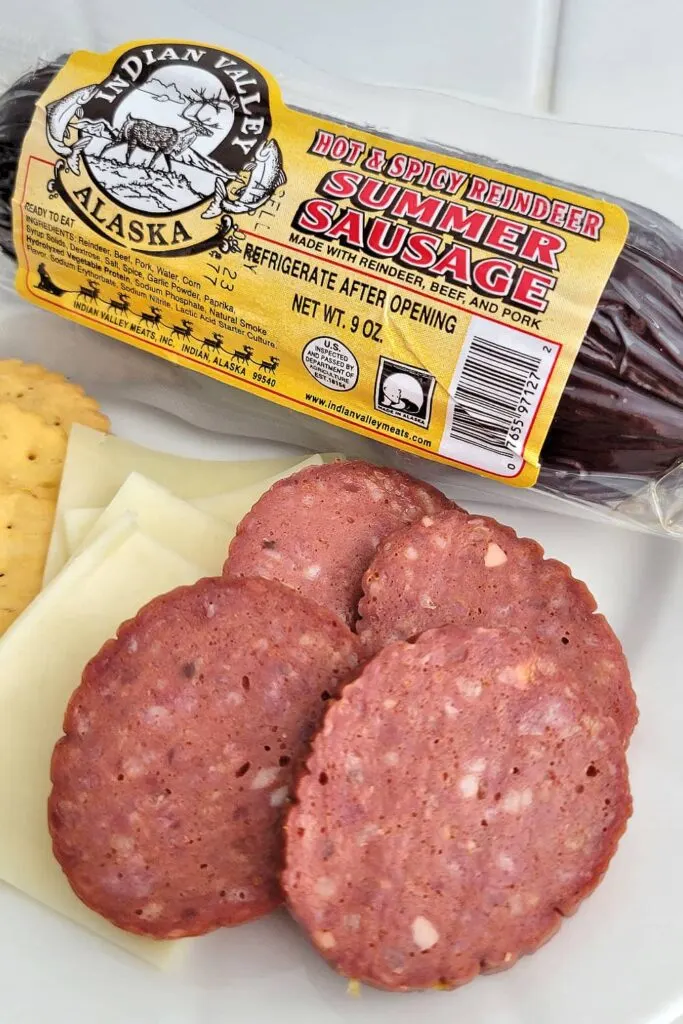 In Alaska, some stores sell reindeer sausage. Reindeer meat, combined with beef, pork, and other proteins, produces a spicy-tasting link. It's delicious for breakfast, appetizers, or to enjoy as a snack with cheese and crackers.
Reindeer sausage is sold fully cooked and sealed in airtight packaging. They don't require refrigeration until they're opened. You can buy reindeer hot dogs, sausage links, and salami.
In Sitka, the Reindeer Redhots food cart outside Harrigan Centennial Hall sells reindeer hot dogs. This is a great place to sample if you want to try reindeer sausage before taking some home.
12. Alaskan Gold
Many parts of Alaska are known for the Gold Rush. So, there's no better Alaskan souvenir than a little piece of the precious metal itself. Towns like Juneau and Skagway allow travelers to try their hand at panning for gold.
A gold panning tour is budget-friendly, interactive, and an excellent family activity. Any gold you pan is put into a vial to take home.
If you're not into collecting the gold yourself, shops sell vials of gold, gold nugget jewelry, and items made of Alaskan panned gold. If you're visiting Creek Street in Ketchikan, Poker Creek Gold is a one-stop shop. It has a large selection of gold nuggets and gifts.
13. Birch Syrup
Canadians have maple syrup, while Alaska has birch syrup. Manufacturers make Birch syrup the same way as other syrups, but the sap comes from the birch tree. Ironically, northern Canada has vast landscapes of white birch trees.
Maple and birch syrups have contrasting flavors, so don't think you can buy the birch variety and use it on your morning pancakes. Cooks use savory birch syrup as an ingredient in glazes and sauces. It adds a sweet and tangy flavor to salmon, pork, and vegetables.
It takes 2-1/2 times as much sap to produce birch syrup, so the complex syrup demands a higher price.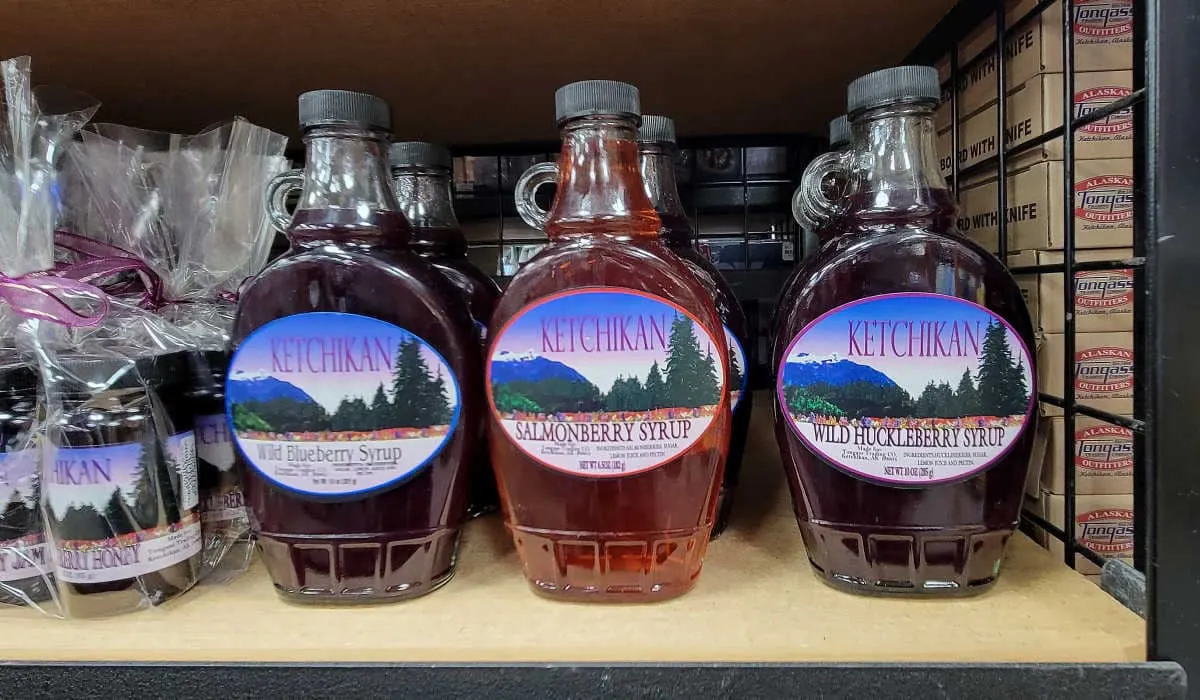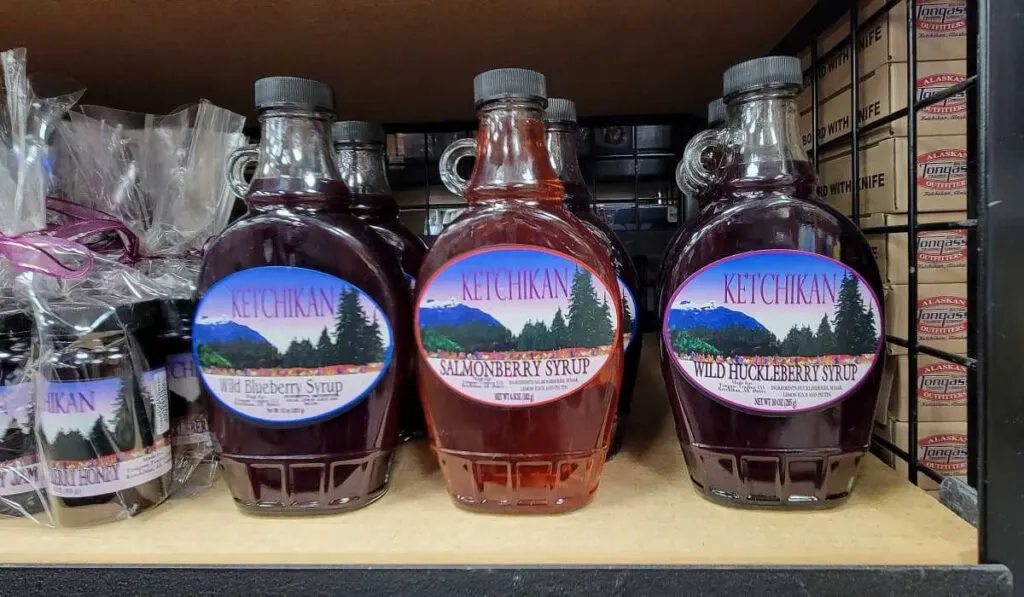 I also found stores selling Salmonberry Syrup and Wild Huckleberry Syrup.
14. Reindeer Skin
A reindeer skin might be an odd item to purchase in Alaska, especially as the world has gone "fur-free." However, reindeer pelts come from caribou farms, where the animals were harvested for meat. The animal skin is a by-product of their meat.
Reindeer skin consists of hollow hair, known to provide warmth. As a result, the skins are ideal to use beneath a sleeping bag when camping.
Skins come in a variety of colors and markings. They can include white, silver tones, light and dark brown, and golden hues.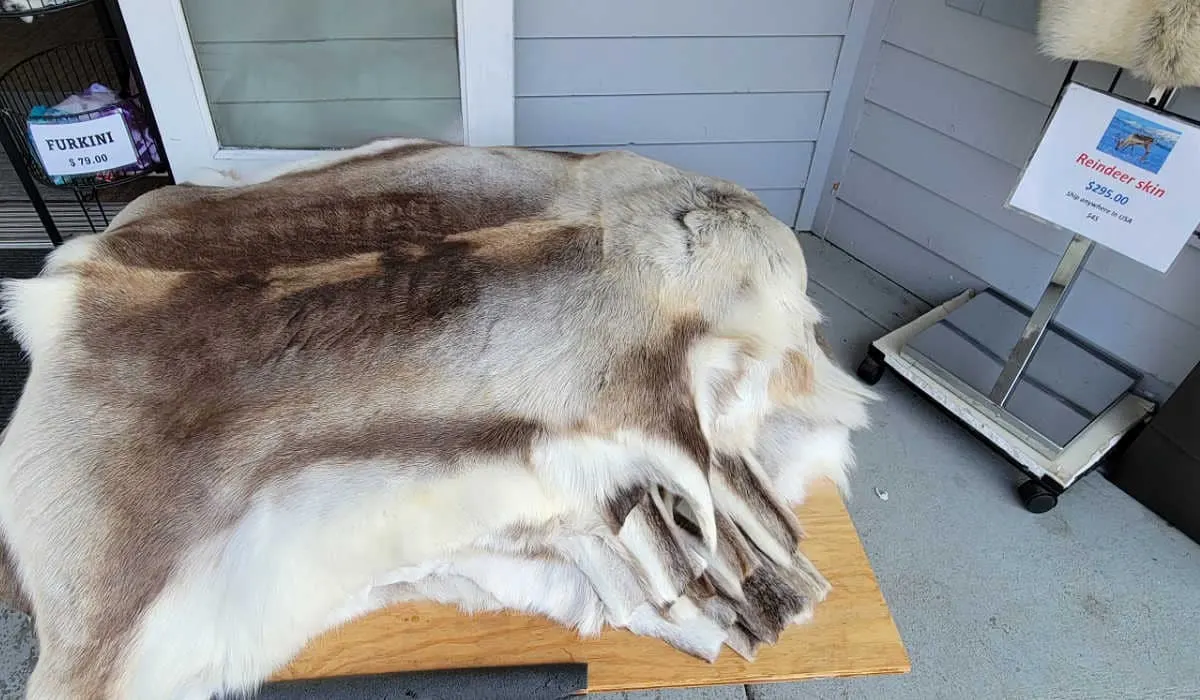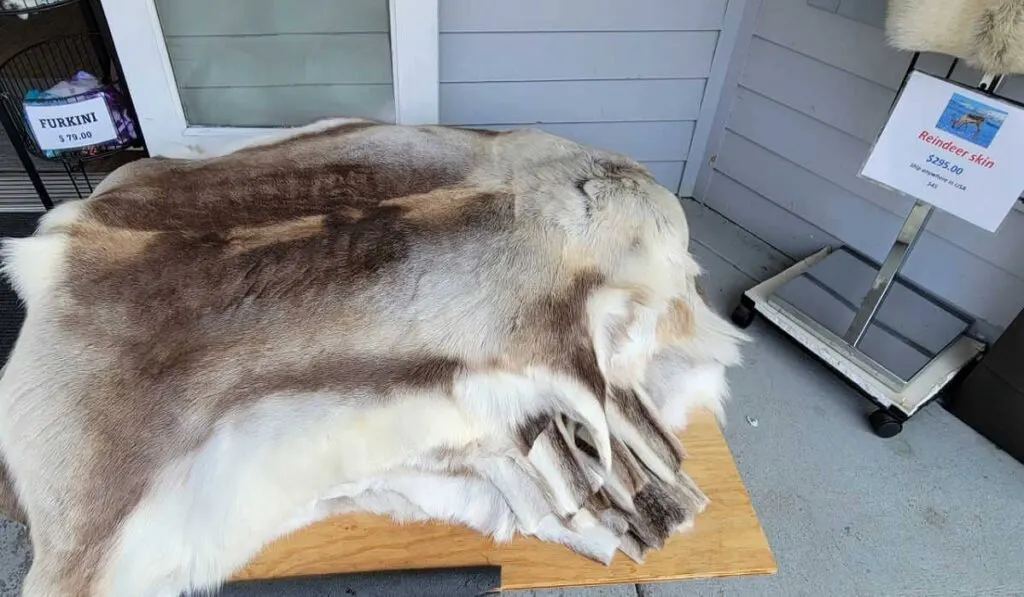 Since you can break hollow hair when stepping on it, reindeer rugs are recommended as an interior accent piece. It's essential to avoid areas of high traffic.
Reindeer antlers are also a by-product of the meat industry. Rather than discard them, they are created into antler carvings, or used as knife handles.
15. Alaska Jade
Jade is found worldwide and typically comes in green, white, and yellow. Alaska's state gemstone is jade, and Seward, Alaska, has large quantities of the stone. Centuries ago, natives used it to make tools and weapons.
Alaskan jade has a different composite from Chinese jade. Jade from Alaska falls in the category of nephrite jade, while jade in China is made of the jadeite variety.
Today, manufacturers fashioned jade into jewelry or carve large pieces into sculptures. Jade makes the best Alaskan souvenir and an ideal keepsake of your journey to the Last Frontier.
16. Caribou Or Moose Chews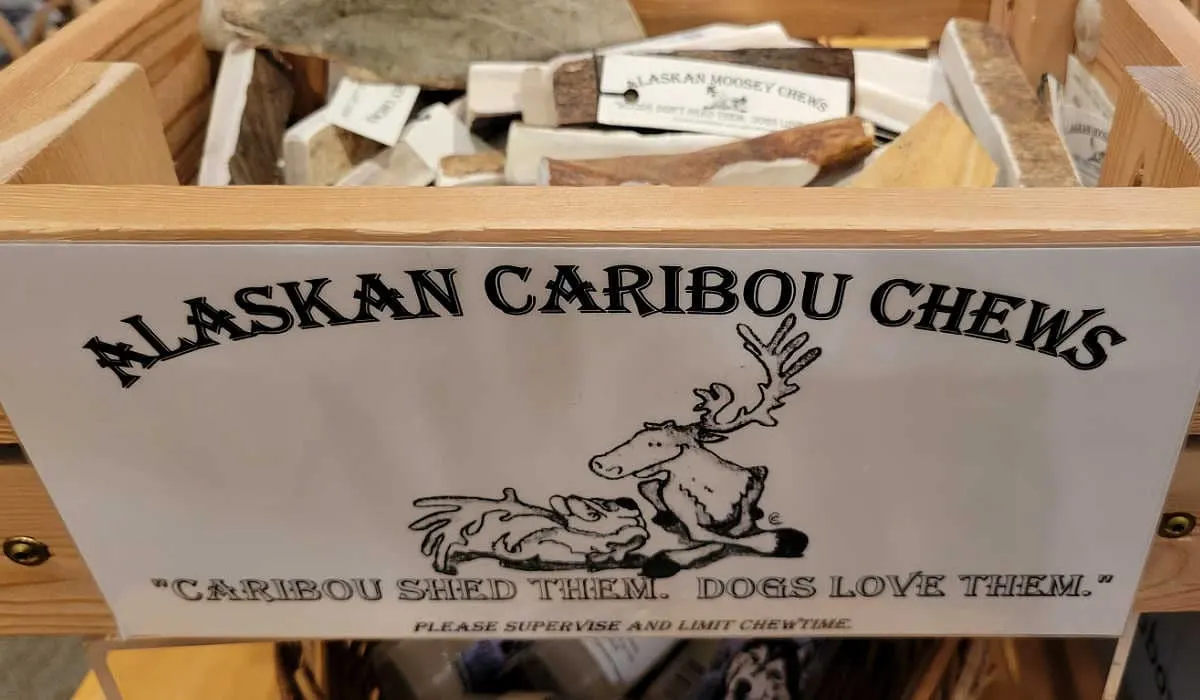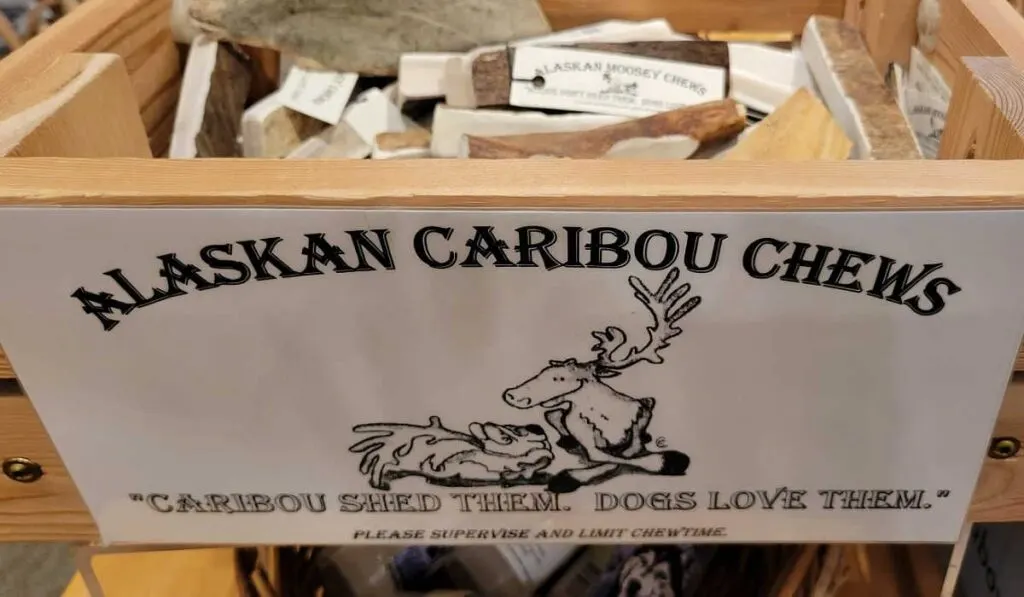 Let's not forget your four-legged friend when looking for Alaskan souvenirs. Made from caribou antlers, Caribou Chews have different levels of density.
Caribou chews are all-natural and don't splinter like processed bones, making them safer for your dog.
Caribou and moose shed their antlers each year, making this product sustainable. Antler bones are rich in calcium and minerals and are solid, making them last longer.
17. Bear Paws Salad Servers
Wooden bear claws salad servers are ideal for loading your plate with a salad. While they are crafted from different types of wood, they serve the same purpose. Pair them with a large bowl for the perfect hostess gift.
While most shops sell utensils in the shape of bear paws, I found a boutique that offers ones in the form of a whale's tail and a reindeer head. How cute!
18. Mukluks
Mukluks are warm boots worn by indigenous people in cold regions. The footwear is soft-soled and made from animal skins and leather. The result is footwear that is breathable, extremely warm, and prevents frostbite.
Mukluks resemble moccasins but with high sides. Since traditional mukluks are crafted entirely by hand, expect to pay a higher price for this unique cozy footwear.
If you have a family member who loves to go ice fishing, snowmobiling, or spends a lot of time outside in freezing temperatures, these are the boots to buy.
19. Raven's Brew Coffee
Coffee drinkers are always searching for the best morning brew on their travels. That caffeine kick makes you less tired, more alert, and provides an energizing lift.
So, if you visit Ketchikan in southeast Alaska, try a cup of Raven's Brew Coffee at the Market Café, Lili's Bubble Tea, Sweet Mermaids, or the Ketchikan Crab and Grille.
The Raven's Brew comes in the craziest packing, designed by Ketchikan artist Ray Troll. If you want to enjoy the coffee at home, you can purchase the coffee and additional merchandise in Ketchikan.
Who can resist coffee blends like Deadman's Reach, Wicked Wolf, and Three Peckered Billy Goat?
20. Ray Troll T-Shirt
T-shirts are probably the number one souvenir purchased wherever you travel. They're often conversation starters and reminders of a previous vacation.
The Tongass Trading Company in Ketchikan has the most fantastic selection of Alaska souvenir t-shirts and sweats at a reasonable price.
If you're looking for a one-of-a-kind design, check out the Soho Coho Art gallery on Creek Street in Ketchikan. Artist Ray Troy designs the artwork, and his style is unique and a little weird. Some notable designs include "Dark Side of the Loon," "The Empire Strikes Bass," and "The Higher Porpoise."
Wrap It Up
Cruise lines sell Alaska-themed clothing onboard. So, if you find you haven't packed enough warm items, you can get a fleece jacket, vest, hat, and other clothing at the onboard gift shop. If you happen to cruise in September, you'll benefit from end of season sales.
Juneau, being the capital city, has lots of shops to browse for gifts. For the best gifts from Alaska, the Tongass Trading Company in Ketchikan has a great selection with good pricing.
In Icy Strait Point, the shops in the Cannery have a nice variety of items for gift giving. However, spending money on unique tours and experiences gives you something you can't buy in a store.
Whether you go home with memories, physical goods, or a combination of both, you'll add to the economy of the Alaskan communities.