Taking an Alaska cruise in September is considered the end of the season. However, did you know Norwegian Cruise Line offers itineraries into the third week of October?
If you're trying to decide on the best month to cruise to Alaska and thought about taking an end of the season cruise, you've come to the right place.
In this article, you'll discover what to expect of Alaska's weather, the pros, and cons of a late season cruise, and if it's suited to you.
Traditionally, the Alaskan cruise season ran from May to September. They can't run in winter due to weather and ice.
Although since the pandemic, some lines offer cruises as early as late April, and Norwegian offers cruises from Seattle until almost November.
Planning a September Alaska cruise?
Pricing An Alaska Cruise in September
For many, the summer months, when the kids are out of school, is the best time to travel due to warmer weather. However, you'll pay the highest prices for a cruise to Alaska during peak season.
After Labor Day, the prices drop, as cruises don't fit into a traveler's desired travel window.
As September progresses, the cruises get cheaper, and it's possible to find one at rock-bottom prices by the end of the month. So, you could find a 7-day cruise from USD 300 to 500 per person, plus taxes and fees.
So, when shopping for the best Alaska cruise, consider one in the shoulder season if you want to save money and enjoy fewer crowds. Both May Alaska cruise itineraries and those in September are considered the shoulder season.
If you'll willing to take an Alaska cruise in October, you'll benefit from great deals, ships sailing with empty cabins, and fewer cruise passengers in port.
While you can cruise later in the year, it's important to note you can't do a cruise and land tour after mid-September.
When Do Cruises Stop Sailing To Alaska?
With each passing year, some cruise lines are pushing the envelope of expanding the Alaska cruise season. For 2023, the last cruise from San Francisco leaves September 14th (Ruby Princess).
The Holland America Koningsdam takes the last sailing in Vancouver for 2023 on September 30th.
Itineraries from Seattle run much longer. In 2023, the Norwegian Bliss makes its last sailing on October 21st, followed by the Norwegian Encore the following day.
Although, since the Norwegian Sun offers a 10-day itinerary, it completes the last Alaska cruise on October 30th.
In 2024, Norwegian moved its last cruise forward to October 19th, which may signify its unpopularity.
What's The Weather Like In September?
Being the shoulder season, you should expect colder and wetter weather on a September Alaska cruise. If you're from Canada, Colorado, or cooler destinations, you'll easily acclimate to the temperature.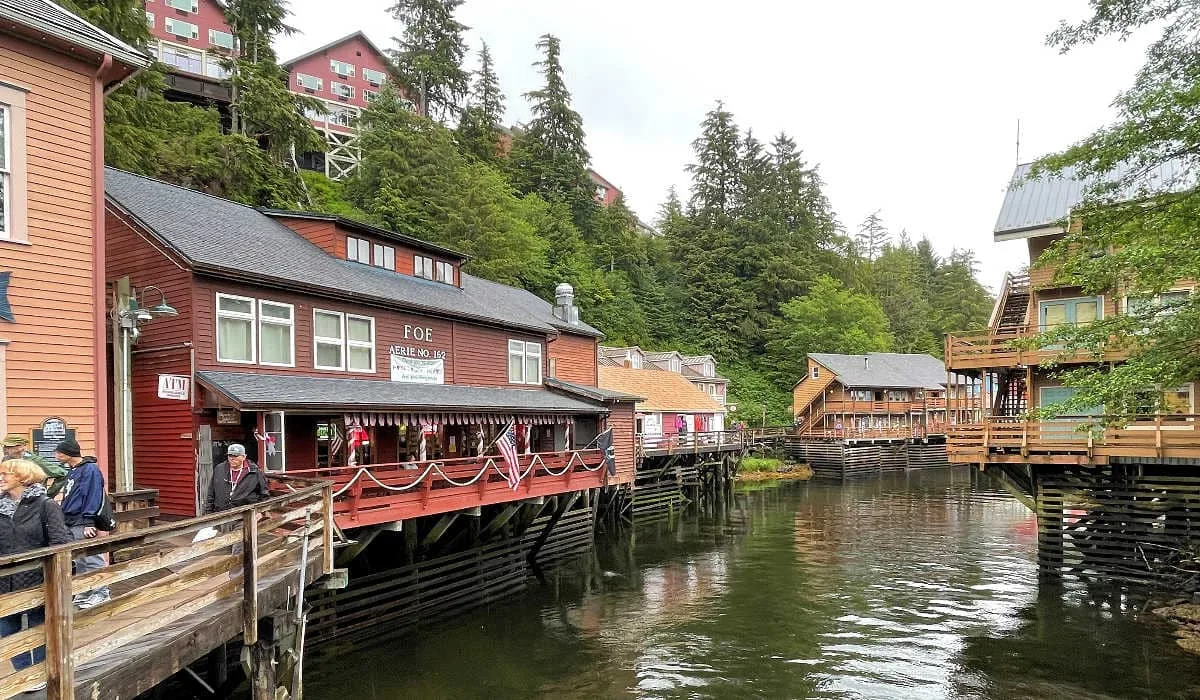 However, folks from Florida, Texas, and warmer states may not adapt well to Alaska's unpredictable forecast, especially in late September.
Weather varies by region and will get colder the further north you go. In Juneau, Skagway, Ketchikan, and southeast Alaska towns, expect average temperatures of 54F and lows of 43F. These ports, on average, experience 22 days of rain in September.
Further north, Anchorage, Seward, and Whittier have cooler nights of 40F but fall to 30F at the end of the month. However, the northern area benefits from less rain, with 15 wet days a month.
Here are the averages temperatures and rainfall for mid-September.
| | | |
| --- | --- | --- |
| Destination | Temperature | Rainfall |
| Anchorage | 48 F | 3" |
| Hubbard Glacier | 49 F | 18" |
| Skagway | 51 F | 4" |
| Juneau | 50 F | 7" |
| Icy Strait Point | 48 F | 10" |
| Ketchikan | 54 F | 15" |
As you can see, Ketchikan, Alaska's southernmost city, experiences the warmest temperatures but the most rain. By October, the rainfall increases to almost 20″, contrasting the five inches of precipitation in late June.
Since you'll spend the bulk of your cruise in southeast Alaska, those wet days may put a damper on your shore excursions.
What To Pack For A September Alaska Cruise?
With an average of 8 dry days in September, you'll need to pack for the wet weather. In theory, you could experience rain every day of your cruise, which speaks to Alaska's unpredictability regarding weather.
Select jackets, backpacks, and waterproof shoes, not water-resistant. Our favorite Vessi runners are 100% waterproof, vegan, washable, and lightweight.
We walked through many rivers in Alaska and returned to our ship with dry socks and feet. We did a 3-1/2-hour outdoor excursion in the pouring rain in Juneau, but we stayed cozy and dry thanks to our waterproof shoes and Columbia jackets.
Columbia 3-in-1 jackets provide waterproofing and can be worn in various weather. The inner layer provides warmth, the outer shell is waterproof, and worn together, they make the ideal coat for very cold and wet conditions.
Layers are important, from base layer ski tops and bottoms, especially on glacier viewing day. Select items that are fast drying and moisture wicking. Hats and gloves are a must too.
While most cruise ships have comfortable temperatures, some areas may be cold. So, pack a few sweaters, fleece, sweats, and overlay wraps to cut the chill during dinner or theater shows.
Alaska cruises are more casual than other warmer destinations. So, think about comfort and warmth when packing for this itinerary.
If you plan to do any hiking, boots with ankle support are recommended, and you should expect muddy conditions.
A waterproof backpack and compact umbrella are recommended if you plan to explore ports on a wet day. Excursions onto glaciers, such as dog sledding and glacier walks require an extra layer of warmth.
Some tour operators provide snow pants and glacier boots (wore over your shoes), so check with your excursion provider first.
Benefits Of A Late Season Alaska Cruise
Here are the major reasons to take a cruise to Alaska in September or even October:
1. Price – You'll probably score a great deal on your cruise. Since most guests avoid the cold weather, cruise lines struggle to fill cruises, especially in the later weeks.
With better pricing, you could get a suite or a higher category of stateroom, which would otherwise be unaffordable.
Cruises at the start of the season in April and May also offer discounted rates. If you choose to go then, you'll benefit from drier weather.
2. Better cabin choice – With cruises not sold out, you'll have a better pick of staterooms. While that may not matter to some, if you're cruising with family and want adjoining rooms, that won't happen on near sold-out cruises in the summer months.
3. Fewer Crowds – As ships start repositioning to other areas, you'll enjoy ports with fewer people. With fewer visitors, getting a taxi or rideshare will be easier, should you need one.
4. End of season sales – Some stores in Alaska only operate for Alaska cruise season. As the season winds down, you can load up on gifts from Alaska for family and friends. Expect to get some items at a 50% discounted price.
5. Snow – As the month progresses, the chances of snow increase at higher elevations. With clear skies, you could see mountains frosted with snow, giving the landscape a majestic appearance.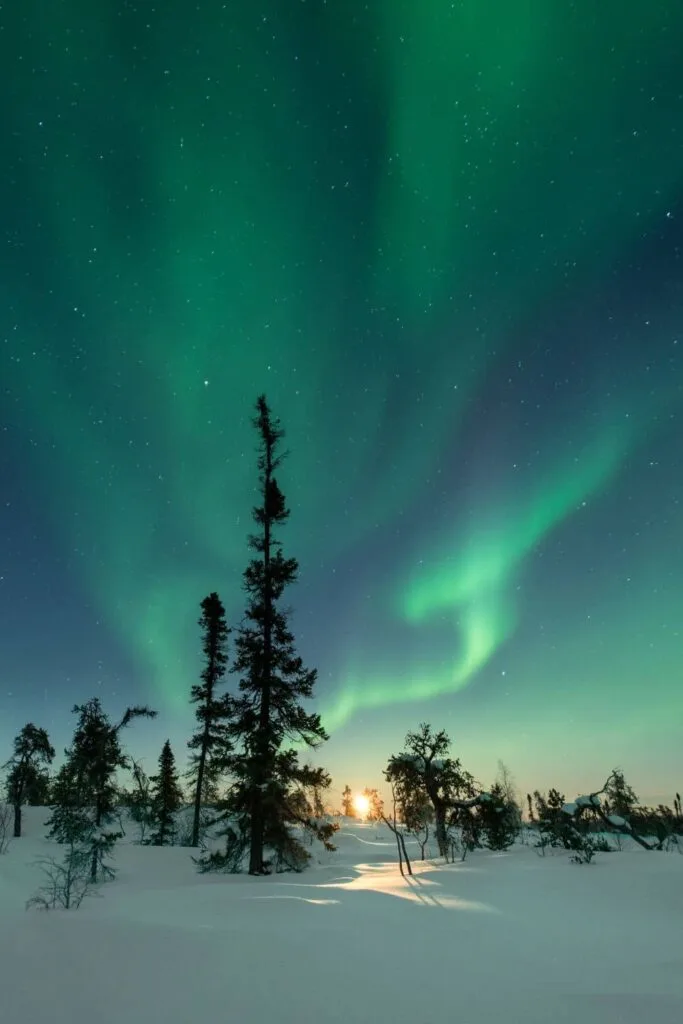 6. Aurora Borealis – Maybe the biggest appeal of cruising late in the season is the increased chance of seeing the Northern Lights. A bucket list event, some people plan their Alaska cruise for a chance to see the colorful light show.
While you're never guaranteed to see the aurora, the shorter daylight hours provide for darkened nights, a requirement to see the northern lights.
7. You may get upgraded – With ships sailing with empty cabins, you could get upgraded. While some lines give complimentary upgrades, others offer a chance to bid on an upgrade.
8. Better itinerary – Once cruise ships leave Alaska, it opens up areas for other vessels to cruise. You could visit Glacier Bay National Park or stay longer in port towns.
Some cruises in the shoulder season visit more than one glacier. I've done several 7-day roundtrip cruises from Vancouver that visited both Tracy Arm Fjord and Hubbard Glacier, or Glacier Bay and Hubbard Glacier.
While this itinerary is common on one-way cruises, they are rare on roundtrip ones.
The Cons Of Going to Alaska In September
A September cruise might be a must for some, just for the opportunity to see the aurora borealis. However, here are some reasons others may not like a to go in shoulder season.
1. Weather – With an average of 22 days of rain, a September cruise will contrast greatly with being in the Caribbean. Believe it or not, some people like the rain and find it soothing.
Cruising later in the season may not be the best choice if you're not a fan of damp weather.
2. Tours may be unavailable – Certain tour operators close down early in September. So, if your heart is set on dog sledding on a glacier, this may not be the best month to take an Alaska cruise.
Helicopter tours close shop early as bad weather affects their ability to take off and fly safely. Large boat tours such as the Misty Fjords Explorer and the Bering Sea Crab Fishermen's Tours also stop offering excursions by mid-September.
3. Diminished wildlife sightings – The great humpback whale migration begins in early September. As humpback whales head south, your chances of seeing whales diminish, especially in the second half of the month.
Salmon runs have ceased, and bear sightings become a rare occurrence. As the summer season ends, black bears and brown bears move to higher ground in preparation for winter hibernation.
If wildlife sightings are high on your Alaska bucket list, forego a September Alaska cruise. By going a month earlier, you'll have better opportunities for whale watching, seeing other marine life, and bear sightings.
4. You can't do a land tour – Denali National Park and tours in Denali typically close for visitors around mid-September.
Even if you went to Denali in early September, the weather may prevent you from traveling too far. With gloomy overcast weather, your chances of seeing the towering Denali are slim.
However, you'll witness the change of the seasons with fall colors and winter fast approaching.
5. Weather may affect glacier viewing – With dark clouds and rainy weather, glacier viewing day won't be the glorious event you've anticipated. In fact, standing on the deck for long periods of time may be out of the question.
If fjords are fog ladened, your vessel may not even attempt to cruise through the narrow passage. Endicott Arm and Tracy Arm Fjord often experience fog, even in warmer months. If your cruise skips the fjord, you'll likely have a longer day in Juneau, the capital.
Is September Too Late To Take An Alaska Cruise?
Even with bad weather conditions, some cruise guests love to go in the fall for the chance to see the northern lights. Ships often sail with empty rooms allowing them to enjoy onboard venues with fewer people.
If you're the only ship in port on embarkation day, expect a faster boarding experience.
If you're been to Alaska before and prefer to skip shore excursions, taking a shoulder season cruise allows you to save money and savor the experience of being at sea on a luxury cruise ship.
However, if you plan your bucket list cruise to Alaska and visit once, pass on the discounted late-season cruises and choose a warmer month instead.
While you'll pay more, you won't be battling the weather or have to dress up like the Michelin Tire mascot to stay warm. You'll also be able to take the excursions you want without the risk of them closing down for the season (providing you book enough enough).
Finding the right Alaska cruise and time to go depends on your preferences. If it's your only time to Alaska, you want to pick a time to enjoy that bucket list shore excursion. Also, you might want to try to "do it all," if that's even possible.
However, if you're returning to Alaska for the umpteenth time, picking a cheap time to go may be your priority. If lines drop their cruise fares on unsold cabins on a September sailing, it may be too tempting not to go.
Whether you choose to cruise in September or not, Alaska rarely disappoints, even when the weather rains on your parade.