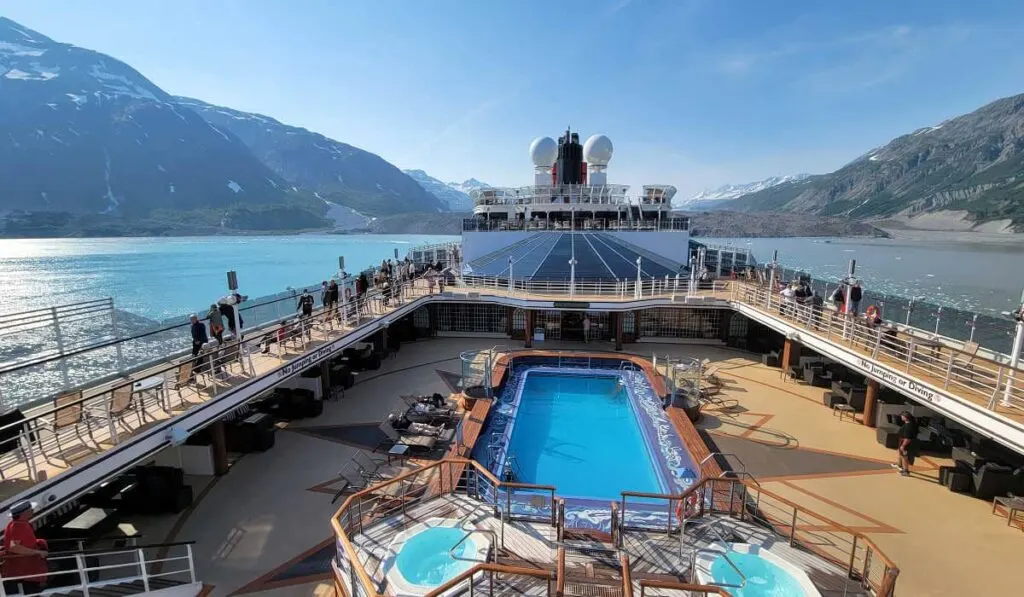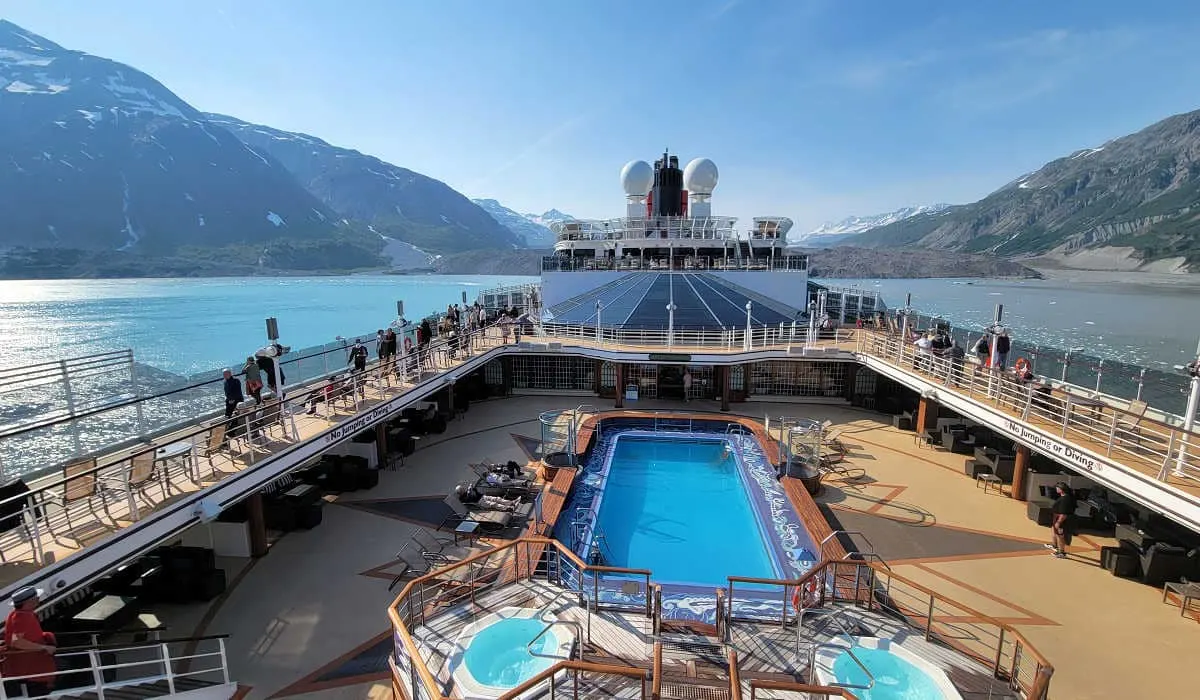 If you've researched the best Alaskan cruise lines and made your booking, now you need to pack accordingly! With this ultimate packing list, you'll know what to pack for a cruise to Alaska!
Unlike the other 48 states to the south, the Alaska weather is unpredictable, making packing complicated. While you might enjoy warm days, you could have cold weather too.
Even if the weather forecast calls for hot weather, do you still need cold-weather items? Can I wear shorts? Do I need a down jacket? Can I use the pool on an Alaska cruise?
If you've been scouring the internet to get the answers to these questions, I have you covered. After nine Alaskan cruises, I have plenty of experience knowing what to take to wear onboard and what you'll use on shore excursions. So, following along for these great cruise tips for Alaska.
The most important thing to remember about Alaska is; that it can rain a lot. On average, Juneau, Alaska, experiences 240 days of wet stuff per year.
However, Ketchikan tops the chart with approximately 3,600 millimeters of liquid sunshine. That's a whole lot of wet stuff! So, I created this printable Alaska cruise packing list to share with all of you.
Alaska's a place of extremes. So, passengers can experience a heatwave one week and cold, wet weather in the same period the following week.
You'll receive vastly different answers if you poll cruisers about their cruise in a particular month. Also, depending on your home, you may feel the cold more if you're from Florida or Texas than those from Colorado.
Having cruised to Alaska multiple times, I have seen every weather, from freezing rain in July to extreme heat in August. So, it's a good idea to pack for three seasons.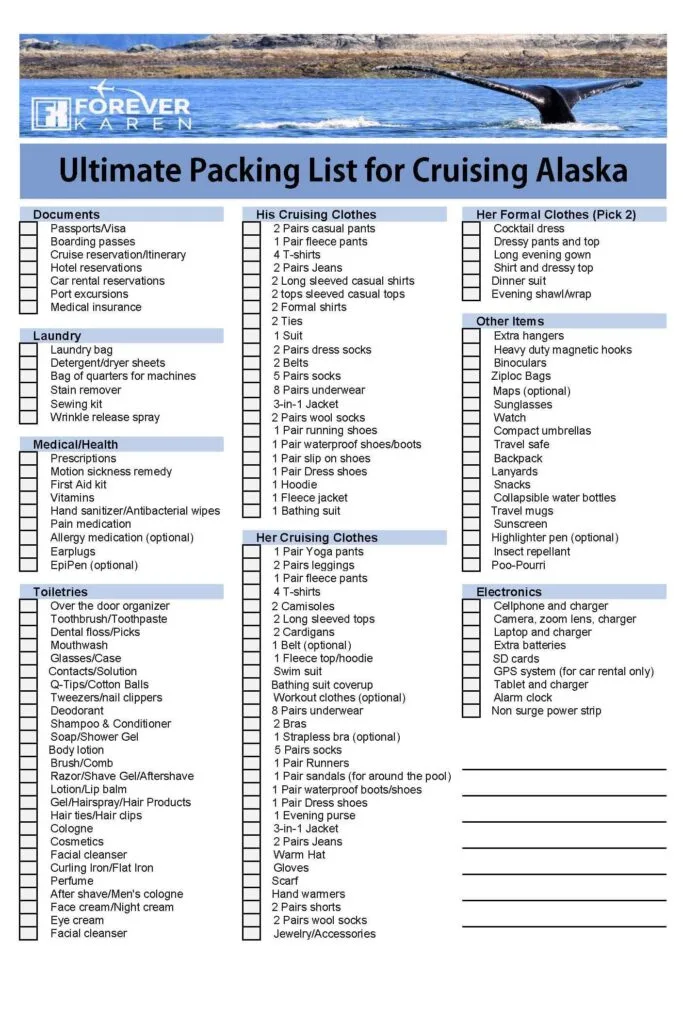 Alaska Travel Season
The Alaskan cruise season is short, initially from May to September. However, after the pandemic shutdown, cruise lines offer itineraries in late April to early October, possibly to recoup revenue loss.
The warmest months are late June to August. Some may wonder if these are the best months to sail to Alaska, but that isn't always the case. I have cruised Alaska multiple times, with my first trip in the third week of July being the coldest and wettest.
During my Alaska sailing with Celebrity, I think it rained every day, and I was unprepared for the cold weather. My embarkation port of Vancouver was experiencing a heatwave with temperatures in the high 90s.
Rather than let it spoil my vacation, I embraced it by sitting in the hot tub next to Hubbard Glacier in the freezing rain. However, on the next trip, I was better prepared!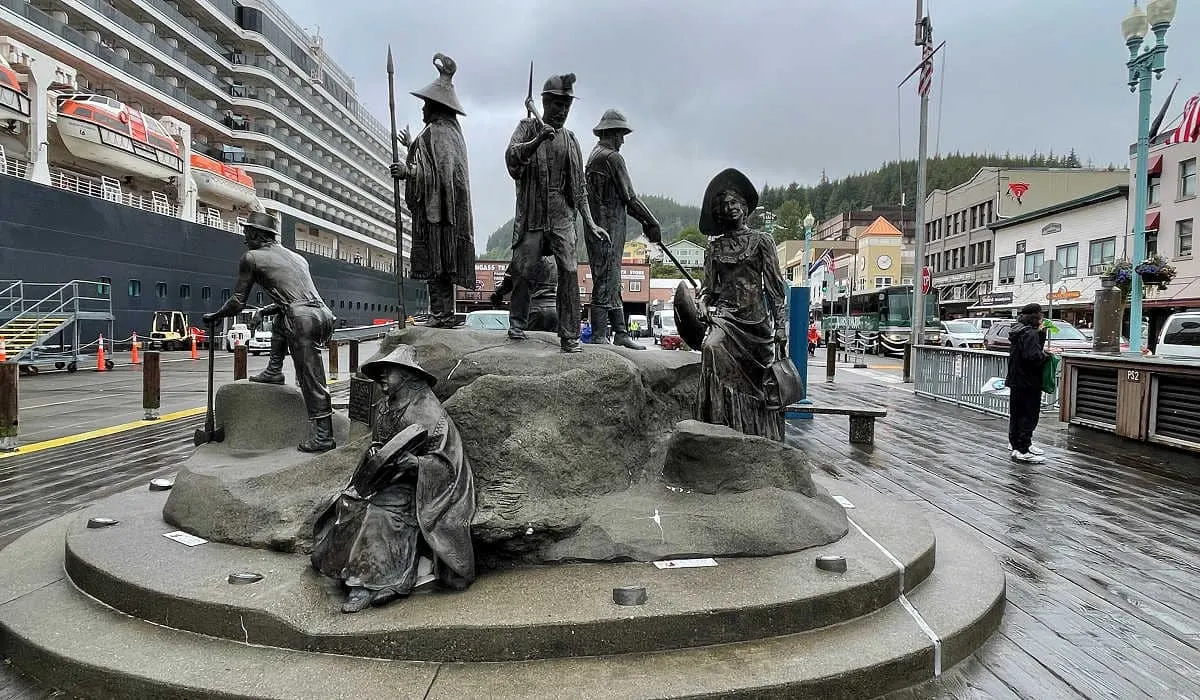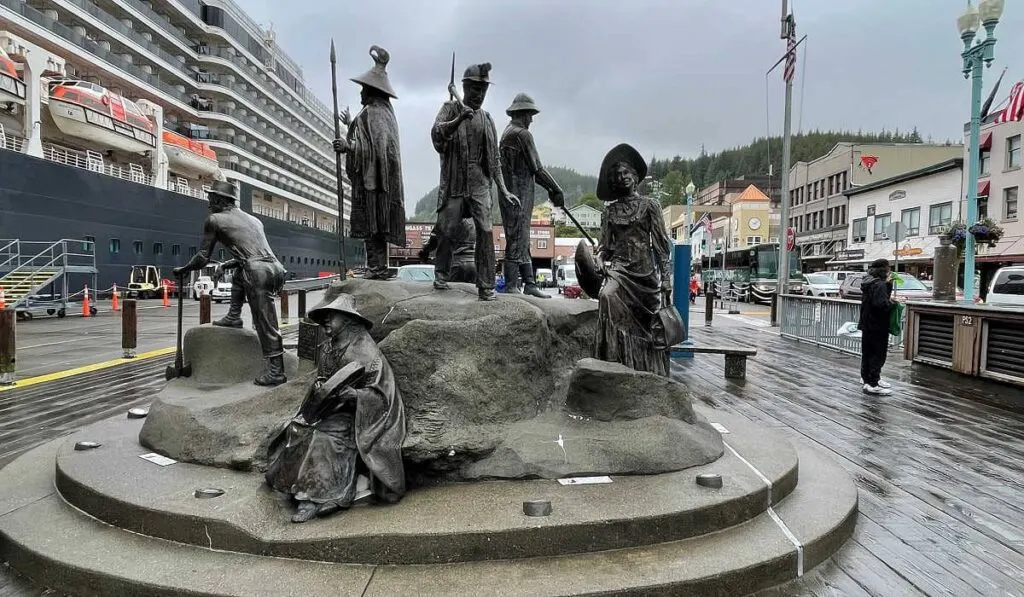 While May Alaska cruises experience cooler weather, it's also one of the driest times to travel. As the summer progresses, the chances of liquid sunshine increase. Here is a list of must-haves to maximize your Alaskan adventure.
Alaska Travel Documents
I'm not a person that likes to rely on electronic technology entirely. So, while most people want to have boarding passes and documents on their cell phones, I prefer to have printed copies of everything.
Sometimes cell phones don't work, or computers go down and having experienced this once, I can tell you it's a headache you don't want to endure.
Passengers traveling on a non-Canadian or non-United States passport require an ETA (electronic travel authorization) available online before embarkation.
When embarking in Vancouver and not traveling with a Canadian or United States passport, you'll need a US travel document called an ESTA (electronic system for travel authorization).
Since the pandemic, most cruise lines have made check-in easier. You'll provide a credit card, upload a security photograph, and do a lot of the things online that you did in port. If you've booked with Princess Cruises, their revolutionary Ocean Medallion technology makes cruising effortless.
Glacier Clothing
Even though the Alaska season is short, it can be bitterly cold next to a glacier, even in the middle of summer. Those bone-chilling winds that swirl off those icy mounds can leave you frigid. And that hot chocolate or stiff drink won't help keep you warm.
It's best to pack layers and wear them on glacial viewing days. Start with thermal leggings or long underwear (for those who feel the cold) and a thermal top.
The base layer clothing for skiing works well without adding too much volume. Then add a pair of jeans or fleece leggings and a warm layer top.
A waterproof rain jacket with a hood is a must-have to protect you from the wind and rain. A 3-in-1 North Face or Columbia jacket are excellent choices.
I have a 3-in-1 Columbia jacket that is amazing, which I have used in the Canadian Rockies in wintertime (when it was -20F). While the average temperatures won't be as cold as the Rockies, it will seem colder than what the thermometer reads.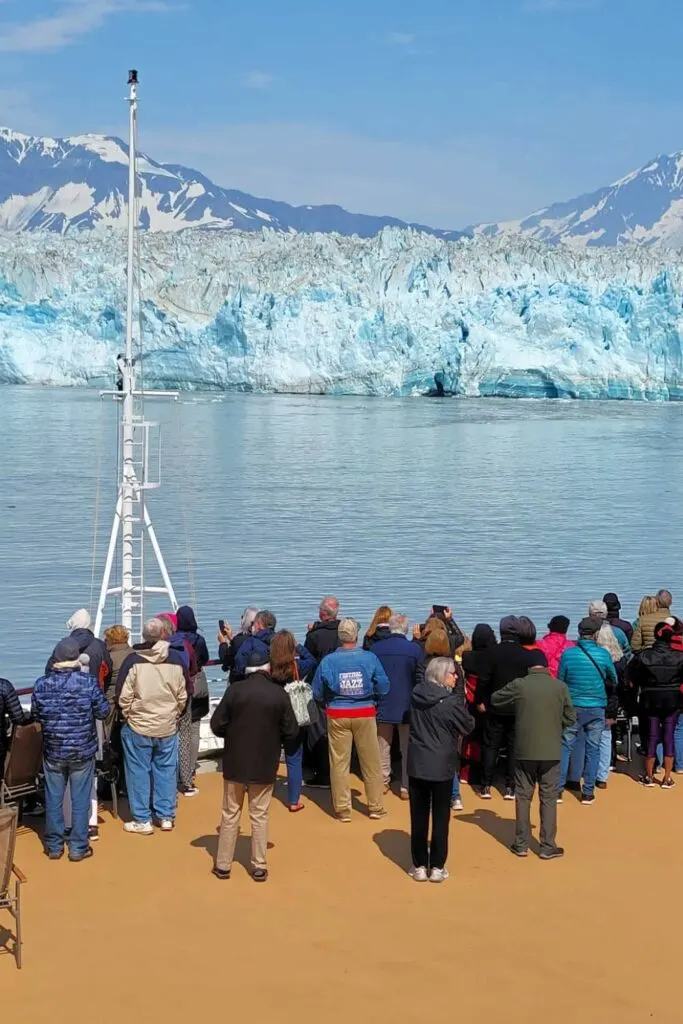 I wear both layers for glacier viewing and separate them for port and sea days. Alternatively, if you have a fleece jacket, layer it with a rain jacket to keep you cozy.
Also, a scarf, gloves, hat, or beanie are necessary if you plan to spend some time out on the deck.
I'm a cold-blooded person at the best of times, and those winter mittens don't cut it for me. I buy hand warmers (such as a lifesaver or hand-saver) to keep my hands toasty warm.
They are inexpensive, take virtually no room in my suitcase, and last all day. I've used hand warmers plenty of times and can easily get 10-12 hours of use after they're activated.
Alternatively, Vessi waterproof gloves have tech-friendly finger pads, which allow you to take photos with your smartphone without removing the gloves.
Alaska cruise tip: Pack compact binoculars because you never know when that elusive bear might be walking the shoreline. Whales are commonly sighted too, and I have seen them on all of my Alaska cruises.
While binoculars vary in price, buy what you can afford. The lower-priced ones won't be as powerful, but they will be compact and lightweight. The higher the price, the heavier they'll be, but you'll have better image quality.
What To Pack For Port Days
Cruise passengers can expect rain in southeast Alaska even in summer. May, the drier month, has only a 25% chance of precipitation. The wet weather comes more frequently as the summer progresses.
So, by August, the probability of precipitation increases to over 50% on any given day. Keep that in mind when packing for Alaska.
Your essential items should be waterproof, not water-resistant. This includes a jacket, a compact umbrella, and waterproof walking shoes. Nothing is worse than heading back to your ship on rainy days, soaking wet feet and chilled to the bone.
I recently discovered Vessi waterproof footwear which is comfortable, inexpensive, and completely waterproof. I walked through rivers and snow at Mendenhall Glacier in May.
If you don't want to invest in a pair of waterproof shoes, consider spraying your existing footwear with a waterproof spray.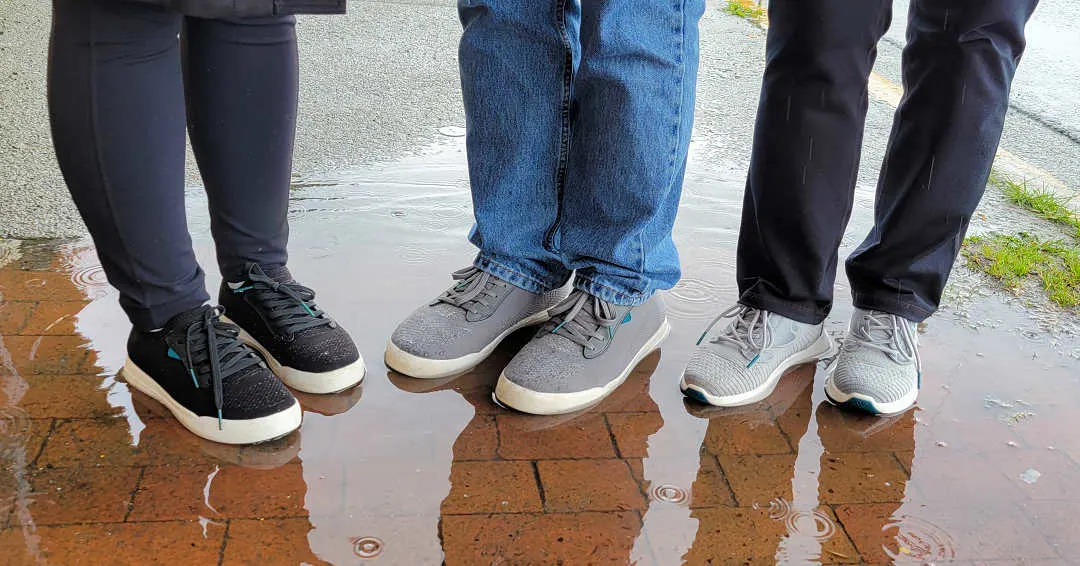 While you can't walk through a stream, some protector is better than none. You'll definitely need rain boots or waterproof footwear for cruises in September.
Pure wool socks are handy for drizzling days in port if you plan to hike or don't have waterproof shoes. Wool absorbs moisture, and its insulating qualities keep your feet warm and dry. Long pants or jeans and layers work best.
In the shoulder seasons, you'll benefit from fleece items or sweats. As the summer progresses, t-shirts and shorts or lightweight cargo pants may suffice.
A waterproof day pack will protect your electronics while you're on your outdoor adventures. If you plan to take lots of photos, a portable charger for your cell phone is a port day essential.
What To Pack For A Shore Excursion?
You will need winter clothing if you have booked an excursion onto a glacier (dog sledding or glacier climbing).
While your dog sled tour operator may provide waterproof pants and boots, you must bring a waterproof winter jacket, gloves, hat, and scarf to keep warm. Sunglasses help cut the glare off the ice with or without the sun.
A lightweight waterproof jacket is a must for water-based tours like whale-watching or kayaking. I found it colder on my Juneau tour to see humpbacks, even when it was warm in Juneau.
Wind burn can sometimes be an issue after being on the water, so having lip balm and aloe vera or an after-sun cream helps.
A waterproof backpack is handy for port day excursions to carry drinks, snacks, and extra layers. If you're traveling during the warmer months, bring shorts or convertible pants too. I've experienced two heat waves in Alaska and wore shorts and tank tops daily.
What To Pack For Hiking In Alaska?
If you plan to hike anywhere in Alaska, waterproof hiking boots are essential. If the weather is sketchy, forego those jeans favoring fast-drying hiking pants instead.
I hiked the Chilkoot Trail in Skagway in runners and honestly wished I had hiking boots. You could get away with runners on most hikes around Mendenhall Glacier.
Insect repellent is a great idea, too, as mosquitoes can be rampant in the summer months. I learned the hard way on a hike in Skagway. If you plan to take the Roberts Tram to Mount Roberts in Juneau, you'll need the bug spray.
A dry bag or waterproof backpack can carry all your hiking essentials. A low-rise hiking shoe can serve on hikes and walking around in ports.
The best layers for hiking should be moisture-wicking since they have drying properties, even when you sweat.
Should you plan to do a lot of hiking, consider packing collapsible hiking poles. The compact styles take up little space in luggage but provide excellent support during outdoor activities. Also, consider adding a bear bell, bear spray, and a collapsible water bottle.
Onboard Cruise Attire
Although the ship has air conditioning and climate control, it tends to be cooler than warmer climate cruises.
Alaska cruises are less formal than cruises in other areas, so think comfort and warmth before style when selecting clothes.
A few pairs of fleece pants, sweaters, and hoodies will serve you well. Women may prefer fleece-lined yoga pants. The onboard shops have plenty of fleece layers and Alaska-themed clothing if you do not pack enough layers.
Lightweight puffer vests are great for wearing around the ship, especially in May and September. They add warmth without weight and squash down to nothing in your luggage.
Even if it's cold and it rains a lot, don't let the rain dampen your vacation. During my first Alaska cruise in the middle of July, it rained every day.
It drizzled the whole time we were at the Hubbard Glacier, but we put on our bathing suits and sat in the hot tub admiring the view. Now, how's that for a bucket list experience?
While most dress up for dinner in other warmer destinations, expect more casual attire in the main dining room. Women may want to forego those dresses in favor of casual pants or capris worn with a top and cardigan.
Warm Weather Clothing
Although it will be much colder in Alaska, don't forget your bathing suit and flip-flops. If your ship has an indoor pool with hot tubs, you will enjoy them on a chilly day.
Most cruise ships also have saunas and complimentary steam rooms. Three of my five trips to Alaska experienced unseasonably warmer weather, so I used the outdoor pool instead.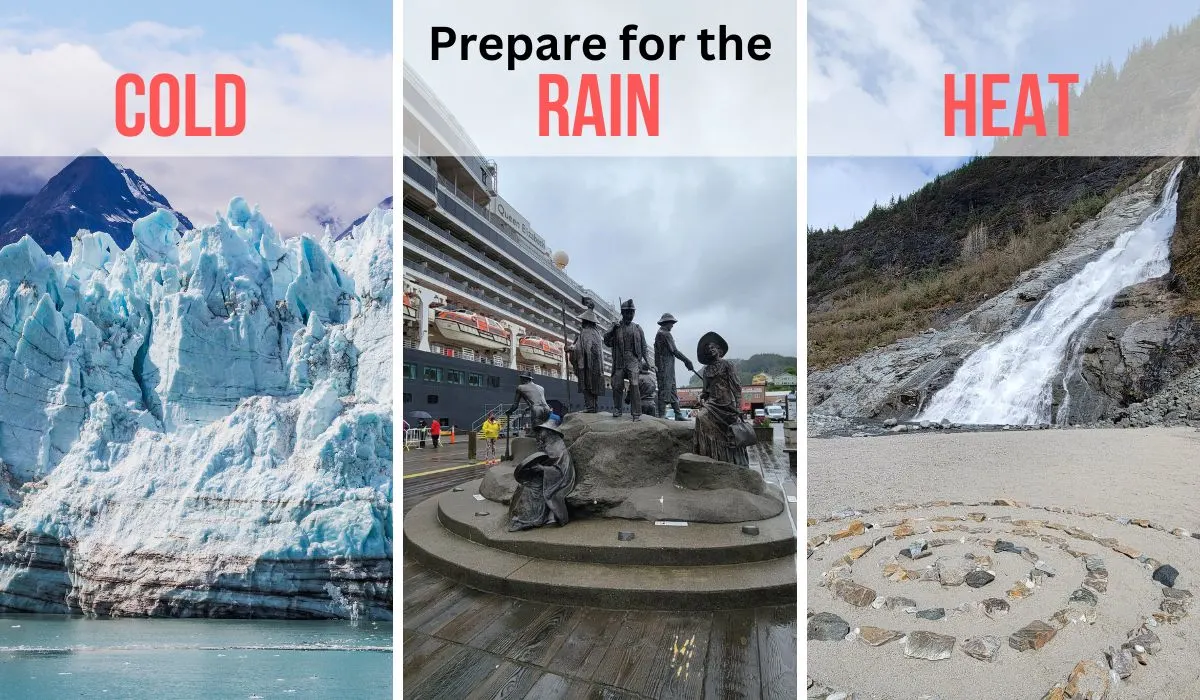 Since Alaska's weather is variable, bring at least one pair of shorts or safari pants that can convert into shorts. Accompany them with tops with short sleeves for sunny days instead of fleece.
Remember to pack sunscreen and sunglasses just in case you experience a heatwave. If the sun makes its appearance during glacier viewing, sunglasses cut down on the ice glare.
Sunscreen is a must regardless of the weather because the skin can burn on a cloudy day, especially with reflections from water, snow, and ice.
Remember, water offers minimal protection from UV radiation, so reflections can enhance your UV exposure.
Formal Nights
Cruises of seven days will have two formal nights, although most lines call these "cruise elegance," "evening chic," or "wear your best."
For men who prefer to wear formal wear, one suit and two different shirts and ties will suffice. Some prefer dress pants and a dressy sweater or forgo the tie and jacket.
Even dark jeans and a shirt or sweater are acceptable by most cruise lines. While dressing up for "cruise elegance" nights is optional now, dining rooms won't allow guests in ripped jeans, shorts, flip-flops, or torn clothes.
A cocktail dress or dressy pants and evening top are best for women. Long-sleeved overlays or shawls are also handy as the restaurants can be overly air-conditioned in the evenings.
Should you prefer to go all out and wear that ball gown, by all means, do so. But you may be in the minority.
However, Cunard has a strict dress code, and they expect men in tuxedos and women in cocktail dresses or ball gowns. If you don't like to dress up, Cunard may not be the best cruise line for you.
On my Alaska cruise on Queen Elizabeth, I was surprised to find almost all men in tuxedos on formal nights. I found it refreshing to see all guests participate in the formal dress code.
On other lines, cruising to Alaska is generally less formal than the Caribbean or the Mediterranean. It's best to think "dressy" over "formal." However, if you prefer not to dress for dinner, passengers have the option to dine in the buffet instead.
Alaska Shoe Choices
Whether you're taking a Caribbean cruise or an Alaska inside passage cruise, the hardest packing decision is the shoes.
Unless you're doing some serious hiking, I recommend waterproof runners, a pair of dress shoes, and something slip-on for around the ship.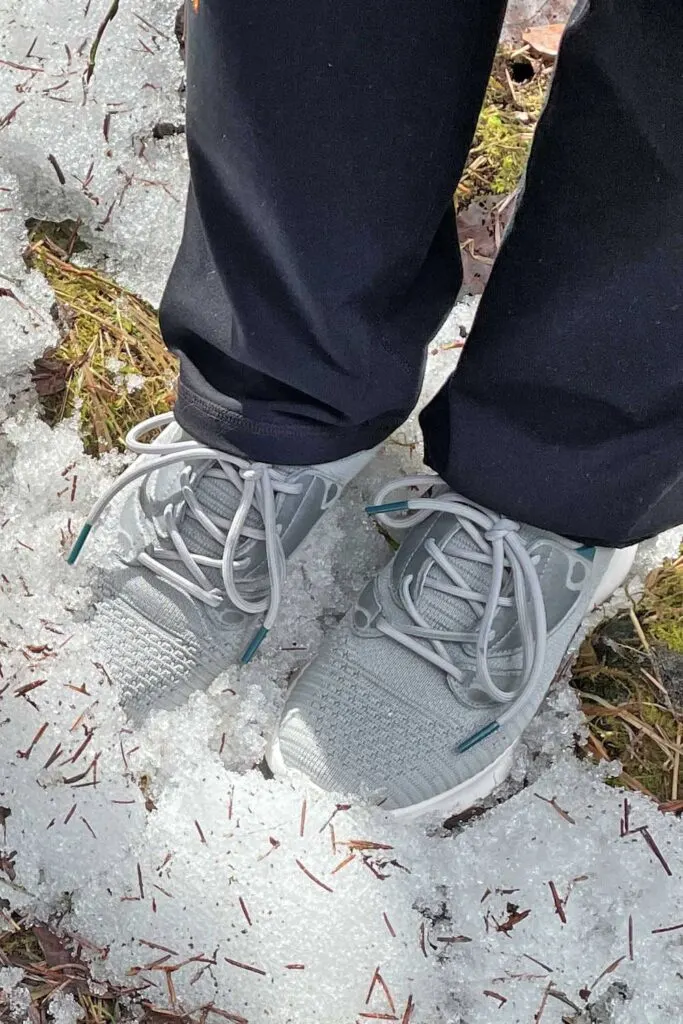 If you've checked the weather forecast before your cruise and are in for a hot spell, you could take sandals. However, during my "heat wave" Alaska cruises, I preferred supportive runners because port days are active and require lots of walking.
Wear your bulkiest shoes on your flight and embarkation day to save on luggage space. If you have all-black runners or sneakers that look more dressy, you could eliminate the dress shoes unless you go all-out on "evening chic" nights.
Packing For Denali National Park
You will need more clothing if you're doing a cruise and land tour. Depending on the time of sailing, the weather can be quite different.
Expect snow on the ground and muddy trails early in the season. So, pack for chilly days with warm layers and mud-proof boots or shoes.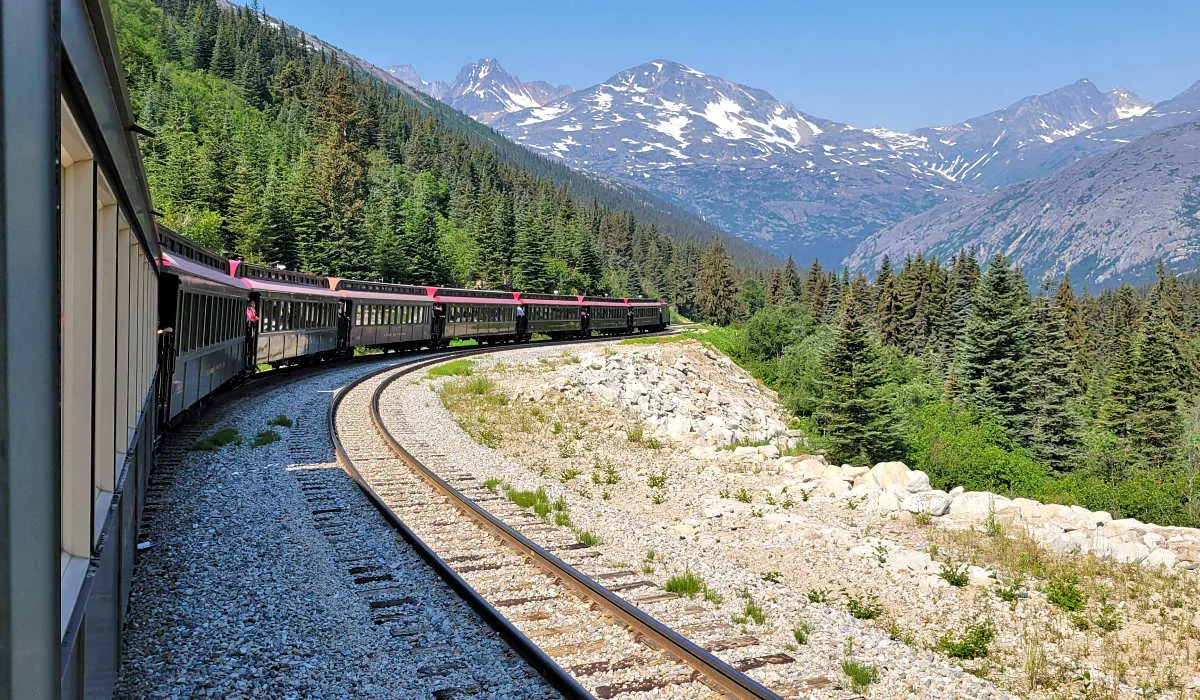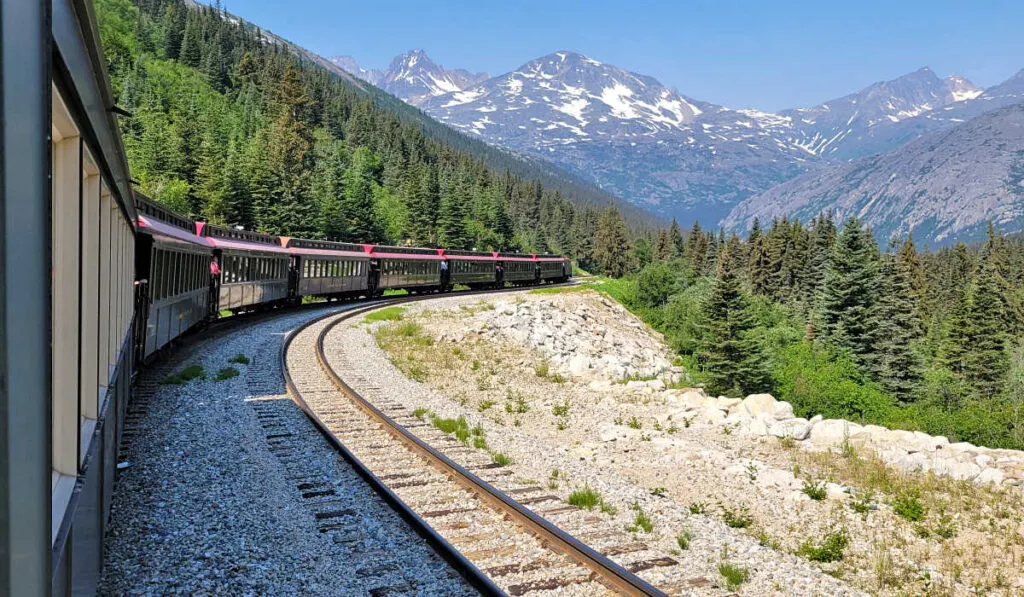 It can get hot in Denali National Park in the peak summer months. Again, it's Alaska, and weather conditions can change quickly. You should expect temperatures from 30 F to 80 F at any given time.
Mosquito repellent, wicking layers and quick-drying are a must. Since Alaska experiences long daylight hours in summer, you may be way into the night to watch a sunset. After the sun goes down, expect a cooler climate.
Camera
Ideally, traveling to Alaska with something better than a smartphone camera would be best. The scenery is breathtaking, and your photographs will be your best souvenirs.
So, it's best to come equipped with a decent DSLR camera and zoom lens.
Wildlife will not be close by, so having a zoom lens may allow you to capture that bear walking the shoreline in Glacier Bay National Park. If you don't own a zoom lens, consider renting one.
Also, if you're booked on a whale-watching excursion, you'll appreciate the fast shutter speed when that whale decides to breach. In Icy Strait Point, visitors can often see whales from the shoreline.
Since it's remarkably wet in Alaska, protect your camera with the all-important rain sleeve. These waterproof coverings are inexpensive but safeguard your expensive asset.
Should you decide to capture your memories with a smartphone, protect it with a waterproof pouch. Remember your chargers, batteries, and extra SD cards because you need them.
On one of my cruises to Alaska, I forgot my battery charger for my camera, and there was nowhere to purchase another one. Luckily, my camera took AA batteries, which I could buy onboard the ship.
How To Minimize Packing
Alaska cruises require a variety of clothing, and it's easy to overpack. To prevent overweight charges, wear your bulkiest items the day you fly.
To minimize luggage, plan to do laundry during your cruise, especially if you're on a longer itinerary. While some lines have self-serve laundry facilities, others provide a paid service.
If you aren't prepared to pay to have your clothes washed, pack Tide sink pods or use a Scrubba, which will act as a washing machine at sea.
Select multi-functional clothing items; zippered cargo pants that convert to shorts or infinity dresses that can be worn in multiple ways.
You can opt to go more casual on "formal nights" to eliminate the dressy shoes and clothing items.
Other Items
All Alaskan cruises sail the inside passage for a portion of the itinerary. However, a small section between Vancouver Island across Queen Charlotte Sound can be choppy, and a division after Glacier Bay to Whittier.
The Pacific Coast is notorious for being rough if you're sailing from San Francisco. So, prepare for travel sickness with Gravol, ginger pills, Sea-bands, or motion sickness patches.
During the summer, Alaska experiences the midnight sun. With just a few hours of darkness in some areas, consider packing a sleep mask if you require darkness to get your forty winks.
I like to bring a travel mug to Alaska and pack my favorite tea. It's nice to have a cup of steaming hot tea standing near a glacier or during a cold day in port.
Or those who work out regularly, don't let the vacation from spoiling your routine. Pack your workout clothes because all vessels have exercise equipment and weights.
Final Thoughts
As you can see, an Alaskan packing list is extensive and requires more bulky clothing. When you're ready to fly, check the weather forecast for the week that you are cruising.
As temperatures range from 35 to 80 Fahrenheit (2 to 27 Celsius) or into the 90s in a heatwave, it's best to pack a little of everything. I've personally gone from a tank top and shorts one day to a winter coat the next.
Remember to pack for a casual cruise and wilderness outdoor excursions. While I wear a lot of dresses and skirts in the Caribbean and Hawaii, I prefer pants on an Alaska cruise.
Be prepared and expect every kind of weather, and you can't go wrong.
Happy travels ~ Karen