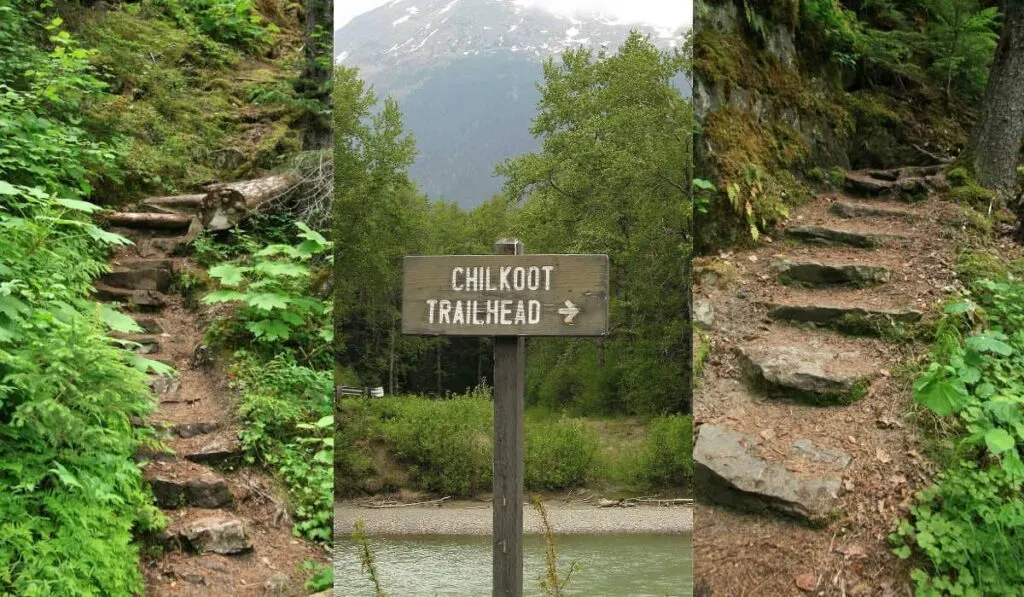 While most who arrive in the "Garden city of Alaska" prefer the leisurely train ride into the Yukon, I tend to be a little more adventurous. Heck, who am I kidding? I'm a Sagittarian; I was born for adventure!
If you're like me and want to experience a real piece of Alaskan history, book a Chilkoot Float excursion.
I cruised to Skagway on Holland America's Volendam. On the port day, while my fellow cruise ship passengers were packed in like sardines on the White Pass and Yukon Route train, I was sweating bullets working off those extra cruise calories on Skagway's natural tread climber.
Starting The Chilkoot Trail Hike And Float Adventure
During one of my amazing cruises to Alaska, I decided to take this impromptu Skagway float tour without booking in advance. It was a typical cloudy May day, the day I took this four-hour Chilkoot Trail hike.
Expect the Chilkoot Trail weather to be similar to Skagway. It's typically humid in this area, with a chance of rain. I learned the path was medium to difficult with lots of tree roots.
Since I hadn't planned this tour, I was wearing jeans and runners when I disembarked my cruise ship. While the runners served me well, footwear with ankle support is preferable to prevent the risk of straining an ankle during the hike.
As the name suggests, this port excursion combines a Chilkoot Trail hike, followed by a float down the Taiya River. What better way to learn about the Klondike Goldrush than to walk the same path as the "get-rich" prospectors took all those years ago?
Minus the heavy equipment, of course! Don't worry; while the Chilkoot Trail in Skagway is 33 miles long, this adventure's hiking portion is just under 2 miles.
For those who want to hike the whole Chilkoot Trail, it's open year-round and requires a permit to hike it. In winter, you'll need snowshoes and clothing suited to the frigid conditions.
From town, a short van ride took me to Dyea for the start of the Chilkoot Trail. I noticed a small covered board with the trail map and space for trekkers to self-register before starting their adventure.
This is necessary for those hiking the entire trail, which takes three to five days. However, we did not need to register for our tour. My group was small, but I soon came to realize they had different levels of hiking skills.
We were offered walking sticks for the trail, but I didn't feel I needed one. However, if you're unsteady on your feet, I'd highly recommend using the complimentary stick or bringing your own collapsible trekking poles.
The Chilkoot Trail
The first part of this infamous Alaska hiking trail was all uphill through the shady Tongass National Forest. Who needs a Stairmaster when you can hike this trail instead?
While some became short of breath quite quickly, my guide was very patient and gave us frequent breaks. This allowed everyone to trek at their own pace and within their physical abilities.
A short distance into the trek, the roots and rocks began to materialize, making for a tripping hazard. Personally, I didn't find the hike very difficult, but I could understand that it would be a demanding excursion for anyone elderly or mobility challenged.
While it was dry the day I hiked in mid-May, a decent rainfall makes this excursion much more challenging.
A short distance into the hike, it became evident that mosquitoes were a problem in this lush rainforest. With all the rain Alaska receives, the forests are a holiday camp for these pesky insects.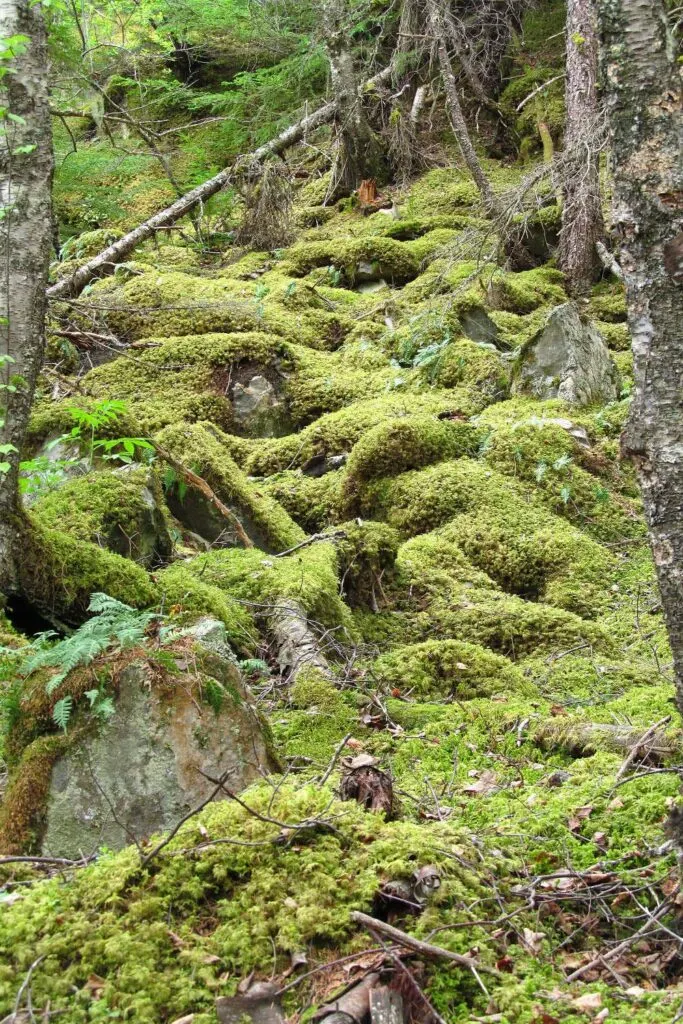 While my tour guide carried an environmental mosquito repellent, it did not work on me. At that point, I was thankful to have a jacket for the duration of the tour.
However, I spent our short breaks walking in circles and waving my arms like an idiot, trying to prevent being eaten alive. Even with my efforts, it's safe to say the mosquitoes won the battle.
If you can learn just one thing from this article, make sure you have good bug repellent.
The Flora
During the hike, my knowledgeable guide educated us on the history of the Goldrush. We also learned the different types of flora and the wildlife that calls this land their home.
The pristine forest was incredibly peaceful, and I felt energized by the fresh Alaskan air. We tasted wild berries found along the trail, and I thoroughly enjoyed being out "in the wild."
Partway along the path, our guide showed us the claw marks of a bear on a tree trunk. It was a real moment that we were in bear country.
As we walked through the lush forest with plenty of moss, the physical aspects of uphill trekking made me wish I hadn't worn a jacket.
Although as warm as I felt, I needed to wear it to protect me from the rampant bugs. Once we reached the pinnacle of the trail at 400 feet, it was a short downhill walk to the Taiya River.
The Float Tour
With the physical part of the excursion over, I donned an orange life jacket for a leisurely and well-earned float back to Dyea.
The inflatable raft provided plenty of space for our small group. We also had lots of photo opportunities during the last half of this Skagway excursion.
The scenic float offers gorgeous views of the snow-capped mountains, incredible rugged glaciers, and the lush Alaskan woodland. In the treetops, bald eagles were nesting beside the river.
While the water flowed steadily, there were no rapids to navigate, and nor did we need to paddle. With a camera in hand, I snapped pictures of the stunning vistas and enjoyed being one with nature.
It's important to note that with no protection from the trees, it was a bit brisk for this portion of the excursion. So, although you may not need a jacket for the hike, it's advisable to have a waterproof shell during the float.
At the end of the 20-minute raft ride, we arrived back at the bridge where we started. There, a crew was waiting to gather our raft and jackets.
While they loaded our raft onto a trailer, we enjoyed a complimentary snack and juice. All while savoring the last moments in the Alaskan wilderness.
On the return ride to Skagway, we could choose to be dropped off at the cruise ship or get off in town. It was nice having options, especially after a physical excursion.
Chilkoot Trail Hike and Float Supplies
Skagway is a must-visit Alaskan town to learn about the Gold Rush. Should you decide to follow in the footsteps of the Goldrush prospectors on this calf-burning excursion, I'd recommend the following items:
Mosquito repellent

Hiking boots with ankle support

Lightweight jacket

Small waterproof backpack

with water and a snack

Camera

Your sense of adventure
Overall, my Chilkoot Trail hiking and rafting experience exceeded my expectations and offered great value for money. The tour was made doubly pleasurable by my informative, knowledgeable, and enthusiastic guide.
Happy travels ~ Karen