Choosing an Alaskan cruise can be overwhelming. Which glaciers should I visit? Should I add on a land itinerary? How do I find the best itinerary for Alaska? Which Alaskan ports of call are best? This article answers all your questions about visiting Alaska's coastal cities.
The Alaska ports vary from small towns of less than 1,000 locals to the large city of Juneau, Alaska's state capital. Some Alaska ports offer scenic excursions, while others focus on Alaskan wildlife.
It's important to realize everyone's expectation of an Alaska cruise is different. On a 7-day cruise, most itineraries will include three ports of call. So, depending on what you want to do and see, these Alaska ports are worth a visit.
Sitka For History And Culture
While Sitka offers various port excursions, most tours allow cruise passengers to immerse themselves in Alaska's colorful history. By touring historical places like Castle Hill, Building 29, and St. Michael's Cathedral, cruise passengers can discover connections with the Tlingit, Russians, and American people.
By watching performances by the Tlingit Dancers and Russian Folk Dancers, you'll appreciate that their influences in Alaska remain.
Sitka was Alaska's first capital city and the place where the first American flag flew after its transfer from Russia to the United States.
At Castle Hill or Baranof Castle State Historic Site, you can stand at the very spot where the transfer took place in 1867. While no fortification remains, the informational plaques document the historic occasion.
The Sitka History Museum, Russian Bishop's House, and Sheldon Jackson's Museum display cultural artifacts, photographs, and intriguing treasures.
Another important structure is St. Michael's Orthodox Church. Constructed by the Russians in the 1840s, its claim to fame is North America's first Catholic house of worship.
While its exterior is rather ordinary, its interior showcases some magnificent religious artifacts. With a suggested donation of just USD 5.00, visitors should not miss this beautiful cathedral.
As Alaska's smallest park, don't judge Sika National Historical Park by its size. Created to commemorate the battle between the indigenous Tlingit and Russians, I found the park a wonderful place to explore on a port day.
As part of the 113-acre park, visitors can walk the Totem Trail and admire the Haida and Tlingit totem poles. Occasionally, the park commissions an artist to carve a new pole. It's an extra treat to witness the artist in action.
Juneau For Diversity
The most commonly visited Alaska port, Juneau, offers the greatest variety of excursions. Being Alaska's current capital, it provides a diversity of things to do. So, whether you want to see wildlife, take in the majestic scenery, or do some shopping, Juneau is the place to be.
While your cruise ship offers a chance to see one or more glaciers, Juneau features another close to town. Visitors can access Mendenhall Glacier on a shuttle, and here, they can see glacial calving and giant icebergs.
The park offers many hiking trails for outdoor enthusiasts, and travelers can also take a canoe excursion to the glacier in search of ice caves. For those without a budget, dog sledding on Mendenhall Glacier or Herbert Glacier is a bucket list experience.
Juneau offers the highest probability of viewing wildlife from whales, seals, bald eagles, salmon, and bears. Its marine excursions are one of the best to see whales on the west coast. Popular sightings include humpback whales, seals, and sometimes orcas.
Juneau has two bears; brown bears and black bears, although occasionally black bears are brown in color. The best place for seeing bears is Admiralty Island, but travelers often see them at Mendenhall Glacier too.
With an airport in Juneau, travelers can admire Juneau from the air. Aerial tours include flying over icefields, landing on glaciers, or excursions to Taku Glacier Lodge.
For those that prefer to keep their feet on the ground, downtown Juneau has a fantastic variety of gift shops and restaurants to sample Alaskan seafood. For a low-key activity, you can take the Mount Roberts tramway to enjoy the views over Gastineau Channel.
One day in Juneau isn't enough to experience all it has to offer. But, with so many diverse choices, it's no wonder cruise lines favor Juneau as an Alaskan port of call.
Ketchikan For Its Art Scene
Not only is Ketchikan the most picturesque Alaska port town, but it has a terrific art scene as well. Suspended on wooden stilts over Ketchikan Creek, colorful Creek Street wows its visitors with its postcard outlook and vibrant buildings.
Within a short distance of the cruise port, passengers can enjoy a self-guided tour on foot without the need for an expensive shore excursion.
Once a former red-light district, the period homes have been repurposed into quaint cafes and curio shops filled with unique Alaska treasures and items made by local artists. In fact, it's a breath of fresh air compared to cruise ports filled with the same vendors.
As if the historic buildings aren't interesting enough, the exterior brightly colored structures contrast significantly against the Tongass forest. So, bring a camera and snap away because Creek Street is so photogenic and begs for exploration.
Depending on the time of year, visitors can watch the salmon run in the creek below. Known as the "Salmon Capital of the World," Ketchikan thrives on tourism, fishing, and canning.
Further upstream, travelers can capture shots of the salmon leaping up the salmon ladder, and if you're lucky, harbor seals and otters add to the commotion.
Ketchikan has the most totem poles in the world, which is evident as you walk around town. At one end of Creek Street, the 55-foot Chief Johnson Totem pole welcomes visitors.
At the Cape Fox Lodge, some colorful totem poles welcome visitors to the hotel. Around Ketchikan, cruise passengers can admire more than 50 unique totem poles featuring animal and human symbols.
Skagway To Relive The Gold Rush
For most cruise passengers, Skagway is the northernmost Alaska port town visited by cruise ships. With less than 1,000 residents, its quaint and rustic persona contrasts greatly with ports in the Caribbean.
In fact, the former Gold Rush town resembles a wild west movie set with its rustic wooden buildings and locals dressed in period costumes.
Consider a ride on the White Pass & Yukon Route train when you're not immersing yourself in Alaska's Gold Rush. As the jewel of Skagway, the White Pass & Yukon Route train picks up cruise passengers at the dock.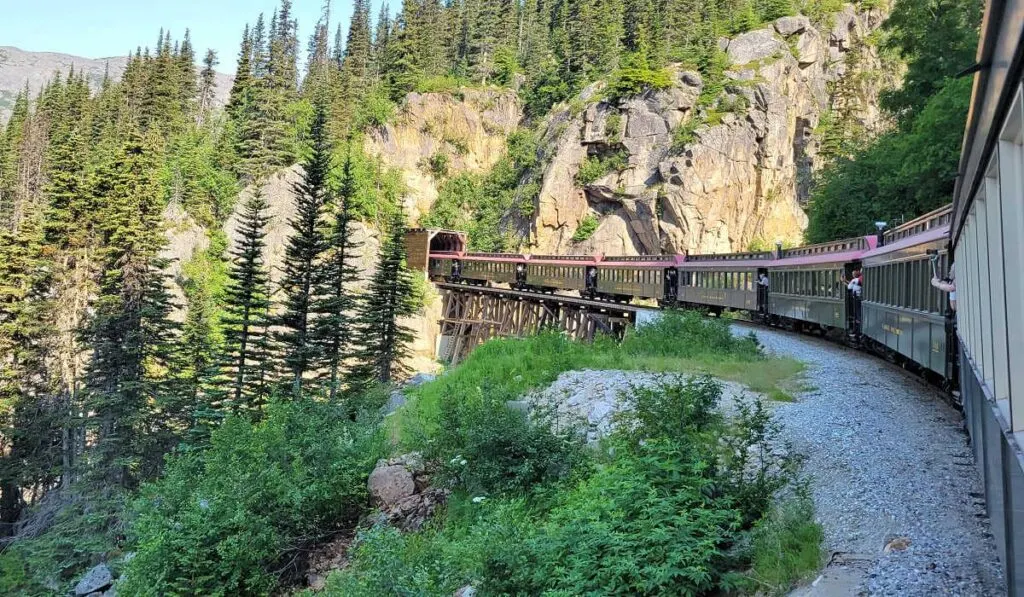 Then, the narrow-gauge Alaska railroad transports them into the Yukon using antique coaches with large viewing windows. The trip into the mountainous region is rated as one of the best train journeys in the world.
The track passes rushing waterfalls, picturesque gorges, and travels over wooden trestles. For the best views, step outside your passenger car and watch the train round the corners over the timber bridges.
The one-hour and 45-minute journey offers breathtaking scenery, perfect for the whole family.
Back in town, visitors can immerse themselves in the Gold Rush era by panning for gold and visiting the Klondike Gold Rush Museum and the Gold Rush Cemetery.
When prospectors discovered gold in Alaska in the late 1800s, thousands of get-rich prospectors descended on Pioneer Square in Seattle in preparation to travel north.
During a Skagway walking tour, you'll learn about the Gold Rush characters and the trail they blazed through the mountains to prospect for precious metals.
For the adventurous, consider a Chilkoot trek and float tour. On this excursion, I walked the same route as the prospectors did years ago, followed by a float down the Taiya River.
Icy Strait Point For Scenery
Icy Strait Point is located on Chichagof Island, Alaska's newest cruise port, owned by the Huna Totem Corporation. Welcoming cruise passengers since 2004, the residents of nearby Hoonah village operate the attractions at the cruise port.
The star attraction of this Alaskan port is its beautiful scenery. Surrounded by lush rainforest, Icy Strait Point's adventures focus on wildlife, and the great outdoors.
Travelers can't go wrong with a whale watching tour, which guarantees you'll see whales. During your excursion, whale-watching vessels travel to Point Adolphus, an area heavily populated by humpback whales.
Bring some compact binoculars and a camera because orca, seals, and sea lions are often sighted. Dress warmly and in layers as the Alaska weather is unpredictable.
Remember to scan the shoreline, too, as bears often walk the beaches in search of food. If you're lucky, you'll witness the incredible phenomena of bubble-net feeding.
A learned behavior, Alaska humpbacks work as a group to synchronize the releasing of bubbles, trapping fish within a circle. It makes for an easy meal and helps to fill their quota of 3,000 lbs of food a day.
On land, the Spasski River Valley offers an opportunity to view another Alaskan resident, the Alaskan brown bears. Home to the largest population of coastal brown bears globally, cruise passengers may also see Sitka deer and bald eagles soaring overhead.
If you prefer to enjoy the outdoors, take the 25-minute walk on the oceanfront boardwalk. The wooden walkway allows you to soak up the pristine Alaska scenery and a chance to view whales from the shore. Nature trails meander through the forest and allow you to be one with nature.
Kodiak Island For Kodiak Bears
Very few cruise ships port at Kodiak Island, probably because of its location southwest of Anchorage. But those who are lucky to stop here enjoy a wilderness that's rugged and pristine. Kodiak National Wildlife Refuge protects more than half the island, home to the Kodiak brown bears.
When doing a size comparison, Kodiaks are larger than grizzlies and slightly smaller than polar bears. With an average height of nine feet and males weighing up to 1,500 lbs, these creatures demand respect.
A stop at Kodiak Island offers a chance to take a small-group excursion to view these giants in their natural habitat. I remember my first sighting of a Kodiak bear; its immense claws and huge size made me shudder with fear.
Final Thoughts
When planning your cruise to Alaska, don't decide on ports alone; glacier viewing matters too. Which choices of Glacier Bay National Park, Hubbard Glacier, Sawyer Glaciers, and Dawes Glacier, first-time Alaska cruisers often can't decide.
Alaska's ports of call are very different than those of the Caribbean or Mediterranean. The towns are often smaller and less developed, and excursions usually focus on its untouched scenery and native wildlife.
Whether you're seeking solitude, want to see Alaska's big five, or experience glacial calving, Alaska offers it all. After four trips to Alaska and two more planned, I have a favorite Alaskan town; how above you?
Happy travels ~ Karen