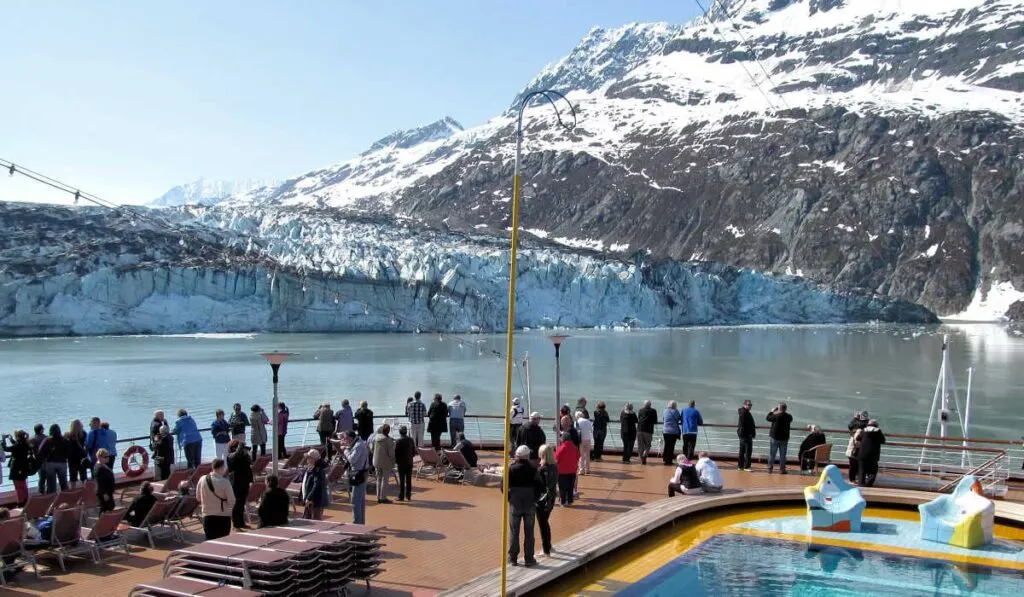 It's no secret that an Alaska itinerary has been rapidly growing in popularity around the world. Many of the world's glaciers are in Alaska, and some are only viewable from the ocean. So, do your research and find the best Alaska cruise for you.
If it's your first cruise to Alaska, you might suffer from information overload. While Alaskan itineraries greatly contrast warmer destinations, and the weather can be unpredictable, even at the height of summer.
Without reading some guides on Alaska, many who sail the inside passage make some common Alaska cruise mistakes.
If you're reading this post, you're likely pre-planning your Alaska cruise, or you've already booked. If you want to know what to pack or what to expect, read on. These essential Alaska tips will help you prevent common mistakes made when cruising to Alaska.
Thinking It's Cheap
Unlike the Caribbean, where there are hundreds of sailings from multiple ports, Alaska sailings are primarily from Seattle or Vancouver.
However, Californians can take an Alaska cruise from San Francisco and back. However, the Alaska cruise season is short, from May until September, although Norwegian offers itineraries as early as mid-April through to mid-October.
With an itinerary growing in popularity, don't expect to score deals like those 7-day cruises out of Florida. While I have seen one-week Caribbean cruises for a mere USD 300, Alaska cruise discounts are few and far between. For most, Alaska cruise prices might surprise you.
If you're attempting to travel north on the cheap, discounted Alaska cruises are sometimes offered from Vancouver to Alaska on a one-way itinerary. Be sure to calculate your airfare to determine if the cheap cruises from Vancouver are truly a "deal."
May Alaska itineraries are considered the shoulder season. At the end of the season, Alaska cruises in September may also be discounted as cruise lines attempt to fill unoccupied staterooms.
| Tip
Looking for the best Alaska cruise? Find it on Cruise Critic. It features more than 650,000 cruise reviews, advice and information from the team of cruise experts on everything you need to know. The site also offers itinerary and pricing information, deals and money-saving tips.
Not Knowing What To Pack
Unlike its warmer cousins, Alaska requires a whole different set of cruise essentials. Knowing what to pack is half the battle. Here are some Alaska packing tips for bringing the right gear.
While Alaska has a reputation for being cold, the coastal areas visited by cruise ships are really not that cold. Alaskan ports are located in pristine rainforests, so as a result, it is wet, very wet.
No matter what month you cruise, Alaska cruise weather is unpredictable.
Ketchikan, for instance, receives almost 4 meters or 13 feet of rain per year. No raincoats or wellington boots are needed here; maybe an ark instead?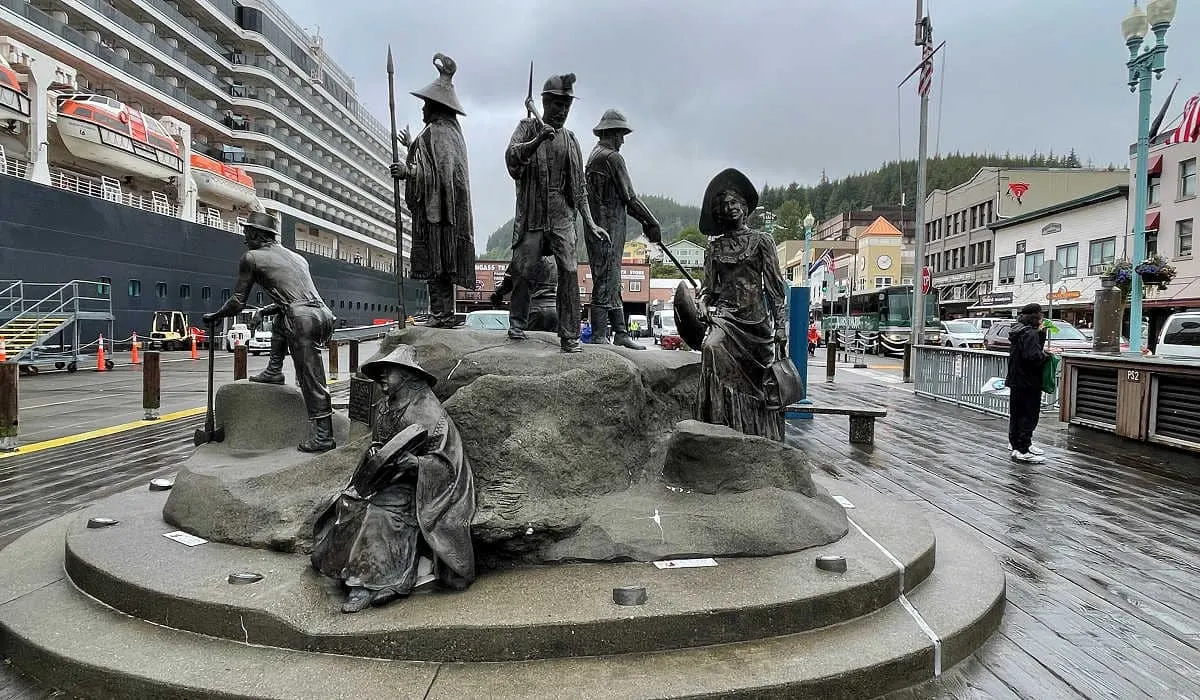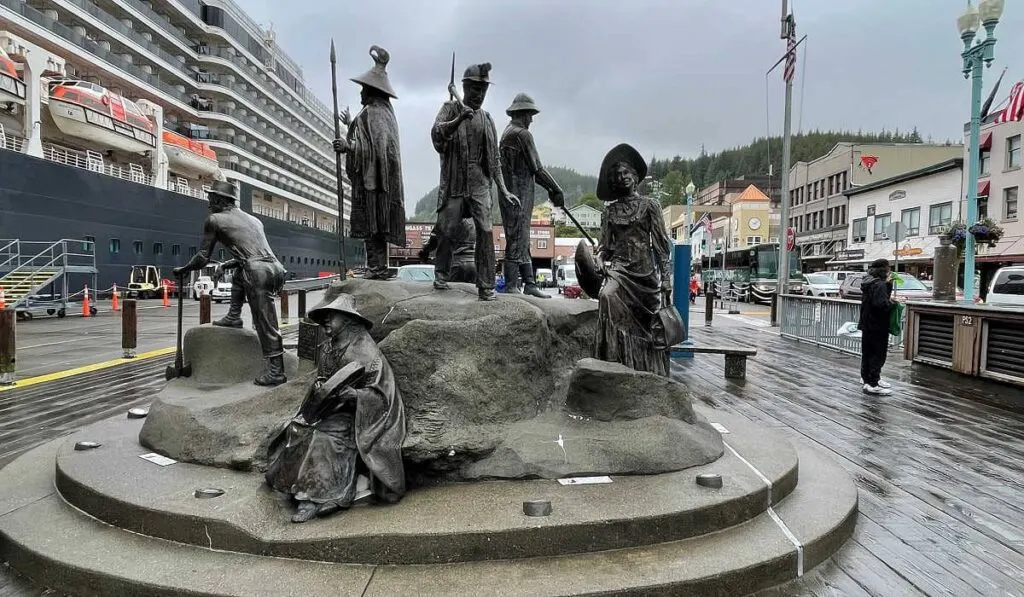 In fact, cruise passengers are welcomed in Ketchikan by a gigantic liquid sunshine gauge which I thought was hilarious.
Not Packing Enough Rain Gear
One of the biggest Alaska cruise mistakes that most passengers make is not having an appropriate packing list.
Knowing what to take on an Alaska cruise can make the difference between having a nice cruise and enjoying a tremendous vacation.
While the Caribbean and Mediterranean require bathing suits, sun hats, and sunscreen, an Alaska cruise requires a different set of essentials.
Alaska packing can be challenging since clothing can differ from what to wear in port to what's best on glacier viewing days.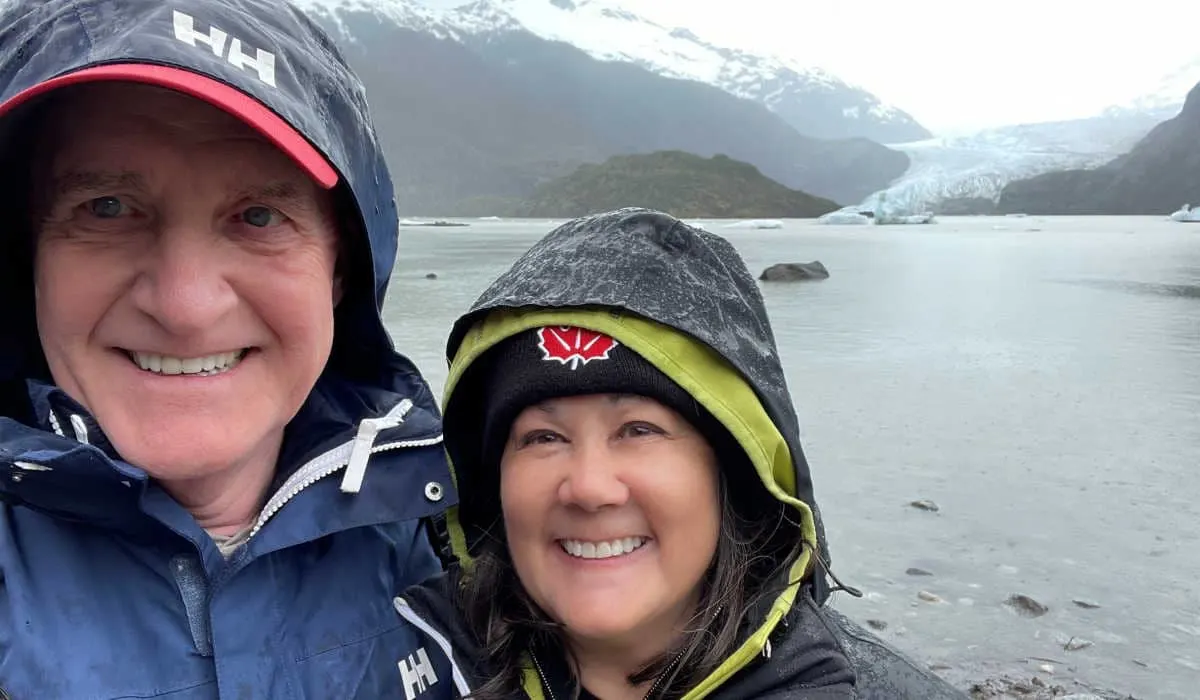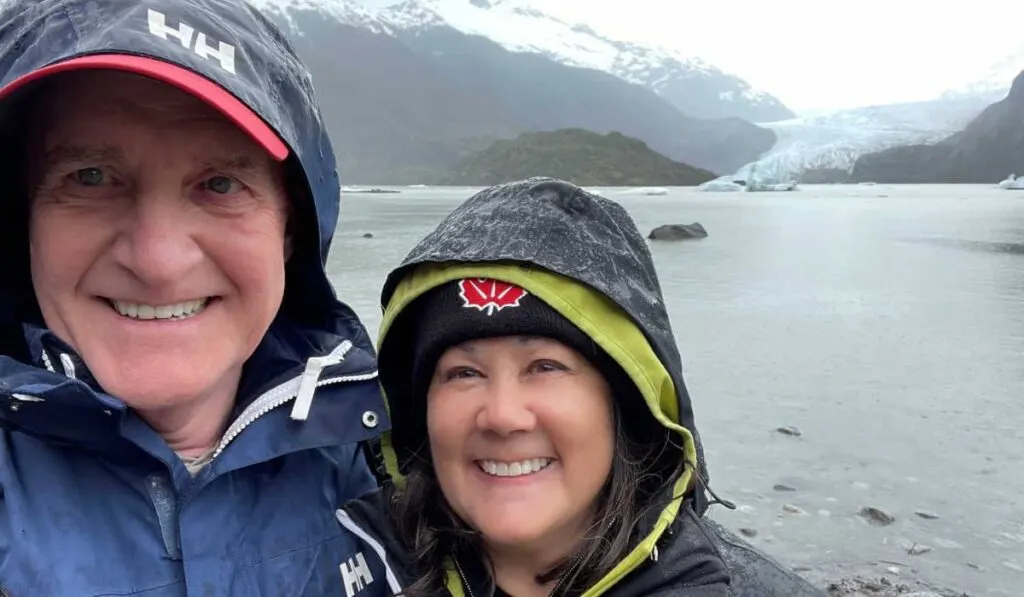 When choosing Alaska clothing and Alaska cruise essentials, make sure you bring a waterproof jacket (not water-resistant).
I prefer interchangeable jackets that allow me to wear the layers separately on port days or together at the glaciers. Also, Alaska cruise wear is not complete without a compact umbrella.
You may need more than one pair of walking shoes should it rain on port days. Alternatively, use a pair of Vessi waterproof runners and you'll only need one pair.
If you dislike the rain and looking for the best time to cruise Alaska, sail in May. An Alaska cruise in May is by far the driest time to sail to the Last Frontier.
Also, during the shoulder season, I have scored cheap cruises from Vancouver's cruise port. Should you prefer to sail an Alaska cruise from Seattle, Alaska cruises discounts are again offered in May and September.
Since it rains a great deal in Alaska, it's advisable to have a camera rain sleeve. Electronics don't like to get wet and if you've invested a considerable amount of money in an expensive DSLR camera, remember to protect it from the elements.
Not Having Enough Warm Clothes
I sailed my first Alaska 7-day cruise in the third week of July while Vancouver was experiencing a heatwave.
I expected it to be slightly cooler a little further north. However, it rained every day of my 7-day Celebrity Alaska cruise, and the nights were bitterly cold.
I was not prepared for the chilly nights and did not pack enough layers to keep me warm. Not having enough warm layers was one of my biggest mistakes. I didn't make that mistake the next time.
If you're cruising in the shoulder season, pack a base layer, sweats, and fleece. The dress code is more relaxed in Alaska so think warmth over style.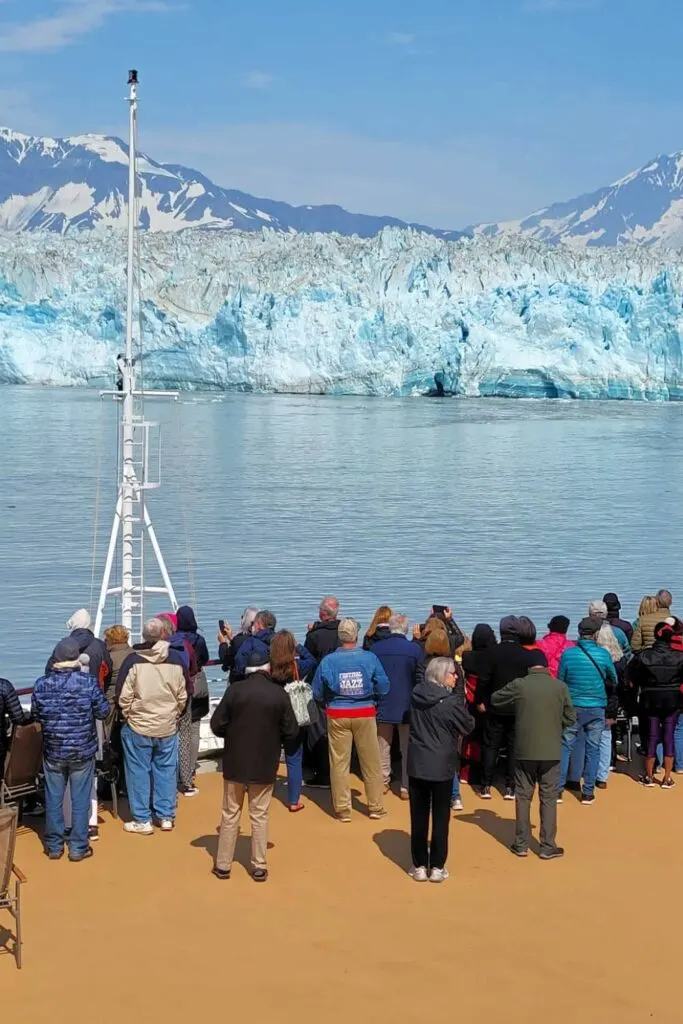 While the nights were cold, the air-conditioning on the cruise ship made it that much colder. Be sure to include plenty of layers and enough long pants to keep you cozy on those cold nights.
Be prepared for any weather, from a heatwave to bitterly cold weather. On an inside passage cruise, you CAN overpack because you might need every item.
I have gone from shorts and a tank top one day to a winter jacket, scarf, and gloves the next day.
Not Having Enough Layers
It's also important to remember that your Alaska itinerary will probably include a visit to some Alaska glaciers.
While it may be warmer in the Alaskan cruise ports, it can be bitterly cold at the glaciers. The wind that came off the glaciers chilled me to the bone.
While I traveled all the way to Alaska to see these glaciers, I didn't want to be viewing these inside the ship.
So I enjoyed the glacial views from the ship's outer decks, and I was thankful to have a thalassotherapy pool onboard to warm my core.
The best place for viewing is up on deck, and here, if you're lucky enough, you will hear the thundering noise of glacier calving.
"Calving" is when a piece of ice cracks and falls off the glacier. It's a spectacular occurrence to experience.
For glacier viewing, pack gloves, a scarf, a warm hat, and a 3-in-1 jacket. Should the weather favor the warmer side, you can wear one layer of the jacket.
If you're a cold person like me, bring hand warmers too. I found the hand warmers to be a life-saver while spending hours on deck.
It's also good to note that formal nights can be chilly. Those strapless cocktail dresses might give you the chills. So, bring a shawl or shoulder overlay to keep you a little warmer during dinner.
Better yet, choose long-sleeved formal dresses for formal nights. You can always change into something cozier after dinner.
Not Having Binoculars
It's no secret that an Alaska itinerary offers an abundance of wildlife, and isn't that why travelers come to Alaska?
Having cruised to Alaska four times, my wildlife sighting included humpback whales, otters, bald eagles, seals, bears, and salmon.
In fact, whales are so plentiful that they are easily spotted on every Alaska sailing. However, whales tend to feed close to the shorelines, so you will need a pair of binoculars for optimum viewing.
Small, compact binoculars are excellent for Alaska. If you want to shoot pictures of the Alaskan wildlife, consider these binoculars for an Alaska cruise because they have a cell phone camera mount.
That way, you get to share your experience with your family and friends when you return home.
During the summer months, bears often walk the shores of Glacier Bay, foraging for food. But again, you will need binoculars to spot them.
During my cruise, wildlife experts were on board to give tips on spotting them. Don't miss out on the excitement by not having a pair of binoculars.
Not Having A Zoom Lens
Photographs are the best souvenirs of my vacation, and they really cost me nothing but my time. During my many Alaska cruises, ships spend hours cruising a glacier or many glaciers, as is the case in Glacier Bay National Park.
In the bay, I wait anxiously to experience glacial calving. If you have a DSLR camera, set it to multiple images, not a single shot. A zoom lens is vital to get a close-up of calving in action.
A zoom lens is handy for wildlife photography too. You won't be able to capture a picture of the roaming black bear using a cellular phone.
While most people use a cell phone for photos these days, it's preferable to have a better camera with a zoom lens in Alaska.
Not Booking A Balcony Stateroom
Alaska cruises are very scenic, with cruise ships traveling close to shorelines. It's a destination where the best views are from the ship itself. Picking a stateroom may come down to cost. While a balcony cabin comes at a higher price, believe me, it's worth the additional expense.
During glacier viewing days, the upper decks of the vessel become quite crowded. Avoid the large groups by enjoying the views from your cabin instead.
The balcony provides shelter during bad weather and is only steps away from your stateroom should you get cold.
Don't worry about which side of the ship to book. The captain will rotate the vessel on glacier days so passengers can have equal viewing time.
If a balcony is out of your budget, an ocean view stateroom saves money and you can enjoy the scenery through your window. Alternatively, choose one of the older ships because the prices tend to be lower.
Thinking You Can See It All
Alaska is massive, and one cruise to the frozen north will only give you a tidbit of what Alaska offers. If you're privileged to experience its allure once, you'll understand why it begs another visit.
While I'm fortunate to have traveled there multiple times, I'm constantly drawn back like a "calling of the wild." Each time I visit, I try to explore another hidden gem or venture in a different direction.
I want to be swallowed by its immense beauty and absorb the magnificent vistas like a sponge soaks up water. These are images I want to ingrain in my mind forever.
Not Being Able to Sleep
During the summer, Alaska experiences very long hours of daylight. In fact, in some places, the sun never sets.
If you are sensitive to light (like me), you may have difficulty sleeping at night. This might be the itinerary where you'd want to book an inside cabin with no natural daylight.
Selecting the right cabin for Alaska may make a big difference between a good night's sleep or not sleeping at all. Alternatively, bring an eye or sleeping mask to shut out the pesky light at night.
Not Prepared For Motion Sickness
Alaska cruises primarily sail the inside passage. However, there is a small section between Vancouver Island across Queen Charlotte Sound that can be choppy.
If you are cruising a one-way itinerary, there is also an area after Glacier Bay to Whittier that can experience rough seas. On rough sea days, you'll find the main dining room quite empty.
Alaska cruises from San Francisco can also experience big swell, contributing to seasickness. The calmest sailings are on an Alaska cruise from Vancouver.
It's best to prepare with Gravol, ginger pills, Sea-bands, or motion sickness patches to prevent ruining your vacation. The patches are inexpensive, effective and you don't need a prescription.
Many cruise passengers swear by the patches which stick behind your ear or below the navel. Bring the motion sickness remedy that works for you.
Not Prepared For Mosquitoes
Due to the abundance of rain, the weather makes Alaska a breeding ground for mosquitoes. Don't get eaten alive as I did in Skagway during a hiking excursion. Be prepared by packing mosquito repellent.
It's important to note the worst time for mosquitoes is June through July. To avoid mosquitoes altogether, wait until August to travel. By then, the frost will have helped to keep the mosquitoes at bay.
If you plan to be in mosquito country during the infestation, wear long sleeves and long pants that are preferably light in color. If you plan to hike on an Alaska cruise, carry mosquito repellent.
Avoid perfume, scented shampoos, and sweet-smelling lotions that taste like honey to mosquitoes.
Thinking All Alaska Itineraries Are The Same
When planning a trip to Alaska, the most commonly asked question is: "how much is an Alaskan cruise?" Alaska cruise pricing varies by month, departure port, ports of call, and which glaciers the ship visits.
One of the biggest Alaska cruise mistakes to avoid is thinking all itineraries are the same. The best Alaska cruise itinerary includes Glacier Bay National Park or Hubbard Glacier.
As a result, Glacier Bay cruises commands higher prices. A more affordable cruise usually sails in the shoulder season on an older ship and a less desirable itinerary.
It's advisable to examine all itineraries before booking. A few of the new mega-ships that have started sailing Alaska don't visit a glacier, probably because the ship is too large or the selected itineraries are booked by other vessels.
Instead, they only stop at Alaska port towns. For me, when cruising north, I WANT to see a glacier or two!
When researching an itinerary, look at how much time a ship spends in a cruise port. The longer the better!
Thinking An Alaska Cruise Is Just For Seniors
While it's true that Alaska attracts an older crowd, don't discard it if you don't fit the age category. Mega-ships like the Norwegian Bliss and Norwegian Encore offer sailings from Seattle.
These family-friendly ships provide first-class entertainment, race car tracks, laser tag, and much more. In fact, an Alaska cruise is perfect for families, singles, and seniors alike.
If you're a senior and prefer a line with fewer children, it's a good idea to sail with Holland America.
Thinking You'll Have Fast Wi-Fi
If you're from the United States, you can use your smartphone in port. However, you'll need to purchase an internet access onboard.
Wi-Fi can be spotty in Alaska, even on vessels with the faster Starlink.
Since Wi-Fi is pricey across all cruise lines, you might be better to upgrade your international plans if you're from another country. We pay CAD 25 to use our phone in the United States which is significantly cheaper than purchasing the ship's internet.
However, we can only use the service in port or if we cruise close enough to land.
Not Spending Time In Your Embarkation Port
Most cruise guests arrive in their embarkation port the day before or day of their cruise. If you're starting an Alaska cruise in Vancouver or Seattle, you'll want to add a few days.
These cities are beautiful and have many great attractions. Seattle Center has the Pike Place Market, Space Needle, and Chihuly Gardens and Glass.
Traveling to Vancouver gives you a boost in currency exchange if you're coming from the United States. Vancouver highlights include Stanley Park, Granville Island, Gastown, the Capilano Suspension Bridge, and Grouse Mountain.
If you want to see bears on your trip, Grouse Mountain has two grizzly bears named Grinder and Coola.
Not Budgeting For Shore Excursions
Even if you've found a great cruise deal, be prepared to spend what you've saved or MORE, on shore excursions. Dog sledding, whale watching, zip lining, and helicopter glacier tours, all come with sticker shock.
On my recent Quantum of the Seas cruise, Royal Caribbean was charging USD 999 per person for dog sledding. At USD 999, the tour was sold out. With a family of four, that will set you back $4k. But that's one tour, what about the other ports?
You can easily spend more on tours than you did for your actual cruise.
Alaska Cruise Mistakes To Avoid Conclusion
If you have never been to Alaska, close your eyes and imagine house-sized icebergs floating by your cruise ship balcony or listening to the echoing sounds of humpback whales break the silence.
Or, imagine its endless untouched wilderness with jaw-dropping glaciers surrounded by snow-capped mountains that will leave you speechless. Yes, Alaska cruising offers all of this and so much more.
Whether you're new to cruising or a seasoned traveler, an Alaska cruise is unlike that of a Caribbean cruise.
Do your research online by reading blogs, reviewing cruise lines, comparing itineraries, and reading about things to do in Alaska.
Follow these tips on mistakes to avoid in Alaska, and you'll have a spectacular vacation to the Last Frontier.
If you're traveling as a group or with a loved one, order some fun t-shirts for everyone to wear on the cruise. It adds a bit of fun to the vacation.
Happy travels ~ Karen