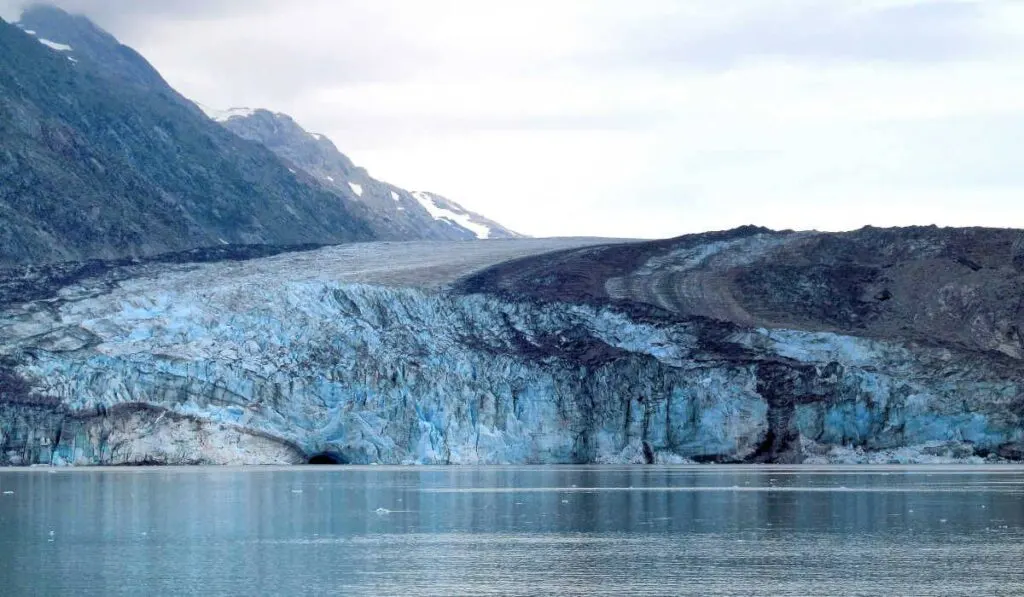 Covering more than 3 million acres of rugged mountains, pristine rainforest, and numerous glaciers, an Alaska cruise to Glacier Bay National Park provides an unforgettable experience.
Glacier Bay National Park and Preserve occupies the northernmost section of southeast Alaska, between the Gulf of Alaska and Canada. It's located 50 miles northwest of Alaska's capital, Juneau.
Just 250 years ago, Glacier Bay was no bay, just all glacial ice. However, due to climate change, the glacier has retreated 65 miles causing a large waterway in which ships and smaller vessels can sail.
Glacier Bay National Park became a UNESCO World Heritage Site in 1992. Access to Glacier Bay National Park is by plane and boat, and vessels require a permit to enter the park.
While Alaska itself has approximately 100,000 glaciers, in my opinion, the best glaciers in Alaska are viewable only by an inside passage cruise.
So, if you're planning a trip to Alaska, Glacier Bay offers one of the best Alaska itineraries. There's no denying its immense beauty. But how do you choose a cruise line and vessel? That decision comes down to individuals and their priorities.
If you want to see Glacier Bay, here's a cruise tip to know – not all lines cruise there. Only certain cruise lines offer a Glacier Bay cruise, such as Holland America, Norwegian Cruise Line, Princess Cruises, Cunard, and smaller lines.
Choose the cruise line that best suits you, and be prepared for the ultimate scenic cruising.
During the Alaska cruise season, only two larger ships a day can enter the park and must be accompanied by a park ranger. He/she will board the cruise ship from Bartlett Cove, the park's headquarters, and disembark when it leaves.
On Glacier Bay cruises, you'll have a chance to see bald eagles, harbor seals, sea lions, sea otters, and black bears foraging for food.
I've been to Alaska six times and sailed to both Glacier Bay and Hubbard Glacier. Simply put, an Alaskan cruise should be on everyone's bucket list, and no matter how many times I visit, it draws me back.
Glacier Bay Itineraries
When choosing an Alaska cruise itinerary, many travelers pick Glacier Bay as the destination of choice. Then comes the next step of finding a ship, choosing a departure port, and picking between roundtrip or one-way cruises.
For 2023, Holland America Eurodam, Royal Princess, Norwegian Sun, Norwegian Bliss, and Norwegian Encore offer 7-day roundtrip itineraries from Seattle.
If you prefer to embark in Vancouver, you have a larger choice of vessels. Norwegian, Holland America, Princess, Seabourn, and Cunard. Cruises from Vancouver sail the inside passage and provide a smoother route if you suffer from motion sickness.
One-way cruises with some of these lines include Glacier Bay and College Fjord or Hubbard Glacier in Disenchantment Bay. A one-way itinerary allows you to add on a land tour to Denali National Park.
If seeing glaciers is your priority, pick a one-way itinerary. You'll enjoy two scenic cruising days plus an option to view Mendenhall Glacier in Juneau.
If you visit Hubbard Glacier, you'll savor the experience of seeing the largest tidewater glacier in North America. Rapidly advancing, it provides guests with spectacular calving action.
Should you pick a sailing at the beginning or end of the season, some cruise itineraries combine Glacier Bay with Tracy Arm Fjord.
An outlier, Cunard Alaska cruises on Queen Elizabeth, offers a 12-day cruise on June 8, 2023, which cruises to Hubbard Glacier, Glacier Bay, AND Tracy Arm Fjord.
If you prefer a small ship cruise, Uncruise offers an expedition-type adventure to Glacier Bay. Their ships carry fewer than 100 guests. Expect to pay 4 to 6 times as much to sail with Uncruise.
Their vessels often spend two days in the national park. Each ship carries kayaks, paddleboards, snorkeling equipment, and inflatable Zodiacs. On a smaller ship, you'll enjoy better wildlife viewing and can get closer to the magnificent glaciers.
What To Expect Cruising Glacier Bay
A cruise ship can spend up to nine hours cruising the waters of Glacier Bay, but the glaciers viewed are at the end of the bay. At the start of the bay, you can enjoy the open waters surrounded by the Tongass National Forest.
Mornings provide the best time to cruise the bay. In the afternoon, the sun's position behind Margerie Glacier makes photography difficult.
In May, expect average daytime highs in the low 50s. By August, the bay has warmed up, and you could enjoy highs in the low 60s.
September brings lots of cloud cover and the chance of rain. During shoulder season, the snow-capped mountains provide a picturesque backdrop to the landscape.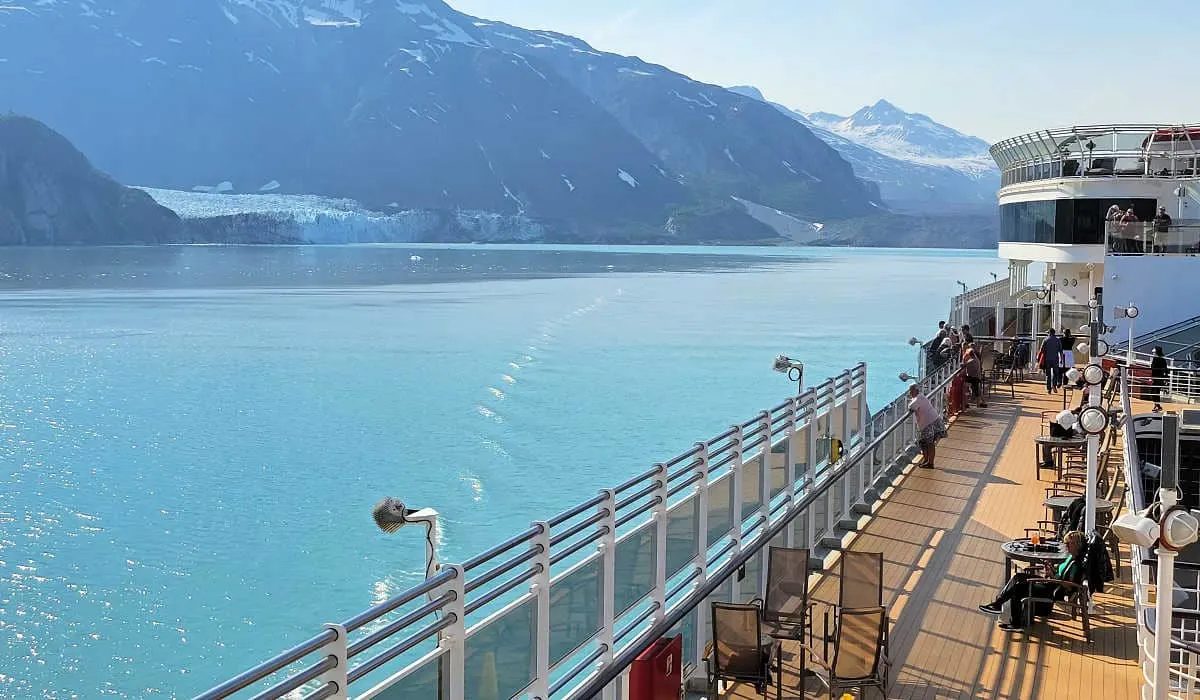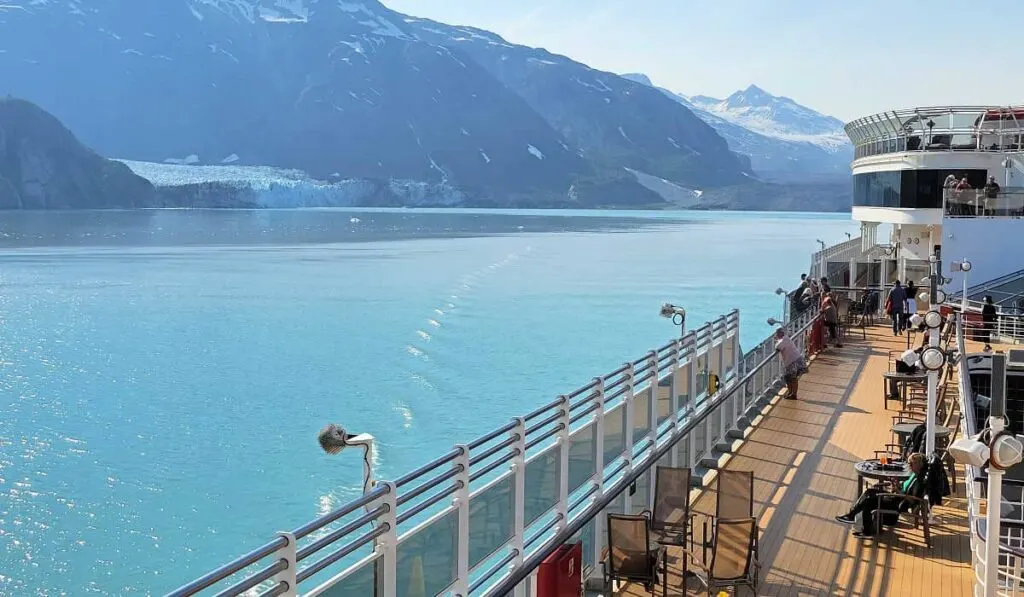 While the forecast can signal warm temperatures, it can feel much colder next to a glacier. So, your Alaska cruise wardrobe should include a 3-in-1 jacket to keep you warm. If you're from a warm destination, pack gloves, hand warmers, and a beenie.
If you have a balcony cabin, snuggle up with your loved one under a blanket and buy a large cup of hot cocoa. Your balcony provides a great way to watch the glaciers without battling the crowds up on deck.
The captain will swing the ship around so that there is equal viewing from both sides of the ship.
Don't fret if you haven't booked a balcony. It's fun to mingle with your fellow cruise mates on the deck while all ceremoniously chanting "oohs and aahs" as the glaciers drop house-sized icebergs into the ocean.
The Glacier Bay National Park rangers are a wealth of information about the park and the Alaskan wildlife. They will answer all your questions about the area. They often give presentations and will have useful handouts full of interesting facts.
While park rangers may speak over the vessel's speaker, you can only hear them inside the ship. Speakers, noise, and music cannot be played on the open decks to prevent disturbance of the area.
Keep a pair of binoculars handy because there's abundant wildlife in the park. Black and brown bears are often spotted walking the shoreline and mountain goats on the ridges.
Harbor seals can be seen sunning themselves on large pieces of ice, and humpback whales feed in Glacier Bay during the summer months.
The Glaciers In Glacier Bay National Park
There are over 1,000 glaciers in Glacier Bay National Park. Of those, seven of which are tidewater glaciers that calve icebergs into the sea. The glaciers cover over 25% of the land in Glacier Bay National Park.
In general, most glaciers have thinned and receded over the past few decades. However, Margerie Glacier, as well as Johns Hopkins Glacier, are advancing.
Weather and the amount of ice in the water can prevent vessels from getting close to a glacier. Dense fog could even change a cruise ship's itinerary. Of the glaciers in the park, there are four standouts.
Margerie Glacier
Margerie Glacier is the most photogenic glacier in Glacier Bay National Park, and it's easy to see why. It's also one of the most active for carving. It lies to the left of the Grand Pacific at the end of the bay.
It's an impressive one-mile wide and towers 250 feet above the ocean and 100 feet under it. Cruise ships can spend up to an hour by Margerie Glacier. It's an opportunity to listen to the cracking and thundering as ice breaks and falls into the ocean.
Margerie Glacier is a much cleaner glacier with less debris compared to the Grand Pacific Glacier located adjacent to it. In fact, its layers of ice are mesmerizing in their beautiful shades of turquoise blues mixed with small stripes of silted matter.
Grand Pacific Glacier
At first glance, the Grand Pacific Glacier goes unnoticeable as moraine dirt covers the icefield. The Grand Pacific Glacier is unique in that the glacier lies in two countries, the United States and Canada. Reid Inlet in Glacier Bay, Alaska, holds one section, while another section is in the Grand Pacific Pass in British Columbia.
Seeing the Grand Pacific for the first time, you'll notice the "dirty" landscape, and doesn't look like a glacier at all. This glacier has been gathering lots of dirt and debris as it moves down the valley toward the ocean.
It's a mighty glacier at 2 miles wide and 35 miles long but lacking the beautiful hues of its neighbor, Margerie. In 1992, both glaciers joined together due to the advancement of ice flow. Today, however, the Grand Pacific has retreated and continues to thin and recede.
Johns Hopkins Glacier
Johns Hopkins Glacier is one the most active in Glacier Bay and is advancing at a flow rate of 10 to 15 feet a day.
The Johns Hopkins Inlet is a vital harbor seal breeding ground. As a result, the inlet is off-limits to cruise ships and larger passenger vessels. So, cruise passengers will only be able to view from a distance.
This glacier is impressive at one mile wide and 250 feet high. The mountains around the inlet shield the waters, which are often filled with plenty of icebergs. The large amounts of ice make a natural habitat for harbor seals to give birth.
Lamplugh Glacier
At the face, Lamplugh Glacier is 160 feet high and 8 miles long. Lawrence Martin of the U.S. Geological Survey named the glacier around 1912. The name came from English geologist George William Lamplugh (1859–1926), who visited Glacier Bay in 1884.
I have visited Lamplugh Glacier four times and noticed a sizeable cavern at the glacier's foot where it met the ocean. Unfortunately, photos don't do this glacier justice. While the cavern looks small in size, it is actually enormous.
Caverns come and go as glaciers move and calve, sometimes creating new caves, which are often short-lived.
The Importance Of Glaciers
The massive glaciers of Glacier Bay play an important part in the area's ecosystem. Harbor seals are in abundance in Glacier Bay and give birth to their pups on icebergs. Johns Hopkins Inlet is off-limits to large cruise ships due to it being the epicenter of seal activity.
Since 1992, the harbor seal population has sadly declined by 75%, and scientists are baffled to know why. With one mammal rapidly decreasing in numbers, it ultimately affects the whole feeding chain.
Alaska contains more than half of the world's glaciers. Glaciers are vital to the world's ecosystem because they provide fresh water to many densely populated areas in the world. However, with climate change, the glaciers are thinning and receding, causing ocean levels to rise and a decline in freshwater.
On a day in Glacier Bay, not only will you hear and see the glacial ice exploding into the inlet, but you may also see bears on the shorelines, harbor seals in the water, and humpback whales calling.
This is a unique and powerful place that needs to be experienced. It is a place that offers human solitude and remote wilderness that is rapidly disappearing in today's world.
Making The Most Of Your Day
If Glacier Bay National Park is on your itinerary, it will be the highlight of your Alaska vacation. Since your cruise ship will be spending a full day there, try to make the most of it. Some cruise ships offer a special brunch during the sailing.
This is a time to indulge in some delicious food while admiring the glaciers through the floor-to-ceiling windows. In addition, some ships sell hot chocolate in souvenir mugs.
Cunard offers a unique food experience which I enjoyed at Glacier Bay National Park. Their British traditional afternoon tea is served in the Queen's Room every afternoon. You'll enjoy a 3-course snack of freshly baked scones, finger sandwiches, and delicious pastries.
Princess Cruises sells a Glacier Bay sanctuary package for glacier viewing. Personally, I'm not sure the sanctuary is the best place for viewing since many of the views are blocked.
Be respectful of your surroundings and know it's a privilege to be able to see Glacier Bay National Park.
Happy travels ~ Karen