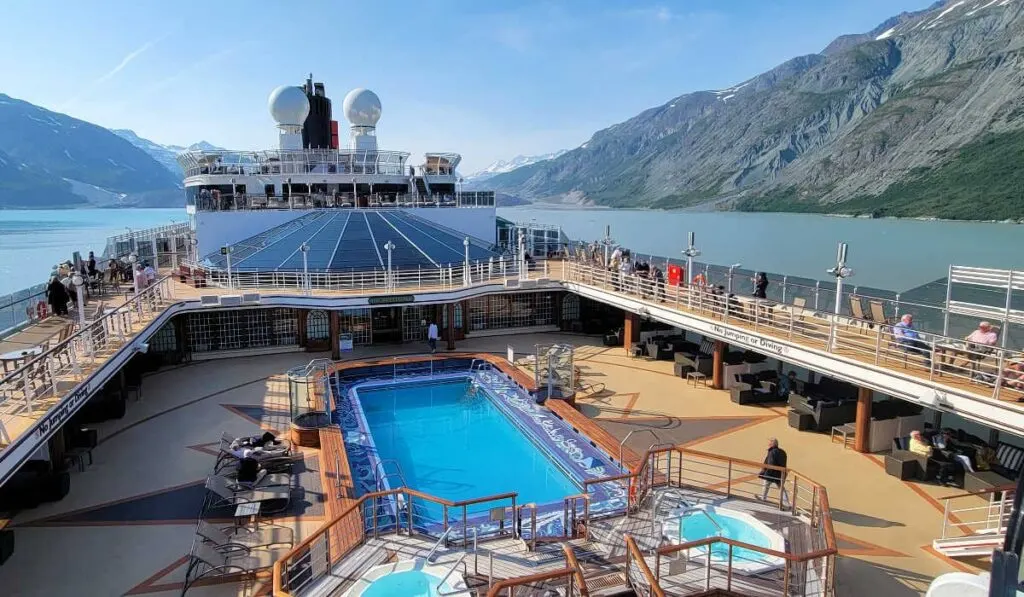 Planning your first and bucket list Alaska cruise vacation can be challenging. With various itineraries, cruise lines, ports of call, and glacier choices, how do you decide? If this sounds like your dilemma and you're overwhelmed, this Alaska cruise guide will help you.
In this informational guide, you'll learn about the Alaska ports, embarkation options, weather, and cruising tips. At the end of this article, you'll be better prepared to prioritize your choice of glaciers, ports, and excursions.
So, whether you're planning a cruise to Alaska to see the northern lights, savor the tidewater glaciers, or look for wildlife, an Alaska cruise will leave you speechless.
Cruising Vs. A Road Trip?
Alaska is a big state, twice as big as Texas. It also has more coastline than all the others combined. Nearly one-third of Alaska lies inside the Arctic Circle, and the sun never sets in some places during the summer.
Thanks to the introduction of the cruise ship, passengers have the best way to see Alaska. If you travel by road, you can't access certain places like Juneau, Sitka, and Icy Strait Point.
🛳️ Haven't booked your cruise yet?
Find your perfect cruise here. Whether you're looking for a short sampler cruise, a 7-day inside passage itinerary, or a cruise and land tour, there is one for every budget.
Find your cruise here
Cruise ships provide passage to Tracy Arm, Glacier Bay National Park, and Hubbard Glacier. However, if you take an Alaska cruise from or to Vancouver, you can add on a cruise tour, giving you the best of both worlds.
So, whether you choose a northbound Alaska glacier cruise or a southbound Alaska cruise, it's a vacation you won't soon forget. Alaska has become the number one cruise destination in the cruising industry. After my first visit, I understood why.
Alaska Cruise Season
The Alaska cruise season is relatively short, from May until September, although some cruise lines start as early as April, and the last ship leaves as late as October.
When choosing a month to take an Alaska cruise, June, July, and August are the most popular. During these months, you'll enjoy warmer temperatures, and the chances of viewing wildlife increase. However, you'll pay top dollar for itineraries in peak season.
During spring, wildflowers are plentiful along the Inside Passage, and you're more likely to see larger animals migrating.
June is an optimum time to see glaciers' calving. It is also the best month to see marine mammals such as whales, seals, and dolphins. July and August bring the salmon runs. With salmon come the bears who enjoy an easy meal in rushing rivers.
September Alaska itineraries are best if you want to increase your chance of seeing the aurora borealis. Since the northern lights are unpredictable, you could see them any month, although the chances are minimal.
How To Choose The Right Alaska Itinerary?
Deciding to cruise Alaska starts with planning and pricing. Everyone has a different priority, so yours could be budget, while someone else may only want a small ship experience to lesser-known ports.
If it's your first time sailing, pick the best cruise itinerary that suits your needs instead of choosing a cruise line. Then find a cruise line that sails there.
The first decision to make is which itinerary to sail. Overall, there are four options for cruising:
A roundtrip 7-day Alaska cruise from either Seattle or Vancouver where the cruise ship sails halfway and back to the same port. These often sail the inside passage.
A 7-day one-way cruise to Alaska from Vancouver to Whittier or Seward, or vice versa, sail to the Gulf of Alaska. Since one-way cruises travel further, you could see College Fjord and other small towns.
A 9+ day cruise and land itinerary, which includes the second option, a 7-day cruise combined with a 2+ day land excursion to Denali National Park.
A longer return cruise from San Francisco.
Many Americans prefer a roundtrip cruise from the United States because they prefer a domestic flight. Also, as a closed-loop cruise, they won't need a passport. However, you won't have the option to do a land tour.
If you suffer from motion sickness, you'll want to select an inside passage cruise as they generally offer calmer seas.
Itineraries to and from Vancouver cruise between the mainland and Vancouver Island, providing a more picturesque, and you'll enjoy smoother sailing.
If you reside in California, choose a roundtrip sailing from there. These are ten days or more due to the extra distance to reach Alaska. It should be noted that the waters along the coast are notoriously rough. So, be prepared for a rocky sailing.
Alaska Cruise And Land Tour
While cruises explore the coastal towns, by adding on a cruisetour, you can spend some time inland too. Cruise lines' tours start at nine days or more. The longer itineraries spend more time in Denali National Park.
You can end or start your cruise and land tour in Anchorage or Fairbanks. Anchorage provides more options for flights to get home.
These cruisetours include accommodation in more than one place and transportation between the areas. Stops could consist of any of the following: Talkeentna, Alyeska, Copper River, Kenai Peninsula, Anchorage, Fairbanks, Whitehorse, and Dawson City.
It's important to note the land portion does not include meals, although you may enjoy a complimentary breakfast. Most tours are not included, so you must factor those into the cost.
Alaska Cruise Pricing
Unlike the Caribbean, where cruises are inexpensive and plentiful, Alaska cruise pricing may give you sticker shock. While shopping for your holiday, don't book by price alone.
Paying more for the itinerary you want is worth every extra dollar you spend. Alaska cruise deals result from less favorable Alaska weather, a less desirable route, or short port times.
If you only plan to sail once, choose the itinerary that best suits you.
Alaskan cruise cost varies by month, which company you sail with, and itinerary. Cruise lines like Regent, Silversea, Viking, and Disney are the most expensive.
As Alaska has become more popular, you will not likely find many cheap cruises from Vancouver or Seattle.
While there are more Vancouver cruises than from Seattle, you'll only score a discount if you can cruise a drop-and-go, sail the shoulder season, or on an older ship.
Alaska pro tip: Even if you score a great price on the cruise, be prepared to pay more for your shore excursions than your cruise fare.
Alaska Cruise Weather
Alaska cruise ships sail from May to September. You can't go wrong sailing in any of these months, given that you will experience the maximum amount of daylight to enjoy scenic views.
On June 21st, the longest day of the year, Fairbanks is blessed with 22 hours of daylight. However, Anchorage and Juneau are just slightly behind with 19 and 18 hours, respectively.
The weather in Alaska ranges from 55-65F (13-18C), with May and September being about 10 degrees cooler.
It's important to note; that it rains a lot in Alaska, although May being the drier month, has only a 25% chance of rain. The rain comes more frequently as the summer progresses, so by August, the probability of precipitation increases to over 50% on any given day.
With unpredictable weather, knowing what to pack for an Alaska cruise is often difficult. So, I prepare for every kind of weather, from rain and freezing temperatures to hot and heatwave conditions.
Having cruised to Alaska multiple times, I suggest packing for three seasons and taking plenty of layers. During my first trip in the third week of July, it rained every day, even though Vancouver experienced a heatwave a little further south.
I always wear Vessi shoes because they are 100% waterproof, vegan, lightweight and washable. I love Vessi runners, that I wrote a full Vessi shoe review.
I lucked out the other cruises with glorious sunshine and warm weather. So, pack everything from a bathing suit and shorts to a Columbia 3-in-1 jacket, hat, gloves, and scarf for glacier viewing.
Remember your compact umbrella and sunglasses too. And believe me; you'll use it all!
Which Cruise Line Is Right For You?
Choosing the right cruise line for you comes down to personal preferences. Are you cruising with children and need a vessel with many kid activities? If so, Disney caters the best to families with small children but comes at a premium price.
Royal Caribbean and Norwegian's larger vessels have race cars, laser tag, bumper cars, sky diving wind tunnels, and much more for teenagers and young adults.
Or are you in your 60s and want a more intimate cruise with fewer children? Your best choices are Cunard, Seabourn, Viking, and Holland America Line.
Should you prefer a cruise and land tour, you can't go wrong with Princess Cruises or Holland America, who have been cruising to Alaska the longest.
If you prefer a small ship experience, consider an itinerary with Uncruise.
Alaska Cruise Port Guide
An Alaska itinerary can include stops in Juneau, Skagway, Ketchikan, and sometimes Sitka, Haines, and Icy Strait Point. Longer cruises or ten days or more or itineraries repositioning to Japan may also port at Kodiak Island or other uncommon towns.
Each town offers something unique, so it's important to evaluate each one and decide the best ports for your itinerary.
Sitka
Sitka is a tiny town located on Baranof Island in southeast Alaska. It is one of the oldest Alaskan cities, first occupied by the Tlingit Indians 8,000 years ago.
Its fairly new cruise port can accommodate two ships daily, and cruise passengers require a shuttle bus to reach downtown. With two vessels docked, the wait for a shuttle could be lengthy.
Sitka has a rich history, with 22 buildings on the National Historic Register. When the United States purchased Alaska in 1867, the signing occurred at Castle Hill in Sitka.
You can immerse yourself in Sitka's rich historical past by visiting St. Michael's Cathedral, the Russian Bishop's House, Sheldon Jackson Museum, and the Sitka Historical Museum.
History aside, Sitka overflows with natural beauty. On a clear day, you can admire the impressive views of the snow-capped Mount Edgecumbe on the shoreline of Sitka Sound. It resembles Mount Fuji.
Sitka is home to a large sea otter population. Once hunted for their dense fur, they were put on the endangered list. Now protected, you can see these marine mammals on a shore excursion.
Most cruise passengers visit the totem poles in Sitka National Historical Park. The park maintains and interprets a Tlingit Indian Fort site and an 1804 battle between the Russians and the Tlingits.
For nature lovers, the Alaska Raptor Center and Fortress of the Bear provide rehabilitation to injured and orphaned wildlife.
Juneau
Juneau, the capital of Alaska, is unique in that glacial mountains landlock it. It is the only city you will visit by a cruise ship that feels like a "city." Juneau can accommodate more vessels than any other port, all within the downtown area.
However, Juneau recently limited the number of ships effective 2024, so you could have fewer hours in port.
This capital city is a visual delight with its breathtaking mountains, stunning waterfalls, and picturesque glaciers. For those who love wildlife, Juneau offers a wide range of tours.
It is common to spot mountain goats perched on the rugged cliffs above the city, while the surrounding waters are home to seals, humpback whales, orcas, sea lions, and porpoises.
The area is also abundant in salmon, bears, deer, and eagles, making it a haven for nature enthusiasts.
When it comes to excursions, one popular choice is a whale-watching tour that guarantees sightings of these magnificent creatures.
For those seeking adventure and with a flexible budget, Juneau helicopter tours provide a thrilling experience. Another memorable excursion involves dog sledding on the Juneau icefield, though it is the most expensive option.
If the glacial viewings from your cruise ship aren't enough, take a short bus ride to Mendenhall Glacier. At the park, you can see giant icebergs floating on the lake.
You can often see black bears in Steep Creek if the salmon are running. If you feel energetic, take the easy, flat trail to Nugget Falls. At the end of the walk, you'll feel the power of the thunderous waterfall.
Ketchikan
Alaska's first city boasts the title of the southeasternmost city in Alaska. With a population of just over 8,000, Ketchikan has a small-town, homey feel.
Like most other towns and cities along the coast, its economy is based around the fishing industry. If you want to take a fishing tour, Ketchikan's the place to do it.
If fishing is your thing (not mine), try salmon fishing on the Stedman Bridge near Creek Street. The salmon are usually plentiful here; you can see them in the creek as you walk along the riverbank walkway.
No visit to Alaska is complete without a visit to Creek Street, a former red-light district. You can relive the town's historical past at the world-famous Dolly's House Museum during your visit.
Here, the locals dressed in period costumes invited me to watch an inexpensive and entertaining video on their red-light district's history. Although a bit cheesy, the women entertainers were a hoot!
Ketchikan is also known for having the largest collection of totem poles in Alaska. The Totem Heritage Center houses some ancient totem poles and also offers a class in Native Arts.
Other popular tours include Misty Fjords National Monument and the Bering Sea Crab Fishermen's Tour. You can reach Misty Fjords by boat or float plane. The float plane tours provide the quickest but most expensive option.
On the crab tour, you'll learn the aspects of crab fishing in the Bering Sea. The captivating stories will give you a better appreciation for crab fishing when eating those crab legs.
Haines
With 2,000 to 3,000 residents, Haines is a tiny town in the northern Alaska panhandle. Even though it's a small town, it has two grocery stores, restaurants, a few museums, and campgrounds for the summer seasonal travelers.
Haines borders Glacier Bay National Park, where I have cruised several times. If you're into hiking and back-country wilderness exploration and want to escape the crowds in the busier ports, this is the town for you.
Remember to bring your compact binoculars because you can scour the hills and the skies for goats and eagles. From October to February, Haines experiences the largest concentration of eagles globally, although this is not cruise ship season.
Alaska cruises sailing in August and September have the best opportunities to see brown bears feasting on salmon as they swim up the river to spawn.
The Davidson Glacier, close to Haines, offers visitors an excellent option for a day outing and another incredible glacier viewing.
Skagway
The town of Skagway came about during the Klondike gold rush era, and much of its old town charm has not changed. Visitors can relive the gold rush era by panning for gold and learning about its pioneers' history.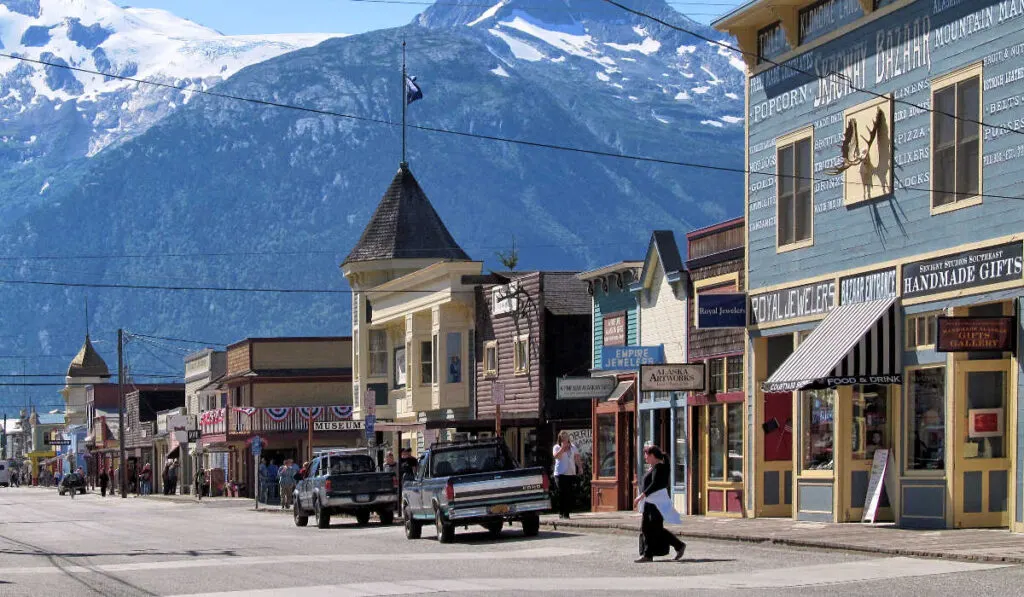 In Skagway, take some time to browse the buildings and shops, which have so much charm. You'll eventually find a building that looks like a bunch of sticks.
This incredible, unusual façade stands out like a sore thumb with its almost 9,000 pieces of sticks and driftwood covering. The giant letters "A" and "B" stand for Arctic Brotherhood, the fraternal organization formed in 1899.
In town, the Days of 98 Shows offers a cheesy show depicting the notorious outlaw Soapy Smith's life. Renowned for opening businesses solely to rob customers, Soapy eventually died in a shootout on the Juneau Wharf in Skagway.
The Days of 98 is a colorful musical that features ragtime music, can-can dancers, and silly humor.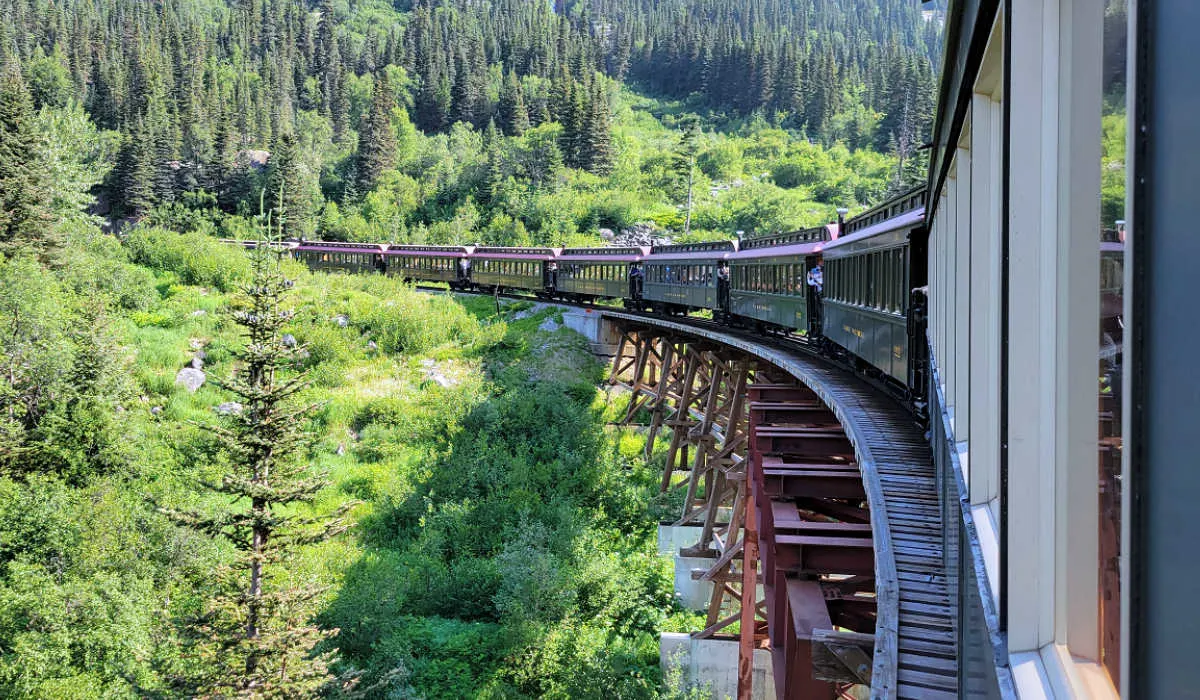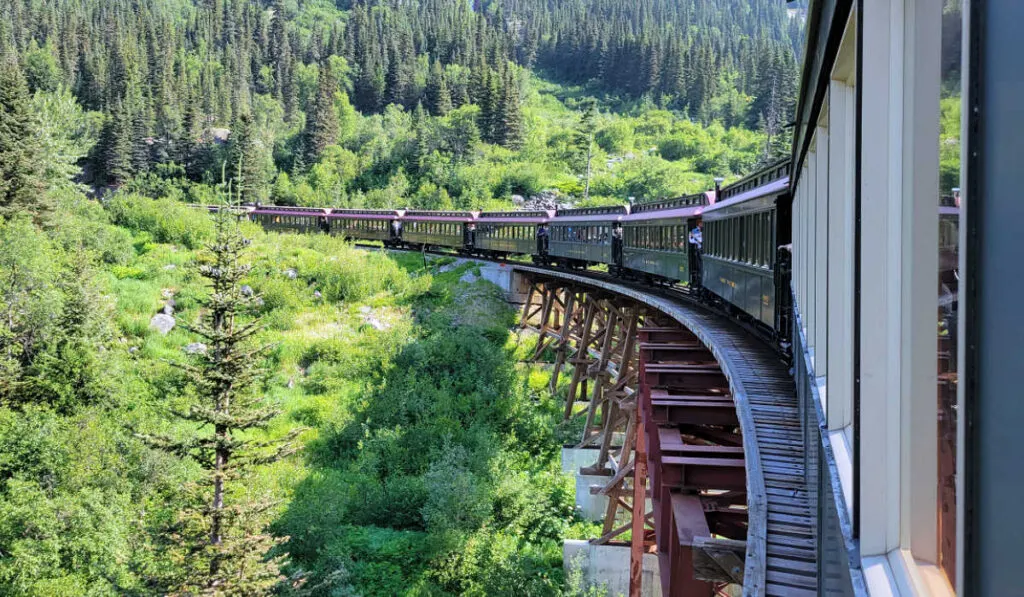 The most popular port excursion is the White Pass train tour from Skagway. Offering one of the most picturesque train rides globally, train passengers travel into the mountains and over wooden bridge trestles.
Alternatively, you can rent a car and drive to Emerald Lake in British Columbia. Since you're crossing into Canada, you will need a passport for this road trip.
Icy Strait Point
Unlike all other cruise ports owned by cities, Icy Strait Point is a privately-owned tourist destination. It was created strictly for cruise ship passengers.
Located on Chichagof Island, it is just outside the small fishing village of Hoonah, Alaska. Relatively new as a cruise port, Icy Strait Point can only accommodate two ships a day.
They are plenty of Icy Strait Point excursions in this small town. For adventure seekers, why not soar through the air at the ZipRider Zip Lines?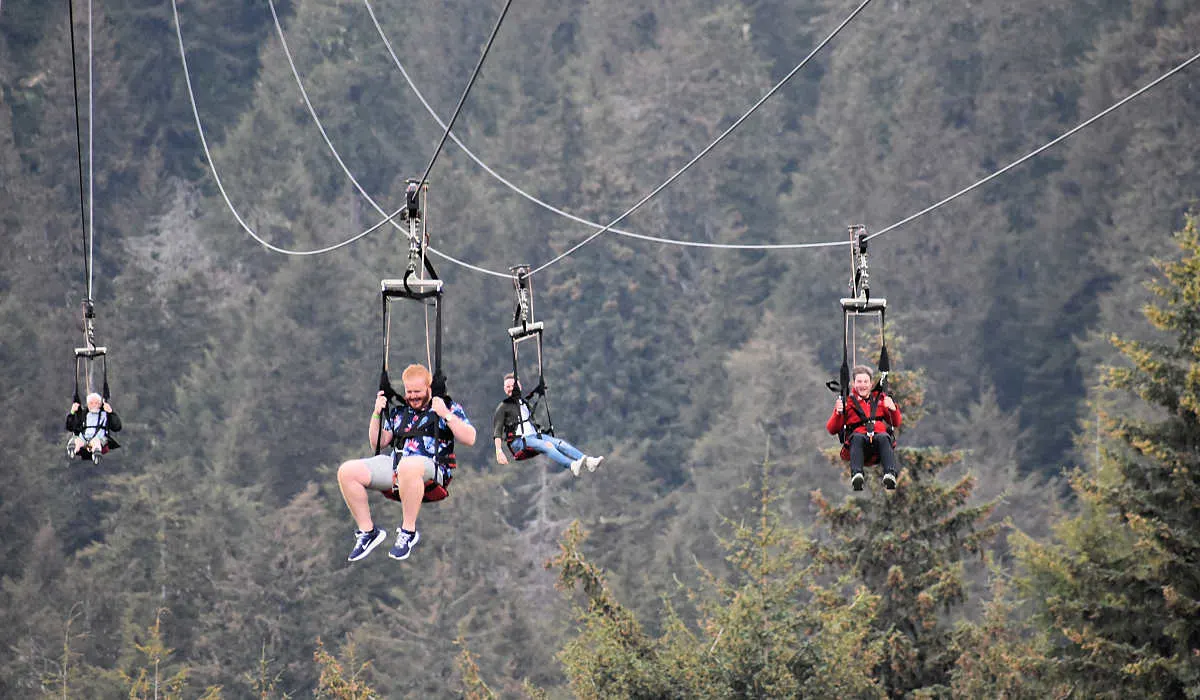 The ZipRider features six 5,330-foot zip lines, which drop an incredible 1,330 feet as you ride them. Since there are six side-by-side zip lines, this is the perfect activity for families or larger groups if your budget can afford it.
Icy Strait Point features two gondola rides, one free and the other paid. The paid gondola lets you take in the magnificent views from the top of Hoonah Mountain on a clear day.
Plenty of excursions are available for wildlife lovers to view coastal brown bears, eagles, and humpback whales. Its whale watching is rated one of the best. Other tours include ATVs, kayaking, biking, hiking, and fishing.
If you prefer to visit without an excursion, the cannery museum and shoreline beach provides free activities for those on a budget.
Glacier Viewing
Alaska glacier cruises visit one or two glacier areas or fjords. These include Glacier Bay National Park, Endicott Arm, Tracy Arm Fjord, Hubbard Glacier, and College Fjord.
It's good to remember that port day in Juneau offers the opportunity to see Mendenhall Glacier. Glaciers draw many travelers to Alaska, and viewing is right from the cruise ship.
With a wide choice of Alaska itineraries, a great choice for glacier sightings is Glacier Bay National Park and Hubbard Glacier. While Hubbard is the biggest and more spectacular, Glacier Bay provides multiple glacier viewings.
If you're undecided between Glacier Bay and Hubbard, consider booking a back-to-back itinerary that often includes both. Alternatively, if you prefer a fjord experience, Tracy Arm and Endicott Arm are great choices.
Shoulder Season Cruises
If you plan to take an April or early May cruise, it's best to avoid an itinerary to Endicott Arm or Tracy Arm Fjord. Early in the season, ice often blocks passage for cruise ships to reach the Sawyer or Dawes Glaciers at the end of the fjord.
While your vessel will sometimes enter the fjord, it will turn around halfway, and you will only enjoy the fjord viewing. Should the fjord be very foggy, the ship's captain may choose not the enter the narrow passageway at all.
The abundance of ice in the water can greatly impact your viewing day and prevent ships from getting too close. At Hubbard Glacier, I could view within ¼ mile on the Cunard Queen Elizabeth.
However, others couldn't get any closer than 2 miles. Part of it may have to do with ice, although the captain's confidence may also play a role.
Fjord Vs. Larger Glacier
While most cruise passengers prefer to visit Glacier Bay or Hubbard Glacier, consider a fjord cruise. The narrow passage of a fjord allows guests to view hundreds of waterfalls and granite cliffs.
It's an opportunity to see mountain goats and various bird species. These Alaskan fjords are breeding grounds for harbor seals, which lay on the icebergs soaking up the sunshine.
Taking the Tracy Arm Fjord & Glacier Explorer will get you much closer to the cascades and wildlife.
Aurora Borealis
If you plan to visit Alaska to view the northern lights (aurora borealis), you need to be away from the cities' bright lights.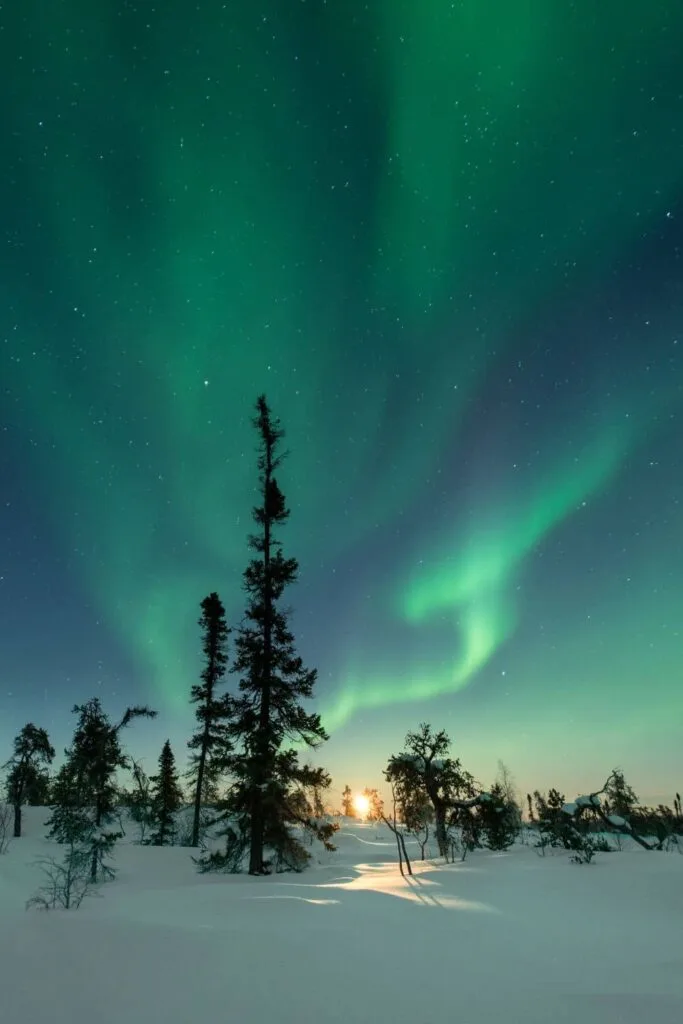 Since you can only see the aurora borealis at night, visit your viewing spot during complete darkness, with the optimum times being September to April.
The northern lights result from charged particles from the sun hitting the earth's atmosphere.
While visitors can view the northern lights anywhere in Alaska, do note the unpredictability of the aurora. The best place for sightings is Fairbanks, with an average of 243 days of the year.
Ideally, the sky must be clear of clouds to see the northern lights. If you want to check on the forecast, this online site has updated aurora borealis projections.
Hiking in Alaska
If you plan to hike in Alaska, please note that mosquitoes can be rampant at certain times. Alaska's ever-prominent rainfall creates a perfect environment for mosquito heaven.
Unfortunately, I learned this the hard way on a hike and river rafting trip in Skagway. I was almost eaten alive on the Chilkoot Trail, and the tour guide's environmental bug repellent didn't work.
However, now I remember to pack mosquito repellent, and I suggest you do the same. To avoid being bitten, wait until August to travel. By August, the frost will have helped kill some mosquitoes.
When hiking in Alaska, remember you're in bear country. It's advisable not to walk alone and to carry a bear bell and bear spray.
Who Should Take An Alaskan Cruise?
Alaskan vacations are suited to those who enjoy native culture, outdoor activities, and wildlife viewing, regardless of the weather. Unlike its southern destinations, it's the polar opposite of a day at a Caribbean beach.
While Alaska cruises are associated with an older crowd, it suits all ages. Should you have limited mobility, Alaska offers the perfect cruise vacation because much of the scenery is viewable from the ship.
While the Gold Rush brought the people in 1898, today, visitors come for the majestic mountains, incredible glaciers, and abundant wildlife. Oh, and let's not forget the fantastic salmon and Alaska king crab legs.
Whether you plan one Alaska cruise or are sailing again, this jaw-dropping place offers human solitude and solitary wilderness rapidly disappearing in our present-day world.
Is a cruise to Alaska worth taking? Most definitely, YES!
If you never make it to the Last Frontier, at least through the power of the internet and this Alaska cruise guide, you get to live every moment visually and by the words in this post.