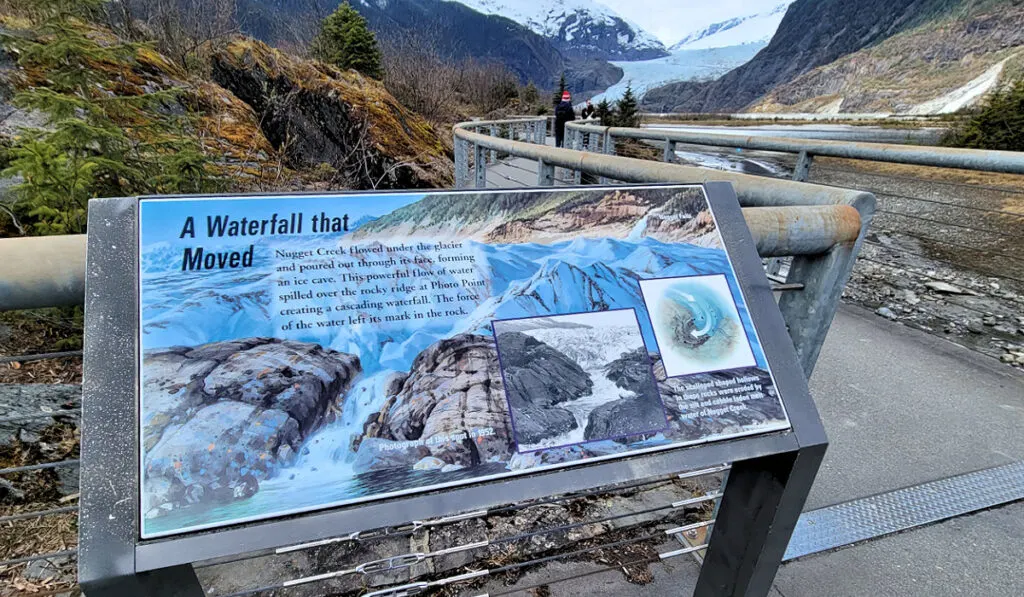 Juneau, Alaska, sits at the base of Mount Juneau across the bay from Douglas Island and is a popular port for Alaska cruises. If you're docking at the Juneau cruise port and want to know what to do, this article provides plenty of options.
Being a major city, Juneau shore excursions are plentiful, from floatplane and helicopter tours to land-based attractions. Be prepared to leave a chunk of money if you plan to book some bucket-list experiences.
Unlike most United States cities, this southeast Alaska city is only accessible by boat or plane due to the rugged mountainous terrain. With a population of approximately 32,000, the city experiences an influx of cruise passengers in the summer months.
Cruise lines sell tours and excursions if you travel on a cruise ship. However, the most popular and best Juneau tours sell out quickly. With this in mind, here are some things to do in Juneau, Alaska, on a port day.
1. Experience Dog Sledding
Suppose you're looking for a fun Juneau tour and have no budget. In that case, I highly recommend a dog sledding glacial excursion. Dog sledding tours depart from Juneau airport and fly guests to Mendenhall or Herbert Glacier.
Reserve early if dog sledding (up on a glacier) is high on your bucket list. As one of the best Juneau excursion, spots fill up fast due to limited availability.
While dog sledding tours cost around USD 650+ a person, it's a once-in-a-lifetime experience and a must-do excursion in Juneau. Thankfully, I can cross this one off my bucket list.
It's important to note that if it's too cloudy, the helicopter will not fly. However, you'll receive a refund for your canceled excursion. I took my tour with Coastal Helicopters. They were professional and organized, and our pilot was fantastic.
The flight to the glacier was smooth, and the views were amazing, especially since we got to sit up front next to the pilot. Incidentally, you can't choose your seat aboard the helicopter. The tour guide allocates seats to distribute the overall weight, to ensure a safe flight.
The flight includes distance views of Mendenhall Glacier, Auke Bay, and spectacular vistas of Herbert Glacier.
Landing on Herbert Glacier, our dog handler was waiting to greet and introduce us to our dog team. My daughter and I were thrilled we had our own team.
Even though freezing rain was falling on the glacier that day, it didn't diminish our excitement or thrilling experience. Dog sledding around the glacier was an absolute blast, and we will cherish the memories forever.
If you're thinking about this Juneau excursion, don't hesitate any longer; book it!
2. Pan For Gold
If you want to relive the era of gold panning, Juneau offers several tours. Spring and early summer are the best times to pan, as the water is low and slow-moving. This activity fits the bill if you want to do things in Juneau with kids.
The hands-on fun takes place in Gold Creek. You'll learn about the prospectors who traveled to Alaska searching for gold. One of the most famous, Joe Juneau, gave the city its name. You can even combine gold panning with a salmon bake at Gold Creek.
Alternatively, the AJ Mine Gastineau Mill Tour combines gold panning with a tour of a gold mine. Donning a hard hat, you'll watch a demonstration of mining techniques. Then continue touring what once was the world's largest-producing gold mine.
3. Take A Helicopter Glacier Trek
Enjoy the deep blue hues of Juneau Icefield from the comfort of a helicopter. On the short scenic flight, you'll marvel at the snow-capped ridges, verdant rainforests, cascading waterfalls, and distant views of Auke Bay.
The deep crevices and uneven terrain are breathtaking from high in the sky. Once on the glacier, a guide will lead the small group to explore surface rivers and glacial cracks.
You can drink fresh glacial water from the surface with a water bottle. Be prepared for the cold by wearing layers. Tour operators generally supply ice boots, crampons, and snow pants.
Some even provide jackets. However, helicopter excursions come with sticker shock and aren't for those cruising to Alaska on a budget.
4. Go Whale Watching
With relatively calm waters and abundant whales, Juneau provides the perfect whale-watching environment. Tours guarantee you will see whales, and you WILL!
While the waters are prolific with humpback whales, guests on a whale watching tour sometimes see orcas too. In fact, Juneau is one of the best places to see wildlife in Alaska. Icy Strait Point and Juneau offer the best whale watching tours if you're on an Alaska cruise.
Viewing whales in the wild in their natural habitat is extraordinary. Their immense size and beauty are indescribable. While it's the law not to "chase" or get too close to the whales, the whales sometimes swim to you.
I watched in awe once as a pod of humpbacks swam under my boat. At that moment, I could appreciate their immense size as my vessel dwarfed compared to these aquatic creatures.
While I have seen many whale tails, I have not witnessed the strange bubble-feeding phenomena. During my numerous whale watching excursions, I've also been treated to bald eagle sightings and sea lions.
If you only have one day in Juneau, many tour operators combine whale watching with a visit to Mendenhall Glacier.
5. Explore Tracy Arm Fjord By Boat
From Juneau, the Tracy Arm Fjord and Glacier Explorer excursion travels to the majestic fjord of Tracy Arm. Located south of Juneau, expect this tour to last seven hours. You'll get close to cascading waterfalls from the deluxe catamaran and feel the cool mist.
On route to the twin Sawyers Glaciers, you can see various bird species perch on the cliffs. Near the glaciers, harbor seals often laze in the sun on icebergs, surrounded by bergy bits.
Of course, the highlight of this Juneau boat tour is the glaciers themselves. This tour on a small vessel allows you to get closer to the North and South Sawyers Glaciers. You'll witness spectacular calving and beautiful blue glacial hues close to the glacier's terminus.
6. Browse The Alaska State Museum
While many Juneau excursions lean to the expensive side, you can bypass and opt for a museum visit instead. Housed in a gorgeous new building, cruise passengers reach the Alaska State Museum after walking from the Juneau dock.
Expect to spend a few hours learning the indigenous people's history who made Alaska their home. While not large, the museum feels bigger because it contains many interesting artifacts from the American era and when Russia owned Alaska.
If you're passing the time between tours, this Alaska museum is a must-see in Juneau.
7. See Mendenhall Glacier
Juneau tour operators offer shuttles to Mendenhall Glacier due to its proximity to downtown. For most, it's their first glimpse of an actual glacier outside of book or the internet.
The Mendenhall Visitor's Center route is a simple, 30-minute bus ride, costs USD 45.00 roundtrip, and includes park admission. Alternatively, you can take the city bus for USD 2, but it requires a 1-1/2 miles hike to get to the visitors' center.
Mendenhall flows off Juneau Icefield. However, due to climate change, it's rapidly retreating. Inside the Mendenhall Glacier Visitor Center, you can learn about the glacial retreat and the area's terrain.
Outside, massive icebergs floating down the lake greet visitors a short walk from the visitor's center. The terrain offers many hiking trails at Mendenhall Glacier, from easy to challenging.
The Steep Creek Trail boardwalk around the visitor's center offers salmon viewing, the odd porcupine, and, on occasion, black bears.
Park wardens will be close by to keep the over-zealous tourists from getting too "up close and personal" as they try to snap their selfies, Instagram, and Facebook pictures.
The East Glacier Trail climbs into the temperate rainforest and offers excellent views of the glacier and lake. This challenging 3-1/2-mile loop trail takes 2-1/2 hours and crosses several creeks. Alternatively, the Trail of Time offers visitors a 30-minute walk on a flat surface.
8. Eat Salmon At Taku Lodge
If you're seeking wilderness activities in Juneau away from downtown, then the Taku Lodge and Salmon Bake is your excursion. This breathtaking and quintessential Alaskan experience begins with a floatplane ride out of Gastineau Channel.
The seaplane journeys over several glaciers that are part of the Juneau Icefield. Enjoy unobstructed views of picturesque waterfalls, rugged mountains, and lush Tonga National Forest. The Taku River acts as your landing strip for the next leg of your excursion.
The charming lodge is a quintessential mountain lodge with historical dog sled relics and memorabilia. Enjoy a cup of tea or some Alaskan beer as you smell the delicious aroma of fresh wild Alaskan King Salmon grilling on the fire.
The salmon lunch attracts cruise ship passengers for a delicious meal and the also local black bears. Bring your camera and keep a lookout for wildlife.
If crab legs are more to your taste, head to Tracy's King Crab Shack for the best crab legs in town.
9. See The Rainforest On A Segway
Juneau Segway tours allow riders to escape the crowds and enjoy a peaceful time off the beaten path. There are several excursions to choose from, lasting two to three hours.
No experience is necessary, and we were surprised by how easy it is to ride a Segway. The small group excursion takes riders from Juneau to trails in the lush rainforest.
You'll enjoy distant views of Mendenhall, see eagles, and enjoy Alaska's natural beauty. There are plenty of photo opportunities during the tour and a break for a snack along the way.
10. Hike To Nugget Falls
While visiting the impressive Mendenhall Glacier, take the short, flat hike to Nugget Falls, nestled close to this arctic beauty. Its impressive cascading waterfall and surrounding mountains are a delight to see.
The easy, meandering trail takes you to the tip of the thundering waterfall, where you can enjoy better views of Mendenhall Glacier.
The falls are powerful and loud and give off a light spray. It's advisable to bring a waterproof jacket because rain falls often in Alaska and could surprise you on the trail.
While there, you may be fortunate enough to experience some glacial calving (ice falling from the glacier). There were many opportunities for photos during my stroll, and boy, did I take plenty!
11. Visit Glacier Gardens
The Glacier Gardens Rainforest Adventure allows guests to enjoy vibrant floral displays and verdant rainforests. This is no ordinary garden. Created by Cindy and Steve Bowhay, the attraction features floral towers overflowing with stunning cascading flower varieties.
The floral towers are ingeniously created from old tree trunks and are visually spectacular. They adorn the two-mile trail through the rainforest, ponds, and cascading waterfalls.
12. Hike The Perseverance Trail
The Perseverance National Recreation Trail offers a quiet alternative to a crowded shore excursion. The 3-mile return trail takes the hiker into a spectacular canyon above Gold Creek and a chance to see waterfalls.
Porcupines and bears frequent the trail. Deep snow may cover the path at higher levels in late spring. So, if you plan to hike in late spring or early summer, you may need ice spikes.
From the trailhead, trekkers can visit the Last Chance Mining Museum at 1001 Basin Road. The little museum charges a minimal entrance fee while hiking the trail is free.
13. Have A Brew At The Red Dog Saloon
After completing your cruise shore excursion, grab a brew in downtown Juneau. There's no better place than the famous Red Dog Saloon on South Franklin Street.
The saloon originated from the historic mining era, and its interior showcases many period collectibles. It's a busy tourist bar where the notable thing to order is a duck fart!
When in Alaska, you must eat some seafood! Stop by The Salmon Spot, a hidden gem in Juneau. While it looks like a food truck, it is a permanent restaurant with reasonable prices. The salmon burgers, cakes, and chowder are all delicious and fresh.
Have a craving for crab legs? Then Tracy's Crab Shack is the place for you. The Alaska Fish and Chips Company and The Twisted Fish Company are your best stops for fish and chips.
14. Paddle A Canoe To Mendenhall Glacier
As Juneau's star attraction, Mendenhall Glacier draws most of the visitors who arrive in Alaska's capital. The visitors center provides distant views of the mammoth glacier, but Mendenhall Lake blocks access to its toe.
Travelers access the icefield from the glacier's western side by taking a Canoe Lake Tour. This strenuous 4-hour tour requires a paddle up Mendenhall Lake.
The tour operator provides boots and jackets to keep everyone warm and dry. Attach a GoPro to your helmet for impressive Nugget Falls shots and views while paddling.
15. Take An Alaskan Brewery Tour
Let's face it when docked in Juneau for the day, not everyone wants to take the usual port excursions. Some are seeking things to do that are out of the ordinary.
That's where the Alaskan Brewery Company steps in. Since Prohibition, the Alaskan Brewery Company has been renowned for being the first brewery in Juneau. What better way to learn the history of the different types of beer than by sampling them?
So, sit back and enjoy an afternoon tasting award-winning craft beer. The tour starts at the depot in downtown Juneau and continues by shuttle bus to the brewery.
Inside the brewery, visitors aren't treated to a tour but learn its history and beer manufacturing process. Of course, the best part of the excursion is the beer samplings.
16. Visit Glacier Bay National Park
If you're not visiting Juneau by cruise ship, you should visit Glacier Bay. It's a 12-hour excursion on a climate-controlled small vessel. The cruise tours the west end of the bay and could include wildlife sightings.
Humpback whales, porpoises, harbor seals, and Stellar sea lions are commonly sighted. You could see bears, orcas, moose, and mountain goats with a keen eye.
A naturalist explains the picturesque terrain and explains the importance of glacial retreat. The star of this tour is a visit to the photogenic Margerie Glacier. While large cruise ships cruise to Glacier Bay National Park, they won't get as close to the glacier's toe.
17. Visit The Sled Dogs Musher's Camp
If a sled dog excursion on a glacier is too rich for your pocketbook, plan to visit a dog sled mushing camp instead. While you won't experience dog sledding on a glacier, you'll still enjoy the thrill of a dog sledding ride.
The sled dogs pull a wheeled cart through the Tongass National Forest with no snow at lower levels. You'll meet the dogs, learn about the relationships between trainers and dogs, and see some husky puppies.
If you're visiting Juneau with children, this family-friendly outing will be the thrill of your Alaska trip.
18. Ride The Mount Roberts Tramway
Take the tram through the lush rainforest to the top of Mount Roberts for aerial views of Juneau. On a clear day, the views of Juneau and Gastineau Channel are breathtaking.
However, the best views are from lookout points on small hikes above Juneau. So wear comfortable walking shoes and prepare for a trek.
Those who enjoy a challenge might enjoy the Mount Roberts Trail instead. The 3-mile trail meanders through the lush, green rainforest with opportunities to see hoary marmots and rock ptarmigan. If the ascent is too strenuous, take the tram and hike down.
There is a coffee shop for refreshments and a gift shop for all the usual tourist souvenirs. The trams back run approximately every 15 minutes on cruise port days.
19. Go Zip Lining
Soar through the rainforest of Juneau on a thrilling zip-lining tour. After a short transfer to the Eaglecrest Ski Area, staff will equip you with a safety harness. Your instructor will brief you on safety before you take to the trees on an adrenaline rush excursion.
Zip lining suits all ages and will have the participants screaming joyfully. There are many photo opportunities, and the tour ends with a chance to brush up on your axe-throwing skills.
20. See Five Glaciers By Sea Plane
Grab a window seat on a floatplane as you take to the skies. Leaving the Juneau waterfront, the floatplane flies through Juneau Valley. Before you reach Juneau Icefield, you'll enjoy views of plummeting waterfalls and the Tongass Rainforest.
Tour-goers see jaw-dropping views of Taku Glacier, Norris Glacier, Hole-in-the-Wall, and East and West Twin Glaciers at the ice mass. Of these, Taku Glacier is the most impressive due to its thickness. At almost 5,000 feet from the bed to the surface, it's one of the thickest glaciers in the world.
During your flyover, you'll witness the towering peak of Devil's Paw, blue glacial pools, and stunning crevasses. Unlike other tours, this one doesn't include a landing.
Final Thoughts
With the widest variety of port excursions, you can spend little or blow your budget on once-in-a-lifetime experiences.
When arriving by cruise ship, you'll have only one day in Juneau, and whatever you do will be the tip of the iceberg of what Juneau has to offer. Outside of cruise season, many tours don't operate in Juneau during the winter.
If you've traveled to Alaska hoping to see some wildlife, look no further. Juneau has over 20,000 bald eagles, so the chances of seeing some are good.
Beyond bear sightings at Mendenhall Glacier, wildlife viewing is prevalent in Juneau. You can witness some Alaskan wildlife, from the bears at Admiralty Island to harbor seals at Tracy Arm.