It's no secret that Alaska is an immense area, with most of it unpopulated. As a result, the wildlife outnumbers people. While The variety of wildlife is massive, this article covers the best viewing areas and the different kinds of wildlife in Juneau, Alaska.
Like most people, I wanted to see something impressive like a bear, moose, or orca, and I wanted to experience them in their natural habitat. For me, whale watching was on my Alaska bucket list and one best done in Alaska.
I still remember coming face to face with my first bear. I had crawled out of my tent in the early hours of the morning to find a bear sitting five feet from my face. Needless to say, I was terror-stricken and didn't know what to do.
The idea of darting back into my tent didn't make sense. After all, how was a canvas tent wall going to keep that bear out? I stopped in my tracks and stayed silent so as not to alarm the bear. Luckily, the bear looked me in the eyes as if to start a staring match, got up, and walked away.
While I hope your first encounter with a large wild animal does not mirror my initial experience, here is the variety of wildlife found in Juneau.
Variety Of Wildlife In Juneau, Alaska
Juneau offers a variety of wildlife tours. The waters around Juneau are rich with marine life, so one of the popular activities is a whale-watching shore excursion. An outing on the water provides chance viewings of humpback and orca, Stellar sea lions, harbor seals, porpoises, sea otters, and bald eagles.
On solid ground, the list continues with both small and large mammals. Small mammals consist of ptarmigan, grouse, and marmots. However, people like myself want to see something more substantial, like brown and black bears.
While bear tours are available in some Alaskan towns, bears are viewable close to downtown without purchasing a costly excursion in Juneau. At certain times of the year, the rivers and creeks are plentiful with salmon, attracting the bears.
Mendenhall Glacier
While I don't wish the first encounter with a bear to be much like mine, bears are viewable from a safe distance if you follow specific rules.
While hiking in the backcountry, it's best to make noise, and the best way to do this is to carry a bear bell. Brown bears and black bears will generally walk away if they hear you coming.
While the variety of wildlife in Alaska's capital is wide, the best chances to view bears are at Mendenhall Glacier National Park. The park is just 10 miles from downtown Juneau and visitors can get access to Mendenhall by bus or shuttle.
On the way, you can often spot lots of bald eagles on the mud flats beside the highway.
It's important to note, that the park advises visitors not to carry snacks and flavored drinks as the odor attracts the bears.
If wanting to see bears, the best time to cruise to Alaska is July through September. During these months, brown and black bears are eating salmon in Steep Creek.
Bears need to eat copious amounts of salmon during the summer to gain enough fat to sustain them during hibernation. So, wherever there is salmon, there are bears.
I've visited the Mendenhall Glacier visitor center a few times and seen the abundance of red salmon swimming in the creek below the boardwalk. The flat boardwalk meanders along the Mendenhall River and is perfect for strollers and those with mobility issues.
During one of my visits, a bear with two cubs wandered through the creek with an entourage of tourists in tow. Wildlife experts were close at hand, ensuring everyone stayed at a safe distance and did not get between the mother and her young.
Along the Mendenhall River, beaver dams and lodges are plentiful, and if you're lucky, you might spot a beaver hard at work. The Mendenhall area is popular among visitors for hiking; so, should you be walking a trail, look upon the mountains for an opportunity to see mountain goats.
Close the the visitor center, you could spot of of the resident porcupines, although they're camouflaged quite well.
Mount Roberts Trail
When arriving in Juneau and looking for things to do, many visitors take the Mount Roberts Tram to the top of the mountain for Gastineau Channel and Juneau's spectacular views. However, did you know there's a hiking trail to the top, which makes for an adventurous option to the quick tram ride?
The trail is not for the light-hearted and takes approximately three hours through switchbacks, stairs, and over many roots. The uphill trail reminds me of my local trail, the Grouse Grind in Vancouver, minus the crowds.
Not only does the trail offer opportunities to see great views but more Alaskan wildlife. Whether hiking up or down, be on the lookout for black bears who frequent the slopes feasting on ferns and wild berries.
Sitka Black-Tailed Deer are also regulars in the meadow areas and can maneuver the steep slopes and rocky outcrops with ease.
Smaller critters are more often sighted, and these include the rock ptarmigan, willow ptarmigan, yellow grouse, and hoary marmots. Hoary marmots are the largest members of the squirrel family and are often heard before they are sighted. Listen for their loud whistle as you walk the trail.
I have seen marmots sunning themselves on rocks during a warm summer's day, and they're actually rather cute.
If you take the tram, the visitor center has a single bald eagle named Lady Baltimore. She was injured and unable to hunt, so remains non-releasable.
Auke Bay
Without a doubt, one of the best places to see wildlife is in rich marine waters. At the harbor, bald eagles are often plentiful as they patiently wait for local fishermen's scraps.
Being out on Auke Bay's waters offers an opportunity to see Stellar sea lions, harbor seals, porpoises, and sea otters.
Whale-watching outings are a must, and I take one every time I'm in Juneau. The boat tours cruise Gatineau Channel's waters in search of the humungous humpback whales and the elusive orca.
During the summer months, most boat tours will guarantee whale sightings, and I have never been to Juneau without seeing a substantial number of whales.
While humpback whales are commonly spotted from a cruise ship, seeing them up close from a small vessel is a jaw-dropping experience. During one of my excursions, a pod of humpback whales swam under my boat with the gracefulness of a ballerina.
It was an overwhelming moment when I realized those majestic creatures were colossal in comparison to my watercraft.
Following a small pod of humpbacks with a young calf was a mesmerizing experience. Each time they surfaced and blew out through their blowhole, it created flumes of mist over the calm waters.
I noted that the smell of expelled breath resembled a mix of fishy odor combined with an unpleasant stench of rotting food. Definitely not so pleasing on the nasal cavities!
On my return to the harbor, the boat passed a well-known buoy, with a group of Stella sea lions huddled on top.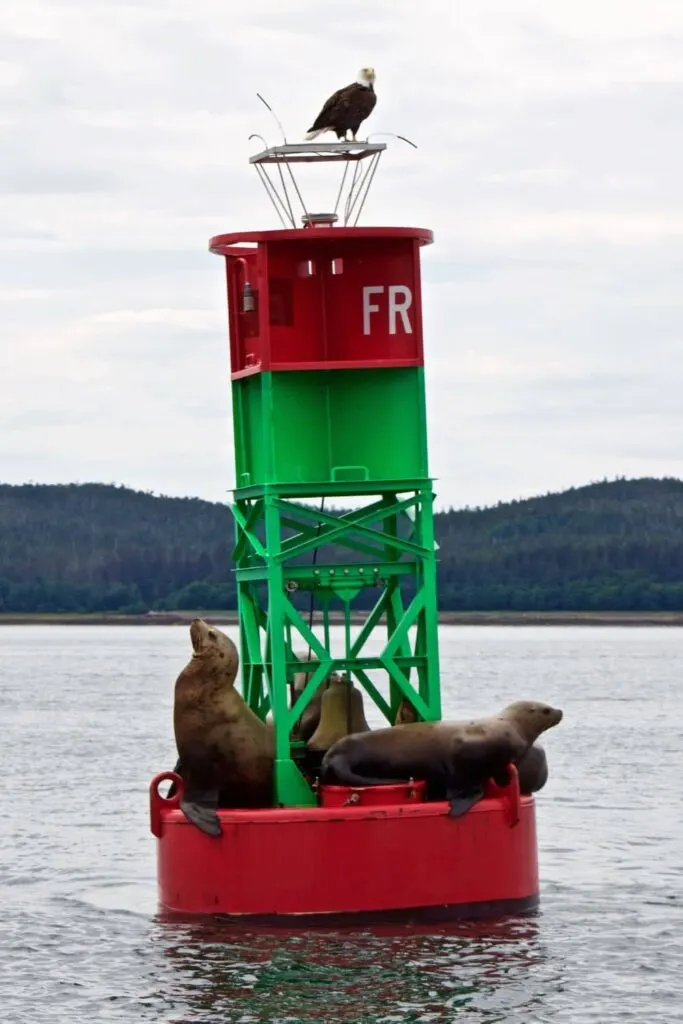 Pack Creek, Admiralty Island
Pack Creek on Admiralty Island offers the ultimate bear viewing experience without the crowds. However, it does require a permit to visit the sanctuary, which is 15 miles from Juneau.
The best way to get there is by floatplane, and it's best to book ahead since space is limited. Bear in mind; that this is an expensive excursion.
Admiralty Island is home to Coastal brown bears in large numbers. Seeing these amazing creatures in a pristine, unspoiled environment is priceless. The optimal season is July to August when the salmon are running.
If you can't take this tour, visitors can see orphaned Coastal brown bears at the Fortress of the Bear, in Sitka. During my visit in May 2022, the sanctuary had five large brown bear species.
During this time, the bears hang out on the tidal flats at the entrance to the creek. Here, the salmon are easy pickings for the hungry bears. Earlier in the season, the salmon must dig for clams until the salmon feast arrives.
The natives call this place Kootznoowoo, which translates to "Fortress of the Bears." While not a fortress as such, Pack Creek offers a beautiful playground for the Admiralty Island bears.
Tracy Arm
Tracy Arm is a fjord located south of Juneau. A catamaran tour from Juneau affords the opportunity to see the Sawyer Glacier cascading into the water but also wildlife. An excursion is an all-day event. So, if you came to enjoy the wildlife in Juneau, this is the place to be.
The jaw-dropping scenery of tumbling waterfalls, rugged cliffs, and breathtaking mountains is indescribable. During the journey to Sawyer Glacier, watch for humpback and killer whales, bald eagles, and bears along the shoreline.
Also, bring a pair of binoculars to scour the sheer cliff walls for mountain goats. Tracy Arm is also the summer home to a variety of birds. These are the artic terns, kittiwakes, and pigeon guillemots.
Once the vessel enters the fjord and the ice materializes, keep your eyes on the water. The plethora of icebergs provide sunbeds for the harbor seals and their pups. Boats must maintain a distance of 500 yards from the seals while trying to navigate the fjord safely.
Harbor seals give birth on the icebergs in Tracy Arm because it's the perfect place to hide from the hungry orca. Sightings of harbor seals is a great reason to choose a Tracy Arm itinerary.
The melting icebergs create a great deal of underwater noise, which interferes with a whales' sonar. However, during birthing in June, bald eagles and gulls watch, waiting for the new pups to arrive. Within moments of birth, the moms must fend off the hungry predators as they try to feast on the afterbirth.
Macaulay Salmon Hatchery
Located just three miles from downtown Juneau, Macaulay Salmon Hatchery is a beautiful place to learn about a salmon hatchery's everyday operations.
Taxis, trolley buses, and shuttles are readily available downtown, or you can arrange a tour through your cruise line. The exact address is 2697 Channel Drive, Juneau, AK, 99801.
During the summer months, the hatchery is open from 10 am to 6 pm on weekdays and 10 am to 5 pm on weekends. The admission is just USD 5 per adult and USD 3 for a child.
For those that have never seen a salmon run, it's a fascinating place. Each year, the hatchery raises over 125 million Coho, chinook, and chum salmon.
During the salmon run peak from June until October, watch with fascination as the spawning fish battle their way up the salmon ladder. At the end of the ladder, the holding ponds allow the salmon to rest. Here, they'll reproduce and die to complete the circle of life.
Like all other hatcheries worldwide, the hatchery is a vital component in the life of this marine species. Outside of spawning season, view salmon and other aquatic species, and learn the process of raising salmon in a hatchery.
Other Juneau Wildlife Viewing Opportunities
While Alaska is prolific with wildlife, no matter where I am, I always stay alert in preparation for that chance encounter with a wild animal.
If you're cruising to Alaska, you'll only have one day in Juneau, which is enough time to cram in one or two of the above activities. Should you be staying in Alaska's capital for more than one day, consider these other areas to view Alaska's incredible wildlife:
Mendenhall Wetlands
Airport Trail
Eagle Beach State Park
Happy travels ~ Karen