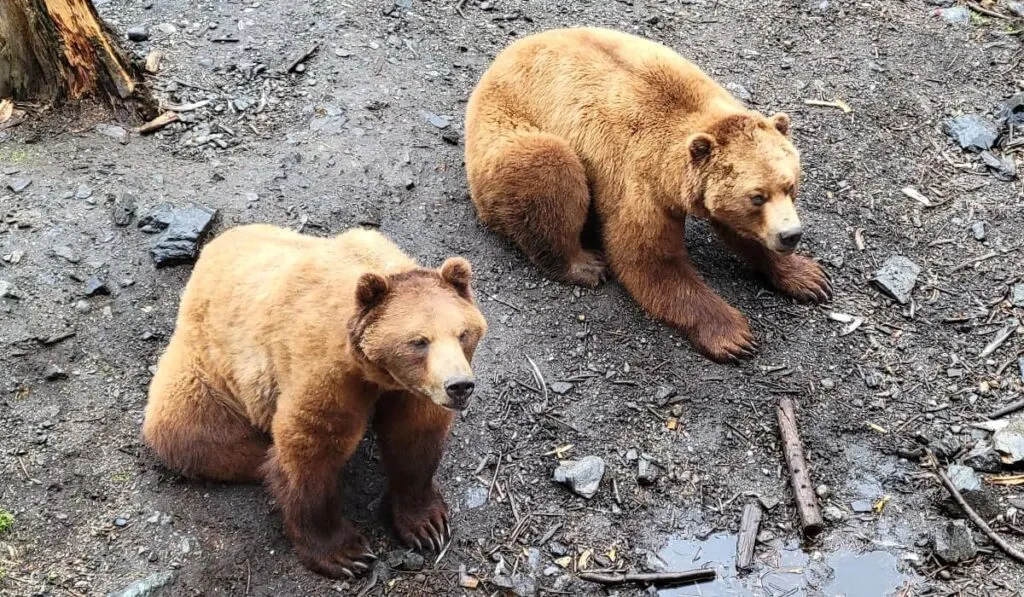 Eight species of bear exist globally, and North America is home to three of them. The polar bear, brown bear (grizzly), and black bears all reside in Alaska. So, if you're cruising to Alaska, and want to see some bears, add the Fortress of the Bear to your itinerary.
This sanctuary, dedicated to rescuing and raising orphaned bear cubs, opened in 2007. It took the founders, Les and Evy Kinnear, five years to obtain a permit to open the facility in Sitka.
Operated without grants or money from the government, the sanctuary aims to rescue orphaned bear cubs and educate the public on their breeds. So, if you want to get within 25 feet of bears, spend some time at Fortress of the Bear.
We visited the sanctuary during our cruise to see Hubbard Glacier, and purchased a shore excursion through our cruise line, called the "Best of Sitka."
We visited Fortress of the Bear, Alaska Raptor Center, and the Sitka National Historical Park during the three-and-a-half-hour excursion.
Our tour only spent 30 minutes at the Fortress of the Bear, and it honestly wasn't long enough. Next time, we'll get a taxi to the sanctuary to enjoy it longer.
Where Is Fortress Of the Bear?
Fortress of the Bear is located at 4939 Sawmill Creek Road in Sitka. While Sitka has only 14 miles of paved roadway, the bear sanctuary at one end and cruise ships dock at Sitka Sound cruise terminal at the other end.
On the drive, we enjoyed views of Silver Bay, but due to low-lying clouds, we couldn't see Mount Edgecumbe.
While we took an excursion to get to the sanctuary, travelers can take a local bus from downtown Sitka instead. From the bus drop off point, it's a short distance to the shelter. Taxis are almost non-existent in Sitka.
Cruise lines offer free shuttle buses from the terminal to town. From town, it's another five miles to the Fortress of the Bear.
From May 2nd to September 30th, travelers can visit from 9 am to 5 pm daily. In April and October, they offer limited weekend hours for residents. From November to March, the sanctuary remains closed as the bears hibernate.
Admission costs USD 15 per adult, USD 5 for youth 8 to 18, and children under 8 are free. With low admission fees, it's a great family activity if you're cruising to Alaska inexpensively.
Fortress Of The Bears Beginnings
Alaska state law does not allow bears to be captured and returned to the wild. If a mother bear was killed, her orphaned cub was euthanized. Les Kinnear wanted to make a difference and save these orphaned bears. So, the non-profit Fortress of the Bear began its humble beginnings.
Don't mistake this place for a zoo. It's a sanctuary aimed at saving orphaned black and brown bear cubs who would have perished in the wilderness. By rescuing these animals, staff can study bear behaviors and learn more about their breeds.
With no grants from the government, Les had to build a cost-effective bear-proof shelter. He obtained two large water clarifying tanks from a local pulp mill. With thick cement walls towering 14 and 17 feet high, they made the perfect bear-proof environments.
Les cleared the tanks of metal and debris. Then, the staff added dirt, trees, and stumps to mimic the bears natural settings in the Tongass National Forest. The habitats have fresh streams running through them. Eight days after opening its doors, it welcomed the first bear.
The sanctuary recently got an upgrade, with a new welcome center, which houses a gift shop, an indoor viewing area, and larger washrooms. If it's cool or wet outside, visitors can watch the bears from the upper level of the interior viewing areas.
The sanctuary would like to expand and hopes to acquire another water treatment tank. With an extra bear habitat, they could rescue more orphan bear cubs.
The Sanctuary's Black Bears
During our visit, the shelter housed eight bears, three black bears and five coastal brown bears. Sitka does not have any black bears naturally, so the sanctuary's residents came from other areas.
The black bear pen was on my right-hand side as I entered the sanctuary. Since black bears and brown bears differ vastly, they can't share the same habitat.
Smokey and Tuliaan, two sisters, came from Seward, but they arrived at different times. Their mother had been shot for getting too close to town, leaving three orphaned cubs. Smokey was the first rescued.
Tuliaan was found six weeks later, malnourished and only weighed 17 lbs as a bear cub. The Alaska department of fish and game never recovered the third sibling.
The Seward sisters share their pen with Bandit, a male of the same age. He's a transfer from the nearby city of Juneau. Timid, when he first arrived, his keepers worked hard to earn his trust. Being a male, Bandit is larger than Smokey and Tuliaan.
Since black bears are good climbers, it's not unusual to see these bears high up on the treetops. During my visit, they were walking and hiding in the dense brush.
Even if they're on the ground, look up because bald eagles sometimes grace nearby trees. We were treated with a lone bald eagle watching over the bears.
Fortress Of The Bear Coastal Brown Bears
Alaskan brown bears are native to the ABC Islands, Admiralty, Baranof, and Chichagof. Sitka is located on Baranof Island in Alaska. Admiralty Island has a large population of bears who forage for food around Pack Creek.
Icy Strait Point and Hoonah are located on Chichagof Island. If you're stopping in Icy Strait Point and looking for things to do, you can book a bear wilderness tour in the hopes of spotting bears in their natural habitat.
Coastal brown bears, sometimes called Sitka brown bears, are a blend of polar bear (Ursus maritimus) and grizzly (Ursus artos). Typically, they are larger than grizzlies found in Alaska's interior.
Since these magnificent creatures were still donning their winter coats, they were the epitome of "teddy bears." Chaik (pronounced SHY-eek) has been at the sanctuary the longest.
He is the sanctuary's biggest bear. Chaik arrived from Angoon, on Admiralty Island, when he was orphaned as a cub in 2007.
He shares his pen with Toby, a female. Born in January 2009, In the wild, with the exception of mothers and their cubs, bears are solitary animals.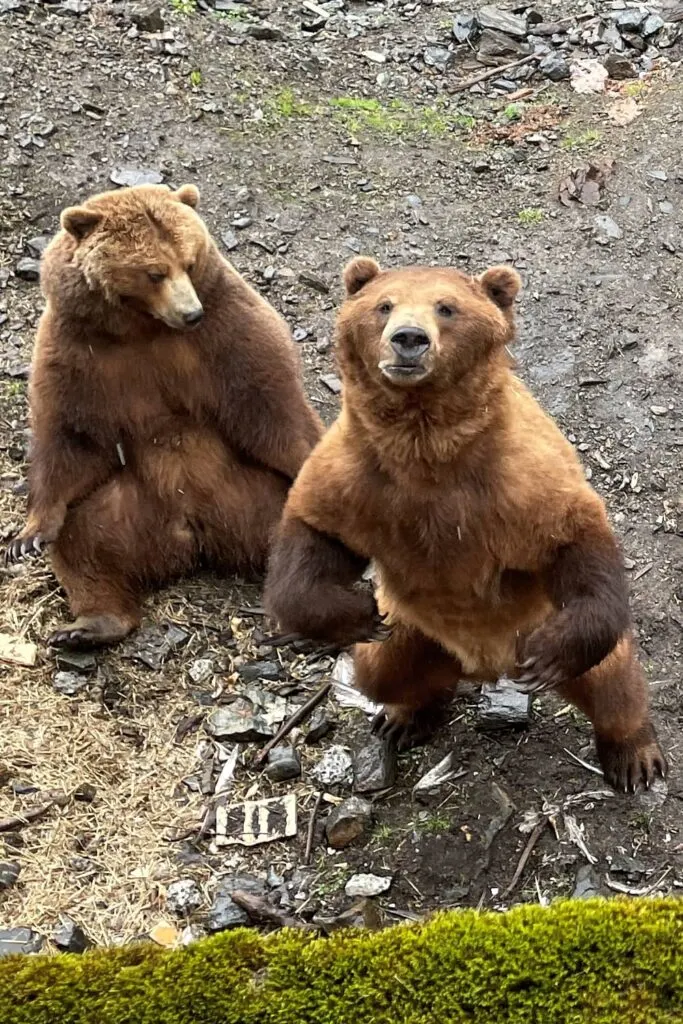 However, when introduced young enough, bears can live together cohesively in captivity. I watched the bears intently. They were very aware of our presence and stood up as if to greet us.
Nikiski and Nuka share an adjacent space with Lucky, Toby's sibling. They are the newest residents to join the sanctuary from Seward in 2018. As four-year-olds, they showed their playful side by mimicking the actions of their keeper.
I watched them stand on their hind legs and raise their paws for food. Once fed, they'd carry their treats away from their siblings to eat in peace. Guests found the coastal brown bears more interesting, maybe due to their playful side or thick plush coats.
The Bears Diet
Bears are omnivores, and their diet usually consists of plants, fish, berries, and small mammals. These bears had impressive appetites and were fed the best food.
I was shocked to see large buckets of fresh salmon and peanut butter apples (apples cored and filled with peanut butter). Since southeast Alaska thrives on salmon fishing, the nearby salmon factories provide salmon for the bears.
Salmon that isn't perfectly formed or gets cut incorrectly by modern machinery is discarded. These discarded pieces are donated to the Alaska Raptor Center and the Fortress of the Bear.
The Alaskan brown bear has a long nose and a keen sense of smell. They also have long claws, used to dig for food.
During the summer months, the sanctuary stocks the ponds with salmon, which allows the bears to catch their own fish as they would in the wild.
As giant bears, they require a lot of calories to gain fat for the winter months. So, these bears can consume over 70 lbs. of food or 10,000 calories per day. I watched as the bears devoured a whole fillet of frozen salmon in just a few mouthfuls.
If you're visiting Juneau, you can see bears fishing for salmon in Steep Creek at Mendenhall Glacier.
Fortress Of The Bear Enrichment And Training
The bears may dance on their hind legs, raise their paws to their mouths, or act as if performing for the crowds. Bears are very intelligent creatures, and training and enrichment programs benefit the bears and keepers.
By creating a bond between staff and bears, bears will raise their paws and stand, allowing the team to assess their limbs for signs of injuries or illness.
When they open their mouths, staff can check their dental conditions. As intelligent creatures, bears require enrichment to prevent them from getting bored. Enrichment plays a key role in their daily activities, and can include:
Stuffing balls with sweet treats.
Hiding food in the habitat.
Introducing a new toy.
The staff creates enrichment activities at Easter and other holidays to stimulate the bears' curiosity.
Adding salmon to the ponds encourages the bears to hunt for fish as they would in the wild.
Do The Bears Hibernate?
Like bears in the wild, they hibernate and stay in their dens for up to five months. The habitats have an artificial shelter and a natural one made of logs, sticks, and dirt. Each year, they choose where they hibernate. They make their dens comfy like wild bears by dragging in leaves, twigs, and dried grass.
During hibernation, bears will move around and even take short walks. As hibernation nears its end, the bears become more active before emerging in spring.
Do They Breed The Bears?
The Sitka sanctuary is a rescue and educational facility. They do not breed the bears. Since the state doesn't allow captive bears to return to the wild, it would be irresponsible to allow bears to breed in captivity.
The male bears are castrated, which prevents them from breeding with their siblings and other bears.
How You Can Help The Fortress Of The Bear?
Visiting the rescue facility was one of the highlights of our Alaska trip. While we prefer to see animals in their natural environment, I wouldn't want to be face to face with a bear in the wild.
Our visit was highly educational, and we could tell the bears were happy and well cared for. The staff was very knowledgeable and answered all our questions.
Since the sanctuary runs from donations, entrance fees, and merchandise sales, we came away knowing we did our small part. Before leaving, we purchased two t-shirts from their gift shop, knowing all the money went back to the non-profit organization.
If you're looking for something to do in Sitka, visiting Fortress of the Bear should be top of your list. If your cruise ship isn't stopping in Sitka, you can support the shelter by purchasing from its online store or making a donation.
Happy travels ~ Karen