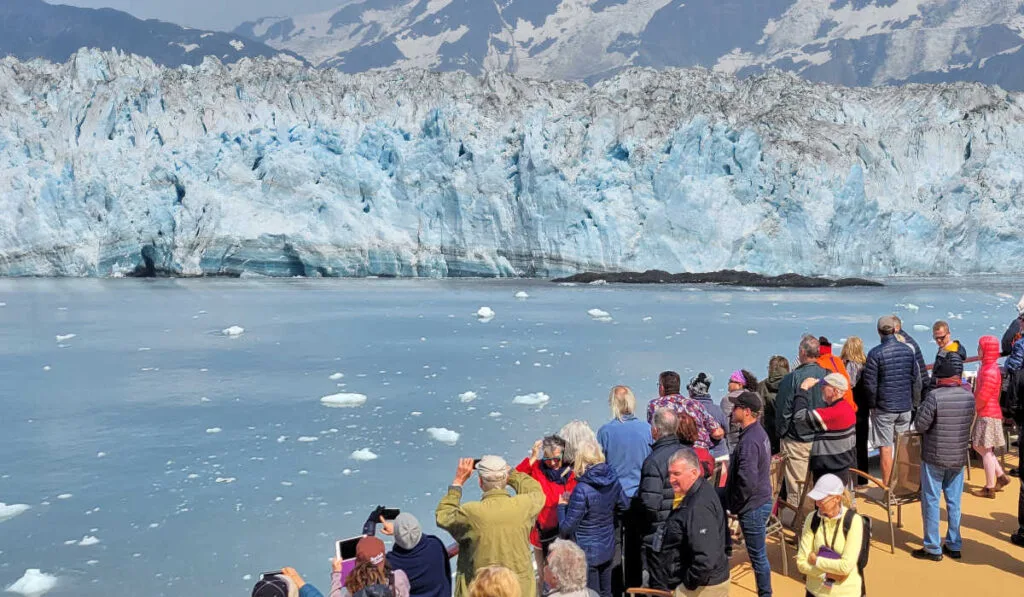 When I chose my first cruise to Hubbard Glacier in Alaska, little did I know I'd be seeing North America's largest tidewater glacier. Advancing at a rapid rate, Hubbard, otherwise known as the "galloping glacier," wows cruise passengers with its turquoise hues, massive size, and spectacular calving action.
At its terminus, its face measures 600 feet, with 350 of it above the waterline. Located in Wrangell–St. Elias National Park and Preserve, it's further north than Glacier Bay National Park.
Where Is Hubbard Glacier?
I still remember the slow and quiet approach to Disenchantment Bay on my inside passage Alaska cruise. While I had experienced numerous spectacular glaciers over the years, I had always viewed them from solid ground. This was the first Alaska adventure of what later came to be a recurring affair.
I chose to sail a Celebrity Alaska cruise from Vancouver, from the advice of my travel agent and researching Alaska itinerary reviews. My encounter left me so captivated that it launched me into an era hungry to experience more.
Not only is Hubbard Glacier the largest tidewater glacier in North America, but it's also the longest tidewater glacier in the world. It's important to note it can only be seen by air or by boat. Hubbard Lacier is located north of Juneau, in the Wrangell–St. Elias National Park.
The "galloping glacier" has been thickening and advancing into Disenchantment Bay ever since measurements began in the late 1800s.
Don't be disappointed if your cruise ship isn't cruising Glacier Bay. While many struggle with choosing between Hubbard and Glacier Bay as an Alaska itinerary, both are breathtaking in their own way.
I have cruised Hubbard Glacier four times and Glacier Bay National Park four times, and both offer fabulous itineraries that will leave you speechless.
When To Cruise To Hubbard Glacier?
Depending on when you travel, Hubbard Glacier can appear quite different. I've seen the glacier as different times of the year and Hubbard Glacier weather can play a huge factor in the experience.
In May, the snow-capped mountains will blend seamlessly with the glacier. On clear days, you'll enjoy mesmerizing towering peaks.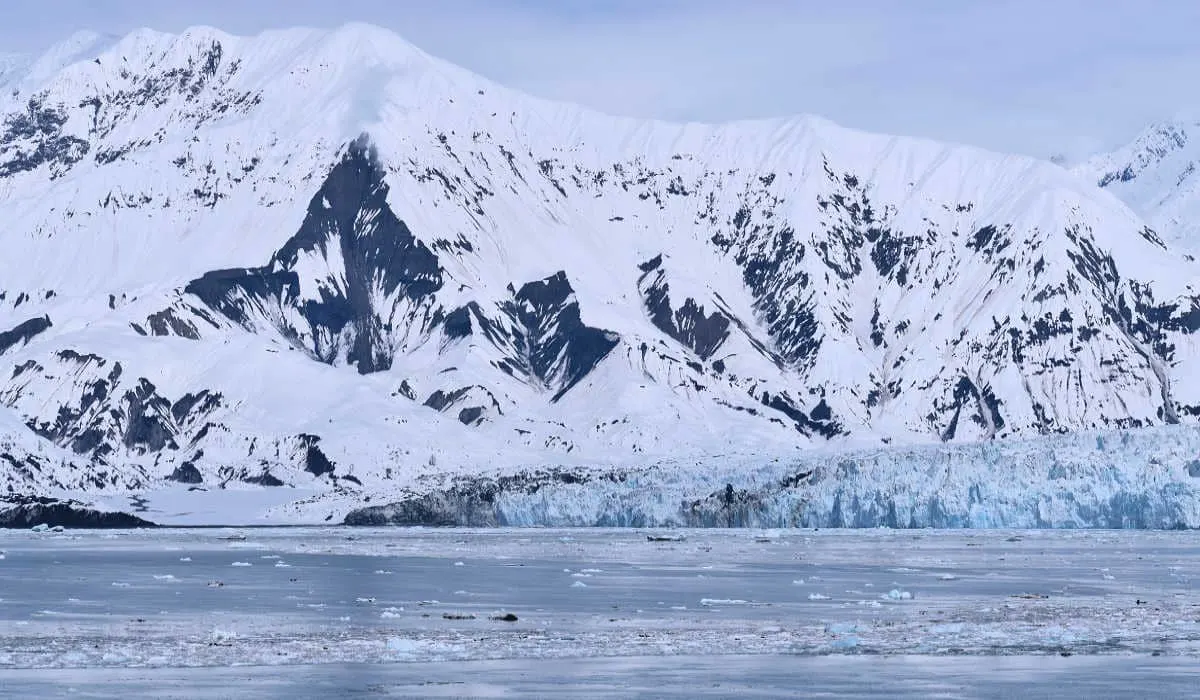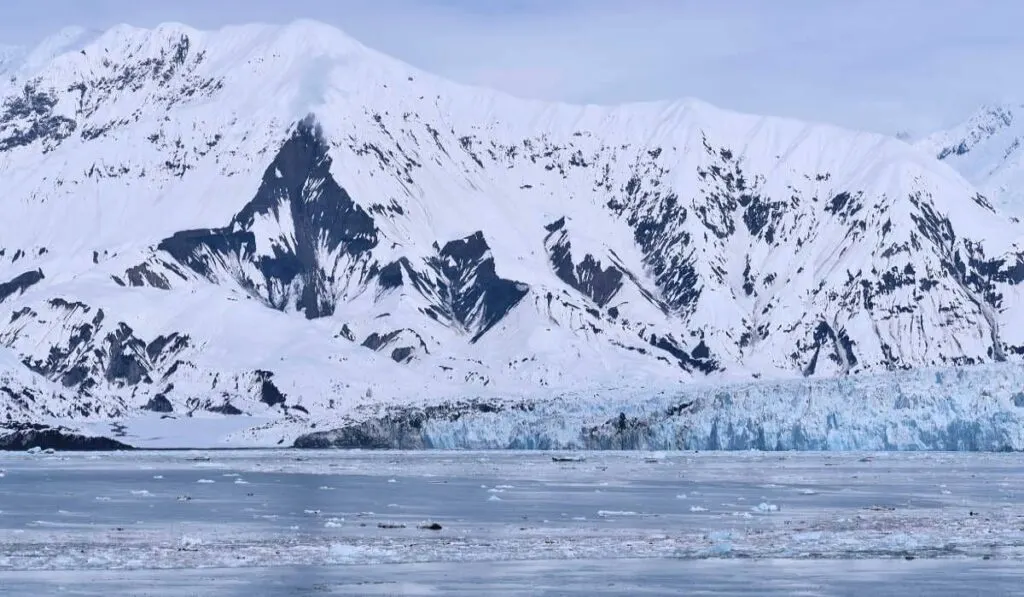 As the ship leaves the Gulf of Alaska into Yakutat Bay, the captain will slow its engines for a cautionary approach into the narrowing Disenchantment Bay.
Weather can also affect how much ice dots the waters of Disenchantment Bay. Remember to bring binoculars, as you can see harbor seals on the icebergs and sea lions on the rocks. In fact, you'll probably hear them before you see them.
Since Hubbard is advancing at a slow but persistent rate, it consistently calves into the waters, leaving them heavily populated with blue-hued icebergs. If you want to witness glacier calving, Hubbard is the best glacier to visit.
As the warmer weather approaches, the glacier calves more. So, by July, you will see much more ice in the water. The amount of ice can affect how close a cruise ship can get to the terminal face.
The captain's experience will also factor into how close they are willing to go. In bad weather, ships may stop several miles before the glacier. If all conditions are right, you may get within 1/4 mile of its towering face.
Surging through the icy waters, guests are transported in a "twilight zone" as the ice multiplies not only in quantity but in size. Soon, the silted striped bergs rivaled the size of houses adorned seagulls, harbor seals, and bald eagles.
If you cruise towards the end of the Alaska season, expect colder temperatures and an increase chance of rain.
The Face Of Hubbard Glacier
Disenchantment Bay is wide and can accommodate large cruise ships. It's less likely your Alaska itinerary will chance due to ice in the water. However ice and fog will affect how close you get to the colossal face.
So, how big is Hubbard Glacier? At its face, it measures an enormous 7 miles wide and 600 feet tall, of which 350 feet is visible above the water while 250 feet lie beneath.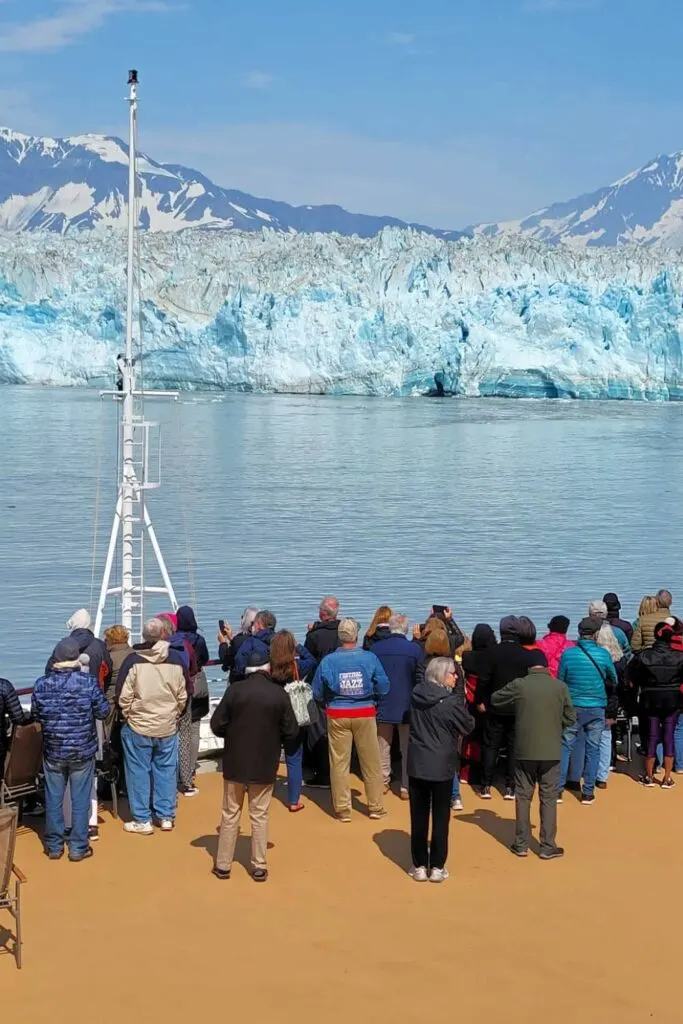 Keep in mind that much of the ice lies beneath the water line, and that will determine how close a ship can get to its façade. On the day I arrived, the conditions swung in our favor, and at a ¼-mile distance, I came face-to-face with the towering behemoth.
Standing on the deck, my cruise ship dwarfed in size next to Hubbard, and I was in awe of this spectacular natural wonder.
Unlike Glacier Bay itineraries, Hubbard is not inside a national park. Therefore, park rangers will not board the ship during the time spent at the glacier. Instead, a knowledgeable naturalist will accompany cruisers on their journey.
He/she provides oodles of appealing information about the surrounding tundra and the Alaskan wildlife that inhabits this area.
In the five hours I spent in the bay, the naturalist kept his eyes peeled to alert us to sightings of brown bears, eagles, mountain goats, seals, and humpback whales. Keep your cameras and binoculars handy, so you don't miss out on that unexpected appearance.
At the face of Hubbard Glacier, I noticed the ragged ice had various shades of blue and aqua. Although looking to the far left, it meets the much dirtier Valerie Glacier, mottled with silty stripes of volcanic ash.
On a clear day, you'll see towering peaks behind the icefield, and some of these lie in Canada.
The Rise And Fall Of Hubbard Glacier
Over the last century, Hubbard has been advancing and retreating. Currently, it's in a slow-advancing stage. In a world of increasing climate change where most icefields are retreating at an alarming rate, it's comforting to see one defying the odds.
If this isn't a reason to book your cruise to Hubbard Glacier now, I don't know what is.
At 76 miles long, this giant glacier begins at Mount Logan in the Yukon Territory of Canada. Due to its vast catchment basin, it gathers a tremendous amount of snow during the winter.
This fallen snow either moves with the ice or later melts and adds to the glacier's size. It's astonishing to know it takes 400 years for the ice at the top to traverse to the terminus or the toe.
So, when viewing those gorgeous shades of blue ice at the face, know that it's 400 years old. Interestingly enough, in 1986 and 2002, the ice flow advanced sufficiently to close off the entrance to Russell Fjord, on the righthand side of Hubbard.
The blockage of this fjord caused the water levels to rise rapidly and threatened to flood the Alaskan town of Yakutat.
The rising water in the now newly-developed lake caused a natural death to the surrounding flora, which could not survive underwater.
Eventually, the force of the water broke through, creating a new channel for drainage into Disenchantment Bay. Experts believe it's a matter of time before Hubbard Glacier advances enough to dam Russell Fjord again.
During your glacier cruise, look to the far right where the land juts out. This is Gilbert Point and the area that will eventually close up again.
Glacier Calving
Since Hubbard is actively advancing, all that movement causes the ice to crack. Routinely, chunks of ice break away from the terminus and fall into the frigid waters below.
This action is known as "calving'. Calving is one of the most amazing natural wonders in the world, and it's a treat to witness.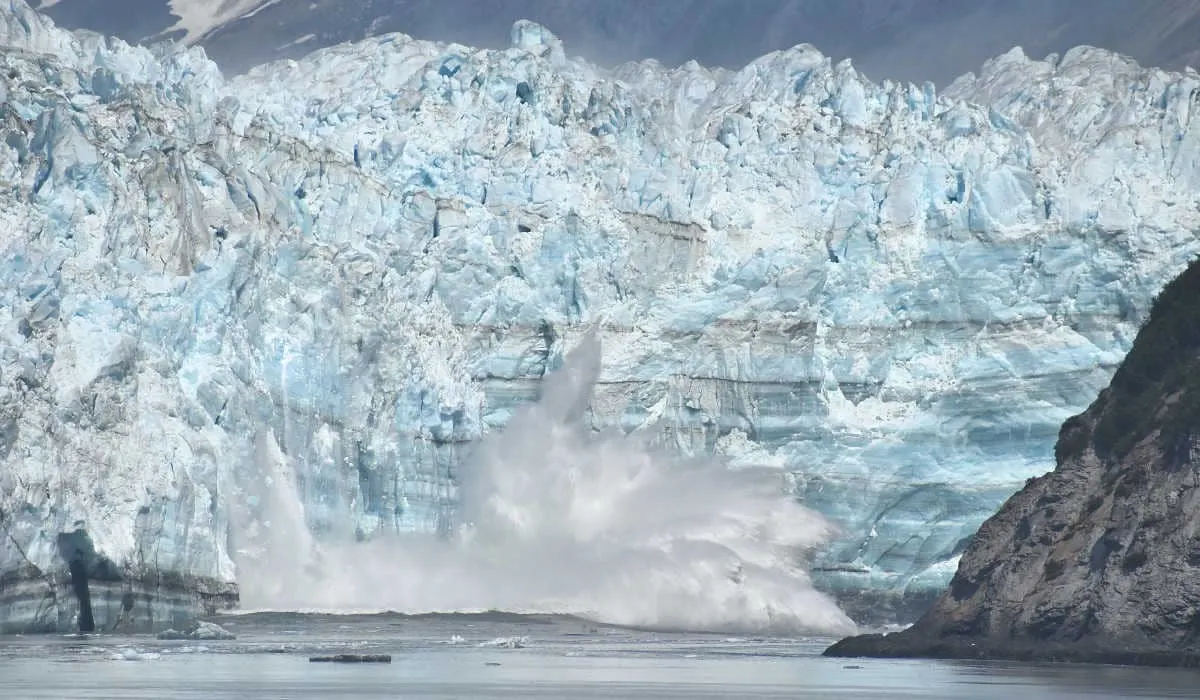 First, I heard the earth-shattering thunder, and then I scoured the towering ice to watch for the calving action. At 7-miles long, it was often difficult to predict where the ice would break off.
It was a matter of luck if I had my camera positioned in the correct direction. Sometimes the pieces were scanty, but other times, the chunks paralleled the size of a six-story apartment building.
Some of the newly-calved icebergs would collide with the water and splinter outwards, creating significant waves. This is one reason ships keep their distance from the edge of Hubbard.
During my Alaska cruise with Celebrity, the captain performed a slow pirouette of the ship allowing everyone equal viewing time.
So, whether you choose to view up on deck (as I did) or from the privacy of a stateroom balcony, every location is ideal for gazing. Plus, each cruise ship spends hours at the foot of Hubbard, so there's ample opportunity to take plenty of photos.
Hubbard Glacier & Wilderness Exploration
​To elevate your experience at the icefield, consider booking the Hubbard Glacier Explorer tour. This excursion is only offered through your cruise line and sells out months in advance.
Operated by Allen Marine, the tours allows booked guests to board a large catamaran along their cruise ship. Then the vessel follows closer to the land on an approach to Hubbard.
By cruising closer to the shoreline, you'll have an increased chance of wildlife viewing. Alongside giant icebergs, you'll be face-to-face with harbor seals who are undeterred by your presence.
Sometimes, your tour operator will retrieve ice from the water to make cocktails onboard.
Smaller vessels can also get closer to the glacier's surface, providing a front row seat to frequent calving. While most tidewater glaciers in Alaska are retreated due to global warming, Hubbard is advancing.
Once the excursion finishes, you'll meet your cruise ship as it's leaving Disenchantment Bay.
Alaskan Weather
On my first cruise to Hubbard, it rained the whole time we were glacier cruising and visibility was poor. I observed a few people in the steaming hot tubs outside on the wet deck, and it sparked an idea.
How often do you get to enjoy the bubbling waters of a spa while sitting next to a glacier? So, like the other few brave souls on that Hubbard Alaska cruise, we grabbed our bathing suits and Celebrity bathrobes to enjoy a hot tub with a spectacular view.
Call me adventurous or call me crazy, but life's more enjoyable with a little spontaneity.
During the summer months (May through to September), expect the temperatures to be between 40- and 60 degrees Fahrenheit. The average rainfall is 7 inches to 21 inches per month, with the wettest months towards the end of the Alaska cruise season.
Keep this in mind when packing for your Alaska adventure. While you might enjoy much warmer temperatures in port, it can be mighty cold next to Hubbard.
It's hard to top my first cruise to Alaska. Maybe part of that comes from the newness of my surroundings and the fact that everything was a "first". However, my 4th cruise on Cunard Queen Elizabeth got me closer to Hubbard with near-perfect weather conditions.
Perhaps part of it was that Celebrity Cruises made everything so fantastic. But even though I have traveled back to Alaska several more times, its immense panoramas still captivate me.
Other Visits To Hubbard Glacier
During my second Hubbard Glacier cruise with Princess Cruises, the temperatures were warmer, and the skies were void of rain. However, there were lots of low-lying clouds on the face of Hubbard.
All that fog obscured the views and made for a less-than-spectacular glacier viewing experience.
During my third Alaska cruise in May 2022, the skies were crystal clear, and the mountains were heavy with snow. The snow blended with the ice and blue hues of Hubbard Glacier.
Although I got COVID during my cruise, I was still able to enjoy Hubbard Glacier from my balcony, and I was extra thankful I had one.
Know that whenever you sail, you can't predict the weather, control the visibility, or know how close to Hubbard Glacier your ship can get. So, if Alaska serves you lemons (or liquid sunshine), jump in the hot tub as I did!
If you can't get enough of glacier viewing, book a one way cruise itinerary. You could see Hubbard Glacier along with Glacier Bay National Park. In Glacier Bay, the wildlife viewing continues as Johns Hopkins Glacier provides an important harbor seal breeding environment.
Happy travels ~ Karen