Planning an Alaskan cruise can be challenging. Who should you sail with, which ports to visit and which Alaska cruise itinerary is best? In this guide to cruising Alaska, I'll compare the itineraries so you can find the one that works for you.
That decision depends on many factors, like if you're cruising with children, whether you're prone to motion sickness, the length of your journey, and whether you prefer small ships or larger vessels.
No matter which Alaska itinerary you choose, the voyage will captivate you with its rustic towns, beautiful national parks, and indigenous cultures.
Cruises to Alaska sail from late April to early October, with July and August being the prime months. With so few weeks to sail, you should book early, so you research ports of call and decide on shore excursions.
In contrast to a Caribbean cruise, an Alaska cruise can experience vastly different weather.
Choosing The Best Alaska Cruise Itinerary For You
Here are some factors to consider when deciding on an Alaskan cruise.
How much time do you have? Most cruises are seven days, but you can see more on a longer itinerary. If you're on a budget, there are cruises under seven days, but they don't generally visit a glacier.
Some cruises don't visit a glacier or fjord. If that's important to you, find one that goes to Glacier Bay National Park, Hubbard Glacier, or one of the fjords.
Do you have a preferred debarkation port? Many Americans prefer to fly to Seattle because it's a domestic flight.
Do you want to see Denali? If so, you'll need to book a cruise tour.
If you prefer big ships, Royal Caribbean and Norwegian Cruise Line's mega-ships only sail from Seattle, Washington.
Is it essential to cruise with fewer children? If so, choose a cruise line that caters to adults. Alternatively, select a sailing in the off-season when the kids are in school.
Do you suffer from motion sickness?
Do you want a roundtrip itinerary or prefer a one-way, which cruises further north?
Inside Passage Alaska Cruises For Motion Sickness
If you suffer from motion sickness, picking an Alaska cruise can be tricky. Ideally, you'll want to select one that sails the inside passage.
Most inside passage cruises depart from Vancouver, British Columbia, but you may find a few sailings from Seattle, Washington.
Those residing in California might want to fly to a northern embarkation port than take a roundtrip itinerary from San Francisco.
Since cruising the Pacific Coastal often experiences rough seas, a shortened cruise from Seattle or Vancouver is preferable to one from the southern United States. However, you'll have to add an airline ticket.
Once you've chosen a sailing, select a mid-ship stateroom on one of the lower decks. Newer ships may experience less motion than older vessels. Travel with motion sickness patches and Bonine tablets.
Since cruise lines build new vessels with the latest technology, their stabilizers can minimize the motion of rougher waters.
Not only do inside passage cruises offer smoother sailings, but they are more picturesque too.
Since you sail between Vancouver Island and the mainland, you'll enjoy views of smaller islands and lush rainforests.
Best Cruise Itineraries To See Alaska Glaciers
Glacier Bay Vs. Hubbard Glacier, that question gets asked again and again. There's no right or wrong answer here. It really depends on the experience you're looking for.
Glacier Bay National Park is a UNESCO world heritage site, and for a good reason. The national park exudes a natural beauty that's hard to describe.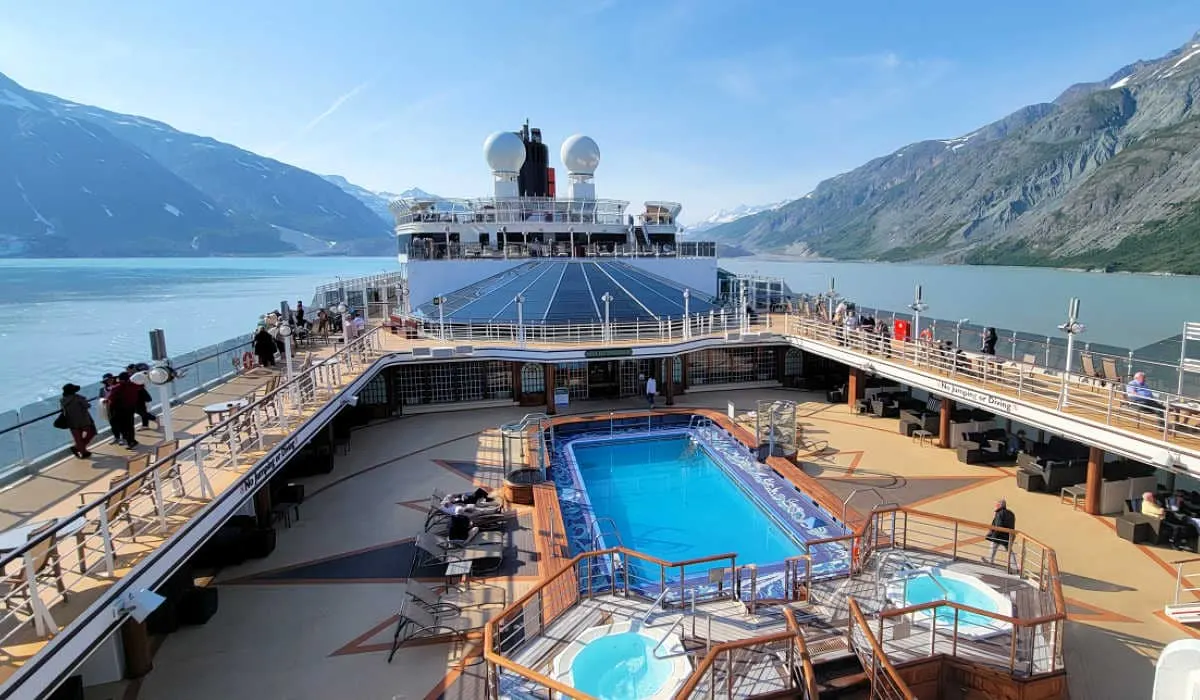 An itinerary to Glacier Bay includes multiple glaciers such as John Hopkins, Margerie, Lamplugh, and Grand Pacific.
Your captain will decide which glaciers to approach, and that decision may be dependent on weather, ice, and time.
Select cruise lines such as Princess Cruises, Holland America, and Cunard have a naturalist onboard. Throughout the trip, they will give lectures on the glaciers, flora, fauna, and Alaska ports.
If you want a naturalist, make sure you book with a line that provides one.
Only two large cruise ships a day can enter the park and must be accompanied by a park ranger. The scenic cruising lasts hours and often includes a commentary on the landscape, wildlife, and history.
Princess Cruises, Holland America, and other selected lines offer these coveted itineraries. In contrast, a cruise to Hubbard in Disenchantment Bay allows you to see North America's largest calving glacier.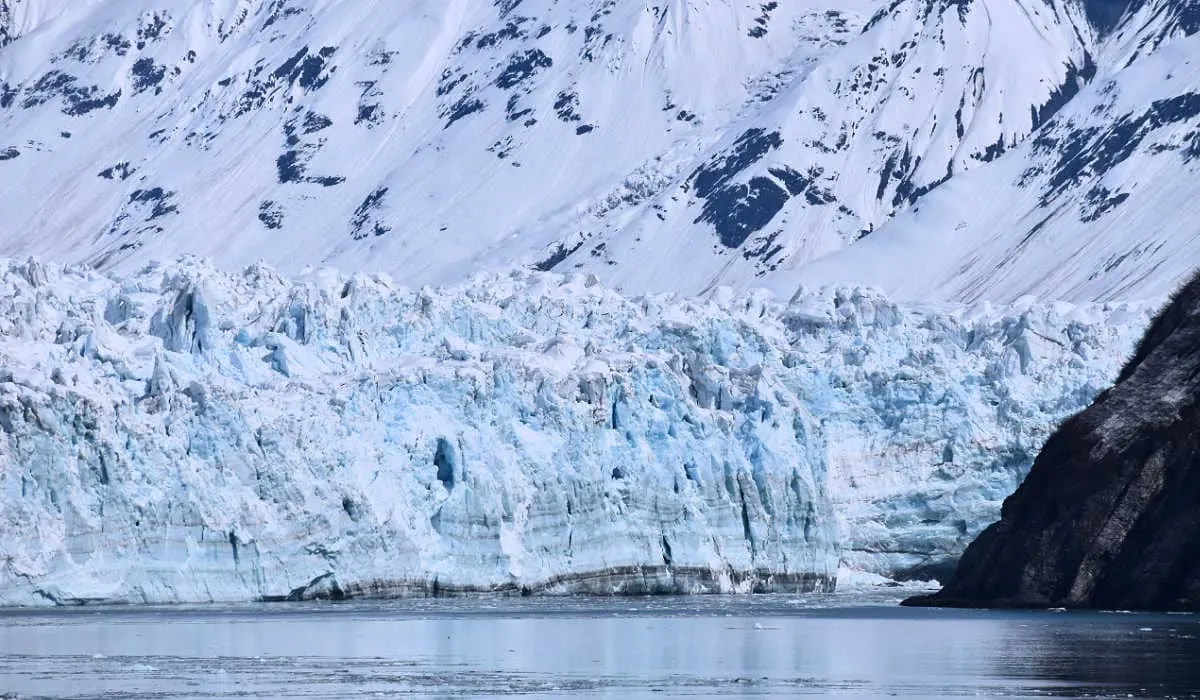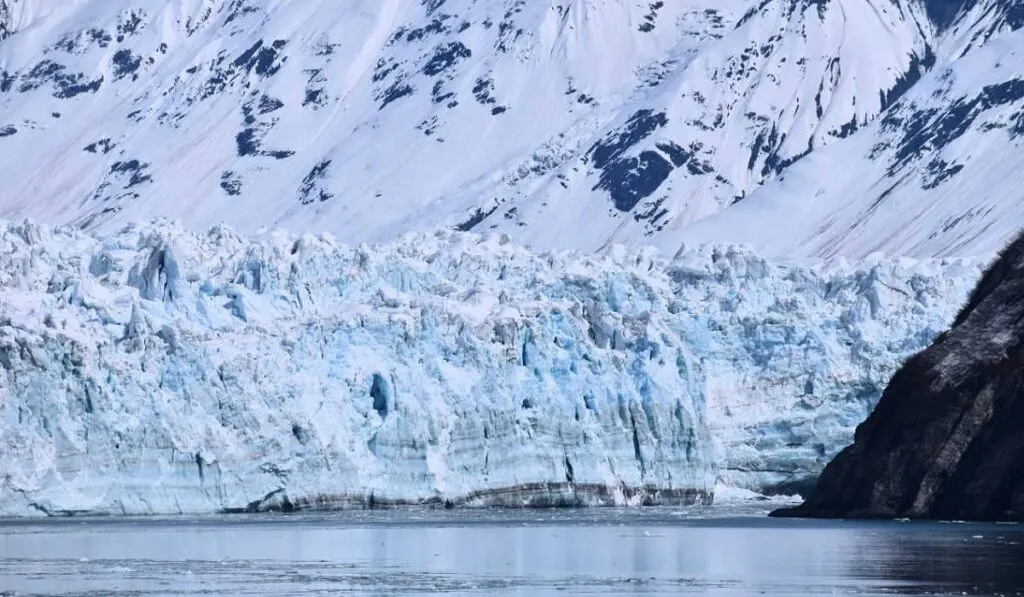 How immense is Hubbard Glacier? It's seven miles wide and won't fit in a photograph.
Unlike most North American glaciers, it's advancing, providing the best calving action. Its colossal face drops apartment-sized icebergs into the bay, creating small tidal waves.
As the ice breaks off the terminus, the wall reveals stunning blue and aqua shades.
Is The Fjord Experience A Better Option?
Cruising through a fjord is quite different. The narrow passage has steep granite walls, often filled with mist and shadowed sunlight.
Those granite cliffs adorned with moss boast cascading waterfalls as high as 1,000 feet. If you prefer to cruise a fjord, College, Tracy Arm, and Endicott are your choices.
While College Fjord offers multiple glaciers named after famous colleges, it's only available on a one-way itinerary to the Gulf of Alaska.
Both Tracy Arm and Endicott Arm are further south and included in itineraries from Vancouver, Seattle, and California. Tracy Arm Fjord contains two glaciers at the end of the 48 km fjord.
Larger cruise ships only have access to South Sawyer Glacier, as North Sawyer or Sawyer Glacier has retreated, making the passage too narrow.
In late April and early May, ice often blocked the passage of cruise ships. So, if you're planning an Alaska cruise in the month of May, choose a sailing at the end of the month.
Adjacent to Tracy Arm, Endicott Arm provided a straightened route to Dawes Glacier. Like Tracy Arm, it can have ice early in the season.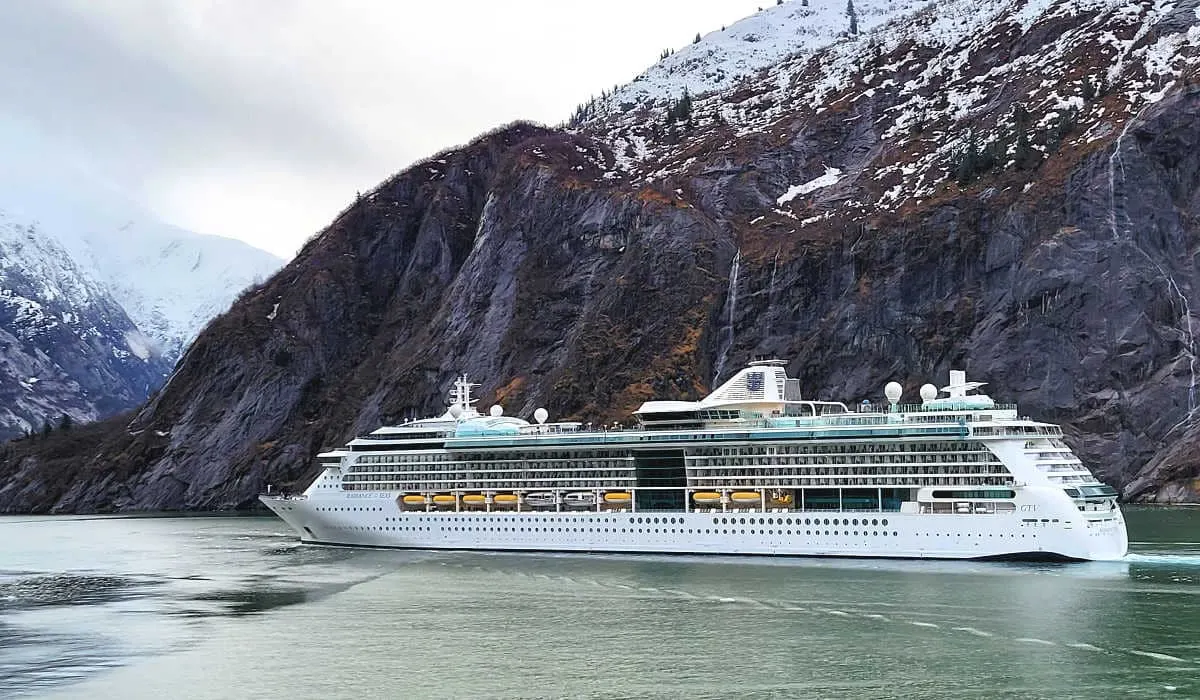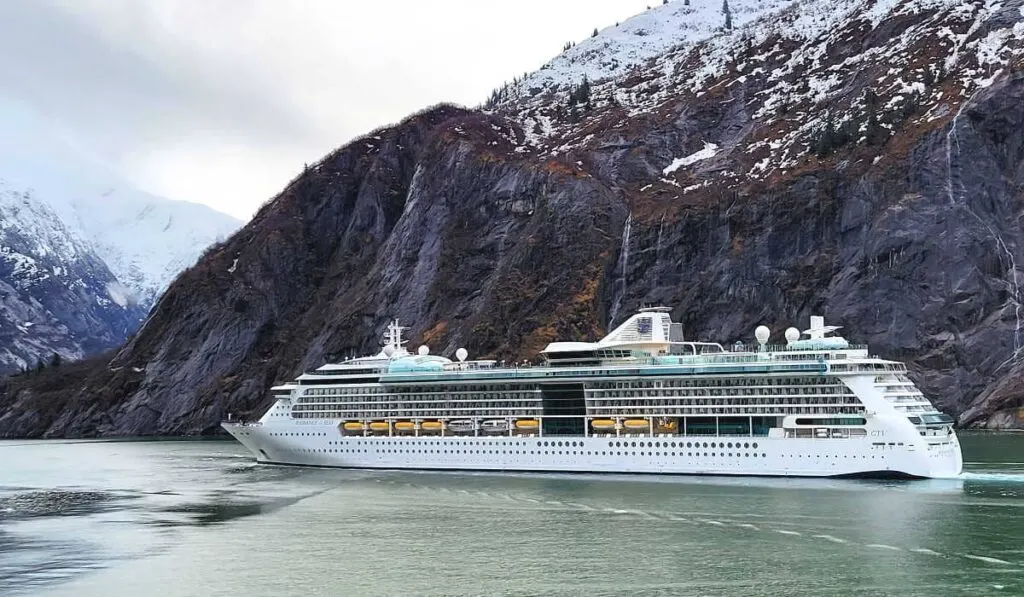 Vessels that cruise to Tracy Arm or Endicott Arm usually do so on the day they dock in Juneau.
Since the city and fjords are part of the Tracy Arm-Fords Terror Wilderness Area, it makes sense to visit both on the same day.
However, you'll have a shortened stop in Juneau by including both on the same day.
One-way itineraries and very selected cruises include TWO days of cruising to a glacier(s). It may take some searching to find them on a 7-day cruise.
Return Or One-Way, Which Itinerary Is Best?
If you reside in Seattle or Vancouver, you may lean toward a roundtrip cruise itinerary which requires no airfare. Although, a return Alaska cruise can only sail so far before returning to its embarkation port.
Cruises that go one-way, or Gulf of Alaska cruises, sail further north but require a flight to get home. These one-way cruises may include College Fjord, Valdez, Kodiak Island, and either Seward or Whittier.
If you want to sail further but don't want to fly, a 14-day back-to-back cruise allows you to see College Fjord, Prince William Sound, and spend a day in Anchorage before making the return journey.
But, most of these Alaska itineraries repeat the same cruise ports of Ketchikan, Juneau, and Skagway.
Repositioning cruises that sail between Vancouver and Asia follow the Gulf of Alaska route and provide stops in Alaska, Japan, and other Asian nations.
Should you choose a one-way itinerary, it's best to add on a land tour.
What Are My Options For Land Tours?
While many cruise lines offer cruise and land tours, Holland America Line and Princess Cruises do it best.
Holland recently celebrated 75 years of sailing to Alaska, while Princess has offered itineraries since the 1960s.
Princess has five wilderness lodges; Copper River, Mount McKinley, Denali, Fairbanks Riverside, and Kenai Wilderness Lodge.
Their domed railcars provide a ship-to-lodge transfer with unobstructed views of the pristine landscape.
Holland America, like Princess, has a domed luxury train called the McKinley Explorer. It takes guests to the McKinley Chalet Resort, a gateway to Denali National Park.
The park encompasses six million acres of wilderness, home to unique Alaskan wildlife. If you want an Alaska itinerary with a chance to see wildlife, you must visit Denali.
Cruise and land tours start at 9 days and go up to 18 days, with an option to begin or end in Fairbanks or Anchorage.
The longer itineraries visit more places such as Kenai, Talkeetna, Alyeska (Girdwood), Copper River, Whitehorse (Yukon), and Dawson City (Yukon).
Selected itineraries combine the Canadian Rockies with an Alaska cruise. These packages include luxury accommodations at the Fairmont Hotels in Banff, Lake Louise, and Jasper.
After visiting first-class destinations such as Moraine Lake and the Columbia Icefields, you board the Rocky Mountaineer Train for an unbelievable rail journey to join your cruise ship in Vancouver.
This itinerary checks off many bucket list places from Anchorage to Lake Louise, Alberta.
Do Smaller Ships Have Better Itineraries?
Cruising on a small ship has advantages and disadvantages. So, it's best to decide what works for you. Small vessels can dock in towns not accessible by larger ships.
Luxury cruise lines like Seabourn, Viking, or Windstar Cruises often offer these itineraries. Pricing may be a significant factor in choosing itineraries with these cruise lines.
If you opt to go on a small vessel, you'll benefit from a longer itinerary with more unusual ports of call.
On an extended journey, you could visit Valdez, Prince Rupert, Kodiak Island, Wrangell, Petersburg, Point Adolphus, or Kenai.
These itineraries provide an intimate experience and may include shore excursions that travel into more remote wilderness areas.
In contrast, mega-ships like the Norwegian Bliss and RCI's Ovation of the Seas are about the onboard experience, not the itinerary. If you're looking for the best cruise line to Alaska and traveling with kids, the ship may be more critical than the itinerary.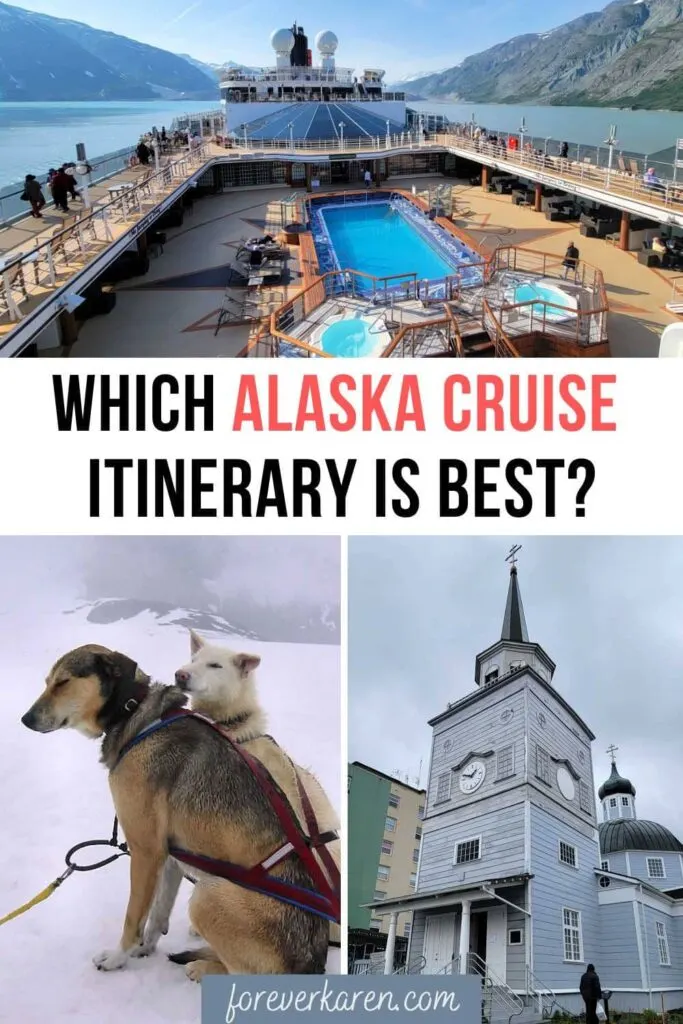 Best Alaska Cruise Itineraries For Port Days
When reviewing the port days, most vessels stop at Juneau (the capital), Ketchikan, and Skagway. Should you choose a cruise longer than seven days, there will be more stops.
Most seven days itineraries have three port days, although a few have four. Quantity isn't necessarily better. The best cruise itineraries provide the longest hours in Alaskan ports.
So, if you opt for more ports, you could end up with port spots of just four or five hours.
Should you book a Norwegian ship, your vessel with dock in Ward Cove, outside Ketchikan. You will need a shuttle to reach downtown, which cuts into your port day.
Let's examine the most common ports and see which ones appeal to you.
Juneau, The Capital
Being the capital city, Juneau offers the greatest selection of tours and excursions. If you haven't had your fill of glaciers, hop on a shuttle to see Mendenhall Glacier, part of the Juneau Icefields.
If the salmon are running, black bears often stroll Steep Creek in search of a tasty meal.
Operators often package Mendenhall with a whale-watching tour. In May, humpback whales migrate to Alaska to feed, and tours will guarantee sightings.
For those without a budget, dog sledding on an icefield and flightseeing by helicopter are top shore excursions.
Book early because these bucket list adventures sell out more than six months in advance.
In town, you'll want to stop by the Red Dog Saloon, which has the iconic saloon doors. Its most famous drink on the menu is a "duck fart."
If you're hungry, head over to Tracy's Crab Shack, where the lineup is long, and the prices are high. But you're in Alaska, so you have to eat King crab!
Ketchikan
As the salmon capital of the world, anglers can test their skills at catching fish in Ketchikan Creek. Ketchikan has an interesting history revealed at Dolly's House Museum on Creek Street.
Built on stilts, Ketchikan's Creek Street provides a lovely stroll on a warm day. Its shops and boutique are one-of-a-kind and not the same chains found in other cruise destinations.
Be warned because Ketchikan is one of the rainiest cities in North America, with an average rainfall of over 141 inches!
So, pack a waterproof jacket (even in summer) because the sunshine may come in liquid form.
The top tour picks in Ketchikan go to the Misty Fjords floatplane excursion and the crab tour on the Aleutian Ballad.
Typical to fjords, the Misty Fjords National Monument contains steep cliffs surrounded by the lush Tongass Rainforest.
Alternatively, the Bering Sea Crab Fishermen's Tour allows you to ride on a vessel featured in the "Deadliest Catch" TV series.
Skagway
Sitting at the end of Lynn Canal, Skagway offers a fascinating history of the Klondike Gold Rush. Much of the tours center around the Gold Rush and what it took to build the Yukon railroad.
The White Pass narrow-gauge railway, Skagway Float Tour, and Gold Rush Salmon Bake all focus on the get-rich prospectors who traveled north searching for gold.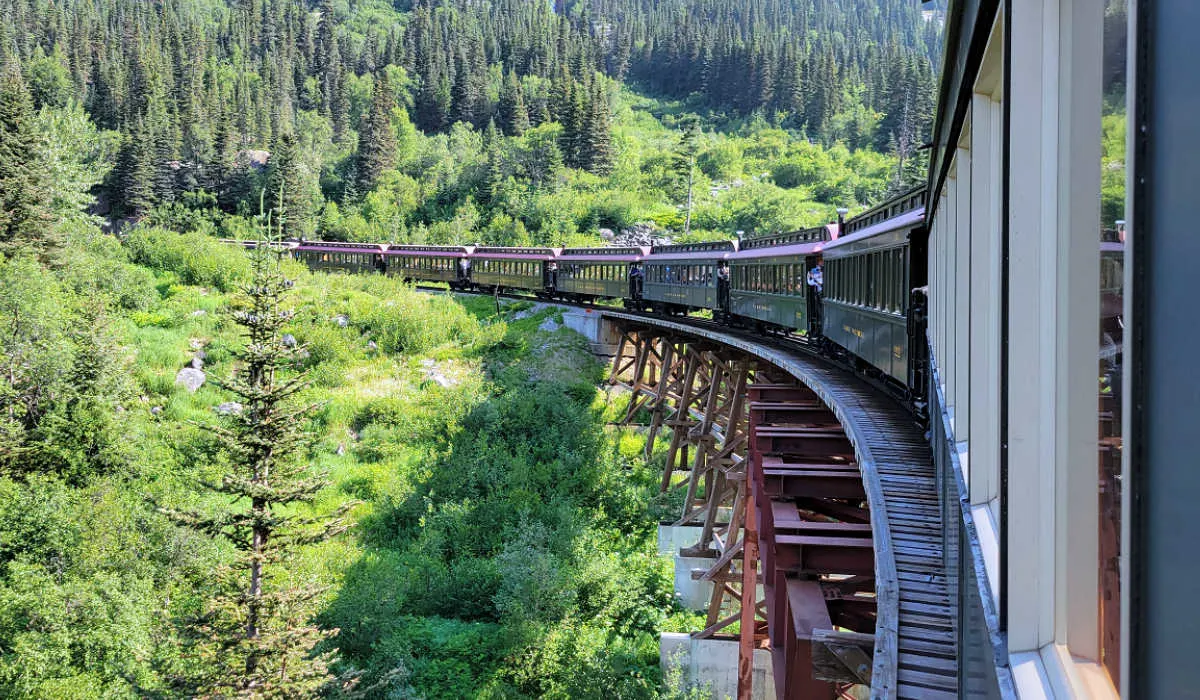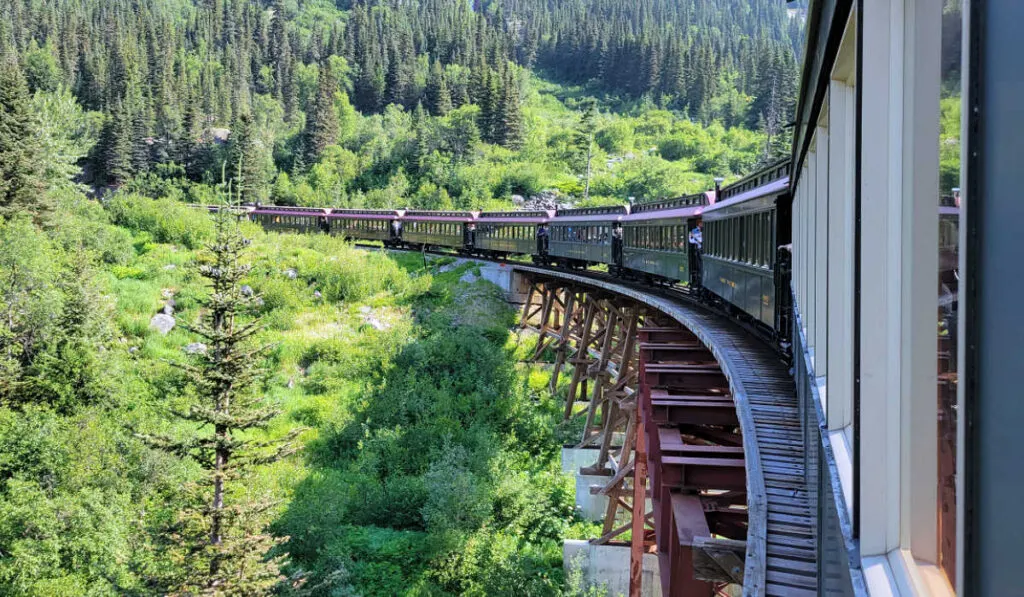 Families might enjoy panning for gold, visiting the dog musher's camp, or taking to the trees on a zip-lining excursion.
If you prefer to forego a shore excursion, the Klondike Gold Rush National Historical Park and local museums document the history of the Gold Rush.
Sitka
Like Skagway, Sitka is another town with a great history. When the United States purchased Alaska from Russia, the transfer occurred at Sitka (the capital of Alaska at that time). At Castle Hill, you can see where the American flag was raised for the first time.
Sitka is home to St. Michael's Cathedral, the first Orthodox Catholic Church in North America. While it may seem ordinary on the outside, the inside contains some extraordinary religious artwork.
So, if you want to see wildlife, Sitka is the better choice. The Fortress of the Bear refuge rescues orphaned bears, and the Alaska Raptor Center houses injured birds of prey and returns them to the wild when possible.
Sitka is also home to a large population of otters. Once almost hunted to extinction, the protected species has grown in numbers, and you can enjoy them on an otter tour.
Icy Strait Point
Located on Chichagof Island, Icy Strait Point is the ideal stop for those who love nature. Unlike the other ports, there is no real town here. Hoonah, a native village, is a mile away.
While the Huna Totem Corporation and Norwegian Cruise Line are still developing Icy Strait, this port best suits those willing to pay for excursions. Wheelchair users won't find this port very accessible.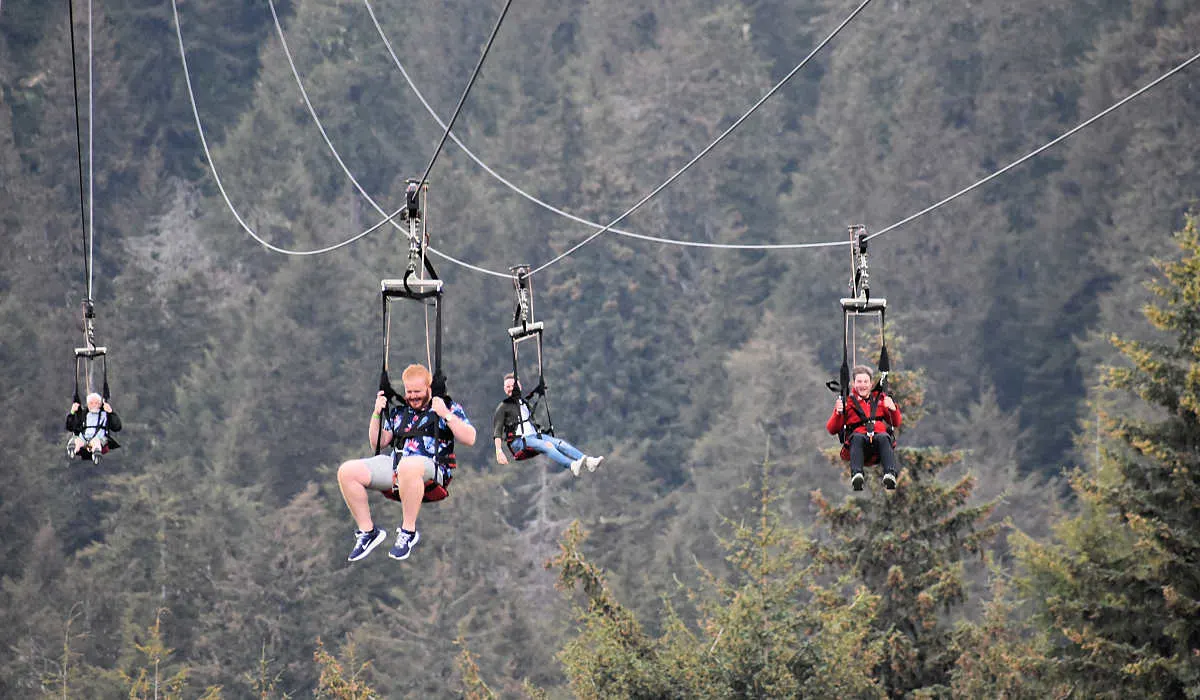 While Icy Strait Point offers many things to do, the tours are unique. For thrill-seekers, Icy Strait features one of the largest ZipRiders globally.
Alternatively, it's one of the best places to go whale watching because of its location close to Glacier Bay National Park.
Best Itineraries To See Alaska Wildlife
Alaska cruises don't offer any guarantees of seeing wildlife. While whales are prolific during the Alaska cruise season, you'll want to keep your binoculars handy to look for them.
Cruise ships sail in the deepest waters, and whales feed close to land. Viewing from a large vessel is different from taking a smaller boat tour.
So, regarding wildlife, consider selecting an itinerary with these towns to increase your odds of spotting big game.
Whales – Juneau and Icy Strait Point offer the best places to see whales on a tour. You may see harbor seals, sea lions, and eagles too.
Harbor Seals – Tracy Arm Fjord in late May/early June or Hubbard Glacier.
Bald Eagles – The Bering Sea Crab Fishermen's Tour in Ketchikan (you'll enjoy them in a natural setting) or the Alaska Raptor Center in Sitka.
Caribou – Denali National Park.
Bears – Steep Creek at Mendenhall Glacier when the salmon are running, a bear-watching tour on Chichagof Island, an excursion to Katmai National Park, and the Fortress of the Bear in Sitka.
Also, keep the binoculars handy in Glacier Bay as bears often scour the shoreline for food.
You don't usually see bears early in the season. They tend to stay in the higher areas when they come out of hibernation. Later in the summer, they move to lower ground to feed.
Sea Otters – An otter tour in Sitka offers the best chance to see these playful creatures.
When's The Best Time To See The Northern Lights?
If seeing the northern lights is on your bucket list, it's essential to know that if you travel during the optimum time, there's no guarantee to see them.
The Aurora Borealis is unpredictable, but here's what you can do to increase your chances of observing it.
Book an itinerary late in the season, like late September and October, and add on a land tour. If land tours aren't available, consider planning your own land itinerary.
On land, travel inland to Denali, Fairbanks, or an area away from light pollution. Then, check the Aurora Borealis forecast online to see the best chance for viewing.
Conclusion
Choosing the best Alaska cruise itinerary and cruise line comes down to personal choice. What's right for one person may be different from the correct one for you.
Some may prefer a longer cruise on an expedition vessel like UnCruise or National Geographic. You may be limited in time and need a smoother route.
Don't overthink it; go with what feels right. Once you arrive in Alaska, you'll wonder why you waited so long to visit.