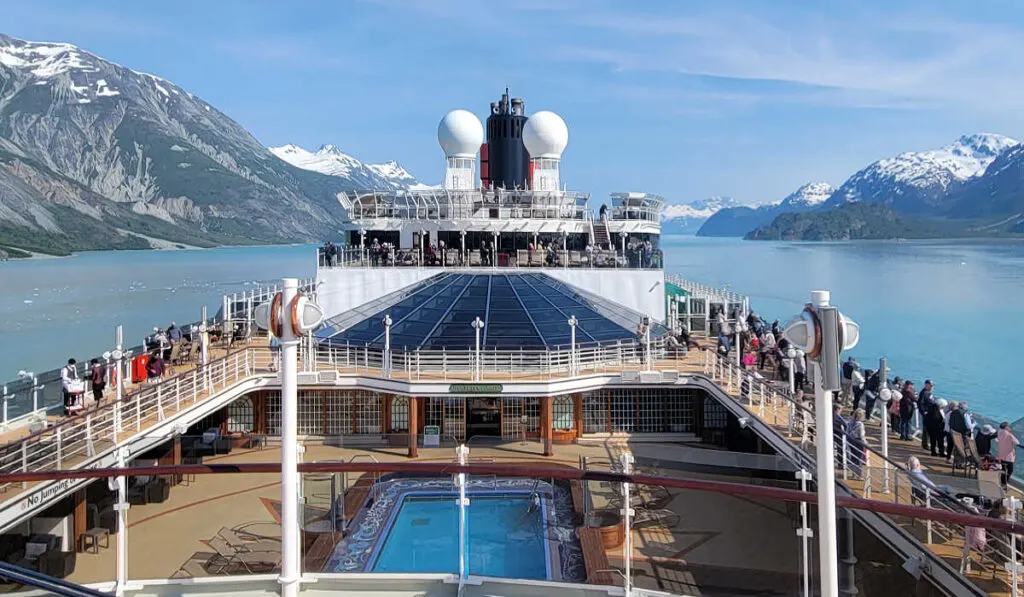 When we booked our Cunard Alaska cruise, we had heard Cunard's dress code was quite formal. Since most Alaska cruises are very casual, we wondered how it would compare with other lines.
Being British, I grew up with the routine of dressing for dinner but wondered how formal or how strict Cunard was with their dress code. Also, some passengers chose not to book with Cunard because of their dress code.
So, if you're considering booking Queen Elizabeth, Queen Mary, or Queen Victoria and are curious about their dress code, this article explains what you can wear onboard.
Cunard's Daytime Wear
Boarding Queen Elizabeth in Vancouver, we wore shorts and t-shirts. After all, it was July 1st and a hot day. We expected to see others less casual than us, but everyone wore similar clothing.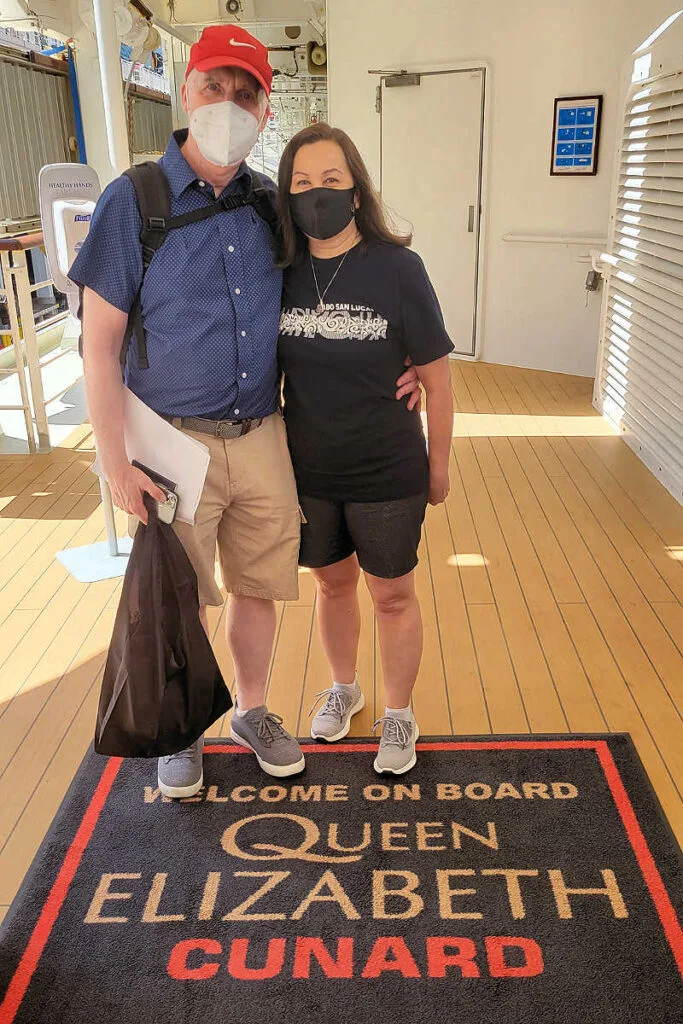 We met a young man who had flown in from Quebec, and the airline had put everyone's luggage on the wrong plane. So, he boarded the 10-day cruise to Alaska with the clothes on his back, and I wondered how he would manage.
During the day, Cunard's dress code is the same as every other cruise line. Jeans, shorts, and t-shirts are acceptable clothing in restaurants and around the ship. Their daywear could be considered smart casual.
Every day, Queen Elizabeth served afternoon tea in the Queen's Room. I'm sure the event happens every day on other Cunard ships. Even that event allowed for casual clothing. We enjoyed two afternoon teas and wore shorts and t-shirts one day.
Since we were cruising in Glacier Bay National Park the following day, I attended in a sweater and long pants before stepping outside again. Our itinerary included both Glacier Bay and Hubbard Glacier.
It was pretty cold at Hubbard Glacier, even in July. So, we wore jeans, sweaters, and a waterproof jacket while out on the deck. Since our cruise ship was sailing at less than 50% capacity, we enjoyed the decks with very few guests.
On the promenade deck, we could snuggle under wool blankets provided by Cunard while enjoying the scenic views. The promenade deck was a great place to escape the crowds on the upper decks.
When it was time to eat, we stepped inside and had lunch in the dining room, in what we were wearing.
Cunard's Dinner Dress Code
Dinnertime is when Cunard changes its dress code. If you want to eat in the dining room or specialty restaurant, you can't wear shorts, t-shirts, or flip-flops.
I had been on other cruise lines where people showed up to a formal night in beach wear, and the cruise line didn't enforce the dress code policy. So, I wondered if it would be the same on a Cunard cruise ship.
However, Cunard attracts guests who follow the rules and dress for the occasion. I wore dress slacks or a skirt with a blouse for our evening meals.
My husband, Brian, wore a collared shirt and dark trousers (dress pants). Cunard also recommends a dinner jacket, but not all men wear one.
If passengers didn't want to dress for dinner, they could enjoy a casual evening at the buffet. Cunard Queen Elizabeth's food choices were excellent. While some other line's buffets resembled a college cafeteria, I was impressed with Cunard's.
You can't beat Cunard's food which tasted as good as it looked. The Lido restaurant had an allergy section with gluten, dairy, and sugar-free choices.
Queen Elizabeth has one specialty restaurant called the Veranda Steakhouse. We dined there one evening, and its dress code was no different than eating in the main dining room.
Gala Night Themes
Some cruise lines have relaxed their dress codes and moved away from formal nights, and call them something else. "Evening chic," is the dress-up night on a Celebrity cruise, and Royal Caribbean's dressier nights are called "wear your best."
Interestingly, Oceania Cruises have no formal nights, yet Costa Cruises retain its formal dinners. Norwegian Cruise Line uses the phrase "dress up or not," giving guests the option of staying casual.
However, Cunard has stuck to its formal evening attire called "gala nights," encouraging guests to go all out. By keeping their formal nights, they attract travelers who enjoy dressing up.
The formal wear consists as follows: men are expected to wear a dark suit and a tie or a tuxedo with a bow tie. And the majority comply.
Women can wear a cocktail dress and or an evening gown. Since Brian and I like to dress up, seeing everyone dressed to the nines on a gala evening was refreshing. Brian even purchased a tuxedo just for this cruise.
Cunard puts a twist on their formal nights, giving them a theme. Their website lists their themes as Masquerade, Red and Gold, Black and White, and Roaring 20s. We had hoped to get Red and Gold and Masquerade.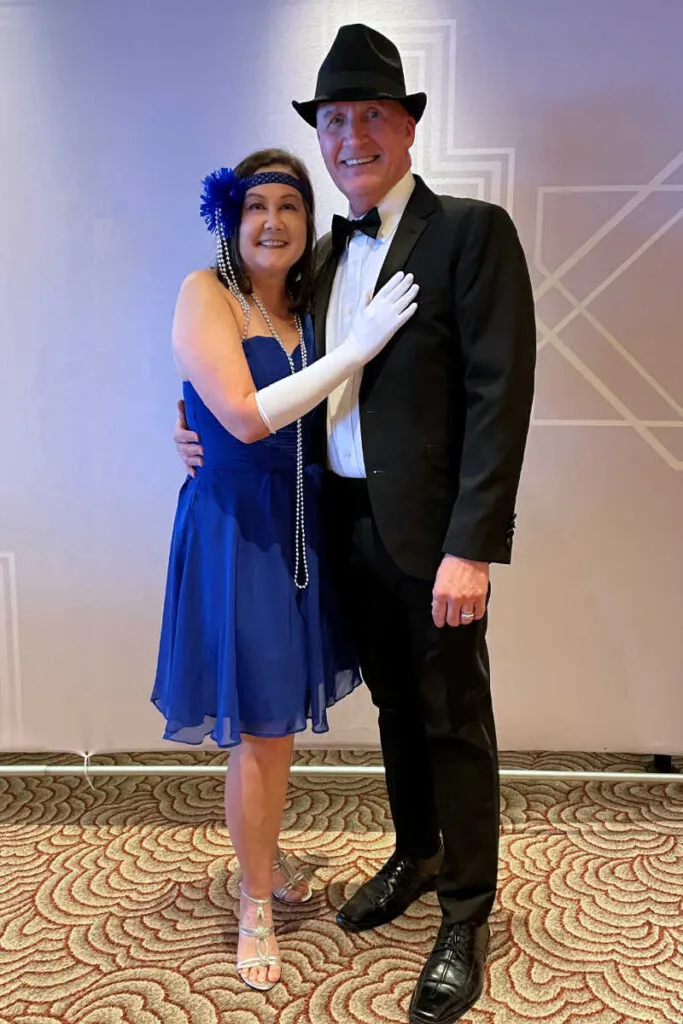 Cunard only conveyed our theme nights to us about ten days before our sailing, and I wished we had known sooner. Our themes were "White Ice" and "Roaring 20s."
The roaring 20s theme was easy to adapt to. Brian bought suspenders and a black Fedora hat from a party store to complete his look. I chose to accessorize what I had without purchasing a flapper dress that I'd probably only wear once.
While the themes are meant to be fun, Cunard doesn't expect guests to purchase whole new formal attire for the evening. So, I got long white gloves from a party store and wore them with long beads from the dollar store.
I created a 20s headpiece using a dollar store hairband by adding beads and a pompom. While we only spent a small amount to fit the event, we received many compliments for our outfits. Alternatively, it's inexpensive to buy online.
The 20s night was fun, with so many guests trying to conform to the theme. It actually made the evening a bit more unique and out of the ordinary.
Alaska Gala Night
Cunard introduced a new "White Ice" theme to their Alaska itineraries. It represents the glacial ice of Hubbard Glacier and glaciers in Glacial Bay National Park.
Unfortunately, Cunard hasn't added the theme to their website, and many guests were confused about what they should wear. Were the men expected to wear white? What if we didn't like white?
White isn't my best color because I have olive skin, so I had nothing in my wardrobe in white. Since I wanted to dress for the gala night, I purchased a white dress, and Brian wore a tuxedo.
I was surprised by how many men wore tuxedos, and a few wore dark suits. One man came smartly dressed in a kilt and entire Scottish attire.
Since most guests interpreted the theme as the colors of ice, ladies wore white, pale grey, aqua, and pale blue. Some were totally confused by the theme and wore what they had, although most made an effort to wear paler colors.
I saw more long evening gowns than any other line I've sailed. However, I chose to wear two cocktail dresses.
Interestingly, no one tried to dine in the main dining room wearing something outside the dress code. Those who preferred not to dress up went to the Lido instead. That probably included the young man with lost luggage.
Cunard elevated the event by adding white flowers and crystal accents in the Grand Lobby and dining room. The restaurant staff gave guests a complimentary glass of champagne during dinner, and the staff was dressed elegantly too.
Renting A Tuxedo
If you don't have a suit or tuxedo, Cunard has a rental service. You can rent a tuxedo or pieces of a suit for one or multiple nights. So, if you have black pants and a white shirt, you can rent just the tuxedo jacket.
If you're cruising to an area that requires so much clothing variety, such as Alaska, renting a suit can save space in your luggage.
During our cruise, I was surprised that passengers heavily utilized the rental service. I saw racks of tuxedos outside a store on gala days, ready for pickup.
Final Thoughts
While a Cunard cruise may be more formal on certain evenings, expect daytimes to be cruise casual. What you pack will depend on your chosen itinerary and the number of days cruising.
The Caribbean and Mediterranean require more beachwear and sandals. Contrasting that, guests going to the Baltics or Alaska would need waterproof clothing, layers, and a warm jacket.
As always, dressing for dinner or gala events is totally optional. The Lido offers the same food as the main room if you prefer to dine casually.
While we booked our Cunard cruise expecting it to be overly formal, nothing could be further from the truth.