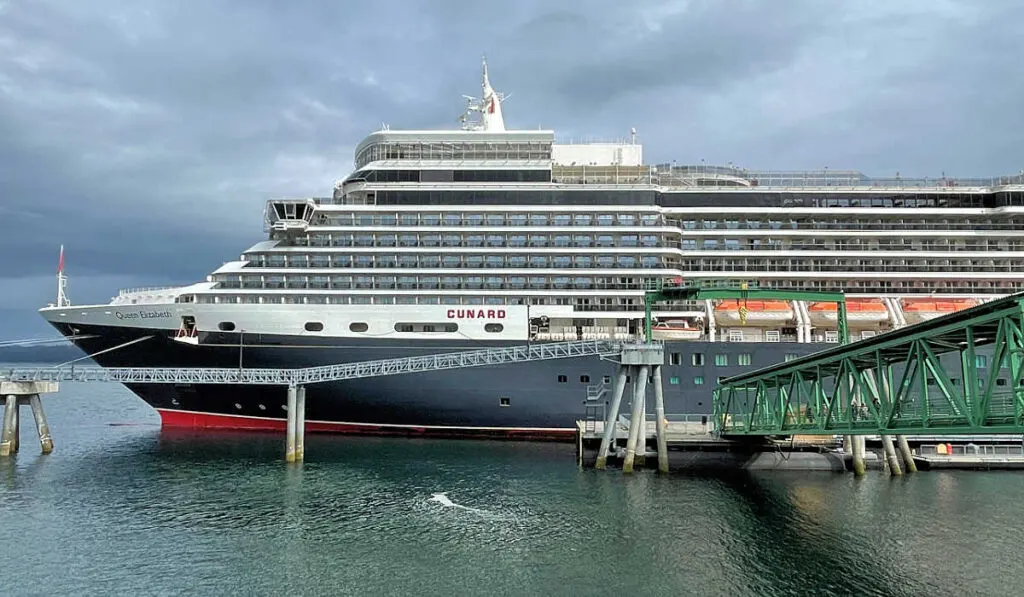 A Cunard Queen Elizabeth cruise transports you to the age of elegance and nostalgia. Guests enjoy British traditions like afternoon tea and breakfast with British back bacon and blood sausage.
We had booked an 11-day Cunard Alaska cruise in 2020. However, due to the pandemic, the cruise line canceled our booking. Fast-forward to 2022, and we rescheduled a 10-day Alaska cruise on Queen Elizabeth.
A 10-day itinerary gave us five ports of call and two days cruising to glaciers. We spend a whole day in Glacier Bay National Park and five hours cruising to Hubbard Glacier.
So, this is my Cunard Queen Elizabeth review of our journey to Alaska.
About Cunard Queen Elizabeth
Queen Elizabeth liner belongs to Cunard Cruise line. She sailed her first cruise in 2010 and is the sister ship to Queen Victoria. She's actually the third vessel built bearing the same name. Queen Elizabeth 2 and Queen Elizabeth II were previous versions.
Carnival Corporation owns Cunard, and all of Cunard's vessels are homeported in the UK. Cunard is best known for its Transatlantic crossing on the Queen Mary. However, they also offer UK voyages and world itineraries.
While the Queen Elizabeth ship can carry up to 2092 guests, there were only 994 passengers and 900 crew during our cruise. Since we were sailing during the pandemic, I was interested to know where the guests arrived from.
Our trip had 384 Americans, 329 British, 235 Canadians, and 46 Germans. It surprised me that so many had flown from Europe.
Like in the United Kingdom, life on board is based on a tiered class system. The Queen's Grill suites are the top tier, followed by Princess Grill and the Britannia Club.
The standard staterooms fall in the Britannia class, and each tier has a dining area corresponding to its cabin type.
Cunard caters to an older crowd, which is also true of our itinerary to Alaska. Travelers should choose Cunard if they like tradition, don't mind dressing for dinner, and prefer sailing with fewer children and the absence of a party crowd.
Cunard Extras
Cunard gratuities are the lowest in the industry at USD 11.50 a day for Britannia class and USD 13.50 a day for Grill suites.
Cunard was the only cruise line I've sailed that didn't have a real app. Instead, guests can access "My voyage" using the Cunard Guest WiFi. It will ask you for your cruise card's last six digits, first and last name, and birth date.
Once logged in, you can book shore excursions, view your onboard account, purchase Cunard WiFi, and book specialty restaurants and spa treatments.
For those who love their specialty coffees, Cunard charges USD 10 a day for hot drinks. These included tea infusions, specialty coffees, and hot chocolate.
Soda drinkers could purchase a soft drink package for USD 10 a day. This deal included squash, selected fruit drinks, cordials, and soda.
The Cunard drinks package cost USD 69 per day, which entitles you to drinks up to USD 12 a serving. This included specialty hot drinks, wine by the glass, beer, cocktails, and mineral water. Beverages over USD 12 were billed with a 20% discount.
For a reduced price of USD 29 a day, you could enjoy unlimited non-alcoholic drinks, bottled water, specialty hot drinks, and freshly squeezed juices.
Cunard WiFi plans have two tiers. The essential or basic is USD 15 per day for the entire cruise or USD 20 for 24-hour usage. The faster package costs USD 5 more per day or USD 30 for 24 hrs.
Since we heard Cunard internet was slow and spotty, we opted to upgrade our smartphone package for days in port. Once onboard, crew members confirmed the slow WiFi.
Embarkation At Canada Place
Before our cruise, we can generally log into the cruise line's website and book an embarkation time. However, Cunard assigned us a time of 3:15 pm, with an all-aboard time of 4 pm.
Since there were three ships in port and knowing check-in can sometimes be slow, we didn't want to chance going so late. So, we arrived at the Vancouver cruise port at noon on July 1st (Canada Day) to mass crowds and a parade.
Thankfully, there was no line-up, and the port staff allowed us to do an early Cunard cruise check-in. We were welcomed by a red-carpet entrance.
My Cunard check-in set a record boarding time of an impressive 30 minutes to clear security. Two staff members in their signature red uniforms greeted us.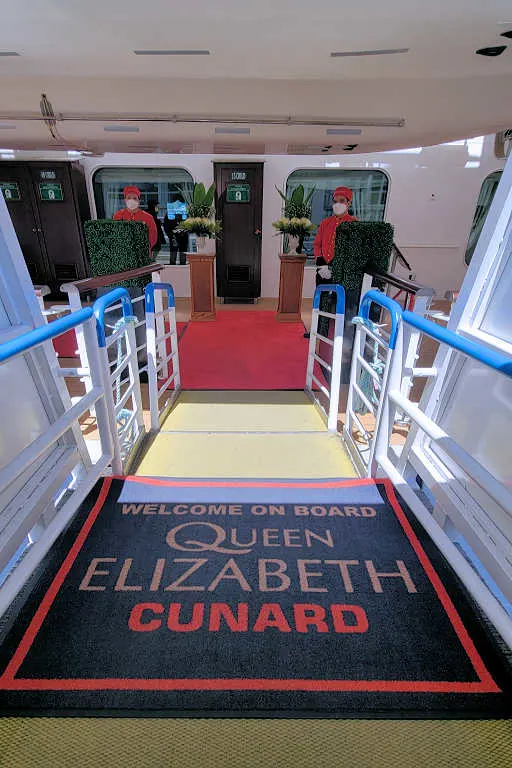 Even more impressive was we could access our stateroom immediately. So, we went to drop off our carry-on bags and were stunned to see our luggage had already been delivered.
One of the things we noticed about Cunard was there was zero upsell. The staff did not ask us to purchase a drinks package, book a specialty restaurant, or buy a soda package.
On our embarkation day on RCI's Serenade of the Seas two months earlier, we had been asked about ten times during lunch to book a specialty restaurant which annoyed us.
Balcony Stateroom Review
While you can book 2,000+ sq. foot grill suites, we had a mid-ship Britannia stateroom on deck five. Cunard rooms are impressive with rich royal blue colors (although some cabins have red), decorative embroidered pillows, and a comfy feel.
While the bathroom was small, I appreciated that Cunard gave all guests upgraded bathroom toiletries. The Penhaligon toiletries on Cunard smelled terrific, and I wished I could purchase them onboard.
We also received cozy robes, slippers, and a rain poncho in the drawer if needed. Inside our fridge, a small complimentary bottle of champagne welcomed us on board.
The closet was large and contained 40 hangers, more than we needed. However, it had only three shelves for folded items.
Although coupled with the bedside table drawers and those on the desk, we found it was plenty of space for a 10-day cruise.
Cunard staterooms have a tea or coffee station. We loved this extra and used it every day. Our room steward kept us stocked with tea, and we also received daily replenishments of cookies or shortbread.
There were no plugs to charge our electronics next to the bed. There were two North American sockets at the desk, one UK and one European. So, if you bring a travel adapter, you can use more than one socket type.
We found our bed incredibly comfortable and the duvet quilt light and fluffy. Our pillows were soft, so our steward immediately brought us firmer ones.
We received a printed "Daily Programme" each day, as well as "The Canadian," Cunard's media for local Canadian news.
For those who cruise alone, the Queen Elizabeth has studio cabins in the interior and oceanview categories. At 133 to 168 sq. feet, they are more spacious than the competition.
Grill Suite Amenities
Guests staying in a Queens Grill suite or Princess Grill suite have exclusive dining areas. Those in the Queen's suites eat in the Queen's Grill, while Princess Grill is reserved for the Princess suites. Both have access to an exclusive lounge and terrace.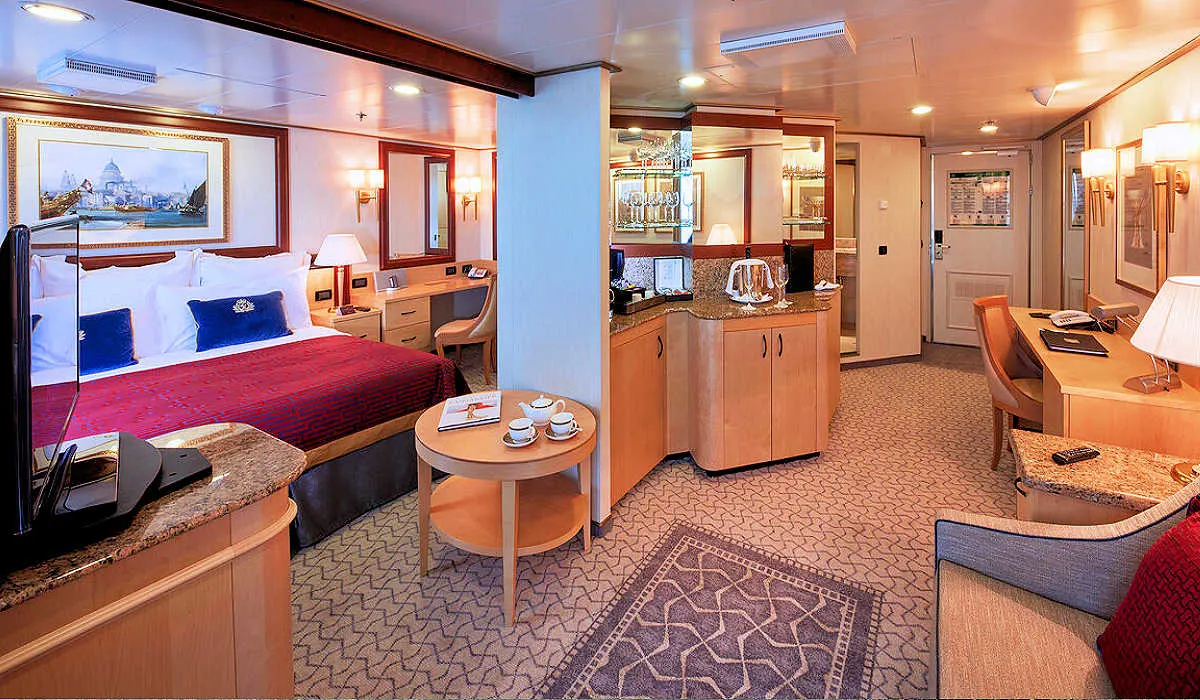 Grill suites are quite luxurious, with spacious living areas separated from the sleeping quarters. Guests in grill suites also have a personal butler and perks like a stocked mini-bar.
On embarkation day, we took a peek at the exclusive areas and were unimpressed by what we found. Located on decks eleven and twelve, the lounge was inviting, but the outside courtyard felt closed in.
Since grill guests pay much more than Britannia passengers, I expected the areas to be more luxurious. However, if you're looking for exclusivity, a suite is the way to go.
On Board Amenities
For me, the grand lobby was quite lovely with its wooden staircase, reminiscent of the Titanic. The grand lobby spanned three decks.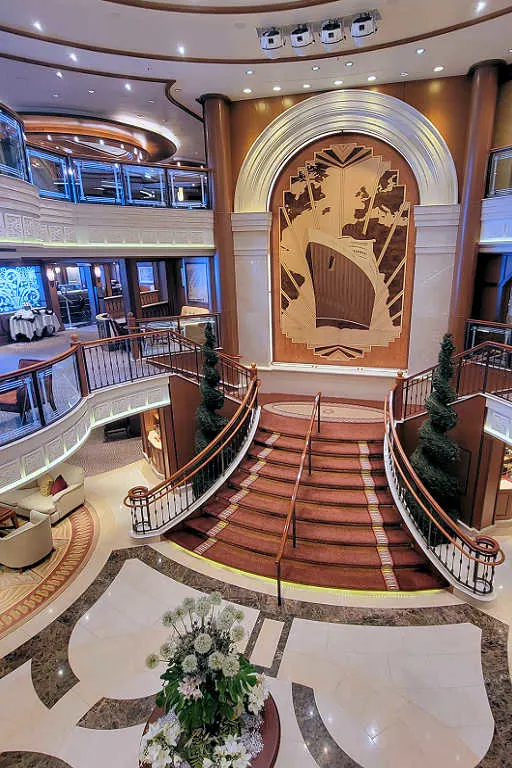 Afternoon tea, dance classes, and other events were held in the Queens Room on deck 2. The casino was relatively small and never attracted a crowd. Above it, the Royal Arcade features the vessel's shops with a grand clock at one end.
At the bow, the Royal Court Theatre reminded me of the Royal Albert Hall, with its private boxes on either side. These boxes had two to four seats and a curtain to close off the private space.
The two-story library with a spiral staircase looked like it should be featured in a Harry Potter movie. Outside the library, an area held games and puzzles. Several times during our cruise, we worked on a few puzzles.
There are two outdoor pools on deck 9 with four adjoining hot tubs. Deck 9 also has a small gym, but during our cruise, it was only open from 7 am to 8 pm. I felt 7 am was a late start for all those who wanted to work out before breakfast.
Adjacent to the Pavilion Pool (main pool), the Garden Lounge provided a light-filled area for events and singers. At selected times, a naturalist was on hand to answer questions on Alaskan wildlife, scenery, and landscape.
A whiteboard was updated each day with wildlife sightings. I was astonished to see 350 dolphins, 96 sea otters, 102 humpbacks, and a shark on the board.
The promenade deck has a complete walking track and features plenty of padded loungers. On glacier viewing days, it was an ideal location to see the glaciers away from the crowds on the upper levels.
Cunard also provided wool blankets, and we snuggled under them a few times.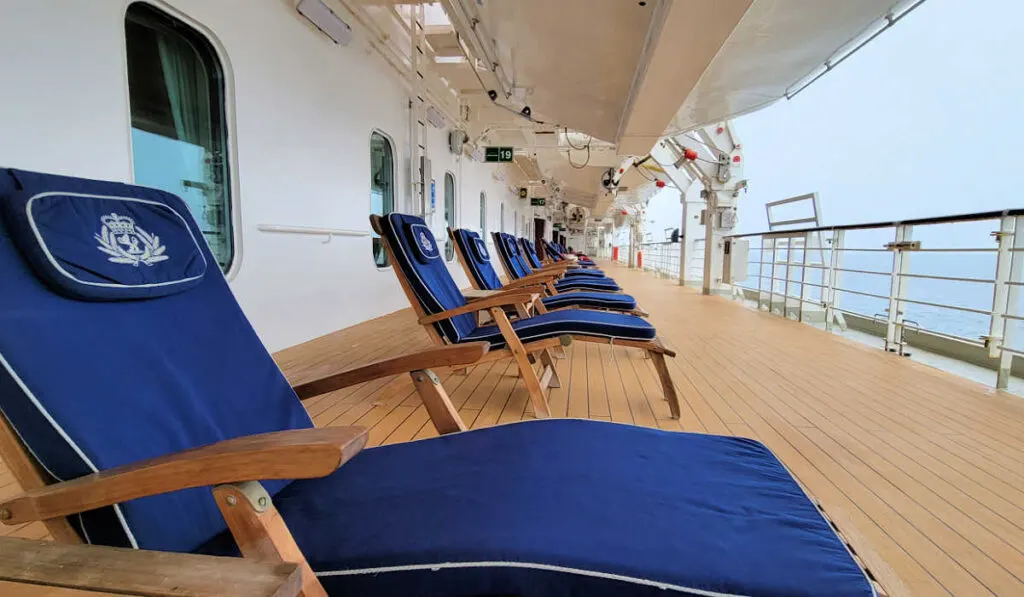 The children's indoor and outdoor spaces were one deck up. Deck 11, the games deck, features a giant chess board, except there were no pieces to play. Adjacent to this area, guests could play croquet or bowls in an under-covered area.
While the Cunard amenities lack the amusement-type venues of mega-ships, it attracts a different crowd.
The Décor
Like all Cunard's vessels, Queen Elizabeth's décor is very traditional, with rich wood tones and mellow upholstery, all geared towards the Art Deco style.
The art deco décor is evident the moment you step on the ship. The grand lobby features marble flooring and mahogany railings against a giant art deco ocean liner mural.
The theme continues on the stained glass, chandeliers, and artwork. Even the Verandah, Queen Elizabeth's only specialty restaurant, had beautiful art deco whimsical clown and carnival wall art.
Instead of formal nights, Cunard hosts very formal gala nights. The Cunard theme nights were fun and we enjoyed dressing for our "Roaring 20s" evening.
My husband, Brian, wore suspenders and a fedora with his tuxedo. While I didn't have a flapper dress, I created a 1920s look by adding a headband accessory, long white gloves, and a few strands of beads.
Mereel Spa
The spa, which Canyon Ranch had previously operated, is now run by Mereel. Due to the change, some treatments and packages have increased significantly in price.
The spa offers all the standard treatments, from massages and skin care to acupuncture and hair care. We wanted to try the aquatherapy spa, featuring heated tiled loungers, Finnish saunas, aromatic steam rooms, and an aquatherapy pool.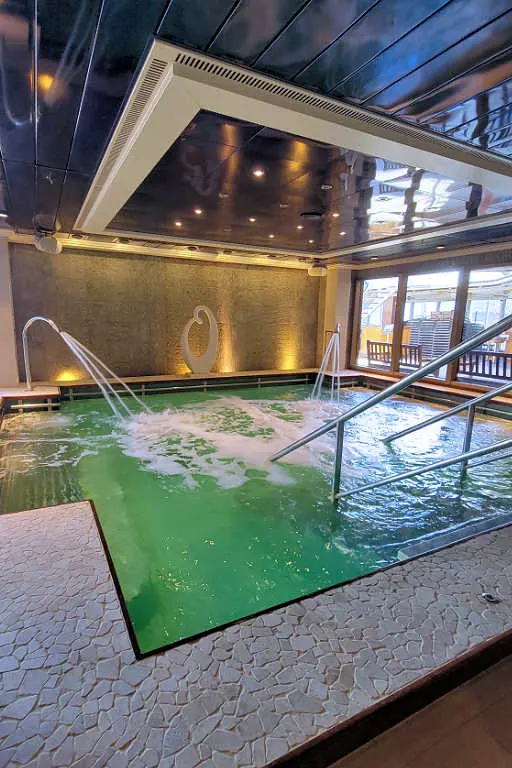 Guests could purchase a complete pass (10 days) for USD 199.99, USD 149.99 for five days, or a day pass for USD 39.99. Since we had only two sea days, we didn't think we would get much use from an extended pass.
So, we opted to try the Cunard spa day pass during our day in Glacier Bay National Park. However, when we went to book, the spa staff told us the access was only good for two hours and not an entire day.
We were allowed to break up the time, so we chose one hour in the morning and the other later at night. While the pool looked lovely, it lacked the powerful jets I'd come to love in other spas.
The steam rooms had options for four different aromas, but none of them worked.
However, the heated loungers with panoramic views were heavenly, and we spent one hour in the evening enjoying the scenery outside.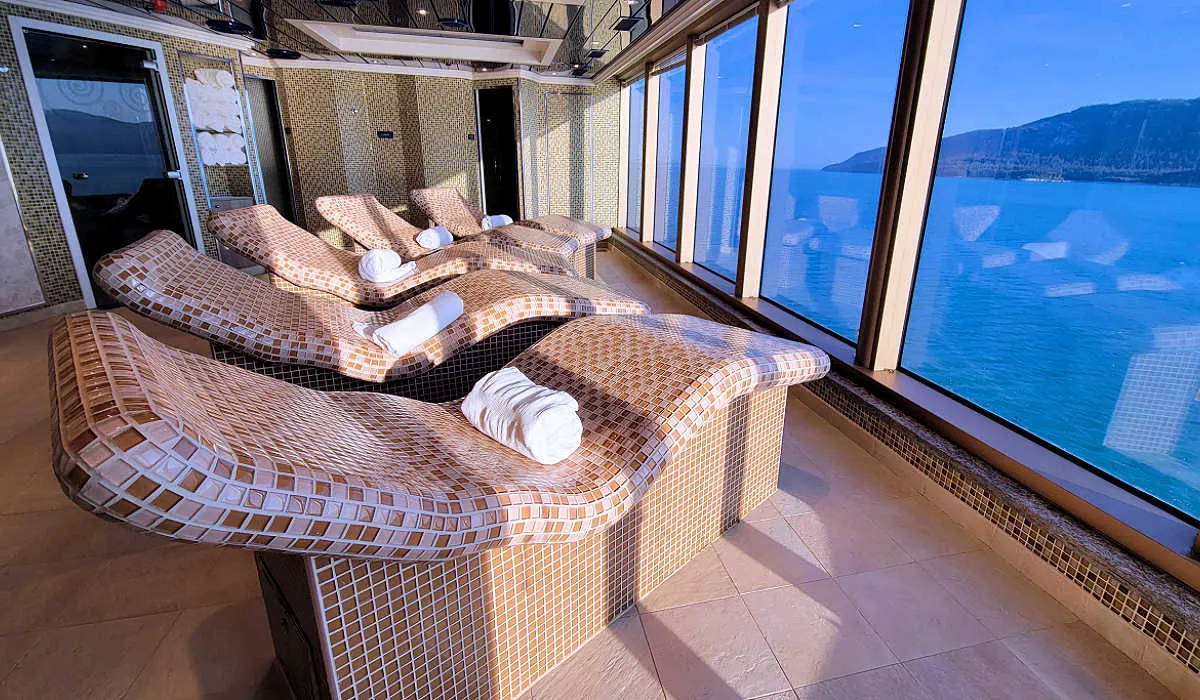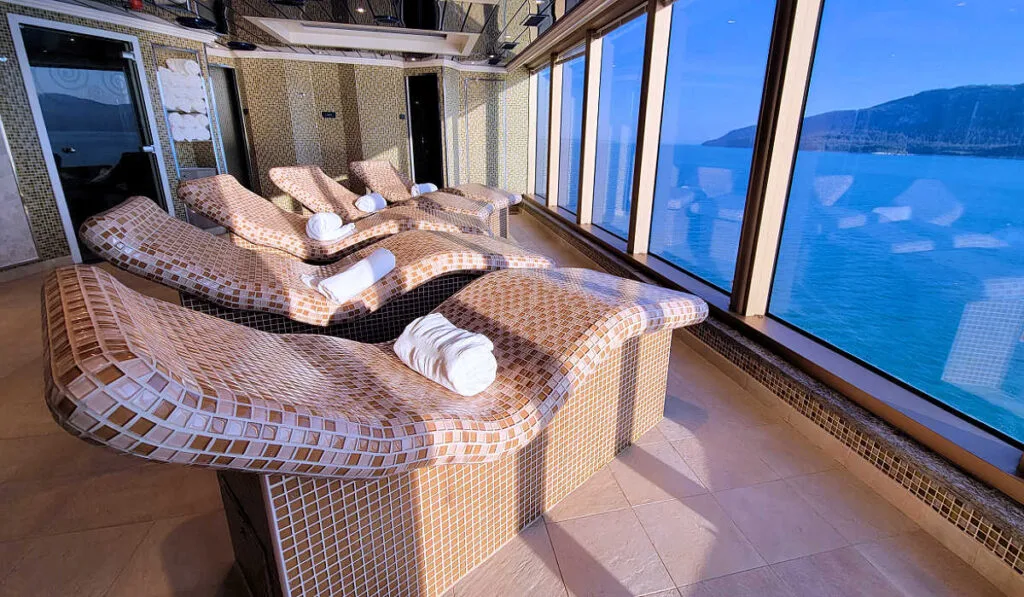 One thing we noted, the spa reception area was away from the aquatherapy pool. So, some guests walked in during our cruise and used this area without paying.
Laundry
During our Alaska cruise, Cunard line didn't offer a fee for laundry service. Instead, there were self-serve laundry rooms near the bow, on decks with passenger staterooms.
Amazingly, the washers and dryers were FREE, and the cruise even provided laundry detergent. During the first few days, the machines were out of service. A sign said it was to conserve water and comply with Alaskan environmental protocols.
However, when we spoke to staff at guest services, the machines were shut off due to ongoing maintenance. Partway through the cruise, the laundry room became operational for a few days before turning them off again.
Knowing they had self-serve laundry meant we packed half as many clothes. Then, we did one load of washing halfway through our cruise.
Since we completed our cruise, readers have told me Cunard offers a fee for laundry service on longer itineraries.
Restaurant And Bars
Queen Elizabeth is a mid-sized vessel with fewer dining options and one specialty restaurant. Unlike the competition, Cunard has a dress code, so guests can't come to the dining room in jeans or shorts.
Complimentary dining areas included the Britannia Restaurant, Golden Lion Pub, and Lido. The Cafe Carinthia offers snacks throughout the day. The ship provided a pizza station in the Lido and served afternoon tea.
Cunard held the British tea event every day in the Queens Room. The room filled up on the first day, but it was sparsely attended on subsequent days.
The Steakhouse at the Verandah was fantastic, from the White Star service to the presentation and flavors. We found Cunard restaurant and dining choices limited in the way of venues.
However, they delivered on taste and presentation and even catered well to my food allergies. In fact, their buffet had an allergy section, and they carried four types of milk (regular, rice, almond, and lactose-free.)
There were many places to grab a drink, from the Commodore Club to the Lido bar. Surprisingly, there were few drinkers on our sailing, and some venues remained empty.
Entertainment
During our Cunard Queen Elizabeth cruise, entertainment flowed in the grand lobby, loungers, and Queens Room. There was a mix of piano players, vocal harmonies, folk music, and ballroom dancing.
We attended many of the presentations in the Royal Court Theater. Some of the entertainers gave two shows, and each one was different.
Most evenings, the theater was empty, and we felt privileged to get a coveted box each time we attended.
The duo, Chanteuse, the "Be Our Guest" production, and the female trio "Heat Wave" were fantastic. However, trumpet player Nathan Samuelson was a big miss, so we didn't attend his second show.
During the presentations, we couldn't take pictures or take videos. This surprised me as most cruise lines encourage guests to share on social media.
During the day, there were inciteful talks on Alaska ports and an introduction to Alaska. It surprised me that most guests were on their inaugural Alaska cruise.
Special speakers gave presentations on Everest, life on distant planets, the science behind Sci-Fi, and much more.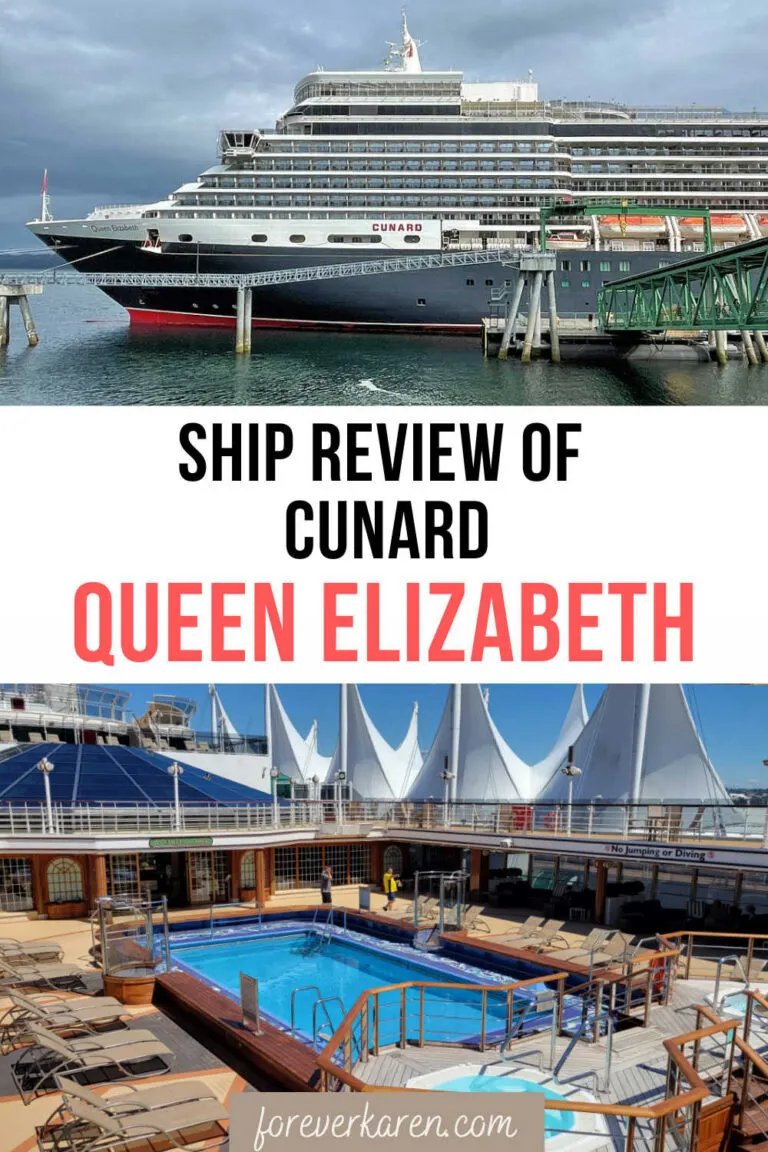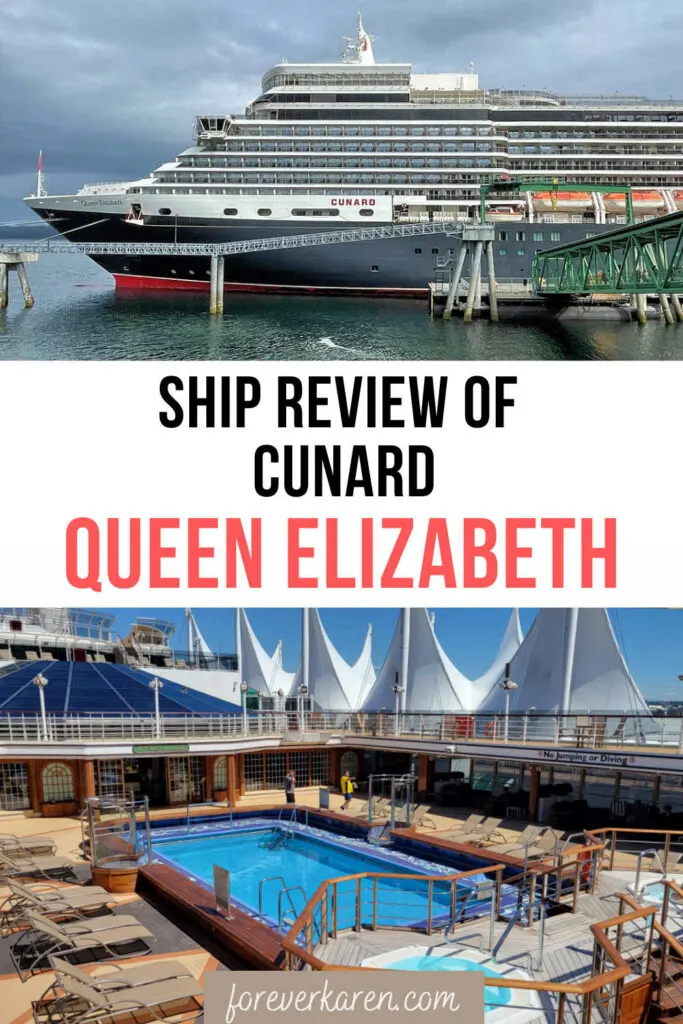 The Pros And Cons Of Sailing Cunard
We had a fantastic experience on the Queen Elizabeth ship and would happily choose Cunard again. Here are the reasons to select Cunard and the areas they excelled.
Their White Star service is fantastic.

They offer great itineraries and longer cruises to Alaska.

The food is superb, and they cater to allergies very well.

There was no upselling of anything.

Their gratuities are the lowest in the industry.

Staterooms have a coffee/tea station.
All guests receive complimentary champagne, slippers, and a rain poncho.
Here are areas that could use improvement.
Cunard's website is not so user-friendly. To log in, book guests must type in a booking number, name, and birthdate.

Their WiFi doesn't compete with faster speeds on other lines.

There's no actual app to view daily activities.

Guests can't choose embarkation or disembarkation times.
Although there were almost 1,000 passengers, most of the time, it felt like there were 250. Many areas of the ships were void of people, even on sea days.
The uncrowded areas added to the enjoyment of our time onboard, and I wished every cruise could be that way.
Happy travels ~ Karen