If you want to see majestic mountains, raging rivers, and forests as far as the eye can see, a Vancouver to Banff road trip is right up your alley. Also, if you want to see wildlife such as elk, big-horn sheep, mountain goats, and bears, the Rockies is one of the best places in North America for all of this.
There are three routes to drive, and depending on your time, you can complete a circular journey encompassing two routes. Having lived on the West Coast of Canada, I am used to seeing the coastal mountains every day.
I have always enjoyed our local mountains and thought they were impressive. However, at an average of 5,000 feet (1,524 meters), they pale compared to the Canadian Rockies. The Rockies are double the elevation, with several peaks over 10,000 feet (3,048 meters).
Due to Covid and the restrictions on travel, Karen and I decided to do a "Canadiana Vacation." I am a 'born and raised Canadian,' having lived in Vancouver for 25 years. However, I'm somewhat embarrassed to say that I've never been to beautiful Banff and Jasper in the Canadian Rockies.
Karen has been there several times, so she was my Tour Guide for our Vancouver to Banff road trip.
Why Drive Instead of Fly?
To get from Vancouver to Banff, you can take a road trip, fly, or take the train. However, in my view, driving is the best way to get there for several reasons.
1. Not A Long Drive.
If you were to drive from Vancouver to Banff non-stop, it would take you about 9 hours. However, I recommend making a stop along the way to break up the drive and provide a chance to enjoy some of the other sites along the way.
We decided to stop in Golden, BC, which was an easy 7-hour drive from our home. Other excellent British Columbia stops could be Revelstoke, Kamloops, or Kelowna, depending on your route.
2. The Beauty Is In The Journey.
When we drove, I appreciated seeing the changing climates (coastal, desert, alpine, etc.) through British Columbia and into Alberta. Obviously, flying is much faster, but you genuinely miss the 'West Coast experience' you get when you drive.
The best time to drive is June through September, when the weather is warmer. Going in winter is not ideal, as the Coquihalla Highway can experience dangerous snowstorms. From October 1 to April 30, winter tires are mandatory in British Columbia.
3. You Can Create Your Own Schedule.
If you take the train or fly, you are locked into the schedules of the airline or railway. For us, it was so lovely to have a leisurely breakfast and then just hit the road when we were ready.
Also, we could stop along the way and take pictures if we found something that interested us.
4. Easier To Pack When You're Driving.
One of the things I love about road trips, especially when it was just Karen and I, is that we have the whole back seat and trunk to carry our stuff.
Of course, we had our luggage, but we also had our camera gear ready in the back seat. We also had a cooler with some snacks and refreshments and even our hiking boots ready if needed.
I'm a bit of a fussy guy when it comes to pillows. So, next time we drive, I will take my pillow from home. If you want to have a good night's sleep when traveling, nothing better than having your own pillow. I was disappointed at the pillows I got at the places we stayed, even at the high-end Fairmont hotels.
5. It's Cheaper To Drive.
If you live in Vancouver or not far from there (e.g., Seattle), it can be cheaper to drive than pay for individual airfares, depending on the number of travelers. However, there have been some cheap flights recently, so check with your airlines for the latest fares.
For our Vancouver to Banff road trip, we used one tank of gas to get to Banff. Mind you, I drive an economy car, so if you have an SUV, it may take more.
6. No Need To Rent A Car.
If you can drive your car, you don't need to have the additional cost of renting a vehicle at the airport. While there are shuttle buses and tour companies such as Brewster that service the Banff area, it's always better to have your own transportation in Banff and Jasper so that you have more flexibility.
Before Driving From Vancouver To Banff
Vancouver is a fantastic city with many attractions. If you don't live in Vancouver, consider arriving a few days early before driving to Banff. Local attractions such as Grouse Mountain, Stanley Park, the Vancouver Aquarium, and the Capilano Suspension Bridge will add to the experience.
This pre-vacation will also provide some comparison because when you travel to Golden, British Columbia, you can visit the Golden Skybridge and compare it to the Capilano Suspension Bridge.
Similarly, you can compare Vancouver's Grouse Mountain's gondola ride to Banff's Sulphur Mountain's version. Even if it's raining in Vancouver, there are still lots of fun things to keep you entertained.
National Park Fees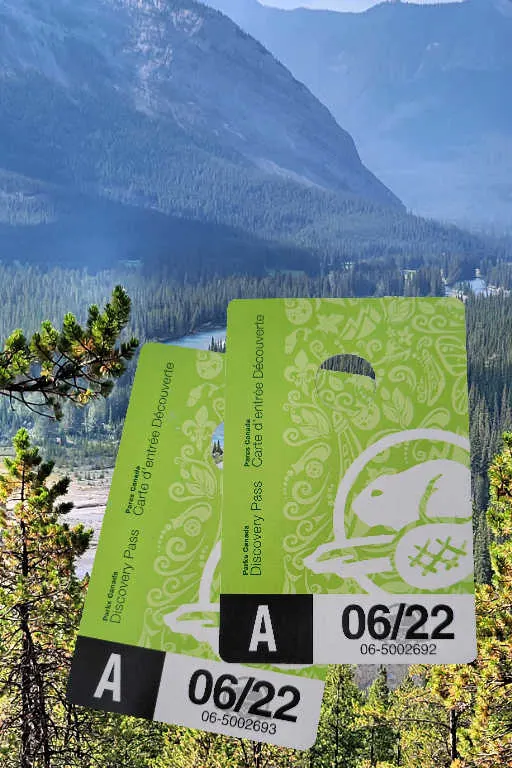 In order to stay in the Canadian Rockies, park-goers must purchase a park pass known as a Discovery Pass. Parks Canada charges CAD 10.50 a day per person or CAD 72.25 for a yearly pass. Alternatively, you can purchase a group pass for CAD 145.25, covering up to seven people in one vehicle.
The passes give admission to over 80 Canada National Parks. Discovery Passes can be purchased online, at the park, or at certain MEC stores in Vancouver, North Vancouver, Langley, and Kelowna. During your stay in Banff, hang your pass from your rearview mirror.
Choosing Your Route
Leaving Vancouver, the road trip to Banff travels on the Trans-Canada Hwy or BC-1. With one road to Banff, even the directionally challenged won't get lost.
Jasper is north of Banff and about a 3-hour drive along the Icefields Parkway. For our trip, we chose to drive from Vancouver to Banff via Golden.
We spent one night in Golden, three nights in Banff, and one night in Lake Louise. Afterward, we made the drive north to Jasper and stayed for another few days. We returned home on the British Columbia Hwy 5 from Jasper.
While Banff attracts more tourists, Jasper offers equally jaw-dropping scenery. With gorgeous Banff lakes, such as Peyto Lake and Bow Lake, the viewing points along the route make the drive more enjoyable.
Another option for driving is traveling on the British Columbia Highway 3, also called the Crowsnest Highway. It travels along the Canada/US border and passes through Osoyoos, Cranbrook, Radium Hot Springs, and hits Kootenay National Park before Banff.
While this route takes much longer due to the winding road, there's much to enjoy along the way.
| | | |
| --- | --- | --- |
| Vancouver to Banff | Trans-Canada Hwy/BC-1 | 9 hours 10 mins |
| Vancouver to Banff | British Columbia Hwy 3 | 12 hours 38 mins |
| Vancouver to Jasper | British Columbia Hwy 5 | 8 hours 15 mins |
Where To Stop Along The Way
There are several places to stop along the way if you want to break up the drive and provide another town to visit. Places like Kamloops, Kelowna, or Revelstoke, all in British Columbia, can cut the daily drive in half and make it easier for families with young children.
Regardless of which route you choose, the Othello Tunnels, just outside of Hope, offers a great pit stop. Located in the Coquihalla Canyon Provincial Park, visitors have a chance to walk through some old train tunnels in a picturesque canyon.
With a population of over 90,000, Kamloops has all the comforts of a larger city. With first-class wineries, golf courses, and numerous lakes, it will put you halfway to Banff.
Should you be driving the Crowsnest Highway, Grand Forks lies halfway between Vancouver and Banff.
Golden
We decided to drive to Golden, BC, rather than make the 9-hour non-stop journey to Banff and stay overnight. Golden had recently opened the Golden Skybridge, which includes Canada's highest suspension bridge and other attractions.
We got up early, stopped for breakfast, and arrived at the welcoming center before they opened. As a result, we were some of the first people on the bridge and beat the crowds. Karen and I don't fear heights, but I was amazed to see how many people were on the side and afraid to walk across the bridge!
It does sway a bit, and the more people you get on the bridge, the more it tends to sway from left to right. Exciting!
Unlike the Capilano Suspension Bridge, no one patrols the two suspension bridges. So, with no one yelling for bridge goers to keep walking, we could take as many selfies as we wanted and enjoy the views of the canyon below.
The views from the bridge are incredible, and I would recommend stopping in Golden to visit Skybridge.
Also, don't miss your chance to see Golden's local celebrity, Boo, the grizzly bear. Housed in a 20-acre natural habitat, Boo allows visitors to snap their pictures safely while observing him in a natural environment.
Yoho National Park
By traveling through Golden and into Yoho National Park, we were able to get a preview of the beautiful Canadian Rockies. Takakkaw Falls, Canada's second-highest waterfall, wowed us with its spectacular spray and picturesque outlook.
We kick-started our Canadian Rockies vacation with a stop at the Natural Bridge, Emerald Lake, and some easy hiking in Yoho.
When To Go To Banff
With an elevation of 4537 feet (1,383 m), Banff experiences an entire winter, with some areas receiving over ten feet of snow. As some roads become unpassable, selected attractions close for the winter months.
However, snowbirds can enjoy skiing on some of the local mountains, along with snowshoeing, tubing, sleigh rides, and ice skating.
Because Banff is such a world-class destination, it can be packed during the summer months when school is closed. It is because of this that we decided to visit Banff in early September.
The goal was to have slightly smaller crowds, and it was a good decision. However, Banff each year grows in popularity, and we found that traffic in the small town was frequently grid-locked.
If you have no choice but to go during July and August, try to get as close to downtown as you can afford so that you can walk to many of the stores and restaurants.
If you can go in June or September, or even May or October, most everything is still open, but the town is slightly less crowded.
Cell Phone Coverage
Outside of the town of Banff and Lake Louise, there is no cell phone coverage. While we used our phone's GPS to get around, we made sure to put in our destination while in town.
Once we lost cell coverage, the GPS still worked. However, once outside the cell tower's range, you won't be able to put in another destination.
Navigating Banff National Park without cell coverage wasn't a problem. Banff has one main highway called the Icefields Parkway, and we found it easy to find attractions along our route.
If you're not comfortable driving in a foreign area without cell coverage, stop by the Banff Visitor Centre to get a complimentary map.
Where To Stay In Banff
The town of Banff is within a National Park, and as a result, there are strict building codes to preserve the environment.
Other than the expensive Banff Springs Hotel owned by Fairmont, you won't find your typical chain hotels such as Sheraton, Holiday Inn, Four Seasons, etc. Most of the hotels are quaint and keep to the Rocky Mountain rustic theme of the area.
However, be prepared for a 'price shock' because there are NO discount hotels. It's always a bit cheaper to stay on weekdays if you can because prices go up on weekends when local Albertans make the trip from nearby Calgary.
We stayed two nights at the Ptarmigan Inn, close to the downtown core, and included parking and complimentary breakfast. The room was very comfortable with a coffee machine, mini-fridge, etc.
The only thing we found unusual was that the rooms were not air-conditioned. Not a problem when we stayed in September, but it could have been a problem during the heat of June to August. Although Banff is at a 4,500 feet elevation, so, it can be cooler.
We also stayed at two pricier Fairmont hotels; the Banff Springs and the Chateau Lake Louise. In the summer, rooms go for over CAD 600 a night with fees. When comparing Banff Springs to Chateau Lake Louise, it really depends on your preferences; location, price, by a fantastic lake, or next to the golf course.
If the hotels are out of your budget, you can snag a deal for half the price in winter. While the restaurants in Chateau Lake Louise were extremely expensive, we found some budget-friendly Lake Louise restaurants that offer gluten-free for Karen.
Looking For Wildlife
One of the best parts of driving to Banff and Jasper is the ability to see wildlife on the side of the road. We saw the occasional mule deer near Golden and elk in Banff, but the best wildlife viewing was in Jasper.
We always kept our cameras and cell phones handy in case we wanted to pull over quickly and grab a quick shot. While hiking to Moose Lake in Jasper, we witnessed two moose swimming across Maligne Lake.
Whenever we saw cars pulled over on the highway and their hazard flashers on, we knew someone had spotted wildlife and was trying to take a picture. Keep in mind that these are wild animals, and you should always keep a safe distance from them.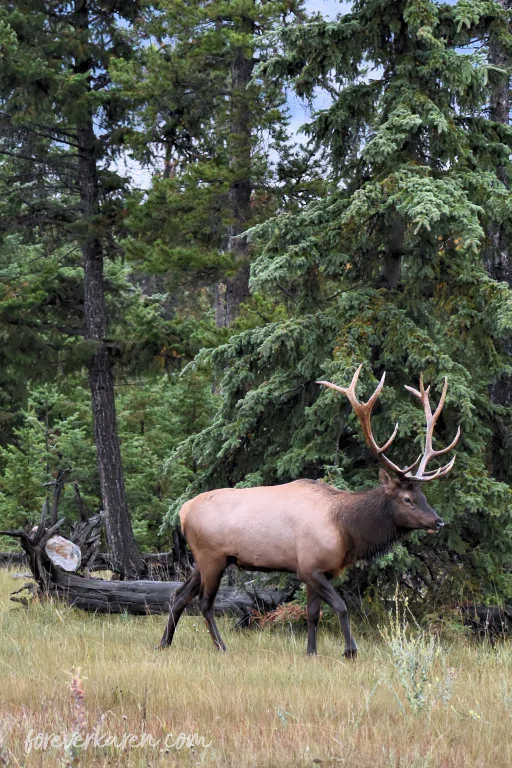 Don't be those types of tourists who try to walk too close to get a better shot. Karen always had her telephoto lens on her camera so she could get some fantastic pictures even from a distance.
Visitors can see wildlife outside the parks. Animals are not fenced inside national parks, so be sure to look for animals along your route during your road trip. Remember, most wildlife species are camouflaged and not easy to spot.
How To Save Money On A Road Trip To Banff
Karen and I live a comfortable lifestyle, but we always like to save money when we can. That's one of the reasons that we chose to drive to Banff instead of flying because we can pack our snack lunches, carry a cooler with us, and lower our transportation costs.
The round trip from Vancouver to Banff, Jasper, and back was about 2,500 km (1,550 miles), which we did on just a little over three tanks of gas! Granted, I drive a mid-size fuel-efficient car, and it would be different if I were driving a truck or SUV.
Here are some of the ways we saved money on our trip:
Bring a cooler and a grocery bag of your favorite snacks.
We loaded up a small camping cooler with granola bars, meat sticks, fruit, and water. This gave us our favorite "comfort food" during our road trip and reduced the need for frequent stops.
Since Karen is Celiac, we made sure to have plenty of gluten-free snacks, which are harder to purchase in Banff National Park.
Reserve your accommodations early.
Karen is a master at finding good hotel deals. She found great rates on hotels that were located downtown or close to attractions we wanted to visit. If you don't book early, you may find many hotels with no vacancies, or you'll be paying a premium rate.
Buy your Parks Canada Discovery Pass from another traveler.
In Canada, you need a Parks Canada Discovery Pass to visit national parks or some historical sites. A daily pass per person is CAD 10.50, but an annual pass is CAD 72.25.
If you are visiting for over seven days, it makes sense to get yearly access. However, there is an online market through Facebook Marketplace, Craigslist, etc., where people sell their annual passes after they've finished their trips.
Karen bought our annual group pass online via Marketplace for CAD 35 that had an original retail value of CAD 140. Even better, she sold the pass after our trip for CAD 50! We traveled in Sept. 2021, and the passes were valid until June 2022.
Find reasonably priced hotels where breakfast and parking are included.
At expensive hotels such as Banff Springs or Chateau Lake Louise, breakfast and parking incur a fee. As a result, we paid about CAD 30/day for parking and over CAD 80 for breakfast for two. Ouch! However, at other hotels, we had complimentary breakfast and parking. Much more budget-friendly.
Traveling from Sunday to Thursday can save money on hotel bookings. Most hotels charge a premium for Fridays and Saturdays as locals spend their weekends in the parks.
Camping?
Karen and I have both camped when we were younger, but we tend to want a comfy bed in a warm hotel room at this stage in life. Also, it's great to have basics like flush toilets rather than "roughing it" in a tent or camper in a National Park.
However, if you are traveling as a family with kids, camping can save you money. Also, because you're in the beautiful Rocky Mountains, some people prefer to camp amongst the majestic mountains and trees.
We had considered renting an RV (Recreational Vehicle) to make the road trip from Vancouver to Banff, but after considering all the costs for the rental, site fees, gas, mileage, etc., it wasn't any cheaper.
Also, some roads are not accessible with an RV. If you already own your camper or trailer, it can save you a lot compared to hotels during peak season.
A Vancouver To Banff Road Trip With An Electric Vehicle (EV)
I have long been a fan of Tesla and hope to one day to own one. For many EV owners, there is a common fear of 'Range Anxiety' where you fear running out of electricity and being stuck in the middle of nowhere without a charging station in sight!
Ten years (or even five years) ago, this was a real problem where it was difficult to make long road trips in EVs. However, this is no longer a problem, depending on the vehicle you are driving and where you are driving in North America.
Tesla has invested significantly in building out its Supercharger network. They are building and opening new charging stations every week and currently have about 25,000 charging stations worldwide.
In addition to Tesla charging stations, ChargePoint has over 30,000 stations globally. In Canada, the Petro Canada network of gas stations also has EV charging stations installed "every 250 km (150 miles) or less from Halifax, Nova Scotia to Victoria, British Columbia" (according to their website).
Bottom line, regardless of which EV you have, you should be able to find a charging station along your way.
The only inconvenience is that EV charging can take 30 minutes for the Superfast Charging stations or up to 6 hours for the slower charge stations. The technology and speed of charging are improving every year, so check online for the latest info.
If you run out of power and get stuck before you can reach a charging station, some new businesses are offering remote charging services where they will come to you and give you enough of a charge to get to your town to charge.
We noticed when we left the Greater Vancouver area there were fewer electric vehicles on the highways. Although there were plenty of charging stations in the Canadian Rockies, we saw very few EVs utilizing them.
Final Thoughts
Visiting Banff and Jasper was on my Bucket List for a while, so it was perfect that we got to make the trip recently. The drive from Vancouver to Banff and then to Jasper will be etched in my memory forever. It's one of the most scenic and awe-inspiring drives I have ever taken.
The mountains, seeing wildlife, picturesque lakes, and glacial-fed rivers have reinforced how we are all connected on this planet earth and how real climate change is.
While we got to visit many of the places that Banff and Jasper are known for, I couldn't wait to go back. So, three months later, we flew to Calgary and enjoyed a whirlwind five-day winter escape in Banff.
During those five days, I got to ice skate on Lake Louise, go dog sledding in Canmore, take a horse-drawn sleigh ride, and hiked Johnston Canyon to see its frozen waterfall.
While our summer drive from Vancouver was easy, inexpensive, and the best way to see the Canadian Rocky Mountains, I wouldn't recommend it in winter. I hope you can make the trip someday soon!