While I've been traveling to Banff National Park since the 1980s, I haven't always had to eat gluten-free. I was diagnosed with Celiac about ten years ago, so I had to find some gluten-free restaurants in the Rockies on my Vancouver to Banff Road trip.
I spent weeks researching restaurants and saw most were gluten-friendly but not gluten-free.
As with all new places, there were hits and misses. However, the hits were terrific, and although I live in the foodie city of Vancouver, some of the food I experienced in some Banff restaurants far exceeded the best flavors back home.
To make things a little more challenging, I'm lactose-intolerant too and allergic to nuts. The added allergies made finding restaurants that catered to both more difficult. So, here are some gluten-free Banff restaurants worth trying.
Sky Bistro
Location: 1 Mountain Avenue | Cuisine: Contemporary Canadian
Located on the top of Sulphur Mountain, diners must make a reservation to dine at the Sky Bistro. Along with an incredible view, diners enjoy tasty meals cooked to perfection. While the sky-high restaurant has a small selection, they mark the dairy-free, gluten-free, nut-free, and vegetarian options on the menu.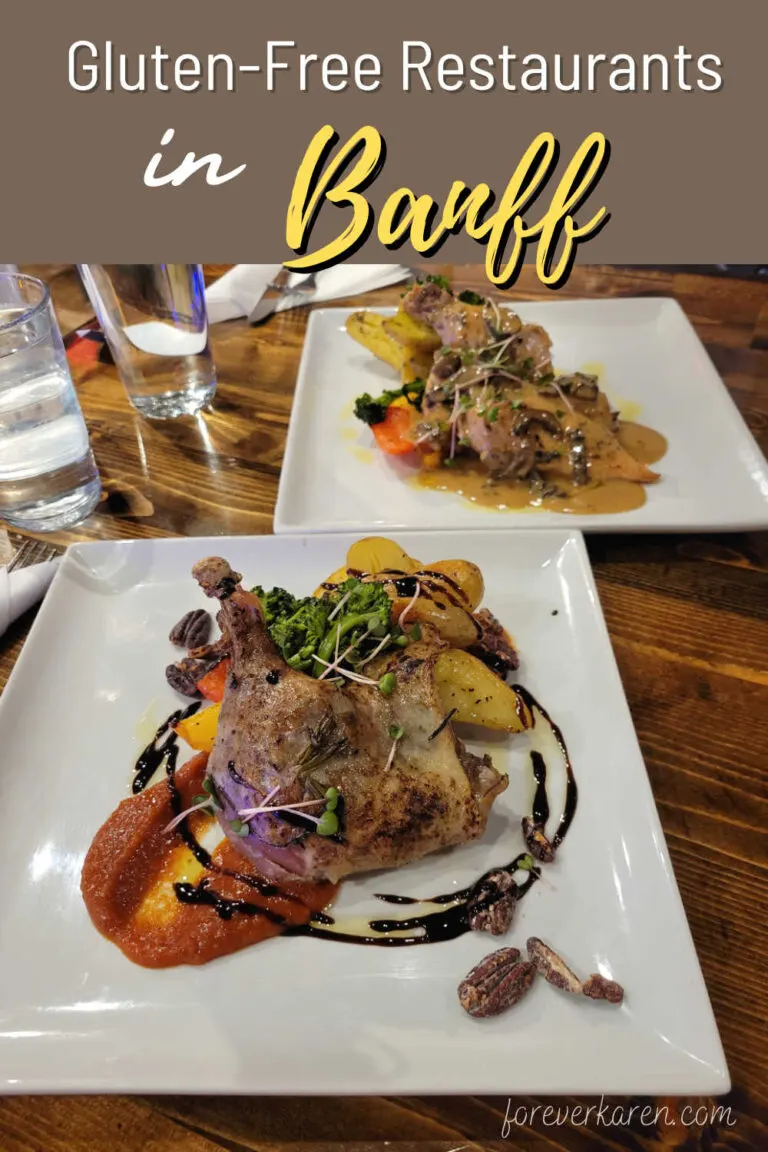 If you've booked to eat at the Sky Bistro, plan to take the gondola early. Before you sit down, I recommend walking from the information center to the Cosmic Ray weather station. The 1 km stroll on a wooden boardwalk offers magnificent views and a fantastic hike in Banff.
Anyone who has eaten at the CN Tower knows how expensive these restaurants can be. However, the Sky Bistro's entrees are very reasonable. The gluten-free pork belly and mushroom poutine starters are CAD 17 each.
For gluten-free entrees, choose from chicken, pork, stuffed squash, or salmon dishes which range from CAD 28 to CAD 38. For those who have a sweet tooth, compliment a piece of chocolate torte or pumpkin spiced "latte" cake with a glass of ice wine.
Block Kitchen + Bar
Location: 5 Banff Ave #201 | Cuisine: Tapas menu with an Asian flair
Expect a crowd at the Block Kitchen every night of the week. The intimate restaurant doesn't take reservations, but the food is worth the wait.
Whether you need to eat gluten-free or not, this was our favorite restaurant in Banff by a long shot. Top marks to all the staff who are knowledgeable on special diets, and for their fantastic service.
The Block Kitchen + Bar offers lots of items that are not only gluten-free but lactose-free too. Their menu consists of smaller plates for sharing and larger meals for one person. I had the Kara Age Chicken Skewers modified to be gluten-free and lactose-free. The dish was so incredible, that I ordered a second helping.
My husband and I also tried a couple of the specials, a Stoplight Chicken Curry and a Thai Shrimp Curry. The curries were mild but packed with flavor.
Other small plate options include Zen Salad, Chopping Block Salad, Spicy Salmon Tartare, and naan with three dips. Larger plate meals include a Hanger Steak, Mushroom Risotto, and Ahi Tuna Tataki.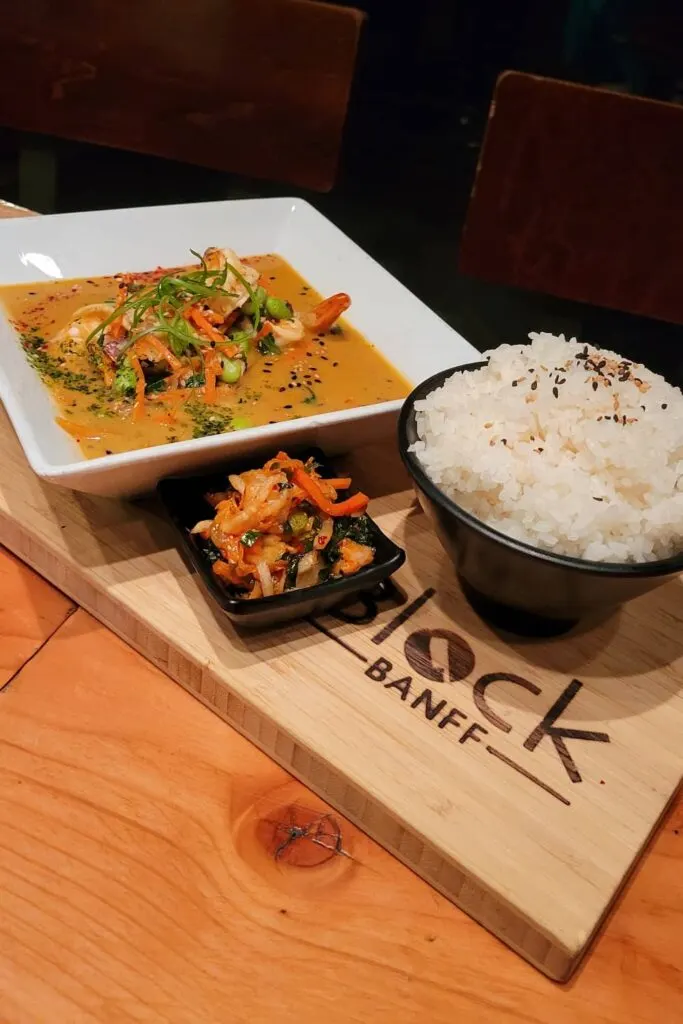 If you have room after all that delicious food, they offer a dark chocolate pot de crème with seasonal fruit. I find plenty of restaurants with gluten-free desserts throughout my travels, but rarely do I find one that offers something lactose-free too.
Nourish Bistro
Location: 211 Bear Street #110 | Cuisine: International, Canadian
Nourish offers a funky atmosphere with vegetarian cuisine. A crowd favorite, the World-Famous Nachos boasts of having over 27 ingredients! Another choice, the Poutine, is also made with vegetables, vegan curds, and mushroom gravy.
A twist on a staple, their macaroni and cheese or "Mac 'n' Squeeze" uses gluten-free pasta made from quinoa in a vegan coconut and cream sauce. Their Nourishment Bowl combined roasted vegetables with quinoa, seasoned hummus, nuts, and seeds. Topped with an orange dressing, it's a big hit amongst vegetarians.
Dessert lovers might want to pass on the entrees and get your fill on sweets instead. Who needs vegetables for dinner with Nutella cheesecake, blueberry lemon cheesecake, chocolate raspberry cup, and gelato?
El Toro
Location: 429 Banff Ave| Cuisine: Spanish/Mexican/Canadian
Located two blocks from the busy downtown strip, El Toro wasn't busy the night I ate there. The menu consists of Canadian food with Mexican and Spanish influences.
The menu shows gluten-free, lactose-free, and vegetarian choices, but the kitchen can adapt some options too.
In addition to the mains, El Toro restaurant offers a Tapas menu too, with some gluten-free choices. However, since I needed food free of milk products too, there was nothing my husband and I could share.
I chose my favorite, Braised lamb shoulder, which came with vegetables and mashed potato. My waiter substituted the mash with roasted potatoes to make it lactose-free. The restaurant doesn't use a dedicated fryer, so anything fried was out of the question.
All meals came with fresh baked bread and butter. While I couldn't eat it, I was surprised they brought my husband the bread and presented me with something else.
My waiter gave me a bowl of corn chips and pico de gallo, which were safe for me to eat. I appreciated that he went the extra mile to provide me with something gluten-free and lactose-free.
We didn't wait long for our delicious meals and the lamb done to perfection. Other options for gluten-free included Bison Chorizo Sausages, Cod, Striploin Steak, and Salmon Filet.
Mexican dishes with corn tortillas included Chicken Enchiladas, Fajitas, Quesadillas, and Burritos, although you would need to pass on the cheese to make it lactose-free too.
Tooloulous
Location: 204 Caribou Street | Cuisine: Cajun Creole
Tooloulous serves breakfast, lunch, and dinner. Its breakfast portions are huge but beware as some things are gluten-friendly and not gluten-free. Waffles are made on the same waffle iron as wheat waffles, so stick to whole ingredients such as eggs and omelets.
Lunch selections include plenty of Cajun dishes, from Bayou bowls, gluten-free wraps, and blackened chicken salads. Stay clear of the deep-fried items which do not use a dedicated fryer. Many lunch items flow into the dinner menu but with larger portions.
The Louisiana vibe continues with buckets of clams, mussels, and crawfish. You have plenty of choices if you love seafood, from Cajun shrimp and Bourbon sea scallops to blackened snapper and seared Tilapia. Again, stay clear of the fries, and choose the white rice or Cajun dirty rice instead.
Balkan Restaurant
Location: 120 Banff Ave #201 | Cuisine: Greek
I dined at the Balkan Restaurant based on reviews I read online. While there were many choices for gluten-free, it was much more challenging to find something lactose-free too.
When I asked if they could adapt a recipe to make it lactose-free, they were not accommodating. Instead, they eliminated that item from the meal and did not substitute it with something else.
I ordered the Chicken Souvlaki, which included marinated chicken breast, rice, lemon potatoes, steamed vegetables, and tzatziki. When my meal arrived, I received one skewer of chicken and a few green beans.
Needless to say, I was disappointed they gave me 50% of the meal, charged me full price, and did not increase the portions of the two items they gave me. This restaurant was a miss for me.
However, if you only need gluten-free meals, I'm sure you'll have plenty of choices. I also found it strange that the entrees came with a steamed vegetable instead of a Greek salad. Anyone wanting a traditional Greek salad could request one at an additional fee of CAD 9 to CAD 17.
Pacini Restaurant
Location: 345 Banff Avenue | Cuisine: Italian, Pizza
Located in the Moose Inn and Suites, the Pacini Restaurant offers breakfast, lunch, and dinner. Their breakfast selection is excellent, with traditional eggs and bacon, crepes, frittatas, and an option to have gluten-free toast.
I was pleasantly surprised they made gluten-free pizza, which I could get with goat cheese since I'm lactose-intolerant. I tried the Prosciutto and Arugula pizza which was full of flavor.
Almost all the pasta dishes are available in a gluten-free version, and many of their other dishes are adaptable too. I found their meals reasonably priced with an average pasta entrée costing CAD 24.
The Vermillion Room
Location: 405 Spray Avenue | Cuisine: French
Located inside the Fairmont Banff Springs Hotel, The Vermillion Room offers elegant dining options with a view. They are open for breakfast, lunch, and dinner, and all meals have choices for both gluten-free and lactose-free. I stayed at the Banff Springs Hotel, so trying out one of their restaurants made sense.
The chef was very accommodating and could make most meals free of gluten and milk products. Bear in mind, The Vermillion Room dining comes at a high cost, so those on a budget may choose to pass.
We enjoyed breakfast with a view one morning. While there are many al la carte choices, I chose the breakfast buffet. Most items on the buffet had allergy warnings.
I found it interesting that items were marked as "gluten-free," yet others said "gluten." The buffet included an omelet station, gluten-free bread, and gluten-free oatmeal, although not 100% for celiacs.
Our sunrise start set us back over CAD 100 with taxes and a tip for two breakfast buffets and cups of tea. While we didn't eat dinner at The Vermillion Room, expect to spend over CAD 100 per person for an entrée and a starter.
The Bison
Location: 211 Bear Street | Cuisine: Contemporary, Canadian
The Bison restaurant allows diners to sample a Bison Trio; ribeye, short ribs, and sausage. It sources its ingredients from Canadian businesses and local farms. The menu marks gluten-free entrees, and celiacs have lots of selection.
For meat lovers, you can't go wrong with the bison ribeye or beef striploin. The beet salad and roasted maitake mushroom can be requested without wheat and milk for those who can't have dairy. Finish your meal with chocolate cake or seasonal sorbet.
SALTLik Banff
Location: 221 Bear Street | Cuisine: Steakhouse
While the SALKLik Banff specializes in steaks, it offers gluten-free salads, burgers, and grilled salmon. My husband ordered the New York striploin, which came with a choice of two sides. To remain wheat-free, stay clear of anything fried.
I ordered the Spicy Grilled Chicken Sandwich without the bun and cheese. Since I couldn't eat the accompanied fries, I chose the Roasted Turmeric Cauliflower, which had incredible flavors. The grilled chicken came with spicy aioli and crushed avocado, giving it a tasty kick.
The service was excellent, and the meals were well presented, but we found the prices high.
Bill's Peyto Café
Location: 203 Village Road, Lake Louise | Cuisine: Canadian Bar Food
For anyone staying in Lake Louise or visiting for the day, there are few choices for dining. If you don't want to pay for fine dining at the Fairmont Chateau Lake Louise, most nearby eateries offer simple, home-style plates that won't blow your budget.
Bill's Peyto Café, named after a famous guide with the same name, offers homemade meals at great prices. Located in a hostel, don't let the setting dissuade you from eating there. Celiacs can enjoy flavourful, wheat-free burgers, either lettuce-wrapped or in a gluten-free bun.
One of the most popular items, an elk burger with chipotle mayo, has excellent flavor and is reasonably priced at CAD 16. I tried the Angry Peyto Burger with a salad since they don't have a dedicated fryer.
The burger was filling, delicious, and a bargain at just CAD 17. One of the things I appreciated was not paying an additional fee for the wheat-free bun.
Their breakfast selection is reasonably priced too. A Homestyle Express costs CAD 12 and consists of two eggs, bacon or ham, fruit, and gluten-free toast. I tried the Cody Scramble of two eggs, scrambled with four ingredients of my choosing for CAD 14.
The breakfast included gluten-free toast and home fries. Since I couldn't eat the fries, they substituted a fruit bowl which I appreciated.
Timberwolf Pizza And Pasta Café
Location: 210 Village Road, Lake Louise | Cuisine: Pizza, Pasta
Another decent, reasonably priced restaurant in Lake Louise is the Timberwolf Pizza and Pasta Café. Located upstairs in the Lake Louise Inn, it offers gluten-free pasta, gluten-free pizza, and vegan cheese for those who can't have dairy.
When I inquired what they could make gluten-free and dairy-free, they suggested pasta with a marinara sauce. The chef added vegetables of my choosing and grilled chicken for CAD 25. Surprisingly, the meal came with lots of chicken and tasted great.
Other Options For Gluten Free In Banff
When selecting a hotel, try to find one with breakfast included. I stayed at the Ptarmigan Inn on Banff Avenue, which provides a fantastic breakfast buffet. With fresh fruit and an omelet station, I could eat safely each morning.
On our last trip to Banff, we stayed in Canmore one night in order to visit the Yamnuska Wolfdog Sanctuary. In Canmore, we found a gem of a restaurant offering many gluten-free entrees.
The Market Bistro is a quaint restaurant whose chef is passionate about food. The restaurant may look like much on the outside or inside. However, never just a restaurant by its decor. Not only are the meals tasty but well-plated too. Brian tried the Chicken Marsala, and I had the Duck Confit.
Both were gluten-free and utterly delicious. I felt they were exquisitely presented too. I ended my meal with a slice of chocolate cake which was free of wheat and milk products.
For those staying in Lake Louise, the Laggan's Bakery in Lake Louise village has freshly made gluten-free snacks and homemade chili. After a hard day of hiking, reward yourself with a brownie, macaroon, hazelnut bar, or energy bar.
After several trips to the Canadian Rockies, I've been able to find some gluten-free restaurants. Although I have my favorites, I try different establishments on every visit. Do you have a favorite gluten-free restaurant in Banff?
Happy travels ~ Karen