Located in Cochrane, Alberta, the Yamnuska Wolfdog Sanctuary is the largest wolfdog rescue in North America and the only one in Canada. It plays a vital role in rescuing and protecting wolfdogs.
Its educational program invites visitors to tour its refuge on three different tours. For those wanting to learn about these animals, the sanctuary walk allows them to see the dogs in their natural environment.
For the ultimate experience, the interactive tour allows a group to step inside the enclosure and meet the wolfdogs. When I learned about this haven, I immediately booked a tour so I could meet these creatures face to face.
Where Is Yamnuska Wolfdog Sanctuary?
Located at 263156 Range Rd 53, just outside Cochrane, the wolf sanctuary makes a great side trip for those traveling from Calgary to Banff. From Calgary airport, it takes 45 minutes to reach the shelter on Highway 1A.
If driving from the west, it's a one-hour drive from Banff on the Trans Canada Highway and AB-1E, or 45 minutes from Canmore. Those making a Vancouver to Banff road trip allow for a half-day adventure to complete a tour when staying in Banff.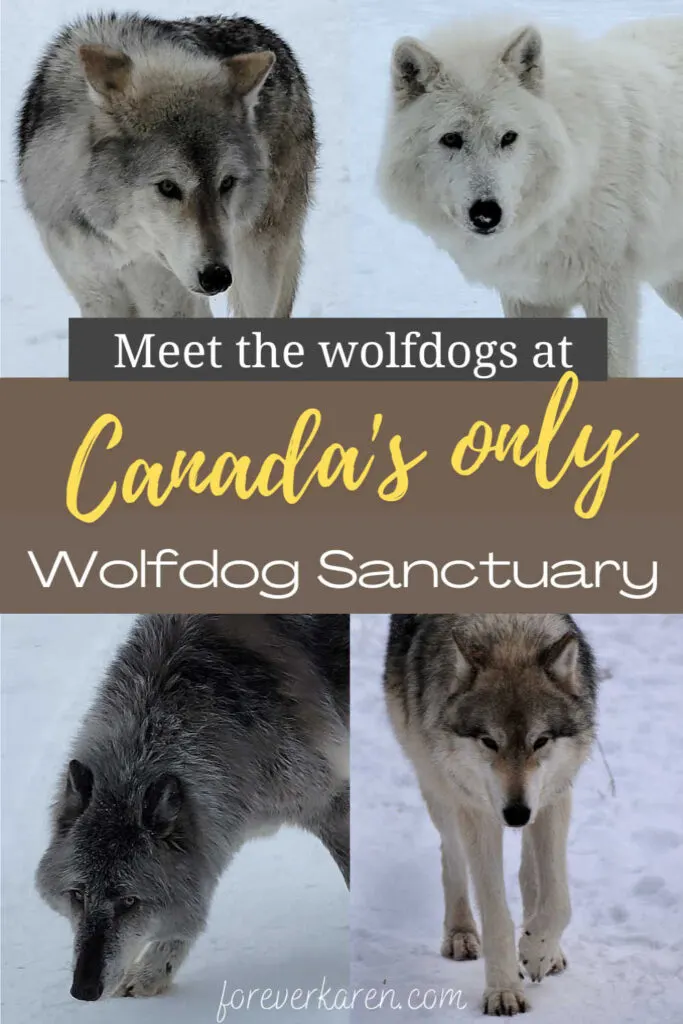 The Yamnuska Wolfdog Sanctuary Tours
The Cochrane sanctuary offers three tours, and all visitors must abide by strict rules. Yamnuska Wolfdog Sanctuary has a dress code that must NOT include real fur, fake fur, down-filled clothing, leather, or clothing with dangling objects.
Sanctuary Walk Tour – This introduction to wolfdogs allows visitors to explore the grounds at their own pace. You'll view the animals in their wolf packs from outside the enclosures. The minimum age requirement is six years.
Intro Tour – On this tour, you'll get a little closer by going inside an enclosure with a wolf expert. From an observation platform, visitors can watch the wolves interact with each other. The minimum age for this tour is ten years old.
Interactive Tour – Limited to ten people, the interactive tour allows visitors to meet some wolfdogs inside an enclosure. If you're fearful of meeting a wolf up close, this is not the tour for you. On this 45-minute tour, you'll feed the wolfdogs and learn about their behaviors, their unique traits, and the role they play in the ecosystem. The minimum age requirement is 15 years.
Visitors can visit the sanctuary on Thursdays to Mondays, from 10 am to 5 pm. The interactive tour requires a reservation since it can only accommodate ten guests. Pop-ins are welcome on other tours, providing you aren't traveling in a large group.
Should you book the interactive tour, as I did, you'll be able to enjoy a sanctuary walk before or after your tour.
The Sanctuary's Brief History
Wolfdogs are a cross between a domestic dog and a wolf. They are not an accidental breed but the result of breeders creating an "exotic pet." Their behaviors can be quite different depending on the amount of wolf content.
Most who adopt such animals are usually unaware they are escape artists and have little knowledge of coping with a wolfdog. As a result, many owners surrender their pets to shelters, resulting in the animals being euthanized.
Georgina de Caigny, a wolfdog owner, wanted to make a difference. So, in 2011, she opened the Yamnuska Wolfdog Sanctuary, rescuing unwanted wolfdogs and educating the public on their breed.
The initial sanctuary was near Mount Yamnuska, giving the shelter its name. Four years later, the sanctuary moved to its current location, a much larger home with 160 acres of land.
When an owner surrenders a wolfdog, the non-profit refuge tries to establish how much wolf is in the dog. Most of the time, staff observe the animal since getting an oral sample would require sedation.
Since testing is done in the USA and comes at a high cost, the non-profit shelter cannot do DNA testing on all the animals. Low content has under 50% wolf, mid-range between 50% and 80%, and high content has between 80% and 95% wolf. These wolves are often crossed with Alaskan Malamutes, Alaskan Huskies, or Siberian Huskies.
Once they know how much wolf is in the animal, they slowly introduce it to a new pack. Some low content (small amount of wolf) wolfdogs are adoptable. During my visit, the shelter housed 34 wolfdogs (none of which are adoptable), and some served as ambassadors for the sanctuary.
Before My Visit
It was a welcoming surprise to receive an email from the sanctuary reminding me of my tour the day before. Since some GPS systems direct travelers to the wrong location, the shelter gave me detailed instructions on getting there from Calgary and Canmore/Banff.
The email reminded me not to wear fur (real or fake fur), down, leather, or anything with dangling pom-poms or things that can be pulled. It was suggested I arrive 15 minutes before my tour time, and latecomers were not guaranteed to participate. The shelter does not permit domestic dogs on the sanctuary grounds.
We used our phone's GPS but followed the directions in the email. The highway from Banff had a large posted sign showing us where to exit. Luckily, our phone took us to the correct location, and we immediately spotted the fences adorned with oversized wolfdogs silhouettes.
We arrived almost an hour before our tour, which gave us time to do a self-guided walk and ask questions of the staff.
The Self-Guided Walk
We observed the wolfdogs in eleven enclosures on the self-guided walk and watched the staff interact with the wolves. Each enclosure covers up to two acres with lots of birch trees, and we were impressed by the natural surroundings.
The sanctuary generally pairs a male with a female to prevent aggressive behavior between males. However, in some cases, more than one male shares a pen if their personalities allow.
Throughout the day, enrichment activities allow visitors to see the wolfdogs involved in scent rolling, getting snacks out of a ball, and treasure hunting for hidden treats. In the wild, wolves' scent roll in stinky stuff like animal carcasses.
However, staff use perfumes, essential oils, soap, and tea at the sanctuary to encourage the wolves to follow a trail and scent roll. Sometimes the wolves will roll on frozen fed when fed as a meal.
Each wolf pen has informational plaques about the dogs, where they came from, and approximate age if known. It was interesting to learn that wolves live 6 to 8 years in the wild, but in captivity, they live up to 16 years.
Some animals were comfortable amongst humans as they gently napped next to the fences. Others, like Horton, paced nervously along the back of his enclosure. Horton, a low content wolfdog, joined the shelter in 2015.
After years of neglect, malnourishment, and being kept in a small area at Milk River, Alberta, he is still shy of humans even after almost seven years at the Yamnuska sanctuary.
The Interactive Tour
Although limited to 10 people, our tour contained 11. The 45 to 60-minute guided tour goes inside two enclosures, the Yamnuska and Cascade pens.
Inside the enclosures, we had to sit quietly on covered wooden benches for the duration of the tour. We could not stand, make sudden movements, or try to touch the wolfdogs.
We visited in December while the snow was lightly falling and the temperature was -12c. During the winter, the wolves develop a thicker coat, more of what we expect of wolves.
Most of the wolves were walking around their pens. Some were lying next to the fences, seemingly unconcerned about the visitors. Should you visit in the summer months, the wolves often hide within the enclosure in an attempt to stay cool.
I was surprised at the size of some wolves. They were significantly bigger than domestic dogs and had huge feet. Although larger, grey wolves weigh less (up to 120 lbs) due to their slim bodies and longer legs.
Our guide, Thamar, was extremely knowledgeable, and we left the sanctuary with information overload.
Yamnuska Enclosure
Yamnuska enclosure was the first pen we visited, and it contained three high content wolfdogs. Kuna belongs to the sanctuary owner and acts as the mother figure. Zeus, an older male with a beautiful black/grey coat, is the father figure. Nova, a young male, has stark white fur.
When we entered the fenced area, only Kuna would approach Thamar. Zeus remained in the back of the enclosure, and Nova was guarding a bone. Thamar gave us chicken jerky to feed the wolves, but as wild animals, they decide whether to take a treat from humans.
Although we spent some time in the enclosure, it took some encouragement to get Zeus and Nova to come close. After some time, the other people in our group started throwing their treats onto the ground when it looked like the wolves wouldn't approach.
I waited patiently, and eventually, Kuna came to me, sniffed both my hands and looked me in the eyes. That moment of eye-to-eye contact was quite moving, and I felt a sense of calmness.
After a while, Kuna lost interest in us humans, and Nova took over the role of entertaining us. Nova started jumping up on his hind legs as a signal for food. It gave the group quite a chuckle.
At one point, he sat down on his hind legs like a dog; uncharacteristic for a wolfdog. With free-flying treats came the birds, competing for the treats.
Large ravens and magpies have quickly learned the sanctuary is an easy place to get fed. They stayed to the side, waiting for a moment to fly in and scoop up the jerky and meat fat.
On occasion, Nova and Kuna would chase the feathered opponents away. Once we got up to leave the enclosure, it was a free-for-all as the birds inhaled anything left on the ground.
Cascade Enclosure
Walking inside the Cascade enclosure, I immediately noticed the difference in the wolf content. Loki, known for being the escape artist, has about 30% wolf and resembles a domestic dog. He was the friendliest of the two wolves and seemed happy about our arrival.
Loki shares the enclosure with Rue, a mid-content wolfdog who is 71% wolf. While both have the same coat colors, Rue's facial features look more like a wolf, and Loki's coat looks more dog-like. As soon as we sat down in the wooden hut, Loki immediately knew it was time for treats.
We were given beef jerky (due to allergies), and Loki ate the jerky from my hands as soon as I received it. Then, he proceeded to walk down the line, eating treats from the other ten tour-goers.
Rue, being shy, disappeared to the back of the enclosure. With four tours a day and so many treats, I have to wonder if they'd be as hungry on a later tour.
The sanctuary feeds the wolfdogs raw food like dog owners can buy in a pet store. While this food is more expensive, it mimics what the wolves would eat in the wild. Sometimes, the shelter receives meat donations from groceries stores or from people wanting to clean out their freezers.
Towards the end of our tour, the wolves started howling, and it seemed like all the packs joined the chorus. The howling went on for quite some time and it echoed across the landscape.
Do Wolfdogs Make Good Pets?
With the proper socialization and training, some low-content wolfdogs are suitable as pets. However, this varies by the laws of each province, state, or city. Anyone thinking of adopting a wolfdog needs to understand the wolf traits and be able to handle their challenging behaviors.
Even as pets, wolves do not like to be touched, contained, or have any desire to please their human guardians. Mid and high-content wolfdogs are not suitable as pets.
With a higher wolf content, they exhibit characteristics of wolves in the wild. These are the reasons not to try to domesticate a wolfdog.
They are escape artists and can quickly scale a six-foot fence. The average high fenced enclosures at the sanctuary cost CAD 35,000.
Wolfdogs require a raw diet, which costs significantly more than kibble.
All wolfdogs have strong prey drives, so they cannot be near other animals.
They are fearful of humans, so they do not adapt well to new people.
Wolfdogs require sedation for any vet visit, so their vet bills are higher.
They have territorial tendencies.
Wolfdogs don't like to be contained and may destroy your home if kept indoors.
Sudden movements and loud noise can scare a wolfdog, causing aggression.
There's a tendency to believe wolfdogs make good guard dogs, but it's the opposite. Since wolves fear humans, they are likely to hide from an intruder.
After our sanctuary tour, we could understand why these incredible creatures should not be pets. Yamnuska Wolfdog Sanctuary does a fantastic job rescuing the wolfdogs and educating the public on their breed. It is not a breeding facility, and all animals are spayed and neutered to prevent breeding.
How You Can Support The Sanctuary
As a non-profit organization, the sanctuary relies on donations and money raised through tours and merchandise sales to continue its mission. The tours are inexpensive, informational, and great value for money.
The sanctuary's gift shop sells an excellent selection of merchandise, with all profits going back to maintaining the shelter and feeding the wolves.
Items include t-shirts, travel mugs, calendars, books, loose-leaf teas, and merchandise for your domestic doggies. We came away with a couple of black t-shirts and a tote bag.
Their Kuna Kummunity honors the owner's original wolfdog, Kuna. Those who enroll in a monthly donation get access to the program. Kuna Kummunity gives sanctuary updates and offers discounted tickets during special events.
You can also support the wolfdogs by making a one-time donation, sponsoring a wolfdog, buying an annual membership, or donating needed supplies from Amazon. Monthly sponsorship costs as little as CAD 10 a month but makes a huge difference for a non-profit shelter.
Final Thoughts
A visit to the Yamnuska Wolfdog sanctuary was an eye-opener for us. While we never considered owning a wolfdog, it gave us great insight into the breed and its unique characteristics. There is a misconception that wolfdogs are vicious predators. But, we as humans pose a greater threat to wolves than they do to us.
If you're visiting the Rockies to try out Banff's best hikes or see the incredible Lake Louise, be sure to visit this Alberta wolf sanctuary for a unique wildlife experience.
During our winter escape, we saw frozen waterfalls in Johnston Canyon, went ice skating on Lake Louise, and enjoyed a thrilling adventure, dog sledding in Canmore.
I left the sanctuary in awe of the shelter's mission and the fantastic work done by Georgina de Caigny and her dedicated team.
Just remember, this is not a zoo. Far from it! It's a beautiful, well-designed natural environment for the animals to feel safe, protected, and live out their days.
Happy travels ~ Karen