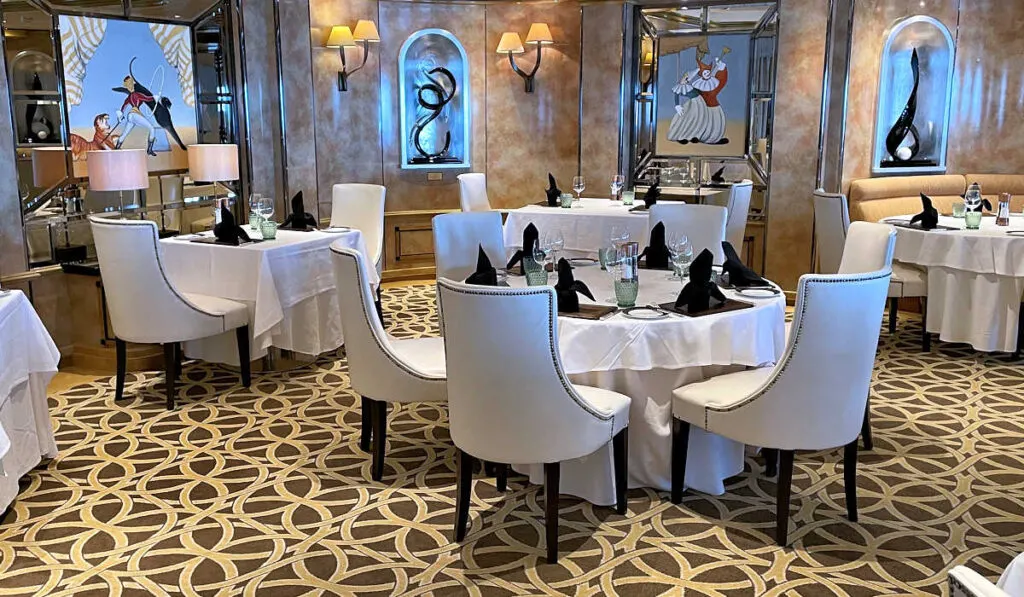 I recently took a 10-day Cunard Alaska cruise on Queen Elizabeth. Being new to Cunard, I was curious about their restaurant food and dining options. I had heard great things about their meal presentations and the quality of the food.
Queen Elizabeth is a mid-sized vessel and can accommodate 2116 passengers, but our cruise sailed at less than 50% capacity. You can read our Queen Elizabeth ship review here.
Guests can choose to dine in the Britannia Restaurant, Lido buffet, Lido pool grill, Golden Lion pub, The Verandah steakhouse, or order room service.
Guests booked in suites enjoy a ship-within-a-ship experience and can dine in an exclusive restaurant venue.
As with all cruise lines, I try to eat at all venues to assess the level of service, food selection, and quality of meals.
Britannia Restaurant
I tried the Britannia Restaurant (main restaurant) for breakfast, lunch, and almost all dinners. For breakfast, my favorite was Cunard's Get Up and Go Signature Plate.
It included eggs done your way, hash browns, grilled tomato with English back bacon, or Cumberland sausage.
Alternatively, you could request omelets with various fillings, along with corned beef hash, bacon, and sausage.
There were all the usual breakfast offerings; fresh fruit, hot and cold cereal, pastries, banana bread, pancakes, yogurt, sliced meat, and cheeses.
The Britannia Restaurant offers two seatings, the early at 5:50 to 6 pm and the late at 8 to 8:30 pm. We chose the early seating.
However, there were days when we had late excursions and didn't get to the dining room until 6:20 pm, which wasn't a problem.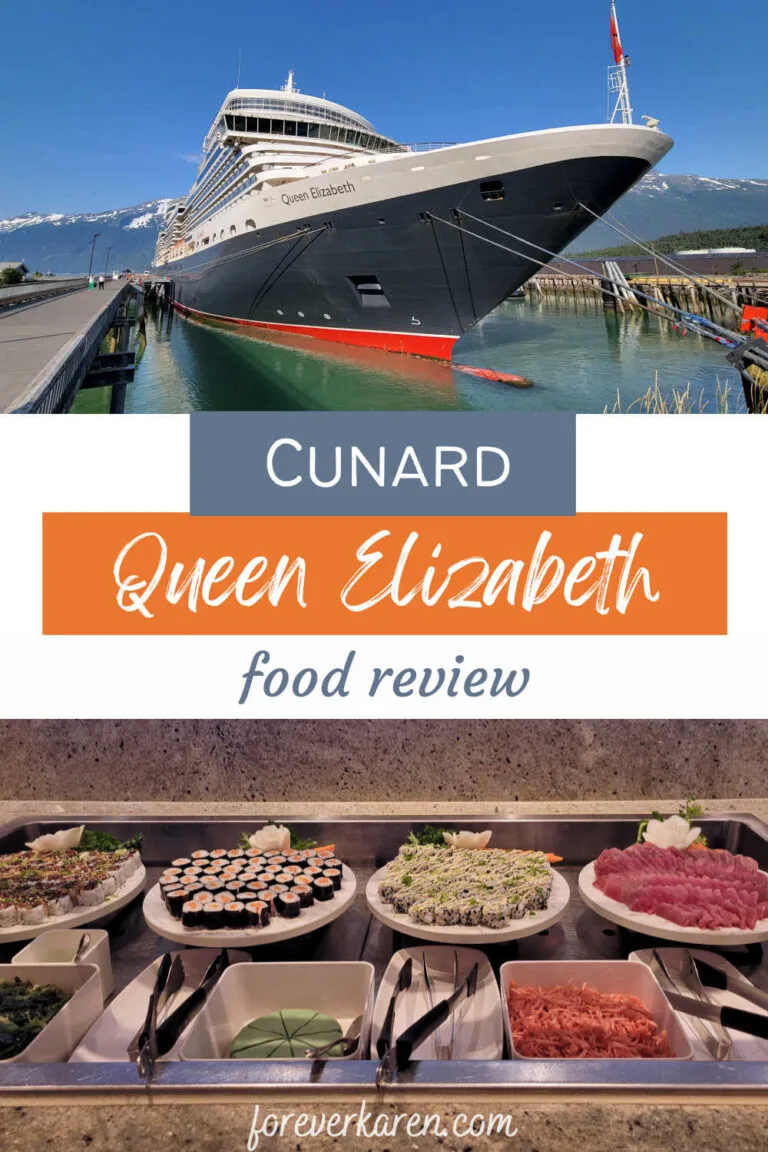 While there's a dress code for dinner, guests can dine casually for breakfast and lunch. Pre-Covid, we always requested a large dining table with other guests. Since we were still in the pandemic, we chose a table for two this time.
Cunard's main dining room differs from other lines by not having a set part of the menu that never changed. I found it refreshing to see something different every day.
However, other guests preferred the fallback to traditional choices like French onion soup, prawn cocktails, and steak dinners.
Dinner Menus
We forgot to get the menus for the first two nights but included those we gathered. So here is a sampling of what you can expect for food in a Cunard restaurant.
Night One
On embarkation days, the dinner menus are generally limited by our choices were quite good. While my husband, Brian, and I started with a salad, we chose different entrees and desserts.
I had the Steak Diane and finished with the chocolate cheesecake. The cheesecake was beyond amazing, and I would have been happy to eat the same dessert every night, lol.
Brian chose the broiled cod and warm apple strudel. He remarked that the strudel was great.
Night two was the first of two gala nights on our 10-day itinerary.
Night Three
My night three entrée selection was a miss for me. I had the Prosciutto and figs starter, plaice entrée and frozen mango souffle. The starter and dessert were terrific, but the plaice and accompanied sauce lacked flavor and seasoning.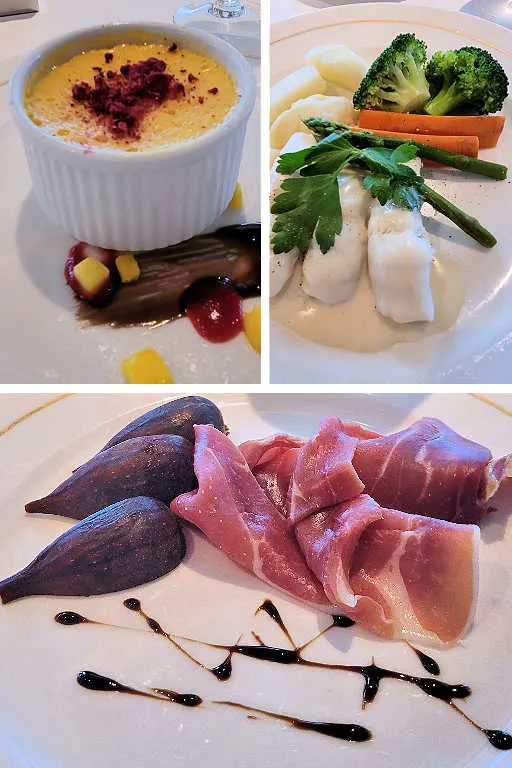 Brian enjoyed the classic Caesar salad, sesame-grilled salmon, and vanilla ice cream. I think Brian was in ice cream heaven once he tasted the creaminess of British ice cream.
From then on, he had an effort to get a serving almost every day, lol.
Night 3 appetizer menu | Night 3 entree and dessert menu
Night Four
We chose the same appetizer: shrimp, clam, and cucumber cocktail. Unlike traditional shrimp cocktails, Cunard served it on a plate instead of a dish.
However, the addition of pickled ginger and grapefruit mayonnaise gave it a tangy and spicy kick, which we enjoyed.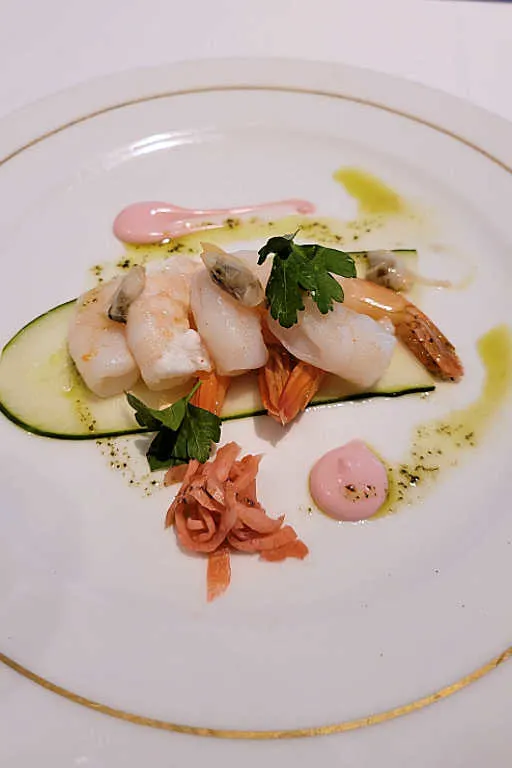 Spring lamb rump and Linguine with tiger prawns were our entrée choices. Both dishes were excellent, although I would have preferred the mint sauce with the lamb.
We finished with a crepe Suzette with vanilla ice cream and vanilla chia seed pudding with blackberries. I was hesitant about trying the chia seed pudding, but it pleasantly surprised me with its flavor and texture.
Night 4 appetizer menu | Night 4 entree and dessert menu
Night Five
We enjoyed one of the best meals on night five. Brian's chicken and dumplings egg fried rice was well presented, and he said it tasted great.
Since I love lamb, I opted for the rosemary and garlic lamb chops, which was more tender than the lamb rump the previous night.
The big hit for me was the Jaffa Cake meringue raspberry gel. If you've ever had Jaffa Cakes, Cunard's version was doubly delicious, especially with the addition of the meringue.
Night 5 appetizer menu | Night 5 entree and dessert menu
Night Seven
On the sixth night, we ate at The Verandah steakhouse. The hit for me was the smoked salmon appetizer the following evening.
My entrée, chicken Marsala Risotto, lacked flavor, and I could barely eat any. I ordered the same chocolate cheese I had the first night because it was so delicious.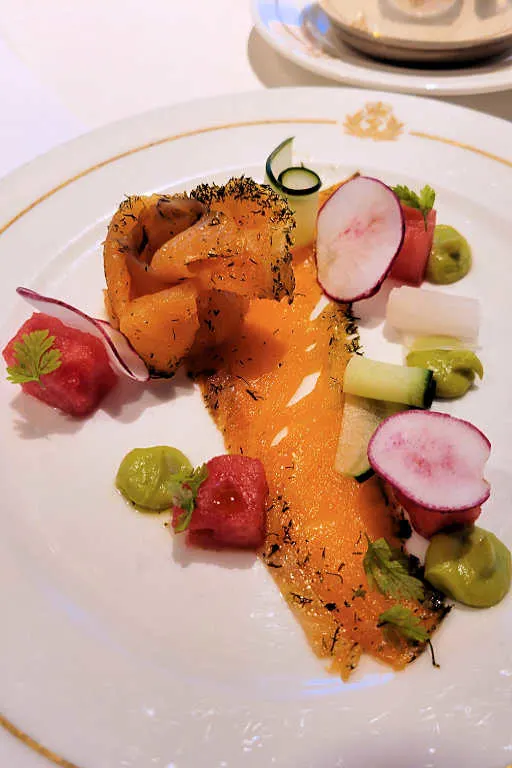 Brian selected the Jack Daniels chicken lollipops, which looked fantastic, although messy to eat. Brian chose the fillet of Alaskan Hoki, which he commented was good but not quite as good as halibut.
Brian's dessert of West Indies chocolate tart with clotted cream was a huge hit.
Night 6 appetizer menu | Night 6 entree and dessert menu
Night 7 appetizer menu | Night 7 entree and dessert menu
Night Eight
After a busy day in Ketchikan and an unforgettable Bering Sea Crab Fisherman's excursion, we rushed back to the ship for a later dinner.
Brian started with a salad, and I enjoyed the goat cheese starter with mushrooms. We both had the pan-roasted Alaskan salmon, which was done to perfection.
Our choices for dessert were the caramelized pear Napoleon and coconut panna cotta black sesame rice with baby peach. We highly recommend both desserts. The following evening was our second gala night, featuring the "roaring 20s."
Night 8 appetizer menu | Night 8 entree and dessert menu
Night Ten
For our final night, we boarded Queen Elizabeth without much appetite. We had spent the day in Victoria, British Columbia, and had the most fantastic fish and chips late lunch at the Fisherman's Wharf.
So, we opted for a shrimp cocktail and fish cakes for starters, which were good but not outstanding.
I had the roasted rack of lamb (my third time eating lamb in 10 days), and Brian ate the prawn curry with basmati rice. Both entrees were fantastic, but we couldn't finish due to a late lunch on shore.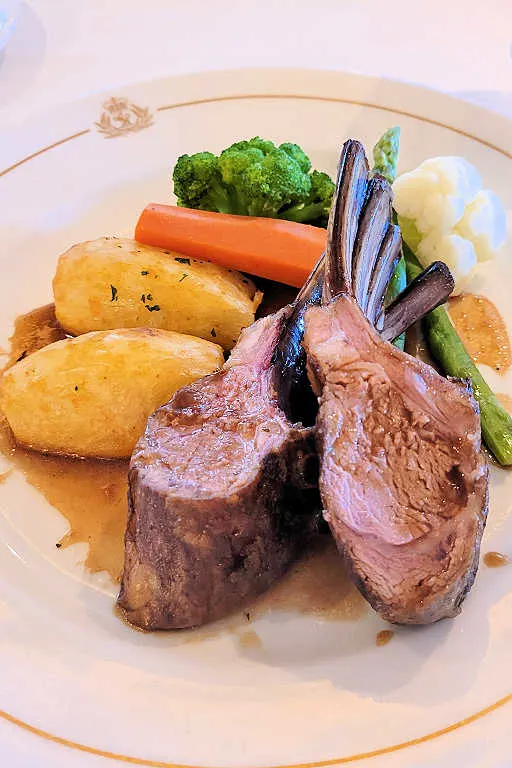 We completed the meal with a warm apple and apricot tart, and the raspberry chocolate cake. The chocolate cake was better than the tart.
Night 10 appetizer menu | Night 10 entree and dessert menu
After each evening meal, servers bring trays of handmade chocolates, candied ginger, and chocolate-covered mints to enjoy with tea and coffee.
It was a nice treat if we weren't already full. One night, they brought my favorite, macaroons, and I couldn't help but enjoy a couple.
Gala Nights
On our 10-day Alaska cruise, we had two gala nights. While most cruise lines have gone to optional dress-up nights, Cunard still has a strict dress code.
On the first sea day (night 2), the theme was "white ice," complementing the itinerary of seeing snow-capped mountains and calving glaciers.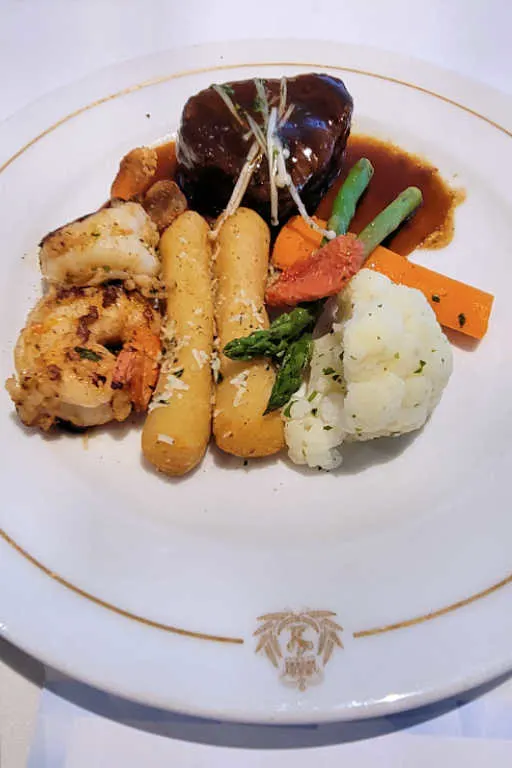 We were given a complimentary glass of champagne, along with our surf and turf. Brian also had a Caprese Salad and Lemon Souffle.
For my appetizer, I chose the Lamb Samosa, which the chef made without the wheat wrapper. It was amazing and one of the best appetizers throughout the cruise. I enjoy the gluten-free version of the lemon souffle.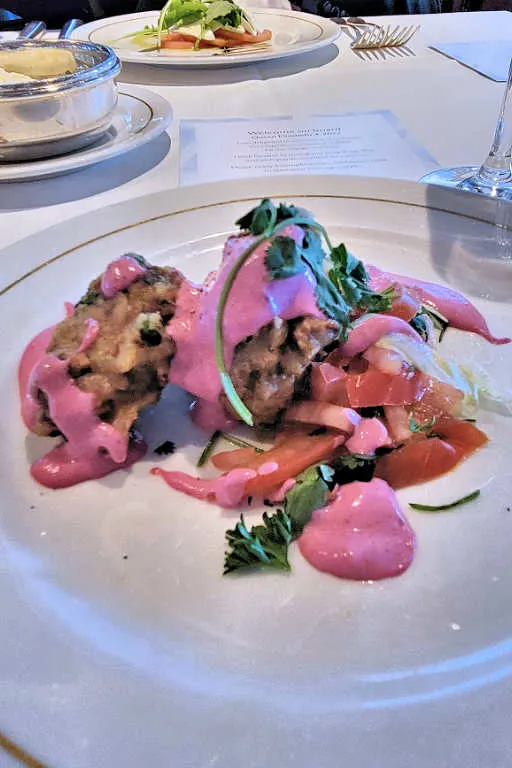 The roaring 20s was our theme for the second gala night (night 9). Although guests received the usual baked Alaska, Cunard didn't serve the traditional lobster dinner on our cruise.
The food was so good in Cunard's Britannia restaurant that we honestly didn't miss the lobster dinner. Instead, I enjoyed an Alaskan Candy Salmon starter, Grilled Butterfly Garlic King Prawns entrée, and Chocolate Brownie for dessert.
Brian's choices were Roasted Onion Soup, Grilled Alaskan Halibut, and finished with Baked Alaska with Morello Cherries.
Traditionally, cruise ships made large baked Alaska and cut it into slices. Cunard made individual servings, and Brian was thrilled it came with cherries.
Gala night appetizer menu | Gala night entree and dessert menu
Lido Buffet
One of the things I appreciated about the Lido buffet was no lineup. While some cruise lines' buffets resemble a college cafeteria, Cunard was much more refined in quality and selection.
It was the only cruise ship I'd been on since 2009, offering sushi at the buffet every day.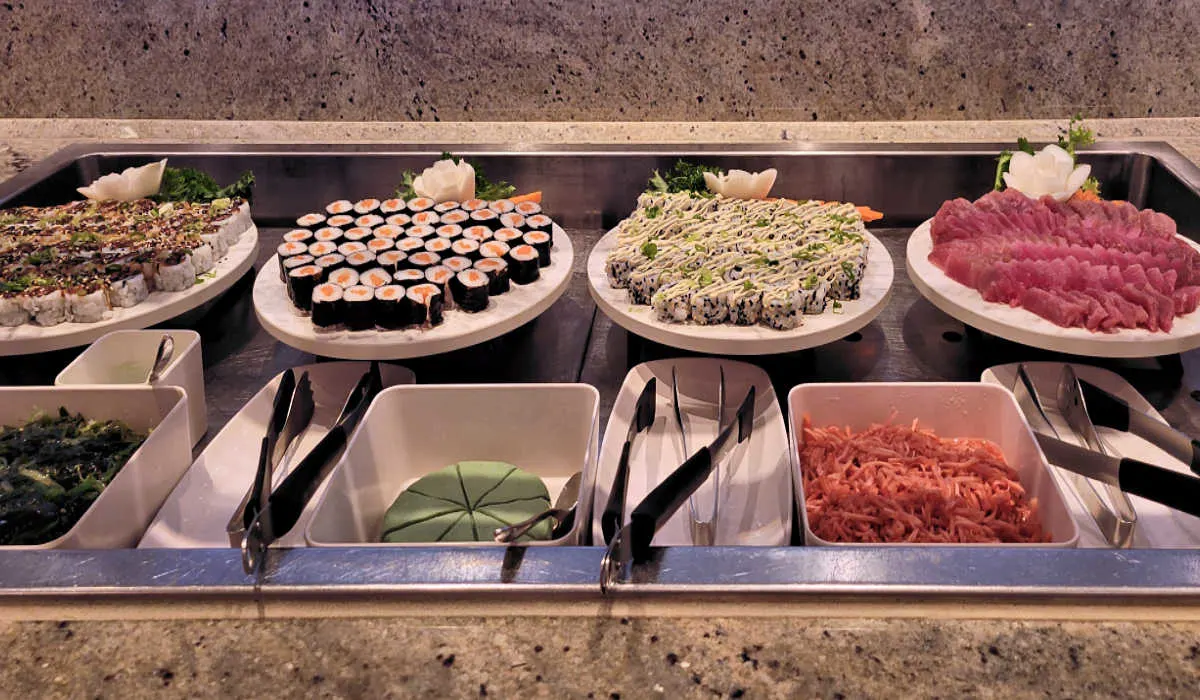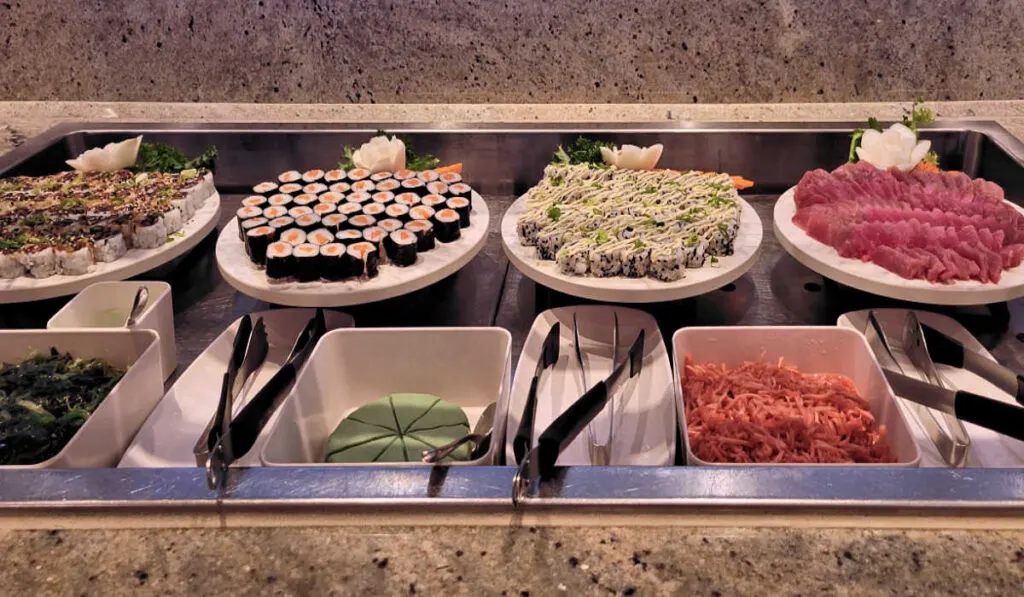 Cunard excelled in labeling food by including signs showing what contained gluten, sulfites, dairy, and items that were vegetarian and low in sugar.
Smoked salmon, smoked trout, and candied salmon appeared regularly on the buffet. Salad dressings were labeled if they included milk, gluten, or sulfites.
Desserts were always beautifully presented, and their soft-serve ice cream included natural British ice cream with its creamier flavor.
Cunard also has an allergy section. Since I can't have gluten and lactose, I appreciated this area. It carried a stock of gluten-free crackers, buns, bread, tarts, and apricot slices.
There were gluten-free waffles, cornflakes, bagels, bread, and muffins for breakfast. There were soy, almond, rice, and regular milk choices.
They also had a toaster, strictly for gluten-free products. Unfortunately, one morning, someone put a regular croissant in the toaster and seemed unconcerned that I was for wheat-free products.
After ten days of cruising Alaska, I realized Cunard was an excellent choice for passengers who cruise with allergies to certain foods.
Lido Pizzeria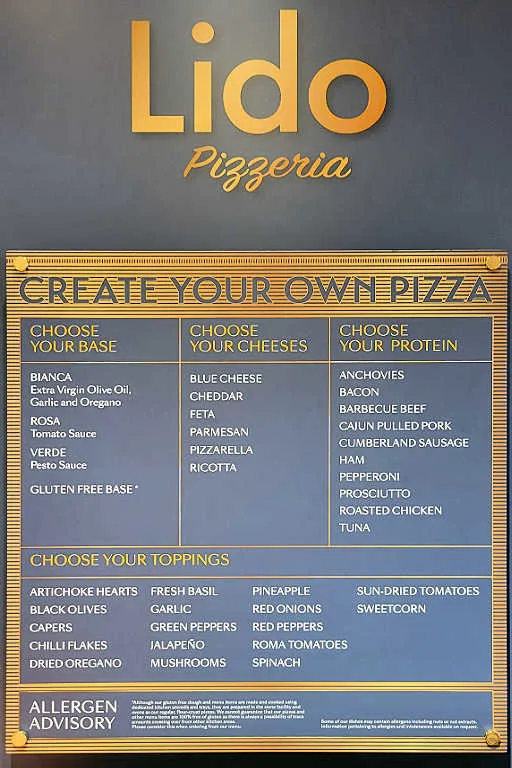 The Lido included a pizzeria where guests could request a pizza with custom toppings. There was a choice of bases, and I was impressed they offered a gluten-free crust as well as vegan cheese.
Next to it, a pasta station and baked potato section offered meals made your way. You could personalize your potato with toppings such as bolognese sauce, baked beans, crispy bacon, sour cream, and chili con carne.
Afternoon Tea
Traditional afternoon tea was served in the Queen's Room every day of the cruise, even on port days. Being half British, I looked forward to this afternoon treat.
So, on embarkation day, I requested a gluten-free and lactose-free tea for the following day, which was our first sea day.
Arriving in the Queen's Room the following afternoon, I was surprised to find the area packed. It was the only venue during the cruise that filled up fast.
Unfortunately, the kitchen staff didn't prepare my pre-arranged tea, and I left disappointed. The team apologized and asked me to return the following day when we were cruising Glacier Day National Park.
So, the following day while everyone was outside, savoring the views, I stopped by for the anticipated Cunard afternoon tea.
To my surprise, the scones were delicious, and I received a vegan cream instead of the clotted cream, which tasted as good as the real thing.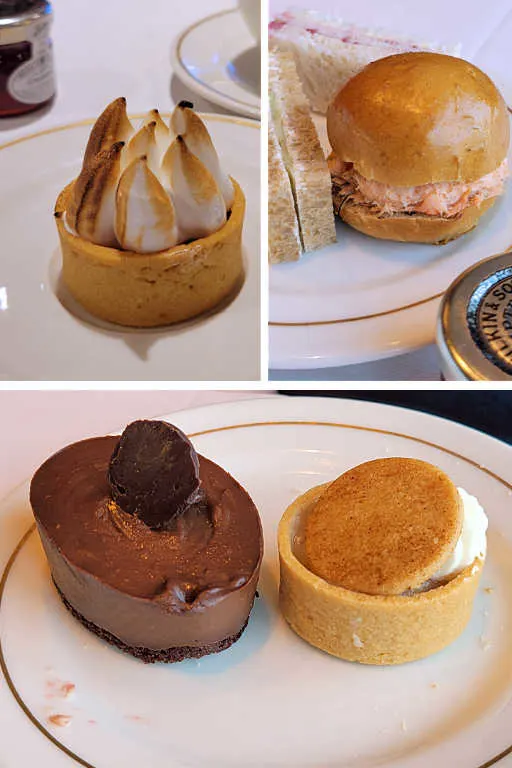 Instead of finger sandwiches, I received buns with smoked salmon, cucumber, and ham fillings. The sweet treats were just as delicious.
My husband, Brian, said his afternoon tea was exceptional. Since Cunard serves tea between 3 pm and 4:30 pm, we opted to miss lunch on the days we went for tea.
Cunard's afternoon tea was included in the cruise fare, and I liked that guests could enjoy it in the Lido buffet. If you wanted the afternoon treat in your stateroom, you could order it without incurring a fee.
The Verandah Steakhouse
Brian loves a good steak, so we eat at every steakhouse on each cruise. The Verandah steakhouse is the only specialty restaurant on Queen Elizabeth, and guests can find it on deck two.
The Veranda offers lunch on sea days for a USD 25, but the menu is limited and features only one steak, an 8 oz sirloin.
Dinner is served from 6:30 pm every evening and costs USD 45. While we expected extensive steak options, I was surprised to find a burger offering on The Veranda menu.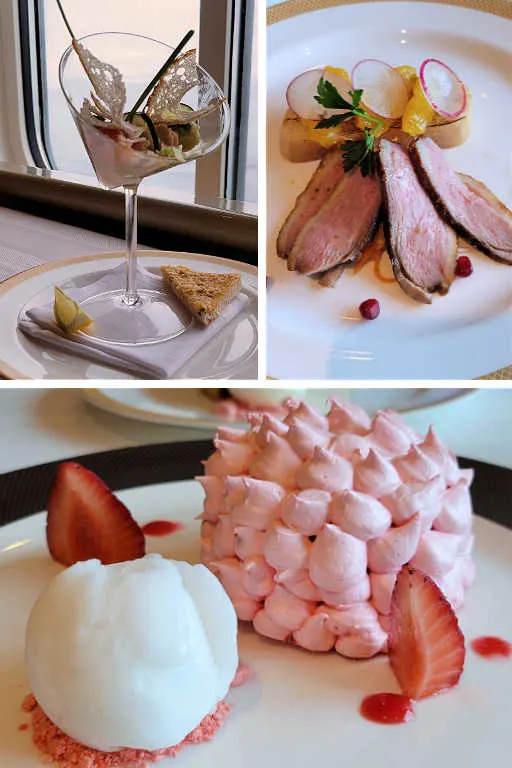 For appetizers, Brian chose the Caribbean Lobster Cocktail, which came exquisitely presented in the shape of a butterfly.
I picked the Tea-smoked duck breast with mandarin dressing, toasted slaw, and pomegranate molasses. Both starters were fantastic.
Since Brian always orders a steak, the beef cuts were presented on a cart, and the server explained each cut. All cuts were included except the Suffolk Wagyu, which incurred a USD 30 fee on top of the USD 45.
Brian selected his usual 12 oz ribeye steak with mashed potatoes, broccoli, and Bearnaise sauce. Should you order a steak, the server brings a box of steak knives, and you get to select one. While the gesture was grand, the steak knife was not sharp.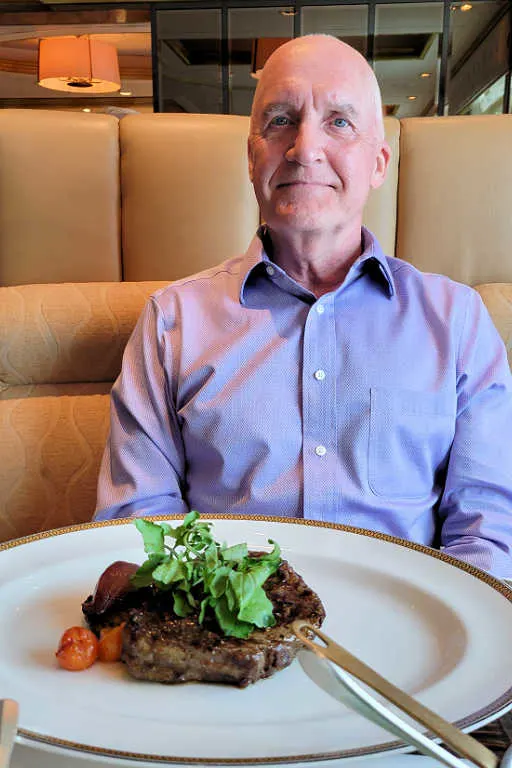 I wanted to try something different, so I opted for the hickory smoked Louisiana Short Ribs. Both entrees were delicious.
We chose different desserts too. Brian had the Deep Filled Bramley Apple Pie and ice cream. I had the Wild Strawberry Pavlova with Champagne Sorbet.
My dessert was an art piece, and the pavlova was filled with strawberries and strawberry tapioca pearls. While both desserts were fantastic, we felt too full to clean our plates.
Room Service
It took me more than a dozen cruises to order room service. Maybe it was the lack of choice or the fact that some lines now charge a fee.
However, I was pleasantly surprised Cunard has an extensive room service menu that doesn't incur an upcharge. So, after embarkation day, we decided to try breakfast in our stateroom the following day since we were at sea.
Cunard's room service breakfast menu is quite comprehensive and better than most breakfast choices on land. Cunard asks guests to order their selections by 1 am.
Staff delivers breakfast in 30 minutes time slots from 7 am to 10 am. Most mornings, our tray arrived 5 minutes early. The menu included seven juices, tea, coffee, cereals, bakery baskets, bagels, fruit, yogurt, and cold cuts.
Hot breakfast included eggs your way, your choice of crispy or English back bacon, three types of sausages, grilled tomato, sauteed mushrooms, and hash browns. Cunard even had baked beans and Bury black pudding for the British guests.
Our cooked breakfast always arrived hot and was so good that we opted to eat breakfast in our cabin three times.
While we never ordered room service outside of breakfast, the menu was just as extensive. From 12 pm to 11 pm, you can request a variety of soups and salads, sandwiches, pasta, chicken curry, burger, quesadilla, and a choice of three desserts.
For a fee, guests can order gourmet canapes or caviar and champagne. However, all guests received a complimentary bottle of champagne in their mini-fridge.
By ordering afternoon tea in the stateroom, you can create a mimosa afternoon tea on the balcony. It's the ideal way to add romance to a cruise without spending any money.
Golden Lion Pub
Located on deck two, the Golden Lion offered all the traditional pub favorites, from beer-battered fish and chips to steak and kidney pie.
While its menu was limited (seven entrees and two desserts), it was an excellent place for a casual meal.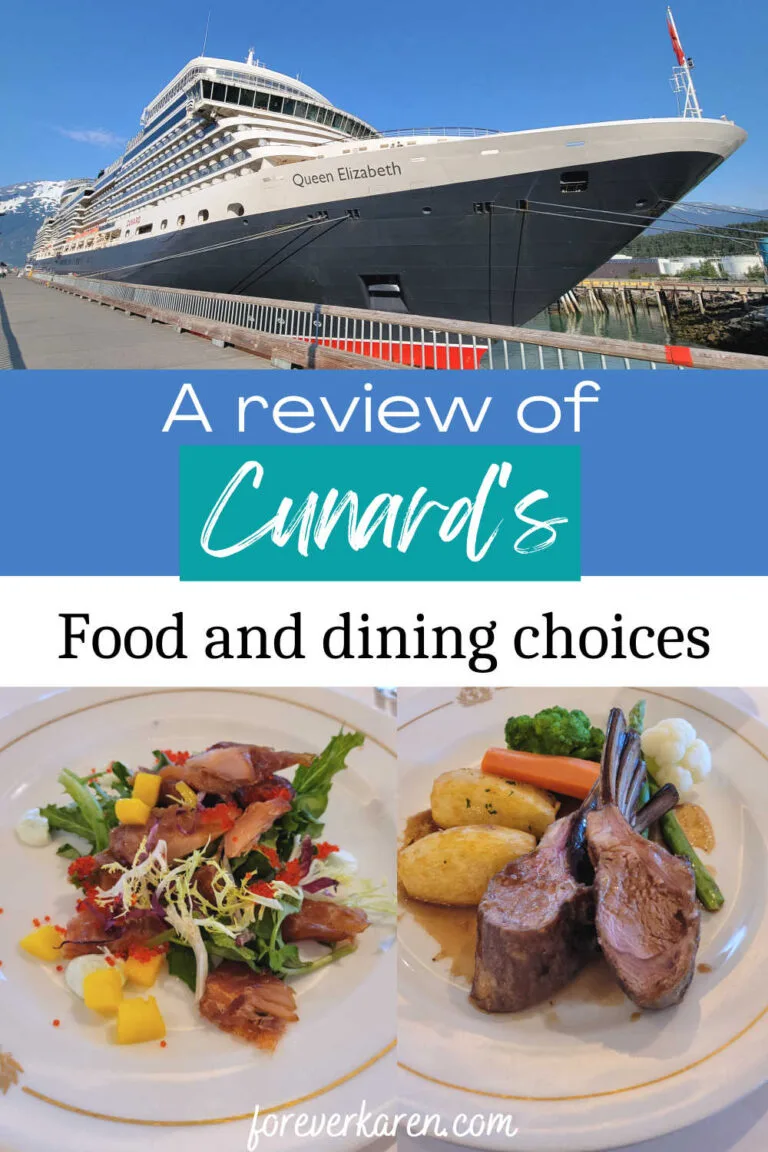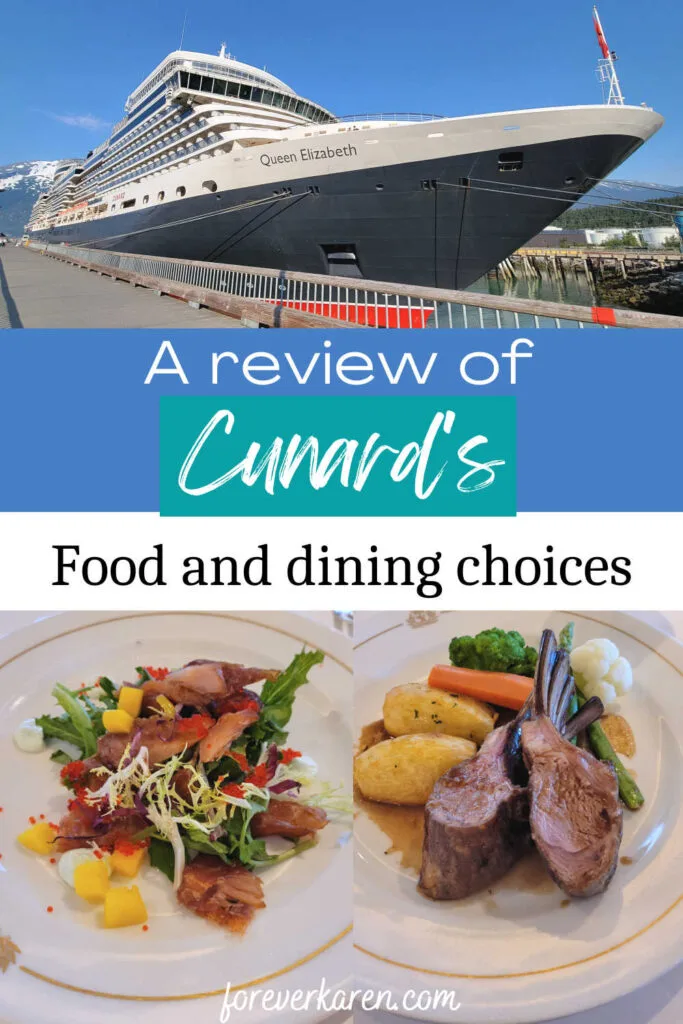 Here's what you can eat at the Golden Lion:
Beer battered Atlantic cod with chips and mushy peas.
Steak, ale, and kidney pie with potatoes, carrots, and peas.
Chicken Tikka Marsala with basmati rice, onion bhaji, and naan bread.
Angus beef burger with stilton slaw, dill pickle, and fries.
Fried egg and mushroom sandwich with wilted greens.
Golden Lion Ploughman lunch – gammon, cheese, duck mousse, pickled onions, vegetable crudities, Branston pickle, and artisan bread.
Overall, I found Cunard restaurant food outstanding. There were plenty of choices, especially for those with food allergies. The only area that Cunard could improve was the option to get food between 2:30 pm and 5:30 pm.
With only afternoon tea, burgers, and hot dogs in the Lido pool grill, there were no options for healthy choices.
While most cruise lines have an adequate buffet, Cunard's exceeded any other line we've cruised. So, if you prefer not to dress for dinner as required in the Cunard Britannia restaurant, you can eat in the Lido and get equally good food.
Happy travels ~ Karen