Cruising with food allergies can be tricky if you don't plan ahead. Research the cruise line policies, and make sure to notify everyone about your dietary needs.
I've had good experiences cruising with food allergies in the past, but it's always best to be prepared for any mishaps. With a little extra planning, you can still enjoy sailing the seas without compromising your health.
In case you are wondering, I have celiac disease and cannot eat gluten. I am severely lactose intolerant and allergic to peanuts, almonds, and hazelnuts.
While I can eat some nuts (walnuts, cashews, pistachios, and pecans), I avoid them all when traveling for fear of cross-contamination. Anyone with allergies can totally relate to this.
One of the biggest fears when traveling is having an allergic reaction on a cruise ship. Peanut allergies are common, especially among children. If you have a child with a peanut allergy, don't worry, as most staff are trained to use an epinephrine injector (EpiPen).
If you're not sure who to sail with, it's a good idea to read cruise reviews of passengers who have sailed with any food allergies.
Notify Your Cruise Line Before Sailing
When choosing a cruise line, it's best to sail with one that speaks your language. In land-based restaurants, I found most mistakes in food preparations result from staff not understanding my language.
At the time of booking, I notify my travel agent of my allergies. They will add an allergy alert to my booking so the cruise line is notified. After that, be sure to call the cruise line (if you did not book with them directly) to confirm they have received the allergy alert.
Since most lines now use an app, some allow you to add your allergies to the app.
A few weeks before sailing, I call the cruise line again as a reminder. Why the second call? Sometimes, cruise lines will offer to add items on board to cater to your allergy.
One of my many allergies is to milk. While most cruise ships will keep a supply of soy milk or coconut milk, there usually aren't other options.
However, when I booked a Carnival Cruise, the cruise line offered rice milk, goat's milk, and lactose-free milk to be put on board if I preferred those instead. I was thrilled that they made such an offering and took my allergies seriously.
Some cruise lines require advance notice of any food allergies before sailing. They want you to have the best experience possible. So, contact them using this guideline.
Holland America – contact Ship Services at least three weeks prior to your departure: 1–800–541–1576
Celebrity Cruises – prefers 45 days' notice of food allergies, especially if you require soy milk onboard.
Carnival Cruise Line – does not require advance notice. But contact customer service on the first day. If you have any questions or special requests, email them at [email protected]
Royal Caribbean – requires 45 days' notice before your cruise. You can fill out a form online.
Disney Cruise Line – To inquire about special meal options, contact your travel agent or Disney Cruise Line by calling (800) 951-3532
Princess Cruises – requires 35 days' notice.
Norwegian Cruises – does not require advance notice. But contact customer service on the first day.
Before sailing, be sure to purchase sufficient medical insurance to cover you for your entire vacation, both land and cruise. It's best to carry an emergency contact list at all times.
Carry An EpiPen
My medical bag includes a decent supply of antihistamines, and my purse consists of an epinephrine injector (EpiPen). If you carry an EpiPen, you might want to wear a medical alert bracelet too. A few weeks before embarkation, check the expiry date of the EpiPen.
Also, I travel with "safe' foods I can eat while on route to my departure port since airports have little to no selection of allergy-free foods.
In my suitcase, I often pack packages of gluten-free crackers, gluten-free and nut-free protein bars, and a selection of favorite "safe" snacks to have on board.
Just in case the worst should happen, and I get "glutenized," I always have a large supply of upset stomach medication. Most cruise lines allow me to bring my "safe" foods on board so long as they don't need to be refrigerated, frozen, or prepared by kitchen staff.
To avoid contact with unidentifiable crumbs on a table, pack disinfecting wipes. Travel pack wipes fit in a purse, backpack, or day bag.
Notify Staff Of Any Food Allergies
On the first day of my cruise, I stop by the customer service desk to add my food allergies to my account. Don't be afraid to ask questions about the menus, the alternatives, and how the cruise line can best cater to your particular needs.
On embarkation day, while staff ushers passengers to the buffet for lunch, stop by a sit–down restaurant to see if it is open. Many times, it is available even when the staff has said it is closed.
Avoiding buffets means anyone with allergies is less likely to have the wrong food. By choosing a sit–down restaurant, I can inform the wait staff and head waiter of my allergies.
This way, my food is prepared, especially for me, in a separate kitchen area without any cross-contamination risk.
Breakfast Gluten-Free Options
Every cruise line carries gluten-free bread, and some supply bagels too. Ask the servers about your available options, even when they are not listed. Gluten-free bread means French toast is also available.
Some breads and buns are made onboard, while some cruise lines purchase ready-made items.
During my Holland America cruise, I was able to get gluten-free waffles for breakfast. Being celiac, I avoid breakfast sausages, hash browns, and sauces because they have wheat fillers or are coated with wheat in most cases.
Breakfast is a meal I can eat almost anywhere on the ship because I stick to whole fruits, fresh eggs, and unprocessed foods. If you are allergic to milk and eat omelets from the buffet, here's a word of caution.
Most cruise lines now use liquid eggs, which they buy in large containers. The liquid product is a processed item that usually contains other ingredients, sometimes milk.
So, when having an omelet, I always request fresh eggs and not liquid eggs. Depending on your allergy and its severity, you may want to avoid the buffet.
Cunard carries a large selection of gluten-free items for breakfast. They also have a dedicated toaster to avoid cross-contamination.
Avoid The Buffet And Cross-Contaminated Food
During my cruise, I eat all of my lunches and dinners in the main dining room since I don't know the buffet food ingredients. For the most part, none of the buffet staff can confirm the elements either.
If I ask, I'm usually waiting 5 or 10 minutes while someone runs to the kitchen to find a head chef. While he might answer my question, he won't hang around to tell me the ingredients of everything on the buffet line.
With hundreds of passengers converging on the buffet, there's a risk; a passenger has placed a serving spoon in the wrong place. So, avoid the buffet, and eat in a restaurant instead, especially if you have severe food allergies.
I was impressed with my recent Celebrity Solstice dining experience. Celebrity has added signage to the buffet food, notifying you whether the food is gluten-free, lactose-free, sugar-free, or vegetarian.
At dinner, choose a set dining time over anytime dining, because you'll have the same waiter. Consistency is the key to eating safely, and dealing with the same staff member means not having to repeat my dietary restrictions.
Also, in the dining room, the Maitre D or assistant restaurant manager should visit you at each dinner seating and discuss what the kitchen can prepare the next day.
Then you can choose lunch and dinner for the following day. I usually don't have a choice for dessert. Instead, the pastry chef will surprise me with a special dessert that is safe for me to eat.
The only exception was when I cruised on Cunard Queen Elizabeth. They offered to make ANYTHING I wanted, including a gluten-free and lactose-free cheesecake which was heavenly.
While all cruise ships carry gluten-free bread, buns, and sometimes bagels, not many carry a lactose-free spread. As more and more people develop allergies, cruise lines have worked hard to cater to your dietary needs.
There also take great care to prevent cross-contamination in the kitchen. While it might be tempting to share your food, it's best not to sample your spouse's or kids' food because it may make you very sick.
Specialty Restaurants And Food Allergies
Throughout my many cruises, I have eaten at various specialty restaurants. I found the results to be hit-and-miss.
While I have informed the restaurant of my intolerances when booking, sometimes that critical information was lost at mealtime as with my experience at Le Petit Chef at Qsine.
Most Italian restaurants carry gluten-free pasta, but the sauces generally contain milk. If you plan to eat at a paid Japanese restaurant, I have yet to come across a ship that carries gluten-free soy sauce.
Some specialty restaurants cook the food in front of you. In the case of an allergy, request that your food to cooked separately in a clean pan. In most instances, your meal will be prepared and cooked in the back, in a separate part of the kitchen to prevent cross-contamination.
I've enjoyed the best gluten-free food at Jamie's Italian (Royal Caribbean's Ovation of the Seas), Sabatini's Italian Trattoria (Discovery Princess), and the Chops Grille (Serenade of the Seas). Steakhouses are always the best option since entrees usually consist of meat without sauces.
Royal Caribbean's Jamie's Italian had amazing food choices, and their fancy French fries weren't coated in wheat.
Room Service
When ordering food for your stateroom, inform the staff of your dietary needs. Depending on your allergy, ordering room service may not be possible. Most cruise lines offer continental breakfast with toast, pastries, cereal, fruit, yogurt, and muffins. Not much without wheat!
However, Cunard provides a full European breakfast with eggs done the way you want, bacon, sausages, grilled tomato, and baked beans. Once I cruised with Cunard, I enjoyed breakfast in my stateroom – several times!
Children With Food Allergies
Raising children with food allergies is challenging, and traveling, is more so. Teach your children not to get and eat food without you present.
When cruising with children who have dietary restrictions, contact your cruise line to learn about their policies. Onboard kids' clubs have rules about children with special diets and those that carry an EpiPen.
Make sure the staff at the kids' clubs know how to use an EpiPen. When it comes to consumables, educate your child not to share food with the children. Be informed and understand the policy before embarkation day.
One of the best cruise lines for children with allergies is Disney.
Eating Safely On Port Days
Unless my itinerary is to a place where the language is something other than my own (English), eating out is generally not a problem. Just in case I get hungry or need a snack, I always carry something that I have brought from home.
This is when that gluten-free stash of snacks comes in handy. While some cruise lines are willing to prepare a takeaway lunch, others are not.
Also, bear in mind some ports are very strict about bringing food into their country, mostly certain fruits, and vegetables.
Have you ever seen the dogs in the cruise terminal and thought they were drug-sniffing dogs? No, these are food sniffing dogs, and I have personally seen the port authorities confiscate bananas and other fruits from passengers' purses.
If you have booked a shore excursion that includes food, chances are it won't be gluten-free. Taking your own snack will help to ward off the hunger pangs until you're back on the ship.
Should you book a tour through the cruise line, they may be able to accommodate your special diet with enough notice.
Trying To Make A Difference After The Cruise
In 2009, I took my very first cruise to Alaska. Back then, cruise food was void of gluten-free symbols. After my cruise, I wrote to the CEO of Celebrity Cruise lines and suggested they add gluten-free, vegan, and sugar-free logos to their menus and buffet.
After all, there is a growing population of gluten-free people and many senior cruisers, some of which have diabetes. To my surprise, I received a lovely response.
Today, cruise lines have made considerable strides in addressing passengers with dietary concerns, making cruising with allergies a little easier. If you have food allergies and are afraid to cruise, don't be.
Major cruise lines are well aware that there are a growing number of people on special diets or have food restrictions. Don't be scared to ask questions; a lot of questions.
If you are fearful of becoming a medical emergency, choose a ship with a helicopter landing pad.
Gluten-Free Options When Cruising
Here is a list of gluten-free food options available on some cruise lines. Items will vary per ship. There are many more things available than what is listed here, as most things are made to order.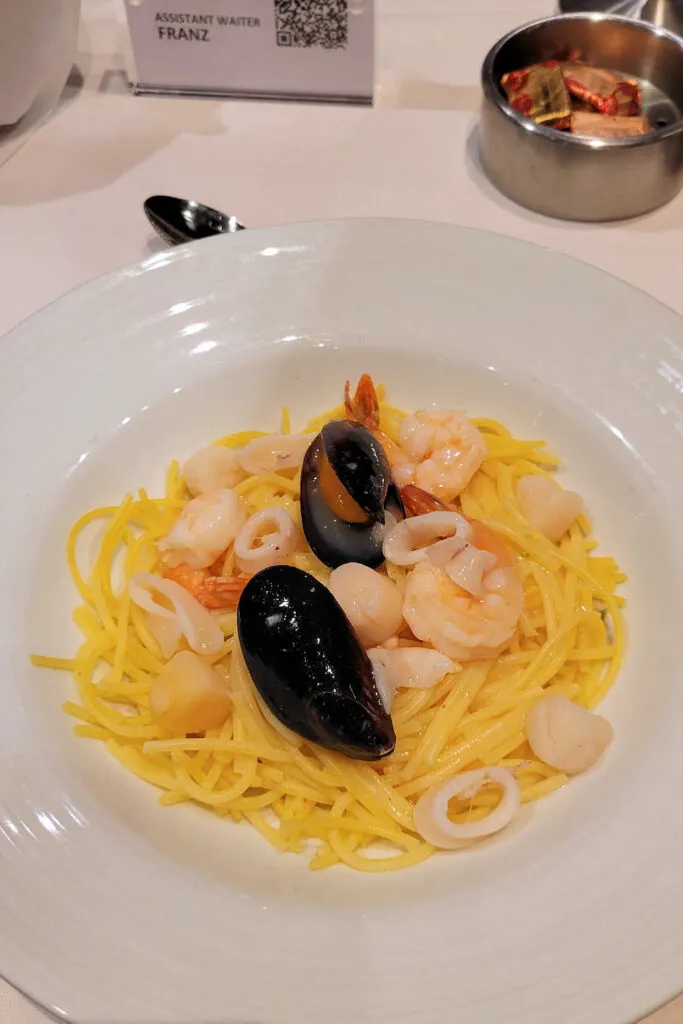 Carnival: pizza, pasta, bread for deli sandwiches, cakes upon request, beer, chocolate melting cake, hamburger buns.
Princess: bread, pasta, pizza. You can enjoy their afternoon tea if you've given 24 hrs. notice of your allergies.
Royal Caribbean: bread, bagels, pancakes, muffins, beer, chocolate flourless cake, French toast, pizza, panna cotta, sandwiches, cupcakes, and a gluten-free, packed lunch with select excursions.
Celebrity: bread, pizza, cookies, oatmeal, muffins, cake, macaroons.
Holland America: bread, waffles, muffins, hot dog and hamburger buns, pasta, and pre-made desserts.
Cunard: bread, waffles, cereal, buns, tarts, cakes, pizza, pasta, muffins. They will even create a gluten-free and lactose-free afternoon tea with scones and clotted cream.
Outside of the restaurants, you can often get foods that you can eat if you request them. On my Ovation of the Seas cruise, the Café Promenade would provide gluten-free sandwiches and desserts if I gave them 24 hours notice.
No matter how efficient or inefficient your cruise line is, ultimately, it's up to you to practice due diligence. Even major cruise lines make mistakes, and that may be more common when you have multiple allergies or deal with different crew members.
Examine your food when it comes to the table, and never be afraid to confirm its ingredients. I've even asked a family member to taste something to see if it contained an ingredient, such as peanuts.
Cruising Post-Pandemic
Cruising post-pandemic, I found things have changed. On my Princess cruise, gluten-free options were limited, and I don't know if that is due to supply issues or cutbacks. Out of the three specialty restaurants onboard, I was told I could only eat in one.
During my cruise, there were no gluten-free buns, waffles, or bagels. And nothing on the buffet was marked gluten-free.
While there have been some huge steps forward in the cruising industry, cruise lines still don't mark menus as they do in land-based restaurants.
Having Allergic Reactions
While you want to avoid having an allergic reaction, sometimes mistakes are made. That's why it's important to have medical insurance (that covers helicopter evacuation), carry an epi-pen and medication to ward off the side effects.
If you're afraid of having an allergic reaction, you may want to pick an itinerary that always sails close to land.
Recently, a restaurant manager brought me a tart that he said was lactose-free and gluten-free. However, I smelled it, and it was made with peanuts. Good thing I checked!
Overall Experience
Overall, my experience cruising with allergies has been excellent. I have cruised with Princess, Holland America, Celebrity, Carnival, Cunard, and Royal Caribbean International without any incidents.
My only bad experience was with Norwegian cruises when they served me a meal with milk ingredients. It made me horribly ill, and I spent the last three days confined to bed and unable to eat.
While it ruined my vacation, I gave them the benefit of the doubt and cruised with them one more time on a different ship. But again, Norwegian served food that contained my allergens. I am not suggesting you avoid Norwegian Cruise Lines; I am just conveying my personal experience.
Now I book with a cruise line that offers set dining times as opposed to freestyle dining. Of the cruise lines I have sailed, I remember Princess having the most amazing gluten-free bread.
Carnival ships with Guy's Burger Joints make gluten-free burgers with gluten-free buns. While I'm not a fast-food fan, these are the most delicious burgers ever, whether you eat them lettuce-wrapped or in a bun.
I was also impressed the patties are gluten-free since most places add wheat fillers. For all those regular cruisers who love Carnival, they can make their chocolate melting cake gluten and lactose-free!
Overall, the allergy-free food in Cunard's restaurants was the best. Even their buffet has an allergy section, with many gluten-free and lactose-free choices. They also had four different lactose-free milk choices.
Talking to staff, the information received on catering to special diets is not consistent. No matter how efficient or inefficient your cruise line is, ultimately, it's up to you to practice due diligence.
Never assume it's safe to eat because cruise lines make mistakes. Examine your food when it comes to the table, and never be afraid to confirm its ingredients.
And lastly, I live by this fundamental rule; "If in doubt, don't eat it."