Are you looking to book a Carnival cruise and need some incite to its cruise line? Carnival Cruise vessels are known as the "fun ships." After one voyage, you'll understand why.
It attracts a younger crowd, much like Norwegian Cruise Line, while Princess Cruises and Holland America generally attract more mature passengers.
If you can't wait for the fun to begin, here are some Carnival Cruise tips and tricks to maximize your experience and get you on the "fun ship" faster.
Whether you're a first-time cruise guest or a Carnival past member there are many Carnival Cruise tricks and tips to learn about vacationing on a cruise ship.
The Carnival Hub App Simplifies Cruising
Carnival's Hub App is an absolute must to get you to the Carnival Cruise activities faster. The app simplifies life onboard and becomes your vital Carnival Cruise planner during your vacation.
The Carnival Hub app is available on all Carnival cruise ships and works while on board for your entire cruise and has lots of helpful information.
After my Carnival Cruise check-in and boarding, I downloaded the app using the ship's free Wi-Fi. It runs off the Carnival Cruise Wi-Fi and doesn't incur unwanted roaming charges. The app is free to use and doesn't require purchasing a Carnival Cruise internet package.
It includes ship maps and day-to-day "what's happening" events and allows you to view your account balance. I particularly liked the "what's happening" because you can add favorites. Favorite items give reminders of your events right at your fingertips.
There's nothing better than having the activities onboard right in your hand. It's a significant upgrade from highlighting the Fun Times newsletter.
Pixels Digital Photo Gallery is available on selected ships and allows you to view and purchase photos taken onboard. After a 7-day cruise, it is often challenging to find ALL of the photo gallery photographs. So, having it at your fingertips is a fantastic time-saver option.
Other uses for the app are booking Carnival Cruise Line shore excursions, booking dining reservations, booking spa treatments, viewing dining times, and reading restaurant dinner menus.
Also, for a small USD 5.00 fee, passengers can chat with each other onboard using the Carnival Hub app. This feature is handy if traveling with a large family or travel group.
If you choose not to chat, the app is entirely free. You can get the Carnival Hub App here if you want to acquire the app before embarkation day.
Fast Track Boarding With Faster To The Fun (FTTF)
Faster to the fun is the most valuable tip for cruising Carnival. As the name implies, it is a fast track to the fun onboard your cruise. Before starting your cruise, (FTTF) is a shore excursion offered for sale on the Carnival cruise website.
Prices vary from USD 39.95 to USD 119.95 (per cabin), depending on the trip's length and which ship you are sailing. There are selected numbers available so buy one early because they sell out quickly.
Boarding day is always a little scary, but FTTF speeds things up for you. Onboard, faster to the fun guests have early access to their cabins. They also get priority delivery of their luggage.
Before my back-to-back Caribbean cruise, I intended to buy the FTTF. I added the excursion to my cart but got too busy to complete the transaction and figured I'd do it the next day.
The following morning, I was disappointed to find it was sold out. That day, I learned the meaning of "you snooze; you lose!"
Also, FTTF offers priority boarding on departures from selected ports. These are Baltimore, Charleston, Fort Lauderdale, Galveston, Jacksonville, Long Beach, Miami, Mobile, New Orleans, New York, Port Canaveral, San Juan, Seattle, and Tampa.
You will also have access to priority tendering, which is a nice feature if the itinerary includes a few tendering ports. Nothing is worse than having to queue for a tender ticket and wait for your turn to leave the ship. FTTF expedites your Carnival Cruise check-in and gets you onboard quicker.
Faster to the fun passengers also have priority dining time assignments after the VIFP Platinum guests. This is especially helpful when traveling with a larger group who want to dine together.
Early dining in the main dining room fills up quickly. However, with FTTF, you can almost guarantee your preferred time in your dining room of choice.
Carnival's Check-In Time
Gone are the days of just showing up at the embarkation port to board your ship. Carnival has now implemented a system that requires passengers to choose a check-in time within a half-hour time slot. The check-in time helps to lessen congestion and prevent long wait times.
It's best to book early as the best times get full fast. If you forget or book late, you'll be boarding your ship in the latest time slots. If you choose a later time and show up early, you may have to leave and come back later.
Stock Holders Get Free Credit
Owning shares of Carnival Cruises has its benefits. If you hold a minimum of 100 shares of Carnival Corporation or Carnival plc, you're entitled to free onboard credit, depending on the cruise's length.
In North America, the credit amounts to USD 250 on vacations longer than 14 days, USD 100 for cruises of 7 to 13 days, and USD 50 on itineraries of six days or less.
Passengers must submit applications to receive the free onboard credit at least three weeks before embarkation, and proof of ownership is required.
As of April 2022, 100 shares of Carnival @ USD 20 would cost USD 2000. If you're loyal to Carnival, the payback in onboard credit is a big bonus, plus owning the stock pays dividends.
Carnival Has A Private Island
Half Moon Cay is Carnival Cruise Line's private island in the Bahamas. Many cruises from Miami stop here. While the island has no cruise port, guests must tender to spend a day at the beach or participate in one of many shore excursions. For a private oasis, consider renting a beach cabana.
The cabanas include soda, water, snacks, air conditioning, a refrigerator, and the use of some water toys. The larger villas also include a hot tub. If you've purchased a drinks Cheers package on your vessel, your free drinks program doesn't apply in Half Moon Cay.
Save Money With Price Protection
Do you want to know how to save money on a Carnival Cruise? Carnival Cruise's lowest price guarantee will give you 110% of the difference in onboard credit if you find a lower price within 48 hours of booking,
If, after booking, you find a lower Carnival advertised fare, Carnival will honor it and issue the difference in the form of a non-refundable onboard credit.
Early saver guests do not qualify for price protection under the super saver or any program that does not allow you to select your cabin at the time of booking.
Passengers eligible for a lower price should complete a price protection claim form. Carnival will accept price protection requests up to two business days before sailing.
With this revolutionary guarantee, you're sure to keep your Carnival Cruise cost within your budget by consistently scoring the best cruise deals.
Carnival Cruises also offers cruise insurance. It's advisable to purchase travel insurance for your cruise vacation. The number one reason passengers miss their cruise is due to illness. Some opt not to sail if a hurricane hits your itinerary's region. Be sure to read your cruise insurance policy before your cruise.
Shore Excursion Price Guarantee
Carnival wants to ensure you get the best price on their shore excursions, so they offer the best price guarantee. Passengers who find the same tour offered at a lower cost by another operator can qualify for an onboard credit.
The credit amounts to 110% of the price difference. Just complete a price guarantee claim form more than seven days before the departure date.
Carnival excursions price guarantee is the first of its kind in the cruise ship industry and is offered on all its ships sailing North America Carnival Cruise itineraries.
Great Vacation Guarantee
Vacations are precious, and Carnival wants you to have the "best vacation." If you're not happy with any 3 to 14-day Carnival Cruise Line vacation to the Bahamas, the Caribbean, the Mexican Riviera, Bermuda, Canada/New England, or Alaska, just let us know within 24 hours of leaving the port of embarkation.
If the fault is with the cruise line, Carnival will refund 100% of your fare with no hassles, and our Guest Services team will get you back to your home or port of embarkation free of charge. This policy applies to US and Canadian residents only. Some exclusions apply. See Carnival's website for more details.
Guys Burger Joint
TV star and restauranteur Guy Fieri's Guy's Burger Joints are exclusive to Carnival Cruises. While I'm not a fast-food fan, I have eaten many of his burgers because they are gluten-free (perfect for us Celiacs). His burgers are legendary, fresh, and delicious.
There are only five burgers to choose from and the option of hand-cut fries. If you're a burger lover, you should try one. Personally, the clincher is the yummy donkey sauce, which gives the patty that added kick.
After the burger joint became a big hit, Carnival recently added Guy's Pig & Anchor Bar-B-Que. The smokehouse restaurant serves hometown favorites like mac n cheese, smoked pulled pork, old skool potato salad, and molasses baked beans.
Guy's Burger Joint is available on most ships. However, the Pig & Anchor Bar-B-Que is available on approximately nine ships and will be added to others during refurbishments.
Here are the simple ingredients for donkey sauce if you can't live without the delicious burger addition.
1 cup mayonnaise (preferably homemade)
1/3 cup fresh roasted garlic, minced
1 tsp yellow mustard
1/8 tsp Worcestershire Sauce
1/3 tsp salt
1/8 fresh ground black pepper
Formal Night Has A New Name
Formal nights have become a thing of the past on most cruise lines. To tone down the formal event, lines have introduced other names.
Celebrity Cruise Line calls theirs "evening chic," and Royal Caribbean uses "Wear your best." Norwegian's slogan, "Dress up or not," allows guests to bypass the tradition of putting on their Sunday best.
Carnival still encourages passengers to choose fancier outfits on their "Cruise elegant" nights.
Carnival Makes Back-To-Back Cruises Memorable
Carnival Cruises are well-known as the "fun ships." You should consider sailing back-to-back if you don't want the fun to end. I've sailed a back-to-back cruise on the Carnival Glory.
Even after 14 days in the Caribbean, I wasn't ready to come home. I would have been happy to spend another week lying on the pool deck, enjoying more room service, and exploring more ports of call.
Passengers will check in as usual on their first cruise when sailing two cruises together. If there is a cabin change between itineraries, pack your luggage, and leave it in your cabin. The cabin steward will move your luggage for you, and your new stateroom will be available before the new passengers embark.
Passengers will assemble in a designated area to check in on the second cruise. A Guest Service Rep will escort all back-to-back guests off the ship as the last disembarking group.
Passengers are presented to the US Customs Border and Protection officers (if at a US port) in the terminal. Then you will be escorted back on board and receive the new Carnival Cruise card.
During my Carnival Glory back-to-back of the Caribbean, each passenger received a complimentary photo of the group. It was great to have the Serenity adult-only area and pool deck to myself for a short time. This was the only time I experienced these popular places empty.
Turning Onboard Credit Into Cash
With stiff competition in cruise pricing, some cruise lines offer substantial onboard credits to entice passengers. If you are not a drinker, don't plan on taking excursions, or have little use for the credit, don't let it go to waste.
You could be enticed to use it in the overpriced onboard shops but would probably need to pay more for your item.
Instead, one of the best Carnival Cruise hacks is knowing the trick for getting your money back. Go to your Carnival Cruise casino, load your sail, and sign your card with any amount left in your onboard account. Gamble a little (but not to the point that you spend it all), then "cash out" your leftover balance.
Do note that casinos only operate in international waters, so they will not be open in port. Also, some areas like Hawaii have a ban on casinos, so be sure to do your "gambling" in open waters. Turning credit into cash is a fantastic Carnival Cruise tip for first-time cruisers.
Carnival Cruise Dining
If you can't decide what to eat on the menu, order more than one item. Cruise ships do not limit you to one appetizer, one entree, and one dessert.
If none of the entrees appeal to you on the Carnival Cruise menu, request an appetizer as an entrée or order a few appetizers. Ordering more than one item also allows you to sample something you haven't tasted before.
I remember my first cruise on the Carnival Spirit, and my waiter kept bringing me new things to try each day. Everything from frogs' legs and alligator to escargot and duck. The dining room menu was quite varied and surprised me with its offerings back then.
If you crave ice cream, most Carnival Cruises ships have 24 hours of ice cream so that you can satisfy your sweet tooth at any time of day or night. The soft-serve ice cream is the perfect refreshing treat to beat the heat on a hot summer day. It also qualifies as one of the best Carnival Cruise freebies onboard.
If you're cruising and have food allergies like myself, have no fear. Carnival Cruises can create gluten-free, lactose-free, vegan, kosher, and sugar-free options to suit your restricted diet.
Carnival can make their signature "melting chocolate cake, gluten-free and lactose-free," and you can eat as many servings as possible!
Their Specialty Restaurants Charge A Nominal Fee
Post-pandemic, many cruise lines have raised the price of their specialty restaurants. However, specialty restaurants on carnival vessels are reasonably priced. Ji Ji Asian Kitchen and Cucina del Capitano charge USD 18 for dinner.
The Green Eggs and Ham Breakfast is a must for those traveling with children. The meal is part breakfast, part experience. You'll enjoy a memorable feast with the Cat in the Hat family.
Soda and Wine Policy
With cruises being so competitively priced today, it's no wonder little money is made on the cruise fare itself. Most profits come from alcohol consumption, store purchases, excursions, pay restaurants, gambling, photos, and spa treatments.
Drinking onboard can get very expensive, but here's a tip to save you money. Carnival allows you to bring 12 cans of soda per person. Each passenger is also allowed a 750ml bottle of wine or champagne, which they must declare as they embark.
However, if you choose to drink this at the dining room table, a USD 15.00 corkage fee is applied to your account. Here's a vital tip: bring a corkscrew if your bottles have cork stoppers.
Otherwise, you'll be charged the corkage fee for opening your bottle, even when drinking in your stateroom.
Want a free drink? Then be sure to attend the captain's toast party or the art auction for a complimentary glass of champagne. Or, be loyal to Carnival, and once you reach gold status, you receive a free appreciation drink on 5+ day sailings.
If you can't carry soda onboard, consider purchasing a Carnival soda package because it may be cheaper than buying single drinks. Should you buy one of those fancy Carnival Cruise drinks in a souvenir glass, remember to keep it and not put it down somewhere as I did.
Cruise Tips and Gratuities
As of May 1, 2022, Carnival Cruise charges gratuities of USD 14.50 per person per day for standard staterooms. However, suite staterooms are higher at USD 16.50.
Gratuities are either prepaid before embarkation day or added to your sail and sign card and are due at the end of your cruise.
Cruise lines pay the stewards, waiters, and other cruise staff from these gratuities. They work hard to make your vacation unforgettable, so remember to tip them accordingly.
Additionally, it is good to know bar bills, spa treatments, and a meal at The Chef's Table automatically incur an 18% gratuity. With this in mind, be careful not to overtip.
Inside Cabins With Access To The Outside
If you're sailing on Carnival Cruises Spirit-class ships, these have some unique inside cabins. It's considered an interior French door category. Unlike an actual inside stateroom, these cabins are positioned outside with an opening door.
While there is no balcony (just a glass panel), the opening door allows fresh air and light during daylight hours. The French door staterooms are on the Main (4th) deck and have obstructed views of the lifeboats.
I stayed in one of these French door category staterooms on my first cruise to Hawaii. While booking the cruise, I selected one between the lifeboats. Even though it had an obstructed view, I could still see the ocean, listen to the waves, and enjoy the tropical breezes.
The spirit class includes Carnival Spirit, Carnival Miracle, Carnival Legend, and Carnival Pride. If you're on a budget and can't afford a balcony but want fresh air, the inside with French door stateroom is a great option.
Havana Cabana cabins feature private patios with a chair swing unique to the Vista-class vessels. Havana Cabana guests also have access to a private Havana pool, hot tubs, and bar at the aft.
Be careful when selecting a guaranteed cabin, though. Some Carnival ships have 1A staterooms, which consist of bunk beds. You'd be disappointed if you had a 1A stateroom on a honeymoon.
Camp Ocean
Carnival's kids' program, Camp Ocean, offers fun and games for children 2 to 11. Their Circle "C" provides hangouts for teens aged 12 to 14, and Club 02 caters to 15-to-17-year-olds.
The kids' programs are included in the cruise fare. However, should you opt for a night out without the little ones, Night Owl offers evening activities for a small fee.
A family favorite, Seuss at Sea delights everyone during your cruise with its whimsical Dr. Seuss characters and themed events. Anyone for green eggs and ham breakfast?
Carnival Cruise Line Secrets
Some Carnival Cruise ships have secret places that some passengers never discover. On Carnival Dream, Magic, and Breeze, go to the promenade deck (deck 5) and check out the Lanai on either side of the ship. These cozy spots offer deck chairs and hot tubs that hang over the vessel's side.
Most Carnival ships have hidden observation decks at the front of the vessel. While these areas are not reserved or secret, most cruisers never find them. They do require some exploring down hallways to the front of the ship.
If you find a door that leads outside, you'll find one of those secret areas. These observation decks are great to use when pulling into a port or sailing to Alaska. Since most passengers never discover them, they tend to be void of people.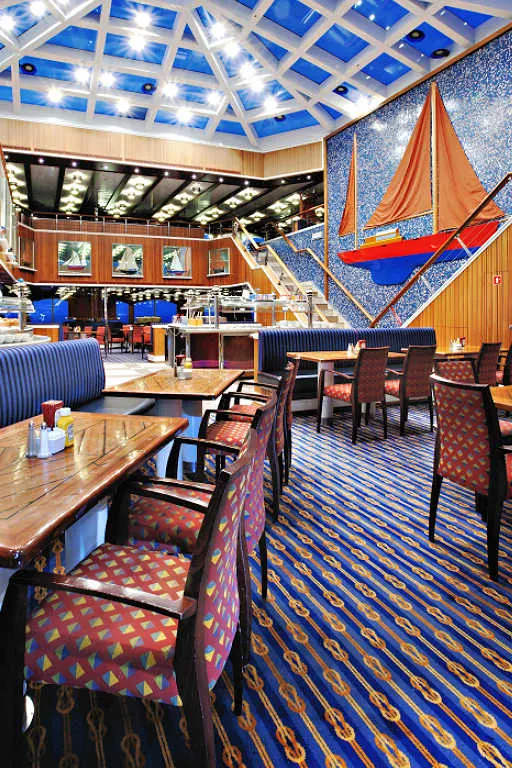 The spirit class ships have hidden hallways on deck three that run either side of the theatre. I found the 'jungle' hallway on the Carnival Spirit during my cruise to Hawaii.
When sailing the Carnival Glory, be sure to walk up the stairs of the Lido buffet. Here, you'll find the Red Sails Restaurant. On debarkation day and 14 days in the Caribbean, many cruise ship passengers said they never found this little restaurant.
However, I was a regular, and since this small restaurant went unnoticed, there were always plenty of empty seats when the buffet was crowded.
The Red Sails also served great British food like steak and kidney pie, fish and chips, and liver and onions. On the Carnival Conquest, the restaurant is called the Cezanne.
Rosie's restaurant is found on the Carnival Valor, Emilie's Lido Restaurant on the Carnival Liberty, and Freedom Restaurant on the Carnival Freedom.
Carnival Cruises VIFP Program
After completing your first cruise with Carnival, enroll in their VIFP (Very important fun person) program. Like all cruise line loyalty programs, the VIFP benefits vary by level. First-time Carnival Cruise passengers attain a "blue" level and work their way up to the "diamond" level at 200 days of sailing.
VIFP passengers can benefit from free upgrades, complimentary drinks, free laundry, priority debarkation, etc. Also, Carnival cruisers may receive special offers on selected itineraries from time to time.
Carnival's Debarkation Process
Carnival has a slightly different debarkation or disembarkation day process than other cruise lines. Instead of filling out a form with your flight information, cruisers must visit the guest services area to collect their colored and numbered luggage tags.
These debarkation day tags are available on a first-come, first-served basis. Also, when sailing on a Carnival ship, US passengers are no longer required to complete a customs declaration form if they have not exceeded their allowance.
Only those who have gone over their allowance must complete such a declaration form.
Carnival Cruise Credit Card
A Carnival Cruise MasterCard is a great way to save for a future Carnival cruise. It offers an introductory 0% for the first six months and USD 250 in free onboard credit when you charge USD 500 in the first 90 days.
If your budget is tight and saving for a vacation is difficult, a rewards credit card can be a valuable tool if you pay your balance each month.
Instead of paying cash or debit, charge your everyday expenses like food, gas, and utilities to your Mastercard and immediately pay off the balance. One FunPoint is earned for every dollar spent except for Carnival Cruises-related purchases, which earns two FunPoints for every dollar charged.
One of the great things about the Carnival Cruise Mastercard is that it carries no annual fee. Plus, there are no transaction fees on foreign purchases. This feature makes it an excellent credit card to take on an international cruise.
While Carnival's portfolio includes Holland America, Princess Cruises, Cunard, Seabourn, P & O Cruises, Aida, and Costa, each cruise line differs.
Although, some of these cruising tips apply to other cruise lines too. So, are you ready for the next cruise adventure? Use these cruising tips and tricks, and let your next Carnival adventure begin.
Happy sailing ~ Karen