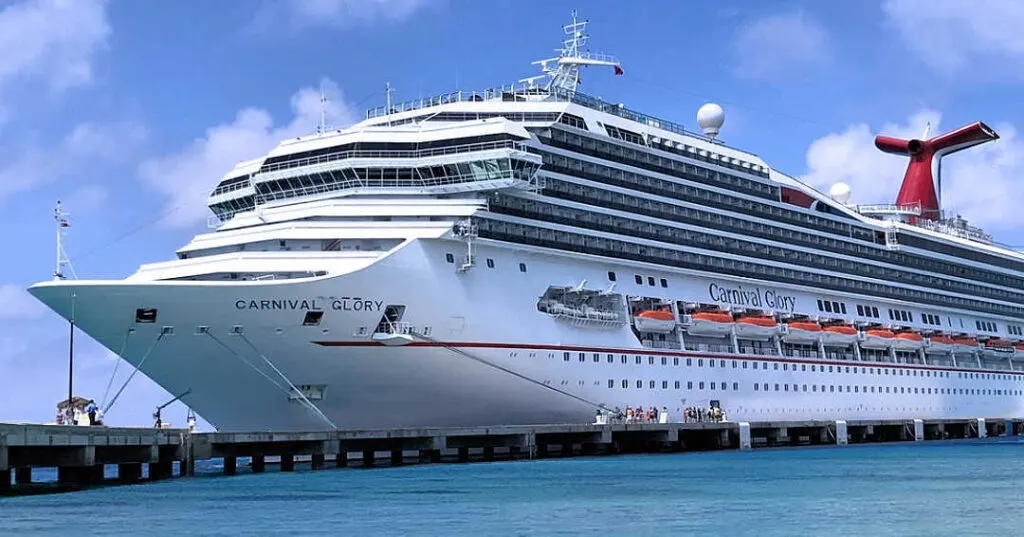 With a guest capacity of almost 3,000, Carnival Glory offers budget-friendly, family-oriented cruises and plenty of activities to keep you entertained at sea. Typical of Carnival Cruise line ships, the Glory's décor contains vivid colors, exactly what you'd expect on 'the fun ship.'
My review of Carnival Glory is based on my 14-day back-to-back cruise of both the eastern and western Caribbean. It was plenty of time to experience all the ins and outs of this Carnival vessel.
Although showing its age and needing refurbishment, the Glory offers large staterooms, excellent entertainment, great food, and attentive staff.
Faster To The Fun
Since some of the ports required a tender, I considered purchasing a Faster to the Fun (FTTF) package. In fact, I added it to my cart on Carnival's excursion section and was going to check out the next day when I had more time.
But by waiting until the next day to buy, the FTTF sold out. If you want to get onboard faster, have priority tenders, and get off quickly on debarkation day, don't wait to purchase the FTTF.
I had to get up early on tender days without the fast pass and queue to get a low-numbered tender ticket. It wasn't a problem for me, but you could miss your tour if you have early shore excursions that weren't booked through the cruise line.
Glory's Staterooms
Carnival launched the Glory in 2003, and her staterooms show their age. Although needing a refresh, at 185 to 220 sq. feet for the smaller cabins, the space is big enough for two or more.
If you're a family sharing a cabin with children, the room has plenty of storage and doesn't feel cramped. Beware of the guaranteed inside cabins as the 1A features bunk beds instead of a queen-sized bed.
I had a balcony cabin on both of my cruises, although I did not have the same stateroom. I had an 8D balcony on the forward Lido deck for my eastern Caribbean cruise. On the second cruise, I moved up one deck to an 8E balcony, again near the front of the ship.
Carnival made it easy to move staterooms on turnaround day. I packed my luggage, and my steward moved everything to my new room, which was immediately available to me.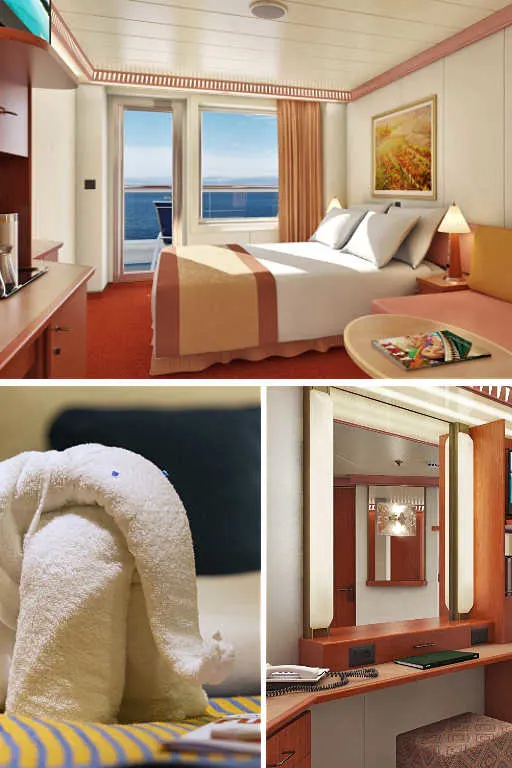 My Carnival Glory cabin was great on both cruises, and although far forward, I did not feel any motion. The only negative for some might be its proximity to the bridge. Since the bridge juts out from the vessel, it prevents a clear view looking forward.
Unlike the mega-ships with overly sized suites, the Captain's Suite, the largest on the vessel, is modest at 500 sq. feet with a 150 sq. foot balcony. Smaller in size, an Ocean suite measures 275 sq. feet, and these cabins are centrally located and forward on deck 7.
Carnival Glory Pools
This was my first time on a Conquest-class vessel, and I can't say that I was fond of the pool deck layout.
Both Lido pools are small, and although there are plenty of poolside loungers around the Turquoise Pool, they are positioned on tiered decks reminiscent of stadium seating.
With bathers in and out of the pool and hot tubs, the stairs on the tiered decks were always wet. A real slipping hazard!
The company built the Carnival waterworks and slides adjacent to the Lido pool, so this area tended to be busy and noisy. During the FunShip 2.0 upgrade, Carnival added the waterworks, a great addition for families.
I tried the adult-only Serenity area a few times to avoid the crowds, but it was crowded most days. The Serenity had some comfy circular loungers, but guests took them at the crack of dawn every day. The only day I enjoyed a covered lounger was on turnaround day when the Carnival ship was virtually empty.
The Lido deck has several hot tubs, and those next to the Turquoise Pool are large in size. Over the pool, a large screen TV provided entertainment most days and nights.
I stumbled across the best hot tub in the spa area. Down a corridor adjacent to the fitness area, it's hard to find. Since passengers rarely see it, I had the spa to myself most days.
The Spa
Located on deck 11 forward, the spa isn't big at over 13,000 sq. feet. However, it does contain all the usual, a beauty salon, fitness center, aerobic room, and treatment rooms.
Be sure to stop by on embarkation day, when the spa has a free draw. On port days, they usually have exclusive offers. Outside on deck 11 aft, the sports deck has a jogging track.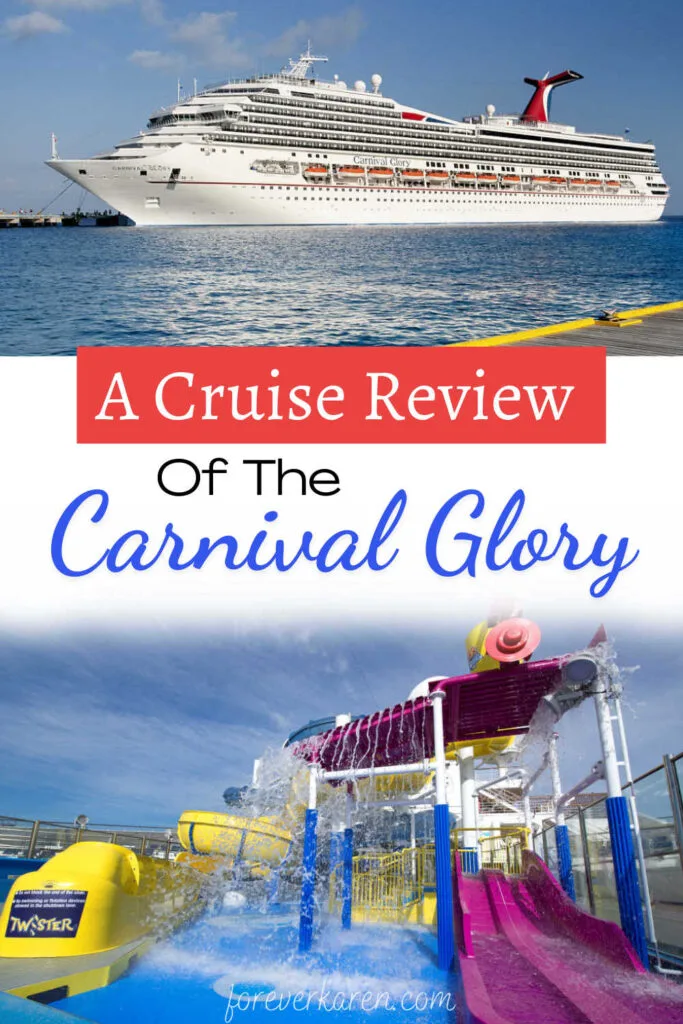 The steam room and sauna are my favorite places in the spa. Guests can use these complimentary areas throughout their cruise.
Carnival Glory Food Review
No cruise review is complete without talking about food. While I've read some negative reviews about the Carnival Glory food, my experience was all positive. First of all, I'm a challenging passenger to feed since I sail with food allergies.
Being Celiac, lactose-intolerant, and deadly allergic to nuts, a cruise line's ability to prepare good tasting food can be hit or miss. I had one of the best food experiences during my 14 days in the Caribbean and never got sick once.
In the evening, I'd select my meals for the following day with the help of the Maitre D. Then, the kitchen prepared delicious, healthy meals (and desserts) that were free of my allergens each day. I even got to enjoy the incredible melting chocolate cake several times.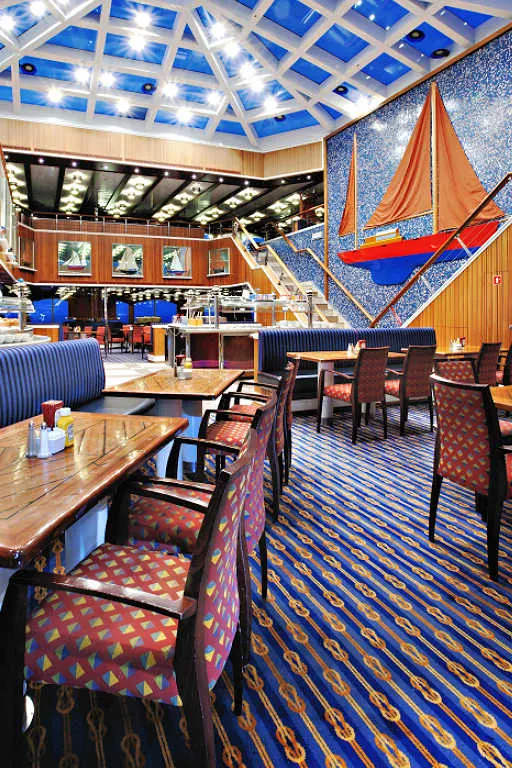 During Glory's FunShip 2.0 upgrade, Carnival added the famous Guy's Burger Joint. To my surprise, I could order a burger with a gluten-free bun or have it lettuce-wrapped. While I don't tend to eat fast food, I had to try one to see what everyone was raving about.
The patty is free of wheat fillers, making it safe for Celiacs. Guy Fieri's burgers are made to order, packed full of flavor, and don't incur an additional fee. In fact, it was so good that I ate a couple during my two-week vacation.
The Golden Restaurant and Platinum Restaurants are both complementary and located on deck 3. However, what I found frustrating, was that I could not walk across the whole deck.
Carnival built the galley in the middle of the ship, requiring passengers to walk up or down one level to access the dining room. I ate most of my meals in the Platinum Restaurant because having meals made for me was safer than eating at the buffet.
One restaurant that most passengers did not use was the Ol' Fashioned Bbq. Located upstairs from the Red Sail Restaurant, most passengers did not even find its location during the cruise.
Even if I chose not to get food from this restaurant, it was a quiet space to eat, and I was always guaranteed to get a table. While I only ate breakfast at the buffet, the line-up was usually long, but I appreciated being able to get an omelet made to order.
For those who prefer specialty dining, the Steakhouse, Bonsai Sushi Express, The Chef's Table, and Green Eggs and Ham breakfast incur an extra fee.
Carnival Glory Entertainment
Since Carnival prides itself on being a cruise line for all ages, it offers something for everybody. Suess at Sea, Video Game Arcade, and Camp Ocean keep the little ones busy during sea days. Hasbro, The Game Show, provides great entertainment for the whole family in the evening.
I attended most Playlist Productions in the Amber Palace Lounge, and they were all fantastic. Afterward, I enjoyed the late-night comedy at the Punchliner Comedy Club.
There was no end to events for night owls who like to stay occupied into the wee hours. Being the fun ship, Carnival also hosts shows such as "Love and Marriage," "Lip Sync Battle, and the "Hasbro Show," as mentioned above.
The entertainment didn't stop there, as the pool deck was always alive with activity. Those who have never cruised with Carnival before might find their "Hairy Chest Contest" questionable.
While most contestants had lots of body hair, younger men with almost waxed torsos also entered. They paraded the deck, allowing women to rub their hands on the chests. While most Carnival Cruise fans love this sort of event, it's not for everyone.
For social drinkers, there are plenty of bars to grab a drink. Choose from the SkyBox Sports Bar, Alchemy Bar, BlueIguana Cantina, Tequila Bar, Ivory Club Bar, or the Red Frog Rum Bar. If you like to party into the wee hours, the White Heat Dance Club is next to the Alchemy Bar.
When reviewing a ship, I like to see good entertainment and the Carnival Glory delivered during my 14 days in the Caribbean.
Other Venues
Typical of most cruise lines, Glory has onboard shopping, a casino, a coffee shop, and even a candy shop called Cherry on Top. Interestingly, the aptly named Kaleidoscope Boulevard gives a good picture of the whole vessel.
While Carnival ships tend to have bright colors, the Glory's décor was slightly over the top, with some rooms almost psychedelic.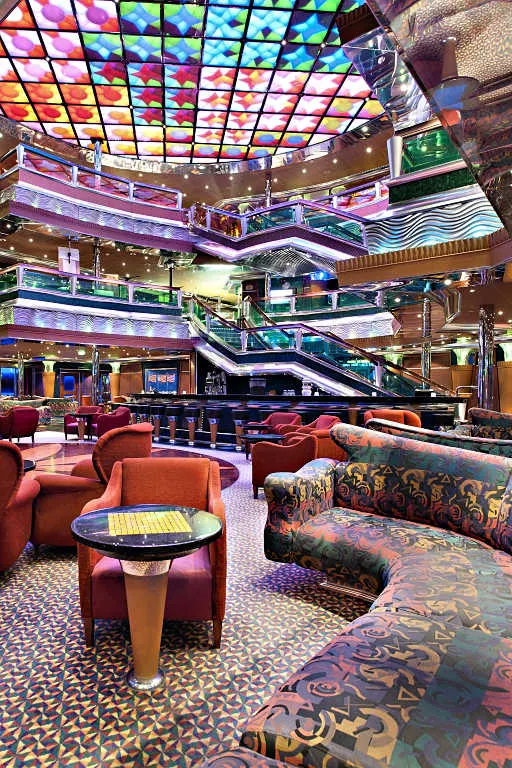 Deck 12 or the aft sun deck features mini golf, which was rarely ever busy. Being an older ship, the Glory doesn't have any of the characteristics of the more popular mega-ships. However, you get what you pay for, and those vessels command higher prices.
Turnaround Day
I was sailing a back-to-back cruise, with a turnaround day In Miami, Florida. The itinerary included Half Moon Cay, Old San Juan, and St. Thomas for my Eastern Caribbean cruise. The West Caribbean had stops in Cozumel, Mahogany Bay, Belize, and Grand Caymen.
Carnival made turnaround day effortless by leaving specific instructions in my cabin the night before. Carnival gave me a time and place to meet the following morning. It surprised me how many people chose to do a 14-day cruise.
After a photographer took a group photo, I followed a staff member off the ship. Once quickly through security, I boarded the vessel again. The itinerary included Half Moon Cay, San Juan, and St. Thomas for my eastern Caribbean cruise. The western Caribbean ports included Cozumel, Mahogany Bay, Belize, and Grand Cayman.
When I returned to my new stateroom, I found a bottle of champagne, a basket of fresh fruit, and a card from the hotel director. Later, I also received a couple of complimentary 8×10 group photos of the back-to-back passengers. It was a nice touch. Well done, Carnival!
Port Days
Before flying to Florida, I booked two independent tours. The first an all-inclusive day at Cozumel's Nachi Cocom. Then in St. Thomas, I enjoyed a Champagne Catamaran Sail and snorkel to St. John, which was terrific.
With 14 days in the Caribbean, I felt I did a lot, from enjoying the culture of Old San Juan, experiencing the jungle in Honduras, and doing not one but three snorkeling tours with stingrays.
My eastern Caribbean cruise included a day in Half Moon Cay, a private island owned by Carnival Corporation. With cruise lines moving towards visiting their own islands, they have a monopoly on tours, shopping, and extra expenses.
Before I could tender to Half Moon Cay, some staff members disembarked, taking food and supplies for the day. They prepared a decent buffet lunch on the island, complete with fresh fruit, juice, and water. What I found odd was those who purchased a drink package had to buy drinks on the island.
In Half Moon Cay, I took an impromptu swim with the stingrays on the other side of the island. When reviewing this excursion against similar ones in Grand Cayman and Belize, the swim in the Bahamas was subpar. The water was cold, the stingrays were in a small enclosure, and visibility was not good.
However, my stingray and shark tour in Belize was so fantastic, that I would do it again in a heartbeat. Grand Cayman is the most popular place to take a stingray tour. While I did that tour too, it was far more crowded than the one in Belize.
The Belize day tour included a short stop in Caye Caulker too. The experiences in Belize and Grand Cayman allow cruise passengers to see stingrays in the wild, which is more authentic.
Final Thoughts
The Carnival Glory, once based out of Miami, has now moved to New Orleans, Louisiana, as its home base. It offers cruises of six days or more to the Bahamas, Caribbean, Mexico, Central America, and the Panama Canal.
If you're a fan of the Conquest-class vessels, the Carnival Conquest, Valor, Liberty, and Freedom fall into this category. If you're looking for an inexpensive, family-friendly cruise, the Carnival Glory delivers.
While it may lack the bells and whistles of newer ships, there's no time for boredom with plenty of activities. Isn't that what you expect of the "fun ship?"
Happy travels ~ Karen