With tropical beaches, deep-rooted cultures, and rich undersea worlds, the Caribbean attracts travelers globally. But with thousands of islands in the archipelago, how does one choose an island destination?
With the introduction of the cruise ship, passengers enjoy several isles during one vacation. Although, what are the differences between an eastern vs. western Caribbean cruise? Or a southern Caribbean cruise?
Surrounded by a turquoise ocean, more than a dozen nations own these tropical escapes, so travelers need a visa to see them in some cases. While you can't go wrong heading east, west, or south, since each area exudes a paradise ambiance, there are some differences between them.
When limited for time, eastern and western Caribbean cruise getaways are possible with just a few days. However, the southern Caribbean, being further away, requires a commitment of at least eight days when sailing from Florida.
The Best Time To Cruise The Caribbean
While most might argue that any time in the Caribbean is the right time to travel, it's important to note; that the Caribbean experiences a hurricane season.
On average, thirteen tropical storms of varying degrees hit the Caribbean area from mid-August to the last weeks of October. So, should you choose to travel to Caribbean ports in the hurricane window, it's advisable to purchase travel insurance.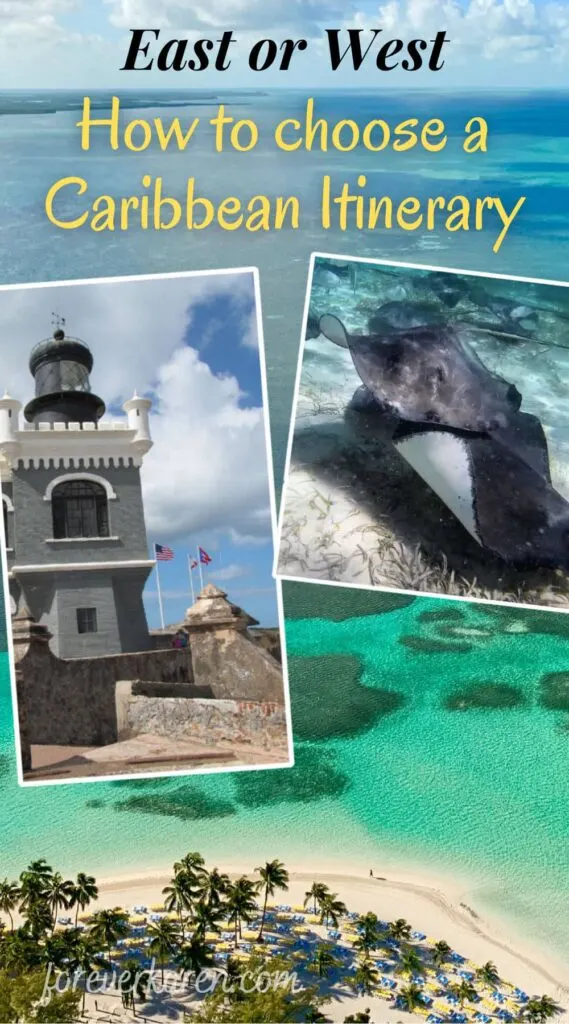 Once aboard, storms can spontaneously change cruise itineraries, resulting in port cancellations. However, cruisers can score great pricing during storm season, which can save hundreds of dollars should you choose to "weather the storm."
The best time to cruise the Caribbean Islands is December to April. During these times, cruisers will enjoy warm weather and fewer crowds. However, if you're cruising to the Caribbean in September, stick to the southern islands which are outside the storm path.
I prefer to cruise in January and February because I'm escaping the cold Canadian winter and vacationing in hot but not stifling conditions.
Embarkation Ports For The Caribbean
The majority of Caribbean cruises leave from a port in Florida. Miami handles the lion's share with five million passengers each year.
With close proximity to Fort Lauderdale, passengers can book back-to-back cruises with embarkation from different ports.
Further north, Orlando offers cruisers a locale close to popular theme parks. Less trafficked ports include Port Canaveral and Tampa, which can only accommodate smaller cruise ships.
Caribbean cruises leaving from Florida service the eastern, western, and southern Caribbean.
If you're doing a long-distance flight, staying a few extra days allows you to enjoy a land itinerary. By Staying 3 days in Miami, you can enjoy its beaches and check out its best attractions.
Nearby, Orlando offers its family-friendly theme parks if you're traveling with kids. Near Miami, consider driving to Alligator Alley.
New Orleans in Louisiana, Mobile in Alabama, and Port of Galveston in Texas provide kick-offs to destinations in the western Caribbean. Its close proximity to the Gulf of Mexico offers west coasters with an embarkation port closer to home.
Some Caribbean Islands serve as a home base to select cruise ships. Flying to a departure point further south allows for a southern Caribbean cruise of seven days or less.
San Juan, St. Maarten, Guadeloupe, Barbados, Fort-de-France, and Colon serve as embarkation ports for specific itineraries.
Much further north, passengers can start a Caribbean cruise from Bayonne, New Jersey, or New York. However, given its distance from the Caribbean, these cruises start at ten days.
During the winter months, expect to experience colder weather on the first few and last few days of sailing.
Eastern And Western Caribbean Cruise Stops
Bahamas, Puerto Rico, Virgin Islands, Dominican Republic, and Turks & Caicos are the most common stops in the eastern Caribbean.
These islands are the most developed, and some are overly commercialized. St. Thomas, for instance, can accommodate nine cruise ships a day, so don't expect your day there to be an intimate one.
A 7-day itinerary often stops at one of the cruise line's privately-owned islands like Half Moon Cay, CocoCay, or Castaway Cay. The eastern Caribbean islands are made for Sun worshippers and those wanting downtime on a beach.
With the islands positioned close together, cruisers can push their beach time to the max with very few sea days. It's the perfect destination for those wanting to relax and disconnect from the daily grind. But bear in mind more port days translates to a more costly cruise.
For those wanting less than a 7-day cruise, a Bahamas itinerary makes it possible with long weekend getaways of three days. When wanting a break from the sun, indulge in some retail therapy at a mall in the Virgin Islands.
Western Caribbean itineraries have ports of call to Belize, Roatan, Grand Cayman, Cozumel, Costa Maya, and sometimes Cuba or Jamaica. Again, a shorter vacation of four days is available, which usually sails to Cozumel.
A western itinerary offers a week of adventure with adrenaline-filled excursions and tours for history buffs.
Eastern Vs. Western Caribbean Cruise: Beaches
While the southern Caribbean wins top marks for beautiful beaches, you can't go wrong with the incredible islands on an eastern Caribbean cruise.
Magens Bay Beach in St. Thomas offers easy access from the cruise port and is rated highly for its one mile of white sandy beach. Facing the Atlantic Ocean, the waters can sometimes be choppy, but it doesn't hinder water sports or fantastic snorkeling opportunities.
Also, in the east, Cockleshell Bay Beach in St. Kitts and Trunk Bay in St. John are good choices. Cockleshell Bay Beach at the southern tip of St. Kitts offers a pristine white beach with incredible views of Nevis. Its calm waters are perfect for swimming, and the inexpensive drinks are a bonus.
Located in a National Park, Trunk Bay requires an entrance fee of USD 5.00. However, it's a small price to pay to experience a little piece of Caribbean paradise.
Trunk Bay wins as a photogenic beach for its calm turquoise waters, powdery sand, and small islands in the bay. The area around the small islands offers rich marine life, perfect for snorkeling.
In the western Caribbean, West Bay Beach in Roatan offers fantastic beachfront patios giving the area a lively vibe. Alternatively, Grand Cayman's Seven Mile Beach is accessible for cruise ship passengers and offers a little slice of heaven.
With breathtaking views, it's no surprise; that it's rated one of the best beaches globally. Cozumel also offers many beaches near the cruise port suitable for snorkeling, diving, or just relaxing.
Overall, the eastern Caribbean wins for its sheer number of incredible beaches. Rarely can you visit an island and not find a beautiful beach to laze away the day.
Eastern Vs. Western Caribbean Cruise: Outdoor Activities
With ideal weather year-round, it's no surprise that excursions are outdoor-focused. In the Dominican Republic, cruise passengers can choose an adventure of a lifetime on the Damajagua Waterfalls Adventure.
The adrenaline rush tour includes repelling down 27 pristine waterfalls, swimming through mysterious caves, and a hike in the jungle.
Alternatively, Puerto Rico offers adventure tours in El Yunque Rainforest. The rainforest is home to the Puerto Rican Parrot, bats, lizards, and several tree frogs.
Consider combining your tour with a waterfall swim or glide through the forest on a zipline excursion.
For those that love the ocean, a catamaran sail and snorkel in St. Thomas is a must. After a sail to St. John, snorkeling may offer sightings of turtles, spotted stingrays, and numerous tropical fish.
The western Caribbean sailings allow cruisers to take to the air on one of many zipline tours. In Roatan, the Pirates of the Caribbean zipline has an extreme course with one line measuring 1980 feet in length.
Of course, the ultimate attraction in the eastern Caribbean is the Mesoamerican Reef. Stretching nearly 1,000 km, divers and snorkelers can experience a pristine underwater world rich with marine life.
You can't go wrong with a stingray adventure in Caye Caulker or one in the Cayman Islands. They transport tour-goers to shallower waters in the Caribbean Sea.
Belize offers endless shore excursions, from experiencing its incredible "Blue Hole" and exploring the jungle to cave tubing and more.
On Mexican port days, cruisers can ferry mainland Mexico to explore one of its many natural Cenotes or choose between a variety of Cozumel port excursions.
Overall, the western Caribbean wins because divers and snorkelers can enjoy the Mesoamerican Reef, the second-largest reef in the world.
Eastern Vs. Western Caribbean Cruise: History & Culture
Caribbean islands are not just about the sandy beaches and crystal-clear waters. They also have strong cultural roots in the Spanish, British, French, Dutch, and other nations.
From Mayan ruins to old fortresses, it's easy to get immersed in an island's past and learn about its beginnings.
On eastern Caribbean itineraries, you can learn about the Dutch and French influence in St. Maarten on an island history tour. With Cuba opened up to cruising, who can resist the fantastic colonial architecture, baroque churches, and colorful streets?
Yes, Cuba is way more than hand-rolled cigars and vintage cars.
My top pick for history and culture goes to Old San Juan, Puerto Rico, for its forts. Cruise ships are welcome by the defensive walls of Castillo San Felipe del Morro.
El Morro stands at the tip of Old San Juan and offers picturesque views of the ocean and city. A short distance away, passengers can enjoy another fortress called Castillo de San Cristóbal.
The city of Old San Juan oozes so much history, from the Sa Juan Cathedral, which stands as the oldest church on US soil, to the San Juan Gate, which welcomed travelers for hundreds of years as they entered the protected city.
On Western Caribbean cruises, discover the Maya civilization and their simple life while exploring one of the incredible stone pyramids or ancient temples in Eastern Mexico.
While travelers consider Chichen Itza to be the jewel of the temples, it does require a long journey from Cozumel to see it. Instead, Tulum and Coba are much closer.
Overall, the eastern Caribbean wins simply because Old San Juan in Puerto Rico offers so much. In fact, it's hard to absorb all its rich history in one day.
Eastern Vs. Western Caribbean Cruise: For Families
When traveling with young children, finding ways to keep them entertained may be challenging. While zip-lining and diving might fulfill an adult's bucket list, it's not necessarily suitable for the little ones.
Families can benefit from the cruise lines' private islands in the eastern Caribbean. With family-safe water parks, shallow pools, and kid-friendly water slides, your tots will be all smiles at Cococay, Castaway Cay, Princess Cays, or one of the other paradise isles.
In Puerto Rico, children can enjoy fun in the sun at Arecibo Lighthouse & Historical Park. Built around a historic lighthouse, the pirate-themed water park has terrific ocean views. There's also a cool pirate cave and an aquarium with lots of tropical fish.
Equally kid-friendly are the dolphin encounters and Grand Cayman turtle farm tours in the western Caribbean. In mainland Mexico, the Xcaret nature park suits both children and adults.
Mexico's version of Disneyland, the fun-filled park, has many attractions, from underground rivers, a butterfly pavilion, an aviary, natural inlets, and more.
Further south in Costa Maya, the Maya Adventure Park has similar attractions. With numerous water slides, a natural cenote, zip lines, river tubing, and a jungle rope course.
For children seven and above, the Dunn's River in Jamaica offers a cascading waterfall that visitors can swim in.
Overall, both east and west are best. It's hard not to stop at any Caribbean island and not find a family-friendly excursion to enjoy.
Eastern Vs. Western Caribbean Cruise: Shopping
When you need a break from the sun or action-packed activities, try some Caribbean retail therapy. With many of the islands being tax-free, it's hard not to indulge in everyday items with significant savings.
St. Maarten in the east attracts savvy shoppers who save 30-40% on electronics such as cell phones and tablets. Visitors also snatch up wristwatches at bargain prices.
Shoppers flock to the Dominican Republic for two semiprecious gemstones at great prices. While both larimar and amber jewelry are available, only larimar is exclusive to the Dominican Republic.
Predominantly white with blue marbling, larimar stones are often set into sterling silver jewelry pieces.
You can't go wrong with hand-rolled cigars from Cuba and tax-free shopping in the Cayman Islands for Western Caribbean travelers. Alternatively, Mexico woos its shoppers with authentic vanilla extract and tequila.
From rum to rum cakes and tax-free shopping, overall, the eastern Caribbean islands win as the hub for shopaholics.
Final Thoughts
From the soothing eastern Caribbean to the adventuresome western isles, the exotic charm of each itinerary is intoxicating. For those that reside in the south, multiple cruises to the Caribbean make it possible to enjoy most islands.
If you choose to sail during wave season, many islands in the Southern Caribbean are outside the hurricane path. If you're traveling with family, select Aruba, for it's kid-friendly attractions and resorts.
Should you live much further away, consider a back-to-back itinerary if time and money are on your side. I sailed back-to-back Caribbean cruises on the Carnival Glory and enjoyed both the eastern and western Caribbean islands.
With seven days in the eastern Caribbean followed by a week in the west, you'll enjoy the best of everything.
Happy travels ~ Karen